Tip Top K9 – Fayetteville
Man, these guys did wonders with my German Shepherd. He was a rowdy pup before the superstar program and I was worried of his aggression towards other people and dogs. TipTopK9 resolved all of his behavioral issues and even trained me to be a more confident owner. Thank you guys for your outstanding training and advice!!! Much love.

Jewel Rice
17:12 01 Aug 20
Our one year-old Golden knew basic commands but getting him to listen with distractions was impossible and leash pulling was an issue. Our off leash walks on our property now are so enjoyable! Knowing he will come when called gives me such peace of mind. I would definitely recommend calling Tip Top for training!

sbillingsley100
14:55 01 Aug 20
Great results for our golden! Wasn't sure if our dog was capable of off leash anything. Very happy with the results!

Clift Billingsley
14:43 01 Aug 20
We have been so impressed with our experience with Tip Top K9! From the moment we first started with them, their friendliness and knowledge won us over. Sarah was so wonderful with our Magnum and he will miss her now that he is "graduating!" We could not recommend them more!

Rachel Scharbor
23:25 29 Jul 20
Absolutely awesome people and training. Highly recommend!

Valerie Threadgill
21:40 29 Jul 20
Loved them! They were quick to respond and very professional. My 5 month old Great Dane Rosie did great in their Bootcamp!

Terra Rogers
17:06 23 Jul 20
Denver was great with the personal at-home lessons! We have a dog that we were scared to take out in public and made us look like crazy people every time we put him on a leash. Tip top was our last option as we were considering re-homing with my wife pregnant with our first child.This has completely changed with just a few lessons. Even after the first 15 minutes there was almost new leash pulling and he's learning to obey his commands. He's a changed dog and getting better each week. We'd recommend Denver and Tip Top to anyone!

Daniel Belue
15:48 20 Jul 20
Sara with Tip Tip K9 Arkansas did a wonderful job training our new puppy, Winston (the brown guy). We are repeat customers, Denver and Sam did a fabulous job training, Dixie LuLu. We highly recommend using TipTop K9 Arkansas for your training needs. Our excited, stubborn, smart dogs are now well behaved and can go out in public. You won't regret letting the best train your dog.

Meredith Rea
17:15 14 Jul 20
Very professional, patient group of people

Cristy Harp
14:55 14 Jul 20
Tip Top K9 was amazing with our dog Kujo! 100% recommend for anyone looking for a good local trainer!

Ragon Corley
18:54 07 Jul 20
Tip top k-9 worked wonders on our 6 month old puppy Chief. Chief is now wonderful to be around, He is responsive and listens so well. Sara was so kind and the rest of the staff always answered quickly.

Karrie Wells
23:40 01 Jul 20
Super impressed with the quality and length of the program. Excellent results Fast

Jacob Sullivan
23:32 01 Jul 20
Excellent training. His aggression is much better. Sara and Denver are awesome, they have trained us well and been very patient with us. Before we started my dog Kujo was aggressive to unknown humans and dogs. His attention span has vastly improved

Daniel Padgett
15:50 01 Jul 20
I James and my dog Rocky went to training with Tip Top K 9 of Fort Simth because Rocky had problem biting and jumping on furniture .After training I am able to leave the room due to the great training we receive .

James Jackson
20:29 23 Jun 20
I have a 2 year old Corgi that was pulling on his leash, aggressive towards guests at the door, among other issues and Denver Worked wonders with both myself and Tucker. Tucker is a totally different dog because of Denver's training!!! If I could give 10 stars I would!

hailey king
16:35 16 Jun 20
Our dog Oreo just completed the advanced boot camp with Sara. He would jump on the kids when they where outside playing and would nip at their heals. Inside he would potty all over everything and when we took him outside he would take forever to go to the potty. Now he sits and doesn't jump on the kids. He will place when he is told.

Patsy Robertson
01:06 13 Jun 20
The trainers actually LISTENED to my dog's issues and addressed accordingly. Everybody from TipTop had excellent as well as great attitudes throughout the entire course.I would recommend this company highly

Linnie Hice
17:56 11 Jun 20
When I first took my dog Arya she was a naughty butt. She had multiple problem areas including jumping, biting, and just listening in general. Sara worked with her for almost 3 weeks and Arya is now the best little baby ever.

Megan Pannell
21:38 27 May 20
This training program was a god send for a strong willed rescue, To have him behaving and heeling so quickly was amazing. I highly recommend Tip Top K9 Dog training...

Thomas McGuire
23:30 19 May 20
Our trainer, Denver, was amazing to work with! He taught my overgrown pup as well as me how to act and react when needed. He made me feel 100% comfortable and helpes.mw contain knowledge of how to best interact with my boy. Puck, my pup was always so excited to see him. He was and is fabulous!!!

Regina Mcguire
23:29 19 May 20
These trainers have helped my dog Molly turn into a good and obedient dog. I'd recommend these guys to anyone!

Hunter Mizell
16:03 18 May 20
We travel all of the time for work. Our Great dane, Mazy, was so entergetic and hyper in hotels. She would jump from bed to bed and pull when walking. Thanks, Sam, Sara, and Denver. She walks with us without pulling and is a totally different dog. She stays beside us even off leash.

Jerry Tedford
22:13 23 Apr 20
Sarah sam an Denver did a awesome job with our dog Mazie was a handful she would jump on use bite at our feet an not listen at all. She ia a total different dog .i would recommend tip top k9 .thank you all so much

Renda Tedford
21:53 23 Apr 20
I really enjoyed the teachings how coco is better and well behaved since the 1st day. And the trainers are wonderful and really how to give love to my fure babies. I'm very happy and grateful on the experience.

Israel Cerda
15:48 23 Apr 20
Our puppy Tank came home today, and all I can say is I'm Amazed. Before he went to Advanced Boot Camp he was unruly, not enjoyable, and we were wondering had we made the right choice of getting a dog. Upon his return home, We are in love with our Tank again!! We are able to see the love that Sara and Sam had for him as well. My 10 year old is finally going to be able to walk him without us being concerned of him pulling her into the street. I can not wait to utilize and continue the training with him. Lifelong family and lifelong investment for sure!!!! So grateful for TipTop!

Keila Young
21:02 22 Apr 20
My dog Thor was an adorable NIGHTMARE before going to doggie boot camp with Sara (his trainer) I couldn't take him on a walk, he would jump on everyone, and barked so much the neighbors complained. But after he came home I can take him on a walk with my toddler and he doesn't pull and stays right by me. I was floored when he didn't jump on me or bark at the cat. Sam and Denver were amazing helping me learn the commands and made me feel at ease if I had any further questions. Thank you so much!!! Would highly highly recommend!

Chelsea Mallow
21:07 04 Apr 20
Sara, Denver, Sam did a great job on our dog Thor he was jumping taking food out of our baby's hands and much more and he is a completely different dog and very happy

Military Stovall
21:02 04 Apr 20
Denver and team did a great job with Cooper. Great team and well worth the investment! So happy to get him home, he's a happy boy! Thanks to all!

Chris Williams
23:07 03 Apr 20
Sam and Denver are amazing! We signed up our dog Tipton for the boot camp and he came back absolutely perfect and we are so exited to keep working with him! Sam came over and explained everything to us and showed us how to continue his training she is absolutely amazing! I recommend her and Denver to everyone!

Delaney Thompson
00:30 24 Mar 20
Titan has progressed greatly . He's very active but has settled down and is responding to the commands more consistently Training for this owner has helped greatly

Nan thompson
19:55 20 Mar 20
just nowI loved my experience with Denver and Sam. The were very professional and so great with Buster and Winston. Highly recommend them for training!!

Becky White
23:51 17 Mar 20
My baby left our house an uncontrollably mess. He now listens and wants to please us. He understands that we just want to communicate and love him.

Justin Hook
00:02 05 Mar 20
Sent our dog with them and she came back a completely different! Way beyond our expectations! Very pleased and would recommend to anybody who would want their dog trained to sent them here!

Jacob Wiles
00:58 04 Mar 20
Sam and Denver were wonderful in training our Pointer/Pitbull mix "Sarge". They took the time to make sure we knew everything to keep our Sarge well trained!! EXCELLENT WORK!! Highly recommend!

Gerald Phillips
22:33 01 Mar 20
Tip top k9 did an amazing job training our pup. Would highly recommend!!

ANTIONETTE PHILLIPS
22:31 01 Mar 20
Sam is wonderful with explaining EVERYTHING!!! Cowboy corgi Tegan would not even be half the awesome dog she is at this point! Her favorite is the box!! I will forever be with them for tegans happiness as well as mine❤️❤️ More post to come on this fun experience!

amber waller
17:16 18 Feb 20
Hi this is Mary Lynn and Abe is my dog he's been with Tip Top K9 for the past month. He left my house I'll behaved, And he has been returned to me a beautiful well behaved mannered dog. Samantha and Denver are excellent Trainers. Samantha and Denver both love Abe as much as we do. I am happy to tell you if your dog needs training you need to call Tip Top K9 and you will be as happy as we are thank you.

Mary Lynne Cloar
22:55 16 Feb 20
Presented at an exhibit hall in Hot Springs during a veterinary conference and Zara never left her bed, super well behaved, and her owner/trainer, Denver, was super personable and polite

Carroway Herrison
20:22 08 Feb 20
We love Samantha and everything she did for us. We were going to have to get rid of our dog because he has become so aggressive to everyone. Now he is so friendly and well behaved that other people comment on him! He is a joy to have around and is so smart he picks up on training so quickly! We would not have known this if we hadn't allowed Samantha to train him! Thank you Samantha and Tip Top K9 of Fort Smith.

Rachel Degenhart
02:25 31 Jan 20
We have 2 dogs, one extremely reactive to people(Oliver), and the other a puppy(Ruby). Oliver made me nervous just to let him outside to potty, and now we can go in public places without worrying about him barking and lunging at people. Ruby has developed manners and does very well on leash. Both are very responsive to commands and we are so proud of them! Thank you, Denver and Tip Top!

Logan Martin
01:00 22 Jan 20
We are so thrilled with all of the training we received! Thank you so much!

Christine Hanlon
00:57 22 Jan 20
Love the training my Lucy got. I was afraid I would trip over her when walking, she jumped on everyone. Now she is calm, doesn't jump and will walk long side without pulling me.. love the friendly service from office staff, and the Sam and Denver were awesome. The trainers Sam and Denver did an amazing job with her and gave weekly updates.. would recommend to any one in Tulsa, Fayettville and Fort Smith areas. Thanks everyone!

Pat Harrold
22:00 19 Jan 20
Zara was extremely calm and personable.

Pablo Amaya
22:51 07 Jan 20
Zara is a powerhouse & such a sweetheart!

Kenidee Lloyd
22:45 07 Jan 20
Zara is so precious and talented. I love her.

Sydney Golding
22:45 07 Jan 20
zara is so cute and so well trained!

Josie-Lynn Lloyd
22:45 07 Jan 20
Sam did a fantastic job with Novak. He is a very stubborn dog so I didn't know if he would do well. He did amazing. He loves Sam so I know he was treated well. Thank you Sam!

Kasey Aldridge
21:42 01 Jan 20
Denver was incredibly knowledgeable. Our dog Luke is 100lbs and he would pull on the leash, jump and growl at bicyclists and random people. Now Luke is controllable and listens. He needed to be trained but we needed training alot.

Tyler Brown
22:47 18 Dec 19
Denver was AWESOME😉 My dog has completely chamged.

Asako Namiki
22:43 18 Dec 19
If you are looking for a dog trainer who specializes in obedience training and is in the Northwest Arkansas (Fayetteville, Springdale, Rogers, Bentonville) area then you have found the right page! 
At our Fayetteville dog training location you work with dog trainers who really care about your dog and about training.  Denver and his team of dog trainers serve clients all over the state of Arkansas with private lessons, group lessons and a board and train program (doggie bootcamp).  We take unruly, rowdy dogs and help them learn how to behave and then we train their owners how to keep them obedient and well behaved!
If you are needing some help from a dog trainer please give us a call today at 479-250-1136.  Your first lesson is $1.00 and we will come out to your house and work with you and your dog.  The $1.00 lesson is no obligation, at the very least we can come out and give you some advice, you have nothing to lose!
Fayetteville Dog Training Out And About:
Some of our recent Fayetteville dog training success stories: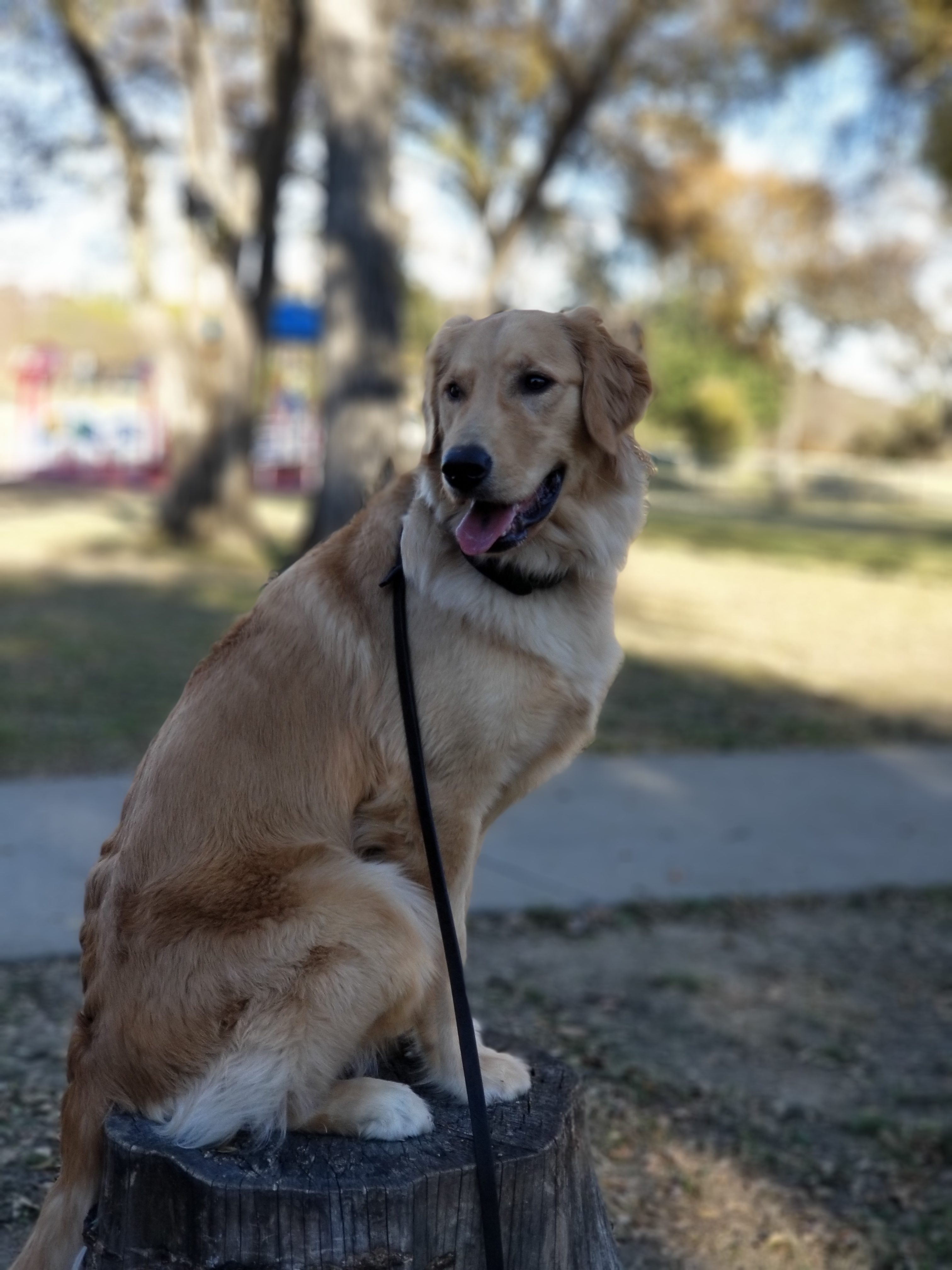 Bella the Golden Retriever
Bella was an out of control golden retriever puppy who couldn't wait to climb you then pull you down the street.  Her heart was in the right place, but she was definitely a handful.  Because of her bad habits her owners Mike and Nicole couldn't really take Bella for a walk or anywhere else for that matter!
After 4 weeks of Bootcamp, her life has drastically changed for the better.  Now instead of running to and jumping all over new people, she sits at your feet and waits for love to come to her.  No need to worry about pulling on the leash either, Bella is now 100% off leash!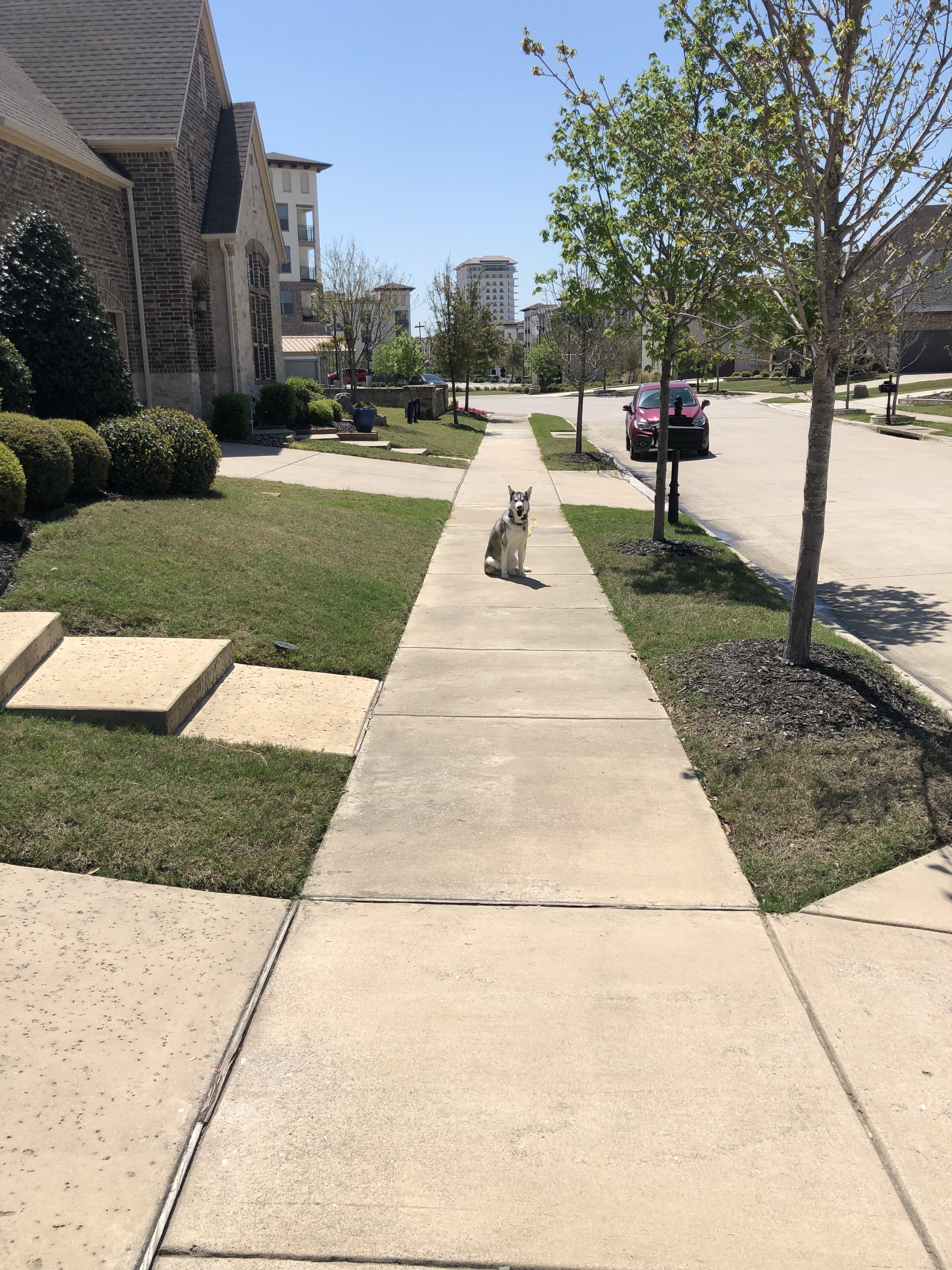 Lucy the Husky!
Lucy was just a small town pup trying to make it in the big city.  Her favorite hobbies were helping herself to the family dinner and long walks around the park pretending she was a sled dog. She hated car rides and listening to anyone who was talking to her. 
Now after 6 weeks of training, she has pulled herself together and is a model citizen.  She still loves walks around the park, but takes a relaxed stroll instead of sprinting to the end of the leash.  She no longer tries to sneak food from the counter when your back is turned, and can instead stay on her bed and watch dinner being made from the living room.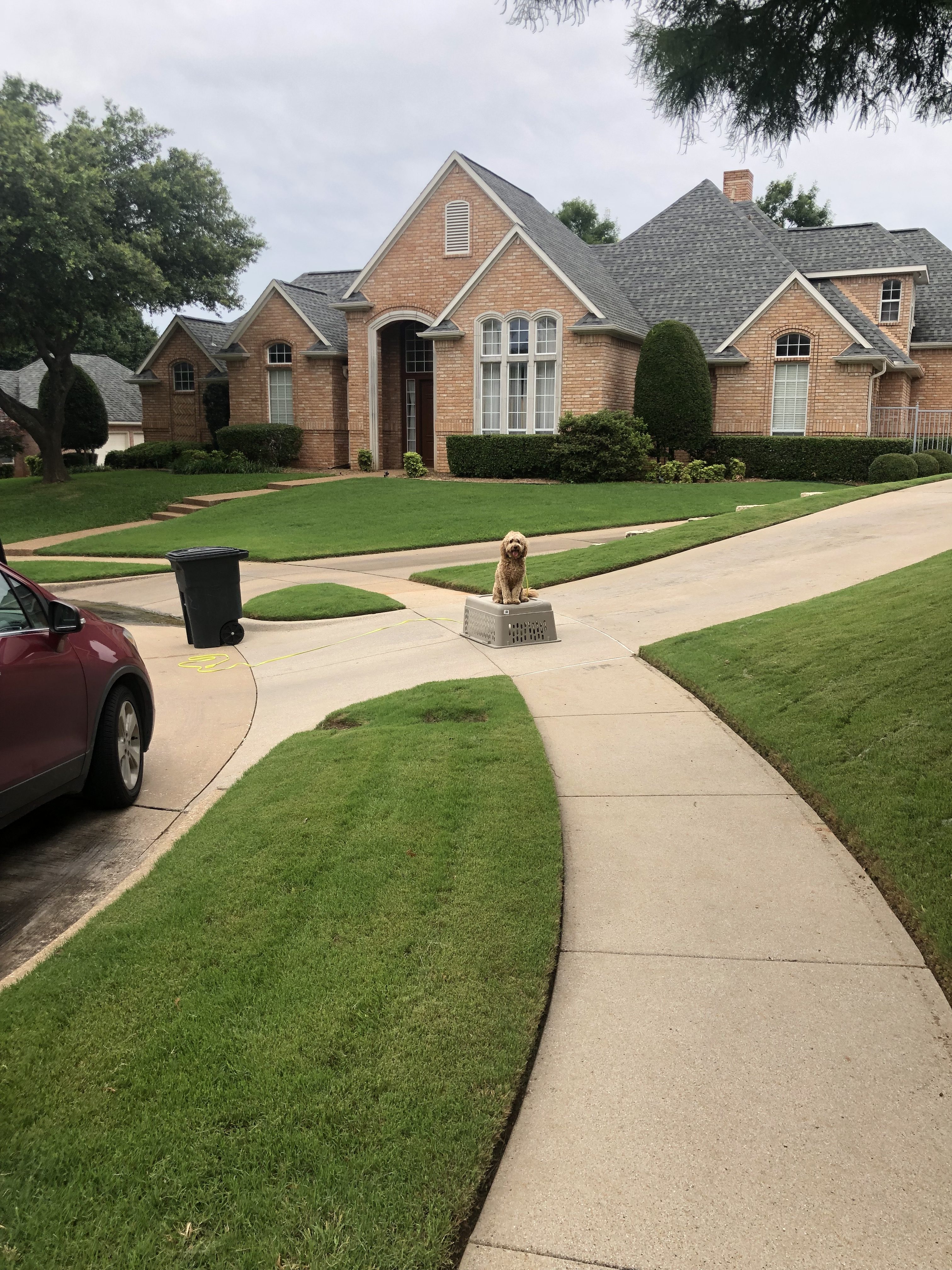 Lulu the Doodle!
Lulu was just your everyday Doodle puppy.  What she lacked in coordination, she more than made up for with crazy.  She was an escape artist and would love to be chased around the neighborhood and parkour through the house!
After just 4 weeks of private in-home training, she had a new lease on life.  Instead of taking off down the street every time the front door was opened, she now just stays on her cot.  Lulu still has her same loving and affectionate personality, but now channels her energy into running laps around the backyard pool instead of the neighborhood!
Talk With a Trainer Today!