Tip Top K9 – Fayetteville
We are so happy with the training Tip Top K9 provided our dog! Highly recommend Tip Too K9!

Jessica Reavis
19:04 10 May 22
We completely loved working with Sarah for the past 6 weeks during one on one training! I now feel confident in my abilities to control my dog and his aggression issues.

Natalie Michele
19:55 07 May 22
I'm happy with Sarah and Sam who are the two I have met so far. They are great at what they do & Sadie & I are learning so much!

Cari Sercomb
21:19 06 May 22
Awesome trainers! Recommend them to anyone looking for a well behaved dog

Diane Potter
17:11 27 Apr 22
I have a Belgian Malinois that was really struggling with manors and could not take her anywhere in public. I didn't care for the tactics other trainers used to train. Denver is my trainer and he taught me how to train my dog. It has/is an awesome experience. BTW, I can take my Maligator anywhere in public thanks to Denver. I would HIGHLY recommend Tip top K9

Rick Hayes
01:55 24 Apr 22
Denver was wonderful to work with! We selected the Good Dog package that included 3 training sessions and lifetime group classes. It's definitely worth the cost and is something that will be used for the rest of your life. I have a malamute who is extremely independent and he has really helped us to learn to keep her attention. She is no longer pulling on her leash which was a huge concern of mine. I feel confident that I can do off leash! Denver really helps to instill confidence not only in your dog but yourself. I highly recommend him!!! I could not say enough good things about him! Thank you so much!

Marissa Vang
17:56 20 Apr 22
TiptopK9 has been amazing to work with from the very beginning! We knew Cash was a smart dog and wanted to learn but we had no idea how to train him. Our biggest issues were recall and pulling on the leash. For 2 years, we tried so many ways to teach him and some things worked okay but never to his full potential.Their training method is exactly what he needed. Our incredible trainer guided us through the whole process with incredible patience and skill! Cash and I have gained so much confidence and many new skills from our experience. We just finished our last lesson and I can't even believe how fast and easy it was to teach/learn with the right tools. We're so excited to start group classes and keep seeing him hone in and improve with new skills and in new settings!

Mattea Roweton
16:45 20 Apr 22
Amazing overall experience. My husky came back to me a completely different dog. Going from bolting out the door and loosing him and being a typical "wondering husky" to now he sits and stays for so long and such distance! It's amazing being able to not have to worry what or where he is or going. I'm in love with this company and my other three dogs are going to be attending training. Brad did such an amazing job and the communication is amazing. Cannot recommend enough.

Ashley Tate
20:58 15 Apr 22
Great job with our Boston Terrier. Sarah was awesome and pleasure. We would recommend to anyone looking into getting there dog trained!

Amanda Simone
21:00 14 Apr 22
Denver is amazing! The lessons were easy to learn and Cooper was able to pick them up quickly. Wish I had done this years ago.

Eddie Hale
20:18 14 Apr 22
I am extremely pleased with TipTopK9! They have helped me and my dog tremendously!! They broke down the training so that it was easy for me to understand. My dog was a stubborn dog and attended both private and boot camp lessons and has come come 💯 better! I highly recommend them for your training needs!

Lara Sherrill
20:17 12 Apr 22
I'm very pleased with the training Tip Top K9 did with my goldendoodle, Marley. Ashley and Sara were so great to work with. I would definitely recommend them!!

FTR Raydon
18:33 08 Apr 22
My dog is well behaved and did awesome. Couldn't recommend the crew here enough.

Dallas Melvin
20:58 06 Apr 22
We had Denver as our trainer and he was awesome! We have a 7 month old German Shepard mix who is a completely different dog now than what she was at the start of training. Lessons are quick and informative would 10/10 recommend.

Fynn Horton
21:55 31 Mar 22
Great updates! Nina came back a brand new, obedient and very happy puppy!

Malik Jallah
19:53 25 Mar 22
Such an awesome group of trainers! So accommodating and great to work with! Thank you!

Bryson Cook
19:54 19 Mar 22
Our experience at Tip Top was amazing. Our dog, Violet, came back well trained. She bonded with the trainers akd started whining at the door when they left. That made our family feel good. We knew our girl was well taken care of during the two weeks she was gone. I would highly recommend Tip Top.

Fionna Anderson
19:58 18 Mar 22
Brad did a fantastic job training our 8 mo mini bernedoodle! We are so pleased with the results of the advanced boot camp training package. Definitely worth the investment!

Hunter Beless
23:41 16 Mar 22
Denver was fabulous with our dog and we were so pleased with the progress we made over 6 private lessons. Definitely reccomend!

Audra Rogers
17:48 15 Mar 22
Before tip top K9 my 8month Golden retriever was pulling excessively on walks and had no recall. After one lesson with Denver, my dog was responsive to my commands and easier to accommodate when leaving the house with her.

Sarah Coffelt
15:53 05 Mar 22
Had a great experience with TipTop K9! So excited about my dog's progress. They were great with keeping me updated and ensuring my dog learned everything he needed to. Would highly recommend the team!!!

Jordan Hoke
21:31 02 Mar 22
Tip Top training is wonderful. They worked with both our dogs - 9 month & 9 years. We are soooo in love with Sarah and we think Sam is great too. Our dogs will be awesome ambassadors for your training. What really impressed us was the way they trained. They work with the dogs to get the proper result then teach the human. I love that I am not reliant on a clicker or treats. The training collar is weaned off but utilized for refreshers. My boys learned quickly and us humans are on our way. It has been a great experience and I look forward to many years of attending their get togethers. Highly recommend their training.

Rebecca Mergner
00:32 02 Mar 22
My Koda is a lovable but was a sporadically aggressive German Shepard. First lesson he was a growler, barking-hair raised and lunging at times with Denver. It was important to get more training as it was difficult to take him on walks or even in our yard. Anyone not us was an a possible enemy. He's been in training three times before (with two different trainers) and his behavior was seemingly different but he still maintain that aggression. In fact, I was told that would just be his personality. By Lesson 2 (with in-between lessons with his family) the lessons was taking an effect on Koda. By lesson three he could walk beside the trainer without the lunging and teeth baring. Lesson 4 (even after more than three weeks vacation) Koda wasno longer bothered by strangers and other dogs. Today Koda's behavior is exemplary. We did our last (one-on-one) walk around the park amongst electric bikes, fast bikes, walkers and even curious dog friends and Koda was unfazed! He obeyed commands with ease and (I think) smiled at Denver for changing his life- no really that was meand my family; Because he trained us as well.Thanks Denver!

Staff communication was awesome and my dog is perfectly trained! Highly recommend.

Sidnee Ward
00:17 27 Feb 22
Everything was great! Delivered on everything they promised!

Miriam Stafford
23:38 22 Feb 22
Denver was great with blue (our lab). He is night and day difference. Will be training our Pyrenees next. 10/10 would recommend.

Trevor Robinson
00:24 19 Feb 22
Excellent experience. Denver is an great trainer. I am so pleased with the results. My dog Gracie is now very well behaved. We can take walks without her pulling on the leash. She walks by my side and is a pleasure to take out in public. I willI recommend Tip Top K9 to anyone who needs professional training.

Bonnie Turner
18:31 17 Feb 22
Denver was amazing at helping in giving training tips to help with our dog become better in walks, listening and heeling! Thank you!

Katheryne ONeill
23:51 16 Feb 22
Denver did great helping me get my aggressive pit under control. Great experience from start to finish, knew how to read my dog's body language day one.

Danny Madden
23:50 16 Feb 22
Denver was very straight to the point, kind, and patient with us and our pit.

Azzy Masakr
23:49 16 Feb 22
Trainers kept me posted regularly while my pup was in their capable and caring hands. And now, we enjoying our well behaved dog!

Gina Maddox
23:49 15 Feb 22
Sara did amazing thank you for helping Beanie Baby

Catherine Williams
19:15 12 Feb 22
Super happy, great experience top to bottom. Definitely recommend.

mackenzie been
17:50 12 Feb 22
Had a great experience with Tip Top K9 Fayetteville. Denver was terrific. Our Pitbull was aggressive and Ill mannered and has made amazing progress. Like a different dog. Would highly recommend them

Cheryl Conlin
21:09 12 Jan 22
We were unsure training would help our dog and we are very pleased at the progress he had made in so short a time. He is a different dog. Denver is a great guy and communicate well. So thankful to him for helping us help our dog

John Conlin
21:01 12 Jan 22
My mini goldendoodle is a changed dog! With the teachers pet package, we were able to accomplish the commands and behavior I wanted. Denver is a wonderful & professional trainer. He walked through each step with me and made sure I understood what he was implying. The customer service was great as well. Overall, everything was outstanding! I strongly recommend Tip Top k9 with any goals you might have with your dog!

Signed up for the teacher's pet program with Denver for our instructor. Best decision we have ever made! Our mini golden doodle has made such great stride. Highly recommended for anyone who are looking for training for their pup!

Did three lessons with Denver and my dog and I have made huge strides. We have miles to go, but we're well on our way! Thank you!

Dave Moser
21:49 07 Jan 22
From the original meet and greet we could tell the trainers were dedicated to and loved dogs. During training at Boot Camp we received updates about our dog Newton and the pictures it was clear he was beyond happy and cared for. We had multiple request changes for Newton's take home ceremony and Tip Top K9 was accommodating every single time we had requests without issue. Once Newton got home he is a completely different dog. He seems happier than ever. One of our issues we had sent him to Boot Camp for was bolting out the front door, and he was able to go off leash instantly when coming home with no issues. We couldn't be more pleased and we only wish we didn't take so long to finally go through with this training. We will have endless more fun and enjoyment with our dog because of this training and would recommend it to anyone.

Robert Foucart
19:42 07 Jan 22
Denver was so much help my dog was very crazy and only with 3 lessons it seems like I have a different dog !

Nayely. 479
23:23 06 Jan 22
Awesome customer service and very professional with amazing results!

robert plank
22:09 05 Jan 22
Wonderful people that worked with our Sally Sunshine. Thank you Tip Top K9

Karri Karrant
22:27 01 Jan 22
We were so happy with our experience with TipTop K9 Arkansas! they were extremely quick to respond upon inquiring about services, the $1 first lesson & evaluation was very informative, and they were able to fit our dogs in, in a very short timeframe. We had 2 Rottweilers in for training (7 & 3), both with different packages & length of stays. Both girls listen well & have new found skills that will put our family at ease!

Niki Morgan
17:32 31 Dec 21
Our sweet miniature Labradoodle (2yrs) loved to bark at any noise especially the doorbell or anyone coming in the house. She loved to get out and run the neighborhood and hard to catch.NOW, with the help of Tip Top K9 and our trainer Denver we no longer are yelling for our girl to be quite or to come when we call. Having Denver work with her and us we can now take her with us wherever we go! This is a life changer for us as we want to take her with us at any time; stores, vacations… anywhere.Teachers Pet (private lessons) is the program we used and it is excellent for both Scarlett, our girl, and us! Thank you Denver!!

Cheryl Long
20:22 21 Dec 21
Great training! Our dog was crazy, constantly barking, we tried a bunch of different training techniques and tools, most through the internet and friends advice, and nothing worked. We hired Denver and he was great, a great trainer! His training techniques enabled us to communicate with our dog Scarlett enabling us to stop the barking and actually take her anyway….Lowe's, Walmart, Grocery Store, friends houses with kids and other dogs! We'll worth the '"Teachers Pet, 6 private lessons" investment!

Steve Carr
20:18 21 Dec 21
Sara brought our Izzy home and instructed us on all of the commands, and she was great! I want to thank all the staff, Brandon, Sam and Kai for all their hard work, thank you guysRoss

Ross Morreale
18:09 07 Dec 21
Our dog, Izzy, just returned from training at Tip Top and we could not be happier with the results. We now have a very well behaved ausssie doodle! Thank you Brandon, Sam and Kai for the training and Sara for training us.

Frances Morreale
18:07 07 Dec 21
I did the good dog package and Denver is an amazing trainer!! My dog went from not paying attention to me at all, to waiting for me to "break" him for his food all in a couple of weeks! Highly recommend

Erin Palmer
20:49 03 Dec 21
Our Yorkie mix was just trained by the experts at tiptopk9 Arkansas! She did great and she did well with the training. She came home looking well taken care of and super happy. We couldn't be more pleased with our trainer Sara and her team!!!

Michael Salerno
20:21 01 Dec 21
If you are looking for a dog trainer who specializes in obedience training and is in the Northwest Arkansas (Fayetteville, Springdale, Rogers, Bentonville) area then you have found the right page! 
At our Fayetteville dog training location you work with dog trainers who really care about your dog and about training.  Denver and his team of dog trainers serve clients all over the state of Arkansas with private lessons, group lessons and a board and train program (doggie bootcamp).  We take unruly, rowdy dogs and help them learn how to behave and then we train their owners how to keep them obedient and well behaved!
If you are needing some help from a dog trainer please give us a call today at 479-250-1136.  Your first lesson is $1.00 and we will come out to your house and work with you and your dog.  The $1.00 lesson is no obligation, at the very least we can come out and give you some advice, you have nothing to lose!
Fayetteville Dog Training Out And About:
Some of our recent Fayetteville dog training success stories: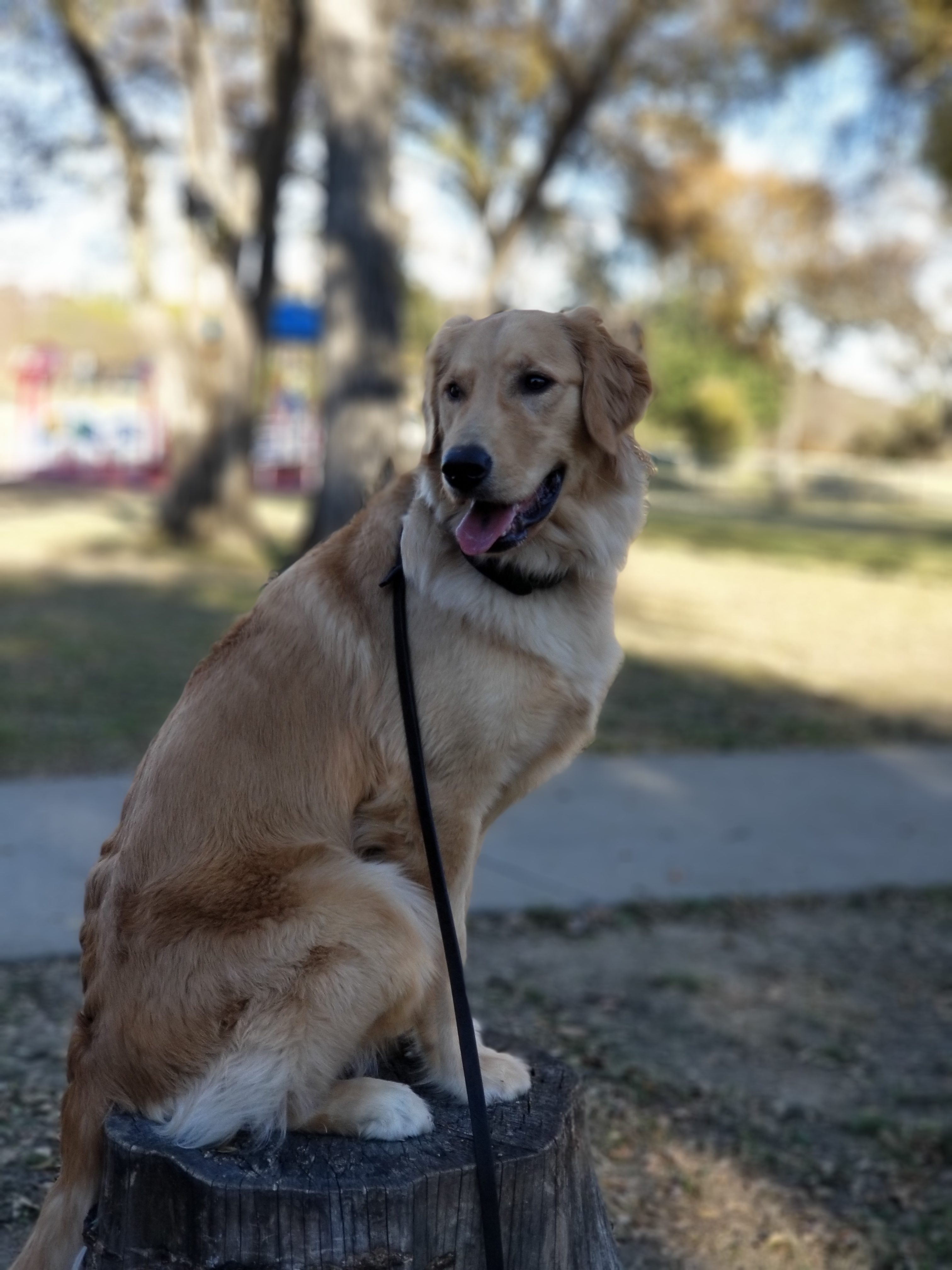 Bella the Golden Retriever
Bella was an out of control golden retriever puppy who couldn't wait to climb you then pull you down the street.  Her heart was in the right place, but she was definitely a handful.  Because of her bad habits her owners Mike and Nicole couldn't really take Bella for a walk or anywhere else for that matter!
After 4 weeks of Bootcamp, her life has drastically changed for the better.  Now instead of running to and jumping all over new people, she sits at your feet and waits for love to come to her.  No need to worry about pulling on the leash either, Bella is now 100% off leash!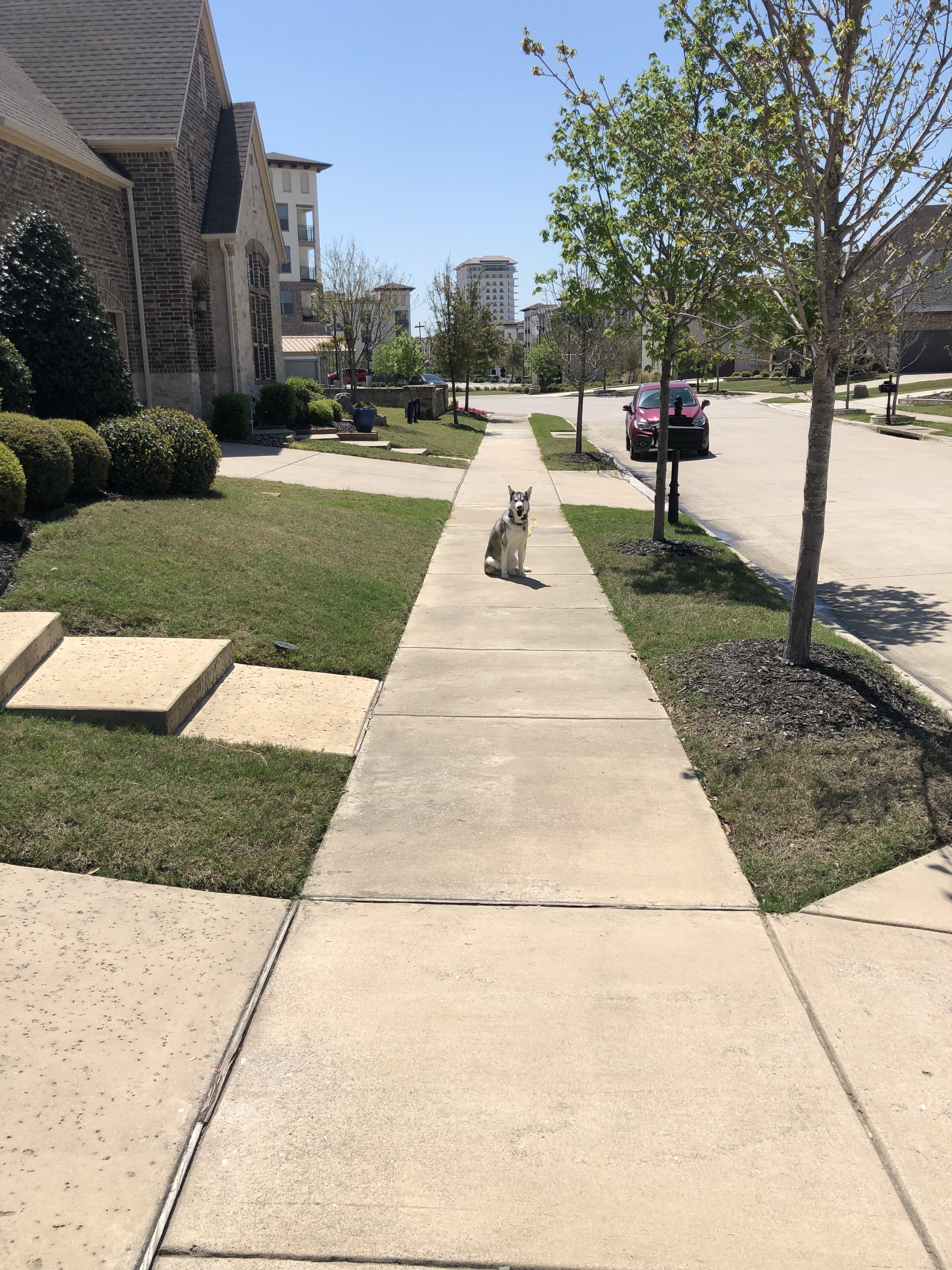 Lucy the Husky!
Lucy was just a small town pup trying to make it in the big city.  Her favorite hobbies were helping herself to the family dinner and long walks around the park pretending she was a sled dog. She hated car rides and listening to anyone who was talking to her. 
Now after 6 weeks of training, she has pulled herself together and is a model citizen.  She still loves walks around the park, but takes a relaxed stroll instead of sprinting to the end of the leash.  She no longer tries to sneak food from the counter when your back is turned, and can instead stay on her bed and watch dinner being made from the living room.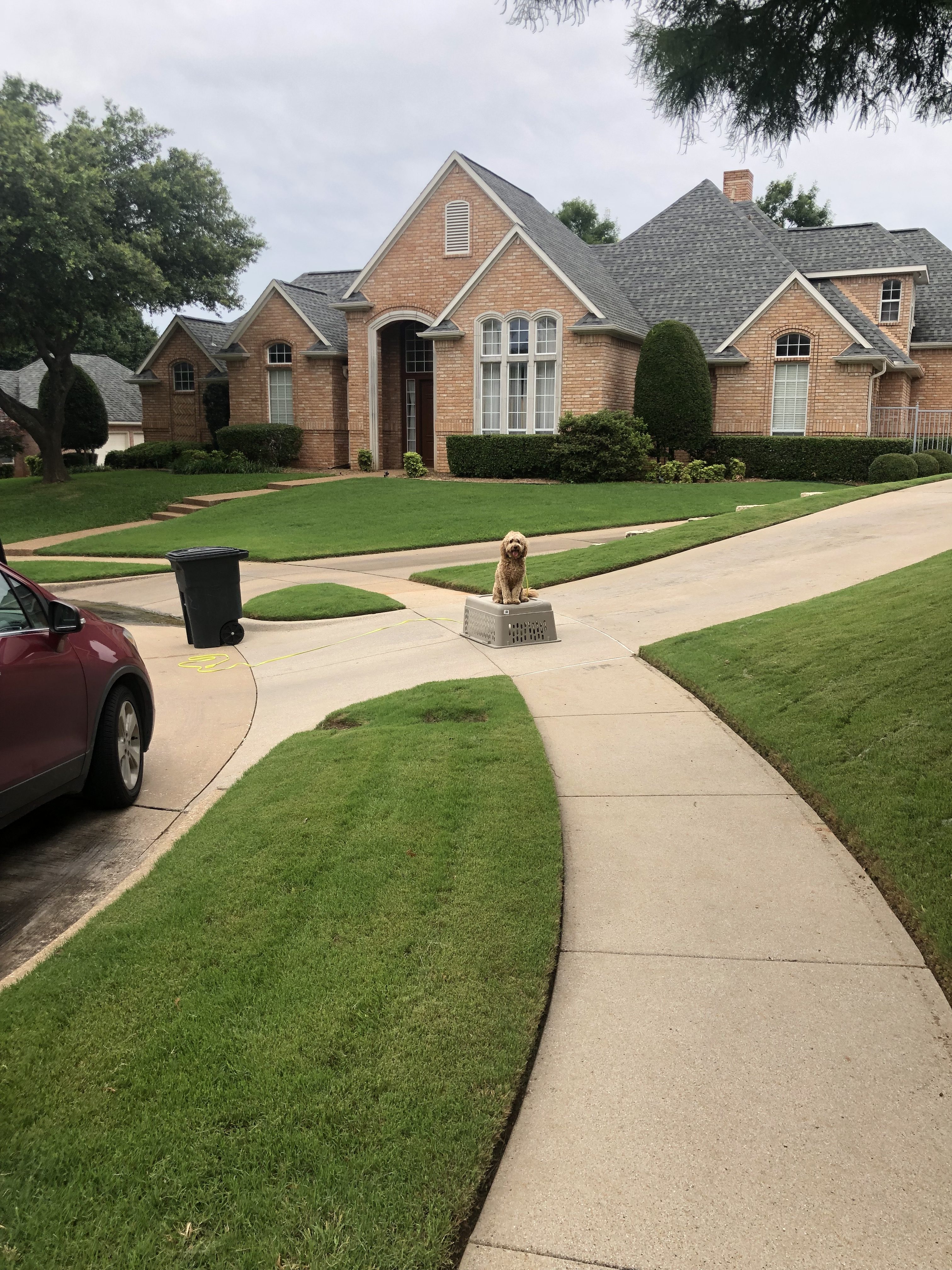 Lulu the Doodle!
Lulu was just your everyday Doodle puppy.  What she lacked in coordination, she more than made up for with crazy.  She was an escape artist and would love to be chased around the neighborhood and parkour through the house!
After just 4 weeks of private in-home training, she had a new lease on life.  Instead of taking off down the street every time the front door was opened, she now just stays on her cot.  Lulu still has her same loving and affectionate personality, but now channels her energy into running laps around the backyard pool instead of the neighborhood!
Talk With a Trainer Today!