Tip Top K9 – Fayetteville
When I first took my dog Arya she was a naughty butt. She had multiple problem areas including jumping, biting, and just listening in general. Sara worked with her for almost 3 weeks and Arya is now the best little baby ever.

Megan Pannell
21:38 27 May 20
This training program was a god send for a strong willed rescue, To have him behaving and heeling so quickly was amazing. I highly recommend Tip Top K9 Dog training...

Thomas McGuire
23:30 19 May 20
Our trainer, Denver, was amazing to work with! He taught my overgrown pup as well as me how to act and react when needed. He made me feel 100% comfortable and helpes.mw contain knowledge of how to best interact with my boy. Puck, my pup was always so excited to see him. He was and is fabulous!!!

Regina Mcguire
23:29 19 May 20
These trainers have helped my dog Molly turn into a good and obedient dog. I'd recommend these guys to anyone!

Hunter Mizell
16:03 18 May 20
We travel all of the time for work. Our Great dane, Mazy, was so entergetic and hyper in hotels. She would jump from bed to bed and pull when walking. Thanks, Sam, Sara, and Denver. She walks with us without pulling and is a totally different dog. She stays beside us even off leash.

Jerry Tedford
22:13 23 Apr 20
Sarah sam an Denver did a awesome job with our dog Mazie was a handful she would jump on use bite at our feet an not listen at all. She ia a total different dog .i would recommend tip top k9 .thank you all so much

Renda Tedford
21:53 23 Apr 20
I really enjoyed the teachings how coco is better and well behaved since the 1st day. And the trainers are wonderful and really how to give love to my fure babies. I'm very happy and grateful on the experience.

Israel Cerda
15:48 23 Apr 20
Our puppy Tank came home today, and all I can say is I'm Amazed. Before he went to Advanced Boot Camp he was unruly, not enjoyable, and we were wondering had we made the right choice of getting a dog. Upon his return home, We are in love with our Tank again!! We are able to see the love that Sara and Sam had for him as well. My 10 year old is finally going to be able to walk him without us being concerned of him pulling her into the street. I can not wait to utilize and continue the training with him. Lifelong family and lifelong investment for sure!!!! So grateful for TipTop!

Keila Young
21:02 22 Apr 20
My dog Thor was an adorable NIGHTMARE before going to doggie boot camp with Sara (his trainer) I couldn't take him on a walk, he would jump on everyone, and barked so much the neighbors complained. But after he came home I can take him on a walk with my toddler and he doesn't pull and stays right by me. I was floored when he didn't jump on me or bark at the cat. Sam and Denver were amazing helping me learn the commands and made me feel at ease if I had any further questions. Thank you so much!!! Would highly highly recommend!

Chelsea Mallow
21:07 04 Apr 20
Sara, Denver, Sam did a great job on our dog Thor he was jumping taking food out of our baby's hands and much more and he is a completely different dog and very happy

Military Stovall
21:02 04 Apr 20
Denver and team did a great job with Cooper. Great team and well worth the investment! So happy to get him home, he's a happy boy! Thanks to all!

Chris Williams
23:07 03 Apr 20
Sam and Denver are amazing! We signed up our dog Tipton for the boot camp and he came back absolutely perfect and we are so exited to keep working with him! Sam came over and explained everything to us and showed us how to continue his training she is absolutely amazing! I recommend her and Denver to everyone!

Delaney Thompson
00:30 24 Mar 20
Titan has progressed greatly . He's very active but has settled down and is responding to the commands more consistently Training for this owner has helped greatly

Nan thompson
19:55 20 Mar 20
just nowI loved my experience with Denver and Sam. The were very professional and so great with Buster and Winston. Highly recommend them for training!!

Becky White
23:51 17 Mar 20
My baby left our house an uncontrollably mess. He now listens and wants to please us. He understands that we just want to communicate and love him.

Justin Hook
00:02 05 Mar 20
Sent our dog with them and she came back a completely different! Way beyond our expectations! Very pleased and would recommend to anybody who would want their dog trained to sent them here!

Jacob Wiles
00:58 04 Mar 20
Sam and Denver were wonderful in training our Pointer/Pitbull mix "Sarge". They took the time to make sure we knew everything to keep our Sarge well trained!! EXCELLENT WORK!! Highly recommend!

Gerald Phillips
22:33 01 Mar 20
Tip top k9 did an amazing job training our pup. Would highly recommend!!

ANTIONETTE PHILLIPS
22:31 01 Mar 20
Sam is wonderful with explaining EVERYTHING!!! Cowboy corgi Tegan would not even be half the awesome dog she is at this point! Her favorite is the box!! I will forever be with them for tegans happiness as well as mine❤️❤️ More post to come on this fun experience!

amber waller
17:16 18 Feb 20
Hi this is Mary Lynn and Abe is my dog he's been with Tip Top K9 for the past month. He left my house I'll behaved, And he has been returned to me a beautiful well behaved mannered dog. Samantha and Denver are excellent Trainers. Samantha and Denver both love Abe as much as we do. I am happy to tell you if your dog needs training you need to call Tip Top K9 and you will be as happy as we are thank you.

Mary Lynne Cloar
22:55 16 Feb 20
Presented at an exhibit hall in Hot Springs during a veterinary conference and Zara never left her bed, super well behaved, and her owner/trainer, Denver, was super personable and polite

Carroway Herrison
20:22 08 Feb 20
We love Samantha and everything she did for us. We were going to have to get rid of our dog because he has become so aggressive to everyone. Now he is so friendly and well behaved that other people comment on him! He is a joy to have around and is so smart he picks up on training so quickly! We would not have known this if we hadn't allowed Samantha to train him! Thank you Samantha and Tip Top K9 of Fort Smith.

Rachel Degenhart
02:25 31 Jan 20
We have 2 dogs, one extremely reactive to people(Oliver), and the other a puppy(Ruby). Oliver made me nervous just to let him outside to potty, and now we can go in public places without worrying about him barking and lunging at people. Ruby has developed manners and does very well on leash. Both are very responsive to commands and we are so proud of them! Thank you, Denver and Tip Top!

Logan Martin
01:00 22 Jan 20
We are so thrilled with all of the training we received! Thank you so much!

Christine Hanlon
00:57 22 Jan 20
Love the training my Lucy got. I was afraid I would trip over her when walking, she jumped on everyone. Now she is calm, doesn't jump and will walk long side without pulling me.. love the friendly service from office staff, and the Sam and Denver were awesome. The trainers Sam and Denver did an amazing job with her and gave weekly updates.. would recommend to any one in Tulsa, Fayettville and Fort Smith areas. Thanks everyone!

Pat Harrold
22:00 19 Jan 20
Zara was extremely calm and personable.

Pablo Amaya
22:51 07 Jan 20
Zara is a powerhouse & such a sweetheart!

Kenidee Lloyd
22:45 07 Jan 20
zara is so cute and so well trained!

Josie-Lynn Lloyd
22:45 07 Jan 20
Zara is so precious and talented. I love her.

Sydney Golding
22:45 07 Jan 20
Sam did a fantastic job with Novak. He is a very stubborn dog so I didn't know if he would do well. He did amazing. He loves Sam so I know he was treated well. Thank you Sam!

Kasey Aldridge
21:42 01 Jan 20
Denver was incredibly knowledgeable. Our dog Luke is 100lbs and he would pull on the leash, jump and growl at bicyclists and random people. Now Luke is controllable and listens. He needed to be trained but we needed training alot.

Tyler Brown
22:47 18 Dec 19
Denver was AWESOME😉 My dog has completely chamged.

Asako Namiki
22:43 18 Dec 19
We would definitely recommend tip top k9. Max came home today and is obedient now! Sam and Denver did an amazing job!! Thank you!

Bryan Cormier
22:31 14 Dec 19
We had a rowdy puppy that wasn't potty trained and got back a well mannered puppy with more manners than my kids! I can't say enough about Sam and the rest of the crew for the time and devotion they gave to our puppy.

Leigh Christian
01:57 14 Dec 19
Denver has been excellent with our lab. One to one lessons along lessons at home have delivered the level of control we were looking for. Denver was very patience with us and our dog!

Stephen Mather
00:02 13 Dec 19
We had a great experience with Denver. He was very attentive and caring toward our Jackson. He went above and beyond when our dog was not feeling good. Jackson has learned to be a better dog. I recommend that pick Tip Top K9 in Fayetteville.

Denver was amazing with our dog Harper! She so far is a dramatically different dog. We are so excited to see what all she has learned!

Ashlyn Dillard
01:48 09 Dec 19
Denver was super patient with us when going over all the new commands and our dog clearly loved him!

Amethyst Osborne
01:46 09 Dec 19
Thanks to tip top k9 training my wittle hazelnut is now very well behaved and listens to what we say and doesnt go absolutely crazy 😂 very impressed !

Zachary Cook
01:34 05 Dec 19
Amazing experience!! Our dog was somewhat defiant and now she listens so much better. Would highly recommend

Makala Kohlbeck
01:33 05 Dec 19
Shes soooo beautiful and seems to be well trained

Katie Rundel
02:33 01 Dec 19
We met Zara at the mall she is the sweetest most well behaved dog!

Jacque Gordon
23:40 30 Nov 19
Saw Zara at the mall!! Great behavior!

Jessica Brown
23:39 30 Nov 19
I met zara at the mall n she is so friendly!

Dede Swinson
23:10 30 Nov 19
met Zara at the mall. Zara is very beautiful.

makalyn maxwell
23:06 30 Nov 19
Meet Zara at the mall super cute

Brylee Smith
23:05 30 Nov 19
Sweetest and best behaved dog ever!

Dalton Edwards
22:25 30 Nov 19
Meet Zara at the mall today such a calm sweet

Miranda Carlile
22:14 30 Nov 19
She's talented. She's really sweet.

Brittany Conner
21:58 30 Nov 19
Met Zara at the mall. Great dog!

Courtney Pixley
21:44 30 Nov 19
Give me your pupper. She's the best. Very obedient and well mannered. Definitely wanna get my pup trained.

JK Johnson
21:29 30 Nov 19
He did such a great job on training Zarra and they are a great boot camp!

Ukulele Aussassin
21:05 30 Nov 19
Very impressive behavior in all the k9's

country girl
20:34 30 Nov 19
Zara is so well behaved In such a crowed environment!! Very impressive

Alex Loftin
20:33 30 Nov 19
Met her at the mall! So beautiful and well mannered!

Leslie Dodge
20:14 30 Nov 19
Loved the customer service and how friendly the staff was!

Felicia Duty
19:01 30 Nov 19
Zara and her handler Denver came in to my store. I was so amazed at how well trained Zara is and well she behaves in a crowed store.

Suzan Waeltz
18:04 30 Nov 19
Met Zara at the mall, super sweet! Precious doggie :)

Sydnee Davis
00:28 30 Nov 19
Amazing dog! So attentive and well behaved.

Anna Epperson
23:57 29 Nov 19
Watched them take pictures of Zara in the middle of the food court on Black Friday in the mall, and she was so calm!

Jacqueline Lewis
23:13 29 Nov 19
Zara is a beautiful well behaved dog.. well done Zara!!

Rene Velasco
22:42 29 Nov 19
Saw Zara at the mall and she's awesome, very sweet dog!

Etasha Figueroa
22:39 29 Nov 19
I saw Zara at Central Mall in Fort Smith- she was walking off leash, super calm and obedient. She listened and did everything the trainers asked of her.

Maggie Davis
22:33 29 Nov 19
Met Zara in the mall & she is smart & beautiful & listened to every command!

Breckan Piker
19:50 29 Nov 19
Zara is a very calm dog. She is really sweet.

Alexis Corbit
19:44 29 Nov 19
Zara is a beautiful dog and extremely well trained!

Colin McCoy
19:38 29 Nov 19
The dog that we saw was the best trained dog I've ever seen!!

emma crabtree
19:14 29 Nov 19
Sam and Denver are the best. They have great patients with Zara. They are the best, I would highly recommend them.

Rita Lockwood
17:39 29 Nov 19
Great service! Dog was very well trained !

Candice Whitley
17:13 29 Nov 19
We loved watching Zara!! Sam and Dever were awesome!!

Misty Krigbaum
17:08 29 Nov 19
We met Zara in the mall. She was totally calm and friendly with all the black Friday chaos. Check them out!!!!!

Reesa Novak
16:59 29 Nov 19
Zara was amazing and so calm in the chaos!!

Chloe Novak
16:58 29 Nov 19
Met Zara at the mall, was super impressed by how calm and sweet she was in the middle of the mall on Black Friday.

Shelby Novak
16:55 29 Nov 19
Denver was great and absolutely loves dogs and loves training them. We got the teachers pet package and the little time we had we got so much out of this training.

Scott Hutcherson
19:45 27 Nov 19
After grooming for 10years and trying other companies with other dogs I needed my stubborn smart poodle some particular training! They did exactly as I requested and helped me micro manage my movements and commands to get his responses perfect!! Great customer service as well! Awesome job SAM.

Crystal James
20:58 26 Nov 19
We sent off our Pitbull, Bear, to go to training because he was ill-mannered and wouldn't listen to commands. He was a super happy dog, but just wouldn't listen well. After 2 weeks of training with Denver and Samantha our dog came home the same happy dog but very well mannered. We are incredibly happy because now he is getting along great with his brother, Chuy, and he also listens to us when we feel they are playing too rough. 10/10 recommend sending off your fur baby to them.

Cody Weishaar
01:14 26 Nov 19
Amazing results! Everything that I could ask for! Have recommended to all my friends and family!

Josh Hutchcroft
23:38 15 Nov 19
We are so impressed by the training by Sam of our dog Ace who is a border collie with very high energy and a lot of self will, we sent him to boot camp for 4 weeks, prior to the training he could not be still, would not obey and was always biting. He is now more calm, has all the training commands down. Sam came after boot camp to help train us to continue in Ace training. We highly recommend Sam of TiptopK9 for training any dog. Thank you Sam for taking very good care of Ace while training him. We look forward in his training.

Victor Hollingsworth
21:03 12 Nov 19
I had such a great experience. Before starting I felt hopeless with my puppy as his aggression was really bad and he wouldn't submit to me. Denver is really wise and helped tremendously. Now my puppy is super obedient and I get to enjoy his companionship like I always dreamed. People are always shocked and in awe when they meet my puppy at just 6 months old and see how well trained he is. To top it all off it was a ton of fun and was a great bonding experience for me and my pup!

Allye Brillante
17:57 06 Nov 19
I have a very high strung German short haired pointer. He was a very hard dog to train and very distracted. When he came home blu was a completely different dog. He was finally able to listen to me and be on command. I am so happy I used this organization for my dog especially for how tough of a breed he is.

Mckenzie Chenevert
23:42 01 Nov 19
My shelter dog has some deformities but Denver really helped work around that and helped me with the basics. I feel like now I know what to do to help Nelson learn some manners.

Dee Sigmon
19:34 01 Nov 19
We have a very intense German Shepherd that has really excelled with Sam. He is listening so well and so much easier to handle. We have had many different dogs and other trainers and Tip Top is the best! Highly recommend!!! Thank you, Sam!!

Megan Schroyer
17:34 01 Nov 19
Mike is a very good dog now, I'm so happy, thank you very much 😊

Gladys Ortiz
23:08 16 Oct 19
This is worth every penny. They have changed our dog dramatically. I really wish we had done this sooner, but it still works even with our 8 year old. I would encourage this for anyone who wants more from the dog. It has made our lives so much better. The trainer's are personable and skilled. Im honestly really grateful for Tip Top.

Temple Worrell
16:03 15 Oct 19
We have loved of experiance with Tip Top! Denver and Sam have been amazing!

Teressa Brown
15:58 15 Oct 19
Just had our homecoming party for Jade and Tank! Wow, the difference in both is absolutely amazing. The staff has been absolutely amazing. Morgan and the staff in the office have gone above and beyond to help and the kindness they showed was much appreciated. Sam and Denver bought our fur babies home, the professionalism they showed, kindness and love for their job and the dogs was awesome. I highly recommend Tip Top K9.

Sindee Snipes
20:40 07 Oct 19
She is absolutely adorable and so smart !!!

Shelly Leach
21:43 03 Oct 19
Zara, such a beautiful talented girl. Thank you for sharing with us Denver.

Cara Burgess
21:42 03 Oct 19
We met beautiful Zara today and her owner Denver. They are amazing, he has trained her to do exactly what he tells her and she is super obedient. Every dog should behave like Zara.

Denise Meadors
21:26 03 Oct 19
I was so impressed with Zara and how well trained she is! And she doesn't get distracted in public, which is amazing!

Hannah Springer
20:33 03 Oct 19
Zara is very well behaved and her handle is very kind and knowledgeable!!

Kali Vaughan
20:33 03 Oct 19
Zara was such a cool dog! We saw her up on a very small ledge balancing. Very well trained!

Had the best experience with this company. My dog went from biting my roommate because she tried to get a toy from him to being able to drop it on command. Would definitely recommend!! 10/10!

Bryce Burrows
23:13 25 Sep 19
Sweet Zara doing her Place command on a fire hydrant ❤️ Denver was very sweet

Meaghan Tipton
03:46 21 Sep 19
Zara and Denver have wonderful people skills.. Zara is especially beautiful with her placement and watching! Listens very well!!

Jenna Stites
03:39 21 Sep 19
I would recommend Tip Top K9 to everyone! My corgi "Wild Bill" hadn't ever even been on a leash before he went to doggie boot camp! We got him back and it's like he's a completely different dog, but still lovable! From the girls I talked to via phone and Sam and Denver, I am 100% completely satisfied and so happy! Thank you so so much!!

Nola was a sassy puppy who barked a lot and kept pulling on the leash and jumped on people. From starting this class, I have already seen huge improvement in how much he listens to me the first time, walks on a leash, and obeys me in general. I am so grateful for this class, not only for teaching me how to train Nola but also allowing me to bond with Nola outside of the usual playtime. I highly recommend tip top K9 for any dog!! I want Nola to be the best dog he can be since he's gonna be my buddy for at least 16 years. It's a great investment. Also the customer service is amazing and they're so flexible and willing to work with you!!!!

Zara is very well behaved. Denver was handler he taped her head and she greeted us with pure love.

Molly Rogers
22:13 07 Sep 19
Met Gorgeous Zara at the gas station. Didn't jump and just let me love all over her. Girls got good balance too!❤️

Elizabeth Williamson
22:11 07 Sep 19
Zara is very talented and well behaved! Great training!

Katie Hollingshead
23:52 05 Sep 19
Zara is so well trained and well behaved! She can do some cool tricks as well.

Ashtyn Madden
23:52 05 Sep 19
Zara was so sweet & cute! & Denver was awesome!

jessie thrush
23:40 05 Sep 19
She's a very sweet dog, and Denver was very helpful. Zara is obviously well trained and looked after.

Seth Whitman
23:39 05 Sep 19
Zara was the most impressive pup at the Fayetteville square! So responsive and well trained!

Erin Irizarry
23:36 05 Sep 19
Zara and Denver were very helpful and friendly!

Tristan Caple
23:35 05 Sep 19
She was so well behaved and her and her trainer was so nice!

Nichole Warren
23:13 05 Sep 19
zara is so sweet and well trained

Jessica Fraley
22:15 05 Sep 19
Just met Zara and Denver! Zara is such a sweet dog and so well trained.

Lily Shore
22:11 05 Sep 19
Zara is sitting outside Puritan Coffee & Beer patiently after Denver gave commands for her to stay put outside the shop. She was still obediently waiting for her owner to return after numerous minutes outside in the heat. Even when a customer entered the coffee shop she never tried to come in! Overall, an amazing K9 dog in training with an awesome owner!

Kalindi Cordero
21:55 05 Sep 19
Zara is super well-behaved and sweet! I can see she's really well trained.

Meaghan Neely
21:15 05 Sep 19
Zara and Denver are so cute!!! Saw them outside Puritan! 🥺🥺🥺🥺

Violet Spencer
21:12 05 Sep 19
Is there a 10 star rating possibility? 5 isn't enough! Tip top k9 of Fort Smith/Fayetteville has transformed our wild and overly excitable goldendoodle into a well behaved, calmer version of her sweet & loving self. Training a dog is no easy task like I thought it would be when we got a puppy. We were able to teach basics (sit, down, stay) but struggled with anything more. Now, Sadie will walk off leash right next to us with no problem. She is calmer around strangers. She comes when called & stays in place when told & so many more things! She will even sit on a fire hydrant! If you're considering professional dog training, tip top is the place to go!

Ruth Monson
03:17 04 Sep 19
Zara is an awesome dog with a a super cool trainer @denver

keela kemp
03:51 31 Aug 19
Zara is very talented! Her trainer Denver is excellent!

Cristina Miller
03:43 31 Aug 19
Zara is an awesome dog. Her level of training to hop on the fire hydrant was super cool. Denver is a nice guy too would love to take our dog there.

Logan Humphrey
03:31 31 Aug 19
Zara and Denver are awesome! 😊

Winsdy Vance
03:24 31 Aug 19
Sadie was a sweet heart, and sam added in for a wonderful duo. Happy to see them on Dickson.

Justice Williams
05:05 30 Aug 19
adorable pup and sam is a great trainer

Cass Curris
05:04 30 Aug 19
Zara and Denver are very talented. Great dog.

Taryn Villarreal
04:55 30 Aug 19
Zara is a 10/10 pooch. Great tricks very obedient. Would pet again🤝

Sarah Caster
04:21 30 Aug 19
Zara is the best!! She's adorable and such a talented dog!:) such a cutie!!!

Katherine Szot
04:20 30 Aug 19
Denver answer Zara were amazing!!! Loved meeting them, such a sweet well trained dog!!

Maci Parish
04:19 30 Aug 19
Sadie was such a precious girl! She was a ninja on the fire hydrant and sam was a good trainer! Loved it!

Anna McDonald
04:15 30 Aug 19
Zara is so amazing!! Such a sweet girl!

Faith Rawls
03:30 30 Aug 19
Zara and Denver are awesome!! Saw Zara jump on a fire hydrant, so cool!

Kelsey Nagel
03:06 30 Aug 19
Zara & Denver are super awesome! :-)

Alex Urban
02:52 30 Aug 19
Denver and Zara are amazing!!!

Addison Sherman
02:48 30 Aug 19
I can now take my Great Dane on a leisirely walk instead of him walking me!

Only in our third week and we have an absolutely different dog! He now comes immediately back when he's in the front yard instead of us having to chase him around the yard for 30 minutes!

Farsley, our Corgi, had a rough time paying attention and with anxiety around our pool. He's learned so much and is much more at ease. We have enjoyed learning so much to help our fur baby!!

Anne Bowes
23:32 28 Aug 19
Bear was a great dog, but I couldn't get him to stop jumping or listen on a consistent basis. I sent him through the advanced obedience bootcamp. When Bear came back, he was still a very happy and excitable dog, but he listened so well. I am so grateful to Tip Top K9 for Bear's transformation. Thank you and I can't wait to see what our group classes have in store for us!!

Hailey Scranton
01:54 28 Aug 19
Today I met Zara and was very impressed with her training! She was approachable, sweet, and very well trained. Her trainer Denver had a close relationship with her and was very kind to let my friend and I pet her.

mary seiter
19:41 27 Aug 19
I loved meeting Zara because she is talented, precious and very smart.

Kate Eihausen
19:37 27 Aug 19
Zara was the sweetest dog. I love Tip Top K9!

Cat Martens
19:09 27 Aug 19
Met Denver, he is awesome with his pup!

Rippin Didge
17:52 27 Aug 19
Saw firsthand how well the training works!

Geneva Stewart
17:52 27 Aug 19
Highly Recommend Tip Top K9, the trainer is very knowledgeable and passionate about what he does.

Jaime Stanley
18:45 22 Aug 19
Our Lab has HUGE issues with nipping, jumping, running out the door, was extremely difficult to walk on a leash, and darting out of his kennel. We sent him to TIp Top to help correct these behaviors. Dexter just finished their problem solver course and they corrected the behaviors!! He is such a fantastic dog and we can now enjoy his loving personality without all the nipping and jumping. The staff was friendly and the customer service was also great to work with!

Mark Thompson
23:09 21 Aug 19
We sent Dexter to this training facility to help curb his behaviors. He jumped on EVERYONE, didn't listen when his name was called, he nipped, would run out the front door and chase anything and everything in sight. We enrolled Dexter into their problem solver course and in 3 weeks they were able to train him to listen to simple commands such as sit, place, come, down, no more darting out the door and no more nipping. They worked amazing with Dexter and he clearly loved his trainer!! I would highly recommend them! The customer service staff is also great to work with!! 5 stars!!!!

Dana Acree
23:01 21 Aug 19
Tip Top K9 did an exceptional job with my dog! The difference after the advanced obedience is night and day!

Carolina Trujillo
23:36 19 Aug 19
I don't have a pupper, but I can vouch for the trainers - they're both extremely knowledgeable and have excellent backgrounds in both animal behavior/training and business. They'll take care of your kiddo and make sure the program is worth every penny. 💑+🐶+👩‍🏫=👪😚🎉🙌

Morgan Tedford
17:14 19 Aug 19
My dog was a complete mess until we started training with Tip Top K9. Now I can take him out in public and not worry about him bothering strangers or pulling on the leash. He walks right next to me. Thank you all so much!

Kaila Webb
13:11 19 Aug 19
The trainers are amazing at working with my dog. He goes potty outside when I say the word and I even hear from the groomers that he is behaving very well, holding still for his nails and brushing. I definitely recommend Tip Top K9.

I found both the owner and trainer to be honest and forth coming with what they could do for my dogs. After consultation And review of their planned training regiment their knowledge and training showed true . I would reccomend this service for all dog owners for any level of training.

Gene Hester
23:44 18 Aug 19
I definitely recommend tip top k9! They did an amazing job with Scarlet! Our dog was a tiny terror. She would bite and jump and pulled us around everywhere. She had chewed on all of my shoes and was constantly doing something she wasn't supposed to. We opted for the advanced boot camp and now we can finally control her and everyone compliments the way she acts when we take her out! She is the best dog now!

Renee Tedford
23:22 18 Aug 19
My dog barked obnoxiously and jumped all over everyone he met. After Tip Top K9 worked with us, I can have company over. My dog will do all of his commands the first time I ask. Highly recommend

Raymond chiles
22:57 18 Aug 19
Excellent professional trainers that really understand dog behavior! Highly reccomend!

Brandy Ragains
22:41 18 Aug 19
Scarlet was unruly, chewed on everything, jumped all over our children and would not come back when we called her. We sent her through the advanced obedience bootcamp. When she came back, she still had her sweet puppy disposition but she was so well behaved! We absolutely love her transformation! We highly recommend Tip Top K9!! Thank you so much for what you all have done for our family we cannot wait to start our group classes with her!

Steve Tedford
21:29 18 Aug 19
If you are looking for a dog trainer who specializes in obedience training and is in the Northwest Arkansas (Fayetteville, Springdale, Rogers, Bentonville) area then you have found the right page! 
At our Fayetteville dog training location you work with dog trainers who really care about your dog and about training.  Denver and his team of dog trainers serve clients all over the state of Arkansas with private lessons, group lessons and a board and train program (doggie bootcamp).  We take unruly, rowdy dogs and help them learn how to behave and then we train their owners how to keep them obedient and well behaved!
If you are needing some help from a dog trainer please give us a call today at 479-250-1136.  Your first lesson is $1.00 and we will come out to your house and work with you and your dog.  The $1.00 lesson is no obligation, at the very least we can come out and give you some advice, you have nothing to lose!
Fayetteville Dog Training Out And About:
Some of our recent Fayetteville dog training success stories: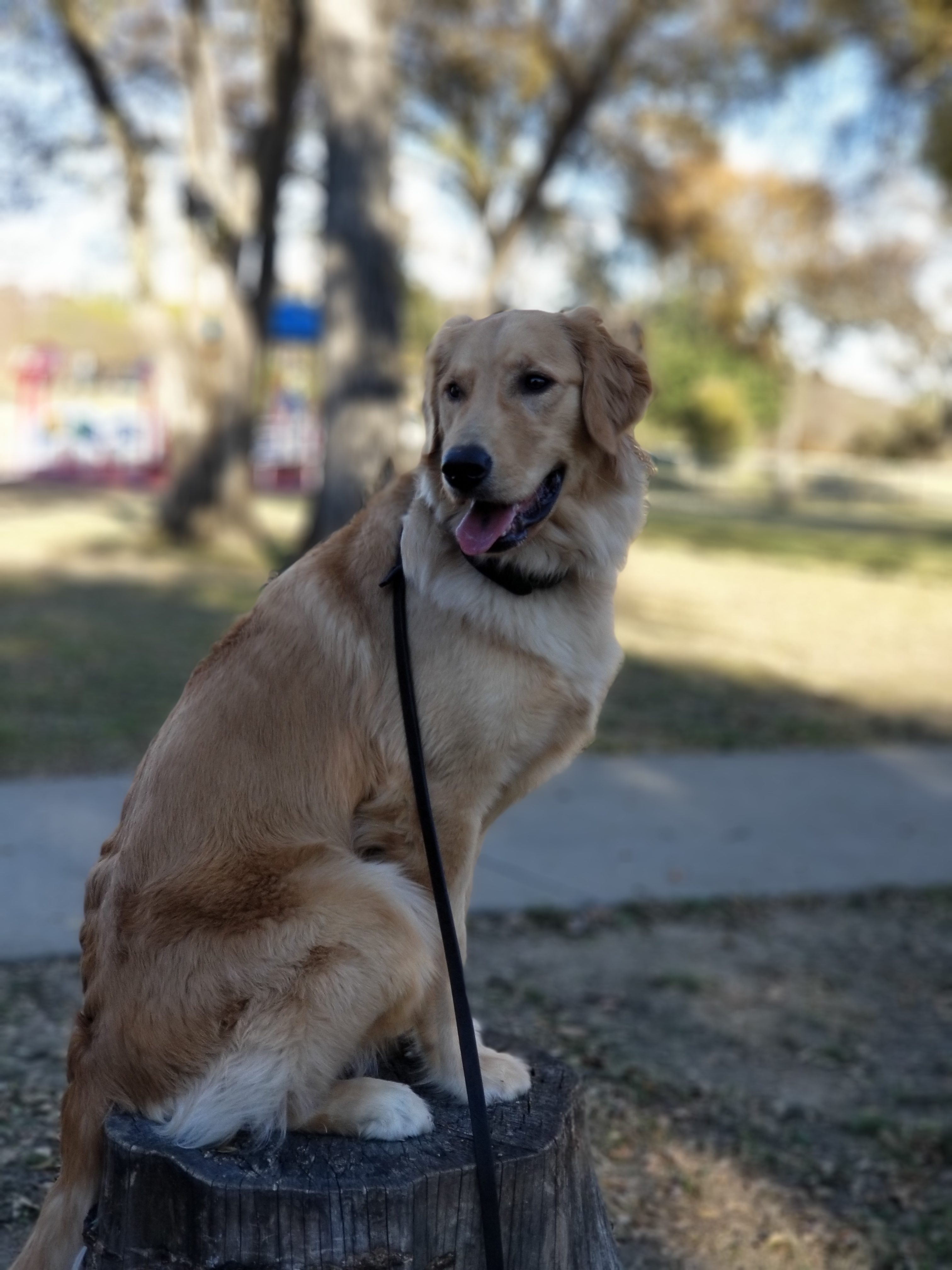 Bella the Golden Retriever
Bella was an out of control golden retriever puppy who couldn't wait to climb you then pull you down the street.  Her heart was in the right place, but she was definitely a handful.  Because of her bad habits her owners Mike and Nicole couldn't really take Bella for a walk or anywhere else for that matter!
After 4 weeks of Bootcamp, her life has drastically changed for the better.  Now instead of running to and jumping all over new people, she sits at your feet and waits for love to come to her.  No need to worry about pulling on the leash either, Bella is now 100% off leash!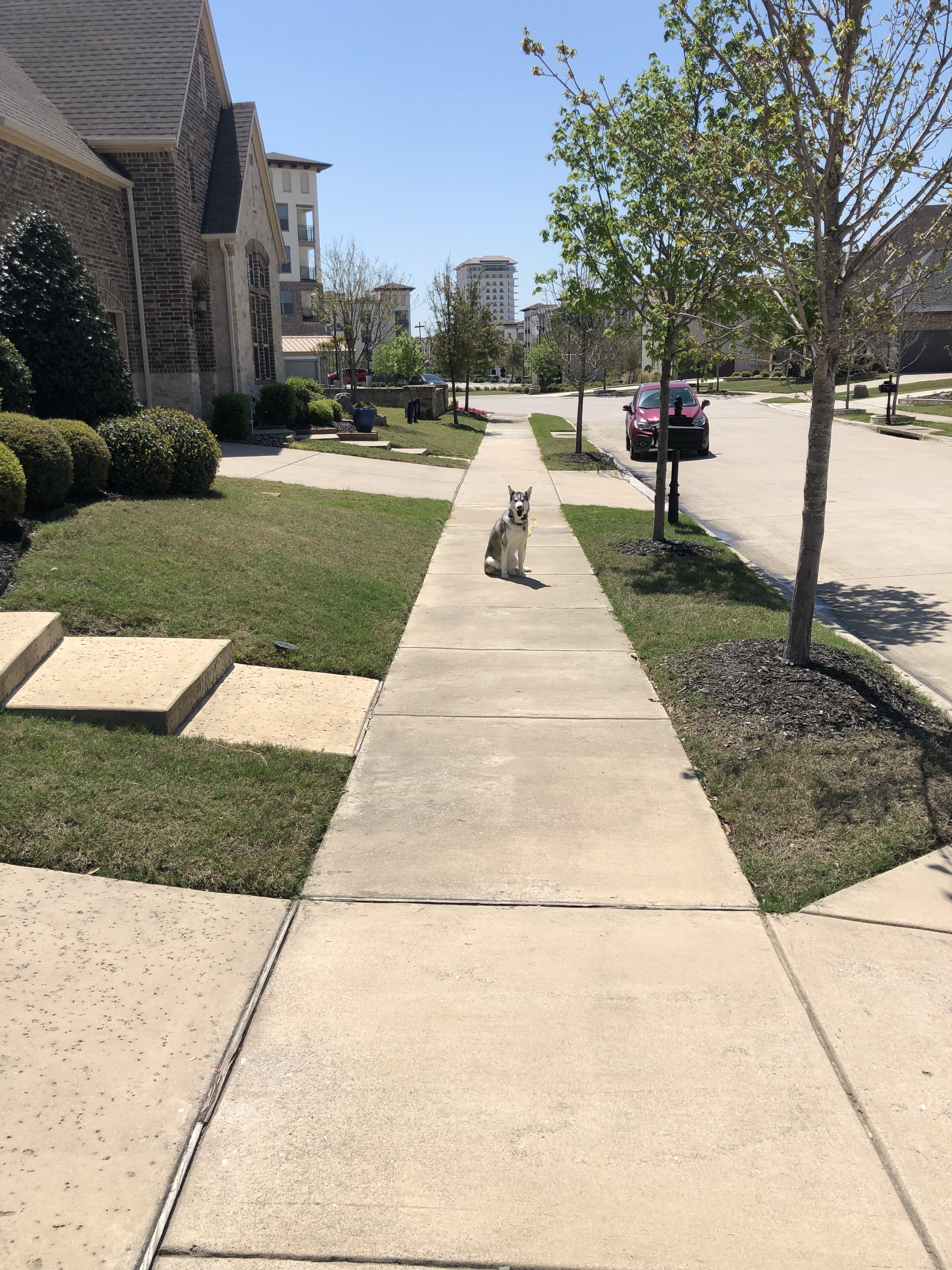 Lucy the Husky!
Lucy was just a small town pup trying to make it in the big city.  Her favorite hobbies were helping herself to the family dinner and long walks around the park pretending she was a sled dog. She hated car rides and listening to anyone who was talking to her. 
Now after 6 weeks of training, she has pulled herself together and is a model citizen.  She still loves walks around the park, but takes a relaxed stroll instead of sprinting to the end of the leash.  She no longer tries to sneak food from the counter when your back is turned, and can instead stay on her bed and watch dinner being made from the living room.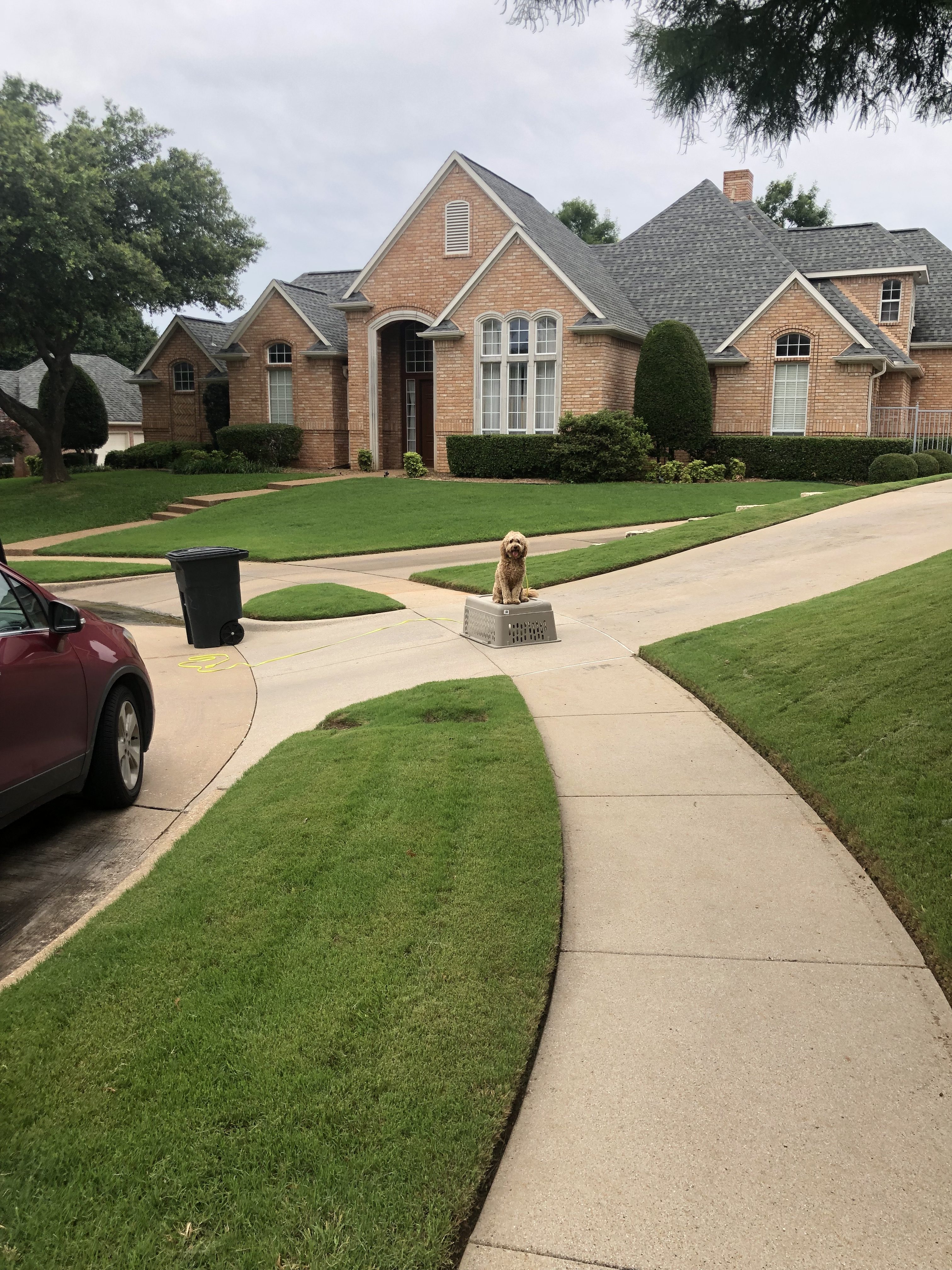 Lulu the Doodle!
Lulu was just your everyday Doodle puppy.  What she lacked in coordination, she more than made up for with crazy.  She was an escape artist and would love to be chased around the neighborhood and parkour through the house!
After just 4 weeks of private in-home training, she had a new lease on life.  Instead of taking off down the street every time the front door was opened, she now just stays on her cot.  Lulu still has her same loving and affectionate personality, but now channels her energy into running laps around the backyard pool instead of the neighborhood!
Talk With a Trainer Today!