Tip Top K9 – Fayetteville
Our Yorkie mix was just trained by the experts at tiptopk9 Arkansas! She did great and she did well with the training. She came home looking well taken care of and super happy. We couldn't be more pleased with our trainer Sara and her team!!!

Michael Salerno
20:21 01 Dec 21
I am highly impressed by the professionalism these guys have. The whole experience has been amazing and I will recommend them to everyone. It's a 360 turn for our sheepadoodle Yoshi and we are loving it 😊😊

Sadie did wonderful! She's now an awesome dog

Anna Cabaness
17:52 23 Nov 21
We just got our year old Chocolate Lab, Millie, back from her 4-week stay with Tip Top K9, and she's made SO much progress! She is so much more confident in herself and listens better than we ever could have imagined. We're beyond happy with our experience and highly recommend Tip Top K9!

Caitlyn Greene
22:17 22 Nov 21
Just picked up our dog Korben and are so happy with his progress.

Starkk_alt_del
18:47 19 Nov 21
Denver was awesome! We did Teacher's Pet and our dog Beatrice did wonderfully. He was helpful, consistent and encouraging to keep us focused on our goals. Excited to start training with our second dog, Wallace soon. Who says you can't teach an old dog mew tricks?!

Erin Wheeler
17:17 18 Nov 21
They are very dependable and helpful. Milo now does as he is told.

Shanna Reynolds
23:55 17 Nov 21
We just finished our Quick Fix training sessions - Jax did awesome, mainly because he got along with our great trainer, Sara!

Anusha Jacob
20:32 17 Nov 21
Our mini Aussie just finished her boot camp and we are very happy! We loved the updates that they sent us and looked forward to them every week. They did an awesome job with her and she is amazing! She came home happy and well taken care of, and I would recommend tiptopk9 Arkansas to everyone!!!!

Rosemary Smith
19:45 12 Nov 21
Got our dog as a stray that walked up to our door. He was very skittish, and took a long time to get a collar on him. After trying different local trainers, I got a hold of Tip Top. Major has since done a complete 180 after going through doggy boot camp. I couldn't be more pleased with his transformation. I highly recommend the trainers And this company.

Barrett Kilgore
01:40 11 Nov 21
Our German Shepherd was aggressive and wouldn't listen to us at all. We contacted Tip Top K9 and we got in contact with Denver. Denver showed us everything we needed to get our dog under control through their program. Denver was extremely nice and clear with communication. I would highly recommend him.

Jon Higbee
19:58 09 Nov 21
Denver is a great trainer super willing to train even the wildest dogs. We have two GSPs who now we can take on enjoyable walks without any pulling. Be willing to put in human training too and your dog will transform into the best version of themselves!

Sarah Briggs
20:48 05 Nov 21
In 3 lessons our dogs have made a 100% improvement in their behavior and obedience. Great value for the training + life time group lessons (Good Dog package).

Andrew Ironside
20:47 05 Nov 21
Highly recommend if you want any type of training. They will work with you to get your dog where you want them to be.

Hollie Pierce
14:15 05 Nov 21
Really supportive, excellent follow up, great results!

Ashley Covert
17:10 04 Nov 21
We loved working with Denver! We have a very sweet but stubborn Boykin Spaniel, Baxter, and now we know how deal with that going forward. Very thankful for Tip Top K9!

Maggie Geren
23:35 02 Nov 21
Loved our time with Denver! He helped us with our Boykin Spaniel, Baxter

Rodger Hurt
23:08 02 Nov 21
My dog did really well training here! Before, she was very nervous around new people and had shown aggression towards other dogs. Now, she is much more confident! I can take her out to ball games and parks and even in stores and she is well behaved. Her aggression is manageable and I am no longer worried! She is happier now that she can come with me places, and her quality of life is so much better after training!

Sara Willadsen
17:46 28 Oct 21
My dog did great with the training!

Angie Efurd
15:19 26 Oct 21
My dog has improved greatly, and I have learned all the commands for her to be able to go out and meet people. In one month she had learned so much!

Katherine Scantlin
22:45 19 Oct 21
Excellent service for my dog and me

anita costner
20:51 19 Oct 21
Our dog Journey loves Tip Top K9 Arkansas. We can not wait to continue her training with them!

Melanie Carman
00:19 16 Oct 21
We couldn't be happier with Tip Top canine. Our dog was treated so well and she is such a well trained girl now. Thanks!!

Jenee Beuterbaugh
20:32 13 Oct 21
Very good place to have your dog trained.

Debbie Easley
01:00 07 Oct 21
This training safe my family from become apart from our lovely dog. He used to jump and chewing the kids at home. Now we can reunite the whole family as a whole, the kids can play with our dog and enjoy playing. That means a lot for us. I don't have words to describe how grateful we are that we found this amazing team. We highly recommend this training.

NERIDA SUASNABAR
18:50 05 Oct 21
Our American Bully just came back from Boot Camp and we are SO excited about his transformation! Tip Top K9 did an amazing job at training him, he came back knowing so much! He no longer jumps on people, or pulls on the leash! We can't wait to take him out in public and not worry about him pulling towards anyone or anything he sees! Bring your dogs here, I highly recommend them!

Cindy Castillo
00:01 30 Sep 21
So happy with our trainer Denver! We honestly never thought we could get our red healer puppy to listen, stop biting, stop jumping on sofas, stop pulling on the leash etc.. we were so close to giving up on him and giving him up for adoption 😔 I'm so glad I called and started on a quick fix! I recommend a 💯 %

Rosa Trejo
16:49 28 Sep 21
My dog has made a huge amount of progress. My dog had an agression issue and he is much calmer and manageable. I highly recommend Denver as a trainer especially for dogs that are difficult to manage. My course was The Teachers Pet. I will continue with the lifetime time group classes to continue working on his behavior. The expense of the course was more than worth it!

Lela Shipman
16:14 25 Sep 21
Great attention to owners and our dogs, especially to make sure we understand the steps!

Jake Thompson
22:26 23 Sep 21
Denver has changed our dog's life completely. We have a shelter dog who was abused and had fear based aggression. I barely recognize our dog now. DENVER IS INCREDIBLE!

Ellis Bryan
15:51 15 Sep 21
Extremely happy with the service. Our puppy was a extremely timid and he changed good after the training. Highly recommend TiptopK9.

aswanth Reddy
23:20 08 Sep 21
Tip Top K9 has done an absolutely great job with our fur baby Jake! We highly recommend them to anyone looking for a caring environment to help train their pup.

Melinda Martin
18:05 07 Sep 21
My German Shepherd has been through several different trainers in the last four years. Finally! We found one whose Quick Fix program changed our dog walks from stressful and scary to enjoyable, whose program changed our household dynamic from dogs running our house with bad behaviors full of anxiety, excessive barking, and high stress to a house with people who are able to relax, play, and love on their dogs. Our dogs now understand we are capable of loving on them and providing for them; they no longer have to fear or try to control through worldThrough unruly and aggressive behaviors.The Quick Fix option allowed us to build a solid foundation we will continue to use for the rest of our dogs' lives.Highly personal training for us the pet owners as well as our dogs.

Kristi Ward
21:01 31 Aug 21
I chose to reach out to Tip Top K-9 because my dog was out of control. His behavior on walks was stressful. I didn't feel safe taking him for walks because he was out powering me. There were many issues and after 3 two hour sessions most of these issues have resolved. I amazed at how much control I have gained since working with Tip Top K-9.

Carrie Ward
20:08 31 Aug 21
Everyone was so helpful and kind to our Sophia. They have made our time with her much more enjoyable. It was such a great experience.

Stephanie Brewer
23:52 25 Aug 21
I had a great experience with Tip Top K9. My dog did the boot camp training and has learned so much. I'm excited to continue doing the group class trainings.

Nicole Netherton
19:33 24 Aug 21
Very pleased with how good our Dog Lily has been trained by these kind, pet loving trainers and highly recommend their services

Jordan Kennedy
22:39 20 Aug 21
Excelente Servicio. Cada viernes los updates eran excelentes. Y la induccion cuando la entregaron en casa fue muy explication. Muy recomendado.

Jair Suarez
18:09 17 Aug 21
My dog Nira is still the same sweet girl, but listens to us.

Diana Cruz
16:54 13 Aug 21
I am very pleased with the results of my dog Bella's training at Tip Top Boot Camp. Sara did a great job of going through all of the commands and what was effective was having me repeatedly doing the commands and the actions such as heeling. I'm anxious to follow through and visit the group training at the Veterans Park.

Louise Lorenz
17:24 31 Jul 21
I watched calahoula Bella today after her training. And was so impressed with how how nuch she has learned. Can't wait to babysit with her and show her off.

Sandra kostka
17:18 31 Jul 21
My trainer was Dever he was able to train my 2 year old min pin. The patience, he has with us allowed us to really understand our dogs needs. He explained it in different ways that allowed me to execute the command effectively. He also put into perspective the standard for dog training results which basically falls on how you train your dog and how dedicated you are to it.Would 10/10 recommend Tip Top K9 !

Loren Flores
19:48 29 Jul 21
Denver is the Real Dog Whisper!

Jessica Sweet
21:44 28 Jul 21
If you are looking for a dog trainer who specializes in obedience training and is in the Northwest Arkansas (Fayetteville, Springdale, Rogers, Bentonville) area then you have found the right page! 
At our Fayetteville dog training location you work with dog trainers who really care about your dog and about training.  Denver and his team of dog trainers serve clients all over the state of Arkansas with private lessons, group lessons and a board and train program (doggie bootcamp).  We take unruly, rowdy dogs and help them learn how to behave and then we train their owners how to keep them obedient and well behaved!
If you are needing some help from a dog trainer please give us a call today at 479-250-1136.  Your first lesson is $1.00 and we will come out to your house and work with you and your dog.  The $1.00 lesson is no obligation, at the very least we can come out and give you some advice, you have nothing to lose!
Fayetteville Dog Training Out And About:
Some of our recent Fayetteville dog training success stories: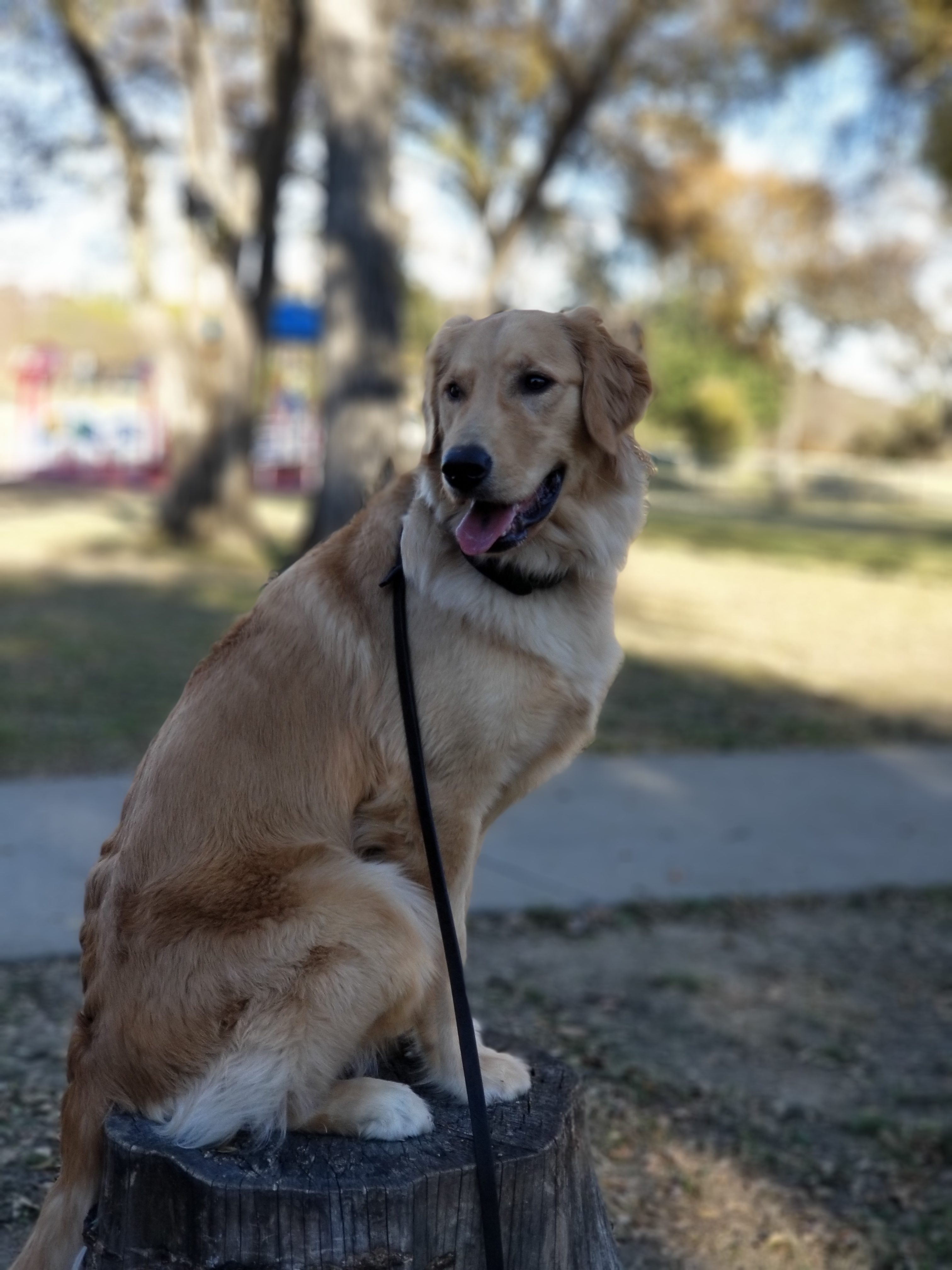 Bella the Golden Retriever
Bella was an out of control golden retriever puppy who couldn't wait to climb you then pull you down the street.  Her heart was in the right place, but she was definitely a handful.  Because of her bad habits her owners Mike and Nicole couldn't really take Bella for a walk or anywhere else for that matter!
After 4 weeks of Bootcamp, her life has drastically changed for the better.  Now instead of running to and jumping all over new people, she sits at your feet and waits for love to come to her.  No need to worry about pulling on the leash either, Bella is now 100% off leash!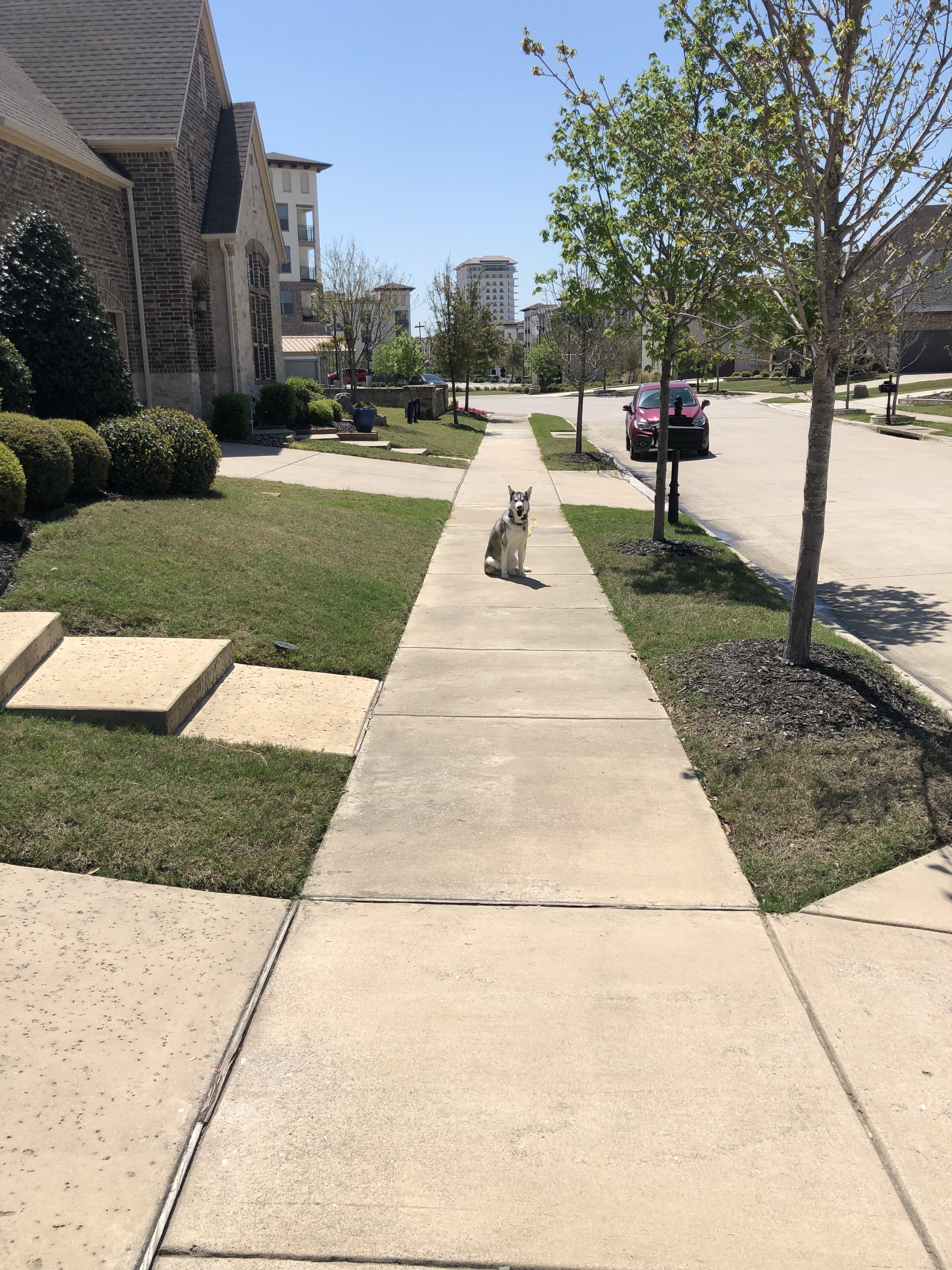 Lucy the Husky!
Lucy was just a small town pup trying to make it in the big city.  Her favorite hobbies were helping herself to the family dinner and long walks around the park pretending she was a sled dog. She hated car rides and listening to anyone who was talking to her. 
Now after 6 weeks of training, she has pulled herself together and is a model citizen.  She still loves walks around the park, but takes a relaxed stroll instead of sprinting to the end of the leash.  She no longer tries to sneak food from the counter when your back is turned, and can instead stay on her bed and watch dinner being made from the living room.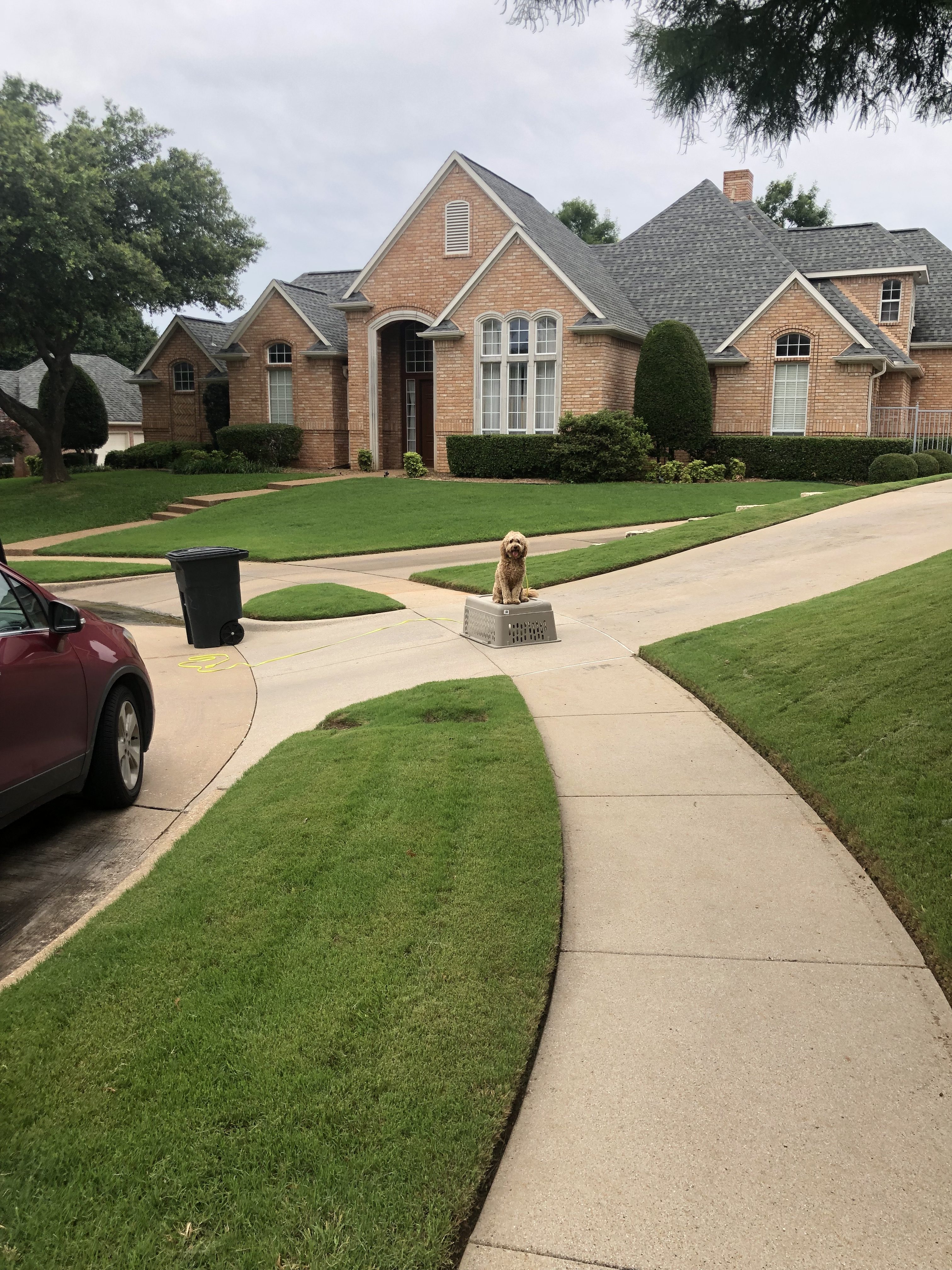 Lulu the Doodle!
Lulu was just your everyday Doodle puppy.  What she lacked in coordination, she more than made up for with crazy.  She was an escape artist and would love to be chased around the neighborhood and parkour through the house!
After just 4 weeks of private in-home training, she had a new lease on life.  Instead of taking off down the street every time the front door was opened, she now just stays on her cot.  Lulu still has her same loving and affectionate personality, but now channels her energy into running laps around the backyard pool instead of the neighborhood!
Talk With a Trainer Today!