When I first took my dog Arya she was a naughty butt. She had multiple problem areas including jumping, biting, and just listening in general. Sara worked with her for almost 3 weeks and Arya is now the best little baby ever.

Fantastic group of professionals who were patient with both us and our pups. They truly care about the dogs and want us to succeed in training our pets. Definitely recommend.

Anybody who take a strong willed rescue and have him behaving and heeling is miracle worker. Worth every penny I highly recommend.

Our instructor, Denver , is a absolutely amazing!! Mynober grown baby is so.much easier to handle and knowing that I have learned along with him makes me feel so good. Thank you Denver!!!

Denver's, Sam, and Sarah have really helped my dog Molly become a good and obedient dog. I would recommend these people to anyone.

Highly recommend tip top and their trainers mainly Sarah and Sam. Our dog was all over the place before they took him. 100 percent difference. Our dog is focused and listens 100 percent more than before. 5 stars for us!

We travel all of the time for work. Our Great Dane, Mazie, goes everywhere with us. She was very entergetic and hard to walk. She would bounce from one bed to the other in hotel rooms. Now after training she is a totally different dog. She does not pull on the leash when walking. She stays by our side off leash. Thanks, Sam, Sara, and Denver.

Sarah sam an Denver did a awesome job with our dog Mazie was a handful she would jump on use bite at our feet an not listen at all. She ia a total different dog .i would recommend tip top k9 .thank you all so much

I really enjoyed the teachings how coco is better and well behaved since the 1st day. And the trainers are wonderful and really how to give love to my fure babies. I'm very happy and grateful on the experience.

Our puppy Tank came home today, and all I can say is I'm Amazed. Before he went to Advanced Boot Camp he was unruly, not enjoyable, and we were wondering had we made the right choice of getting a dog. Upon his return home, We are in love with our Tank again!! We are able to see the love that Sara and Sam had for him as well. My 10 year old is finally going to be able to walk him without us being concerned of him pulling her into the street. I can not wait to utilize and continue the training with him. Lifelong family and lifelong investment for sure!!!! So grateful for TipTop!

My dog Thor was an adorable NIGHTMARE before going to doggie boot camp with Sara (his trainer) I couldn't take him on a walk, he would jump on everyone, and barked so much the neighbors complained. After he came home I was floored when he didn't jump on me or bark at the cat and I can take him on a walk with my toddler now he doesn't pull and stays right by me. Sam and Denver were amazing helping me learn the commands and made me feel at ease if I had any further questions. Thank you so much!!! Would highly highly recommend!

Sent our Thor to them and he was jumping taking food out of our baby's hands and so much more like I was almost fed up but then we sent him here and he came back a completely different dog and very satisfied. Would recommend to anyone

Denver and team did a great job with Cooper. Great team and well worth the investment! So happy to get him home, he's a happy boy! Thanks to all!

Absolutely amazing. Sam did a wonderful job training my dog Tipton. He looks like a brand new dog. He loves the training and catches on extremely quickly. Sam took us through all the steps and was extremely thorough. She was quick to make sure that both Tipton and I were tested and passed. The extensive knowledge and confidence coming from Sam was a good feeling and reassured us that Tipton was getting the best training. I love this!

Sam and Denver are amazing! We signed up our dog Tipton for the boot camp and he came back absolutely perfect and we are so exited to keep working with him! Sam came over and explained everything to us and showed us how to continue his training she is absolutely amazing! I recommend her and Denver to everyone!

Titan has progressed greatly . He's very active but has settled down and is responding to the commands more consistently Training for this owner has helped greatly

I loved my experience with Denver and Sam. The were very professional and so great with Buster and Winston. Highly recommend them for training!!

This training works! We love what Sam at Tip Top K9 Fort Smith has taught us. Our dog, Sampson, is a huge lovable dog that had a few issues that they've helped us address. The included lifetime group classes are a valuable part of this company's services, and we're looking forward to being there for them as often as possible.

My dog was off the walls. Now she is calmer and listens when called on. Sam did a great job at explaining during the lessons. I have a lovable puppy now.

Sent our dog with them and she came back a completely different! Way beyond our expectations! Very pleased and would recommend to anybody who would want their dog trained to sent them here!

Sam and Denver walked us through everything we needed to know to keep our Sarge well trained! Sarge is doing EXCELLENT!!

Tip top K-9 did an amazing job training our pup. Highly recommend!!

Very personable and patient . Sam is very knowledgable! Thank you for helping us with Hershey!

Sam is wonderful with explaining EVERYTHING!!! Cowboy corgi Tegan would not even be half the awesome dog she is at this point! Her favorite is the box!! I will forever be with them for tegans happiness as well as mine❤️❤️ More post to come on this fun experience!

Hi this is Mary Lynn and Abe is my dog he's been with Tip Top K9 for the past month. He left my house I'll behaved, And he has been returned to me a beautiful well behaved mannered dog. Samantha and Denver are excellent Trainers. Samantha and Denver both love Abe as much as we do. I am happy to tell you if your dog needs training you need to call Tip Top K9 and you will be as happy as we are thank you.

Our personal trainer was highly skilled.Our adopted kennel dog had some serious issues.We now have hope for our dog and his potential.We realize the sacrifice in the financial investment was worth the effort in training.We are very grateful for our experienced trainer.

We love Samantha and everything she did for us. We were going to have to get rid of our dog because he has become so aggressive to everyone. Now he is so friendly and well behaved that other people comment on him! He is a joy to have around and is so smart he picks up on training so quickly! We would not have known this if we hadn't allowed Samantha to train him! Thank you Samantha and Tip Top K9 of Fort Smith.

We have 2 dogs, one extremely reactive to people(Oliver), and the other a puppy(Ruby). Oliver made me nervous just to let him outside to potty, and now we can go in public places without worrying about him barking and lunging at people. Ruby has developed manners and does very well on leash. Both are very responsive to commands and we are so proud of them! Thank you, Denver and Tip Top!

We are so thrilled with all of the training we received! Thank you so much!

Love the training my Lucy got. I was afraid I would trip over her when walking, she jumped on everyone. Now she is calm, doesn't jump and will walk long side without pulling me.. love the friendly service from office staff, and the Sam and Denver were awesome. The trainers Sam and Denver did an amazing job with her and gave weekly updates.. would recommend to any one in Tulsa, Fayettville and Fort Smith areas. Thanks everyone!

My dog Reese was trained very well in such a short time. We thought that we were going to have to get rid of her, but now she's a very good dog. Thank you Tip Top!

Trainer is punctual and knowledgeable. I love that they come to your home. Lessons are in my yard and around my neighborhood. The trainer, Sam, teaches us new stuff every week and gives assignments for practice. With our busy schedule, I didn't always have the time to practice and perfect the assignments as much I would have liked, so I would have liked more than a week between each session. Other than that, it has been a great experience and looking forward to group lessons. My dog is so much better.

Denver was amazing with our dog Harper! She so far is a dramatically different dog. We are so excited to see what all she has learned!

Denver was super patient with us when going over all the new commands and our dog clearly loved him!

Amazing experience! Would highly recommend. Our dog was a little crazy and now she listens so well!!

Denver was great and absolutely loves dogs and loves training them. We got the teachers pet package and the little time we had we got so much out of this training.

Denver was great and really helped my dog. She was terrified of people that we weren't able to go anywhere with her. Now we can and I'm able to go anywhere with my best friend!

Our dog Gunther was out of control and Sam and all the trainers at Tip Top K9 transformed him into a model puppy. Their program is great and I am super pleased with the results. We love tip top K9 and all their team!!!! 100% recommended!!!

This program is amazing. Our dog was out of control and now we have a well behaved dog. Sam is amazing.

Great experience! Everyone was super friendly and our dog is the same sweet boy after the training!!! Would definitely recommend to anyone who asked!

We sent off our Pitbull, Bear, to go to training because he was ill-mannered and wouldn't listen to commands. He was a super happy dog, but just wouldn't listen well. After 2 weeks of training with Denver and Samantha our dog came home the same happy dog but very well mannered. We are incredibly happy because now he is getting along great with his brother, Chuy, and he also listens to us when we feel they are playing too rough. 10/10 recommend sending off your fur baby to them.

Amazing results! Everything that I could ask for! Have recommended to all my friends and family

We are so impressed by the training by Sam of our dog Ace who is a border collie with very high energy and a lot of self will, we sent him to boot camp for 4 weeks, prior to the training he could not be still, would not obey and was always biting. He is now more calm, has all the training commands down. Sam came after boot camp to help train us to continue in Ace training. We highly recommend Sam of TiptopK9 for training any dog. Thank you Sam for taking very good care of Ace while training him. We look forward in his training.

I had such a great experience. Before starting I felt hopeless with my puppy as his aggression was really bad and he wouldn't submit to me. Denver is really wise and helped tremendously. Now my puppy is super obedient and I get to enjoy his companionship like I always dreamed. People are always shocked and in awe when they meet my puppy at just 6 months old and see how well trained he is. To top it all off it was a ton of fun and was a great bonding experience for me and my pup!

Our dog Elijah, needed to be able to go out in public with us. Full on service dod training for my PTSD. He has disobedient, and wanted to do what he wanted to do when he wanted to do it. His rules or the highway (literally he's run out on the road). We were getting overwhelmed and unsure what to do. We looked at a few different trainers. Tip Top K9 Met with me at a local park. They were VERY thorough in explaining their training methods. I immediately knew that they were the ones to train our dog for what we wanted. They 100% guarantee their training. They give weekly pictures and report cards. It was wonderful to see our dogs progress as he went through the training. The day he came home our whole family was super excited to have Elijah back. The trainer Sam, was VERY thorough in her explanations of Elijahs, training. It was very easy to understand the commands he was trained to. He listened EXTREMELY well to every command. Both my wife and myself were able to work him with the commands. I would highly recommend Tip Top K9 Fire you're dog training needs. They also offer group courses twice a week for free, for the life of the dog. Great follow up training. Sam is an amazing trainer!!

I have a very high strung German short haired pointer. He was a very hard dog to train and very distracted. When he came home blu was a completely different dog. He was finally able to listen to me and be on command. I am so happy I used this organization for my dog especially for how tough of a breed he is.

Amazing place. Definitely the best around.

Mike is a very good dog now, I'm so happy, thank you very much 😊

Mike has changed completely before I could not get him to stop jumping and biting. Now it has completely changed and he can follow commands 100% of the time! He is already a sweet and well rounded dog but now I know that he will be well mannered around all adults and children. It is such a piece of mind to have and I am so thankful for the process and the people that took time to work with him!

This is worth every penny. Our dog is dramatically changed. If you do what they say, do your homework, you will give you and your dog a different life. I really wish we could have done this earlier. The trainer's are personable and skilled. I don't right reviews slot but I have to encourage Tip Top, cause I know how important it is for dog owners. Thank you Too Top.

We have loved Sam and Denver! They have been great with our 8 year old year dog!

Just had our homecoming party for Jade and Tank! Wow, the difference in both is absolutely amazing. The staff has been absolutely amazing. Morgan and the staff in the office have gone above and beyond to help and the kindness they showed was much appreciated. Sam and Denver bought our fur babies home, the professionalism they showed, kindness and love for their job and the dogs was awesome. I highly recommend Tip Top K9.

LOVED this experience. My dog has learned so much and is much more responsive to my commands. He now walks by my side and releases toys on command. Absolutely would recommend!

I would recommend Tip Top K9 to everyone! My corgi "Wild Bill" hadn't ever even been on a leash before he went to doggie boot camp! We got him back and it's like he's a completely different dog, but still lovable! From the girls I talked to via phone and Sam and Denver, I am 100% completely satisfied and so happy! Thank you so so much!!

Nola was a sassy puppy who barked a lot and kept pulling on the leash and jumped on people. From starting this class, I have already seen huge improvement in how much he listens to me the first time, walks on a leash, and obeys me in general. I am so grateful for this class, not only for teaching me how to train Nola but also allowing me to bond with Nola outside of the usual playtime. I highly recommend tip top K9 for any dog!! I want Nola to be the best dog he can be since he's gonna be my buddy for at least 16 years. It's a great investment. Also the customer service is amazing and they're so flexible and willing to work with you!!!!

Corgis are two things: cute and stubborn. Before training he would run, and run, and run when he got loose in the front yard and it would take at least 20 minutes to finally get him; probably when HE got bored of "playing". Now, after only 3 weeks of training, when we let him out in the front yard, we say "Come" and he runs right over to us and lets us put him back in side.

We had a great experience with their boot camp program! Sadie learned so much in such a short time!

Great dog trainers who are very kind and knowledgeable!

I can now take my great dane on a leisurly walk instead of him walking me!

Gabby had no discipline at all before we brought her to Tip Top K9. She pulled on the leash and acted up. As soon as we got her back she was much more disciplined and ready to be an indoor dog!

Joey prior to training was a very loving, playful dog but nearly uncontrollable. After the advanced course, he was still loving and playful but much more controllable. He now sits, stays, comes, and heels on command. We are unable to run with him previously but now we are looking forward to runs. Highly recommend Tip Top K Nine of Fort Smith.

I highly recommend tip tok k9 to train your dog. My dog used to always pull on the leash and I could not even walk him , now my dog walks calmly beside me with one command. I am very happy with the results, he is now so well behaved and trained!

Duke is a pleasure to have now that hes not jumping all over us and the furniture !

Our Great Dane Duke was very stubborn and hard headed. He enjoyed chasing joggers and animals and would frequently get away. Tip Top Fort Smith has turned him around and now he is great to take outdoors and in public! He minds very well and they took great care of him! If there were more than five stars I'd give it!

Duke was very unattentive when we first got him tip top had him for 6 weeks he is worlds better

Took Katie for training and they where extent helpful and friendly. I am able to take her in stores with it any fighting or pulling absolutely wonderful.

Aly listens better to commands. She walks great on a leash. We are extremely satisfied. We would recommend this training to anyone.

Tip top k9 is amazing! Our little terrier was a rescue, about a year old, and was so unruly. He jumped, nipped, barked, and always ran away from a leash or a come command. With just a couple classes he will come when called, walks great on leash, and is completely a new dog. He was sweet before but now he's sweet and well behaved! Thank you guys so much!

Lucky we very well trained his owner was harder. Very good program

I highly recommend Tip Top K9! I have a territorial dog and Sam (the trainer) did training sessions at my house! Now my dog is less afraid of people and dogs! I can have company over using the skills that she helped put in place. Plus, I can take my dog out into public now without worry! I loved making this investment and now I don't have to get rid of my dog! Plus, the trainers and the customer service are incredibly helpful!

Cali is doing so much better with not jumping on people and walking on a leash. She is so well behaved now! Thanks Tip Top K9!

Highly recommend! Denver has been such a blessing in helping and giving us tools to work with our sweet pup! She has high anxiety and working with Denver has made our lives and our pups life better! Thanks so much!!

Sam is an amazing trainer and has provided solid training for both of my doggos! I highly recommend this company for all your dog training needs!!

Denver (Fort Smith, AR) is a great trainer and teacher. He has good people skills and his instruction are simple and easy to follow. We really enjoyed our lesson with him and Sam

Sam was incredible about helping us train our doggos to a whole new level! I would definitely use Tip Top K9 as soon as you get a dog!

I would highly recommend Tip Top K9 to anyone who is out of ideas for trying to fix their dog themselves. They helped me take a dog with public aggression and anxiety issues and give her and myself the confidence to take her out in public and not have to worry about what might happen! I also learned multiple other things that will aid me in having what I consider to be a perfect dog! I'm extremely satisfied with what I learned in taking this course!

I'm the vice-president of a relatively new non-profit organization to supplement the City of Paris pound. Our aim is to rehome and/or transport dogs picked up by animal control. We found a foster for one, Molly, who was at risk of being euthanized after having spent most of her life in and out of the pound a different fosters. She is a sweet girl but just needed some help with her behavior-she has boundless energy. 😊 Insert Tip-top k9 and Denver his magical skills and Molly is a well-behaved girl who has been adopted by her foster (my mom). I can't sa enough good things about the training she has received and would definitely recommend.

Sam was really great, Zeus is normally apprehensive about approaching people but he warmed up to Sam very quickly! She was very informative about their training methods, collars, and the possibilities once he's trained. Will definitely be following up for more lessons.

My sweet puppy had problems jumping on me & digging in the yard and running towards me. She was bad about pulling on the leash as well. Now she is a completely different controlled situation. She and I are both happy. They gave her tender loving care!

We are very pleased with our training experience and would recommend Tip Top K9Trainers, Sam did a great job with our Beagle.I think the follow up classes will be a great asset to our keeping her trained.

My 120lb rhodesian ridgeback was highly dog aggressive. He snapped at other dogs and even tried to eat a yorkie at one point. He had pulled me up a flight of stairs to go for another dog. We sought out three professional trainers and each one told me he was a hopeless cause and to keep him locked inside! I couldn't take him out in public at all. It was so bad that I had to make special arrangements for vet visits to ensure we weren't ever waiting in the lobby. After working with Denver, his aggression is now controlled and I enjoy my dog! We can finally walk around in public without any fear of him attacking another dog, pulling on the leash, or running off. It's been an amazing transformation!! I'm incredibly happy with the results and how amazing Galahad has become.

Samantha and Denver were exceptional! Moose, my English mastiff did wonderful with them! I feel like I can take my dog anywhere now! They provided us with all the techniques that we needed to give moose what he needs! Highly recommend!!

Sam and Denver are awesome! My 6-month old Australian Shepherd, Remi, caught on much faster than I did. They were patient and took their time to explain and demonstrate each step/command to me. Remi can be very enthusiastic and energetic, but with their help she stays calm and listens to me at home and in public. When people compliment on how well behaved she is, I make sure to tell them that Denver and Sam at Tip Top K9 are the reason she is so good. They are fabulous with dogs and owners. Thank you both for all of your guidance and help with Remi!!

I got to meet Zara and she's a very lovely dog 10/10 good girl. She's very well behaved and very cute!

Sam is the best trainer, she's very approachable. When we had a question she took her time and explained everything to where we could understand the why, and how. I will definitely recommend Tip Top K9 to my friends and family. Thank y'all for helping us make our fur baby a better baby

We brought our two Bernedoodles to Denver and Sam when they were 4 months old!! We have been so impressed with how well behaved our boys are now!! They are able to do all foundational commands and have shown such significant progress!! We are so thankful for finding Tip Top K9 and would highly recommend them to everyone!!!

Sam and Denver have been fantastic to work with. They are extremely knowledgeable and did a great job with our dogs.

Had a great training experience with Denver! He is very patient and will take the time to explain the training steps. I never felt like my dogs training wouldn't be successful, and I was correct. An excellent service!

Moose needs more work, loving that i have group classes with the package for life he will need it lol

I'm not easily impressed. My dad was an army dog trainer and 3 weeks with Tip Top K9 has changed my dog.

Thunder was uncontrollable before his training and he is completely under control. I love it!

Sam and Denver did an amazing job getting our puppy poodle Josie trained! Starting off as a 5/6 month old puppy she was easily distracted, issues tugging and jumping on people while walking and always questioning whether or not she should "come" when called. I can honestly say with their help she's obedient in every aspect of that. She "comes" on command without question and walks are more enjoyable without her constant tugging. They've given us the knowledge and tools to continue teaching her new commands. It was a fun experience and I'm very glad we chose to train with Tip Top K9!

My little dog has done so good with Denver and Sam in just a few short weeks. I'm one proud dog mom! Can't wait to see where we go next!

My dog has made a 180 from where he was. I can now take him into public without worrying about how he will act. Great trainers. Nice people.

enjoyed very much having Denver train our shepherd for us.would highly recommend him .fantastic job

Wow! Exceptional trainer. Very knowledgeable, patient and caring. Tip Top should be very proud to have a person of his caliber.

Our dog is a 11 month old German Shepherd and very strong willed. We're only halfway through our training sessions and she's already a million times better! Denver and Sam are super nice. We're extremely happy with our service!

From start to finish, it's been a great experience. The first phone call was simple, and the staff was polite and helpful. The trainers have answered every question I had, and were friendly every session. My dog has made so much progress, and has picked up everything quickly. I can't recommend them enough.

I love my trainers they were so kind and patient with me and my dog . My dog was was used as a stud only so he had no manners . Pulling on leash would not come when called ,never had been in public place . He now is a pleasure to take out in public I am so pleased with his progress . I highly recommended the trainers. Thank for helping me and my dog. Thank you Cissy

My dog Paris and I have been working with Denver for 4 weeks now and Paris has learned so many valuable things already in the short amount of time! The transformation is incredible! Highly recommended!

My dog had horrible aggression, got up on furniture, and was a giant pain. Now, she is great and we are training her and having fun with her. She is a completely different dog I now love her. I am so glad I did this!!

We gave them our crazy Chesapeake bay Retriever that had absolutely no manners and three weeks later we got back a totally different dog

My dog was an absolute wild child but when she came back she was calmer and listens

Denver & Sam did an awesome job with our Chesapeake Bay Retriever Baylie. She was uncontrollable before she went. Now she is trained and learning more everyday. I can't say enough good things about them.

Sam and Denver have been wonderful to my 8 month old boxer/catahoula mix! She had problems with jumping, biting, just flat out not listening. They have worked wonders for her! I definitely recommend them!!

After a very unpleasant phone experience with a trainer out of NWA regarding an older dog with dog aggression, we found Tip Top K9. After speaking with their phone contact, we decided to take our 5 mo. German Shepherd for training. Denver and Samantha have been wonderful! Kaia is learning so much, and they have been patient while Kaia's humans learn, too. We highly recommend them!

This was an amazing experience! I couldn't be happier with the results. They came highly recommended from Ross Athletic Supply!

Denver and Sam did an amazing job; we highly recommend their dog training service!

Dixie Lou calmed down immensley, very obedient, listens to commands, and the trainers were very good with caring for Dixie and working with her. We would highly recommend them to friends and family.

Denver and Sam were amazing working with Dixie Lou. Dixie was a hot mess before boot camp, and now she acts like a well manored lady.

Sam and Denver are awesome. These guys are great trainers.

Enjoyed and learned as much as Johnny ! Great experience would highly recommend!

Great experience! Johnny learned more than I expected!

My dog has a rambunctious, rowdy personality. After just 3 lessons with Denver and Samantha he can now come when called and go for a walk without dragging me behind him! We also get lessons for life which is AWESOME!

My dog is learning fast Denver is awesome like that.

Denver was very professional and always on time. I would recommend Tip top to anyone. Very satisfied.

We absolutely loved Denver. He did a great job with Mia. I will definitely tell people about Tip Top K9 and how good Denver is with dogs.

Zara was the most well behaved dog ever and soooo sweeet!!! I definitely recommend TipTopK9 Training!!

Just had the opportunity to meet Zara Belgium Shepherd. Very well trained and mannered. I want her!!! Love Tip Top K9!!!

Have had very great results with the program and the trainer has been very helpful and answered all of my questions and would recommend this to everyone

would highly recommend this place!

These people and pup are awesome sauce! Can't wait to send my pup here!

Great results! Wonderful investment!

We are thrilled with Denver's training of our Golden! In two short weeks he has taken our very stubborn wild Maggie and brought back a very well behaved dog that listens when we talk. Worth every penny!!

Denver did a great job training Murray. We are very please with how well our pup is doing !

Denver is excellent with my dog and me. I have a lot to learn to continue training. Look forward to weekly classes.

I never thought my dog could walk on a leash so well.. This was definitely the best thing I could've done for my pup!!

Denver is patient, understanding and did a wonder job training me on how to teach my dog Pearl how to obey. I am now able to take her out in public without barking, pulling me on the leash and obeys all the commands taught. Thank you Denver for giving me the tools to succeed. We are a calm and peaceful house hold now!

I am so impressed with how much my dog Jack's behavior has improved after three short lessons with Tip Top K-9! He went from an anxious, uncontrollable dog while I had company to a well behaved, calm, amazing one :) I can now have guests over without worrying about how Jack will react! His leash manners also improved and I can now take him places without a leash! I would highly recommend this service. They are literal miracle workers and I wish I would have called them sooner!!

Met Denver with Tiptop and our dog Bernie response very well. He was very informative and answered all my questions!

Our dog was extremely difficult to control on leash and would bark at every other dog he would see and cars as well. Denver was extremely helpful an we have a different dog in our house and it is a joy to take him for walks now.

Denver is awesome! Our dog was definitely a challenge but he was patient and gave her the time she needed - even extra time! The pick up service is a plus. Thank you Denver!

Our dog training classes have been very informative and helpful. Denver is a good instructor, and he is very patient. Our pup is so much more manageable now!

Met Zara and Denver at central mall today. We're looking forward to working with these guys. Ok

the cutest and well trained dog i've ever seen!!

Very friendly representative and defiantly will be calling for further training with my dog.

The dog was beautiful and he was awesome.

Zara was very sweet and beautiful.😍

Outstanding professional people and veteran owned!!

Zara and Denver at the mall!! Awesome!

Net Zara at Central Mall today, Tip Top training program looks awesome!

Denver and Sara at Central mall is awesome.

Zara was so calm and sweet they did a very good job training her!

Cut puppy, Zara met at the mall.

Cute puppy "zara" met her at the mall

Dog was absolutely well behaved and beautiful.

Zara and Denver are awesome. Check them out!

Zara was real behaved at the mall!

Super awesome people and their dog is very well behaved in large groups and small groups of people.

Denver is very informative and great with our dog! We would definitely recommend him!

Meet Them at the mall and The we're sweet and The Pup you could tell she was very well trained.

Cool dog in the mall in Fort Smith

very nice doggie. well trained. good girl 10/10

At the mall and saw zara such a awesome dog

Met in the mall , provided good info

I love this. Im glad yall are doing this i worked at the human society and this is great want they are doing. God bless

Great dog met at mall great job👍

Dog is very well behaved. People friendly too and they try to get u good deals!

Met in mall.... dog has EXCELLENT behavior

Saw him at the mall! Super friendly dog! Well mannered!!

Denver is doing a wonderful job training dogs to do just like you want them to. When we would go for a walk my dog did his thing and I tried to keep up. Now we are more of a team. Thank you Denver.

I met Denver and Zara at Petsense she is a great dog an awesome model of his skills in training.

Denver is great to work with. My dogs have learn so much is such a short amount of time. Would definitely recommend!

They were really sweet and great around crazy dogs.

At our Fort Smith dog training location we are your one stop shop for dog obedience!
Our location is the top ranked dog trainer in the State of Arkansas!  We have clients drive to us from all over and we also go to them.  Our method, the Tip Top Method of Dog Training yields excellent results and just plain works.  Your first lesson is only $1.00 so if you are in Fort Smith or Van Buren and in need of dog training you should give us a call at 479-250-1136.
By the way we also do a doggie boot camp where your dog comes and lives with us for 2-4 weeks and comes home fully trained, for more details fill out the form below and one of our trainers will look forward to talking to you.
Fort Smith Dog Training Out And About:
Some of our recent Happy Fort Smith dog training cients: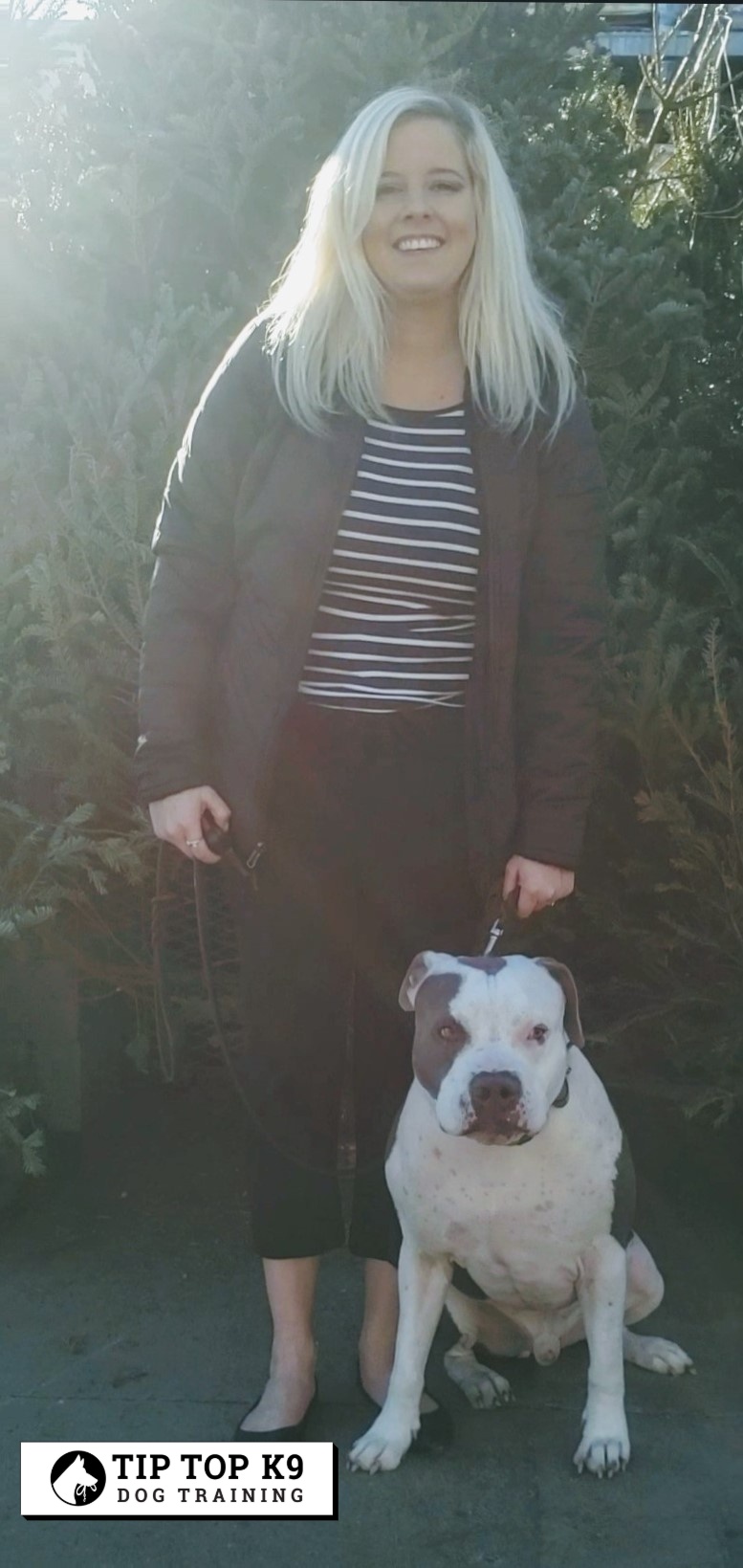 Bella the Golden Retriever
Bella was an out of control golden retriever puppy who couldn't wait to climb you then pull you down the street.  Her heart was in the right place, but she was definitely a handful.  Because of her bad habits her owners Mike and Nicole couldn't really take Bella for a walk or anywhere else for that matter!
After 4 weeks of Bootcamp, her life has drastically changed for the better.  Now instead of running to and jumping all over new people, she sits at your feet and waits for love to come to her.  No need to worry about pulling on the leash either, Bella is now 100% off leash!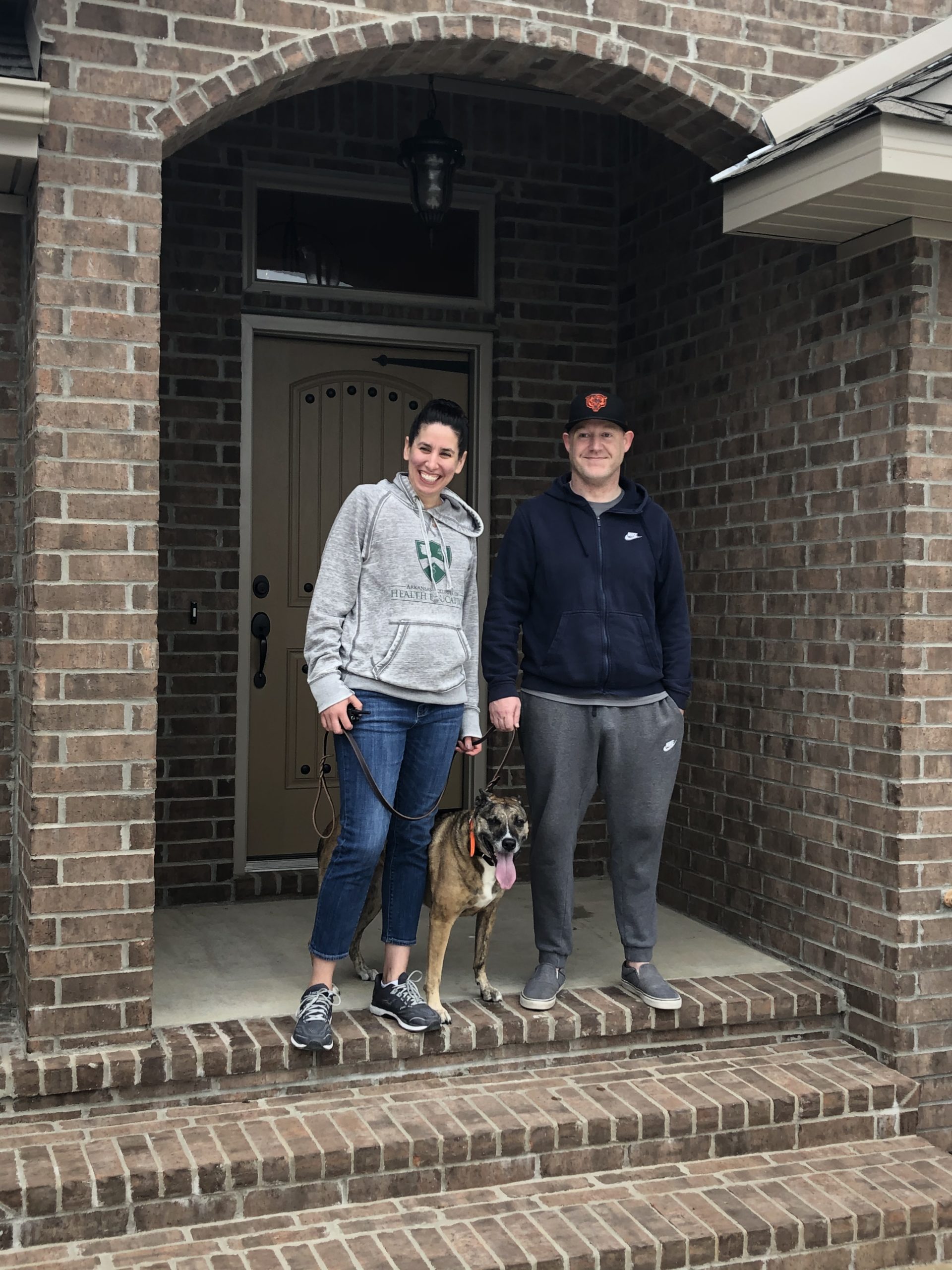 Lucy the Husky!
Lucy was just a small town pup trying to make it in the big city.  Her favorite hobbies were helping herself to the family dinner and long walks around the park pretending she was a sled dog. She hated car rides and listening to anyone who was talking to her. 
Now after 6 weeks of training, she has pulled herself together and is a model citizen.  She still loves walks around the park, but takes a relaxed stroll instead of sprinting to the end of the leash.  She no longer tries to sneak food from the counter when your back is turned, and can instead stay on her bed and watch dinner being made from the living room.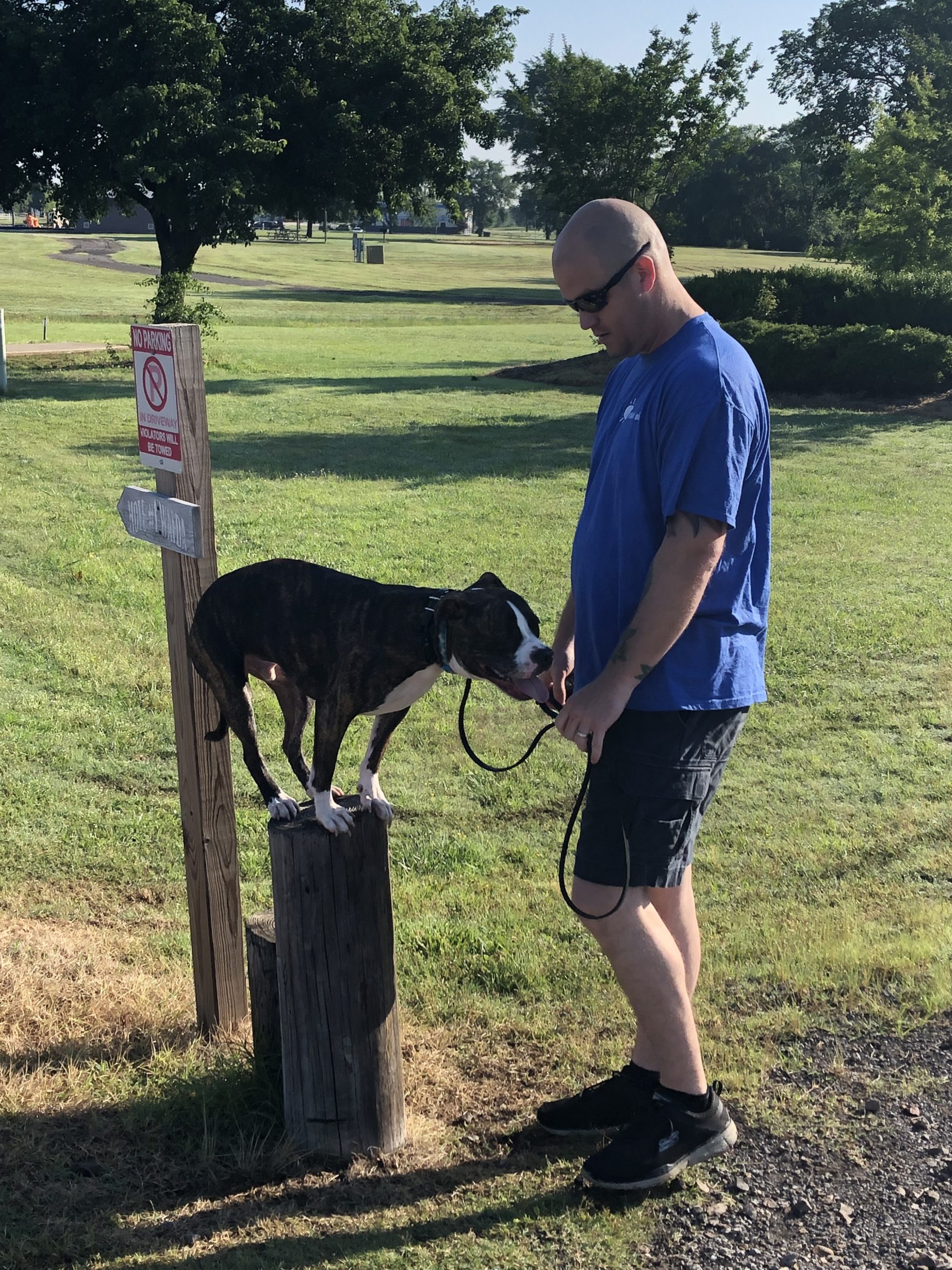 Lulu the Doodle!
Lulu was just your everyday Doodle puppy.  What she lacked in coordination, she more than made up for with crazy.  She was an escape artist and would love to be chased around the neighborhood and parkour through the house!
After just 4 weeks of private in-home training, she had a new lease on life.  Instead of taking off down the street every time the front door was opened, she now just stays on her cot.  Lulu still has her same loving and affectionate personality, but now channels her energy into running laps around the backyard pool instead of the neighborhood!
Talk With a Trainer Today!