Had a great time training it was a smooth process

Tip top k9 did a great job with my stubborn beagle, Doc. He actually listens now. He obeys commands & barks less.

Sarah and Denver were great with our dog, Maple. We did the advanced training and in 5 weeks she came home very well behaved. Communication was great!

I loved all they way they treated my baby and made sure I understood the commands. Love how they adapted to my schedule

My dog Sushi just finished the training with TipTop K9 and he is doing so well. To communicate with them, it's a super easy process. When I'm busy and want to reschedule, I just send them a text message, they replied me right away. I am looking forward to having the group class with other well trained dogs.

My dog finished training!!!!! Great experience. Thank you Sara your the best😊

Tip Top was great. They took my GSP and kept her until she was perfect. Great customer service as well.

I HIGHLY recommend TipTopK9!!! I had heard so many horror stories from all my friends about the other dog obedience trainers in the area….and TipTop went above and beyond what I expected!! I got the advanced package and my dog is SO well behaved now after only 5 weeks….she is now the perfect travel partner, so it was more than worth every penny!

They are so helpful and I can finally enjoy time outside with my dog! Definitely worth the money, even for an 8 year old dog and a clueless owner who have had no prior training!!

Tip Top K9 Fort Smith trained Kaspen our dog and we are so happy with the results :)

Tip top k9 went above and beyond what I expected from a trainer. I had a high energy destructive chewer and with their help he is my ride along companion that I can take anywhere. They are well worth what I paid and have excellent customer service. I will recommend them to every dog parent I meet.

My experience with Tip Top K9! My pup, Hazel learned SO much in just 3 weeks and I am shocked at the quality of this company! Would highly recommend :)

We brought our dog Bella to Tip Top K9 after looking at all the positive reviews and I can honestly say 5 stars is definitely not enough! The whole team Fayetteville and Fort Smith have been amazing throughout the whole process. Bella needed some manners and in general just to listen better and after her time with them we have gotten back an amazing dog! I would recommend them to absolutely anyone!!! Thank you Tip Top K9 for everything and we can't wait for group class!

So happy with what Tiptopk9 Arkansas has done for our pup willow!

We enjoyed our training so much!! They do a fabulous job!!

We just finished training with Tip Top K9 Arkansas and we have been very impressed with how much our dogs behavior has changed over the past few weeks. Boz went from doing whatever he wanted whenever he wanted to do it to doing what he was told do. It is so nice to have a dog that listens. We no longer worry about taking him on walks around neighborhood or how he will act when company comes over to the house. It was worth every penny we paid! It's so nice to be able to enjoy your dog and not feel like you are constantly getting on to him.

I'm a resident physician and just had a baby and we needed our lab Cooper to learn some boundaries. Luckily we had access to TipTopK9 and by the time my maternity leave was over, he could heel on a walk without a leash! Everyone has been so knowledgable and engaged; you can tell they love our pup as much as we do and are the absolute experts at what they do! Thank you so much! ❤️

TipTopK9 has helped me so much! I've very happy with my dog.

I had a great experience. They were very thorough in their explanations and the training seemed to work well.

Very responsive and great weekly feedback of progress

Where we were at when we started to where we are now is 100% better pup for my family. Very happy with what we have learned.

These guys are the greatest! Seriously the best trainers! Highly recommend giving them a call!

Tip Top K9 of Arkansas was amazing!!! They was very professional and kept us up-to-date on all of the progress that was taking place. Before Tip Top K-9 of Arkansas my dog was jumping on everyone, wouldn't listen, and pulled when walking to name a few things. Now he's so well-behaved. He sits on command, he walks so easily I actually enjoy walking him now! I would definitely recommend them for your dog training needs.

My 5.5 month puppy was crazy until I started working with Sarah and Denver this month. He is becoming obedient and a better listener through the good dog private trainings.

Met the two dogs Nikki and Zara in the mall. The dogs were well trained and very responsive.

We are so pleased with the staff and Hazel's progress! Sam did an amazing job with the home session as well. Looking forward to group class!

Tip Top has been everything the name suggests! We rescued a lovable ball of high energy and The results with tip too have been nothing short of astounding. Our quality of life has improved and our dogs quality of life has skyrocketed. Could not recommend more!

We have two older adult dogs that came to us as rescues. Walking them was way too much drama with one instigating aggressive barking and lunging at any person (or other dog or bicycle or yard decoration) he encountered. Much too many additional challenges to list but I thought we had hopeless cases. Denver and the other staff we worked with at Tip Top K9 were amazing professionals in every way. Their techniques are safe and effective. So effective that walking through our neighborhood is now fun and relaxing instead of the gauntlet of shame it used to be. At our final exam, we walked around our local Home Depot. With all the strange people, noises and distractions, we didn't see any aggressive behavior - not a single bark. Thanks Tip Top K9.

We had contacted TipTopK9 for our 1 1/2 yr old German Shepherd Wrigley. When Denver came to our house and showed us what they could do we decided to send our 3 yr old Riley also. Denver, Sam and Sara always answered any questions that I had and made me feel very comfortable in letting them have our dogs for a while. We just got Riley back today and wow! What a difference. Sara did a great job with her. I took her to Lowe's immediately after her homecoming party. Normally she would be jumping out of her skin to get out of the car, but now it's not total chaos. I was able to walk her calmly around. She sat and stayed while I walked all the way down the isle. I'm able to keep her under control and now she can go with me everywhere! TipTopK9 has been wonderful with our dogs. Would recommend them to any dog owner. Thank you Denver, Sara and Sam!

Before tip top ruger would jump knock me down and pull on the leash. Now he is so much better! Thank you tip top! And I love group class after training!

Aphrodite was a mess before we sent her to tip top k9. She would jump, pull, and was biting before we sent her. She is a completely different dog now! Sam and Jim did an amazing job with her! Thank you Tip Top! She looks in amazing in yellow too!

I'm here to pick up Mia!!! She is been trained by TipTopK9 Arkansas. She's learned so much and they've done an excellent job with her! She just finished the Superstar package and she can now walk off leash, sit and lay down 100 meters away, and even jump on fire hydrants! The people here at TipTopK9 Arkansas are great, and I recommend them to everyone!

We are extremely impressed with the progress our German Shepherd Samson made during his advanced obedience bootcamp. I now have complete confidence in my ability to control his attention when we're out in public. He was extremely reactive toward people just walking down the street, and after he lunged at the Wal-Mart grocery employee while in the car, I knew we had to get help. He had already failed with one trainer. It's been 2 weeks, and he just keeps getting better. I feel like his overall energy has improved perhaps now that we have to freedom to play in the front yard and go on morning runs in the dark without fear. I love that we can continue learning and working on his skills in the lifetime group classes. We can't thank Tip-Top K9 enough for all their hard work!

I am Cindy with Ruby and we just training with Arkansas Tip Top K9 snd we are thrilled with what has been accomplished!!! Tip Top is a first rate organization from day one to finish. I cannot thank them enough for providing Ruby with the training that will alway give her a high quality of life😊Thank you!!

I sent my dog, Hazel, to Tip Top K9 Advanced Obedience Boot Camp. She was there for about 3 weeks. While she was there she learned sit, lay, place, heel, quiet, and off. After her 3 weeks there she was brought home to me, where I spent about 2 hours with Denver where he taught me how to properly use the commands with Hazel. She was very responsive with me. I will continue to work with her and take her to weekly group classes. I would highly recommend Tip Top K9 Training. I had a great experience and I can tell Hazel really loved the trainers. I have an awesome dog now that I will continue to work with!

We loved our experience with training our German shepherd Blair. Blair struggled to do many activities and follow directions. She didn't listen well to commands at all but came back to us a different dog but with the same personality. We are so pleased!!!

When we started training, Daisy was hyper active, would not obey commands, and would go after our cats. After training with Sam and Denver, she has immensely improved! She listens and no longer chases our cats. Daisy sits in place and no longer pulls during walks. I would recommend Tip Top K9 to anyone who needs training.

My husband and I could not be happier. Before our German Shepherd went to boot camp were unable to take him out in public. Because we wanted to take him to do all kinds of fun activities outdoors, we needed help. Before, Kaiser did not listen to commands outside of our yard, pulled on the leash, and had multiple other behavioral issues, including possible dog aggression. We would spend hours and hours every week working with him to no avail. Sad and desperate to be able to take our doggy on fun adventures with us, we called Tip-top K9. Complete 180! Beyond satisfied with the results. We are headed out to explore the world and Kaiser's coming with us!!!

Sam and Denver are amazing!

We started off with a wild and aggressive 10 month old pup. Thanks to Denver, Sara, and Sam, we now know how to manage her better. She is a work in progress, but now we have the tools to make a good dog.

They did a great job! Very patient and informative. Highly recommend.

Awesome place to take our dog. I would recommend them to anyone. Very happy with the whole process from our initial meeting, boot camp and weekly updates to pickup. So thrilled with our Keena's progress!

Jax was really struggling with his behavior before we decided to invest in training. He was constantly barking and showing signs of aggression. After the Advanced Obedience training he is a totally different dog. He still has all his fun quirks, but we are in control and feel confident we can take him anywhere.

Man, these guys did wonders with my German Shepherd. He was a rowdy pup before the superstar program and I was worried of his aggression towards other people and dogs. TipTopK9 resolved all of his behavioral issues and even trained me to be a more confident owner. Thank you guys for your outstanding training and advice!!! Much love.

We have been so impressed with our experience with Tip Top K9! From the moment we first started with them, their friendliness and knowledge won us over. Sarah was so wonderful with our Magnum and he will miss her now that he is "graduating!" We could not recommend them more!

Sara did an amazing job! Everything from the 1st day. The people, the updates, everything. Absolutely recommend.

Highly recommend for anyone looking for training, awesome to work with and very responsive.

At our Fort Smith dog training location we are your one stop shop for dog obedience!
Our location is the top ranked dog trainer in the State of Arkansas!  We have clients drive to us from all over and we also go to them.  Our method, the Tip Top Method of Dog Training yields excellent results and just plain works.  Your first lesson is only $1.00 so if you are in Fort Smith or Van Buren and in need of dog training you should give us a call at 479-250-1136.
By the way we also do a doggie boot camp where your dog comes and lives with us for 2-4 weeks and comes home fully trained, for more details fill out the form below and one of our trainers will look forward to talking to you.
Fort Smith Dog Training Out And About:
Some of our recent Happy Fort Smith dog training cients: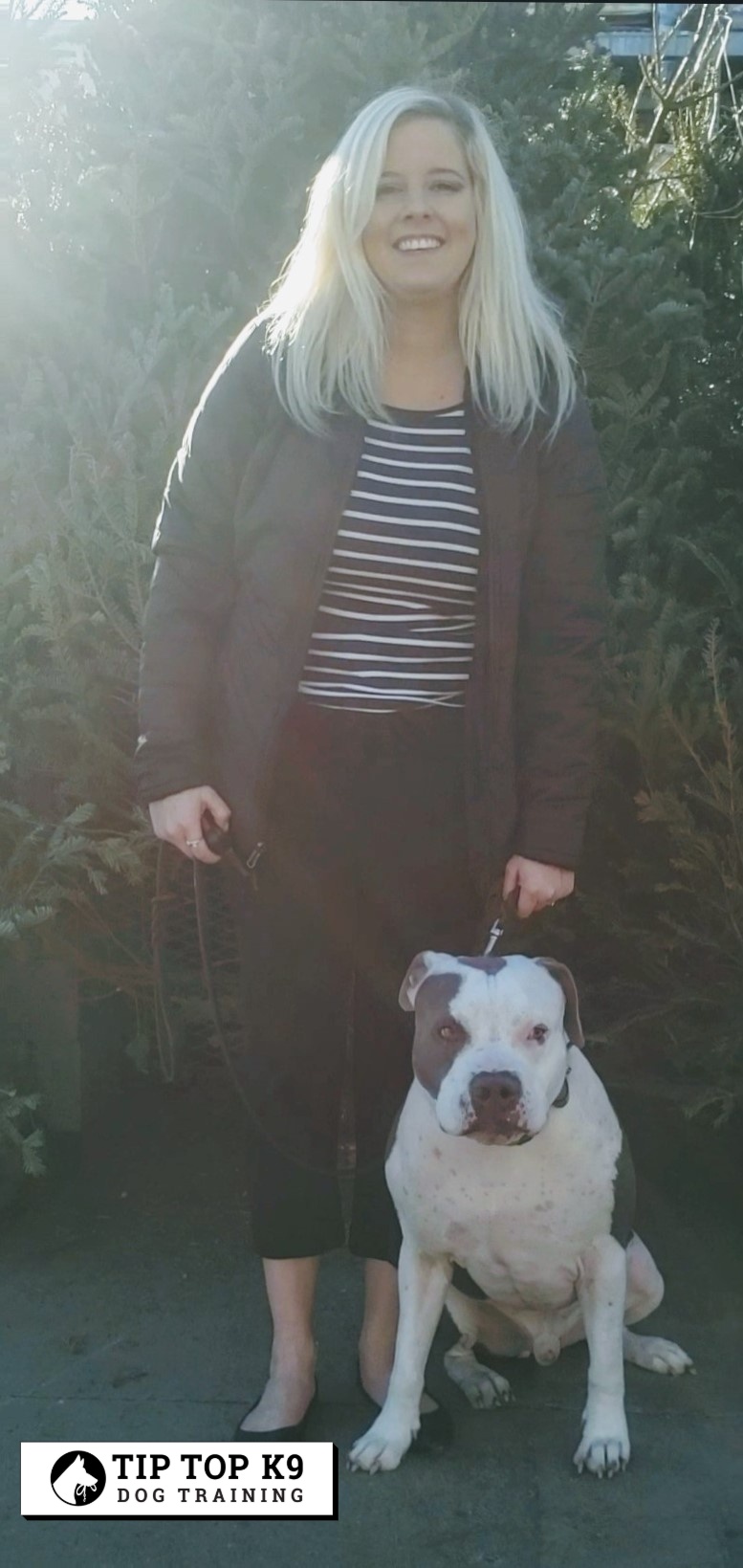 Bella the Golden Retriever
Bella was an out of control golden retriever puppy who couldn't wait to climb you then pull you down the street.  Her heart was in the right place, but she was definitely a handful.  Because of her bad habits her owners Mike and Nicole couldn't really take Bella for a walk or anywhere else for that matter!
After 4 weeks of Bootcamp, her life has drastically changed for the better.  Now instead of running to and jumping all over new people, she sits at your feet and waits for love to come to her.  No need to worry about pulling on the leash either, Bella is now 100% off leash!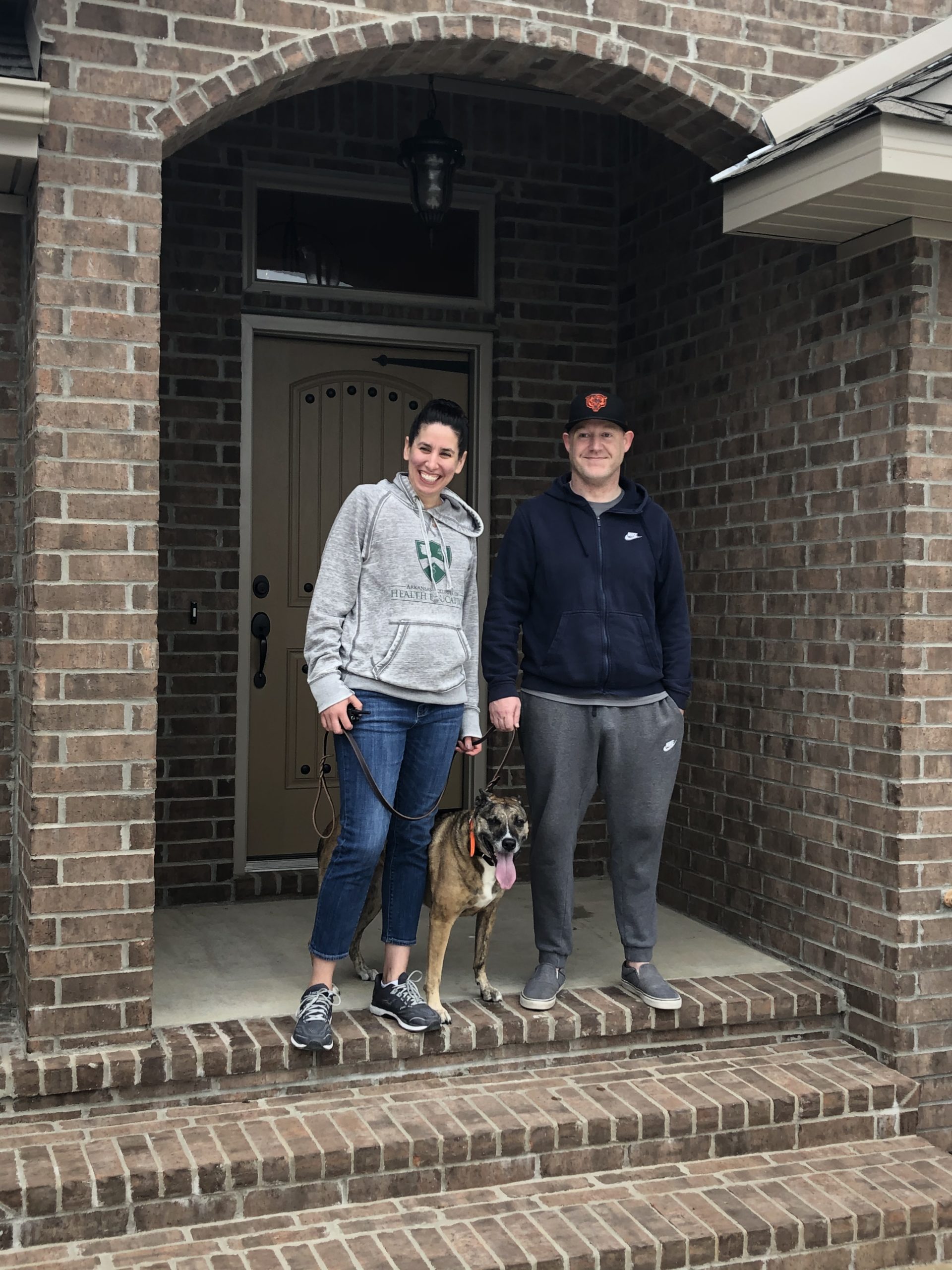 Lucy the Husky!
Lucy was just a small town pup trying to make it in the big city.  Her favorite hobbies were helping herself to the family dinner and long walks around the park pretending she was a sled dog. She hated car rides and listening to anyone who was talking to her. 
Now after 6 weeks of training, she has pulled herself together and is a model citizen.  She still loves walks around the park, but takes a relaxed stroll instead of sprinting to the end of the leash.  She no longer tries to sneak food from the counter when your back is turned, and can instead stay on her bed and watch dinner being made from the living room.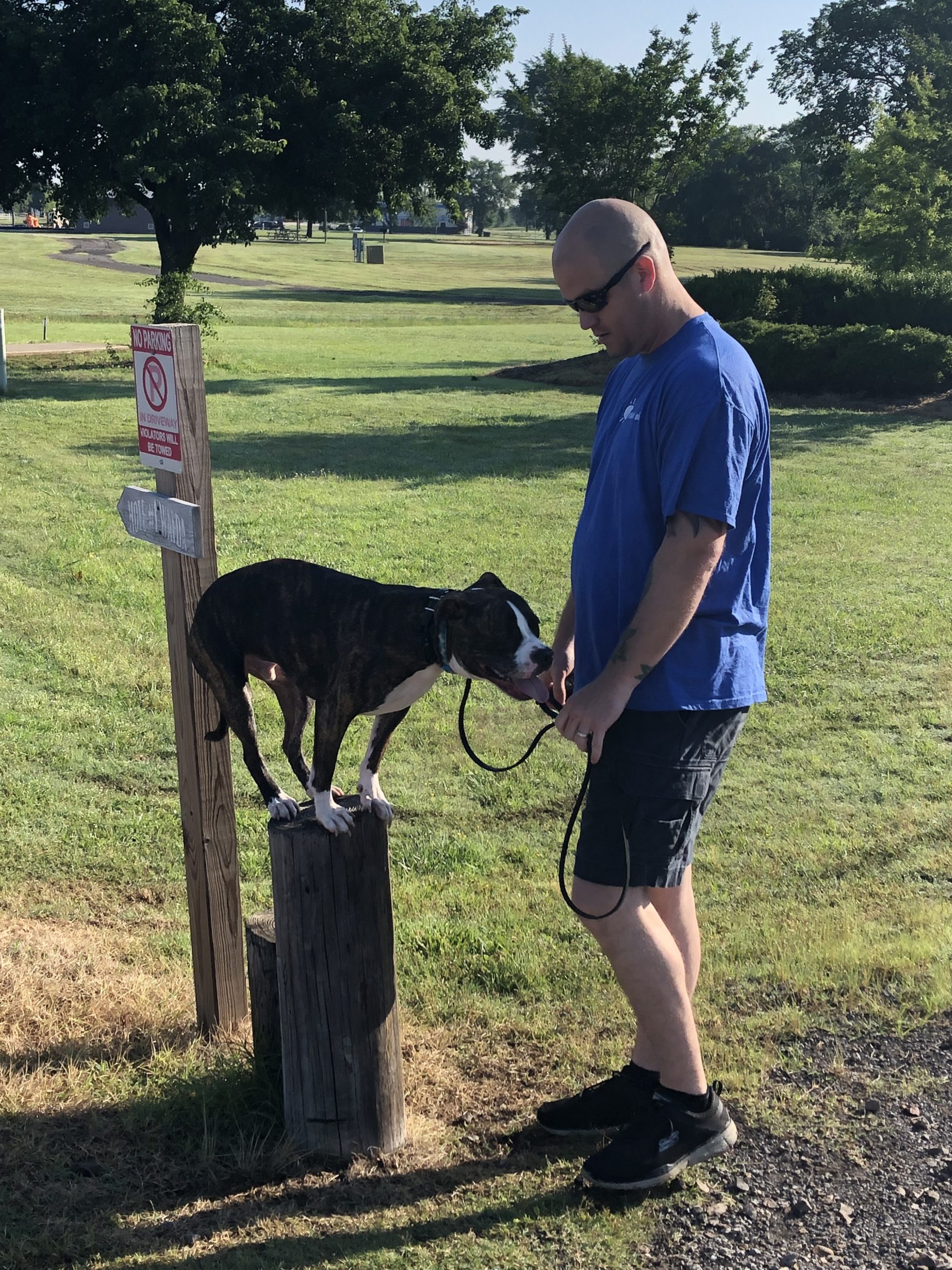 Lulu the Doodle!
Lulu was just your everyday Doodle puppy.  What she lacked in coordination, she more than made up for with crazy.  She was an escape artist and would love to be chased around the neighborhood and parkour through the house!
After just 4 weeks of private in-home training, she had a new lease on life.  Instead of taking off down the street every time the front door was opened, she now just stays on her cot.  Lulu still has her same loving and affectionate personality, but now channels her energy into running laps around the backyard pool instead of the neighborhood!
Talk With a Trainer Today!