AMAZING EXPERIENCE! Hands down the best. I can't say enough! They helped us out so much with our Aussie. He would AlWAYS pull at the leash and now after boot camp we are able to walk him without any issues!

Carly Haggarton
22:41 21 May 20
Just finished my training with Tip Top K9 in Gilbert. A friend recommended them and I wish I found them sooner! They are incredible! Highly recommend!! We did the private lessons with Christina, she was amazing! Don't wait, no need to shop around, choose Tip Top K9. I've had other trainers and these guys are by far the best. My pup is a 11 months, 80lb, American Bulldog- very friendly, easily distracted and pulls. Walking him was a workout and not fun, now, we can walk and he listens to me! Beyond happy with the results!

Tip Top K9 is amazing! Our crazy Doberman is a completely different dog. Thank you to the staff and trainers you did a fantastic job and the customer service was great!

Courtney Whitley
19:01 02 May 20
Had an awesome experience with a great trainer. My pup has learned so much from this program I highly recommend Tip Top for dog training!

Kolby Fraley
12:17 17 Apr 20
We have a 7 month old Dutch Shepherd that we were at our wits end with before calling Tip Top. He was incredibly stubborn, had no manners and practically did whatever he wanted to do. We tried training on our own (books, videos, collars, etc.) which only added to the frustration.After working with Christina for 5 weeks, our pup is like night and day! He is still a work in progress but now we feel comfortable taking him out in public, on walks and no longer worry about him overwhelming people who come to our house. Save the frustration and call Tip Top!

Mary Ann Cothran
00:15 27 Mar 20
After two weeks our Koda is like a whole new dog! Highly recommend Tip Top!

Ej Scalise
17:44 26 Mar 20
Tip Top is top notch in my opinion. Christina is the BEST. My Dogo came back so well behaved. I'm confident in my dogo and I will have Great experiences everywhere we venture I highly recommend tiptop canine and Christina and her team to anyone considering Elite dog training.

Tip top k9 has helped our dogs immensely! Everyone we've dealt with in the company has been so nice and helpful! Our dogs have come a long way from where they were! Christina has been amazing and I recommend this company to anybody looking for a dog trainer!

Cheyenne Young-Ryan
21:02 26 Feb 20
Two pit brothers who need some obedience in their lives... After our first session we already saw dramatic progress. The boys do still need a lot of practice but with the first set of commands catering to our needs and consistent work with them, they have gone from 2 year old pups to almost mature dogs. Almost. Though they are stubborn they were able to focus in on the commands we were giving them. Definitely recommend these guys for their professionalism and patience with some very impatient pups.

Zack Walker
21:00 26 Feb 20
A lot of fun and very beneficial! Our trainer Christine Did an amazing job training our rescue dog and his humans! Good, clear steps and "how to" for the challenges we needed help with. Arthur has much improved during the private training and we look forward to the group training. Highly recommended!

Yvonne St Angel
01:07 26 Feb 20
Amazing service!!!! I would recommend for anyone wanting their pup to basic and advanced commands. Our Pup is completely different from the first training session.

Andrew Hasselius
23:34 24 Feb 20
Our experience with Tip Top was extremely positive. Our trainer was knowledgeable and response. Our dog has made great progress in his training. The weekly group lessons are great for continuous training.

Matt Masters
19:37 16 Feb 20
We have a new puppy and a 3 year old who had some training when she was a puppy but has some aggressive behaviors and regressed with some of the training she knew. We reached out to k9 to help us get our dogs trained. In 3 sessions at home our dogs already have show so much improvement and listening skills. I cant wait to keep training them with the skills we learned and further their behaviors and learning through group classes. I'm also excited that we get to join group sessions as part of the package. Kristina was so helpful with training and answering questions and working with the dogs. She knows her skills and how to train the dogs well and explains everything and demonstrates how to do it with the dog before we take over. I'm overall happy with the program and K9 and recommend them to everyone

Sara Isbell
01:50 13 Feb 20
After sifting through all the Google results we felt confident that Tip Top would be a good choice! We love that they come to the house for training, this made life more simple, as it was one less thing on my schedule! Our dogs response to the training was almost immediate and we could see improvement in there behaviors! We are excited to keep training our dogs with the straight forward and simple training strategy. As well as attend the group classes moving forward! We highly recommended Tip Top K9!!!

Lang Fitness
01:48 13 Feb 20
Christian is simply the best!

Nicholas Wade
19:07 20 Jan 20
We used them to train both our dogs, one a puppy who went to boot camp and came back a super star and one an anxiety riddled rescue who has shown so much improvement at home

sarah rose
19:04 20 Jan 20
Simply wow! They are literally the best! Their techniques are perfect! We walked away from each training session absolutely thrilled. Our dog, Grizzly, did so well and responded amazingly to Christina and her training. She loves her job and is really really good at what she does. I wouldn't hesitate for one second to recommend them.

Bryan Kowacich
01:57 18 Jan 20
If you are looking for dog training stop your search here! We had Christina as our trainer and she is amazing! We have four dogs that have gotten along for years. All of the sudden two of them started getting aggressive toward each other and wouldn't stop fighting. Now we have order restored back into our house and we couldn't be happier. Absolutely recommend Tip Top K9 to everyone!!!!!🐕🐕🐕🐕🐾

Beth Soriano
06:55 29 Dec 19
Christina is awesome! I can tell she truly loves and cares for animals, my dog and I really enjoyed the training! I couldn't be happier with my results.

Kevin Soriano
06:37 29 Dec 19
Christina has been absolutely wonderful. We chose the in home private lessons. We couldn't be happier with our results. We can now have people over and enjoy ourselves instead of worrying about our dog being a menace to everyone.

Lonny Zone
06:33 29 Dec 19
We have a dog with fear based anxiety that presents itself through aggressive behavior. Tried another trainer but didn't see any real results. We saw that Tip Top K9 had a $1 consultation so gave them a call. Very professional staff, and went with the private training. Extremely pleased with the results, we have a different dog! Couldn't recommend them any higher, and have family already asking us for the phone number for their dogs because of what they've seen.

Jonathan Montero
20:02 23 Dec 19
We had such an amazing experience. Christina was amazing! Our only regret is that we didn't do this soon. We will continue to use them and highly recommend them to family friends.

Aubrey Hodge
19:56 23 Dec 19
Christina was amazing training with Moosie! We really enjoyed our private lessons and can't wait now to do the group lessons. Money well invested to have a well behaved dog. Such a big difference!

Joyce Wentland
19:12 22 Dec 19
Our 2 year old rescue dog had a huge desire to escape and run away. He also would jump up on and pester visitors. After reading the reviews, we chose Tip Top K9 to help us. We couldn't be more satisfied with our "new well behaved" sweet dog. We chose the bootcamp option since we have a busy home and Gilbert trainer, Christina. Christina is the most sincere and kind person that you would trust immediately to care for and train your family dog. Our dog Murphy has aced the commands and we look forward to attending the group lessons. Thank you Tip Top K9!!!

Lois Kluge
01:13 22 Dec 19
Christina is a wonderful instructor. Sunny and I enjoyed our time with her!

Kim Anderson
01:00 20 Dec 19
They really helped us get our crazy lab puppy to listen and behave. One on one private lessons at our home we're very handy and helped give us the tools to work with our pup every week in between the lessons. After the private in home sessions we are now going to start the continuing weekend classes. Both are included in your plan and you can keep going as long as you want. Highly recommend Tip top K9!

Angie Lauters
03:09 19 Dec 19
Request Christina! She is absolutely amazing with dog! She is caring and will do everything in her power to make your dog the best companion.

Zachary Dillard
20:31 17 Dec 19
I started 3 weeks ago. Every lesson we saw great improvement. Thank you for all your help.

Charles Montgomery
17:12 15 Dec 19
We had Christina training our dog Asland and let me tell you they are amazing! We did the $1000 at home training and couldn't be happier!!! She is genuine and cares so much about animals and it shows when she is walking your through your training. Our dog has been aggressive in the past, so we were very worried about having him bite the trainer and others but as soon as she started working with him building our confidence in controlling him and his confidence in himself, we are all now comfortable having him go out and about with us. We highly recommend and definitely ask for Christina!!!

Shelby Sims
22:06 10 Dec 19
Awesome trainer, Christina, really cares about dogs, always on time and seen so much progress with my dog since we started, so informative and just great.

Will Nikodym
01:58 26 Nov 19
Christina is amazing! We have a very aggressive dog that she helped us with SO much

Mary Nikodym
01:58 26 Nov 19
Christina was AMAZING! She helped engage with our dog Ruby (even though she didnt like her, she respected Christina and that was so amazing!) And got her out of a lot of her anxious habits. We worked on so much in such a short time and Ruby was so receptive! A great investment and would absolutely register for more (lessons or classes)

Ashley Hale
02:05 23 Nov 19
Zuzu loved her trainer. Her training was exactly what we needed. She came home not biting, sitting, coming, heeling, sitting on place item. I'm so happy with her progress.

Terry Aponte
04:11 21 Nov 19
Excellent service and flexible staff. Above and beyond expectations. Genuinely feel like our trainer loved her job and gave us lots of useful tools. Highly recommend to anyone with any dog issues!!

Katrina Martins
02:45 14 Nov 19
Kona had a great time! All of us learned a lot and made tremendous progress. Thanks Christina for your help. Kona will enjoy seeing you at group.

Miles Smith
03:44 25 Sep 19
Best dog training service! I have tried several different trainers and at Tip Top K9 they really seem to care about whether we understood what we were doing. I saw a difference in my dogs behavior even after the first lesson. Three lessons later and my dog has never behaved so well.

Alyssa Cabello
16:06 20 Aug 19
My maltipoo Tyrion has worked with other trainers in the past but nothing came close to getting his leash reactiveness solved. But since Tim started his training, Tyrion changed his attitude about getting upset when we walk and when he sees strangers and new dogs. He learned how to stay calm and learned to look at my eyes and sit right next to my side. Tim explained the reasons behind the use of the collar and the importance of proper training on the timing of tapping really clearly! I totally recommend Tiptop simply because it Works! And to have Tims passion for dog training is an added bonus! It will be your best investment for your dog! I wish I found them sooner because I did spend a lot of money on other trainers before. I Totally recommend them! Tim had literally put my Tyrion in his PLACE.

Janna Katerina Macol
01:53 10 Aug 19
We have just started the starting a little over two weeks ago. Before, our dog had eaten our couch, our bed, almost all of our shoes. Pretty much anything she could get her paws on and destroy it. She would jump and nip at anyone who entered our home. We expressed this to the trainer, and he gave us some tips on how to stop this behavior. And let me just say, within 24 hours our dog was a completely different dog. She went from 100 to 50 almost instantly after she stopped being stubborn and started listening. This training has been the best thing since we adopted her and i'm excited to take it further! Also, a lifetime of classes is well worth it, so you can continually work with your dog, not just a one & done type thing. I will definitely be recommending this company to anyone struggling with a stubborn pup!

Autumn Briann
21:06 07 Aug 19
Not sure where to start other than to stay if it wasn't for Tim and tiptop we would no longer have our little Jack Russell. Our 20 pound Jack Russell started challenging our 100 pound shepherd mix one day out of the blue. We tried what we thought was everything and had run out of options until we found tip top and Tim! Our little guy is a new man and I mean that in the truest sense. Not only does he get along with his Big Brother again but he no longer feels the need to run and run and run lol. We used to have to be very cautious with the front doors and the garage because if he took off he went deaf and would just keep going till you caught him with the car. I can literally leave the front door open and tell him to stay and he will not budge. If he goes out front or if I happen to drop the leash he stays right by my side. The change in him is remarkable and wonderful. I would highly recommend tipped up to anyone with behavioral issues or if you just want straight training. If you love your dog I need help this is the way to go. I can't recommend it enough

Rosanne Addessi
01:04 12 Jul 19
Tim is a saint to put up with dog owners like myself who have separation anxiety when parting with their babies. He has such a calming way about him with humans and dogs alike, and I know that's why he is so successful. Cooper has gained so many skills needed to be a better member of society, and I'm eternally grateful to Tim and the Tip Top K9 team for pouring into my boy. You won't regret signing your loved one up, I promise.

Rebecca Valencia
22:58 03 Jul 19
Admittedly I was super skeptical about hiring any trainer to help me out with the somewhat unique challenges I was facing with my very spoiled, stubborn, totally afraid of dogs any bigger than himself, six year old Corgie. We took a chance with Tim and TipTop K9 Gilbert and are so happy that we did! Tim was very transparent from the get go, totally explaining everything we would be doing, steps in the process and what both progress and success would look like. He is so very patient with both the animals and their owners, as clearly, we too are being trained as part of the process. It is evident that Tim sincerely wants all his trainees to succeed. Ollie and I may be TipTop trainees for life, not out of necessity, but because Tim has made this such a positive experience for us, and has contributed to improving Ollie's overall quality of life. Obviously, I highly recommend Tim, and TipTopK9 Gilbert to all.

Kate Marrinan
01:48 03 Jul 19
TipTopK9 Gilbert blew away my expectations when it comes to training. When they say guaranteed results, they work with your dog and deliver on their promise. Bell took an extra week or two to polish off each of the commands she was taught. As hard as it was to be away from her for several weeks in the boarding training, it was well worth it. Each Friday I received a short update, 2-3 picture and a report card of her progress. I do wish these updates were a little more extensive being that the report card only tracks her progress via A, B, C, D, F grades, however they did meet my expectations. To conclude Bell's training, Tim spent a few hours with me to make sure I understood how to continue working with her. We went over each command, the Do's and Don'ts, and what to look for.I expect the twice per week classes that come free with her training to be a huge value in addition to TipTop's support. I would recommend TipTopK9 Gilbert to anyone who wants a fast track to obedience and is ready to take their furry friend with them wherever life takes you.

Alec Denslow
05:26 24 Jun 19
Tim was amazing. The training tools we have learned has made a big difference in our old pup.

Amy Prather
05:38 22 Jun 19
Thumper was very aggressive. After the training he came back calm and finally obeys. We did a boot camp with him for 3 weeks. When Tim came over thumper immediately tried to attack him. He kept growling at him as well. We are very happy with the results and we would highly recommend this training to anyone with any type of issues you have. Even if they are such extreme levels of anxiety and aggression. Thank you so much TipTopK9!!! We appreciate you guys so much!

Karen palbicki
22:54 10 May 19
Tim was a pro at getting our hyper active dog to learn and be patient. He was always on time and let us know if he was going to be running late due to traffic or other lessons being extended. They work the lessons around your schedule. It was a great experience to not only train our dog but also train us on how to overcome obstacles.

Francisco Figueroa
22:54 08 May 19
RESULTS! We sent our out of control crazy 8 month old puppy to Tim for Bootcamp. After the camp he came back so well behaved, mellowed out and trained. The results are beyond my expectations. Thank you Tip Top K9 Tim...aka "Yoda"

Bryan Neddoff
04:48 30 Apr 19
Tim, was excellent with our dog. It really didn't take long at all to get our dog (Doberman mix) to respond. I had experience with other trainers in the past and have to say that Tip Top K9 method works with ease. It is actually surprising how quickly our dog responded to the collar and the commands. We could only walk with a spike collar prior to the training and now, I can literary hold the leash with my pinkie. What's even more important is that my girls (9 &11) are able to walk our dog easily and she listens to them as well. I was impressed how he was teaching our Doberman to sit on the box, initially, I thought this is not going to work and within 10 min, Tim had her sitting on the box! Now, that is a victory. You can't go wrong with this Company, plus Tim is so pleasant to work with. Happy dog days! Alena

Alena Tosca
22:57 26 Apr 19
When I met Tim with Rocko for his evaluation, Rocko Was difficult to control on a leash when something caught his attention. I believe he had me on the ground more than once trying to keep him in one spot. Rocko is an 80 lb high energy pit bull/lab mix with sever anxiety issues. At the time we met Tim he was taking solilquin and a high dose of trazodone to calm him. We signed up with Tim for the Teachers Pet program and with 1 class still remaining, Rocko is a completely different dog. He is no longer on any meds, calm and obedient. Tim is not only excellent with his training, we have learned a lot as well in our time with him. I would definitely recommend doing the evaluation to anyone no matter how big or small the challenge is with your pet!

Don Gerbis
04:22 25 Apr 19
We would highly recommend Tip Top K9 to everyone. Tim is a wonderful trainer. Rosie is on her way to becoming a well trained dog. Thank you Tim and Tip Top K9.

Lisha Newell
20:42 12 Apr 19
Been researching dog trainers for the past 2 years and here's why. I adoptd a white German shepherd rescue that had ran away from 2 different families and she is very stubborn. I've tried teaching her and nothing works. She never wants to come in side when I'm needing to leave for work and won't wait in 1 place. Elly May's first lesson with Tim from Tip Top K9 she listened to Tim and followed his directions. Today was Elly May's 4th session and i can now tell her to come and place her, walk far away and she won't move from being placed. Not only does Tim with Tip Top K9 work with Elly May but also shows me how to work with her. I'm just in shock because I never thought she would get to this point with her stubbornness and wanting to run away at any chance. If you're reading this because you're wanting help with your fur baby you're in the same place I was 1 month ago. I normally don't do reviews but please pay the $1 first meet and greet with Tim or one of his team members and let them show you what they can help you with, it's only a dollar and worth every penny, your mouth will drop just like mine did that day.

Christie S
19:34 06 Apr 19
We would highly recommend Tim and team for any of your dog training needs. We have a very stubborn mini Dachshund (Bailey) and, after spending countless hours trying to train him ourselves, we opted for him to attend a boot camp. The Tip Top team we're awesome. They spend the time to train Bailey and now we have a well behaved puppy. Thank you Tim and team.

Melissa Wright
20:05 05 Apr 19
Phoenix is doing really well we just love how much she's improved in a couple lessons and was off leash first time ever.Thank you Tim

Sherri Hale
02:05 31 Mar 19
Tip top k9 has worked great for my pit bull, Koda. Tim and the whole tip top k9 team have been wonderful!

Angie Andrews
01:19 28 Mar 19
I have had nothing but a great experience with Tip Top K9. They are always on time and great at explaining everything.

Jacob Henderson
21:54 26 Mar 19
Talked to several dog trainers. Chose Tim and made the right choice. Plus, Tim is a nice personsble guy. After one lesson my shy poodle approached several people to be petted. TIM IS A DOG WHISPERER.

Sylvia Sprague
17:12 26 Mar 19
I can't believe this is the same dog. Great training well worth it

McKnight Music Academy
01:12 24 Mar 19
We have had a great experience with the Tip Top K9 Team! Our trainer, Tim, came to our house to meet with our dog Dwight, discussed his bad habits, and how to solve them. We signed him up for a boot camp package and within a couple weeks we had him back totally trained and on his best behavior! One of the other great things about Tip Top K9 is that after their training 1:1 classes/ packages they offer group classes. The group classes are helpful because you can continue to work with your dog with a trainer there!Tim and the Customer Service team are awesome! They were always very responsive. The team kept us updated while our dog was at boot camp with pictures and report cards. I highly recommend them!

andrea bradley
15:59 22 Mar 19
Tim has done wonders for our lab. We would recommend the program to anyone.

Perry Hogan
00:19 22 Mar 19
Tim has been absolutely wonderful. I was very torn between doing a boot camp or private lessons with my dog. Tim talked with me and helped me pick what was best for my dog and I. I was apprehensive about the boot camp because I wanted to make sure I was able to work with my dog and have her listen to me the way she would with Tim. He reassured me that would be no problem. When he came to return her he explained everything I needed to know. He demonstrated with her and then had me do it myself. He made sure I was confident with my dog and took the time to answer any questions that I had. I love that I am truly able to enjoy my dog now. I highly recommend using Tip Top K9!

Christina Arnett
21:37 14 Mar 19
This is an amazing place to send your dog. The price is totally worth it. My dog came back completely new and I can really work with her now

Charielle Rose
17:20 11 Mar 19
Tim is Amazing!!! Very patient and kind -Thank you for everything.... see you at the park 😊

Ben Denslow
00:12 02 Mar 19
Tim is very knowledgeable and helpful. We are grateful for his time. Our dog has been very responsive and we are looking forward to the group classes. I highly recommend!

Denise Denslow
00:12 02 Mar 19
We used Tip Top K9 to help train our 15 month old Great Dane. He no longer jumps on new people, pulls on the leash, randomly barks at EVERY possible sound, etc. We are super happy with the change in such a short time.

Alyssa Maire
19:52 01 Mar 19
Great experience! So pleased that we can now have guests without the stress of a territorial dog.

Ann Hazelton
19:55 16 Feb 19
My baby girl sky was very destructive and really mis behaved but after her training with tip top K9 she is so well behaved and calm I am 100% happy with the results great job tip top K9 and Tim Bradley for working with her

Lisa Rodriguez
00:35 02 Feb 19
Great training definitely recommend worth the money

K1ng_ Sum01
00:32 02 Feb 19
I called Tip Top K9 to help with my rescue, Hemi's aggression towards people and his dominance issues. I have had 3 sessions and I can say I am seeing the transformation of a very dominant dog into a more submissive dog. The aggression is a work in progress but I can have people in my house now and he will calm down and relax ... which would never happen before. I feel with the tools given to my husband and I that we will have a happy, less stressed and less aggressive dog in the very near future. Thanks for giving us hope and piece of mind.

MICHELE BIRKENHEIER
22:39 28 Jan 19
Tim has been an amazing trainer. I am so surprised at how well my dog has responded to his methods. He is great at what he does.

Gretchen McCardle
20:04 26 Jan 19
Tim's training is amazing. He has worked wonders for my dog. She is very stubborn however his training has really gotten through to her. He is a wonderful trainer and a pleasure to be around.

kim arnett
19:53 26 Jan 19
Tim is awesome and very professional we highly recommend Tip Top K9. Tim prides himself in training our dog likes she is his own while making sure we understand what and how to work with Nala. We couldn't be happier. Tim's always on time and takes extra time when Nala is stubborn. Thank you Tim we are lucky we found you!!!!

John P. Cambra
01:34 20 Jan 19
I am so happy and pleased with Tip Top K9 and our training classes. Our puppy has anxiety issues, the training with Tim has been amazing for our dog she has done so much better in a lot of things. She is so much more relaxed and obedient, he taught her patience and how to focus. I am super glad this was a family training program so we know how to continue the process and see her grow with her training. Thank you!!

Dawn Carley
03:20 18 Jan 19
I wish we would have found Tip Top K9 a long time ago, but I'm so glad we have them now! We chose to do the in home classes rather than boot camp because our dog, Bear, will listen to everyone else but me, so I wanted to learn how to train him as he went through it. Tim is an awesome trainer not only with Bear, but making sure we understand everything and answering all our questions. I never thought I'd be able to get Bear to listen to me, but even after the first lesson I could tell a huge difference. It has been a huge relief and has made life so much easier now that he listens to us. We also love that we are going to be able to continue training with him at group classes after our in home is done. This is the best decision we ever made and we can't say enough good things about Tip Top K9!!

Megan Klagstad
17:32 06 Jan 19
Tim Bradley is an excellent trainer/person! He is extremely loving and patient with my dog and me. Punctual, caring, smart-great traits in anyone!

Cynthia Kolker
21:02 05 Jan 19
So great to be able to communicate better with our dog. He is happier and we are happier. Thanks Tim and Tip Top K9!

Jill Lueck
21:24 27 Dec 18
Tim is an amazing trainer! It's crazy to see the progress my dog is making already, even after I thought he was untrainable from becoming aggressive! With each lesson, my dog is so much more confident and has gotten so much better around other dogs. Couldn't have asked for a better trainer. Can't wait for the remainder of the lessons and to move on to the group ones as well!

Aleigh Phillips
21:44 13 Dec 18
Tim is the man to go to!! His training is right on the spot when needed & as needed. Highly recommend Tim to anyone that has a dog that needs training as we didn't see how or what to do with "ZOE".. She thought she was master of any other dog & was willing to attack much bigger dogs than her to prove it. Now we can train / work with her without a lease. Only rate Tim as a five as there are no 10!!

Howard Mallory
21:18 27 Nov 18
Tip Top K9 Training has been a life saver for us with our little Zoe... Trainer Tim is a true professional and a joy to work with! I would recommend them to anyone who needs help with their fur baby!

Sherry Buck
21:00 27 Nov 18
I had a 1 year old aggressive pitpull, we could not control her, she would not listen, and I just had a baby so I was scared she be too aggressive for the baby but tip top K9 saved our Lola she's such a different and well behaved dog now. Thank you so much for tip top k9 for amazing service!

Seanna Thibodeaux
02:26 17 Nov 18
I am so happy i met Tim! Its amazing how fast he has transformed my dog in such a short time. I have had the worst experience with other dog trainers. I am so happy i ran into tip top k9. I am loving the group classes. I wish i would have done this months ago. If you have a dog easy or hard to work with call these guys for a $1 lesson. Thanks again tip top k9 keep up the great service!

Nick Burridge
05:40 15 Nov 18
Great job! So excited with the changes in Max. Can't wait for the group classes. The hands on work was especially informative. Thanks Tim!

Elaine Fox
19:12 08 Nov 18
My dog was a little trouble maker, and after just one season, she was already learning and being more obedient! I'm excited for her next lesson!

Amanda Grace
15:52 06 Nov 18
Tim did such a great job with our Bourbon! He took the time to teach us all of the commands and really answered all of our questions. He even helped us teach Bourbon with our 11 year old son. Bourbon came back a good boy and we are really looking forward to group classes.

Logan Ryan
19:12 05 Nov 18
Tim has been a pleasure to work with. He is always on time and makes himself available for any questions. You see results pretty fast as long as you do the work between lessons. He has brought along his pup River on a few lessons. She is 5-6 months old which is about the same age as our pup. This allows you the opportunity to see what this type of training can do. I recommend Tim and Tip Top K9 to anybody looking

Rico Beltran
20:19 27 Oct 18
Tim was great in his first assessment with our dog Bruce. He informed us of the program, and reassured us of our concerns. Within the first assessment he already began laying the foundation of great raport. We are so excited to see what our dog can become with a great trainer.

Jackie Arvizu
03:10 25 Oct 18
Great information and fantastic customer service. My dog immediately responded to him and everything was explained to me in a way to easily understand.

When we first started the training I didn't think it would work but after the three time of training I was so impressed with the trainer and my dog. Very happy and now life will be so much better. Thanks again Dan.

Cindy Stanaway
18:26 22 Oct 18
Amazed at how quickly our dogs responded to Tim and the training process. They are 10 and 8.5 years old. No truth that can't teach old dogs new tricks....because it's never too late!

Cynthia Stanaway
18:24 22 Oct 18
An excellent trainer who knows his stuff. After seeing his before and after dogs first hand, I was jaw dropped. And he honestly treats each dog like his own. It's a rare quality to see with some trainers out there.

Brandon stacey
04:16 01 Oct 18
Tip Top K9's system was amazing! My black lab Pete used to pull on the leash so hard that he would actually choke himself! After working with Tip Top K9, he actually heels off leash!! The training has changed my life and improved the life of my dog and I HIGHLY recommend them!!

Josh Johnson
17:53 28 Sep 18
Tim trained my dog and I couldnt be happier best part is he spent 3 hours with me after he trained my dog making sure I could give my dog commands properly! It's crazy how awesome my life is now with my dog! If your looking for dog training don't waste your time looking anywhere else go to tiptopk9 that way you'll know you will get the results you want!

fianna lewanski
23:40 27 Sep 18
I have to say that I am so happy and blessed I was able to meet Tim. He helped me with my baby girl Rosie. She is an 11 month old Malinois. I have spent hours searching for the right dog trainer that can actually handle my psychotic dog. It's amazing how I can actually live life with her understanding how things work. Thanks a million Tim! Amazing company. #TipTopK9-Gilbert

Elisabeth Bradley
17:38 23 Sep 18
Tim is one of the best Dog trainers in the business, he has a natural talent for it, and he runs his company very well. If you want or need your pet trained the best choice is Tip Top, because their system is very practical and very good.

Tim is a great trainer! Very happy with the results, definitely would recommend!

Amazing Service, Couldnt Be More Happy With My Puppies Progress! I Highly Recommend Anyone To Call If You're In Need! Thanks Again!

Bela Cerda
20:15 26 Aug 18
These people were so nice and welcoming. Thank you Tip Top K9 and Tim! Love what you guys do!

Angela Barnes
19:26 26 Aug 18
Great dog trainers!!! They truly are tip top!!

Michelle Vazquez
18:44 26 Aug 18
Tim at Tip Top K9 is awesome at what he does, I would definitely recommend this place if you're looking to train your k9!

Daniel Ochoa
19:01 20 Aug 18
Tim had my retriever, Ghost, for three weeks. Ghost had barely settled into his new home before we sent him off. When he came back he was a whole new dog though thanks to the help of Tim! He is still hyper as ever because hes a young retriever puppy, but he is obedient when we want him to be. Tim is not only done great with our dog, but he is phenomenal at teaching us how to train Ghost for when Tim isn't around. He comes by weekly or bi weekly depending on how both of our schedules are looking, and each time he comes Ghost learns new commands and gets even better at the ones he knows already! Tim is a very honest, and trustworthy guy that is very good at what he does. I would recommend anyone looking for quality dog training to him for sure.

Jordan Capps
15:57 17 Aug 18
This helped out my family so much, amazing work! Couldn't recommend it enough. 5 out of 5

Tony Reyes
14:06 16 Aug 18
Tim was so amazing and patient with our stubborn puppy! Our sheepadoodle baby LOVES him and we could not be happier with the results! I especially appreciated the training with all my children so everyone would know how to continue helping Banks with his manners. If only my children were as obedient as my dog.........

Molly Stanley
22:38 11 Aug 18
Tim is fantastic! In just a short time, he turned our yappy, nippy puppy into a happy, obedient puppy. Tim even came to our house for several lesson where he worked with each member of the family on an individual basis. He focused on exactly what we wanted our puppy to learn and taught us how to reinforce his training. My kids love working with the puppy now. Best of all, we now have a puppy we can trust to be out of his kennel and with the family. 5 stars for Tim!!

Anthony Merrill
20:08 09 Aug 18
Thank you for all the help. Excellent trainer. Highly referred!!

Stephanie Bradley
23:45 06 Aug 18
Tim is awesome! I highly recommend Top Top K9.

Patti Rinaldi
23:15 04 Aug 18
Tim came to my house and worked with my three month old puppy and six year old sheepadoodles. He did a great job working with them and me!! The puppy is so good with obeying and the older one is much better. The best thing with Tim is he has always been available to answer questions or give advice after the training program is over. I highly recommend him for training your furbabies.

Mary Leinberger
03:26 04 Aug 18
Hand down the best trainer in town! What a life saver! Thank you for all you have done to help us!

Debra Sorger
17:16 03 Aug 18
Highly recommend. Tip top k9 did an amazing job training my dog. Thanks again!

Christine Bower
15:48 03 Aug 18
Tip Top K9 did a great job training our dog!!

joan faherty
00:17 03 Aug 18
Trained our dogs they are both very well behaved now. Their trainer tim was wonderful!

Kagen Donoho
00:13 03 Aug 18
I had a very out of control dog thankfully I found them, they whipped me and bandit into shape helped me find the great dog inside of mine !!!

100faherty
00:13 03 Aug 18
I'm so thankful for Tip Top K9! They did an amazing job teaching my best friend a ton of new tricks! I show him off to all family and friends when they come over. I'm no longer afraid he is going to be jumping all over guests when they walk in, now he listens to me even when someone new comes in our home.

Jennifer Faherty
02:47 02 Aug 18
Thank you so much for helping me with my Stella! I highly recommend TipTopK9 with all of your dogs needs. Amazing.

Cheyenne Bradley
22:22 01 Aug 18
Tip top k9 trained my wife's dog Mally. He was a rambunctious dog and didn't listen to any of our commands, but now after the training from Tim and his team Tip Top K9 our dog sits on command, stays, lay down and more! We could not be more thrilled with the results and service! Highly recommend!

mike barnes
13:48 01 Aug 18
At our Gilbert dog training location we serve clients all over the Valley with customized training programs in the comfort of their home.
Here at our Gilbert / Chandler location we come out to our clients and work with your dog one on one and then give you homework.  We also do a life time group class for our clients.  Wether your dealing with a dog that is pulling on the leash and wont stop or your needing some more control off leash we are here to help!  Give us a call today (480) 739-1236 and your first lesson will only be $1.00!
Gilbert Dog Training Out And About:
Some of our recent Gilbert dog training success stories: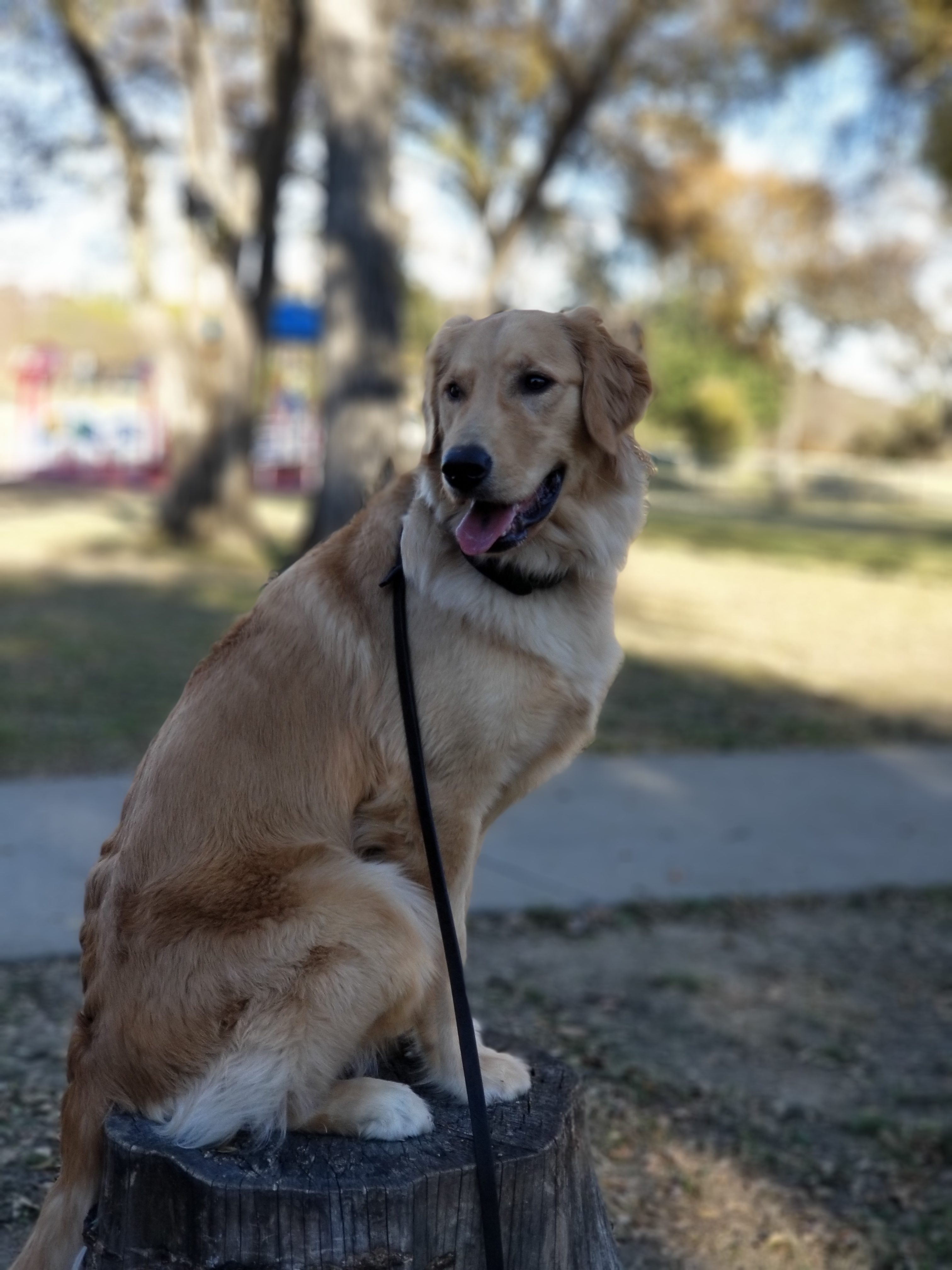 Bella the Golden Retriever
Bella was an out of control golden retriever puppy who couldn't wait to climb you then pull you down the street.  Her heart was in the right place, but she was definitely a handful.  Because of her bad habits her owners Mike and Nicole couldn't really take Bella for a walk or anywhere else for that matter!
After 4 weeks of Bootcamp, her life has drastically changed for the better.  Now instead of running to and jumping all over new people, she sits at your feet and waits for love to come to her.  No need to worry about pulling on the leash either, Bella is now 100% off leash!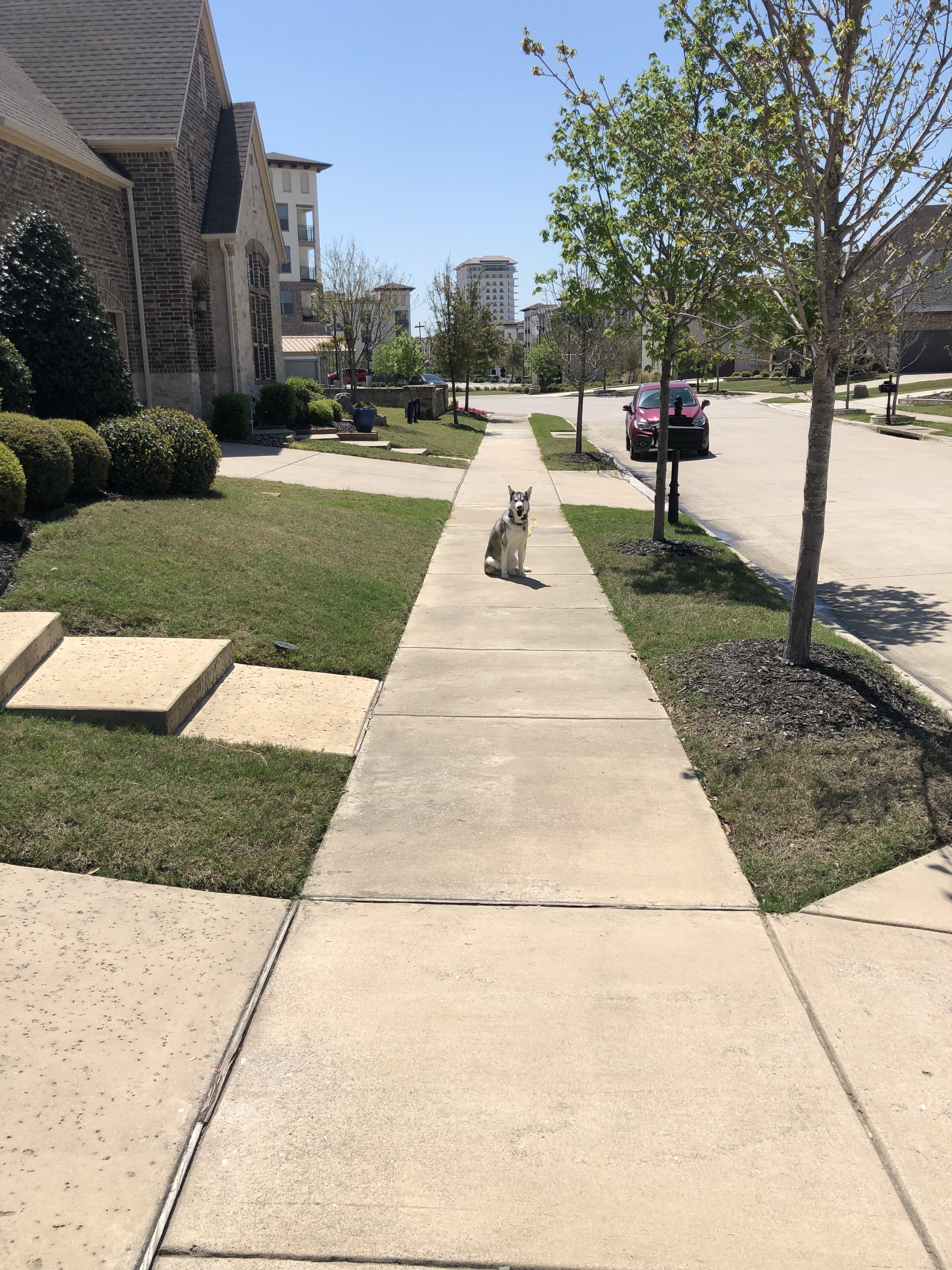 Lucy the Husky!
Lucy was just a small town pup trying to make it in the big city.  Her favorite hobbies were helping herself to the family dinner and long walks around the park pretending she was a sled dog. She hated car rides and listening to anyone who was talking to her. 
Now after 6 weeks of training, she has pulled herself together and is a model citizen.  She still loves walks around the park, but takes a relaxed stroll instead of sprinting to the end of the leash.  She no longer tries to sneak food from the counter when your back is turned, and can instead stay on her bed and watch dinner being made from the living room.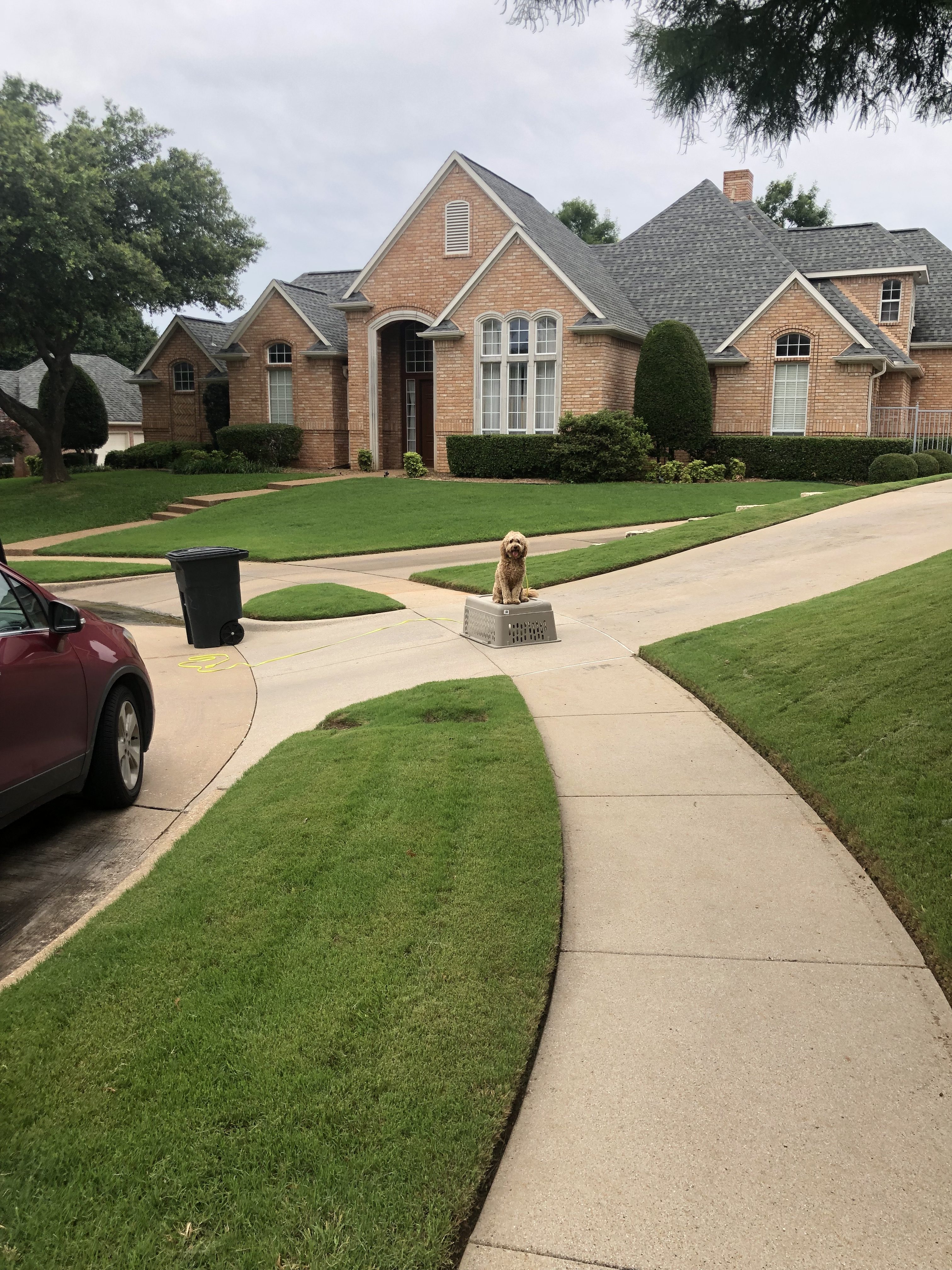 Lulu the Doodle!
Lulu was just your everyday Doodle puppy.  What she lacked in coordination, she more than made up for with crazy.  She was an escape artist and would love to be chased around the neighborhood and parkour through the house!
After just 4 weeks of private in-home training, she had a new lease on life.  Instead of taking off down the street every time the front door was opened, she now just stays on her cot.  Lulu still has her same loving and affectionate personality, but now channels her energy into running laps around the backyard pool instead of the neighborhood!
Talk With a Trainer Today!