Wow what a difference this training makes! Highly recommend 👍

Leilani Rogers
06:29 02 Dec 21
Everyone has noticed the results in my dog! Very effective training

Alana Armas
21:33 30 Nov 21
My dog Lucy did amazing with the classes they really worked with her and made her a better doggo

Summer Roadlander
17:47 23 Nov 21
Tip top k9 was amazing helped our dog overcome so many fears and helped him with heel and basic commands! They even helped me with my nervousness at first. Cameron is a trainer I would highly recommend!

Felicia Yanez
18:06 18 Nov 21
great people great results!

Terrence Kim
00:42 18 Nov 21
These people are very nice, the system has worked great and I'm very happy with the results I've seen so far

Zack Gowans
22:54 17 Nov 21
Trainers are very kind and knowledgeable. They take care of the animals while making sure they understand what is being trained

Maureen OConnell
19:02 17 Nov 21
JoJo and mom are more than pleased with our training!! Awesome people with life changing results!!

Jillian Butts
00:22 05 Nov 21
We brought a large, unruly German Shepherd into our home with an older Corgi and did weneed help!! Christina & Cameron came toour home and trained our German Shepherdwonderfully well! Their training methods really work to make an obedient dog. We are thrilled with how well our dog has turned out so I highly recommend!!

Kimberly Cole
16:34 04 Nov 21
In just one month our pup Kona went from a crazy hyper and energetic puppy who didn't listen at all, to a calm and obedient puppy who I can confidently have around other people and dogs.Christina (our trainer) was so helpful throughout the whole process and I did not expect the training program to be this good.I highly recommend this to any other dog owners who are looking to have more obedient dogs.

Matt Ebuhardt
21:54 23 Oct 21
They really helped me and Simba! His barking, jumping on people was so annoying! He is SO much better now!And walking with him is so nice now.Very happy for their help. He is/was a great pup, but alot more enjoyable now that he has learned some manners!Greatly appreciate the help and training WE are enjoying!

Alan Burns
22:42 22 Oct 21
Christine and Kameron (with a K) were amazing! They helped me get my boys attention and manners under control. We can't wait to attend group classes!

Kim Henigan
23:50 19 Oct 21
I can't believe that my Bernedoodle was trainable. He was hyper, a terrible listener, a jumper, and controlled our lifestyle all around. We couldn't trust him and we couldn't communicate effectively.We noticed a night and day difference in our dog after our first lesson and progressively leaps and bounds better every lesson since. My 2 year old bull headed pup is now an obedient guy and more importantly he completes our family in ways I never thought he would. My neighbors compliment us on walks now where I used to be embarrassed of his behavior. Thank you Tip Top k-9!

Kelli McNaughton
19:59 18 Oct 21
Kristina has been great with our boy Thiago. She truly loves what she does and spend extra time if necessary. Its amazing to see the difference in our dog in such a short amount of time.

Adam Stuckrath
18:17 16 Oct 21
Our training is amazing! She is kind is very knowledgeable we are almost through our 1 on 1 classes and I can't wait to take my pup to the group classes! Definitely recommend!

Amber Waddell
02:48 02 Sep 21
Big thanks to Christina and Tip Top K9 for a great training experience! Variety of training programs made it easy to find a solution that worked for us. Flexible scheduling made it easy to work around our busy schedules and made the process enjoyable for us and our dog. Christina was an absolute pleasure to work with. Her simple and effective training techniques allowed us to see results right away. Whether you have a stubborn pet or have plateaued in your own training, Christina can get you the results you're looking for. Absolutely recommended!

Travis Lewellyn
20:07 24 Aug 21
Just finished Marnie's third training session. Christine and Cameron were fabulous! They answered our questions, explained the reasons for the training methods, were very patient with Patty and I (and especially Marnie!) and offered support for our efforts. Marnie has learned so much in just three weeks and we are very excited to continue her training now that we have a better understanding of the training methods.Thanks so much Christine and Cameron, you were both great!!

John Briggs
17:54 24 Aug 21
Christina was great with helping me with my dog Goose! He was very nervous since he's a rescue but he has progressed significantly since she started working with us and I am so happy with his results and progress!

Andrea Reyes
01:55 24 Aug 21
I have LOVED having Christina and Kameron over to train our Boston Terrier. Brutus (our pup) is as stubborn as any Boston terrier can be. Christina was loving but firm in her training and made things simple for me to take over. I am so excited to take Brutus further with his training with the group classes.

Helen Petersen
18:48 19 Aug 21
Christina was great! Very thorough and helpful. She was willing to be flexible with scheduling too!

Josie Cotterman
20:51 14 Aug 21
Before training, my 8-month-old Airedale Terrier puppy was very defiant, would not listen to his name, jumped up on countertops and people, would drag me along for walks, and would run out the front door with any given opportunity. Christina was so friendly and patient with my dog and I've seen a huge difference in him from the first session to the last. Now he will refrain from jumping on people or countertops and will come when I say his name. This training is 100% worth the money and the best investment I could have made for my dog.

Grace Romer
17:57 13 Aug 21
they are wonderful, explaining everything, just how you need it. Even when I ask the same a lot of times:-) very flexible in scheduling

Andrea Best
04:00 26 Jul 21
Christina came to our home and worked with us with our German Shepherd Luna. From the moment Christina met Luna we knew we would be in good hands. She was very professional and very awesome and fun to work with even though she got in an accident during training she made it a point to take care of Luna. She made sure we understood what needed to be done and worked hard to make sure Luna was getting the best training she could. We also worked with Sean (while Christina was out) who made sure Luna was getting the best care and training as Christina would have. The training has been very beneficial for Luna. Christina is awesome!

Dana Rosenbaum
01:27 27 Jun 21
Christina was AMAZING! Best dog training program and Trainer! I live in Mesa AZ and we were ready to re-home our dog. Tip Top K9 did the tick! Opie is a different dog and we now love him! It's amazing what this program did for our family. If your thinking about it don't think any longer and just do it.

Matthew Hawes
16:37 25 Jun 21
Sean was awesome! The whole team was responsive and helped us get our dog where we wanted it to be. Would recommend to anyone looking for a quick tune up or more intensive training.

Dalton Oliver
03:11 25 Jun 21
Very patient and helpful with my dog's issues. Vinny has been a lot better since we started classes with them 💕

Tyler-Rose Boykin
21:48 24 Jun 21
We saw a difference in our dog after the first session! Kristina and Sean were amazing and we're so grateful for their help!

Rachel Chimel
15:56 24 Jun 21
A big thank you to Christina. Our golden doodle is a COVID puppy and very anxious and suffers from separation anxiety. We saw improvement in our girl Mabel's behavior after the first visit. Christina was so willing to answer all our questions and listen and work on the things we were concerned about. I did a lot of research and read a number of reviews before going with Tip Top K9. Looking forward to the group classes.

Tracey Kusz
21:55 23 Jun 21
My dog was showing aggressive behaviors towards delivery men and other people coming to my house. I needed these behaviors to stop. K9 came to my house for their introduction and small lesson. I chose the teachers pet private lesson package and I can honestly say, it was worth every penny!!! I also love that unlimited group lessons came with the package!

Mary Sharma
18:07 23 Jun 21
The trainer that I worked with was Christina and she has been amazing. I opted to enroll 2 of my 3 dogs into training as one was a puppy and one was having territory/food issues. Christina worked with my dogs and then myself to get the basic commands including sit, lay, stay and come. The blessing was to training each on "place". "Place" has been my saving grace when the food aggressive dog acting up or when distributing food bowls. Now we attend the weekly group training classes to continue the training which the pups enjoy attending! I highly recommend this company especially Christina as she highly skilled in training dogs!

Kim Barrowman
18:23 26 May 21
We purchased a 6 lesson package and the transformation in our dog has been amazing. Christine really helped us gain the knowledge to work with our dog. As a rescue animal we didn't know that what to expect from the training, but it has worked wonders with our Brittany. Thank you Christine. We look forward to the group sessions in the weeks ahead.

David McCasland
19:35 07 May 21
10/10 would recomend to anyone

tyler yelnast
06:03 04 May 21
We adopted a rescue dog with no history provided. We were in need of someone to help us understand what she may have gone through and how to help her. We Found Tip Top K9 through a google search and we were able to connect and talk with someone on the initial call. They spent quite a bit of time on the phone understanding what we were needing and educating me on the process and expectations. We had our fist meeting with Christina and right away I knew she was going to help. Her energy is very calming to us and to Daisy. Christina spent time talking to us and getting to know Daisy before recommending a plan. We started right away and within 6-8 1 hour sessions we have learned how to work with Daisy and understand how to properly communicate strong 1 word commands. Since finishing our training I realize Christina was not here to only train Daisy, she was here to train us too. I would highly recommend Tip Top K9 to anyone looking for a simple yet effective training program.

I was having issues with my boy Charlie , he is a 1 year old Dutch Sheppard pit mix and he was having a difficult time listening to me, but Christina worked her magic and i have never had an issue since!! I recommend Tip Top K9 to anyone!!!

Treven Ballinger
02:59 23 Mar 21
Christina was amazing with my dog! She took a dog who was kid and dog aggressive and didn't like to listen to a dog that is very controllable and can be around kids and other dogs. Definitely recommend training with her!

Our 7 months old German Shepherd puppy was very friendly but out of control, barking and running after cars and other dogs. He spent 4 weeks in training. The method of training is very effective. The dog came back still very friendly but totally able to obey commands, stay quiet when ordered, barking less and able to manage distractions such as cars, people and dogs. This training is a bit expensive but totally worth it for the peace of mind it provides and the quality of the company of the dog we can now enjoy without stressing about what accidents he would triggerChristina gave us a great class when she brought the dog back.

marc rougee
04:17 27 Jan 21
At our Gilbert dog training location we serve clients all over the Valley with customized training programs in the comfort of their home.
Here at our Gilbert / Chandler location we come out to our clients and work with your dog one on one and then give you homework.  We also do a life time group class for our clients.  Wether your dealing with a dog that is pulling on the leash and wont stop or your needing some more control off leash we are here to help!  Give us a call today (480) 739-1236 and your first lesson will only be $1.00!
Gilbert dog training clients after training with us:

"She's completely different in her behaviors."

"We would recommend Tip Top K9 to anyone, and we already have."

We've seen a lot of progress.
Gilbert Dog Training Out And About:
Some of our recent Gilbert dog training success stories: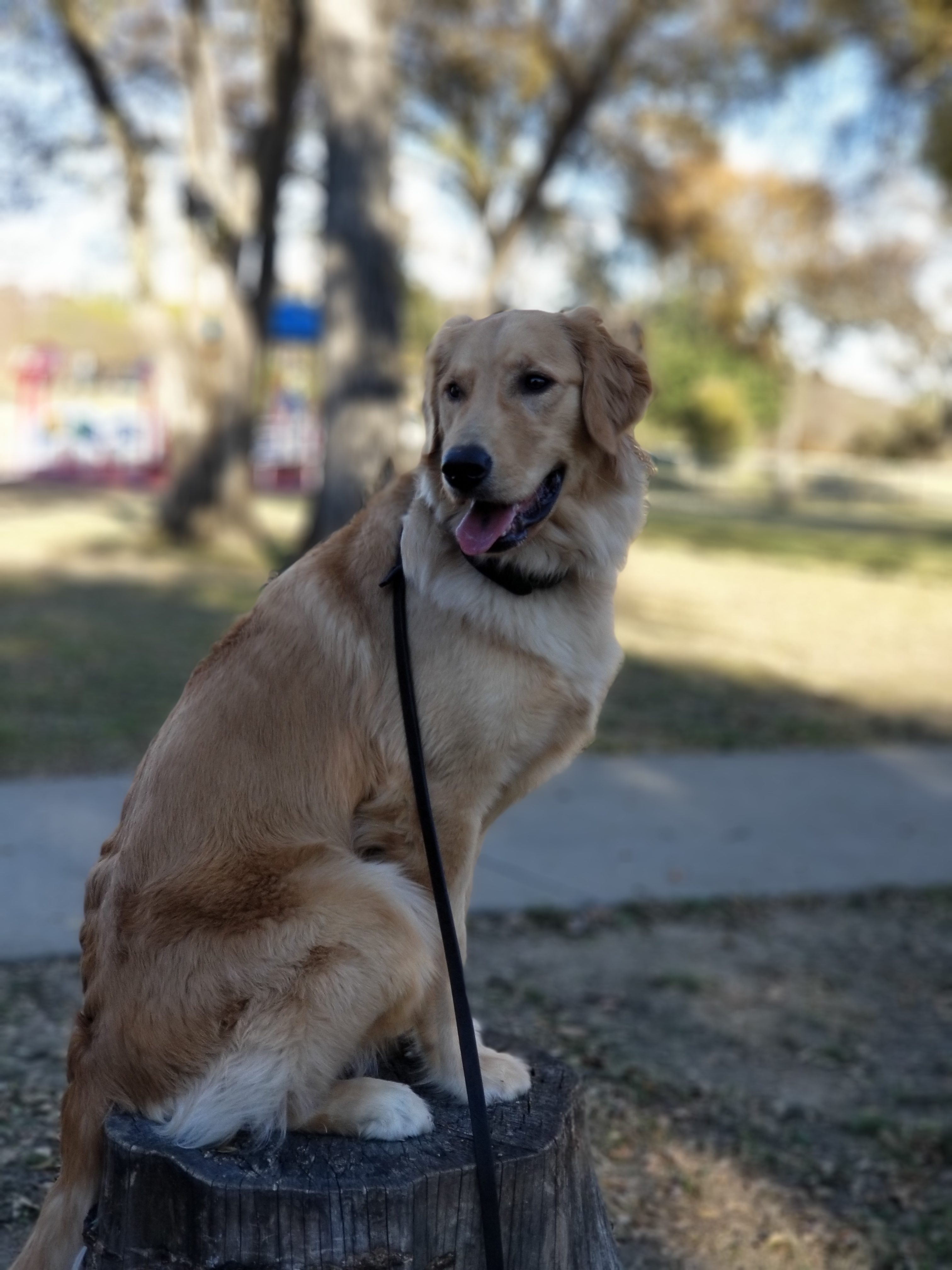 Bella the Golden Retriever
Bella was an out of control golden retriever puppy who couldn't wait to climb you then pull you down the street.  Her heart was in the right place, but she was definitely a handful.  Because of her bad habits her owners Mike and Nicole couldn't really take Bella for a walk or anywhere else for that matter!
After 4 weeks of Bootcamp, her life has drastically changed for the better.  Now instead of running to and jumping all over new people, she sits at your feet and waits for love to come to her.  No need to worry about pulling on the leash either, Bella is now 100% off leash!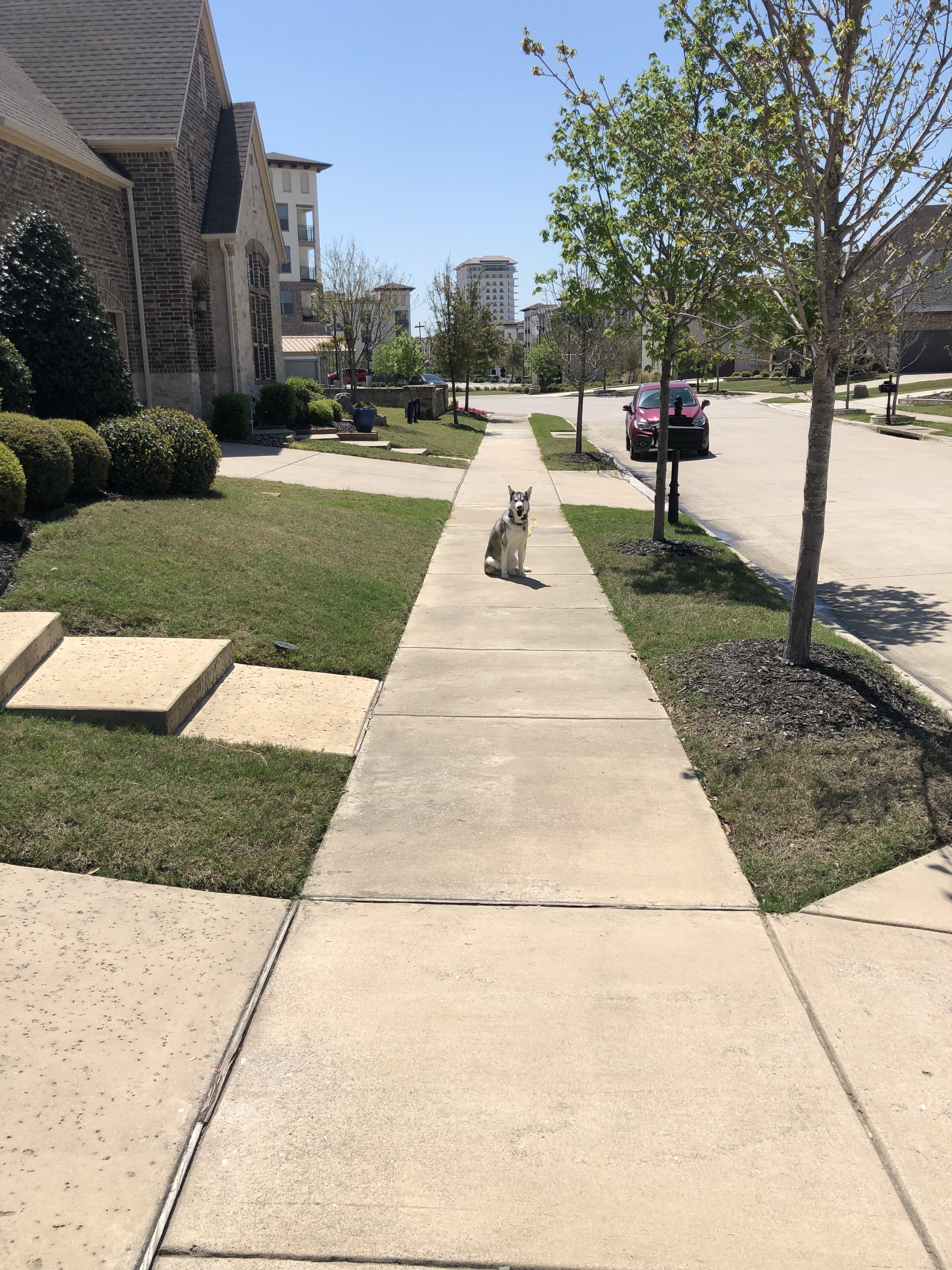 Lucy the Husky!
Lucy was just a small town pup trying to make it in the big city.  Her favorite hobbies were helping herself to the family dinner and long walks around the park pretending she was a sled dog. She hated car rides and listening to anyone who was talking to her. 
Now after 6 weeks of training, she has pulled herself together and is a model citizen.  She still loves walks around the park, but takes a relaxed stroll instead of sprinting to the end of the leash.  She no longer tries to sneak food from the counter when your back is turned, and can instead stay on her bed and watch dinner being made from the living room.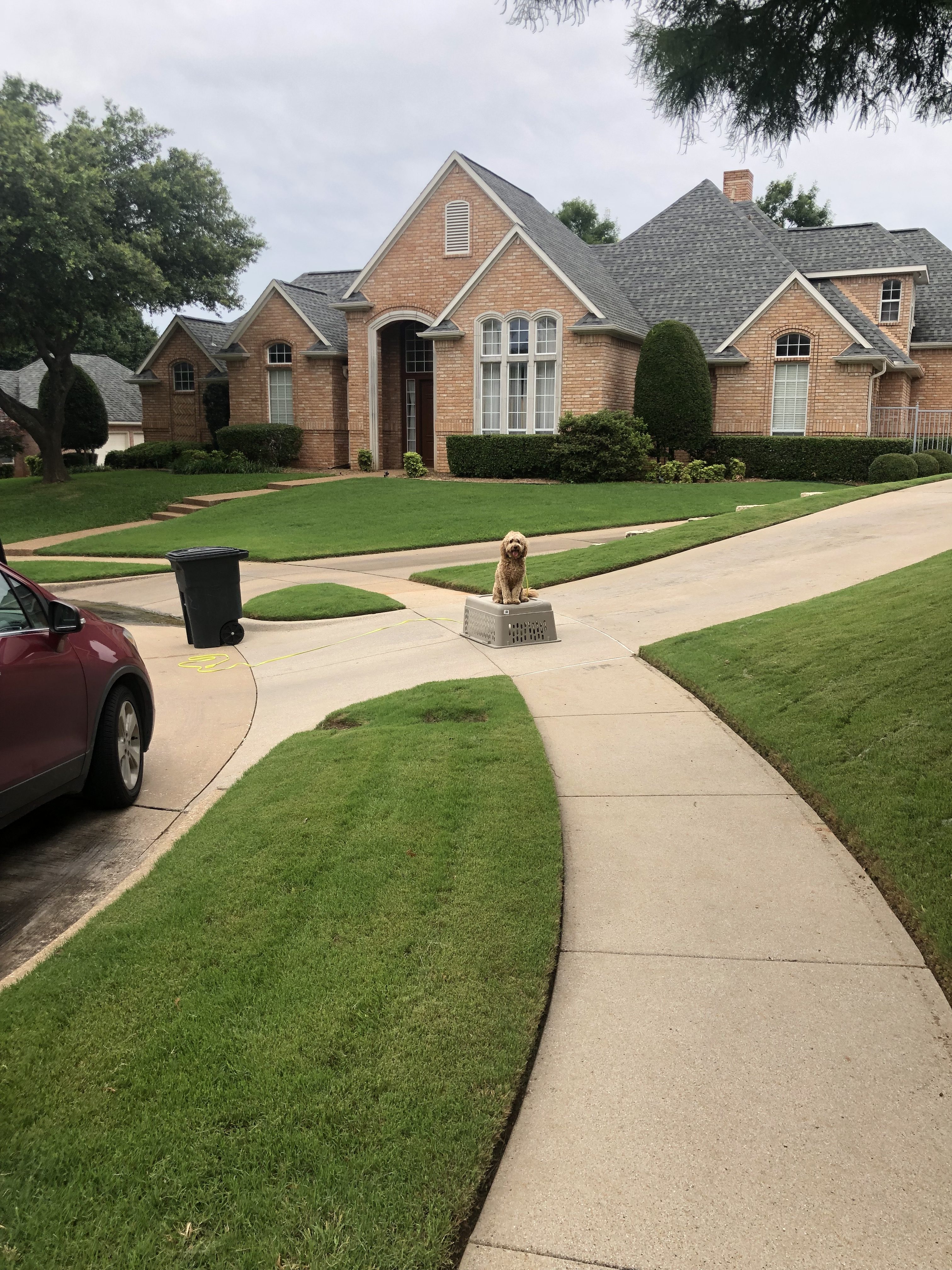 Lulu the Doodle!
Lulu was just your everyday Doodle puppy.  What she lacked in coordination, she more than made up for with crazy.  She was an escape artist and would love to be chased around the neighborhood and parkour through the house!
After just 4 weeks of private in-home training, she had a new lease on life.  Instead of taking off down the street every time the front door was opened, she now just stays on her cot.  Lulu still has her same loving and affectionate personality, but now channels her energy into running laps around the backyard pool instead of the neighborhood!
Talk With a Trainer Today!