Thank you for helping us transform our crazy Stan man into a well behaved companion! We look forward to coming to group class!

Kathy Chambers
23:47 29 Nov 21
Darcy was amazing with my Shih Tzu Maltese. As a little dog it's sometimes hard to get them to listen but with her training my baby the improvements have been leaps and bounds. She does tricks now as well as just a standard come stay etc. perfect. I would highly recommend this company.

Christy Jordan
20:46 22 Nov 21
I would highly recommend tip top k9 for anyone who needs one on one training, they are very flexible with time and every training session is very useful. My 10 month border collie loves working with them.

adriana leiter
19:44 22 Nov 21
I am 100% happy with the training from Tip Top K9! Our trainer, Amariah, was so kind and patient with Guinness and myself. Highly recommend this company!!!

Brianna Dawkins
22:39 20 Nov 21
Working with tip top has been AMAZING! Our 90 pound golden retriever now has a lot more control and stability in walking, commands, and existing around exciting things like people and dogs. We cannot recommend them MORE!!

Nicole Marshall
19:33 19 Nov 21
They got our German Shepherd trained and listening after a few sessions. Would highly recommend!

Carolyn Aragon
19:07 18 Nov 21
Amazing training well worth it.

John Clark
17:37 16 Nov 21
Extremely helpful and good trainers

Robert Allen
19:50 15 Nov 21
TipTop is amazing. They've been so helpful and worked with my pup and myself through her particular challenges. They've provided us with consistently amazing training and personalized advice. The group classes are a great option and I've appreciated all of the people we have interacted with. I would definitely recommend them to anyone!

Nat wiseman
18:04 11 Nov 21
Super great company, super responsive. All the people we've worked with have been super helpful! I would absolutely use this company for the next dog we get as well!

Kennedy White
00:50 09 Nov 21
Great experience for me and my puppy, Quinn. Both of us novices. our instructor, Alyshia was fantastic, explained, demonstrated with patience and knowlenge. Obviously has been doing this for awhile. I would recommend Tic top highly.!!!

Sharon Morrow
22:03 29 Oct 21
Training my new puppy has been a great and easy process. Amariah is very professional and obviously loves what she does. Great progress has been and I can't wait to see him in the future!

Morgan Hett
21:54 23 Oct 21
Great program for dogs! Amariah is a great trainer and they are very informative and professional! 1 month in and already seeing major progress in our puppy :)

Jeffrey DeGeeter
21:54 23 Oct 21
Our pup went in smart and eager to learn and came out obedient thanks to tip top k9! Amariah came to our home after training was finished and showed us everything our pup learned. She made sure we were set with everything we needed to continue training! total positive 360!

warren rubier
23:10 22 Oct 21
Alyshia was always well prepared and each training session went well. My wife and I were pleased with how well our German shepherd, Rosie, responded to the training. I would recommend Alyshia to anyone considering having their dog trained with Tip Top K9! Thanks again!

Jeff Prengaman
01:07 12 Oct 21
After our demo session with Kara we sent our wild Lab/Shepherd puppy and our 13 year old chihuahua mix TOGETHER to boot camp. We struggled with the decision to do this but needed the old and the new to learn together (the age ranges for needing training also included us humans). The goals seemed lofty on paper, but we were hopeful! Tip Top K9 did not disappoint and we're so glad we made the investment in boot camp. The weekly updates were great and I also had a phone call with one trainer about our older dog, she was honest and reassuring, so we held the course and we're happy the two dogs, one old and one young, learned the language together. That was a key outcome for us and we're happy we are poised for success. The next phase is up to us, but we're reassured the team at Tip Top K9 is a phone call away, and there's group classes and substantial training options available, which is so reassuring! Thank you for the great head start!

Kathryn Shields
00:14 09 Oct 21
Tip Top K9 training is like magic!After meeting a ridiculously darling and well behaved dog who had been through the TTK9 program, we signed up immediately! Our two puppies (brothers) responded so quickly it was truly like magic. Amariah is amazing. Skilled and beyond thoughtful. The boys love her, and we could not be more please with the outcome of the training.Ten stars!!!!!!! ⭐️⭐️⭐️⭐️⭐️⭐️⭐️⭐️⭐️⭐️Ann

Ann Goodwin
00:13 08 Oct 21
Alyshia was excellent! Got our German Shepherd to behave in short order. Very friendly, punctual and professional!

Molly Prengaman
00:39 05 Oct 21
Great service! Definitely exceeded our expectations! Will use again!

Dan Denning
23:02 01 Oct 21
Super great! Easy to work with. So much improvement in my dog!'

Susan Bentley
17:53 29 Sep 21
Best dog training in the Boise Meridian area. Wanted to increase our knowledge of basic commands and develop the foundation for future tricks and advanced commands. We worked with Alyshia and she was so kind and patient with not having not Ollie but us as well. 10/10 would recommend

Whitni Synakiewicz
01:16 28 Sep 21
We had a great experience with Tip Top K9! Alyshia was extremely kind and knowledgeable, and we learned so much from our lessons.

Trent Wilson
00:53 25 Sep 21
Our dogs came back home, obedient and in great physical condition.

TipTop k9 was extremely flexible with my schedule and so great with Odie in making sure he got the correct attention and training! I could tell a difference already after his second training session! They also offer unlimited group classes after training has ended! Would highly recommend to anyone in the Boise area!

Hannah Anderegg
23:51 16 Sep 21
Alyshia was so great to work with! My mini schnauzer loved her and she worked with him every step of the way when he needed adjustments or new ways to do something. HIGHLY recommend!

Julia Nigro
21:13 14 Sep 21
They did such a fantastic job! My family is so happy with how our puppy did with training! She was happier, we were happier and the free lifetime group classes will be so helpful! Definitely worth the price!When I was first looking for puppy training classes, I wanted to do more stuff than your typical sit, stay, high-five, shake. I wanted my puppy to learn skills that would improve my relationship with her. She is a 6 month old Portuguese water dog/poodle mix, so stubborn was 100% her personality. Before she started training, she was chewing the leg off my coffee table, nipping at everyone that pet her, and jumping all over everyone. She would not listen when called or even take a treat over a piece of garbage in the road. After swallowing a sock that required an emergency visit, we knew we had to get training. When we say the first lesson was only 1$, I thought we could get a feel for the company before actually spending hundreds of dollars. Darcy was awesome and went over everything about the program and the options that were available. When we first met our trainer, our puppy was in love. She would get so excited to see her and came back a completely different puppy. I love the fact that they will take your dog for the first two initial visits, and then train you how to train your dog. I mean in 6 sessions, our puppy had learn to come, sit, heel, place, quiet, and off. And she listened EVERY SINGLE TIME! The training they do is so much more than any where else. Thank you Tip Top K9!

Hunter Ament
00:49 12 Sep 21
Excellent training on both Ava and myself.

Thanks so much for your work with Lucy she is making a lot of progress with her dog aggression!

trevorhartnett
19:24 31 Aug 21
We just finished the last in-home class with Trainer Amoriah and our 5 year old Rottie, Gus. We couldn't believe it but, began seeing a difference in him after the very first lesson. Amoriah is always on time and very professional. Gus loved her immediately and was actually responding to commands. We were desperate to find a safe training method that would work for him as we had been unsuccessful working with other trainers along with calming powders. The best part about Tip Top K9 is that we can continue to go to classes in the park as long as we want. This training is so very important in socializing Gus with other dogs and exposing him to unlimited distractions. It is very comforting for us to know that Tip Top K9 wants to be an ongoing part of Gus's future training. We chose this plan so we would not be left "on our own" after the last training class. Now we can relax, knowing that we can keep Gus current because there isn't one! Thank you Tip Top K9 for being there for us.

susan perillo
22:49 28 Aug 21
Alyshia was just fantastic! Reliable and so great with my dog. I highly recommend this company to anyone that wants to have an obedient and happy dog! 🐕

Kellen Ross
18:31 21 Aug 21
Such a great experience for me and my dog. Seriously, enjoying my dog and learning how to support him in training has been amazing. Highly recommend Tip Top K9.

Lori Anderson
15:30 15 Aug 21
They were extremely nice and helpful. I can actually walk my boy in public now

Rusty Wattier
16:37 13 Aug 21
Training was great & made such a difference for Walter! Thank you!

Kelsey Maier
02:22 21 Jul 21
Great dog training! Our dogs have improved so much. Good investment in long-term dog obedience. Thank you!

We did the private sessions and Amariah did really great training my dog. Results were better than I expected and worth every penny. Wish I did it before.

carrick wilson
02:22 16 Jul 21
Tip top k9 turned out crazy puppy into a very well mannered and amazing all around dog! He is so happy to be home and loves showing off his new skills!

Steven Thompson
22:46 12 Jul 21
At our Boise dog training location you will find a team of professional dog trainers that were named the 2019 Best of Treasure Valley Dog Trainer and the Best in State dog trainer!
Our Boise team loves to help our clients enjoy their dogs not matter where they go and no matter what outdoor activity they are enjoying.  From general obedience to behavioral modification and off leash control our Boise dog training team is here to bring the best out of your dog!  Hiking and Biking off leash a goal? We can get you there.
We want you to enjoy your dog more!  All of our dog training packages come with guarantees and every package we offer comes with life time group class that is unlimited so there is never an excuse to not make sure your dog is just as well trained as possible!  
If you are in the boise area and looking for a dog trainer give us a call today at (208) 437-8360 and take advantage of our $1.00 first lesson so we can show you how we became the top ranked dog trainer in Boise, Idaho!
Real Boise Dog Training Clients:
Boise Dog Training Photos:
Boise Dog Training client wins!
Einstein - German Shepherd
Einstein is a German Shepherd Dog who came to work with our Boise dog training team after developing some aggression issues. She was very protective and her family was very nervous that she may bite someone! She would bark, growl, snap, lunge, and pull on the leash anytime they went on a walk. She was also reactive to other dogs in the same fashion. Whenever the doorbell would ring or someone would come over, they had to put her in her crate and she would still bark loudly and growl while the person was there. She would also not out the door and not come back!
The first meeting one of our Boise dog trainers had with Einstein was her baring her teeth, barking, high-pitched 'screaming', and snapping at him. When Einstein was finished with training, she would give this same trainer kisses, sit next to him by choice, and ask to be petted and played with by him. Einstein's family can now take her on walks that are enjoyable and chaos free and invite people over to the house again. Einstein listens to commands and is a much calmer, happier dog now and no more worrying about her running out of the house and down the street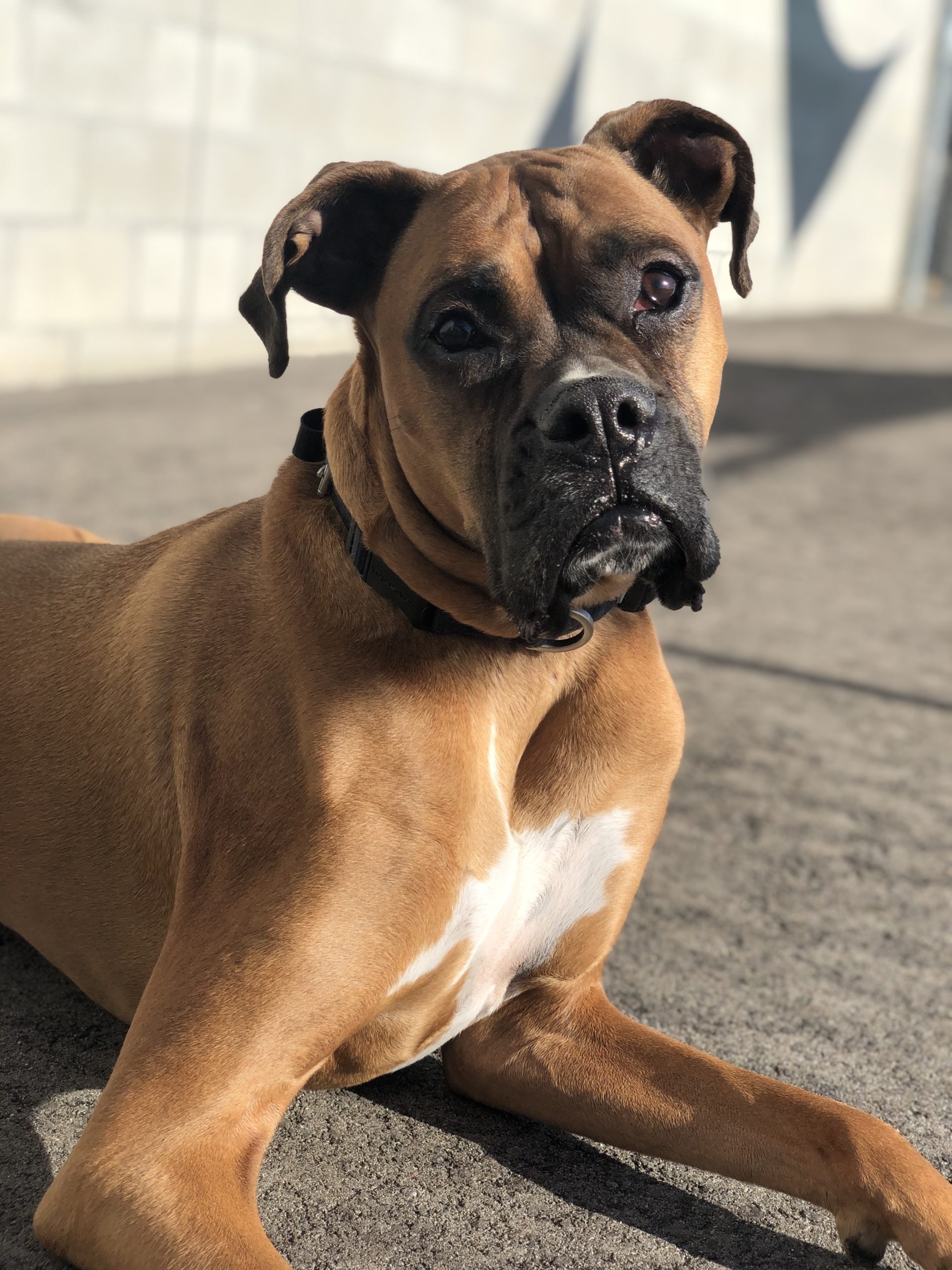 Jax - Boxer
Jax came to our Boise dog training team with severe anxiety in and out of the kennel and when anyone was not with him.If you would close the door to the bathroom, he would pee and poo on the floor out of anxiety.He would try any means necessary to escape the kennel and would drool pools of drool and bark nonstop. His parents weren't able to go on vacations or even leave him at home for short periods of time because he couldn't handle going to a dog hotel or even be in the house without them! This all started after they moved states. Jax also didn't trust any new people. He would bark, growl, shake, lunge, and nip and nibble at people's fingers; poor guy! He also needed general obedience to help him listen, be quiet on command, come, and not pull on the leash.
After training with our Boise team, Jax can still be an anxious dog, but he can now be left in his kennel without the anxiety and can meet new people without reacting to them! He listens to Mom and Dad and doesn't pull on the leash. Jax is MUCH happier more balanced and a much more confident dog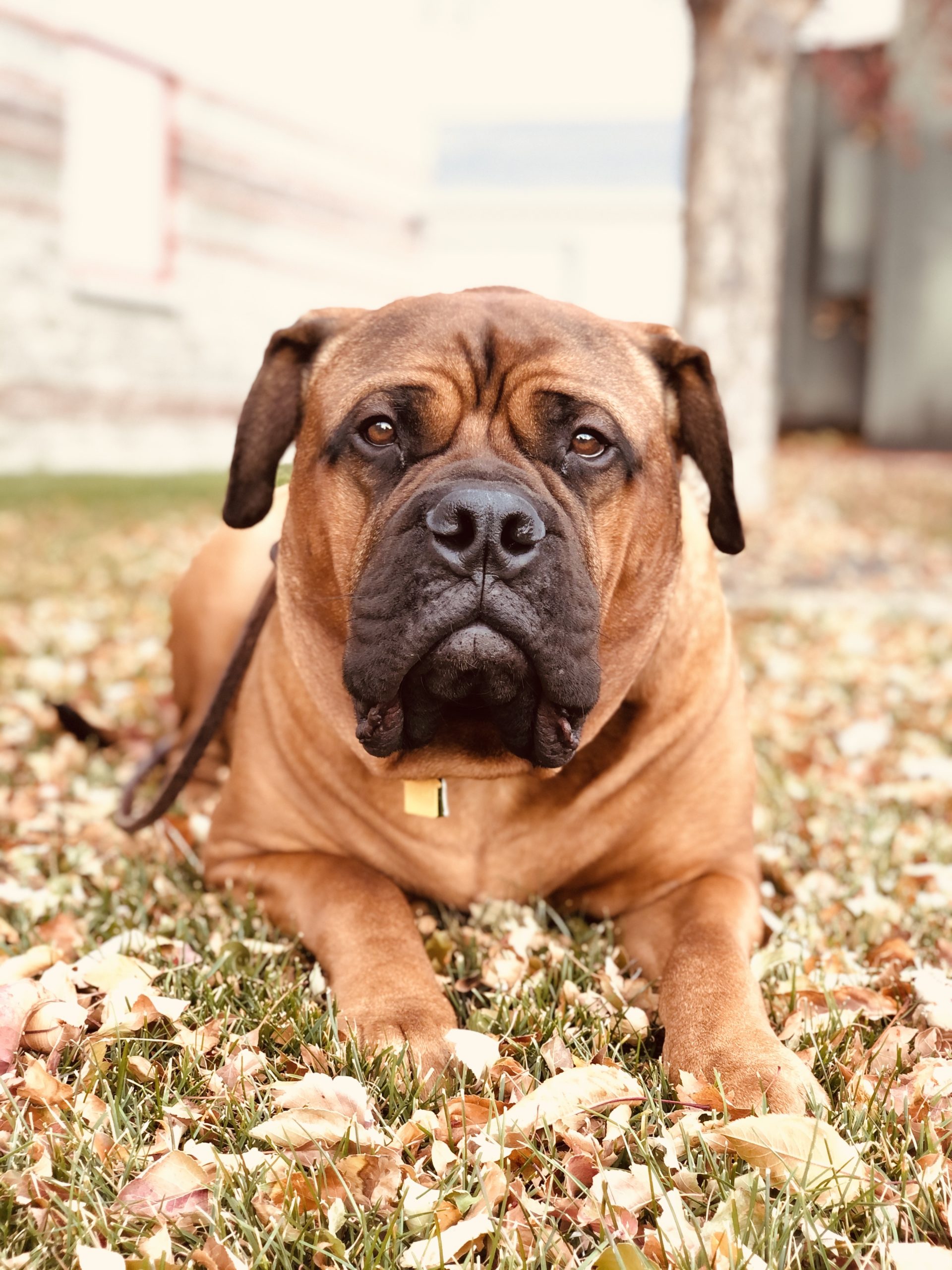 Meatball - French Mastiff
Meatball is French Mastiff who came to our Boise dog training team after doing quite a lot of dog training elsewhere in Idaho. He was struggling with reliability, off-leash skills, consistency, and aggression.Meatball was very nervous around new people, especially men and people who reached toward him or touched his backside and also dogs! He would bark, growl, and bite! It's a bit intimidating when a 100+ pound mastiff is biting at you! He would also show dominance behaviors at homemaking his Mom & Dad uncomfortable, unsafe, and they weren't able to interact with Meatball to the full extent that they would like to. He would pull on the leash really badly. His owners were nervous to have anyone come over or to have any dogs near Meatball.
After Meatball's training, he will now allow new people he has never met (including men) pet him out in public! He will also listen to commands instead of being reactive to new dogs and can even be trusted off leash!Meatball's parents are now able to take him more places including local breweries that are dog friendly during their busy hours, public parks, and invite people over to their house and take him on walks without getting pulled all over the place! They did a photo-shoot and the photographer even told them he is the most well-behaved dog she had ever seen. Based on where he started that is something for Meatball to be proud of!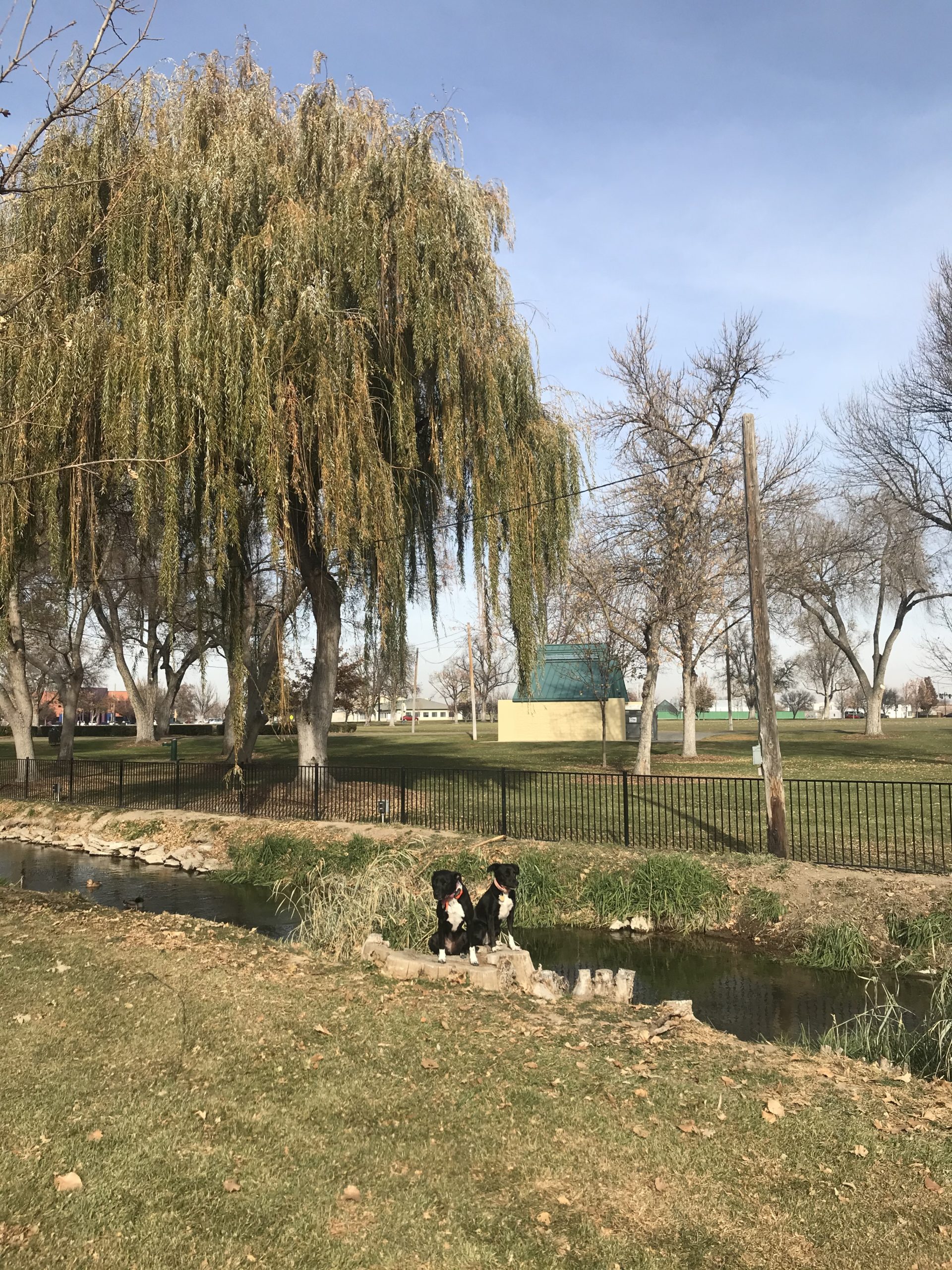 Lady and Ariel - Rescues
Lady and Ariel were both rescues. Ariel came from the Houston floods and was found on the street and traveled to Idaho where her wonderful Mom and Dad scooped her up and took her home. Ariel had severe distrust and fear of people and dog aggression. Lady and Ariel would fight constantly and had gone to the veterinarian multiple times after this fights. They would either run away as fast and far as they could to hide and you couldn't get them back or turnaround and fight all the time because they were so nervous. Ariel would not come near her Dad or the dog trainer the first time our Boise dog training team met her and Lady was extremely stubborn and didn't want to listen. Lady would get aggressive around other dogs and people if she didn't want to do whats he was being asked.
They would both run away and it was impossible to walk them on-leash near other dogs or have any trust that they would listen to anything. After boot camp they can both come on command from over 100 yards away with distractions including dogs around. Mom and Dad have the tools they need to prevent fights between them and other dogs. Once our Boise dog training team got ahold of these cuties they can now both wait at the door, walk on a loose leash around other dogs, and stay for over 100 yards away with distractions including dogs around. Though Ariel wouldn't even consider coming to any new person or even to our trainers on the first day, she will now come to anyone when they say come and is always over the moon excited to see our trainers now! Her confidence has made a complete 180. Lady's stubbornness has been replaced with being eager to please when given commands and she listens without hesitation! Needless to say, both Lady and Ariel are almost like 2 brand new dogs except that they still have the same wonderful, sweet, personalities that they came with!
Talk With a Trainer Today!
Why Is Tip Top K9 The Best Spot For Boise Idaho Dog Training?
If you are looking for the best of all Boise Idaho dog training companies, then you need to go online to see the highest-rated and most reviewed dog trainer. We can help you with everything such as jumping, potty training, dog training, and more for your new forever friend! You can see more about the areas we specialize in by going to one of our locations today or just by calling 1-833-484-7867 to speak with one of our amazing representatives. The next time you need help finding the Boise Idaho dog trainer experts, then you can contact us today to see which location will work better for where you are!
Who Can Answer My Questions About The Programs?
If you need help finding the answers to your questions about Tip Top K9 or specifically the Boise Idaho dog training you have been hearing about, then you need to call us today or go online to see the frequently asked questions we have available. If you still need extra clarification on Tip Top K9 then you need to see what our customers are actually saying about us by reading our Google Reviews online today!
What Dogs Does Tip Top K9 Boise Work With?
You will see on our website that we are more than happy to train all breeds of dogs. We can work with aggressive dogs, small dogs, and even anxious dogs! Just call 1-833-484-7867 to see how we can answer any of your questions about the Boise Idaho dog trainer courses you have been contemplating signing your puppy up for today! We are more than happy to show you the incredible things we have done for our past clients! And when it comes to applying the skills your dog or puppy learns from Tip Top K9, you can see that we offer a variety of tools for you to continue your results. 
Where Should I Go For Boise Idaho Dog Training?
The next time you are wondering, what is the best place to go for Boise Idaho dog training, then you can just go online to see what else we can help you with. When you go online today you will see that Tip Top K9 offers your first lesson to you for only $1! How could you resist an offer that good? Call 1-833-424-7867 to see what else we can help you figure out here at Tip Top K9! Call us now to see how we can give you the help you are looking for out of your dog trainer near your area of Idaho! 
Can Tip Top K9 Help In All Areas?
If you are still looking for help with Dog Training in Boise Idaho then you can always come in today to see how we can give you the help you have been looking for here at Tip Top K9! Call us now or go online to see exactly what we can do for you today, our number is 1-833-484-7867 to see what else we are able to help you and your new dog with today! If you need our help, then don't hesitate to give us a call at 1-833-484-7867 or visit www.tiptopk9.com for more information!
 Why Should Tip Top K9 Be Your Go-To Trainer?
If you are in the industry of dog training, then you very well know that when you are needing Boise Idaho Dog Training, there is no better solution than to visit Tip Top K9! You can go online today to see how we have helped others like you in the testimonials we offer on our website! Call us now or go online to see how we can show you more about the Boise Idaho trainers! Call us today to see how we can help your puppy grow into a well-behaved dog just by attending the very best puppy training classes!
Can Tip Top K9 Help My Dog Behave?
Do you want to learn more about the amazing Boise Idaho Dog Training? If so, then you can come to our website today to see what we have in store for any kind of dog you may have that is in need of training in some areas. You can always go online to see exactly what we are able to help you with each kind of dog breed! If you are curious about the obedience classes offered at Tip Top K9 then you can go online today to see what else we are able to offer you now!
What Specials Are You Currently Offering?
The best time to get started with Boise Idaho Dog Training is now! Just call 1-833-484-7867 to see how Tip Top K9 can get you what you are needing from your dog trainer today. You can see exactly what we offer by going online today! We are happy to report that we are still offering our first lesson for just $1! Go online today to see how we can give you exactly what you were thinking about signing your puppy up for, the puppy training classes we offer! Just go online to see how we can give you what you are looking for!
What Boise Idaho Dog Training Classes Are Offered At Tip Top K9?
The next time you need help to find the best place for dog training in Boise Idaho then you need to call us now at 1-833-484-7867 to see how we can give you the help you are looking for today! If you are looking for the puppy classes, Obedience classes, aggressive dog training, and more! Go online today to see how else we can offer you exactly what you are looking for out of your puppy trainer! Visit us now or go online to see how we can help you find the real training classes you have heard about!
Which Location Works Best For You?
Whenever you are looking for the Boise Idaho Dog Trainer you have heard about, then you need to go online today to see what the trainers can help you get started with today! Call us now or visit us to see how dog training can help your daily life each and every day! We are dedicated to be helping the dogs that will end up helping our own people! We are looking out for those who look out for us, call 1-833-484-7867 with any questions you may have or visit www.tiptopk9.com to see what we offer!