We got our puppy Kora trained by Tip Top K9 and it was night and day! She listens very well to the commands and we are so happy with how her training turned out. Highly recommend!!!!

Kylie Bartlett
02:16 21 Jun 21
Tip Top K9 and Amariah are the best! We have had our pup for a few months and they helped us work through so many basic skills but advanced understanding of our dog and how to manage them and make it a more enjoyable environment and experience for us both. Would 100% recommend them to anyone looking for dog training. Thank you Tip Top and Amariah!!

Courtney Chow
00:28 20 Jun 21
Works very well but definitely requires daily work. I am looking forward to being able to take my girl on the green belt and trail hikes

Jennifer Horton
23:54 17 Jun 21
Great experience. My dog is on a good path to success.

Steven Hurley
01:37 16 Jun 21
Great training, the e-collar they use is very effective. Our dog was moderately trained prior to starting tip top k9 but afterwards is now highly trained and responsive. Great deal, highly recommended.

Liberty Vegan
22:48 15 Jun 21
I sent my puppy to them when I couldn't get him to stop jumping and chewing on everyone and everything. When he got done with doggie boot camp he no longer jumps on people even when riled up. They not only stopped his bad habits but they gave him great ones as well! I recommend them to everyone!

Andrea Bayles
22:50 13 Jun 21
We loved our 3 training sessions with Alyshia and Amariah! Within the first session we already had so much more control over our dog. We already had some foundation but they helped us fill in a lot of gaps.The homework is really manageable and I felt like I could always text the Tip Top K9 crew to check on scheduling.Excited to work with them at group lessons in the future!

Alexa Lampasona
01:56 02 Jun 21
Thank you SO VERY MUCH 🥰 for giving me peace of heart, I never felt at ease with Brownie in different settings. The trainers have gone beyond my expectations training my baby boy. I appreciate Til Tok for making it possible. Thanks girls you are awesome 😎

Our puppy was so stubborn! After working with him with Tip Top K9 he has changed a complete 180. He still needs some additional work but it has been great!

Samantha Henretty
15:51 21 May 21
I really appreciated the fact that they come to your house and trained your dog in your own space. The last thing I want to do after work is have to go somewhere else! They ( She) were always pleasant, prompt and prepared. Amarayah was great with our puppy Star and us. I look forward to attending some of the lifetime classes as she gets older and needs adjustments. I would definitely recommend them

Rob Compton
00:21 21 May 21
We had Amariah help us with training out puppy doberman Starr. The training was a game changer for all of us. Starr has responded extremly well to training. Many of her puppy behaviors such as jumping up, not coming when called, dragging me on the leash have all gone by the wayside. She is getting better and place, come and heel. It is such a richer experince having a trained animal especially a powerful breed like a doberman. Thanks Amariah and Tip Top K9! This team is highly reccomended.

Lisa Compton
00:17 21 May 21
We had a fantastic experience with Tip Top K9 with training our German Shepherd Leo. Amariah was amazing, patient, and super knowledgeable. We are thrilled to have so much more confidence with Leo, especially now that we have a newborn around. Highly recommend Tip Top K9 if you're looking to train up your pup!

Kaitlyn Cano
19:33 19 May 21
They are awesome. Our Bentley has totally changed his behavior and thanks to his trainers he has been fully trained.

James Creech
02:39 18 May 21
The crew at Tip Top is professional, kind, knowledgeable and clearly loves dogs. Our dog had a great time at their boot camp and came back well trained. The session they do at home with you is really well organized and helpful so you can continue their training.

Kylo (American eskimo) has improved so much in his time at boot camp!! We are so excited to continue his learning. We can't thank you enough!!! 😊😊

felicia meyers
23:09 14 May 21
We have loved working with Alana! She was very thorough in helping us and our dog Dexter. The training techniques have made a world of a difference with our dog and we look forward to continuing our work with Dexter.

Natalie Shellworth
22:31 10 May 21
This has been an awesome experience! We loved our trainer and all that she has taught us and him.

Kristin Croft
15:42 08 May 21
Alyshia Baker is the Bee's knees 🐝 ! I could not be more impressed with her ability to train dogs and communicate with owners. She is incredible. Highly recommend her as your trainer!

Jessica Elkin
04:04 08 May 21
If you want to enjoy your dog (believe me, you will) by actually giving them more freedom through obedience, then pay the extra money and sign up for training. Within about five weeks (trainer did first two sessions) you will have a new dog. Night and day difference.

Justin Wilkerson
01:57 06 May 21
Worth every penny! Saw improvement immediately. They were able to help train my GSD puppy and my 6 year old female. Made my life so much easier!

Jillian Bell
20:35 04 May 21
Quincy came home the smartest pooch on the block! We couldn't be happier. I was worried she forget us, but she had so much love and zoomies during her home coming, the only thing that had changed were her smarts! Love the company, and her team was the best!

Emily Brink
02:13 04 May 21
Our boy needed a little extra time since he is a little stubborn. They took the time to make sure he was ready to come home knowing how to be a good boy. We are so excited about the behavior we are seeing now that he went for training.

Damon Griffith
02:46 03 May 21
We have nothing but good things to say about this company. They did a great job with our pups! We were very satisfied with the level of professionalism they showed, as well as the abundance of knowledge they passed on to us. We highly recommend them to anyone that is serious about getting their dogs trained the right way!

Christian Bell
00:57 03 May 21
Tip Top K9 was incredible with what they did for our Heidi! Our dog is a changed dog! We went from avoiding life with our dog to including Heidi in everything! We are so thankful for Amariah and her expertise! She and everyone we worked with was professional and so amazing! I never thought we could Achieve what we did with Heidi. She no longer reacts to other dogs on walks, no longer attacks the door, and is able to do so much more than we ever imagined! Also because of Heidi's behavior before we started using Tip Top my daughter would not walk with us but now she is out walking Heidi all on her own! We love Tip Top K9! Thank you!

Anna Pearce
01:38 02 May 21
Great trainers and loved that they came to our home!

Katie Kohlbecker
17:33 29 Apr 21
We had so many issues with our 5 month old puppy Murphy. And we are extremely happy with the service tip top k9 gave us. Reccomend 100% a completely different dog in just 3 short weeks

Jake Simmons
17:33 29 Apr 21
We absolutely love the way Amoria was very patient and all the help she gave us!! Highly recommend Tip Top K9!!!!Chris Gillihan

Chris Gillihan
22:31 28 Apr 21
Awesome training very professional! Loved working Amariah she was great! Definitely will recommend them to anyone!

Kalli Pulsipher
00:36 28 Apr 21
We highly recommend Tip Top. Our 2 year old had no manners and we didn't know what to do. My husband saw their van and they took our number. They are so positive and friendly. They love animals. We're so happy with Teddys results.

Sandy Vassar
16:47 17 Apr 21
Our dogs have responded excellent to the training. The training is exceptional both for the dogs and us. Thank you so much for the personalized training and care.

Best dog trainers around highly recommended

Rylan Brimley
17:12 14 Apr 21
I've been blown away by the results of at-home dog lessons. In just a few weeks I was able to take my puppy on the greenbelt and in the foothills stress-free knowing that she'd listen and wouldn't pull me over. Even though Piper has always been a good dog, she was a bit unruly (pulling on the leash, jumping, not listening). That's not an issue anymore!

Colten Michael
23:51 12 Apr 21
Worked well for us!Our trainer help us every step of the way!

TJ Platsman
00:00 02 Apr 21
Tip Top K9 is amazing! We have a whole new dog now. I would highly recommend the problem solver boot camp.

Mindy Sherrill
16:35 31 Mar 21
Bring your dogs here great service!

Michael Mansisidor
02:17 20 Mar 21
Our dog Asher Is a new dog now so well behaved does all the commands great love these people Darcy Darcy is the best and my husband think so too we are very happy

Stephanie Baird
03:19 11 Mar 21
Tip Top K9 does an outstanding job. Night and day difference with my aggressive German Shepherd. Couldn't be happier with the results. Morgan and Julia did an awesome job and were always on time, patient and professional. Highly recommend.

Taylor Loxley
02:33 11 Mar 21
This was the best training for our stubborn little Aussie Corgi mix. After three different trainers this one worked.

At our Boise dog training location you will find a team of professional dog trainers that were named the 2019 Best of Treasure Valley Dog Trainer and the Best in State dog trainer!
Our Boise team loves to help our clients enjoy their dogs not matter where they go and no matter what outdoor activity they are enjoying.  From general obedience to behavioral modification and off leash control our Boise dog training team is here to bring the best out of your dog!  Hiking and Biking off leash a goal? We can get you there.
We want you to enjoy your dog more!  All of our dog training packages come with guarantees and every package we offer comes with life time group class that is unlimited so there is never an excuse to not make sure your dog is just as well trained as possible!  
If you are in the boise area and looking for a dog trainer give us a call today at (208) 437-8360 and take advantage of our $1.00 first lesson so we can show you how we became the top ranked dog trainer in Boise, Idaho!
Real Boise Dog Training Clients:
Boise Dog Training Photos:
Boise Dog Training client wins!
Einstein - German Shepherd
Einstein is a German Shepherd Dog who came to work with our Boise dog training team after developing some aggression issues. She was very protective and her family was very nervous that she may bite someone! She would bark, growl, snap, lunge, and pull on the leash anytime they went on a walk. She was also reactive to other dogs in the same fashion. Whenever the doorbell would ring or someone would come over, they had to put her in her crate and she would still bark loudly and growl while the person was there. She would also not out the door and not come back!
The first meeting one of our Boise dog trainers had with Einstein was her baring her teeth, barking, high-pitched 'screaming', and snapping at him. When Einstein was finished with training, she would give this same trainer kisses, sit next to him by choice, and ask to be petted and played with by him. Einstein's family can now take her on walks that are enjoyable and chaos free and invite people over to the house again. Einstein listens to commands and is a much calmer, happier dog now and no more worrying about her running out of the house and down the street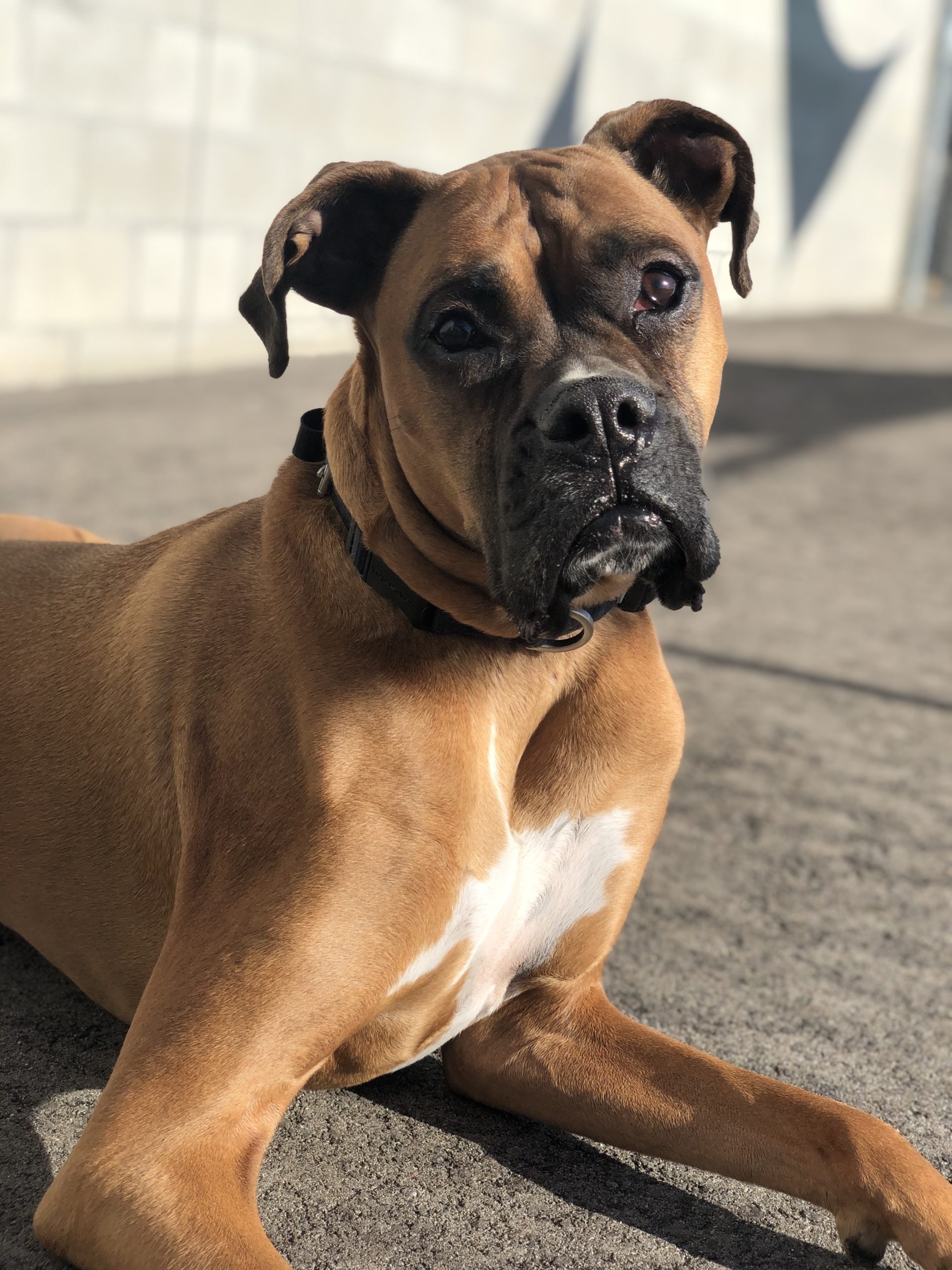 Jax - Boxer
Jax came to our Boise dog training team with severe anxiety in and out of the kennel and when anyone was not with him.If you would close the door to the bathroom, he would pee and poo on the floor out of anxiety.He would try any means necessary to escape the kennel and would drool pools of drool and bark nonstop. His parents weren't able to go on vacations or even leave him at home for short periods of time because he couldn't handle going to a dog hotel or even be in the house without them! This all started after they moved states. Jax also didn't trust any new people. He would bark, growl, shake, lunge, and nip and nibble at people's fingers; poor guy! He also needed general obedience to help him listen, be quiet on command, come, and not pull on the leash.
After training with our Boise team, Jax can still be an anxious dog, but he can now be left in his kennel without the anxiety and can meet new people without reacting to them! He listens to Mom and Dad and doesn't pull on the leash. Jax is MUCH happier more balanced and a much more confident dog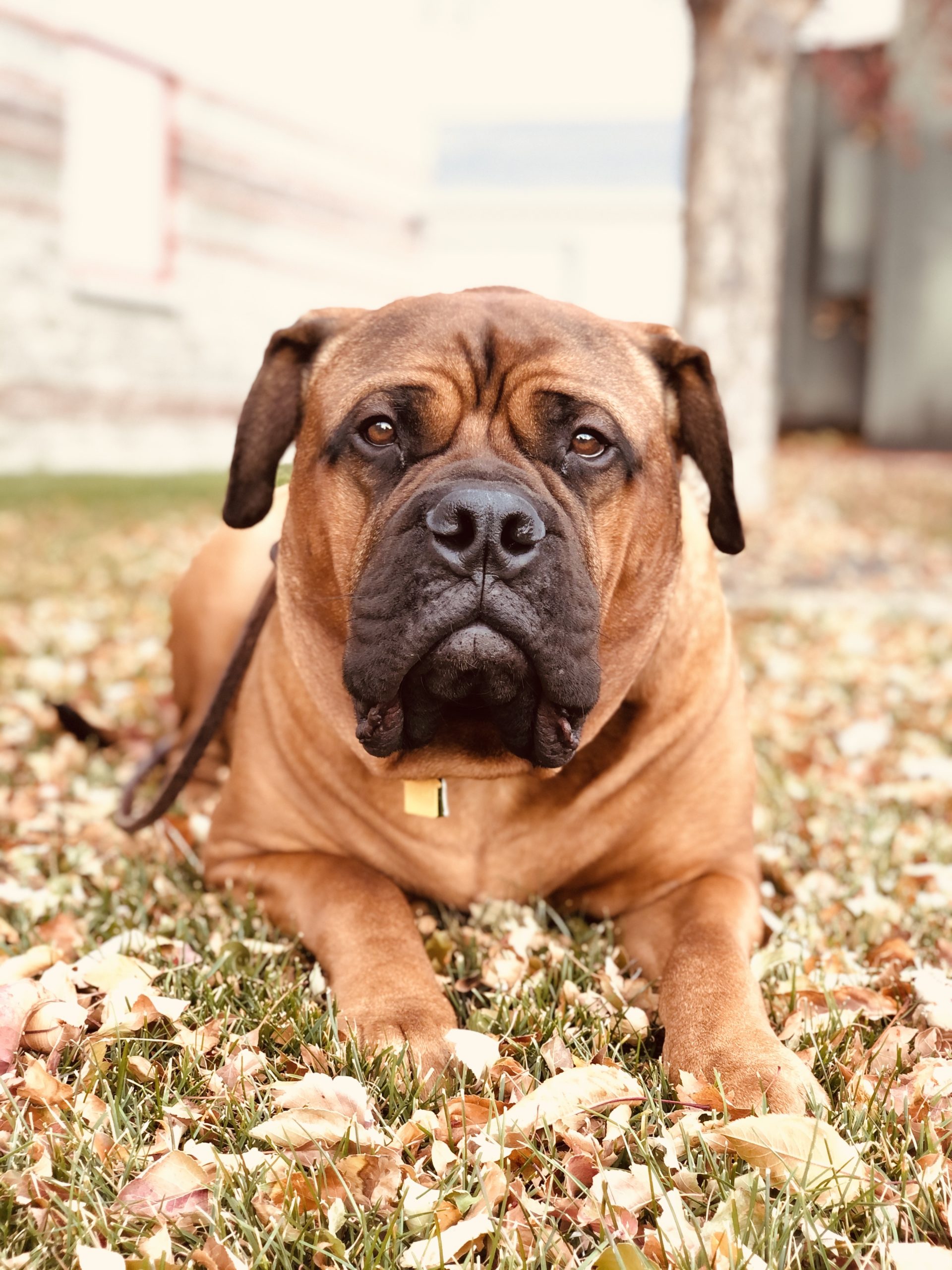 Meatball - French Mastiff
Meatball is French Mastiff who came to our Boise dog training team after doing quite a lot of dog training elsewhere in Idaho. He was struggling with reliability, off-leash skills, consistency, and aggression.Meatball was very nervous around new people, especially men and people who reached toward him or touched his backside and also dogs! He would bark, growl, and bite! It's a bit intimidating when a 100+ pound mastiff is biting at you! He would also show dominance behaviors at homemaking his Mom & Dad uncomfortable, unsafe, and they weren't able to interact with Meatball to the full extent that they would like to. He would pull on the leash really badly. His owners were nervous to have anyone come over or to have any dogs near Meatball.
After Meatball's training, he will now allow new people he has never met (including men) pet him out in public! He will also listen to commands instead of being reactive to new dogs and can even be trusted off leash!Meatball's parents are now able to take him more places including local breweries that are dog friendly during their busy hours, public parks, and invite people over to their house and take him on walks without getting pulled all over the place! They did a photo-shoot and the photographer even told them he is the most well-behaved dog she had ever seen. Based on where he started that is something for Meatball to be proud of!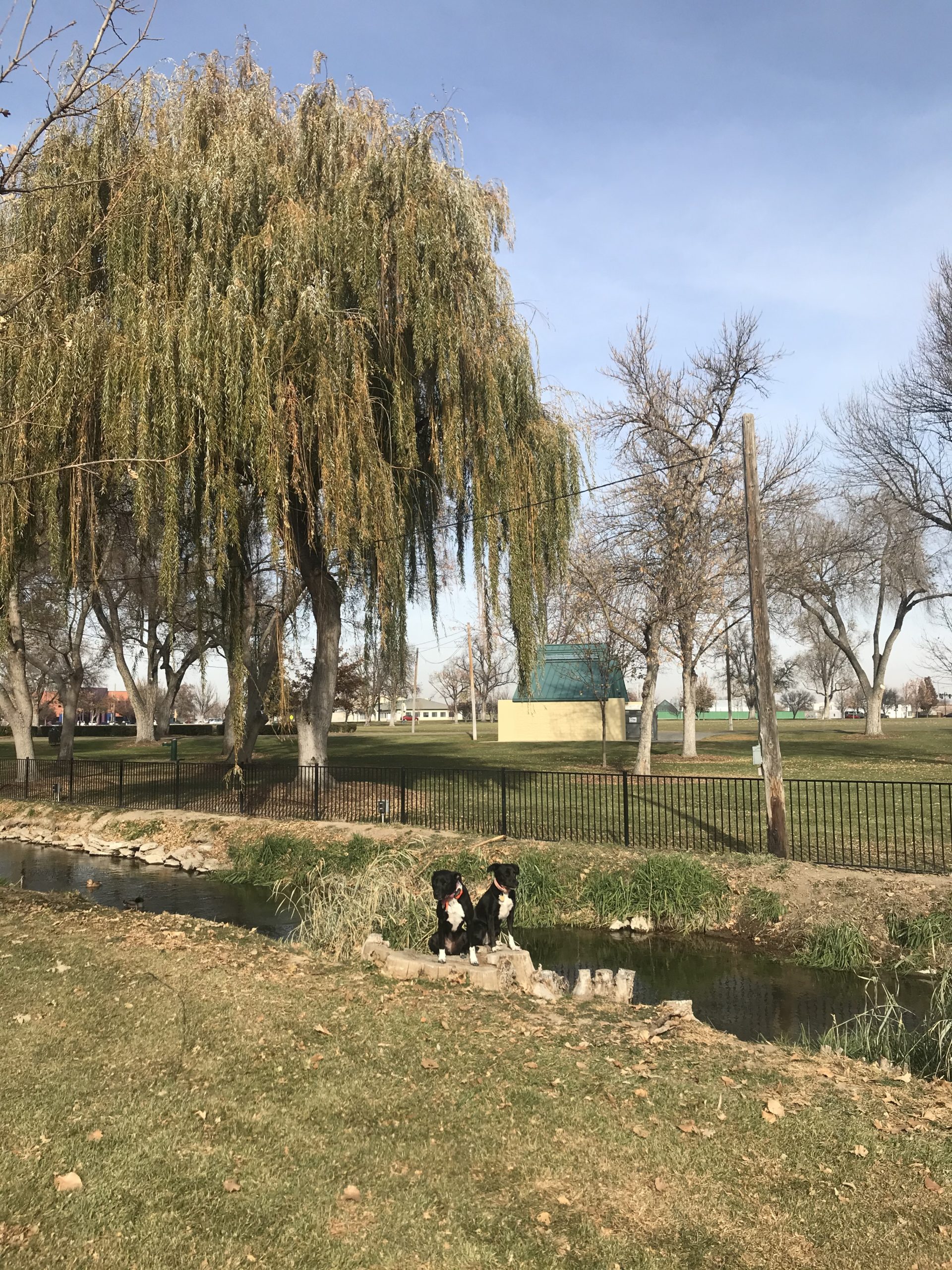 Lady and Ariel - Rescues
Lady and Ariel were both rescues. Ariel came from the Houston floods and was found on the street and traveled to Idaho where her wonderful Mom and Dad scooped her up and took her home. Ariel had severe distrust and fear of people and dog aggression. Lady and Ariel would fight constantly and had gone to the veterinarian multiple times after this fights. They would either run away as fast and far as they could to hide and you couldn't get them back or turnaround and fight all the time because they were so nervous. Ariel would not come near her Dad or the dog trainer the first time our Boise dog training team met her and Lady was extremely stubborn and didn't want to listen. Lady would get aggressive around other dogs and people if she didn't want to do whats he was being asked.
They would both run away and it was impossible to walk them on-leash near other dogs or have any trust that they would listen to anything. After boot camp they can both come on command from over 100 yards away with distractions including dogs around. Mom and Dad have the tools they need to prevent fights between them and other dogs. Once our Boise dog training team got ahold of these cuties they can now both wait at the door, walk on a loose leash around other dogs, and stay for over 100 yards away with distractions including dogs around. Though Ariel wouldn't even consider coming to any new person or even to our trainers on the first day, she will now come to anyone when they say come and is always over the moon excited to see our trainers now! Her confidence has made a complete 180. Lady's stubbornness has been replaced with being eager to please when given commands and she listens without hesitation! Needless to say, both Lady and Ariel are almost like 2 brand new dogs except that they still have the same wonderful, sweet, personalities that they came with!
Talk With a Trainer Today!
Why Is Tip Top K9 The Best Spot For Boise Idaho Dog Training?
If you are looking for the best of all Boise Idaho dog training companies, then you need to go online to see the highest-rated and most reviewed dog trainer. We can help you with everything such as jumping, potty training, dog training, and more for your new forever friend! You can see more about the areas we specialize in by going to one of our locations today or just by calling 1-833-484-7867 to speak with one of our amazing representatives. The next time you need help finding the Boise Idaho dog trainer experts, then you can contact us today to see which location will work better for where you are!
Who Can Answer My Questions About The Programs?
If you need help finding the answers to your questions about Tip Top K9 or specifically the Boise Idaho dog training you have been hearing about, then you need to call us today or go online to see the frequently asked questions we have available. If you still need extra clarification on Tip Top K9 then you need to see what our customers are actually saying about us by reading our Google Reviews online today!
What Dogs Does Tip Top K9 Boise Work With?
You will see on our website that we are more than happy to train all breeds of dogs. We can work with aggressive dogs, small dogs, and even anxious dogs! Just call 1-833-484-7867 to see how we can answer any of your questions about the Boise Idaho dog trainer courses you have been contemplating signing your puppy up for today! We are more than happy to show you the incredible things we have done for our past clients! And when it comes to applying the skills your dog or puppy learns from Tip Top K9, you can see that we offer a variety of tools for you to continue your results. 
Where Should I Go For Boise Idaho Dog Training?
The next time you are wondering, what is the best place to go for Boise Idaho dog training, then you can just go online to see what else we can help you with. When you go online today you will see that Tip Top K9 offers your first lesson to you for only $1! How could you resist an offer that good? Call 1-833-424-7867 to see what else we can help you figure out here at Tip Top K9! Call us now to see how we can give you the help you are looking for out of your dog trainer near your area of Idaho! 
Can Tip Top K9 Help In All Areas?
If you are still looking for help with Dog Training in Boise Idaho then you can always come in today to see how we can give you the help you have been looking for here at Tip Top K9! Call us now or go online to see exactly what we can do for you today, our number is 1-833-484-7867 to see what else we are able to help you and your new dog with today! If you need our help, then don't hesitate to give us a call at 1-833-484-7867 or visit www.tiptopk9.com for more information!
 Why Should Tip Top K9 Be Your Go-To Trainer?
If you are in the industry of dog training, then you very well know that when you are needing Boise Idaho Dog Training, there is no better solution than to visit Tip Top K9! You can go online today to see how we have helped others like you in the testimonials we offer on our website! Call us now or go online to see how we can show you more about the Boise Idaho trainers! Call us today to see how we can help your puppy grow into a well-behaved dog just by attending the very best puppy training classes!
Can Tip Top K9 Help My Dog Behave?
Do you want to learn more about the amazing Boise Idaho Dog Training? If so, then you can come to our website today to see what we have in store for any kind of dog you may have that is in need of training in some areas. You can always go online to see exactly what we are able to help you with each kind of dog breed! If you are curious about the obedience classes offered at Tip Top K9 then you can go online today to see what else we are able to offer you now!
What Specials Are You Currently Offering?
The best time to get started with Boise Idaho Dog Training is now! Just call 1-833-484-7867 to see how Tip Top K9 can get you what you are needing from your dog trainer today. You can see exactly what we offer by going online today! We are happy to report that we are still offering our first lesson for just $1! Go online today to see how we can give you exactly what you were thinking about signing your puppy up for, the puppy training classes we offer! Just go online to see how we can give you what you are looking for!
What Boise Idaho Dog Training Classes Are Offered At Tip Top K9?
The next time you need help to find the best place for dog training in Boise Idaho then you need to call us now at 1-833-484-7867 to see how we can give you the help you are looking for today! If you are looking for the puppy classes, Obedience classes, aggressive dog training, and more! Go online today to see how else we can offer you exactly what you are looking for out of your puppy trainer! Visit us now or go online to see how we can help you find the real training classes you have heard about!
Which Location Works Best For You?
Whenever you are looking for the Boise Idaho Dog Trainer you have heard about, then you need to go online today to see what the trainers can help you get started with today! Call us now or visit us to see how dog training can help your daily life each and every day! We are dedicated to be helping the dogs that will end up helping our own people! We are looking out for those who look out for us, call 1-833-484-7867 with any questions you may have or visit www.tiptopk9.com to see what we offer!