We are very happy with TipTop K9! They kept in touch every week and gave us amazing pictures with the progress of Ruger. Whenever I had any questions, Tip-top K9 answered within minutes. We are very happy with the end results and the last training session! Thank you so much TipTop K9!

Ashton Moreno
00:01 15 Jun 20
This place is top notch !!! I would definitely recommend to anybody who has a stubborn nervous dog that need training. We have a miniature Aussie and he was so nervous and his confidence is finally growing. The staff is so friendly and helpful !! Thank you !!!

Jaime Callen
00:18 01 Jun 20
Love how well the trained my puppy, great company and awesome workers (:

April Ramos
23:29 30 May 20
I am so happy with Tip Top K9! From the first communication with Darcy to the final training with Amariyah, it has been a joy to work with them. Their weekly communication with updates, pics, and status of my puppy, Sophie, I always felt that she was in good hands! When Sophie showed up at just 4 months, she was jumping, mouthy and destructive, like EVERY puppy is. She returned yesterday after boot camp and was respectful and responsive to me and her commands. I so look forward to the group classes for ongoing training and more social interactions with owners and her dog friends. I would HIGHLY recommend TTK for all your dog training needs. They know what their doing and I'm thrilled with the results!

Kelley Stevens
14:24 10 May 20
Very easy, calm way to train my dog! Amrya was an excellent trainer! I love that it is a lifetime training, and will recommend tip top k9 to everyone!💜

Enid Laursen
02:00 02 May 20
Very impressive! Darcy went through all Gemmas new commands with us and answered all of our questions. Can't wait to start using all the new tools! Highly recommend TipTopK9.

Sganzinis fitness
23:32 29 Apr 20
Amazing work done with our pup! Friendly commited staff. Transformed! Worth every dollar!

Had a wonderful experience with Tip Top. Friendly service and the trainer was so knowledgeable and patient. We have tools now to use with our dog that make a world of difference, especially heel and off. We are so happy we can enjoy Jäger and allow him to be off leash without constantly worrying about aggression and his reactions!

Shaina Cales
22:16 22 Apr 20
Our fur babies had a great time learning at Tip Top K9! We LOVED getting weekly updates. The bring home was great for us to learn the commands and see how much our fur babies have learned! The trainers were very easy to work with and you could fill the love they have for our fur babies! Thanks Tip Top K9 for all that you do! We are looking forward to the group classes.

Melissa Williams
21:05 18 Apr 20
Copper is like a new dog! They did such an amazing job training him. We loved hearing about how much fun he had at their mini boot camp! If we ever get another dog, we will definitely be calling them again!

Eric Pratt
20:14 10 Apr 20
My dad was a veterinarian for 40 years and has shared a lot of knowledge with me about the best ways to train dogs and these trainers were the absolute best. I wouldn't go anywhere else. Worth every penny!

Belle Sante
23:31 08 Apr 20
The trainers are wonderful and really take the time to explain things to make sure they succeed.

cute and funny pets
23:29 22 Mar 20
Everyone I met with tip top K9 was absolutely awesome! All of my dogs issues were completely fixed or had very manageable tactics of working through them.

Tanner Burke
23:52 20 Mar 20
Amaraih was a great trainer for us and for out dog. Our 9 month old puppy has learned many things. The more we work with her the better she obeys. Thank you, Tip Top K9

Edith Daniels
18:43 11 Mar 20
Amazing! Ended up keeping our pup for an extra week and he's doing amazing. Very kind staff. We're a happy family!

Kelly Souder
22:17 05 Mar 20
They are so easy to work with! We are very happy with how Wren is doing already and excited to see how much she improves working with us!

Critter Harmony
23:24 01 Mar 20
Allie made it the dog park! She is so well behaved even with all the yelling and big dogs and balls and ducks...she came every time I called her!!

Serena Edson
23:52 28 Feb 20
We got Cooper back today after boot camp and we are extremely pleased with his progress. The trainer went over everything and we know what to do to continue his training. The results are well worth everything required.

Monty Reher
23:16 23 Feb 20
Tip Top K9 was so great! So educational and helpful. I'm not a dog person per se but they walked me through everything and gave us so many great tips. Our Frenchie came home from boot camp really happy and obedient. Can't recommend it enough.

Patricia Roedel
21:48 15 Feb 20
They were great! Kind super helpful and my boys have never been better behaved. The method is intuitive and has nothing to do with praise or punishment, just intellectual redirection. Thank you do much for all your help!

Margaux Reed
23:43 09 Feb 20
Before Boot Camp my dog would not go anywhere near anyone besides me. She was Beyond Extremely timid & afraid of anything that moved or made any noise. I couldn't go in public with her and I couldn't catch her if she ran off.I would leave for work before my husband and when I got home there was furniture everywhere that he used to try to catch our dog to get her in the kennel when he left for work. So then I met Tip top k-9! The first time I met them at the park I told him I was worried that Kricket wasn't savable. And if we couldn't get her to be OK around people & dogs without being timid or having aggression, we would have to find her a new home .My thought was There's no way this dog could've changed. That she was beyond saving. The breeder we got her from may have abused her or just didn't socialize her at all. So I met Robert and Darcy at the park and they told me they could totally help Kricket. I didn't think it was possible. Well we just got her back from Boot Camp and she has the most amazing pet you could imagine! My husband can't believe that he can hold her and play with her. A month ago this dog wouldn't go anywhere near him and if he tried to catch her he would have gotten bitten!The Boot Camp is 1000% worth it! I can't believe the miracle they did it for my family! After only one night she's is even teaching our second dog Ruger how to behave and follow her commands!!! Wow!! Thank you Amariah, Robert & Darcy!!!!!!!

I am very impressed by the training program with TipTop k9. We looked at a couple of dog training programs and were sold by the fact they come to you at times that are convenient (evenings and weekends), and that you get to continue working with them through group classes after your personal sessions are done. They help provide the tools you need to be successful, spend time answering your questions and concerns and are just generally great to work with. We've seen very transformative results with our dog. He listens way better and we feel we can take him places and maintain control (and enjoy him too!). I'd highly recommend this training program to anyone. Thanks TipTop k9!

Jeana Johnson
18:40 28 Dec 19
Great people to worm with. They really know what is going on with our dog. They come to our home and the dog training is spot on.. our dog has done a 180..would recommend training with them 100%

Aaron Haskell
18:36 28 Dec 19
Excellent customer service! After reviewing everything my dog has learned I can tell an improvement! Would definitely review to friends and family!

Saylor Hardy
02:05 20 Dec 19
Sabrina has worked with my dog for over a year & I am always so happy with her! And my dog gets so excited to see her!

Michaela Hilkemeier
23:36 19 Dec 19
Tip Top K9 sounds like an awesome establishment!! For sure they're the best of Idaho if they are doing volunteer work to help trai dogs in shelters to find them a forever home! Sabrina, one of their trainers told me all about it and I highly recommend Tip Top K9!!!

It's easy for both the dog and owner to understand and accomplish. Trainers are friendly and knowledgable. Plenty of resources to use!

I cannot even explain how much this training has changed our lives. Zeus is much more well behaved and has grown tenfold. We are SO happy with their service and the trainers are absolutely amazing. They're patient and kind and completely knowledgeable. Didn't even bat their eye at working with a "bully breed". I highly recommend them for just about anything training related!!!

Saharra Cogswell
19:49 14 Dec 19
Darcy was wonderful working with us! She is very positive and made training fun! My dog needed lots of work on aggression on the trails. Tip Top K-9 has great customer service and communication. I will definitely be recommending this service to others!

Jessie Brunelle
00:08 14 Dec 19
We have a whole new well behaved dog who seems to have enjoyed learning his new manners and skills. He loves loves loves the trainers who treat him like their own dog and he is such a happier boy knowing he is doing the right things we ask of him. Amazing.

Anne Marshall
23:52 01 Dec 19
My dogs left out of control as far as listening when they came back they were absolutely great the trainers were polite and wonderful with the dogs. Great investment.

Rob & Amariah are fantastic trainers. Teaching my dogs & I so much great knowledge, for me to further with my dogs! I highly recommend putting your dog in doggie bootcamp!!

We had an awesome experience with Tip Top K9. We are all so amazed at how well behaved our dog is now. And the professionalism of everyone in the company is exceptional. I highly recommend!!

Koleeen Wiskirchen
23:56 23 Nov 19
I was so amazed that Rufus was able to go outside with out a leash and not run away. Before the minute he escaped our house he was off down the road and good luck catching him. I love that I recieved a report on how he was doing every week with pictures.

Leilani Richards
02:58 23 Nov 19
My dogs have learned so much. No longer do I dread taking them on walks only to have them bark at every dog and person. My two dogs are becoming more and more obedient and I trust them to not embarrass me. Thank you!

Marne Blair
21:56 20 Nov 19
Great experience. Our dog went from wild/run away to walk off leash by us in 3 weeks.

Benoit Andreani
22:30 16 Nov 19
It was crazy to sam do so good thank you guys are the best

Alberto Canela
20:20 09 Nov 19
These guys and gals did an outstanding job with John Rocco, our naughty 2 year old English Bulldog. He was a boarding student with Tip Top K9 for a total of 7 weeks. His first report card was a D- ( I think they may have graded him on a curve!). He came back to us a well trained A student, with all of his bad habits under control. The trainer spent 2 hours with us when she dropped him off. It is now our job to reinforce what they taught him.We like the fact that offer boarding services and free lifetime training classes for their prior "clients".We highly recommend Tip Top K9. If they can train our Rocco, they can train any dog!

Steve Meadows
20:52 01 Nov 19
Im very pleased with the training from Rob, Darcy, and Amariah. My dog Groot used to be crazy and he would try to go after other dogs and people. He would also bark at everyone he saw. I contacted Tip Top K9 and they came for the consultation and always went through with what they said. Never once failed me, unlike other trainers I was going to have him go with. I highly recommend Tip Top K9 for anything you need.

Miguel Ramirez
01:16 31 Oct 19
We love Top Top K-9! Darcy and Rob love what they do and it shows. They are genuinely kind and perfectly suited to do their passion, giving folks the tools to love their pets in the best way. Their care, compassion and help have helped us become better dog parents! Thanks!

Genie Heise
03:49 25 Oct 19
Darcy and Rob are so amazing! I'm genuinely blown away with their training and attention to detail. They are so kind and patient! Highly recommend their services, what they can accomplish with shy dogs, aggressive dogs and additional training for dogs that need more stimulation is pretty amazing.

Katrina Spatrisano
18:37 24 Oct 19
Awesome experience with our trainers. Worked with our corgi and us at our home and feel way better about handling his aggression getting him where he needs to be. Highly recommend them to anybody who is having troubles with their dogs.

Christopher Finley
20:52 21 Oct 19
Darcy, Rob, and all of their teammates were SO HELPFUL in making us feel confident with our aggressive little fur baby. I can't thank them enough for all their hard work. We are all looking forward to group classes in our future. Thanks team!!!

Amanda Hovey
20:52 21 Oct 19
I was skeptical at first, but in 6 weeks my Charlie is paying attention to my commands. The Tip Top K9 team is awesome. Thank you 😊

sally krausch
21:18 10 Oct 19
What a wonderful dog training company! They loved on our Meatball, while setting him up for success with brand new commands! We are SO impressed and can't wait to continue our training at the continued group classes! We highly recommend Tip Top k9 Boise for any of you dog training needs!

Hannah Slater
01:50 24 Sep 19
Oh my goodness! What a pleasure it was to work with Darcy. She is very professional and a fantastic trainer but her love for dogs is amazing! From the first time she came to work with River, it was evident that she was the trainer for us. I am very pleased with the training and River has become a much better dog! She is great!

sonja schriever
00:46 24 Sep 19
We loved tip top k9! We have four dogs and one of them is incredibly high energy. Rogue responded so well to our trainer. The communication was so great through the whole process, which is important because the training is about the owner as much as the dog. Rogue has learned so much so fast, and we can't wait to keep practicing at group classes. My schedule is crazy and in the middle of lessons I started a new job with a very opposite schedule, and they were so accommodating about rescheduling on multiple occasions. I would recommend tip top k9 to any of our friends or family.

They have done an amazing job with Fish! He's well trained and worth every penny! This is the place to go!

Amanda Brown
18:22 10 Sep 19
Our dog Jelly Bean has been completely transformed and it almost feels unreal!!Tip Top K9 sure does the magic and I'm completely blown away. These guys are worth every penny.Thank you so much!!!

Youngseung Kuk
21:27 02 Sep 19
Great trainers to work with! Now we can take our dog out and enjoy the hikes. 100% recommend.

Anahi Jimenez
23:32 31 Aug 19
Tip Top did an excellent job with our GSP. She has had a great improvement from where we started at and cant wait to continue to use everything we have learned through this company. If you need help training your furbabies I highly recommend using Tip Top k9.

Samantha Bragg
20:24 09 Aug 19
My dogs 30 times better. He was a little terror but now I might consider letting him sleep in the bed. He's a whole new dog. Way better.

Emily Stenlund
01:15 08 Aug 19
Friendly staff! Take great care of the dogs and treat them as their own!

Josiah Kotte
00:05 06 Aug 19
Sabrina is great!!! She's seems so passionate about her career and I can tell that she puts her whole heart into what she loves! Tip top k9 is great place to send your dog!

Preston Miles
21:09 04 Aug 19
This place sounds amazing! I know Sabrina personally and I have seen the magic she works with dogs! Highly recommend this training facility!

Jaida Brown
20:39 04 Aug 19
The overall experience with tip top K9 is amazing! The staff is fantastic and really knows their stuff. Bear is still a puppy but just putting him through some of the tip top k9 methods and boarding him I have seen a great improvement in his obedience. They really care and strive to make sure not only your k9 companion is taking care of but the owner as well.

michael delgado
16:46 04 Aug 19
Awesome experience- will definitely be using your services and excellent training knowledge on our next rescue "fur baby"

chamela mcdole
22:56 03 Aug 19
Darcy did such an amazing with my pups that I wouldn't want to go anywhere else. Darcy is great at communicating with pups and owners about training and it was night and day after we finished training.

nick heise
23:15 02 Aug 19
This place is wonderful. I adopted my dog 9 months ago. He was having some behavior issues, a lot of anxiety and destroyed my fence a couple of times. A friend recommended this place and I couldn't be happier. The trainers are caring animal lovers.

The care and services they provided was amazing! I couldn't believe how fast I was seeing improvements in my dog. She was so happy to be there. The staff have a real way with the dogs. I was concerned about boarding. She doesn't get along well with others. They sent pictures of my very happy pup! Tip Top K9 is so great with your clients! Would greatly recommend!

Jacob Veasey
13:08 02 Aug 19
A great care center with excellent staff. Sabrina is great help with anything you need

Samuel Robertson
03:46 02 Aug 19
I love Sabrina! She is passionate about her work and loves the dogs she cares for.

Tip Top K9 has one of the most well-trained staff I have ever encountered. The atmosphere they provide for the dogs is safe, fun, and great for every kind of dog.

ariel kotte
03:38 02 Aug 19
Everyone needs to take their dog to this place. I love it

Taylor McKell
03:02 02 Aug 19
Sabrina's awesome and told me about Tip Top K9 and it sounds like an amazing place where I would take my future pup!

Sarah Reynolds
02:49 02 Aug 19
Staff is very caring and friendly as well as ensure that training is completed fully and to expectation. The best part of the experience is that you feel like you're involved in your dogs learning every step of the way and pick up tips and tricks to make life with your companion the best it can be!

Jael kotte
02:38 02 Aug 19
By far the best dog training in Boise. We have a German Short hair who has boundless energy and Tip Top was able to help her control her energy and listen to us. Highly recommend.

Brett Denton
12:04 01 Aug 19
I love Tip Top K9 and the confidence the training provides, knowing your dog will be well behaved around other dogs and people. It is clear to see that our trainer loves dogs and is very knowledgeable about them. Great experience!

Racquel Kotte
03:03 01 Aug 19
Tip Top K9 has made an incredible impact on my grandpuppy. I puppysit her on a regular basis and she still is the fun and playful pup I love, but she listens so well and I can take her with me everywhere I go without a single worry. I highly recommend!

Cassidy Kotte
02:51 01 Aug 19
Working with Darcy is amazing. She has a special bond with dogs. Her staff has the same excellence. The service is top notched with several affordable packages to choose from. Group class is very helpful.

Gayle Simmons
23:57 31 Jul 19
Wonderful staff that love these amazing animals like they are their own fur babies!The staff is always calm and professional and post cute pictures when attending their doggies!

Erik Strasburg
21:32 31 Jul 19
They really love the dogs like their our own, take them to the vet when it's needed, they keep things very clean and just give 100% if their time to them when working with them.Would recommend for sure!

Samantha Fox
20:54 31 Jul 19
The trainers are amazing they take the time to care for your pet as if they were theirs.. Awesome and caring is what is important.

Christine DH
20:47 31 Jul 19
Tip Top was wonderful for our Doodle! We loved the weekly updates and pictures! They went through all of the commands and what they worked on super thoroughly when they brought him home and it was amazing the difference. It's our same sweet, energetic puppy but now with the ability to control unwanted behaviors and have manners. So amazing!

Alyson Sharp
00:33 28 Jul 19
I have had a great experience with Tip Top. My puppy is cute but was quickly becoming a terror. He now listens and has such great self confidence. Thanks for all your help.

Lauryn Temple
21:55 26 Jul 19
We are so thankful for Tip Top K9. We sent our 8 month old Golden-doodle to their Boot camp and we are so happy with the results. Their communication is excellent. I highly recommend! Thank you Tip Top K9!

Shantel Teeter
21:32 22 Jul 19
Awesome experience with Tip Top K9!! Excellent communication throughout the process showing the progress our puppy was making. The Advance boot camp worked wonders on Leo. He is so much better behaved and patient. Thanks Tip Top K9! (Can you do the same program on my kids?!? 😁)

Troy Teeter
21:32 22 Jul 19
Just got our two Frenchies back. OMG, are these the same dogs?? They are so well behaved, we are super excited to continue working with them!! Thank you!!

Cole Tiwater
23:26 12 Jul 19
Took both of our dogs here, we are loving the results!! So surprised to see what our pups have learned. Never imagined they would have been able to do what they are doing now! We live Tip Top K9 :)

Valeria Lucatero
00:08 09 Jul 19
The training not only helped my dog, but it also helped me feel more confident in my ability to take my dog out in a public setting without the worries of him taking off after another dog or person.

Isa Salerno
02:34 02 Jul 19
We went from not knowing how to handle our new dog to being fully prepared and very confident. Our trainers were very kind and very knowledgeable. In just 4 lessons we have a completely new dog who is confident and who knows how to control his emotions and his body.

Kyra Dimitrov
21:20 21 Jun 19
Darcy was a great instructor; she was clear, concise, and enthusiastic. I always had fun doing our trainings and my dog had immediate improvements. Thanks so much!

Paul Augustine
01:18 20 Jun 19
Darcy and Amariah are AMAZING! Great trainers, so patient,knowledgeable and kind! We seen a big improvement in our dogs! They definitely know how to train dogs! So caring towards our Dobies as well. Thank you ladies , you're Outstanding!

Amber Pasta
23:19 19 Jun 19
This was fantastic experience and the best training we could have done. Very very pleased and more than satisfied with everything.

Mike Armstrong
23:15 19 Jun 19
Darcy is amazing! Full of knowledge, patience, and fun!! She did a great job with Delta and now he's a much better behaved sweetheart! Thank you so much Darcy, you ROCK!! 🤗

Katie Cassarino
23:41 14 Jun 19
Wonderful training and learning experience for Delta and I. I would definitely recommend them to everyone. They are very attentive to trainer and dog, took time on anything extra I needed. 15/10 for me...thank you Darcy soo soo much 🙂

Kevin Byrne
23:39 14 Jun 19
Darcy had such patience with me and my crazy Aussie lady! Thank you!

Christa Brooks
21:21 12 Jun 19
So impressive what Brillo has learned in his month away. He's come such a long way! Looking forward to working with the tools they taught me so we can do more off leash in the foothills and walk safely around the neighborhood.

Randy Wolff
01:25 11 Jun 19
Darcy is awesome and we are so happy with the tools she was able to teach us! We were worried our older dogs from the pound would not be able to "learn new tricks", but Darcy was always positive and showed us we were really the ones who needed to be trained ;-) I would recommend Tip Top K9 to anyone who wants to improve their pet's life and become more comfortable including them in family activities! Thank you so much for everything and we look forward to attending group classes!

Jacquelyn 11
22:23 08 Jun 19
Darcy was really awesome ! Dogs love her and love the classes! Would definitly recommend Darcy !

Joao Cardoso
22:21 08 Jun 19
Tip Top K9 is the best dog training in the valley! Darcy and all the trainers truly do the best job training dogs and giving owners all the tools to succeed! If you are looking for a dog trainer, Tip Top K9 is the way to go! Good dog guaranteed indeed!

Amariah Kotte
00:54 02 Jun 19
What a world of difference in our 6 year old lab mix. From the very first meeting on. Thanks Darcy and Amariah! Can't recommend highly enough.

Dexter McBride
00:09 24 Mar 19
Absolutely amazing! Never thought I'd see our dog Sadie so we'll trained. Using it on all our dogs without a doubt.

Trent Bielaszka
00:09 24 Mar 19
Darcy was amazing with Sadie. We highly recommend.

Sandy McBride
00:08 24 Mar 19
Everyone here is amazing. Very helpful and willing to work with anything you have.

Jessica Bomar
21:57 21 Mar 19
Alida did great Nala! Highly recommend

Kyle Tucker
01:10 27 Jan 19
I am so amazed with how my German Shepard turned out. He is great with all commands. Before he came to Tip Top K9 he would pull on the leash and bite kids at stores. Now that he is back, it's like he is a new dog. He is well behaved and now I'm excited to show off my well behaved dog. I am so grateful for Tip Top K9, thank you so much.

Trinity Ricky
21:07 01 Jan 19
We were absolutely amazed at the progress that our two German Shepherds have made with Tip Top. They are two years old and had learned some bad behaviors unfortunately. Tip Top had their work cut out for them but through patience, persistence and excellent training tactics they were able to bring us two very well behaved dogs. Now the rest is up to us. Thank you Tip Top!.

Ted Nichol
21:49 18 Dec 18
Bringamh and Noah were awesome to work with.... Alia has come much further than I ever expected this quickly.

Mike Turcato
19:42 11 Dec 18
Brigham has been amazing! We have a very stubborn Doberman and we have come a long way with her in these few short weeks!! Thank you!!

Heather Reddy
23:54 29 Nov 18
Made a huge difference with our newly adopted Hound Chester!!

Christopher Cooper
21:27 08 Nov 18
Bringham was amazing! He was very knowledgable and great with our two pitbulls. One of them was very anxious and unruly, now he is a great, calm and happy dog! We would have never been able to get them were they are now without Tip Top K9 and Brigham!

Rebecca Vincen-Brown
18:00 27 Oct 18
Exceeded expectations with our stubborn bull head pitbull puppy!

Michael Vineen-brown
17:58 27 Oct 18
Brigham was an awesome instructor. He was patient and was detailed in his instructions. I liked his positive, encouraging comments. It was very helpful that's he would verbally say what commands he was working on with Charlie as he worked.

Leslie Harned
22:00 24 Oct 18
Awesome staff! Helped my pup lose his aggression and stress with interacting with other dogs. Now my dog is happy and stress free. Very helpful. Thanks guys!

Kristina Kavanagh
19:06 16 Oct 18
Brigham was great! He helped us learn how to control our dog around other dogs and behave on walks. One of the best investments for we've ever made for our family. Thank you so much for helping us enjoy taking Lola with us to more places! I highly recommend Tip Top K9 Boise to anyone looking for help with dog training or having a stress free fur baby. You guys are awesome, thanks again!

Nicole Pontius
17:10 10 Oct 18
Fantastic services. My dog is behaving much better.

Ron P Wood
01:25 05 Oct 18
Brigham is such a pleasure to work with. Couldn't be more happy with the services provided. If you love your pet you have to make sure they are in trusted hands and with Tip Top K9 I have no doubts! Thank you for all that you do!

Nicole Jefferson
16:20 26 Sep 18
We have an adorable (and very 'energetic') rescue dog that we named Charlie that WAS a real handful. Super smart and lovable !! Obedient ? Not so much. He got into everything / barked at everyone (the most ferocious five pound dog on the planet without a doubt) until he got to know them and then he couldn't wait to jump in their lap w his little muddy paws (at the time our garden was HIS garden). We arranged for Tip Top K9 Boise to spend some time w Charlie and now he is the absolute most chill dog we've ever had. Outstanding results . . . well behaved . . . knows his boundaries . . . we may have to start calling him Zen. Thank you very much guys really. U are awesome.

Adrian Gonzalez
18:21 09 Sep 18
Very professional staff that can train even the most stubborn dog like mine!

Brandon Henderson
15:34 07 Sep 18
Totally solved the issues we had with our German Shorthair Pointer. Highly recommend!

I have no dog of my own yet but wanted to look at training programs prior to my search for a new addition to the household. I borrowed my son's Golden Retriever so that I would understand the process of Tip Top k9 training method. I was highly impressed and this will be the training of choice when the time comes that I have my new k9 companion.

Angela Hidalgo
17:30 05 Sep 18
A+ Service... Would definitely recommend.

Michael Morrison
17:07 05 Sep 18
My highest recommendation.

Hans Jacobsen
14:40 30 Aug 18
Brigham and Tip Top truly helped our pup! He was the most disobedient dog and now he can sit and down on command, come on command, and he stopped jumping!

Sha Colley
00:17 30 Aug 18
Send your dog to Tip Top and I promise you wont be disappointed! I had them take Hercules for a bootcamp for 2 weeks and he returned a PERFECTLY behaved dog! So happy with Tip Top!

Gloria Mendez
20:17 27 Aug 18
My pup has been fixed! All thanks to Tip Top and their stellar training methods! They helped Thomas (my 2 year pit mix) stop bolting out the door and especially him jumping on people at my door! Couldn't recommend Brigham enough, awesome dude!Thanks guys!

Tyler Hanford
20:13 27 Aug 18
What a awesome experience for my lab, Lola and I !! She has major anxiety and after a few sessions with Brigham I can already see great results! Tip Top rocks!!!

Shana Rost
18:12 27 Aug 18
Had the best experience at Tip Top.

Such great staff and awesome customer service. I would definitely recommend them!!

Kaylee Jack
20:55 25 Aug 18
Looks like an amazing company

Our dog loved this place!

talon jack
18:31 25 Aug 18
We had an amazing experience here!! Our family's puppy, Thor, needed some training to save my couches and Brigham was able to get him to learn to stay off the furniture in one lesson. I couldn't believe, we should have done this months ago!! Thank you guys!!!

charli svedin
18:28 25 Aug 18
Awesome service. Great people. Will recommend to my friends.

Bryce Simpson
14:17 25 Aug 18
Are you kidding me these people are unbelievable, talk about amazing customer service they are the epitome of that. They will train your dog so well you'll never have to raise your voice again. Are you tired of the constant chewing, barking, jumping the annoying digging. That's what they do, they will make your life so much easier, stress free results with causing stress on your pet, This is amazing!!! My dog Fetch used jump constantly, and never fetch well guess what? Fetch doesn't jump anymore and guess what else Fetch will fetch!!!! I mean this service was amazing! I can't believe I didn't try them sooner my life is a million times easier. So go out get Tip Top and make your pet stop!

Timothy Worley
13:15 25 Aug 18
This place is awesome! I usually don't write reviews, but I had to write this one! My dog was attacked by another dog and became very shy and very nervous around other dogs. We tried them out and have had amazing results! We will be back and recommend their services!

Brady Rupp
02:50 25 Aug 18
Had a wonderful experience with Tip Top K9. They did an awesome job with my puppy and the staff was great to work with and very knowledgeable.

McKenzie Rupp
02:48 25 Aug 18
Great staff and great experience.

Casey Clair
16:31 24 Aug 18
Sky was so well behaved and responded so quickly! Awesome dog!

Becky Jergenson
01:42 23 Aug 18
Brigham knows his stuff is Malinwa at 6 months proves they can train pups!!!! I will be for sure taking my soon to be pup to them !!

marcus ahrens
01:15 23 Aug 18
Staff is great, couldn't have had a better experience.

Roni Black
01:01 21 Aug 18
Great people and great service!

Sales WrapWorld
19:13 20 Aug 18
I can't thank Brigham and the guys at Tip Top enough. I hate to say it but I wasn't sure if I was going to be able to keep Tucker, I was desparate. So, I pulled the trigger and sent Tucker to bootcamp with Brigham, and he passed with flying colors and now I can take Tucker with me almost anywhere, even hunting, and I don't have to worry about losing control or him taking off.

Awesome service, attentive staff, and a great overall experience. 10/10 would recommend.

David Peterson
05:45 18 Aug 18
Cannot give enough thanks to tip top! We had our newest edition to the family, Butters, making huge strides after only a couple sessions with Brigham. Butters is our rescue baby who was struggling to adjust in our home. Now she is living her best life with us and our 3 other rescues. Could not be happier to have a stress free fur baby🐾

Kristen Luna
00:15 18 Aug 18
My puppy Dyxie had a serious listening problem and just wouldn't obey. I brought her to Tip Top and she is a changed dog. Now I can take her to the dog park! (:

Piper Ngubo
15:55 17 Aug 18
I was having a ruff time training my pup. I heard about the business from a friend and needed to see what they're all about. Huge thanks to Tip Top K9 for helping me get my little Kia under control and develop some good habits! I highly recommend anyone with a dog call this team up if you want tips for your top dog.

Christian Davidson
05:03 17 Aug 18
Great people to work with. Great dog trainers. Now if they could train the cat.

David Blaylock
03:30 17 Aug 18
I met Brigham and Sky in the park. Brigham was amazing with dog. I asked him to help me with my dog. He came to my home and was very knowledge and professional He did a great job with my dog!I highly recommend Tip Top for everyone with the dog that wants to improve their behavior.

Terri Rosenthal
21:23 16 Aug 18
These guys are awesome!!! My dog is doing so amazing, I would highly recommend Tip Top K9 for anyone looking for dog training.

Williams Strength Training
13:10 16 Aug 18
Fantastic training for dogs

John Howell
23:00 15 Aug 18
I can't believe how amazing Buster has been behaving since Brigham and Tip Top K9 came along! He was so hard to handle because he is a puppy. Tip Top got us our control back! No more tearing things up in the house, no more bolting out the door, and no more jumping onto people that came over.Give them a call! It changed our lives! You won't regret it I promise.

Victoria Stoehr
16:18 14 Aug 18
Love this place nothing but awesomeness

MICHOACANNA
14:28 14 Aug 18
Tip Top K9 is the place to go if you want results in training your dog! The staff was so friendly and welcoming, they feel like family! :) Definitely will recommend!

Kiara Hensley
18:00 12 Aug 18
My dog is the most well behaved dog now! Thank you!

Great service. Excellent results.

David Brown
22:17 11 Aug 18
I have a very stubborn miniature Dachshund. She wants to do what she wants to do, when she wants to do it. She can be very vindictive and will often pee in the house if she doesn't get her way. Thanks to Boise Tip Top K9 we now have a dog that will obey and is happy about it.

Marcia Lynn
18:22 09 Aug 18
Absolutely amazing company and well knowledgeable staff. 100% recommend Brigham as my dog trainer

Kyle Baird
20:52 07 Aug 18
Tip Top K9 rocked! Brigham trained Thor to come on command every time, stop jumping on everyone, and stop pulling on his leash! Most importantly, he helped us get our sanity back and enjoy Thor off-leash!I'd recommend Tip Top K9 To anyone! 5 stars!

Keri Aldrich
01:57 06 Aug 18
The Tip Top K9 team is amazing! Dogs are such wonderful companions but when ill-behaved they are nothing short of a nightmare. Tip Top K9 took my barking, leash pulling, yard ruining dog and turned her into an amazingly well-behaved dog. Thank you Tip Top K9!

Michele Lynn
22:18 05 Aug 18
These guys are awesome! I highly recommend them for anyone who is having behavior problems with their dog or, if you just want a better trained pet. They have done wonders with my dog.

Great company, great people, great experience.

Heather Mayer
17:25 31 Jul 18
Dakota suffered from anxiety when I was away from home. Tip Top K9 took the time to really get to know Dakota and helped her manage her anxiety. I have a home video system and can see that Dakota is now completely calm when I'm away. I would highly recommended Tip Top K9!

Fred Humbert
05:48 31 Jul 18
Tip Top K9 saved me...and my house! I was about to lose my sanity with my dog's love of digging in the backyard and the fact that he chews and hides all of my shoes. I was reading all the books, trying to train him myself, but it was just making both of us crazy. The team at Tip Top K9 got us both calmed down and then successfully trained my dog so that he is the wonderful friend I really needed. We are a happy house again!

Jennifer Lynn
18:30 30 Jul 18
Getting more enjoyment out of my 3 dogs just because of their training ... wonderful experience throughout.

Bart Stoehr
15:26 30 Jul 18
Wow. what a find. I never thought my 10 yr old Max would lose his anxiousness...thanks TipTop!

Josh Bennett
17:21 27 Jul 18
Very professional, dedicated, solid results. Two paws up!

Boris Chen
22:01 24 Jul 18
I honestly would recommend Tip Top K9 Boise to anyone! They solved all my little pup's problems: she can now come on the first call, she sits and downs on command, and can place on nearly any object big enough for her! They've helped me solve ALL her chewing and jumping problems as well!!Thanks you guys! This is literally the best decision I've made for my pup!

Kacy Colley
16:14 24 Jul 18
I volunteered to adopt my brothers nine month old mastiff when he moved and could no longer keep her. It was an easy sell for me because I loved the dog a lot, but not having a lot of experience with dogs growing up, knew I'd need some training for her ASAP. I did my research and came across Tip Top K9 and I'm so happy I found them. I love working with them! We're coming up on our third lesson and we've already made incredible progress! Definitely recommend!

Jason Vyzer
16:16 23 Jul 18
At our Meridian dog training location you will find professional dog trainers that have been named the 2020 Best of Treasure Valley Dog Trainer and the Best in State dog trainer!
We love to help our clients bring the best out of their dogs!  Wether you want to hike around with your dog off leash or if you are looking for general obedience and manners our Meridian team is here to help you out!  We can get most dogs coming off leash and fix general behavior problems in just a few weeks and all of our packages come with life time group class and guarantees!
If you are in the Treasure Valley give us a call today at (208) 308-8778 and we would love to do a lesson with your dog for only $1.00!  Call us today and we can show you what made us the best dog trainer in the state of Idaho!
Real Meridian Dog Training Clients:
Meridian Dog Training Photos:
Meridian Dog Training client wins!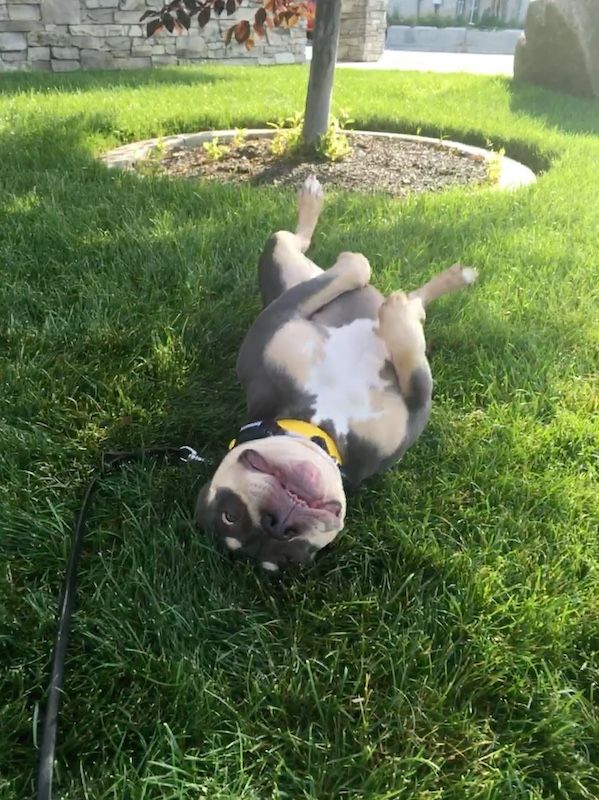 Cookie the Exotic Pitbull
Cookie is a super sweet and adorable Exotic Pitbull with an amazing personality! Cookie loves to cuddle, but is dog and human aggressive. She wouldn't listen, she would snap, bite, and growl when given commands or told to do something she didn't particularly want to do in the moment and her family wasn't able to trust her. The neighbors were even starting to get nervous and threaten that she couldn't live there anymore! She would go crazy any time a dog would walk by her and would bite and attack them and start fights at home and out and about and would bark and attack the fence to try and get to the dog next door. 
We are so glad Cookie's owner found our Meridian dog training team because now Cookie is able to be taken out and about around other dogs off-leash and listens to commands without hesitation! Things are much more peaceful when Cookie is around now and everyone is able to see her sweet, soft, cuddly side now!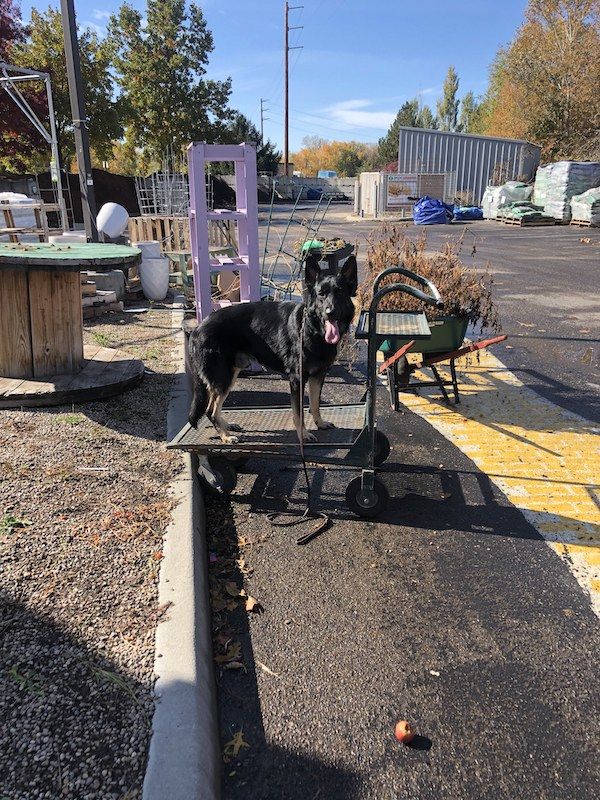 Groot the German Shepherd
Groot is a handsome, smart, German Shepherd dog with some serious insecurities! Groot used to bark, lunge, pull, and nip at every person or animal that would walk by the house, yard, or down the street scaring everyone out of being able to approach him or his family. He thought he was just doing his job and was caught in his head thinking he needed to be afraid of the big, wide world out there. After bootcamp with our Meridian dog training team, Groot's parents are able to take him on walks in public without being pulled around or fret with anxiety about his behavior! They can call him to come from a distance and have him stay on his safe bench or bed off-leash or sit stay while people
and animals walk by the house and park!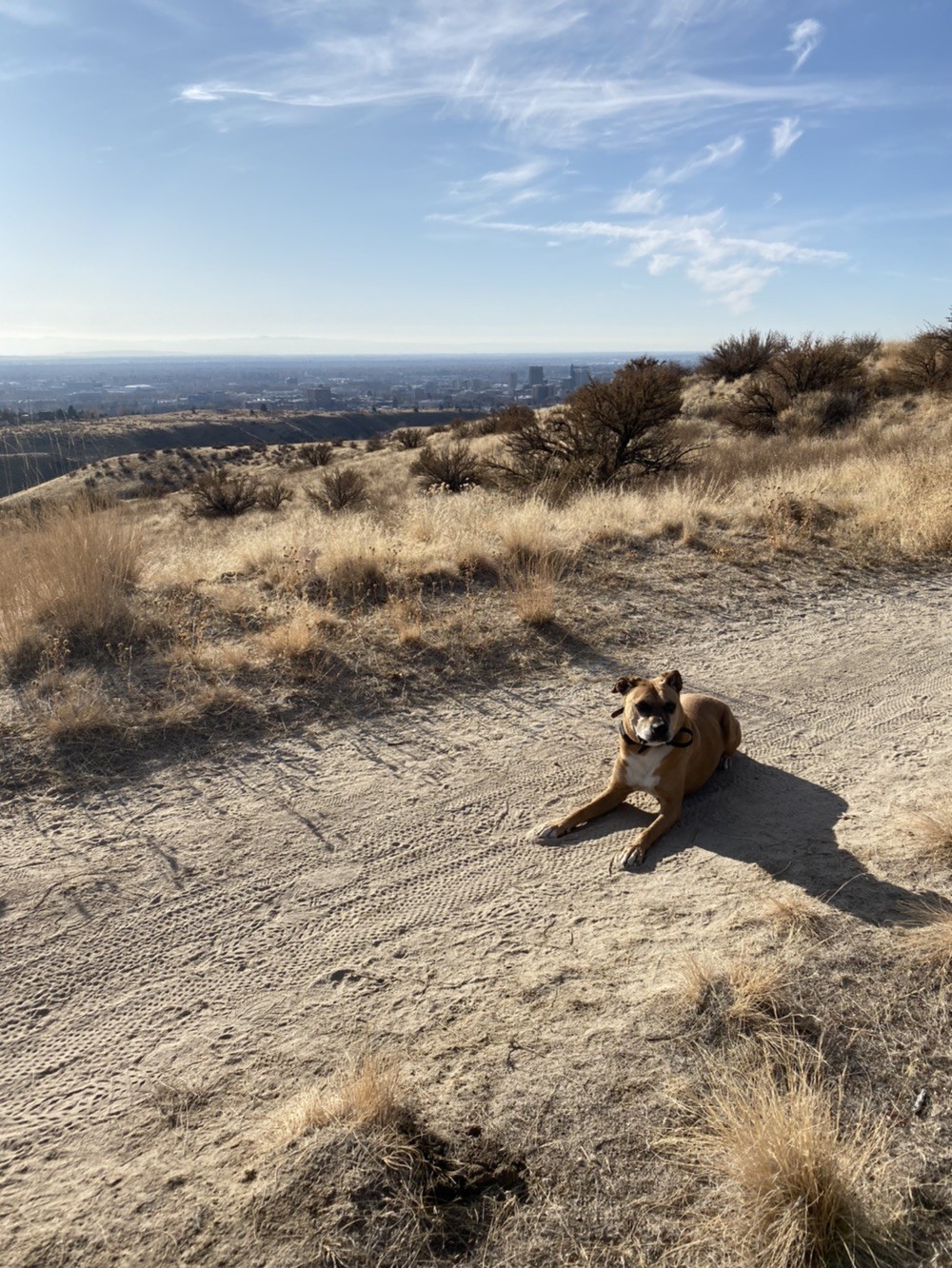 Rufus the Labrador/Boxer Mix
Rufus is a smart and stubborn Labrador/Boxer mix that needed some help when people came to the house or approached his family. His parents called our Meridian dog training team and when we met with him we found that he struggled with anxiety and would be ferocious if anyone knocked on the door. He would chase people down the street and even nip at them if they came close to him, his family, or the house. Rufus didn't especially want to listen to his family's requests and was beginning to struggle with anxiety as well. After boot camp, Rufus is able to run off-leash in the foothills, stay on his bed while his boy has his young friends over and is no longer attacking the door when someone knocks! They are also able to walk Rufus on leash which was always a struggle before! Rufus is enjoying significantly less stress and anxiety and is living a much more happy and fulfilling doggy life with his family!
Talk With a Trainer Today!