I'm very happy with the training Maxwell received. The pick up was super friendly and caring with Max. Communication the entire time was really appreciated and they were also very flexible when some family manners came up. They were very thorough going over the program. The pupdates were fantastic and personal. The results were on point. The walk through of training and tools afterwards was also very thorough and I really appreciate that they focused on the key issues we needed tools for. They also didn't shy away from ramping up as many distractions as possible. I would highly recommend these trainers if you want to get your pup into tip top shape!

Jeremy Johnson
00:55 16 Jan 22
Wonderful experience. We've seen tremendous improvement after initial training, got really good training ourselves, and are confident we'll be able to fully enjoy our great dog. Lays his was especially patient with us and fantastic!

Rob Gordon
00:36 14 Jan 22
This company is awesome! Quick results. Alyshia is the best!!!

Russ Poole
20:41 10 Jan 22
Fantastic training with our boy, Rocky. He is a great dane and a bit stubborn but now he is so well behaved. Thank you Tip Top K9.

Cheryl Dekoekkoek
00:23 30 Dec 21
Very good training! Would recommend to anyone

Dallin Aldrich
00:55 24 Dec 21
We have a Great Pyrenese that we adopted from the shelter and within a few weeks he became very territorial. He was barking and lunging at everything. The breaking point was when he actually bit a friend. We contacted tip top K9 for some training. I had never had to use a trainer before but we were at our wits end. At the end of the training the difference was remarkable. He knew his commands of sit and stay. We could stop any bad behavior he was actively engaged in with an "off" command. He would even do a stay in place command and would hold a place for 20 minutes. The difference is night and day, we have a dog now that is engaged but listens and we couldn't be happier. Would definitely reccomend Tip Top K9 for anyone that is having trouble with their fur baby

David Barrutia
00:09 18 Dec 21
Great experience! I was at a lost with what to do with my rescue Pitbull, Bella. I overheard a conversation at my kid's football practice and listened in. What really got me was when the owner of this other dog said "we never would have imagined we would be able to do this with our dog". I called and did the initial appointment. From the moment I met with them and finished my training I have been impressed. Very reliable company and people and always willing to help. Very professional! They will work on the problems that you want to get over with your dog. I would highly recommend the company and the people to any dog owner! Thank you for everything you did to help me!

Rolando Hernandez
01:04 08 Dec 21
Great trainers and very patient with the animals and the people.

Brad Larson
00:31 05 Dec 21
Thank you for helping us transform our crazy Stan man into a well behaved companion! We look forward to coming to group class!

Kathy Chambers
23:47 29 Nov 21
Darcy was amazing with my Shih Tzu Maltese. As a little dog it's sometimes hard to get them to listen but with her training my baby the improvements have been leaps and bounds. She does tricks now as well as just a standard come stay etc. perfect. I would highly recommend this company.

Christy Jordan
20:46 22 Nov 21
I would highly recommend tip top k9 for anyone who needs one on one training, they are very flexible with time and every training session is very useful. My 10 month border collie loves working with them.

adriana leiter
19:44 22 Nov 21
I am 100% happy with the training from Tip Top K9! Our trainer, Amariah, was so kind and patient with Guinness and myself. Highly recommend this company!!!

Brianna Dawkins
22:39 20 Nov 21
Working with tip top has been AMAZING! Our 90 pound golden retriever now has a lot more control and stability in walking, commands, and existing around exciting things like people and dogs. We cannot recommend them MORE!!

Nicole Marshall
19:33 19 Nov 21
They got our German Shepherd trained and listening after a few sessions. Would highly recommend!

Carolyn Aragon
19:07 18 Nov 21
Amazing training well worth it.

John Clark
17:37 16 Nov 21
Extremely helpful and good trainers

Robert Allen
19:50 15 Nov 21
TipTop is amazing. They've been so helpful and worked with my pup and myself through her particular challenges. They've provided us with consistently amazing training and personalized advice. The group classes are a great option and I've appreciated all of the people we have interacted with. I would definitely recommend them to anyone!

Nat wiseman
18:04 11 Nov 21
Super great company, super responsive. All the people we've worked with have been super helpful! I would absolutely use this company for the next dog we get as well!

Kennedy White
00:50 09 Nov 21
Great experience for me and my puppy, Quinn. Both of us novices. our instructor, Alyshia was fantastic, explained, demonstrated with patience and knowlenge. Obviously has been doing this for awhile. I would recommend Tic top highly.!!!

Sharon Morrow
22:03 29 Oct 21
Training my new puppy has been a great and easy process. Amariah is very professional and obviously loves what she does. Great progress has been and I can't wait to see him in the future!

Morgan Hett
21:54 23 Oct 21
Great program for dogs! Amariah is a great trainer and they are very informative and professional! 1 month in and already seeing major progress in our puppy :)

Jeffrey DeGeeter
21:54 23 Oct 21
Our pup went in smart and eager to learn and came out obedient thanks to tip top k9! Amariah came to our home after training was finished and showed us everything our pup learned. She made sure we were set with everything we needed to continue training! total positive 360!

warren rubier
23:10 22 Oct 21
Alyshia was always well prepared and each training session went well. My wife and I were pleased with how well our German shepherd, Rosie, responded to the training. I would recommend Alyshia to anyone considering having their dog trained with Tip Top K9! Thanks again!

Jeff Prengaman
01:07 12 Oct 21
After our demo session with Kara we sent our wild Lab/Shepherd puppy and our 13 year old chihuahua mix TOGETHER to boot camp. We struggled with the decision to do this but needed the old and the new to learn together (the age ranges for needing training also included us humans). The goals seemed lofty on paper, but we were hopeful! Tip Top K9 did not disappoint and we're so glad we made the investment in boot camp. The weekly updates were great and I also had a phone call with one trainer about our older dog, she was honest and reassuring, so we held the course and we're happy the two dogs, one old and one young, learned the language together. That was a key outcome for us and we're happy we are poised for success. The next phase is up to us, but we're reassured the team at Tip Top K9 is a phone call away, and there's group classes and substantial training options available, which is so reassuring! Thank you for the great head start!

Kathryn Shields
00:14 09 Oct 21
Tip Top K9 training is like magic!After meeting a ridiculously darling and well behaved dog who had been through the TTK9 program, we signed up immediately! Our two puppies (brothers) responded so quickly it was truly like magic. Amariah is amazing. Skilled and beyond thoughtful. The boys love her, and we could not be more please with the outcome of the training.Ten stars!!!!!!! ⭐️⭐️⭐️⭐️⭐️⭐️⭐️⭐️⭐️⭐️Ann

Ann Goodwin
00:13 08 Oct 21
Alyshia was excellent! Got our German Shepherd to behave in short order. Very friendly, punctual and professional!

Molly Prengaman
00:39 05 Oct 21
Great service! Definitely exceeded our expectations! Will use again!

Dan Denning
23:02 01 Oct 21
Super great! Easy to work with. So much improvement in my dog!'

Susan Bentley
17:53 29 Sep 21
Best dog training in the Boise Meridian area. Wanted to increase our knowledge of basic commands and develop the foundation for future tricks and advanced commands. We worked with Alyshia and she was so kind and patient with not having not Ollie but us as well. 10/10 would recommend

Whitni Synakiewicz
01:16 28 Sep 21
We had a great experience with Tip Top K9! Alyshia was extremely kind and knowledgeable, and we learned so much from our lessons.

Trent Wilson
00:53 25 Sep 21
Our dogs came back home, obedient and in great physical condition.

TipTop k9 was extremely flexible with my schedule and so great with Odie in making sure he got the correct attention and training! I could tell a difference already after his second training session! They also offer unlimited group classes after training has ended! Would highly recommend to anyone in the Boise area!

Hannah Anderegg
23:51 16 Sep 21
Alyshia was so great to work with! My mini schnauzer loved her and she worked with him every step of the way when he needed adjustments or new ways to do something. HIGHLY recommend!

Julia Nigro
21:13 14 Sep 21
They did such a fantastic job! My family is so happy with how our puppy did with training! She was happier, we were happier and the free lifetime group classes will be so helpful! Definitely worth the price!When I was first looking for puppy training classes, I wanted to do more stuff than your typical sit, stay, high-five, shake. I wanted my puppy to learn skills that would improve my relationship with her. She is a 6 month old Portuguese water dog/poodle mix, so stubborn was 100% her personality. Before she started training, she was chewing the leg off my coffee table, nipping at everyone that pet her, and jumping all over everyone. She would not listen when called or even take a treat over a piece of garbage in the road. After swallowing a sock that required an emergency visit, we knew we had to get training. When we say the first lesson was only 1$, I thought we could get a feel for the company before actually spending hundreds of dollars. Darcy was awesome and went over everything about the program and the options that were available. When we first met our trainer, our puppy was in love. She would get so excited to see her and came back a completely different puppy. I love the fact that they will take your dog for the first two initial visits, and then train you how to train your dog. I mean in 6 sessions, our puppy had learn to come, sit, heel, place, quiet, and off. And she listened EVERY SINGLE TIME! The training they do is so much more than any where else. Thank you Tip Top K9!

Hunter Ament
00:49 12 Sep 21
At our Meridian dog training location you will find professional dog trainers that have been named the 2020 Best of Treasure Valley Dog Trainer and the Best in State dog trainer!
We love to help our clients bring the best out of their dogs!  Wether you want to hike around with your dog off leash or if you are looking for general obedience and manners our Meridian team is here to help you out!  We can get most dogs coming off leash and fix general behavior problems in just a few weeks and all of our packages come with life time group class and guarantees!
If you are in the Treasure Valley give us a call today at (208) 308-8778 and we would love to do a lesson with your dog for only $1.00!  Call us today and we can show you what made us the best dog trainer in the state of Idaho!
Real Meridian Dog Training Clients:
Meridian Dog Training Photos:
Meridian Dog Training client wins!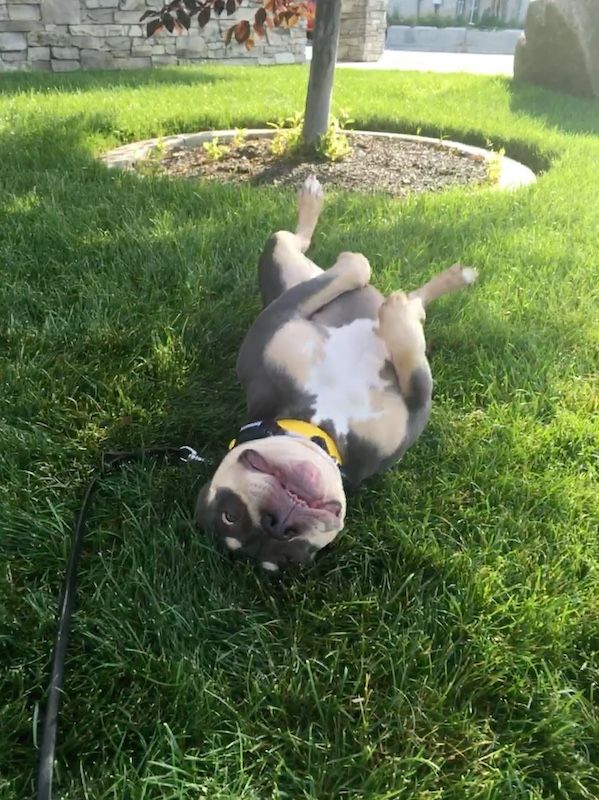 Cookie the Exotic Pitbull
Cookie is a super sweet and adorable Exotic Pitbull with an amazing personality! Cookie loves to cuddle, but is dog and human aggressive. She wouldn't listen, she would snap, bite, and growl when given commands or told to do something she didn't particularly want to do in the moment and her family wasn't able to trust her. The neighbors were even starting to get nervous and threaten that she couldn't live there anymore! She would go crazy any time a dog would walk by her and would bite and attack them and start fights at home and out and about and would bark and attack the fence to try and get to the dog next door. 
We are so glad Cookie's owner found our Meridian dog training team because now Cookie is able to be taken out and about around other dogs off-leash and listens to commands without hesitation! Things are much more peaceful when Cookie is around now and everyone is able to see her sweet, soft, cuddly side now!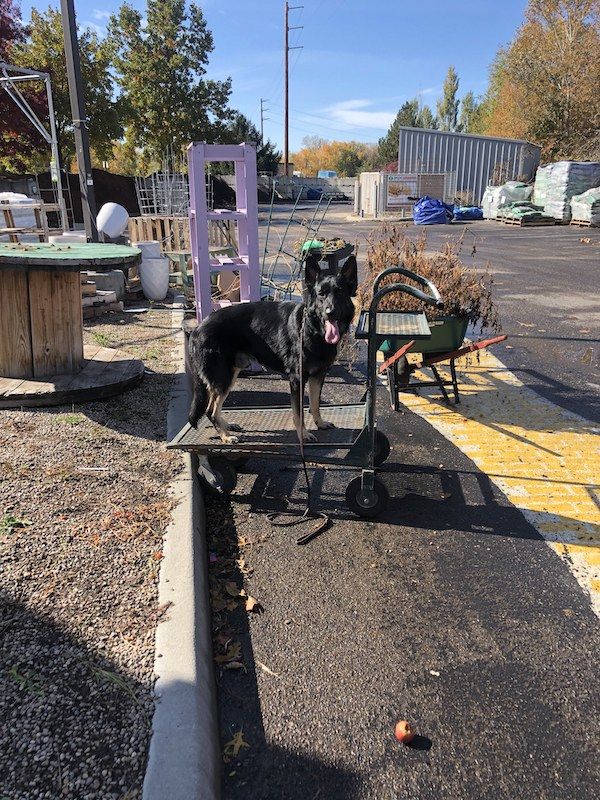 Groot the German Shepherd
Groot is a handsome, smart, German Shepherd dog with some serious insecurities! Groot used to bark, lunge, pull, and nip at every person or animal that would walk by the house, yard, or down the street scaring everyone out of being able to approach him or his family. He thought he was just doing his job and was caught in his head thinking he needed to be afraid of the big, wide world out there. After bootcamp with our Meridian dog training team, Groot's parents are able to take him on walks in public without being pulled around or fret with anxiety about his behavior! They can call him to come from a distance and have him stay on his safe bench or bed off-leash or sit stay while people
and animals walk by the house and park!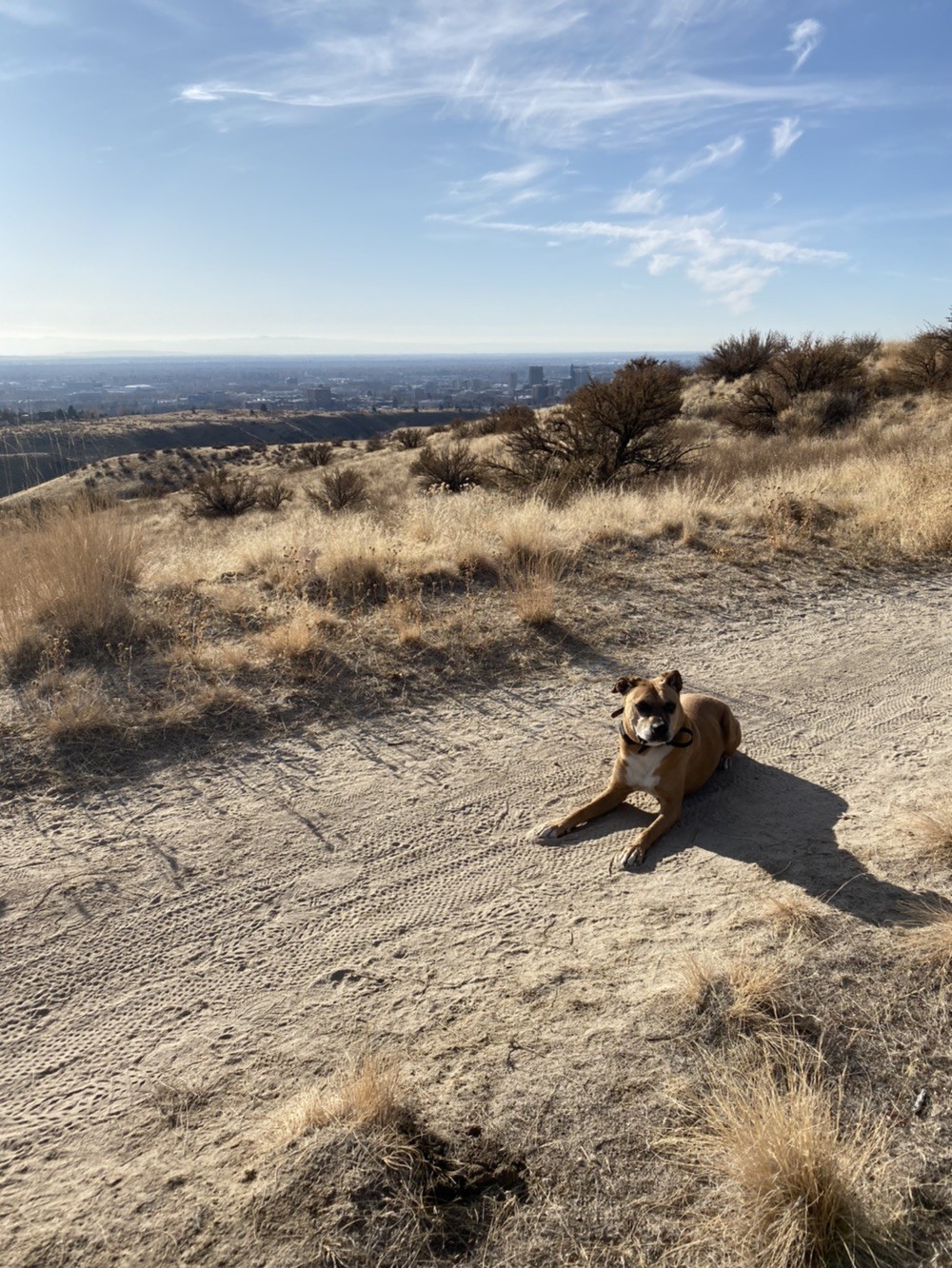 Rufus the Labrador/Boxer Mix
Rufus is a smart and stubborn Labrador/Boxer mix that needed some help when people came to the house or approached his family. His parents called our Meridian dog training team and when we met with him we found that he struggled with anxiety and would be ferocious if anyone knocked on the door. He would chase people down the street and even nip at them if they came close to him, his family, or the house. Rufus didn't especially want to listen to his family's requests and was beginning to struggle with anxiety as well. After boot camp, Rufus is able to run off-leash in the foothills, stay on his bed while his boy has his young friends over and is no longer attacking the door when someone knocks! They are also able to walk Rufus on leash which was always a struggle before! Rufus is enjoying significantly less stress and anxiety and is living a much more happy and fulfilling doggy life with his family!
Talk With a Trainer Today!