Our dog Buddy had a difficult time staying focused on walks and barking when people came to the door and did not listen to any commands. He just got home from training and we can't believe the difference. So easy to walk, and listens to all his new commands!! A very well behaved dog!

Jason Gates
19:25 08 Apr 21
We had a great experience with tip top k9! Our Maltese, Oakley used to be all over place and very stubborn. He wouldn't stay in place and had all sorts of problems during walks. After about a month of k9 training Oakley seems like a brand new dog! I can't wait to reinforce what I've learned. Thank you tip top K9!

Bringing home a brand new dog! I brought an unruly Rottweiler puppy in, and in 6 short weeks Rob and his team have completely transformed him! They care for dogs here and have a wonderful program for all breeds, shapes, sizes! 10/10 recommend!

Lauren Anderson
21:07 24 Mar 21
Deciding to train with Tip Top K9 was the best decision we've made so far as new dog owners. We adopted a 4 year old greyhound with some significant reactivity issues toward other dogs, bikes, and cars. He would lunge, jump, spin, pull, bark...we tried every method we heard about in order to help tackle this, but nothing we tried compared to the results we got by working with Rob for just a few sessions. We were very hesitant about the E-Collar at first, but Rob was so incredibly patient and understanding. He walked us through it and made sure that we were comfortable every step of the way, ultimately guiding us toward what would be best for us and for our dog. We never thought that we would even be able to walk our dog within sight of another dog without having to deal with some level of reactivity. We can now walk comfortably past other dogs with hardly any reaction from ours. We barely need to use the collar anymore at all, and our training sessions only happened a few months ago!! Both us and our dog are sooo much less stressed, and our relationship with him has even improved as a result :) thanks Rob!!!

Jaclyn Press
20:46 21 Mar 21
They did a fantastic job i would definitely recommend this company. Extremely nice staff and very educated when it comes to dogs. Very happy with the training and tools they taught not just my dog but me as an owner to go forward with training my dog !! Wish i could give them 10 stars ⭐️!!!!!

kevin kiley
06:26 05 Mar 21
We dropped our puppy Benny off at 4 months. He was a good dog but definitely needed training. Everybody was awesome during the whole experience he can now sit, stay, place, heel and more. Looking forward to going to group trainings for sure!

Maxwell Oslund
23:18 26 Feb 21
After a few lessons, I have noticed a huge difference in the behavior of my pit-mastiff puppies. The staff at Tip Top K9 are professional and knowledgeable, and I highly recommend this place to train your dogs.

Gina DePodesta
03:33 24 Feb 21
Our 1 year old pit mastiff puppies are so well behaved since attending Tip Top K9. My wife and I have also learned a ton since we have been taking the puppies for classes. We are excited to see what our babies are capable of with further instruction and lessons from the trainers at Tip Top K9.We highly recommend for both dogs and owbers.

Mario Depodesta
03:33 24 Feb 21
I took my dogs Summer and Penny for boarding while I was out of the area. My experience with April was wonderful and I felt very assured leaving my pets with them. Upon my arrival to drop off my pets I met with Robert and Bella who I have worked with in the past for training, again I was very confident in the experience my pets would have. They sent pictures and updates about my pets daily. The whole Tip Top K9 family is excellent to work with and I highly recommend any service they offer.

Quincy McAlpine
16:24 19 Feb 21
I had no idea how to handle my reactive dog Axel, but they helped me get started on a solution. Axel's not a model citizen yet but I've been given the tools to make sure he will be! Axel's a nervous Nelly but he'll come around one day with more training. I would highly recommend giving this a try. I would have done the boot camp if I had more money! Lol

Erin Williams
02:58 19 Feb 21
Our 6mo lab was experiencing some possession aggression. We took him to Tip Top K9. We saw a significant improvement. I believe implementing all the other techniques we learned from Rob, Yeager will be the well behaved dog we've always wanted.

Lisa Hendrick
02:30 16 Feb 21
Great service, amazing experience and a heart warming atmosphere

Michael Jenkins
21:24 06 Feb 21
We have a German Shepard puppy and I was at a loss on how to help him with his reactive behavior. He lunged at cars, people and other dogs. It had gotten so bad that I feared we couldn't go for walks. He was only 8 months at the time and already 70 pounds. Needless to say, I needed help. I tried other trainers and even online courses and none of them helped. We reached out to Rob at TTK9 and he honestly saved the day! Our first meet up was when we knew we found our guy. He asked us our concerns, what we felt we needed to address and then he talked about options that we had with the training styles. The icing on the cake was when Rob took his own dog out (beautiful Raven) and showed us what we could accomplish with Odin by the end of our training schedule. We were sold! Let me tell you, he did not lie. We have a totally different dog. Not only was he trained, but so were we. We now enjoy long walks and off leash time is amazing. Cannot recommend Tip Top K9 enough.

Stacy Dyer
20:30 28 Jan 21
My dogs aggression Was out of control. In three short weeks he was a different dog. Still lovable without the aggression.. Thank you!

Kathy Mroz
18:06 28 Jan 21
Our one year old Belgian Malinois went through 8 private lessons and we experienced excellent outcomes in terms of our dog's issues with impulse barking, jumping, and pulling, and lunging. Our trainer, Rob, really individualized his approach towards our dog's needs and our goals, and we have truly come a long way with Shama's behaviors. We feel like we have a much better toolkit for handling any situation moving forward! Thank you Tip Top K9 :)

Edita Totaj
00:50 24 Jan 21
We took our 1 year old Weimaraner, Otis to Tip Top K9 to address his reactiveness toward all things living....and some not! We struggled to keep him from jumping up, barking/pulling at people and dogs, and overall selective obedience. After just 2 weeks with Rob and his team, Otis has showed a complete turn around. Once we got him back home we continued to utilize the training WE received from TTK9. (Yes! They train you, too!) I encourage anyone with dog obedience issues to reach out to Tip Top K9. They really have given us back a pup that we can take anywhere. We are so happy to have Otis back and even more happy that he can experience life WITH us! If you have a desire to include your dog in your life more, then give these guys a call! You wont regret it!

culhan taylor
15:14 21 Jan 21
Our golden retriever puppy Mia responded very well to her training with Tip Top K9! Would definitely recommend to other dog owners looking to improve their dog's behavior.

Tejas Bharath
01:26 16 Jan 21
My daughter (Misty) has been working with dogs for over 10 years and loves working here. Within a couple months she has learned more than the past 10 years combined. The owners are very knowledgeable and treat their employees very well.

elaine mansfield
20:40 14 Jan 21
A-1 service and A+ staff. The and training provided was exactly as described. I recommend this company to anyone who needs help in training their pup or dog. It can be done! Thank you Tip Top K9!

Taeron Grant
20:11 09 Jan 21
I have a big intimidating dog and people were to be around her because she jumped up and loved to play. Now that she by trained by Tip Top K9, she is loved not feared. I can take her to the park to play and she is very obedient. I owe it all to your company.

Annis White
20:08 09 Jan 21
The philosophy tip top k9 has is phenomenal. Having witnessed firsthand how well behaved the dogs are after training, I know you will have outstanding outcomes with your fur babies thanks to Misty and the rest of the trainers. They love the dogs, and really want them to succeed!

Travis Stone
20:08 09 Jan 21
Thank you for all of your help. I never thought that my pup would ever listen but now thanks to your company, she is an excellent listener. She is very well mannered and now I can take her where ever I go.

Sarah Long
20:05 09 Jan 21
I must say that the workers here are great. They came to my home to evaluate my pup and brought one of their trained companions so that I can see what to expect. I loved it. I liked the way they care for the animal. Everything was explained thoroughly and I have all of the confidence that they are the company to help me train my puppy.

Misty is top notch, her care and concern is unparalleled!!!! Tip Top rocks !!

Nicole Sebastian
19:48 09 Jan 21
I can't believe how much tip top k-9 has helped me and my little buddy!! They were very responsive and they know what they are doing!!! I highly recommend!!

Kaleb Grant
19:29 09 Jan 21
Great training services! They really put in the work for my dog. So glad I chose this training service

The Coil King
18:57 09 Jan 21
Good price for the amount of training they give would definitely use again!

Lookslikeimadeit Ok
18:55 09 Jan 21
Very excellent experience with this business. Good environment as well.

Thanks misty and everyone at TTK9 for helping my puppy

CLARKE SKORSKI
17:15 09 Jan 21
I know I may be a little biased because I work here. But I have worked with dogs in one way or another for the past 10 years and I can honestly say I have never worked somewhere that the owners genuinely go out of their way to make sure each and every client is 100% happy. They love what they do and do their very best with each and every dog they work with.

Misty Mansfield
17:03 09 Jan 21
I have to say that I know Misty and she is simply delightful and just a breath of fresh air! I can honestly say I know she loves working with Tip Top K9 I have never seen her happier doing anything other that what she is now her love and passion for Dogs ( all animals ) brings such joy to my heart. Keep that smile on and keep doing what you do because this is definitely the right place for you.

Amanda LePage
18:42 08 Jan 21
Misty seems very vibrant and enthusiastic about her job! One of the best.

Phil Parker
18:17 08 Jan 21
Quality Service customer service is great I know Misty she's happy to be there

Tony Simon
18:10 08 Jan 21
Our story starts with a rescue who we fell in love with right away but had some aggression issues. After 3 years of having him and my husband suffering from several bad bites, we decided it was time to get some training. With a baby on the way we had no more time to waste. I was hesitant at first to use e-collar training on my dog but after seeing the progress even after the very first session I was completely on board. Now after 7 trainings and still one more to go, we absolutely love the progress our husky has made. Rob from Tip Top K-9 has helped us to transform our dog and we no longer see any of the aggression issues, and he is just overall a very well trained dog. Thank you Tip Top K-9! We couldn't be happier with the results.

Janonne Lloyd
01:56 08 Jan 21
Tito was a stubborn puppy who had trouble staying off the counters and wouldn't give up socks from the laundry. After boot camp at Tip Top K9 Tito is now a well behaved boy who is able to show off his smarts. I am so thankful that my dog is now so much more well behaved. He learned to sit, down, come, place and so much more. He can even stay in place for extended periods of time even when I walk away. With weekly updates I was able to see his improvement and know he was in good hands. This place is the best! Take your dog there if you want to see a dramatic change in behavior!

Kelsey Fischer
01:10 06 Jan 21
Rob & Missy trained Tito extremely well. Our dog lost attention quite often, but after the bootcamp he was focused and answering every command. While he was gone, it was tough but as we got the report cards and updates we were able to see Tito was getting better and better. Looking forward to keeping up with the training and seeing what else we can make our dog too. Highly recommend, and they were reasonably priced and had openings quicker than any other places.

Chris scicluna
00:09 06 Jan 21
Our Troy Dog Training Clients Get Real Results!
Our Troy dog training team loves to help people all over the great state of Michigan with their dog!    We serve dog training needs all over Troy, Birmingham, and Sterling Heights area.  
Our Troy dog training team loves to help people all over the great state of Michigan with their dog!    We serve dog training needs all over Troy, Birmingham, and Sterling Heights area.  
We specialize in aggressive and hard dogs that other trainers like the shy away from!  Helping people enjoy their dog is what we do and the harder the dog the more satisfaction we get out of doing our job!  The most common obedience issues we help our clients with are behavioral problems such as jumping on people, excessive barking, licking, digging, leash pulling and running away!  If this sounds like your dog maybe you should schedule a $1.00 first lesson with our Troy dog training team today!
Our Troy location does a mix or private in-home lessons as well as board and train programs where you pup lives with a trainer for 2-4 weeks and comes back a different dog!  Our board and trains are where your pup lives with and trains with one of our team members for 3-4 hours a day and we do all your homework and then we come back and train your whole family!  Most dog trainers in Michigan offer a board and train program but they are not all the same! Call us today at 833-484-7867 and let us show you what makes our Troy team different!
Hear from some Troy dog training clients:
"Tip Top K9 has helped my English Bulldog with obedience training."
"Tip Top K9 has Provided A Good Behavior Foundation For Our Husky."
"Tip Top K9 has help with training our German Shepard with the training camp program."
Some of our recent Troy and Birmingham dog training success stories: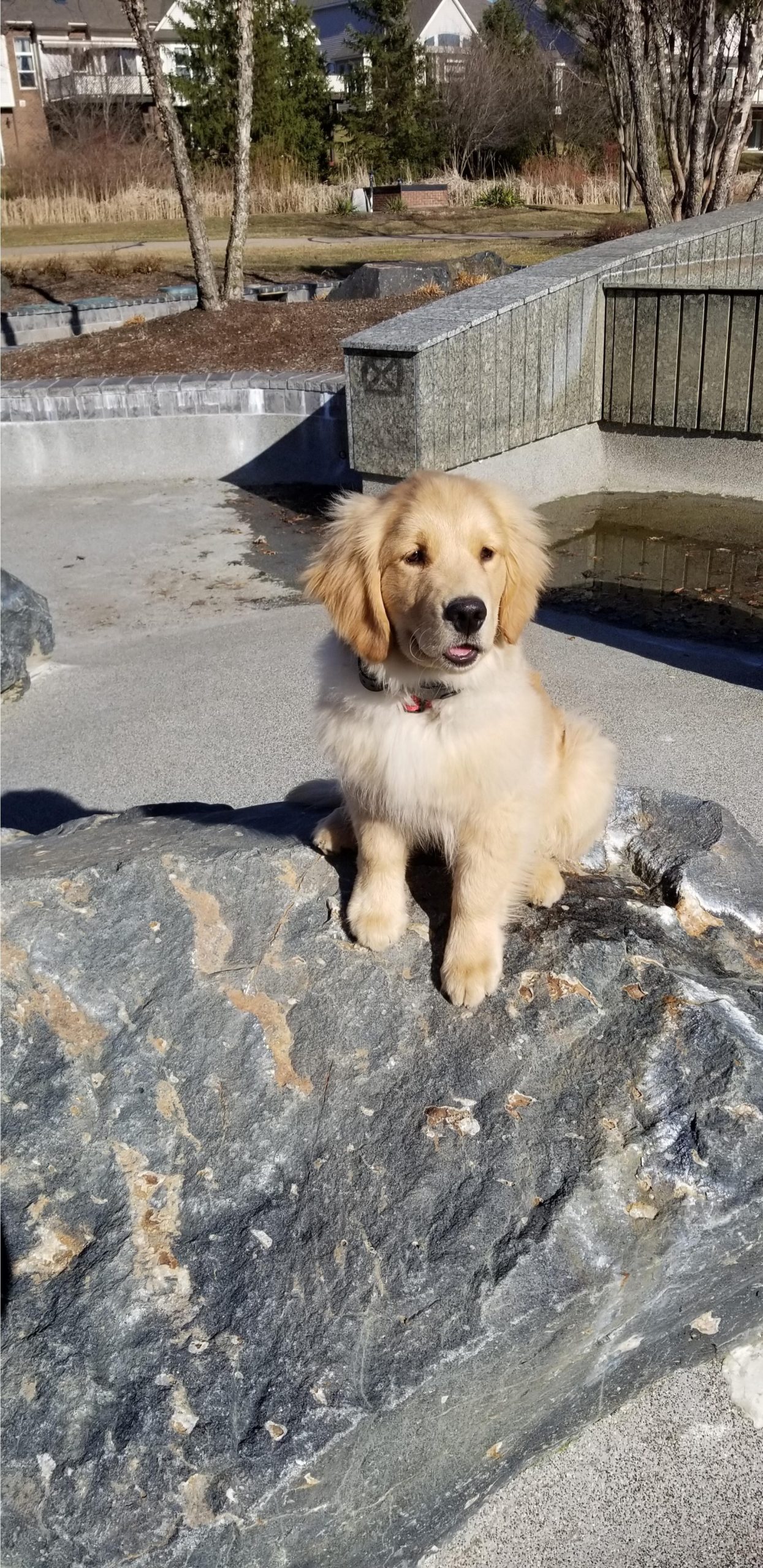 Maverick - Golden Retriever
Maverick was so excited to find his forever home with a very nice family in Troy, Michigan when he was 4 months old! However, like all puppies, he needed a little bit of direction and a quick search for a Troy dog training professional brought Joanna and her family to our website!  Maverick  was chewing things and jumping on people as well as not letting the family know when he needed to go potty but having multiple accidents a day. We addressed all of these things during our board and train program.
Maverick's family decided to invest in our 4 week Boot Camp. Their goal was to have the best dog and that is definitely what they got! Maverick is now able to heel during a walk, come every time he is called, and goes to the back door when he needs to go potty. The family is super happy with the results and looks forward to maintaining Maverick's training through attending our group dog training classes in Troy.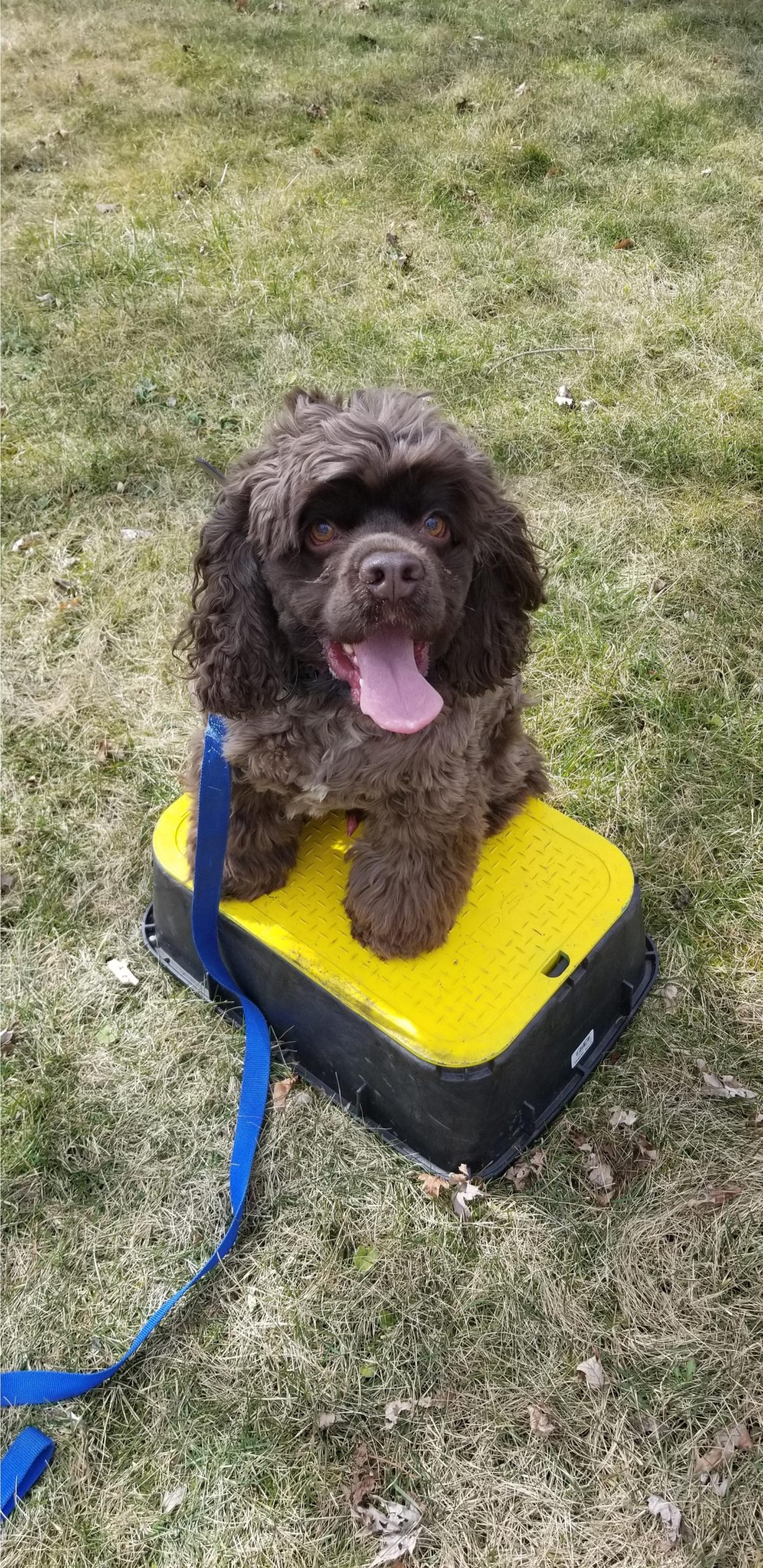 Buckeye - Cocker Spaniel
Buckeye was a very anxious 2 year old cocker spaniel when we started training. His owner Gary was concerned about his his anxiety as well as growling and started looking for a Michigan dog training company to do some basic obedience training with.  They decided to enroll Buckeye in our 3 week Boot Camp where the pup comes and stays with our team until fully trained! 
Throughout the board and training program, our dog trainers worked on getting Buckeye to understand how to handle his anxiety as well as how to behave and now his obedience is much, much better! He can now go on walks with the owner and the growling is now under control. He is still the same love able dog but now he obeys and his owner has confidence that Buckeye is going to listen to his obedience commands.  Buckeye will need some continued reinforcement with his dog training skills but he is well on his way to being a model citizen!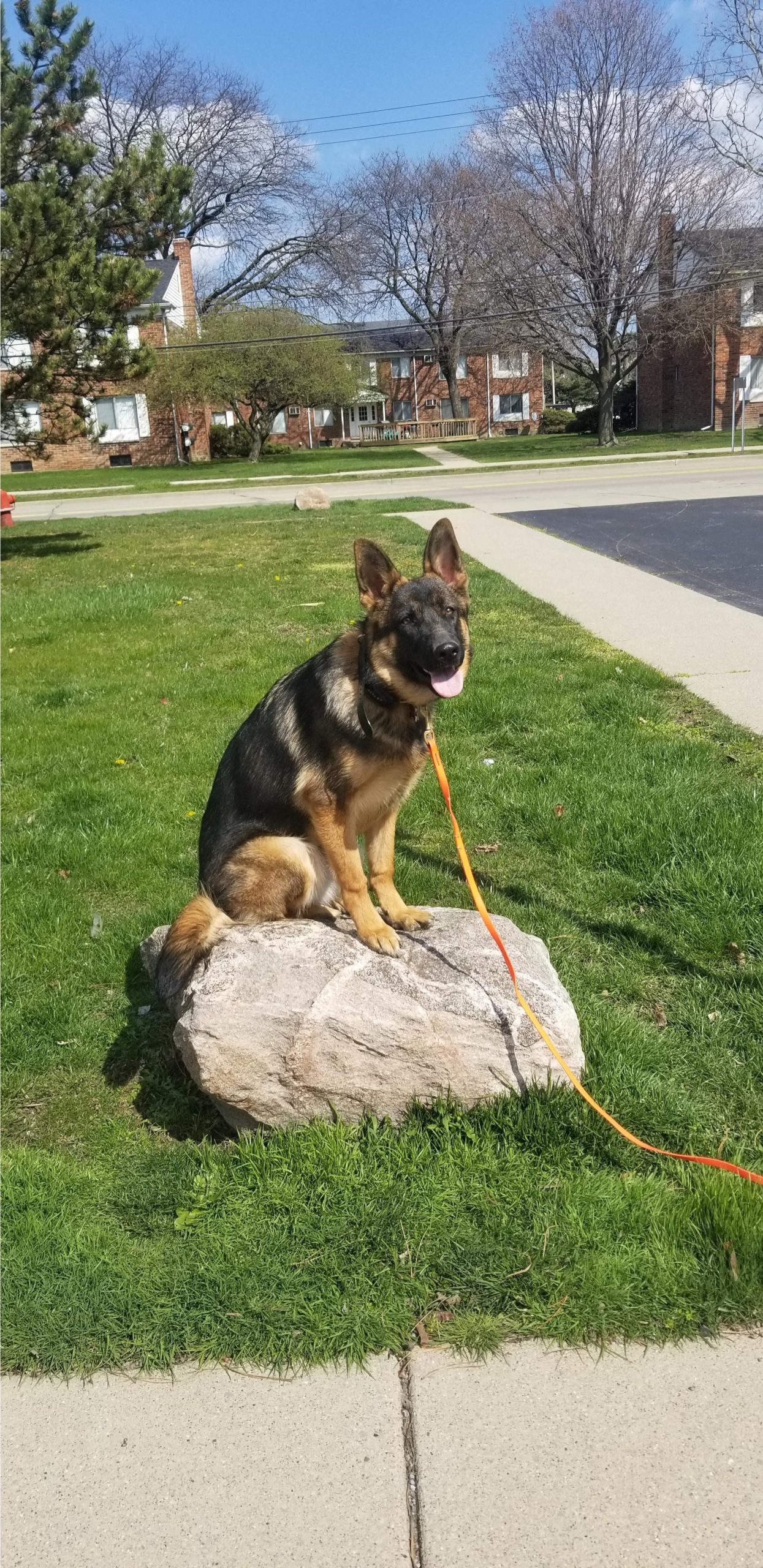 Harlee - German Shepherd
Harlee came to us as a super sweet but super hyper girl!  We met Harlee's owners at the home show and they told us they had been looking for a Troy dog training company to help them with their wild pup.  Her owner Crystle wanted to take her on walks but Harlee would never stay calm and walk with her but really enjoyed dragging her down the street. There was a lot of pulling on the leash. Their family, like alot of our Troy dog training clients decided to do a Boot Camp with us. 
We were able to keep Harlee's personality fun and excited while working her hours a day and gaining control. She is now able to go on walks with no pulling and is able to run around off leash as she comes when called. This loveable girl now knows how to have fun and be safe so her family can enjoy spending time with her.
Talk With a Trainer Today!
Having Trouble Training Your Aggressive Dogs?
Are you in search of the best place to find Troy Michigan dog training for an aggressive dog? If so, then all you have to do is visit Tip Top K9 to see how one of the wonderful trainers can help fix your dog's attitude and make them a more caring animal. All while also giving you the knowledge of how to keep your dog from acting out in public. We understand that sometimes it may be tough to get control of your dog in a crowded area. That is why we are dedicated to giving you the tools you need to make sure you always have the upper hand with them.
See What Troy Michigan dog training Methods From Us Can Do 
If you or someone you know is currently needing help to train your dog and are unsure of what will be the best course of action, then you need to go online and read the reviews for Tip Top K9! We are proud to report that you can easily go and see what our actual customers are saying about us, you can visit www.tiptopk9.com or read our google reviews to see why we are the highest-rated and most reviewed Troy Michigan Dog Training company. Just call 1-833-484-7867 to book your first lesson with us for only $1 today.
Which Tip Top K9 Location Is Nearest You?
Do you need help finding a Tip Top K9 location that is local to you? Whether you moved recently and just got a new puppy, or possibly you just heard about us from a friend. Either way, you know that you would like to train your dog at Tip Top K9. Luckily for you, it has never been easier to find a convenient location for your dog training lessons, classes, boot camps or even day camps we have to choose from! You can go online to see all of our locations and more information about everything that is included when you book your first dog training lesson or call us at 1-833-484-7867 to get started!
What Services Can Tip Top K9 Provide?
If you are interested in finding out what Tip Top K9 can do for your dog, you will be pleased to see that we are offering a variety of services:
Aggressive Dog Training

Dog Training

Puppy Training

Potty Training 

Group Class
These services are offered at most of our locations. If you call Tip Top K9 at 1-833-484-7867, you will see that most of our locations will be offering additional services! You can find out more by coming into one of our locations, or by calling Tip Top K9 for even more information on what each location can bring to the table to help you get the most from your new dog training lessons!.
Why Should You Choose Tip Top K9 for Your Troy Michigan dog training?
If you are in the market for Troy Michigan Dog Training, then you have probably heard about Tip Top K9 already! That is because Tip Top K9 is the highest-rated and most reviewed dog training company in Troy, Michigan! If you go online today you will clearly see that we are a step above the rest of the other service providers in the area. If you don't believe us, you can always take a look for yourself! Here at Tip Top K9 we also pride ourselves on our good dog guarantee, meaning if you don't see the results you get your money back! 
What Can Tip Top K9 Do Differently?
Here at Tip Top K9 we are dedicated to making sure you and your dog never have to go through the crazy hoops of dog training's past. By implementing our proven dog training systems, you will see that we can provide you with all of the tools you will need in order to make your dog behave better. When you sign up today, you will learn that your first lesson is only $1, because we are positive you will want to come back with all the pups you can find! Tip Top K9 always makes sure that you are getting the results you signed up for and nothing less! 
How Can Tip Top K9 Train My Anxious Dog?
Does your dog get very anxious around other dogs, big crowds, or maybe even car rides? If so, then we would like for you to know Tip Top K9 is ready to tackle any kind of challenge that comes our way! We have worked with all kinds of dogs in the past and are very well versed when it comes to dealing with a dog that has some easy to trigger nerves. You can call Tip Top K9 at 1-833-484-7867 to see how we can help you book your first Troy Michigan Dog Training lesson with us and hopefully give you some tricks to calm your pet! We are here for you and your pets and we understand that some dogs may get stressed out before other dogs and will provide a patient environment for your pup to learn in.
What Can We Do For Your Puppy?
If you have recently adopted a new forever friend into your home, then we know it may be a bit rough at the beginning to train your new puppy. That is why Tip Top K9 is here to help! We have a proven, results-based plan that works with most dogs, not to be scared, our amazing trainers are quick to respond to each dog's different learning styles as well as adapting to their unique abilities! You can call us now to schedule your first dog training lesson for only $1 to see why we are so well known for Troy Michigan Dog Training!
What Is Tip Top K9's No-Brainer Offer?
Here at Tip Top K9 we are proud to inform you your first dog training lesson with us will only cost you $1. That's right, just 4 quarters, 10 dimes, 20 nickels, or 100 pennies! We can do this because when you experience your first dog training lesson, you will want to continue with the amazing program to get the good dog results guaranteed! You can schedule your first lesson by going online today and choosing the location that is closest to you or by calling 1-833-484-7867! You will not regret your decision, as you will be receiving the Troy Michigan Dog Training at a great price!