LOVED IT! Found this place on google and misty was such a fantastic trainer. My puppy loved her and she explained and showed me everything in a very detailed manner! Would recommend her to anyone!

Moises Flores
23:47 27 Jun 22
Tip top k9 dog training is tip top and worthy of their name ERICA our trainer was super and explained each of the training commands and objectives throughly. The staff at the TROY facility very helpful and very knowledgeable I HIGHLY RECOMEND this training center.

I have a German Shepard and she was anxious and would not listen. She is being released today and she is so much better!!! We are really going to enjoy her!

Becky Sollose
17:32 08 Jun 22
We sent our two dogs for advanced boot camp. One is an 11 month old puppy and the other is a 7 year old. Both had bad habits such as jumping to meet everyone at the door and not listening. Both dogs have returned home and there is a 180 difference in them so far. I look forward to working with them and am very pleased with the training they have received.

Korrie Gundling
23:24 01 Jun 22
The best training center so many things changed since I put my dog there for one week. He has been trained very well.

Mithun sunder
16:46 30 May 22
I could not be happier with my experience at Tip Top K9. The trainers are extremely knowledgeable and truly care about training you & your dog to the dog's full potential. I would highly recommend them to anyone looking to train their dog!

Valerie Kojack
02:32 30 May 22
Everyone was super helpful! They were quick to answer any questions and were easy to get in touch with. They made sure we went home feeling like we had enough tools and that we could reach out anytime for help. The lifetime training classes are a plus too!

Alli Hinman
17:46 29 May 22
I cannot say enough awesome heartfelt words at how amazing this dog trainer Misty is! My son's dog is like a new dog! She is so obedient, well trained, calm , happy, and was so well taken care of during her training! Misty is the best!!!!! She has helped both my son and his dog more then anyone since my son got his dog. Misty knows exactly what to do with not only the dog but has taught my son invaluable lessons . I recommend Tip Top K9 and mist important, Misty!

Mary Wessels
17:58 28 May 22
Tip Top K9 was awesome with my dog Kane. They're knowledgeable dog trainers who really care about your dog and helping them become better. Highly recommend!

Erica Colasanti
00:13 27 May 22
Tip top k9 exceeded our expectations! Our dog, Kai came home so happy and very well trained. His trainer Misty spent 2 hours with us on drop off to make sure we were comfortable with our part. They truly cared for him and made sure he was happy! Misty is a rockstar!I 10/10 recommend the Advance Bootcamp and Tip Top K9!

Ashley Brown
09:58 24 May 22
Money well spent. Wow. We just picked up our dog today after several weeks of what we can tell was Intense training (filled with tons of love and care for pups) and boy are we impressed. Our dog, a female German shepherd, while extremely smart is also very stubborn.Tip Top worked their magic , without ANY negative reinforcement, and gave us our dog back so well behaved and all of her loving, playful personality fully intact.Check out their website for more info on exactly what they do, but while it's expensive, it's worth every penny. I highly recommend Tip Top and thank them so much for their hard work.

Ryan "Sketch" G
21:10 13 May 22
This training was well worth it. My dog had some problems arise in her attitude, but our trainer Erica took it head on and taught me how to help my girl. I would recommend this and this specific trainer to anyone who loves their dog and wants to learn how to handle reactive dogs better. Persephone (my dog) and I am grateful.

I brought my very energetic 2 year old labradoodle in for some much needed structure. The extent of his commands were sit and down and he didn't follow those commands very often. The dog I got back was still the happy boy I dropped off, but he's improved in following instructions 😂 I'm very pleased.

Christina Renee'
00:07 09 May 22
Tip tip K9 helped our Pug so much with sit stay and has made him be able to be in public which wasn't an option before. We have a much happier and structured household with Otis thanks to Tip Top K9!

Emma, Kerrigan, and Addison's Imaginary Adventures
20:58 05 May 22
Top notch training! Awesome place with great people. My dog has learned a lot and we're only half way through the program! I would definitely recommend this place.

Bridget McCabe
11:26 05 May 22
Misty & Rafael were the best trainers for our Golden Retrievers Fletcher & Hobbs. They were in the training for a week & came home so well behaved. This is a great thing for our family.. now they walk on a leash perfectly. Thanks so much. Tracey Sasson

Tracey Sasson
18:36 02 May 22
Best training for my dog Bruester; hands down! 10/10 would recommend. An unruly puppy turned in to a GREAT boy! We might have missed him while he was away at boot camp, but it was well worth it. Before boot camp he wouldn't walk, hardly ever would come when called; now he listens better than I could've imagined. The employees here are all so friendly and have the best interest of the family and the dog in mind. Weekly updates with pictures included to keep your mind at ease while your pup is in their care, about the best training service I could have asked for!

Tara Smith
21:58 01 May 22
Erica was very helpful and helped educate us on how to help control my dog. She helped transform him in such a short time, forever thankful for her help and excited to move on to group class! Milo loved Erica!

britni hairfield
13:47 30 Apr 22
This was the best training for my goldendoodle. I worked with Erica and she was amazing! She was so clear with her training and I knew exactly what I needed to do with my dog at home. Bear graduated today and now I cant wait to attend their group classes. Highly recommend!

Shirley Primiero
22:56 29 Apr 22
My granddaughters dog went through a bootcamp here and he has such good manners now! He used to jump on me all the time now he sits down nicely and allows me to walk in the door. I strongly recommend Tip Top K9 to anyone struggling with general obedience and wanting their dog to have better house manners.

Sandra Verschaeve
00:36 29 Apr 22
The trainers at Tip Top K9 care about you and your dog ! They are super knowledgeable and help you meet your goals with your dog. I highly recommend them.

Melanie Jacobs
02:11 28 Apr 22
Erica is a great trainer. Knows exactly what she's doing! The staff is wonderful. Highly recommend

We went though the training classes and have had great success. The trainers have been friendly, very helpful and really help with all our questions. The payment part has been easy. I would highly recommend Tip Top K9. It was worth every penny

Lisa Kowalczewski
23:27 26 Apr 22
Well worth the time and money! The trainers are great and very knowledgeable. Highly recommend!

Eric Kowalczewski
23:23 26 Apr 22
Such a great company, and Erica is the best! My dog loves her and so do I, highly recommend to anyone interested in training

Jack Wittwer
21:26 26 Apr 22
Highly recommend. They did a good job training us on how to train our dogs.

Macy Hendrickson
19:53 26 Apr 22
We had our dog do the one week household manners boot camp. He needed help learning how to not jump on guests in our home and to learn skills to help him be able to be off leash eventually. We are very happy with the skills he's learned so far. We plan on attending the group classes and look forward to seeing how he improves.

Rachel Abar
20:08 24 Apr 22
Couldn't be happier with the results for our husky pup. The trainers kept us informed and took great care of our dog while he was there training. Highly recommend!

Michele Little
14:08 23 Apr 22
Erika was amazing in teaching Louie certain commands and helping my husband and I learn the steps! The group classes are great in helping Louie socialize.

Mary Gasior
19:55 21 Apr 22
I have known misty for a couple years and I know she loves her job and what she does. She's amazing with Animals and I will bring my future animals to her for training.

kyler laframboise
01:42 16 Apr 22
I know Misty and she loves her job but most importantly she loves animals. She loves to work with them and train them. Misty works so well with animals my dog Apollo (who doesn't like anyone at all) will go up to her with out hesitation. I am considering getting another puppy and bring the puppy to her to train. LOVE LOVE LOVE this girl and how dogs respond to her should show how large her heart is. Definitely a great place to take your animals if all employees her are like Misty.

Kai Laframboise
01:37 16 Apr 22
My girlfriend works there they treat her like family and she loves her job and the trainers there work really hard

Raymond Brown
00:15 16 Apr 22
My dog is perfect now! Thanks for all the hard work everyone at tip top!

Emily LaBrash
20:51 15 Apr 22
We found them through pet suites retreat. Great training program for even our most anxious dog! Highly recommend

Lindsay Stoddard
20:28 13 Apr 22
Brought our mini golden doodle Dorothy here for some house training and they did an excellent job! Highly recommend!!

Lukas Sundeck
21:16 11 Apr 22
Dorothy did so well! They took such good care of here, especially with how anxious she was in the beginning. Now she stays, sits, and places like a pro! Definitely recommend!

Claire Grawburg
21:14 11 Apr 22
They did a great job training our dog and he loved it too!

Alex Zohoury
21:08 07 Apr 22
We took our Puppy Bullet here. He is a Belgian Malinois. He came home a brand new dog! Very proud of his progress at boot camp. Would recommend to anyone needing that little extra assistance to strengthen behavior, knowledge, and well rounded confidence.

Angela Hill
20:05 30 Mar 22
Our Troy Dog Training Clients Get Real Results!
Our Troy dog training team loves to help people all over the great state of Michigan with their dog!    We serve dog training needs all over Troy, Birmingham, and Sterling Heights area.  
Our Troy dog training team loves to help people all over the great state of Michigan with their dog!    We serve dog training needs all over Troy, Birmingham, and Sterling Heights area.  
We specialize in aggressive and hard dogs that other trainers like the shy away from!  Helping people enjoy their dog is what we do and the harder the dog the more satisfaction we get out of doing our job!  The most common obedience issues we help our clients with are behavioral problems such as jumping on people, excessive barking, licking, digging, leash pulling and running away!  If this sounds like your dog maybe you should schedule a $1.00 first lesson with our Troy dog training team today!
Our Troy location does a mix or private in-home lessons as well as board and train programs where you pup lives with a trainer for 2-4 weeks and comes back a different dog!  Our board and trains are where your pup lives with and trains with one of our team members for 3-4 hours a day and we do all your homework and then we come back and train your whole family!  Most dog trainers in Michigan offer a board and train program but they are not all the same! Call us today at 833-484-7867 and let us show you what makes our Troy team different!
Hear from some Troy dog training clients:
"Tip Top K9 has helped my English Bulldog with obedience training."
"Tip Top K9 has Provided A Good Behavior Foundation For Our Husky."
"Tip Top K9 has help with training our German Shepard with the training camp program."
Some of our recent Troy and Birmingham dog training success stories: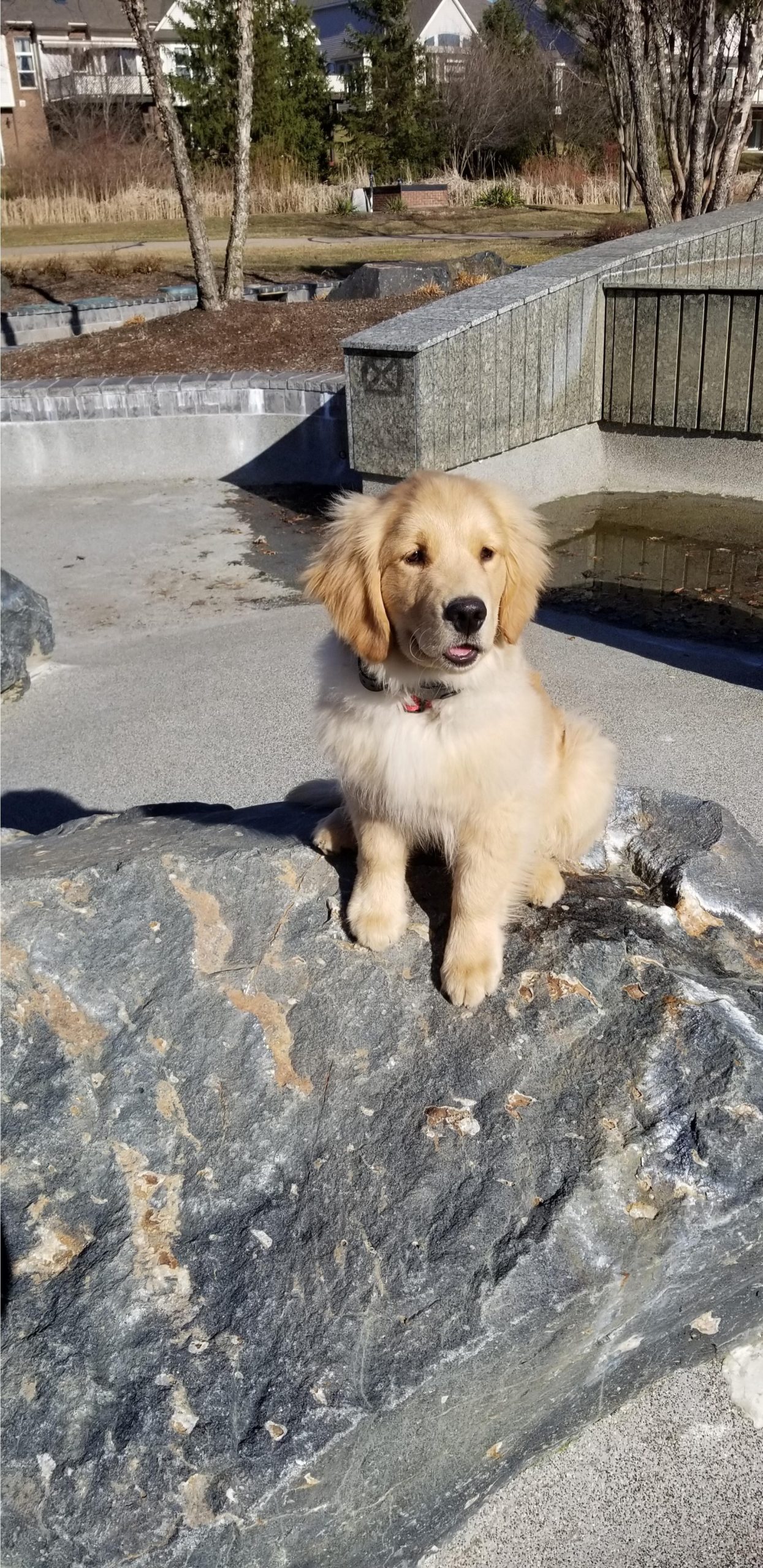 Maverick - Golden Retriever
Maverick was so excited to find his forever home with a very nice family in Troy, Michigan when he was 4 months old! However, like all puppies, he needed a little bit of direction and a quick search for a Troy dog training professional brought Joanna and her family to our website!  Maverick  was chewing things and jumping on people as well as not letting the family know when he needed to go potty but having multiple accidents a day. We addressed all of these things during our board and train program.
Maverick's family decided to invest in our 4 week Boot Camp. Their goal was to have the best dog and that is definitely what they got! Maverick is now able to heel during a walk, come every time he is called, and goes to the back door when he needs to go potty. The family is super happy with the results and looks forward to maintaining Maverick's training through attending our group dog training classes in Troy.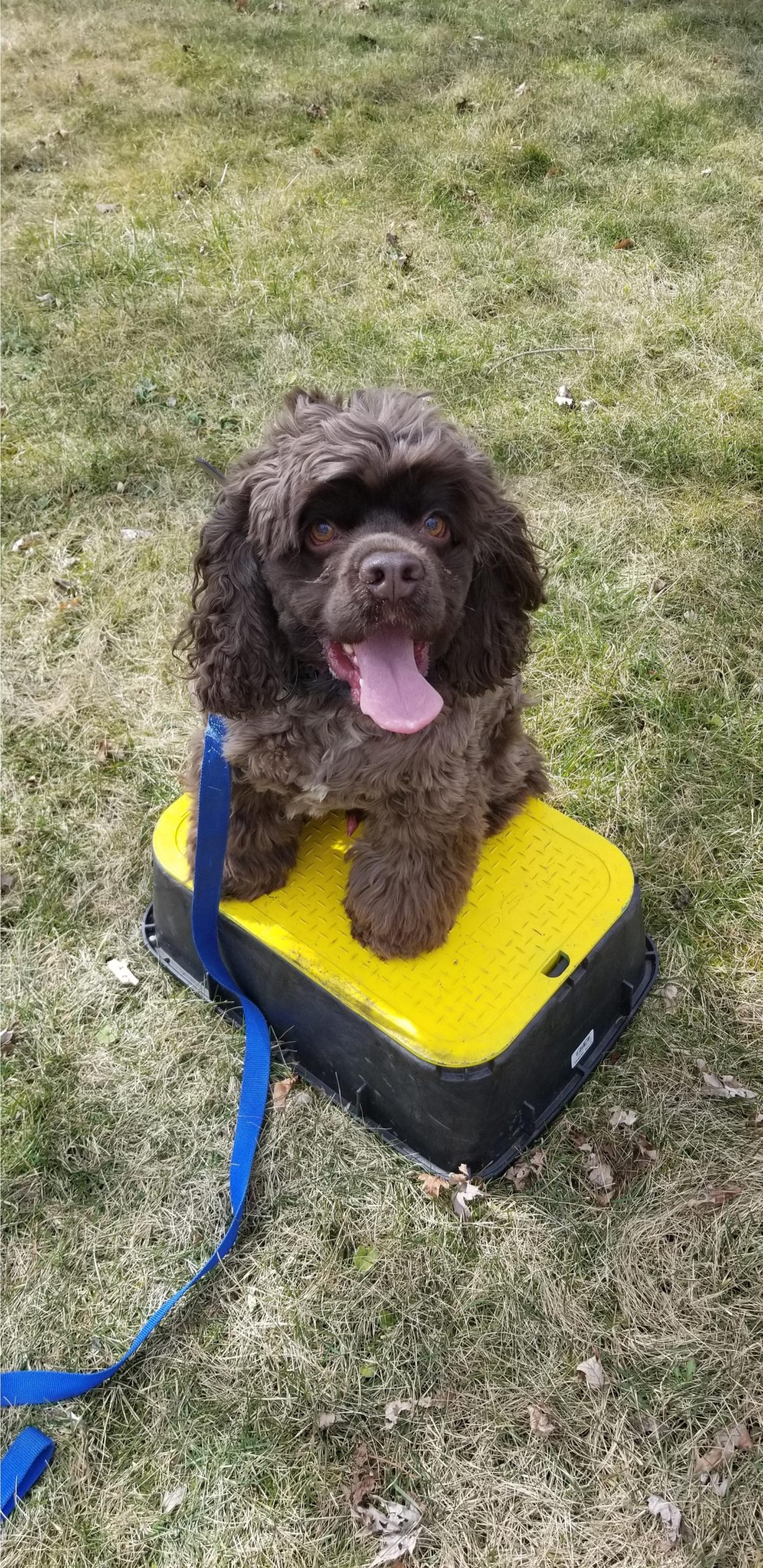 Buckeye - Cocker Spaniel
Buckeye was a very anxious 2 year old cocker spaniel when we started training. His owner Gary was concerned about his his anxiety as well as growling and started looking for a Michigan dog training company to do some basic obedience training with.  They decided to enroll Buckeye in our 3 week Boot Camp where the pup comes and stays with our team until fully trained! 
Throughout the board and training program, our dog trainers worked on getting Buckeye to understand how to handle his anxiety as well as how to behave and now his obedience is much, much better! He can now go on walks with the owner and the growling is now under control. He is still the same love able dog but now he obeys and his owner has confidence that Buckeye is going to listen to his obedience commands.  Buckeye will need some continued reinforcement with his dog training skills but he is well on his way to being a model citizen!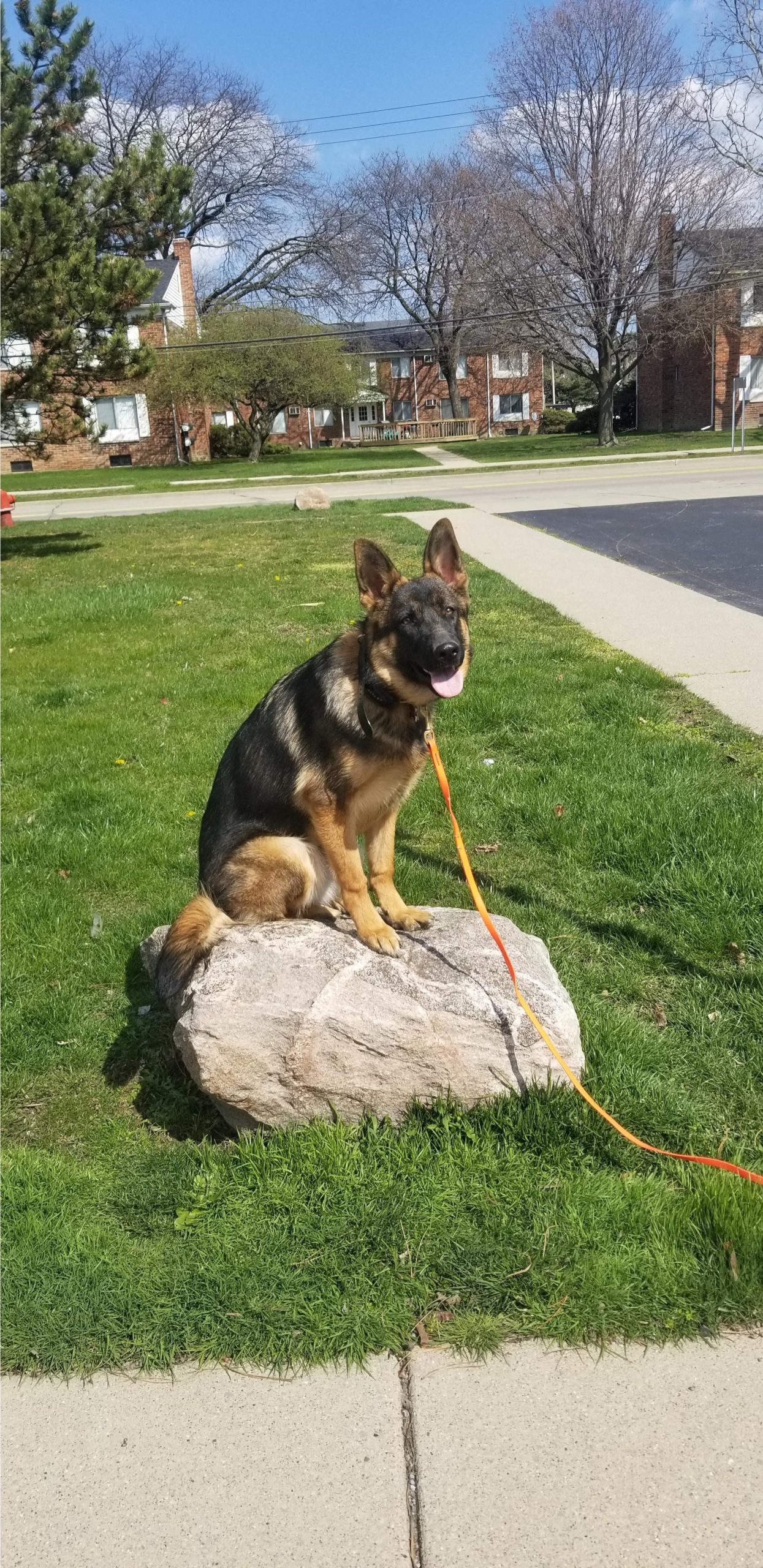 Harlee - German Shepherd
Harlee came to us as a super sweet but super hyper girl!  We met Harlee's owners at the home show and they told us they had been looking for a Troy dog training company to help them with their wild pup.  Her owner Crystle wanted to take her on walks but Harlee would never stay calm and walk with her but really enjoyed dragging her down the street. There was a lot of pulling on the leash. Their family, like alot of our Troy dog training clients decided to do a Boot Camp with us. 
We were able to keep Harlee's personality fun and excited while working her hours a day and gaining control. She is now able to go on walks with no pulling and is able to run around off leash as she comes when called. This loveable girl now knows how to have fun and be safe so her family can enjoy spending time with her.
Talk With a Trainer Today!
Having Trouble Training Your Aggressive Dogs?
Are you in search of the best place to find Troy Michigan dog training for an aggressive dog? If so, then all you have to do is visit Tip Top K9 to see how one of the wonderful trainers can help fix your dog's attitude and make them a more caring animal. All while also giving you the knowledge of how to keep your dog from acting out in public. We understand that sometimes it may be tough to get control of your dog in a crowded area. That is why we are dedicated to giving you the tools you need to make sure you always have the upper hand with them.
See What Troy Michigan dog training Methods From Us Can Do 
If you or someone you know is currently needing help to train your dog and are unsure of what will be the best course of action, then you need to go online and read the reviews for Tip Top K9! We are proud to report that you can easily go and see what our actual customers are saying about us, you can visit www.tiptopk9.com or read our google reviews to see why we are the highest-rated and most reviewed Troy Michigan Dog Training company. Just call 1-833-484-7867 to book your first lesson with us for only $1 today.
Which Tip Top K9 Location Is Nearest You?
Do you need help finding a Tip Top K9 location that is local to you? Whether you moved recently and just got a new puppy, or possibly you just heard about us from a friend. Either way, you know that you would like to train your dog at Tip Top K9. Luckily for you, it has never been easier to find a convenient location for your dog training lessons, classes, boot camps or even day camps we have to choose from! You can go online to see all of our locations and more information about everything that is included when you book your first dog training lesson or call us at 1-833-484-7867 to get started!
What Services Can Tip Top K9 Provide?
If you are interested in finding out what Tip Top K9 can do for your dog, you will be pleased to see that we are offering a variety of services:
Aggressive Dog Training

Dog Training

Puppy Training

Potty Training 

Group Class
These services are offered at most of our locations. If you call Tip Top K9 at 1-833-484-7867, you will see that most of our locations will be offering additional services! You can find out more by coming into one of our locations, or by calling Tip Top K9 for even more information on what each location can bring to the table to help you get the most from your new dog training lessons!.
Why Should You Choose Tip Top K9 for Your Troy Michigan dog training?
If you are in the market for Troy Michigan Dog Training, then you have probably heard about Tip Top K9 already! That is because Tip Top K9 is the highest-rated and most reviewed dog training company in Troy, Michigan! If you go online today you will clearly see that we are a step above the rest of the other service providers in the area. If you don't believe us, you can always take a look for yourself! Here at Tip Top K9 we also pride ourselves on our good dog guarantee, meaning if you don't see the results you get your money back! 
What Can Tip Top K9 Do Differently?
Here at Tip Top K9 we are dedicated to making sure you and your dog never have to go through the crazy hoops of dog training's past. By implementing our proven dog training systems, you will see that we can provide you with all of the tools you will need in order to make your dog behave better. When you sign up today, you will learn that your first lesson is only $1, because we are positive you will want to come back with all the pups you can find! Tip Top K9 always makes sure that you are getting the results you signed up for and nothing less! 
How Can Tip Top K9 Train My Anxious Dog?
Does your dog get very anxious around other dogs, big crowds, or maybe even car rides? If so, then we would like for you to know Tip Top K9 is ready to tackle any kind of challenge that comes our way! We have worked with all kinds of dogs in the past and are very well versed when it comes to dealing with a dog that has some easy to trigger nerves. You can call Tip Top K9 at 1-833-484-7867 to see how we can help you book your first Troy Michigan Dog Training lesson with us and hopefully give you some tricks to calm your pet! We are here for you and your pets and we understand that some dogs may get stressed out before other dogs and will provide a patient environment for your pup to learn in.
What Can We Do For Your Puppy?
If you have recently adopted a new forever friend into your home, then we know it may be a bit rough at the beginning to train your new puppy. That is why Tip Top K9 is here to help! We have a proven, results-based plan that works with most dogs, not to be scared, our amazing trainers are quick to respond to each dog's different learning styles as well as adapting to their unique abilities! You can call us now to schedule your first dog training lesson for only $1 to see why we are so well known for Troy Michigan Dog Training!
What Is Tip Top K9's No-Brainer Offer?
Here at Tip Top K9 we are proud to inform you your first dog training lesson with us will only cost you $1. That's right, just 4 quarters, 10 dimes, 20 nickels, or 100 pennies! We can do this because when you experience your first dog training lesson, you will want to continue with the amazing program to get the good dog results guaranteed! You can schedule your first lesson by going online today and choosing the location that is closest to you or by calling 1-833-484-7867! You will not regret your decision, as you will be receiving the Troy Michigan Dog Training at a great price!