Rob the head trainer has been doing this for over 10 years and it really shows. You will have a good dog after this training! A+

Mark Daniels
15:51 03 Aug 20
Robert is a very caring for the dogs as well as a great trainer! You will be 100% satisfied with the results of this program!

We could not be more thrilled with the training provided by Tip Top! Our pit bull puppy went from being a little terror to a well behaved peanut! I would highly recommend this company for the training of your fur baby!

Amanda Petz
14:39 03 Aug 20
What an awesome dog trainer. If anyone needs help with a disobedient dog Robert's the guy. He does wonders. I call him the dog whisperer. Lol. Thanks Robert for all you've done for our dogs.

Kristy Clark
23:23 29 Jul 20
I was lucky enough to catch a demonstration this couple was doing with a young pup. Very impressive; the dog they had with them was so well trained it never left the platform. They obviously know what they are doing and the dog was well taken care of.

Lynn Johnson
16:37 14 Jul 20
I watched a demonstration of them with a 9 month black lab. The lab was highly obedient to msny commands. This couple was friendly! I would highly recommend!

Angela Tolly
00:10 13 Jul 20
We met the new owners of TipTop K9/Novi and they very graciously gave us a demonstration with their very sweet Labrador puppy. I was very impressed how well she followed commands, especially how she was able to stay focused with all the people (and ice cream) close by.

We had a great experience working with Tip Top Training for our 2 dogs. We have a 5 year old and a new puppy. The trainers were wonderful! Our dogs listen to us now and the commands used are very helpful. We're able to have people come to our house without the dogs rushing the doors and barking. They are much better listeners and it's so nice to have people compliment our dogs behavior now.

Jaime Miller
14:11 10 Jul 20
My year and a half old pitbull did the boot camp package with the trainer Robert. My dog went into training needing sooo much work, especially with dog aggression. He came home to me a completely different dog. I am able to walk him and take him in public and not have cujo on my hands. The trainer was great, he kept me informed week to week about my dogs progress. Also, my dog had a skin reaction while at Boot Camp and he went above and beyond to give my dog all the care and tlc he needed. I am above and beyond happy with my experience with Robert the trainer and Tip Top K9.

Carla Nicholas
01:06 29 May 20
Thanks Rob for training my 19 weeks old Golden Retriever. You and team have done an amazing job. Oliver listens to commands and well mannered, perfect during walk. Appreciate all the hard work. You guys deserve five star. Will recommend to my family and friends. God Bless You all!

Lakshmi Narayanan
02:33 20 May 20
We signed up for a bootcamp for our puppy and we are super impressed with Rob and TipTop. Our dog did not listen to us at all and was very nippy. She was wild and would rarely be in a calm and enjoyable state. Rob worked with her until she finally submitted. She was one of the more difficult dogs to train according to Rob but he did it. She is a border collie/collie big who is quite alpha. She was stressing our family out over whether or not she would ever calm down. Rob helped us incorporate her into our family and I highly recommend tip top! Thanks;) 😍🌷🌈🐶

Alexis Simpson
16:25 18 May 20
Robert was amazing with training our German Shepherd puppy. She was very excitable and loved to jump, chew and pull me off my feet during a walk. He has corrected all of these with love and compassion. We have so much more fun with her now while she listens to commands, even during distractions. Thanks Robert!!

Crystle Karasienski
22:26 24 Apr 20
My dog is excellent since being with rob at tip-top k9 the training is showing I am happy with my dog's progress. I plan to recommend tip-top k9 to my coworkers

tory Simpson
18:01 02 Apr 20
My 16 week old Golden Retriever Maverick spent a little over 5 weeks with Rob. Their training is absolutely incredible. Maverick is SO well behaved!!! Their use of e-collars is amazing! They kept me updated consistently on his progress with a report card and pics EVERY week!!! Absolutely worth EVERY penny!!! Thank you Rob!!! We love you!!!

Joanna Spatz-Little
17:12 31 Mar 20
We have an English bulldog who has a mind of his own. We were asked to leave doggy daycare until he had obedience training.We did the board and train program with tip top k9. It was amazing! Rob did a wonderful job. Mongo is a completely different dog in regards to obedience. He listens and now walks without pulling. We even got a compliment on our first walk at how well trained he is.I highly recommend tip top k9 for training! The training has changed our lives for the better.

Tip Top K9 is all around awesome! They were super responsive from the start and answered any and all questions that we had. The staff is super kind and made us feel very comfortable. Our pup, Henry, just came home today and the difference is remarkable! I am so thankful we sent him to Tip Top K9.

Nicole Bastianelli
23:54 10 Feb 20
My dog just completed boot camp through Tip Top and I must say the whole experience has been great. The trainer came to our house, explained everything on how it was going to go down. Spent a lot of time with us and was very thorough from the consultation. He has offered to help in every way possible with all of our concerns. He spent hours with us to insure we know how to maintain the training and understand what we need to do to ensure we have total control of our dog. The quality of service provided definitely deserves the 5 stars that I give. Thank you to tip top for the exceptional work invested and a special thanks to Robert who was our trainer for all your patience and hard work as we are amazed at how good our dog now listens.

Donald Adams
20:55 09 Feb 20
We used Tip Top K9 to help address issues we had with our Great Dane Opi. He came back home today and the results are amazing! He is responsive to commands and such a joy to work with! Going on walks are going to be so much more enjoyable! Robert was very knowledgeable in all the questions and concerns that I had for him and even offered to come and help me with taking my dog out in public. They really go above and beyond to make you feel comfortable. You can tell they really care about your dog and reaching your goals of training. I would highly recommend them to anyone! Thanks so much Tip Top K9!

Christy Adams
20:54 09 Feb 20
My dog trainer was great in explaining everything and on time with what i need for the dog..... Top K9 is Great

Ronnie Foster
17:21 05 Feb 20
Robert & April did a great job!

Anna Logan Napoli
01:13 05 Feb 20
Great staff and trainers!

Adam Pinkerton
21:42 16 Nov 19
Robert and April are amazing! The results from their boot camp training showed a night and day difference in Beatrice. The weekly updates not only gave peace of mind but a progress report of how well she was doing. Beatrice has become much more obedient and she's still the same sweetheart who loves her toys and cuddles! Thank you so much!!!!

Lukas Lazar
21:52 15 Nov 19
Very professional, very knowledgeable, I highly recommend Tip Top and their ability to train and care for your dog.

Colleen Clarke
23:19 26 Jul 19
Incredible staff, very professional and it definitely shows that they care for the animals and treat them well. I would recommend Tip Top K9's services over all others to anyone, any day, period. Thanks for all your incredible work. Definitely a life changer.

Rob is a true dog whisperer! During each lesson, he trained our year old 91 lb black lab pup a new command. I still can't get over how quickly Jack learned. And let's face it, a lot of the training was teaching us what to do so we could build on Rob's foundation to continue to make Jack more fabulous. We can't walk Jack without getting multiple compliments! Thank you Rob!

michelle Wormington
16:33 02 Jun 19
Our dog suffered from anxiety after being abandoned and finding his way to us. Although he was naturally very smart and sweet, he was difficult to work with, and it was always hard getting someone to watch him if we were out of town. It was frustrating to say the least - always feeling like we didn't have control and that he wasn't being the best he could be. We decided to reach out to TipTop K9 and ultimately ended up doing private lessons at home, which over the course of 7 lessons has resulted in some pretty amazing progress already. After each lesson we are taught different instructions and through those have been able to get our dog headed in the right direction. He gets better every day, and it is so rewarding to see him become happier and more disciplined. We were honestly afraid we would have to give him up because of how disobedient he was with us and guests- and now we have a happier, healthier, more obedient dog.Tip Top K9 is highly recommended. They treated our dog for his individual needs, and gave us the tools to continue to help him grow. We honestly can't explain how happy we are, and how great of an investment this is. I wouldn't recommend anyone else to take help train your dogs after working with them. It's the best investment I've ever made with one of my pets. If you are interested in using them - do it.

David Butts
00:26 20 Apr 19
We live in the country on acreage and have 2 dogs that each had their own issues. Hank was a stray that adopted us and his favorite pastime was chasing the UPS and Fed Ex trucks that came on our property. After 3 lessons with Rob, Hank will literally lay on the patio and watch the trucks go by without moving. Sophie is a stubborn little Yorkie-Poo and was a "runner" any time she got out of the house without her leash. After her first lesson I told Rob she would never get off the leash. Rob encouraged us to be patient but consistent with her training and she would come around. I'm very happy to say Sophie has been outside, off her leash and not run away for weeks now. Even when she's got the freedom to run, she comes immediately when called and remains in her "place" until released. I never thought that was a possibility! And it wouldn't have been without Rob and Tip Top K9! I can't thank Rob enough or recommend him more highly.

Sally Bene
17:09 11 Apr 19
Great experience! Rob really took the time to explain everything and I was worried because our dog needed a lot of help. We have seen tremendous changes and I would recommend him to anyone!! We look forward to the group lessons!

Melanie Meador
22:09 09 Apr 19
Before Tip Top and Rob my 4 month Malinois was uncontrollable, and he was wrecking my marriage. He would not stop vicious barking and lunging when someone would visit.Before Rob there was no social life and I was unable to enjoy my dog due to total lack of control.Now that Rob has trained me,the wife and my Malinois, life with this dog and my marriage has been saved.No more embarrassing visits and I can actually haveA nice calm and under controlled dog that is a pleasure to have.

Terrel DoRemus
22:29 02 Apr 19
I turned to Tip Top K9 after I adopted a Staffie puppy and she developed dog aggression towards my other female dog. They were absolutely wonderful to work with and helped us get both girls to the point where we can manage any aggression issues. And as a bonus we can even let our cats come out of their room and be a part of family again, which had previously been impossible without endless chasing. Absolutely incredible training! I'm also a veterinarian and will be recommending them to any client who has any behavioral concerns!

Morgan Mcdavid
22:19 22 Mar 19
Tiptop dog training are absolutely wonderful. I rescued a golden retriever who is 18 months old who had nothing done with him. He was a wild man he ran through the house knock things over grab things he tore up things he was a mess. In six lessons tiptop took him from those bad behaviors to excellent behaviors. He's so good I can have him outside without a leash and he comes when I call and sits at my feet. There can be other dogs out there can be cars going by, nothing distract him from where he needs to be doing. He's a very frisky boy and I never thought it would sit still but he will sit in a place for 30 minutes without moving and I can leave the room. A friend of mine referred me and I would say any dog could benefit from a few lessons. And the best part is I can take him back to a group class anytime I want to keep him in top training shape. Tip Top far Exceeded my expectations.

Ann Phillips
17:57 22 Mar 19
Robert is great to work! He has helped my Pitt Moses become a well behaved dog through his training. Moses now comes when called and obeys when told off. I would reccomend Rob to everyone out there.

We have a rescue dog and wanted to travel with her on RV trips; we knew in order to do that we needed to train her. We met with Ryan, he was very knowledgeable and helpful. My wife was skeptical about the e-collar system, but after a few days we decided to give this system a try. We worked with Bethany first, she was great! Due to scheduling issues Robert took over training, we love him! Our dog knew basic commands but was hit and miss on obedience. Also, she needed training on how to walk on leash, she was always pulling and tugging, so walks were difficult.Since going to training she now walks right beside us even with all types of distractions. She knows how to place, will come when called, and is a very obedient dog. We are really looking forward to group training to help socialize her even more. I can't say enough good things about Tip Top!!! It is worth every penny that we paid. We will now be able to travel together and hopefully will get to take her with us when we play golf!! Thank you to everyone at Tip Top!!

Larry Oswalt
16:22 14 Mar 19
We have two lovable terriers but after one of them was given a steroid by their vet to heal a cough, she changed and grew aggressive and started attacking our other terrier without provocation. We refused to simply put her down, so we reached out Tip Top K9 and they helped us bring her behavior down from agression and anxiety (along with help from the vet with ant-anxiety meds) and now she's back to normal and even better behaved than before! We learned to make our dogs come to us when called, we get them to be quiet when we don't want them to bark too much and we learned out to make them heel when necessary during walks and how to stay in a place while needed. It saved our family and made our dogs relax to learn this training.

Lauren Smith
15:12 14 Mar 19
I had two very dog aggressive dogs that needed training before moving into an apartment. Rob did an incredible job helping me with this issue. They went from being extremely reactive if they even saw a dog on the other side of the street to sitting and staying in one spot while dogs walked right past them. The more aggressive of the two even let rob's Malinois sit on the same box without even letting out so much as a growl. They walk perfectly on the leash now. They don't try to rush out the door when someone knocks. I couldn't be happier. I have much more trust in my dogs after this training and as a result , a stronger bond with each of them.

Tip Top K9 has been great for my dog Leia. I saw immediate improvement in her behavior after just a few lessons and she is blossoming from a sweet but wild dog to a sweet and under control dog. I highly recommend Tip Top for any dog training needs. Customer service is top notch and I couldn't be happier with Robert and the whole team.

Ryan Boone
19:01 06 Mar 19
Robert's enthusiasm and passion for dogs, truly manifests in his training abilities. In order for your dog to be thoroughly trained, they need to feel comfortable, confident and to trust the trainers intentions. Robert is well rounded in his technique and you won't be disappointed in the outcome!

stacy Iaquinta
16:28 03 Mar 19
Rob was awesome with my Bowser. As he called it, he has a furry thumb. My boxer mix has done a complete 180 in the 3 lessons. I really can't wait to go to group lessons now. I dreaded taking my dog out of the house or even letting him off leash in the back yard. Now he is off leash in the front yard with no issue. I recommend anyone on the fence with dog training... do it!!!

justin warren
03:05 20 Feb 19
Rob is amazing. Highly recommend for dog training. We have two dogs that before just wouldn't listen to commands, pulled hard on leashes and generally didn't get along with other dogs. Within 3 weeks our boys have done a complete 180 and can now start group classes. Not only does he train the dogs, but he shows you how to continue with the training. There is a lot of at home training, or homework, but if you do the work the results are amazing.

Whitney Warren
03:03 20 Feb 19
If I could give them a 10-star rating, I would do so without hesitation! We have a 7-month old toy poodle, which gets treated like royalty. He's the first pet that I've been able to have because, typically, I have an extreme allergic reaction immediately upon contact, so he's my baby, and I'm very protective of him. When he joined the family, we noticed that he's very stubborn and mischievous, and so we decided to enroll him into a dog training program with Tip Top K9 due to their highest rating in town. Rob was our trainer, and he treated Teddy as if he was his own. Our pup has grown so attached to him that he'd sense him the moment Rob would pull into our driveway and take off running to meet him by the door! To say that Rob has done wonders with Teddy would be an understatement! During our training sessions with Rob, we realized just how highly intelligent our pup is and that his stubbornness was the real issue. We noticed a huge difference in him just after one lesson, and by the time we were done with our 6th lesson, he was able to respond to "Come," "Place," "Sit," and "Off." He used to hate going on walks and fought the leash every time. Now, he LOVES going on walks and exercises the perfect "Heel" command every time! Also, Rob has armed us with such a wealth of information that we'll now be able to continue training him on other commands and teach him tricks! He's already doing a "High Five," and we know that this is just the beginning. If you are looking for a dog trainer you can trust that will treat your dog only with kindness and support him/her every step of the way, look no further. Coming from an overly-protective dog mom, Rob is your guy. He's the best dog trainer and an overall wonderful person!

Viktoriya Goldrich
20:53 19 Feb 19
We had a fantastic experience with Rob! We were worried that we were going to have to get rid of one of our dogs because she kept fighting with the other one. Rob came into our home and helped us work out what needed to be done to fix the situation. The dogs now get along great and if either dog begins to get testy with the other, we can confidently break up with situation by calling either dog to us. He was great with both of our dogs!

Hanna Taylor
14:07 11 Feb 19
Rob was an excellent trainer to our two dogs and coach for me and my wife. We were having trouble with a new addition to the family not listening. She wouldn't come inside with the other dog, would hog the toys, and caused a couple fights due to her need for affection and attention. After the first couple days of training, we saw a night and day improvement. We aren't the best parents as far as doing the homework assigned, but we feel we got our money's worth! Both dogs come every time we call them. If you want them to come in from outside, there's no hesitation from either dog. We are able to place them when our 14 month old son is eating so they don't hover begging for food. We can even play with toys with one while the other is placed. There has been a marked improvement from both dogs and we can't thank Rob enough for the knowledge he passed on for us to continue training and developing their skills. Thanks, Rob.

My experience with Tip Top training has been fantastic. I am pleasantly surprised at how quickly my dog was able to improve with "Come", "Place", and "Heel". My dog is a five year old Pit mix female and she was pretty well behaved before, but with the first three lessons she has improved on her ability to pay attention to my commands. I would never have believed she could improve so much in such a short period of time. She has a ways to go, but she definitely has a good foundation. Our trainer was patient, informative, and completely professional. I am looking forward to the group lessons and building on what we've learned so far.

Charla Doerr
20:44 03 Feb 19
Our Troy Dog Training Clients Get Real Results!
Our Troy dog training team loves to help people all over the great state of Michigan with their dog!    We serve dog training needs all over Troy, Birmingham, and Sterling Heights area.  
Our Troy dog training team loves to help people all over the great state of Michigan with their dog!    We serve dog training needs all over Troy, Birmingham, and Sterling Heights area.  
We specialize in aggressive and hard dogs that other trainers like the shy away from!  Helping people enjoy their dog is what we do and the harder the dog the more satisfaction we get out of doing our job!  The most common obedience issues we help our clients with are behavioral problems such as jumping on people, excessive barking, licking, digging, leash pulling and running away!  If this sounds like your dog maybe you should schedule a $1.00 first lesson with our Troy dog training team today!
Our Troy location does a mix or private in-home lessons as well as board and train programs where you pup lives with a trainer for 2-4 weeks and comes back a different dog!  Our board and trains are where your pup lives with and trains with one of our team members for 3-4 hours a day and we do all your homework and then we come back and train your whole family!  Most dog trainers in Michigan offer a board and train program but they are not all the same! Call us today at 833-484-7867 and let us show you what makes our Troy team different!
Hear from some Troy dog training clients:
"Tip Top K9 has helped me soooo much get better control over my husky."
"Tip Top K9 has helped me soooo much get better control over my husky."
"Tip Top K9 has helped me soooo much get better control over my husky."
"Tip Top K9 has helped me soooo much get better control over my husky."
"Tip Top K9 has helped me soooo much get better control over my husky."
Some of our recent Troy and Birmingham dog training success stories: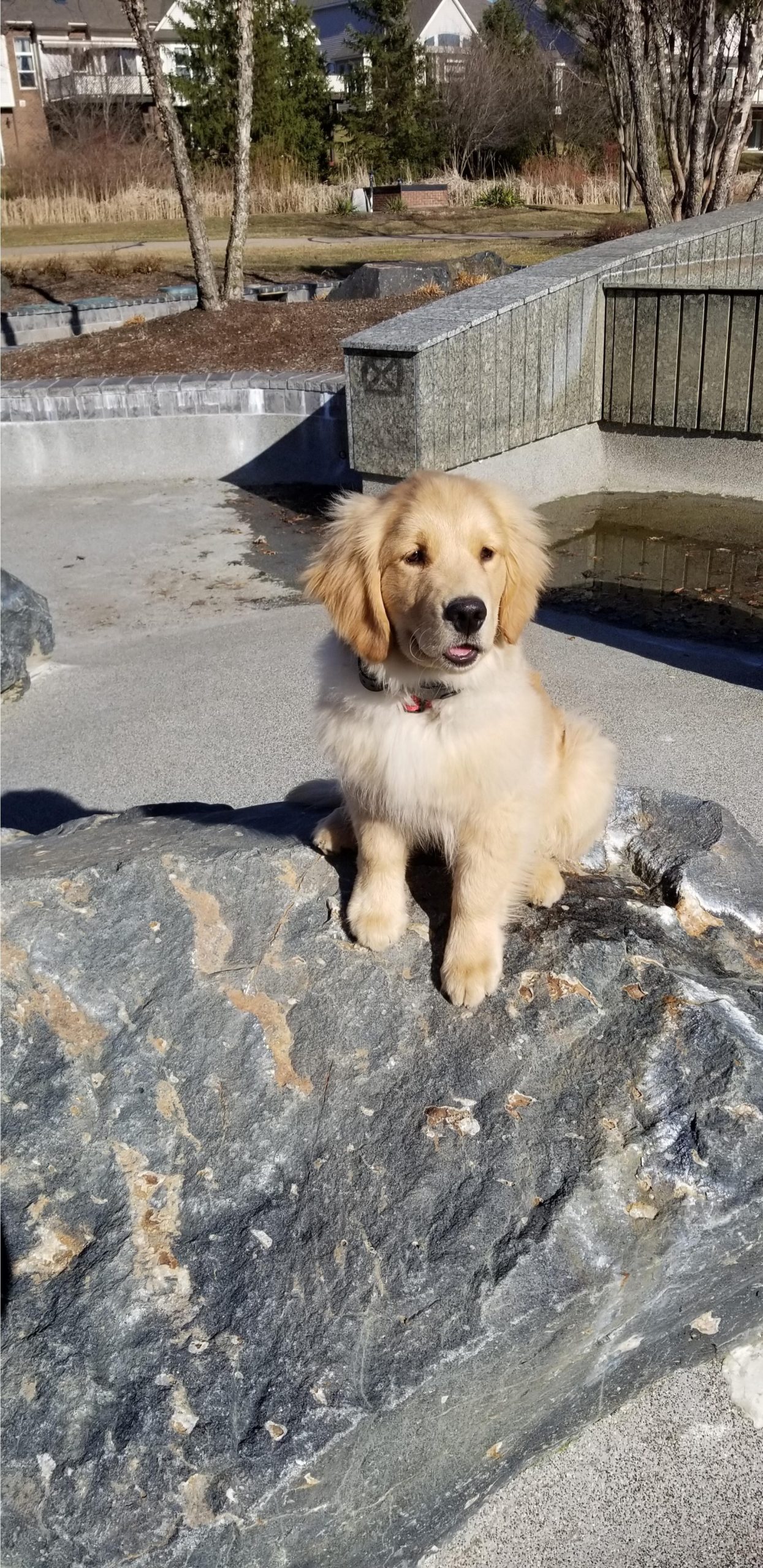 Maverick - Golden Retriever
Maverick was so excited to find his forever home with a very nice family in Troy, Michigan when he was 4 months old! However, like all puppies, he needed a little bit of direction and a quick search for a Troy dog training professional brought Joanna and her family to our website!  Maverick  was chewing things and jumping on people as well as not letting the family know when he needed to go potty but having multiple accidents a day. We addressed all of these things during our board and train program.
Maverick's family decided to invest in our 4 week Boot Camp. Their goal was to have the best dog and that is definitely what they got! Maverick is now able to heel during a walk, come every time he is called, and goes to the back door when he needs to go potty. The family is super happy with the results and looks forward to maintaining Maverick's training through attending our group dog training classes in Troy.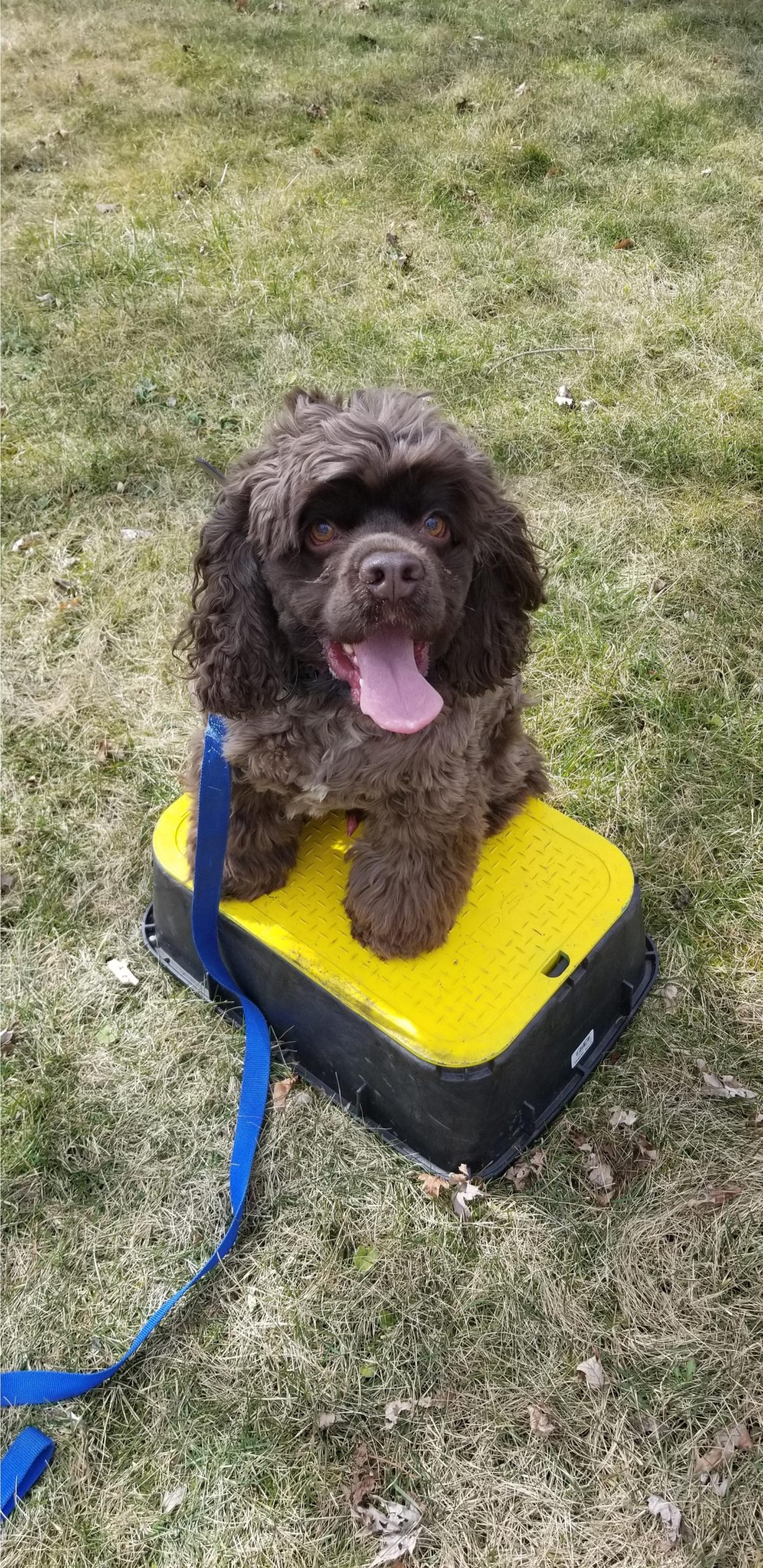 Buckeye - Cocker Spaniel
Buckeye was a very anxious 2 year old cocker spaniel when we started training. His owner Gary was concerned about his his anxiety as well as growling and started looking for a Michigan dog training company to do some basic obedience training with.  They decided to enroll Buckeye in our 3 week Boot Camp where the pup comes and stays with our team until fully trained! 
Throughout the board and training program, our dog trainers worked on getting Buckeye to understand how to handle his anxiety as well as how to behave and now his obedience is much, much better! He can now go on walks with the owner and the growling is now under control. He is still the same love able dog but now he obeys and his owner has confidence that Buckeye is going to listen to his obedience commands.  Buckeye will need some continued reinforcement with his dog training skills but he is well on his way to being a model citizen!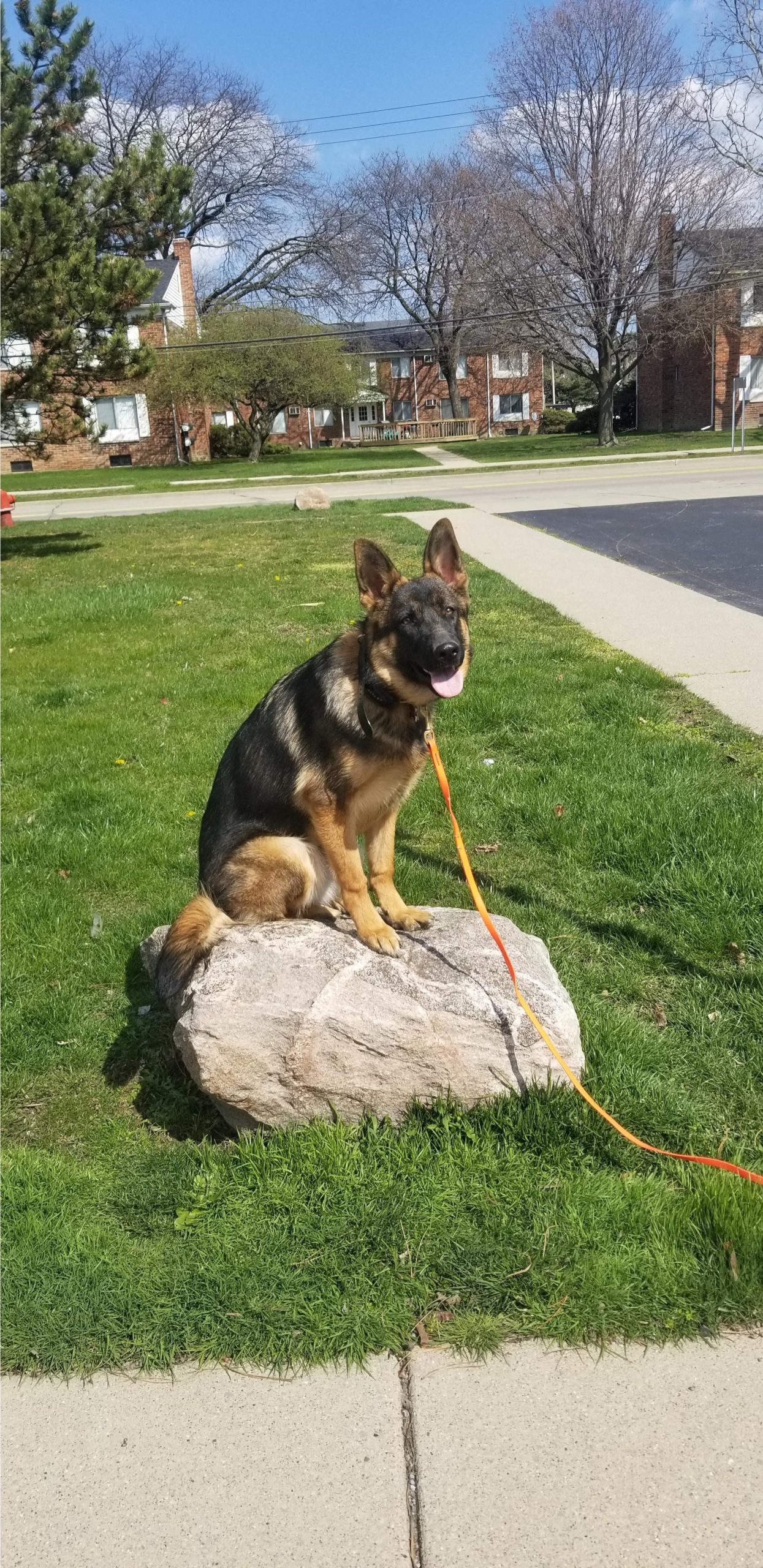 Harlee - German Shepherd
Harlee came to us as a super sweet but super hyper girl!  We met Harlee's owners at the home show and they told us they had been looking for a Troy dog training company to help them with their wild pup.  Her owner Crystle wanted to take her on walks but Harlee would never stay calm and walk with her but really enjoyed dragging her down the street. There was a lot of pulling on the leash. Their family, like alot of our Troy dog training clients decided to do a Boot Camp with us. 
We were able to keep Harlee's personality fun and excited while working her hours a day and gaining control. She is now able to go on walks with no pulling and is able to run around off leash as she comes when called. This loveable girl now knows how to have fun and be safe so her family can enjoy spending time with her.
Talk With a Trainer Today!
Having Trouble Training Your Aggressive Dogs?
Are you in search of the best place to find Troy Michigan dog training for an aggressive dog? If so, then all you have to do is visit Tip Top K9 to see how one of the wonderful trainers can help fix your dog's attitude and make them a more caring animal. All while also giving you the knowledge of how to keep your dog from acting out in public. We understand that sometimes it may be tough to get control of your dog in a crowded area. That is why we are dedicated to giving you the tools you need to make sure you always have the upper hand with them.
See What Troy Michigan dog training Methods From Us Can Do 
If you or someone you know is currently needing help to train your dog and are unsure of what will be the best course of action, then you need to go online and read the reviews for Tip Top K9! We are proud to report that you can easily go and see what our actual customers are saying about us, you can visit www.tiptopk9.com or read our google reviews to see why we are the highest-rated and most reviewed Troy Michigan Dog Training company. Just call 1-833-484-7867 to book your first lesson with us for only $1 today.
Which Tip Top K9 Location Is Nearest You?
Do you need help finding a Tip Top K9 location that is local to you? Whether you moved recently and just got a new puppy, or possibly you just heard about us from a friend. Either way, you know that you would like to train your dog at Tip Top K9. Luckily for you, it has never been easier to find a convenient location for your dog training lessons, classes, boot camps or even day camps we have to choose from! You can go online to see all of our locations and more information about everything that is included when you book your first dog training lesson or call us at 1-833-484-7867 to get started!
What Services Can Tip Top K9 Provide?
If you are interested in finding out what Tip Top K9 can do for your dog, you will be pleased to see that we are offering a variety of services:
Aggressive Dog Training

Dog Training

Puppy Training

Potty Training 

Group Class
These services are offered at most of our locations. If you call Tip Top K9 at 1-833-484-7867, you will see that most of our locations will be offering additional services! You can find out more by coming into one of our locations, or by calling Tip Top K9 for even more information on what each location can bring to the table to help you get the most from your new dog training lessons!.
Why Should You Choose Tip Top K9 for Your Troy Michigan dog training?
If you are in the market for Troy Michigan Dog Training, then you have probably heard about Tip Top K9 already! That is because Tip Top K9 is the highest-rated and most reviewed dog training company in Troy, Michigan! If you go online today you will clearly see that we are a step above the rest of the other service providers in the area. If you don't believe us, you can always take a look for yourself! Here at Tip Top K9 we also pride ourselves on our good dog guarantee, meaning if you don't see the results you get your money back! 
What Can Tip Top K9 Do Differently?
Here at Tip Top K9 we are dedicated to making sure you and your dog never have to go through the crazy hoops of dog training's past. By implementing our proven dog training systems, you will see that we can provide you with all of the tools you will need in order to make your dog behave better. When you sign up today, you will learn that your first lesson is only $1, because we are positive you will want to come back with all the pups you can find! Tip Top K9 always makes sure that you are getting the results you signed up for and nothing less! 
How Can Tip Top K9 Train My Anxious Dog?
Does your dog get very anxious around other dogs, big crowds, or maybe even car rides? If so, then we would like for you to know Tip Top K9 is ready to tackle any kind of challenge that comes our way! We have worked with all kinds of dogs in the past and are very well versed when it comes to dealing with a dog that has some easy to trigger nerves. You can call Tip Top K9 at 1-833-484-7867 to see how we can help you book your first Troy Michigan Dog Training lesson with us and hopefully give you some tricks to calm your pet! We are here for you and your pets and we understand that some dogs may get stressed out before other dogs and will provide a patient environment for your pup to learn in.
What Can We Do For Your Puppy?
If you have recently adopted a new forever friend into your home, then we know it may be a bit rough at the beginning to train your new puppy. That is why Tip Top K9 is here to help! We have a proven, results-based plan that works with most dogs, not to be scared, our amazing trainers are quick to respond to each dog's different learning styles as well as adapting to their unique abilities! You can call us now to schedule your first dog training lesson for only $1 to see why we are so well known for Troy Michigan Dog Training!
What Is Tip Top K9's No-Brainer Offer?
Here at Tip Top K9 we are proud to inform you your first dog training lesson with us will only cost you $1. That's right, just 4 quarters, 10 dimes, 20 nickels, or 100 pennies! We can do this because when you experience your first dog training lesson, you will want to continue with the amazing program to get the good dog results guaranteed! You can schedule your first lesson by going online today and choosing the location that is closest to you or by calling 1-833-484-7867! You will not regret your decision, as you will be receiving the Troy Michigan Dog Training at a great price!