Erika has been amazing! They provide the tools and knowledge needed to properly train your dog. The homework they provide ensures consistency in training for better results. Trust me when I say youtube videos cannot provide the one on one that your dogs need.

Yeti's progress was unbelievable! I am so excited for him, and for me! :) I especially appreciate the TLC the staff gave me during board and train since I missed him so much. Yeti actually seemed pretty sad to leave, but we will be back with our life time group classes!

Alexandra Iyer
19:04 13 Sep 21
Everyone was amazing with my Copper! All the staff I was in contact with were really nice. I'm super happy with everything he learned and Misty was very thorough with teaching me how to use his collar and answered all my questions. The boot camp is pricey, but super worth it in the end. I will be recommending this place to others!

We had an excellent experience with Tip Top K9! We highly recommend them! They did awesome work with our Cooper!

Terri Dornbush
18:09 06 Sep 21
Troy, MI Location: We brought our 8 m/o OES puppy here, and Tip Top did a fantastic job. The trainers kept us updated with report cards and photos of our dog, and let us know of any concerns they had with her progress. They showed a genuine commitment to our dog, and adjusted her training as necessary, even having the owner work one on one with her. She is much less anxious now, and we have noted a dramatic improvement in her everyday behavior. I strongly recommend Tip Top!

We have a 6 month old Siberian Husky that we've had trouble with listening especially around our little kids. We signed up for a week boot camp and we saw a definite improvement with listening. We are very happy, and the trainer was very informative and helpful! Thank you so much!

Tip Top K9 was wonderful !!! Maverick is a 9 month old Aussie who has so much energy and needed some help with the basics ! After 3 weeks we were amazed how great he listens to commands ! It is so refreshing to have no issues at the door with company and eating in peace :). Thank you Tip Top K9!

Susan Bear
22:04 17 Aug 21
Tip top k9 is amazing. I am so happy we brought Nala here for boot camp. The trainers are very friendly and knowledgeable. She learned many different commands like place, sit, and come. She did very well with training for 1 week... I'm excited to see what she does at home and at group class... I recommend tip top k9.

Great trainers! Very informative, professional and friendly! Definitely highly recommended to anyone looking for someone to trust with their pet! Thank you Robert and April! 💖

Abby Weber
12:28 14 Aug 21
We took our 4 year old pitbull for a bootcamp and she seems like a completely different dog. She listens so much better, and no pulling when walking with a leash. Very happy with the results and thankful for the amazing communication and help from the trainers.

Emilee Glaza
18:52 10 Aug 21
Wonderful experience. Jaxx loved the trainers and we are happy with the results.

Julie Scully
15:23 10 Aug 21
Such a kind staff that makes you feel safe about your dog and knowing they're okay and happy, but also being trained. I called multiple times to check up on my puppy to know she was okay and they were more than happy to let me know how she was and she's come back better than ever!!

Grace Seefelt
19:36 04 Aug 21
First and foremost, we love Erica! She has really helped us understand and work with our troubled and aggression-prone husky rescue and helped to bring out in him what we always knew was his natural sweetness. Robert was really professional beginning with our first session and meeting as well. Tip Top is quite expensive and we do hope that our own continued work with our pup will ultimately pay off but we would certainly recommend Tip Top to others and, again, Erica has been so wonderful.

Heather Hill
18:55 04 Aug 21
We were having a difficult time taking our Bloodhound for walks. He was easily distracted and hard to handle. The training at Tip Top has made walking Bleu so easy. He no longer tugs on the leash and my wife feels comfortable taking him by herself. We are very happy with his behavior since he's completed the training.. Thank you Tip Top!

Rob Drexler
22:43 24 Jul 21
This place is amazing! Our dog Zeus wouldn't listen all the time and just did his own thing. After getting him back he is listening!! He is a new dog. I'm so glad we did this so he could have a better life than just getting yelled at. I highly recommend this place. I have done research on other facilities but this one had the best reviews and now I see why. Everyone there is so friendly and knowledgeable! Even after the few week bootcamp they offer help with trainers twice a week!

Katrina Lazarecky
18:33 22 Jul 21
I brought my dog because of barking and not following directions. After we picked up the dog, she was listening to all directions and the barking could be controlled.

Jill Nicholson
17:44 20 Jul 21
Very professional and well knowledgeable. My shiba inu has come a long way with their training and guidance. Definitely recommend if you need your dog trained.

Pierre Mikha
17:02 17 Jul 21
I took my 6 month old Siberian husky to Tip Top as a hard headed husky and they completely transformed him. When i took him there he didn't listen to any commands from me and would just run wild. When i picked up my puppy was listening to commands was being such a good boy. I highly recommend Tip Top if you are having trouble training your puppies at home! Would give them more than 5 stars if i could

Elios Hoxhalli
17:52 16 Jul 21
Good working with Rob and Misty and Erica; it all made a huge noticeable improvement with JoeStay the course - do the homework

Kevin Herman
17:45 15 Jul 21
My dog responded very well with the collar. Having the people here at tip top K9 tell me how to use the collar properly helped a lotand he understands the different commands to the certian amount of button pushes.

Emily Koch
20:57 09 Jul 21
We had some issues with socializing our dog and introducing him to new people. He's a very excited dog. They have helped greatly in both areas. We'd highly recommend them.

John Marchione
20:42 08 Jul 21
At first I was very skeptical of correctional collar training because I had heard many horror stories of people using them improperly or as punishment towards their pets making them feel resentful towards them but I now feel super comfortable using it and so does my dog max. In fact I even recommend it. The trainers here were very professional and taught me how to train max myself which was also something I was worried about. I wanted to be the one to bond with max and train him myself but now I know how to effectively and efficiently. He caught onto many commands very quickly as he now knows to always pay attention to me. My biggest concern with my German Shepard was knowing when to accept people as he is a naturally protective dog, and now he does that on command thanks to tip top k9 and I don't have to worry when wanted visitors arrive! Thank you so much tip top k9 and everyone a part of the team. You've helped so much and I'm glad we have the knowledge and training to guarantee a great life for our young pup!

Joseph Myers
21:36 07 Jul 21
We started taking our adopted 1 year old Staffordshire terrier mix for lessons, nothing but great things to say! They are wonderful and really care about Ace and his training process. I would highly recommend Tip Top K9 Troy 💯!!! I have noticed HUGE changes in our boy in just a matter of a few weeks!

Samantha Johnson
20:51 01 Jul 21
We just got our Huskador, Koda back after bootcamp! He was extremely hyper and would jump and knock over our children, he pulled during walks, the lists goes on..lol! He is so much better and we can't wait to take him for a walk today! We are so happy that he is the dog we knew he could be! Thank you for all your help!!

Marlo Frye
14:36 29 Jun 21
Absolutely recommend this place! My dog is doing phenomenal:) Thank you 🙏🏼

Jessica Smigiel
14:37 19 Jun 21
Never in a million years would I have thought I could walk my dog down thestreet without a problem. Now Roxy walks right next to me and ignores other dogs! Can't say enough good things about TT K9 😁

Barbara Hogan
22:23 18 Jun 21
Sent my 10 month old husky, Koda, to them for a few weeks. We were having a few issues when we sent him. He would play a little too aggressively with my son, he was digging in my yard, and would constantly pull full strength while taking him for walks. The changes in Koda when we brought him home were amazing. They gave us the tools to fix any issues we have with him. Highly recommended.

Jim Mataway
22:46 15 Jun 21
We rescued a 60 lb Labradoodle puppy and wanted to make sure he was properly trained for our family. Misty was incredibly patient with us and took the time to re-explain the things we had questions on to ensure we were doing it correctly. Even as previous dog owners, we learned so much from her in our classes. She showed so much love to our dog while he was there, that he would get excited to come see her every week! Thanks to Misty and the rest of the crew at Tip Top for the time spent with our dog!

Meggan Iacona
22:39 11 Jun 21
I brought my 5 month old puppy who was out of control and completely overwhelming me to Tip Top K9 and the staff there was great. They worked with us and there has been such a big improvement in Brystol. They gave me the tools I need to keep working with her so she'll continue to get better everyday.

Christopher Nelsen
11:35 03 Jun 21
Very happy with the training. We brought home a changed dog. Would definitely recommend.

Glenn Clippard
18:00 31 May 21
We got our first puppy for our family in December 2020, Sally the Bernedoodle. Having no knowledge of how to train a dog, we knew we needed help because Sally was a 7 month old puppy who was huge and acting like a terrible two's toddler. Going for a walk with her was dreadful and she would pull me most of the time, she was counter surfing, she would take socks and run, wouldn't come when called, and would jump on our 4yr old son and anyone else. Help!Our friends referred us to Tip Top K9 after their success story with their dog. They told us it was the best $ ever spent. They were absolutely right! We chose to do private lessons. Within 2 days after our first lesson, we were blown away with the improvement we saw in our big puppy. By our 4th and final lesson, Sally comes when called, stays in place(for a decent amount of time), drops socks or anything- when told, doesn't jump on our son and we can take her for a walk without her pulling, it's actually enjoyable again! Misty and Tip Top K9 helped us to have our Sally girl, be the best pup ever

Court Kadlitz
20:18 28 May 21
I am so impressed with the results in Zeus ! Thank you so much for helping out our boy!

Lori Sawaya
19:56 26 May 21
Learned way more than I ever thought I would.

BIG SMOKE420
19:53 26 May 21
They are awesome!! I definitely recommend!

Susan Weinrauch
21:42 22 May 21
We brought our dog in for aggression and by the last lesson, we had a dog walk by 5 feet away from him, and he didn't have a single reaction!!

Mena Murran
20:56 22 May 21
We couldn't ever get our dog to follow basic commands like come, heel etc. until we started taking her to these classes and using the training methods they taught us. Overall we only ever had positive experiences and it has made a major difference in our dogs behavior! Would definitely recommend to others who are struggling to get their stubborn dogs to listen.

Sophia Lianos
15:50 22 May 21
The people are nice, and they teach very well

Ethan Jenkins
14:11 20 May 21
Great experience. I know he's gonna learn with practice now.

Ron Houseman
23:24 19 May 21
Our Troy Dog Training Clients Get Real Results!
Our Troy dog training team loves to help people all over the great state of Michigan with their dog!    We serve dog training needs all over Troy, Birmingham, and Sterling Heights area.  
Our Troy dog training team loves to help people all over the great state of Michigan with their dog!    We serve dog training needs all over Troy, Birmingham, and Sterling Heights area.  
We specialize in aggressive and hard dogs that other trainers like the shy away from!  Helping people enjoy their dog is what we do and the harder the dog the more satisfaction we get out of doing our job!  The most common obedience issues we help our clients with are behavioral problems such as jumping on people, excessive barking, licking, digging, leash pulling and running away!  If this sounds like your dog maybe you should schedule a $1.00 first lesson with our Troy dog training team today!
Our Troy location does a mix or private in-home lessons as well as board and train programs where you pup lives with a trainer for 2-4 weeks and comes back a different dog!  Our board and trains are where your pup lives with and trains with one of our team members for 3-4 hours a day and we do all your homework and then we come back and train your whole family!  Most dog trainers in Michigan offer a board and train program but they are not all the same! Call us today at 833-484-7867 and let us show you what makes our Troy team different!
Hear from some Troy dog training clients:
"Tip Top K9 has helped my English Bulldog with obedience training."
"Tip Top K9 has Provided A Good Behavior Foundation For Our Husky."
"Tip Top K9 has help with training our German Shepard with the training camp program."
Some of our recent Troy and Birmingham dog training success stories: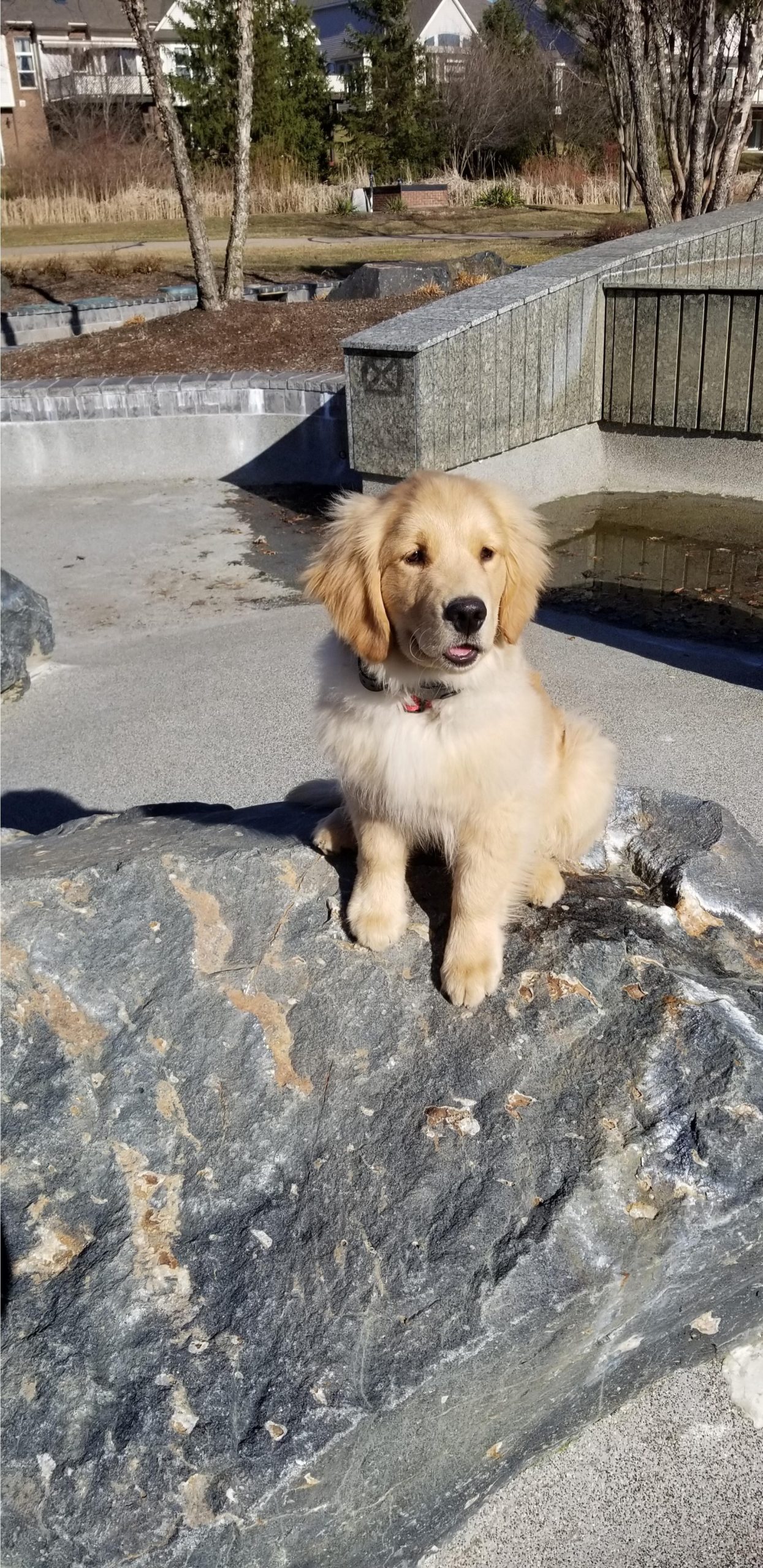 Maverick - Golden Retriever
Maverick was so excited to find his forever home with a very nice family in Troy, Michigan when he was 4 months old! However, like all puppies, he needed a little bit of direction and a quick search for a Troy dog training professional brought Joanna and her family to our website!  Maverick  was chewing things and jumping on people as well as not letting the family know when he needed to go potty but having multiple accidents a day. We addressed all of these things during our board and train program.
Maverick's family decided to invest in our 4 week Boot Camp. Their goal was to have the best dog and that is definitely what they got! Maverick is now able to heel during a walk, come every time he is called, and goes to the back door when he needs to go potty. The family is super happy with the results and looks forward to maintaining Maverick's training through attending our group dog training classes in Troy.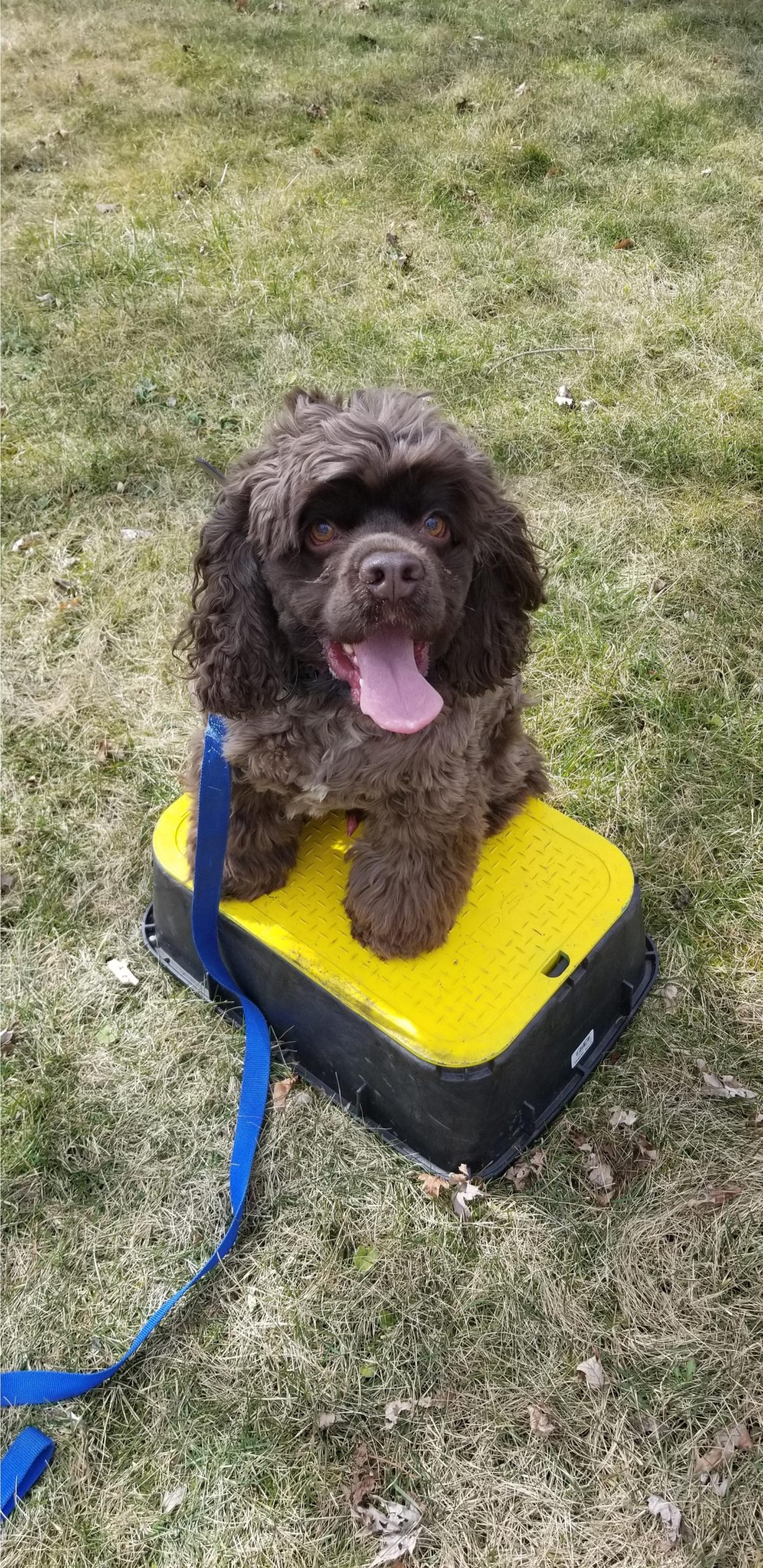 Buckeye - Cocker Spaniel
Buckeye was a very anxious 2 year old cocker spaniel when we started training. His owner Gary was concerned about his his anxiety as well as growling and started looking for a Michigan dog training company to do some basic obedience training with.  They decided to enroll Buckeye in our 3 week Boot Camp where the pup comes and stays with our team until fully trained! 
Throughout the board and training program, our dog trainers worked on getting Buckeye to understand how to handle his anxiety as well as how to behave and now his obedience is much, much better! He can now go on walks with the owner and the growling is now under control. He is still the same love able dog but now he obeys and his owner has confidence that Buckeye is going to listen to his obedience commands.  Buckeye will need some continued reinforcement with his dog training skills but he is well on his way to being a model citizen!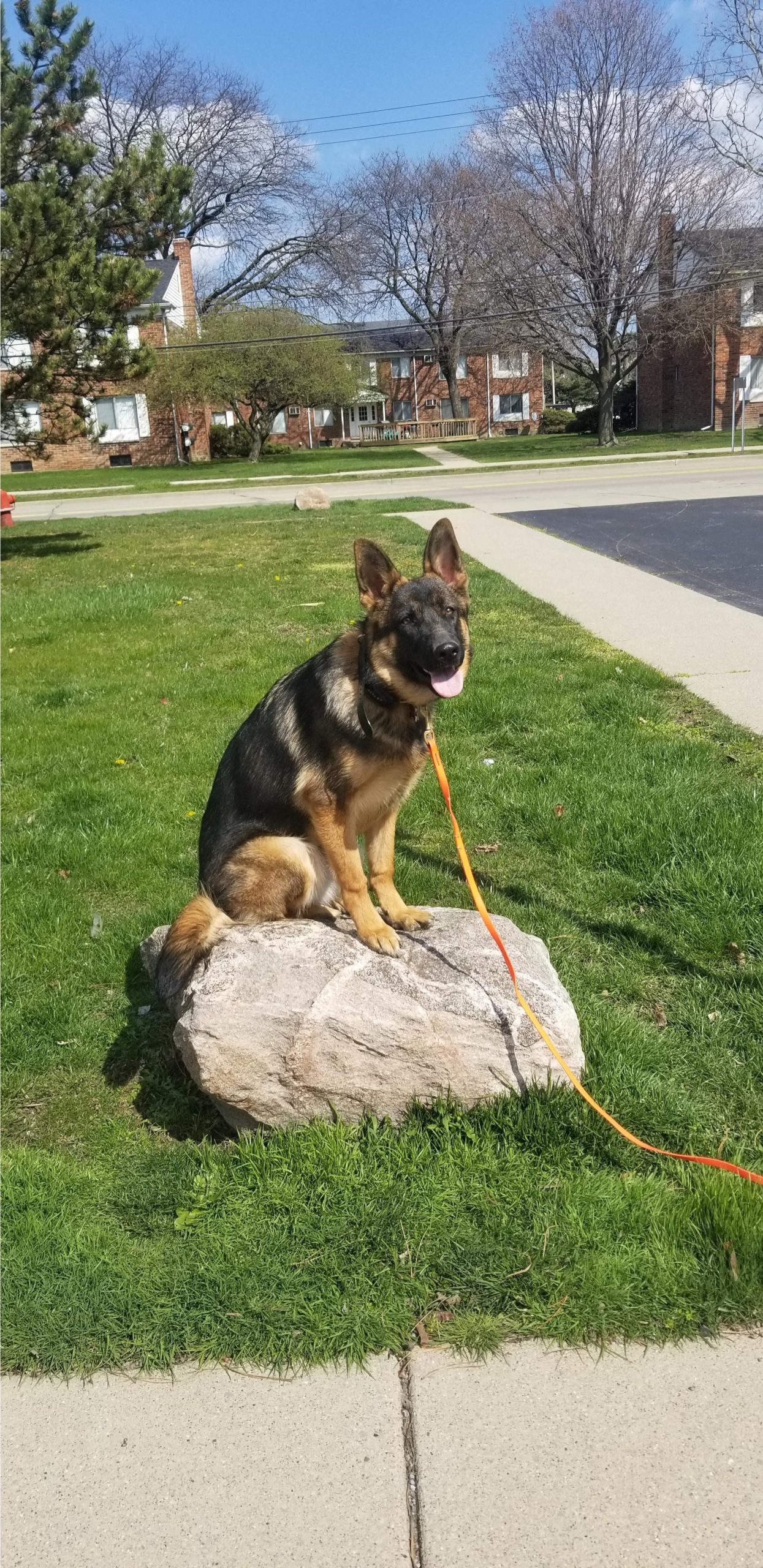 Harlee - German Shepherd
Harlee came to us as a super sweet but super hyper girl!  We met Harlee's owners at the home show and they told us they had been looking for a Troy dog training company to help them with their wild pup.  Her owner Crystle wanted to take her on walks but Harlee would never stay calm and walk with her but really enjoyed dragging her down the street. There was a lot of pulling on the leash. Their family, like alot of our Troy dog training clients decided to do a Boot Camp with us. 
We were able to keep Harlee's personality fun and excited while working her hours a day and gaining control. She is now able to go on walks with no pulling and is able to run around off leash as she comes when called. This loveable girl now knows how to have fun and be safe so her family can enjoy spending time with her.
Talk With a Trainer Today!
Having Trouble Training Your Aggressive Dogs?
Are you in search of the best place to find Troy Michigan dog training for an aggressive dog? If so, then all you have to do is visit Tip Top K9 to see how one of the wonderful trainers can help fix your dog's attitude and make them a more caring animal. All while also giving you the knowledge of how to keep your dog from acting out in public. We understand that sometimes it may be tough to get control of your dog in a crowded area. That is why we are dedicated to giving you the tools you need to make sure you always have the upper hand with them.
See What Troy Michigan dog training Methods From Us Can Do 
If you or someone you know is currently needing help to train your dog and are unsure of what will be the best course of action, then you need to go online and read the reviews for Tip Top K9! We are proud to report that you can easily go and see what our actual customers are saying about us, you can visit www.tiptopk9.com or read our google reviews to see why we are the highest-rated and most reviewed Troy Michigan Dog Training company. Just call 1-833-484-7867 to book your first lesson with us for only $1 today.
Which Tip Top K9 Location Is Nearest You?
Do you need help finding a Tip Top K9 location that is local to you? Whether you moved recently and just got a new puppy, or possibly you just heard about us from a friend. Either way, you know that you would like to train your dog at Tip Top K9. Luckily for you, it has never been easier to find a convenient location for your dog training lessons, classes, boot camps or even day camps we have to choose from! You can go online to see all of our locations and more information about everything that is included when you book your first dog training lesson or call us at 1-833-484-7867 to get started!
What Services Can Tip Top K9 Provide?
If you are interested in finding out what Tip Top K9 can do for your dog, you will be pleased to see that we are offering a variety of services:
Aggressive Dog Training

Dog Training

Puppy Training

Potty Training 

Group Class
These services are offered at most of our locations. If you call Tip Top K9 at 1-833-484-7867, you will see that most of our locations will be offering additional services! You can find out more by coming into one of our locations, or by calling Tip Top K9 for even more information on what each location can bring to the table to help you get the most from your new dog training lessons!.
Why Should You Choose Tip Top K9 for Your Troy Michigan dog training?
If you are in the market for Troy Michigan Dog Training, then you have probably heard about Tip Top K9 already! That is because Tip Top K9 is the highest-rated and most reviewed dog training company in Troy, Michigan! If you go online today you will clearly see that we are a step above the rest of the other service providers in the area. If you don't believe us, you can always take a look for yourself! Here at Tip Top K9 we also pride ourselves on our good dog guarantee, meaning if you don't see the results you get your money back! 
What Can Tip Top K9 Do Differently?
Here at Tip Top K9 we are dedicated to making sure you and your dog never have to go through the crazy hoops of dog training's past. By implementing our proven dog training systems, you will see that we can provide you with all of the tools you will need in order to make your dog behave better. When you sign up today, you will learn that your first lesson is only $1, because we are positive you will want to come back with all the pups you can find! Tip Top K9 always makes sure that you are getting the results you signed up for and nothing less! 
How Can Tip Top K9 Train My Anxious Dog?
Does your dog get very anxious around other dogs, big crowds, or maybe even car rides? If so, then we would like for you to know Tip Top K9 is ready to tackle any kind of challenge that comes our way! We have worked with all kinds of dogs in the past and are very well versed when it comes to dealing with a dog that has some easy to trigger nerves. You can call Tip Top K9 at 1-833-484-7867 to see how we can help you book your first Troy Michigan Dog Training lesson with us and hopefully give you some tricks to calm your pet! We are here for you and your pets and we understand that some dogs may get stressed out before other dogs and will provide a patient environment for your pup to learn in.
What Can We Do For Your Puppy?
If you have recently adopted a new forever friend into your home, then we know it may be a bit rough at the beginning to train your new puppy. That is why Tip Top K9 is here to help! We have a proven, results-based plan that works with most dogs, not to be scared, our amazing trainers are quick to respond to each dog's different learning styles as well as adapting to their unique abilities! You can call us now to schedule your first dog training lesson for only $1 to see why we are so well known for Troy Michigan Dog Training!
What Is Tip Top K9's No-Brainer Offer?
Here at Tip Top K9 we are proud to inform you your first dog training lesson with us will only cost you $1. That's right, just 4 quarters, 10 dimes, 20 nickels, or 100 pennies! We can do this because when you experience your first dog training lesson, you will want to continue with the amazing program to get the good dog results guaranteed! You can schedule your first lesson by going online today and choosing the location that is closest to you or by calling 1-833-484-7867! You will not regret your decision, as you will be receiving the Troy Michigan Dog Training at a great price!