Our Irish Wolfhound Mix/ rescue mutt was slowly getting more and more ill behaved. He LOVES people and other dogs a little too much! We would have to kennel him when people came over to keep him from jumping all over them and knocking children over. Anytime the front door was opened for a second too long, he would seize the opportunity to sprint from the house and run into the neighbor's yard down the street to harass their smaller dog with his over exuberant play style. He would pull us around the block on our leash walks. Everything we were trying wasn't working. Jeremy worked with us over 6 weeks, providing "homework" weekly to help manage our issues. We are so happy with the results! Our dog is really responding to the training! People and friends who have come over recently can't believe the difference. It's been much more peaceful and fun having a dog who can interact appropriately with company, and our family walks are definitely more enjoyable. We couldn't be happier with Tip Top K9!

Carmin Bieberly
16:25 26 May 20
My daughter sent her dog there we were so impressed. She came home a wonderfully trained dog who is a joy to be with. Highly recommended.

Jerry Cruce
22:11 24 May 20
Jeremy was our trainer and he did an amazing job at helping get our dog (chocolate lab) to a well behaved boy! We could never take him on walks, or anywhere in public.. he was a mess before we had this training! He is now a well behaved dog, who listens to us and we can take him places with us now! They took care of us, and I would recommend them to anyone who has a out of control dog!

Macie Selfridge
22:21 21 May 20
Jeremy was great. Before our training we had a Chocolate lab that was hard to manage and had terrible manners. Now that we have finished our classes we have a family pet that is fun to be around.

Daniel Selfridge
22:21 21 May 20
We have two labs who are very hyper. Jeremy taught us to control our labs through distractions. We have been working on come, sit, place, and leash training. We highly recommend using their services.

Ryan Stevenson
21:26 20 May 20
Jeremy has been a HUGE help with getting my Australian Shepherd lined out. He's helped teach us how to properly train him. Definitely worth the time and money!! Highly recommend Tip Top K9!!

Mary Smith
18:25 19 May 20
We consulted with 2 types of dog training companies, one uses treat training the other was tip top k9, we expressed what we wanted from our dog and was told by the treat trainer that they were "unrealistic expectations". After seeing how Adam was able to get our dog to do these commands just during the $1 lesson I knew they would be sure our dog was well trained. We have 4 rambunctious children who love to match our Anatolian puppy's energy, instead of being told to control my children, our dog can now sit in place, unphased by distractions. 100% would reccomend for any dog! Our dog is now the perfect, well trained addition to our family! Thank you!

RaeAnne Weaver
23:08 18 May 20
I took my new Mini Aussie to Tip Top K-9 for Boot Camp. I'm super pleased with Adam and Jeremy! And Kylo is so smart now!!! Thank you so much!! I would refer any dog to him!!!

Melinda Crittenden
19:51 18 May 20
Great experience! My girls loved the training and has helped me tremendously. Highly recommended. Two dogs who were out of control to walk, now they listen so much better.

devon lederman
16:43 16 May 20
Very patient and helpful and creative . I would recommend them to everyone.

Louise Manetta
00:06 16 May 20
Great guys. Knowledgeable and enjoyable. My German shorthair was one rambunctious fellow but by the end of the classes he was walking with a leash easily without pulling me and he responded to commands very well. I am very pleased with Gunner's development.

Daniel Fisher
00:03 16 May 20
We took our German Shepard, they did amazing and exceeded our expectations. Would definitely recommend! 😊

Brooke West
23:29 11 May 20
Would definitely recommend very professional and will be using them again when we get a new dog

Eric Pameticky
20:03 09 May 20
Had a fantastic experience with them. We rescued an Australian Shepard about a month ago and immediately wanted to get him trained. Tip top did a fantastic job and his issues are already corrected. Jumping up on people/separation anxiety/sit/stay/place/wanting to chase everything he saw! Everyone we encountered was professional and truly cared about what they were doing!

Christian Kruse
18:00 08 May 20
I have a 6 month old yellow lab female. We started personal training at about 5 months old. Tip-top did a great job and was very professional and patient with us and our dog.

David Bauchmoyer
22:03 05 May 20
Great job with Our mini Australian labradoodle Roxie!

Lori Armon
16:04 04 May 20
We are very impressed with Jeremy and Tip Top K9. We have a six month old Australian Shepherd. He went to the three to four week training and he was able to do all that Was promised on the list. If you have a dog with a lot of energy or you just want a dog that has excellent behavior then I would not hesitate to give them a call.

Dusty Warlick
23:04 02 May 20
TipTopK9 is an amazing program!!! Our dog Captain was jumping fences, running away, and would not come when called. Now, we can take him camping off lease, walking off lease, and he runs around the backyard without us out there. Recommend 10/10!!!

Angelica Lopez
16:45 02 May 20
Great program. Captain our Tibetan Mastiff no longer jumps the fence, goes on great walks and we can now take him camping without any problems.

Alisha Comstock
16:42 02 May 20
We added a new member to our family, A 6 month old Rottweiler puppy Maxi May. Adam and Jeremy provided excellent service with training our sweat baby girl. Thanks so much!

Darlene Brewer
01:39 30 Apr 20
Max is an American Bulldog/pitbull mix. We had problems with pulking on leash, getting excited when guest come on jumping ect...The team with tip tip k9 said they had no problem with working with the kind of breed and issues we had. They gave me the tools and know now to make Max a good boy!! Highly recommend!!!!

Aaron Moline
15:27 18 Apr 20
My German Shepherd was a wild man when I first called Tip Top K⁹ ...Adam and Jeremy were amazing to work with and my GSD now listens to every command every time!

Tasha Horsley
22:51 04 Apr 20
We reached out to Tip Top Canine to help with our golden doodle, Waylon. He was a high energy 1 year old who struggled greatly with focusing through distractions and high excitement levels. We could not bring him around other children and dogs due to his excitability. Jeremy with Tip Top Canine Owasso did an amazing job making Waylon a "take anywhere" dog, who we can now trust around anyone and everyone. He is gentle, well trained, and listens to our every command. Tip Top Canine has helped Waylon, and us, reach our potential!

Storm Schnake
23:58 03 Apr 20
Benny is our very playful golden doodle who we struggled with training on our own. Having a two year old and a baby on the way, we needed help! Jeremy with Tip Top K9 brought Benny back with so much control! We definitely recommend Tip Top K9 for anyone looking for great dog training!

Carson Clark
20:47 03 Apr 20
6mo German Shepherd learned so much during the advanced bootcamp. Obedient, attentive, and well set up for the future! Extremely glad we did this

Matt Moore
21:41 26 Mar 20
We have a 2 year old Rottie mix and 7 month Bully mix that struggled with walk without pulling and barking as well as jumping when visitors came over. Within a few weeks we were able to go on walks without being pulled down the street and sitting in place when the doorbell rings. Jeremy did a fantastic job of showing us how to work with the pups so that we could enjoy the training process.

Jeremy was great to work with. Worked well with our 2 dogs (rottweiler and a lab mix). He was very patient with us and helped train us more than the dogs so that we could continue their training after our lessons were complete. We were able to make a lot of progress over our training sessions and any shortcomings were strictly our fault and Jeremy helped correct those on the next lesson.

Hannah Jacks
01:07 25 Mar 20
Very pleased with my Tip Top K9 experience! My 1 year old mix Wrigley was constantly jumping on people, terrible on a leash, and wouldn't listen when I had guest over or was out in public. Now that I have him back from boot camp, he is a completely different dog who listens and is very obedient but still has the same loving personality! I highly recommend these trainers to anyone! Thank you to Adam, Jeremy and the other trainers!

OLIVIA MORRIS
23:10 20 Mar 20
Mini Aussie was aggressive to other dogs on her walks, this has resolved and she has learned so much more, sit stay, place, heel, and walk off leash!

Kathryn O'Bannon
15:51 20 Mar 20
We are thrilled with Jeremy's expertise. We now have the dog we've always wanted—six years later.

Linda Wilson
20:20 17 Mar 20
Wonderful experience. Our Golden is 18 months old and is a jumper. It was a great experience to have her walk with me rather than drag me. Thank you so much

Patricia Hardy
21:24 16 Mar 20
Jaremy worked extensively with our pit mix over several months. He was very sweet to our dog while very understanding that Indy needs a firm hand in training. Jaremy was super understanding of our schedule and is a good choice for any type of dog!

Brain Hyena
21:35 14 Mar 20
Our German Shepherds were unruly , we tried a couple of other training places and they had a little bit of manners but were still way out from where they needed to be. K9 and Jeremy worked with them just a couple 3 times that week and they were at least 50 percent better. Now that we are done we are very confident that the two boys will be we mannered young gentlemen German Shepherds. Thank you to Jeremy and K9 ... such a great place to have train your dogs to having good manners...

Sarah Landrum
14:50 13 Mar 20
Our experience was absolutely great! Every trainer we have dealt with have been super professional and seems to truly care about the the dogs they train. Our dog is only 6 months old but is doing great and learning fast even though he really stubborn. Highly recommend!

Elizabeth Hays
23:32 12 Mar 20
I have a 2 year old plott hound and a 7 month old mini Aussie that we signed up for 6 classes. Our plott hound was aggressive to strangers and barked at everything. He's now a dream! People can come and go without putting him away... i can take him out in public with no barking. The aggression is gone. My Aussie is a pup so she's hyper but she places, heals, and walks ten times better on a leash. Jeremy was our trainer and he was phenomenal! Great with the dogs and teaching us the ropes, would highly recommend.

Allison James
23:47 04 Mar 20
Great lessons! I have a 9 month GSD who started the training in January and it has been an amazing difference. We are continuing to work and are considering the group classes now. Highly recommend TipTop K9 for training!

Kelsi Lancaster
01:55 01 Mar 20
Phoebe seems to be well trained as she returned from Bootcamp! So excited!

Ammie Sullivent
23:08 20 Feb 20
Extremely happy with their service and training. I was very apprehensiveespecially with the collars. We decided to board our Bailey and train at their facility. Adam knew how hard that was for me and kept us informed on his progress with emails and pictures. Bailey is a good dog but now he is a good well behaved dog and we can take him anywhere.

KSR FLETCHER WHS FLETCHER
19:44 17 Feb 20
We have a 8 month old lab/hound mix named Douglas that needed some manners and basic training. Jeremy was awesome at working with him and us and we are so grateful!

Dana Burrows
17:50 08 Feb 20
Very good experience with Tip Top and our young golden retriever who was a nightmare. He was not only a wild man but was showing some signs of aggression. We did the boot camp and he came home transformed! Such a gentleman! Will definitely use their services again!

Very impressed with Adam and TipTop K9. He is excellent working with our puppy and we are extremely happy with the results. We would highly recommend to anyone.Doggo#2 trained by Jeremy and Adam, would highly recommend Tip Top K9 to anyone. Awesome and great with our puppies!

Diana Budnik
22:50 28 Jan 20
Jeremy was incredible! Our dogo Argentino had plenty of behavioral problems. He is a hog dog so he was very aggressive toward most other animals and some people. We called tip top k9 as a last resort. Our dogo now can go anywhere with us, he goes to the store, to the park and enjoys daycare at our local vet. He is still a hog dog but now knows the difference between hunting and living the family life. We made the best decision going with tip top k9!!!

Adam and Jeremy were very good to work with and are so thankful for their willingness to work with a very high energy pet. Highly recommend tip top k9! This review was earned well. Thank you very much!

Stuart Gallagher
23:17 14 Jan 20
I know nothing about dogs but so glad we took our puppy. She is doing so much better at commands and behaving.

Melinda Gallagher
23:12 14 Jan 20
Jeremy did fantastic with my female pit bull Ryver. Thank you tip top! You guys did amazing with my girl.

lanayah baker
17:41 06 Jan 20
We have a giant schnauzer and Tip Top K9 changed her for the best! 100% recommend Tip Top K9.

COURTNEY SWIFT
00:54 04 Jan 20
We were expecting a baby and had a really good dog! A chocolate lab/Australian Shepherd mix, we just needed to break in some better habits. Had no questions about tip top k9. Jeremy from tip top helped tremendously with our dog and he has instilled those good habits and made them a normal part of his day. We highly recommend tip top k9 for any type of dog training!

Austin Reed
17:11 31 Dec 19
Every encounter was done with professionalism from scheduling to training to boarding! They are accommodating, prompt, & knowlegeable and their dog training system works with rapid, tangible results. We had to change dates & location on 2 of our sessions & they were very kind to allow that change. Our mini goldendoodle of 2.5 years made remarkable progress in 3 lessons. Situational specific questions were met with very helpful tips & solutions. Our dog parenting skills will forever be better because of our great experience with TipTop K9 of Owasso. Thanks Jeremy!

Jennifer Wiseley-Jungemann
20:51 26 Dec 19
High quality. Very pleased with jeremy's expertise! Our german shepard ,cur mix couldnt be better. Highly recommended!

harold goad
23:26 20 Dec 19
We have a stubborn pit bull mix puppy who would not mind. Jeremy helped us train our dog and now he is very obedient. Thank you Tip Top K9 for helping us like our dog again.

Dee Dee Breeze
17:58 18 Dec 19
Great job, my Aussie is well behaved and doing great now

Jackie Hinton
23:25 06 Dec 19
Jeremy was absolutely amazing! Mack, my Giant Schnauzer came to me in a bit of a special situation. Her owner passed away and I adopted her as a 1 year old. She had been worked with but as her first dad got sick, he couldn't continue training her. As an 80 pound dog she was a lot to handle, got into trash, stole tooth paste and soup off the shelves in the garage etc. With the help of Jeremy and his knowledge in dog training, she is a great addition to the family!!! She listens well now and my daughters and I can control her. She is very pleasant to be around and we love taking her for walks at the lake!!! #PartOfTheFamily#GiantSchnauzer#TipTopK9

Rachel Hucke
20:03 05 Dec 19
I have a 7 month German Shepherd puppy that we just wanted to have him well behaved and good around people and will listen on command no matter where or what he's doing. I'm happy to say he is doing amazing and our trainer worked fantastic not only without pup but me as well! I'd gladly recommend them to anyone looking for a great quality trainer!

Chris Buziecki
20:12 04 Dec 19
Wonderful service that we have used twice! We have a 2 year old lab and a 6 month old golden retriever, both of which have a great understanding of basic skills and behavior. The trainers are both very polite and knowledgeable.

Alex Telkowski
01:17 04 Dec 19
My wife and I were fighting about the new dog purchase and how disobedient he was. So we call tip-top k9 and now we have a dog that we enjoy being around. If it wasn't for them I am sure we wouldn't have this dog anymore. I am very pleased and will recommend them to everyone I know that is looking for some quality dog training.

johnny phelan
16:59 30 Nov 19
I have a German Shepard puppy who is 7 months and Jeremy and Adam did an amazing job with her they explained everything more than neccessary and were awesome through the whole process.

Wheeler Dorsey
17:40 23 Nov 19
Adam, Jeremy, and Billy and whoever else worked with Bo have done it again. This is the second dog that we have sent to boot camp and we couldn't be happier! Bo is a 7 month old English Setter who was ready for his Tip Top K9 education! Jeremy spent some extra time at Bo's drop off helping us introduce Bo to Bruno (Old English Bull Dog who graduated from Tip Top K9) and was down for a visit. We are hoping they can be good Tip Top K9 buddies. We are two down and one to go. My other daughter's dog Deets (Blue Lacy) starts his formal education after Thanksgiving! Thanks for all the long hours and hard work you all put into our dogs! They love it and so do we!!

Steve Baker
20:25 20 Nov 19
Start off with what a great experience this has been with Jeremy training me to teach my Lab Tia. Great professionalism and very clear with instructions and homework for Tia and I.She worked better for him than me, but that's to be expected since jeremy knew what he was doing. Over these past 5 weeks Tia and i have come a long way, more than i thought, with constant work your expectations can easily be achieved.Overall they provide great tools for you and your dog to enjoy everyday life together and also family and friends will have a better experience with your four legged friend.

Chuck Manske
22:38 29 Oct 19
We have Golden Doodle that was Six months old and before he left he was biting and would not listen. When he came back we could not believe the results he's the most polite little gentleman. We're so please with the results and the trainers are so personable and professional. Thank you so much Tip Top K9

Maggie Mullinax
21:20 25 Oct 19
We wanted help with our 7 month old German Shephard puppy, Franco. Tip Top K9 taught us so much and Franco enjoyed all of his lessons. We recommend them to everyone we talk to!

Bailey Cooper
20:00 12 Oct 19
They were fantastic with our German Shepard Leo. We're really pleased with the progress we he's made after just a month!

Jennifer Kiss
23:30 05 Oct 19
We have a very rambunctious 6 month old German Shepard who needed a lot of training. Adam has done a fabulous job with our dog and we couldn't be happier! She's like a new dog!! From the first $1 session we saw such an improvement that it was a no brainer decision to enroll our dog in this program! We can't thank you enough!

Sabel Sisney
00:21 03 Oct 19
We had a new Beagle and knew they are supposed to be good family dogs but very stubborn. We weren't sure where to go but after some research we decided on Tip Top K9 and we were not disappointed. We have seen such amazing results. Xena is the most well behaved puppy I have ever had. One of the most reassuring qualities of using Tip Top K9, for me, is the lifetime ability to join a group class at no extra charge. We will inevitably hit bumps in the road and since Xena is still a puppy, I imagine we will experience some new odd behaviors along the way. It is a great relief that we always have the option to pop into a group class as needed. The staff was very kind and courteous. They spent a great deal of time with us as well as with Xena just to make sure everything was smooth. This was really just a great experience overall. We will be using their services again hands down.

Bob Jackson
01:56 29 Sep 19
Best decision I've ever made. I've gone from hiding my dog in the house or back yard at all times because of aggression issues to feeling comfortable having him out for walks and around people. We've still got aways to go, but I can already tell a difference 3 weeks in. Tip top k9 is well worth the money!

Adam Hughes
01:35 26 Sep 19
My boyfriend has a large breed dog that was showing aggression when we moved in together. He bit me once and growled at me countless times. Finding Tip Top K-9 has been a major help in training his dog to get along with me and my dogs. He has now become OUR dog. I highly recommend them! They are patient and informative!

Kelsee Rockey
01:28 26 Sep 19
I really appreciate Jeremy's assistance with both Bailey and me. Over the 4 week period, Bailey has become more responsive and calmer. I can't thank you enough.

Jacqueline Doersom
19:07 20 Sep 19
Jeremy did a great dog training our rescue dog. She was an abused dog....scared of everybody and everything. She felt like she needed to constantly defend and protect us. She and we were taught skill sets to help socialize her and reach her basic comands.

Vicki Wagner
00:47 18 Sep 19
I have a border collie who was a biter and a jumper. I have 3 small kids who were tired of the jumps and bites. We got our dog back and I am thrilled with the results! Thank you, Tip Top K9!

Abby Schoenthaler
19:16 11 Sep 19
The results were amazing!! My dog was terrible on leash walks and super distracted before we hired TipTop. Today, we walked by a bunch of geese and deer and my dog remained in a heel 😍 TipTop clearly knows their stuff and they will take great care of your dog. And the best part is - they train you too!

Allyson Spease
23:16 10 Sep 19
I have German Shepard who is 22 months old and over the past 6 weeks working with Jeremy, she's almost like a different dog. She has went from jumping on everyone and keeping my mom scratched and bruised to obeying commands and becoming the loving companion my mom and I knew she could be. I had thought that I would have to find her a new home do too my moms age and fear that she might hurt my mom and knock her down. But thanks to these lessons and them helping my mom and to work with her I can now keep her and offer her a forever home with my mom and I. Thank you Jeremy and Tip-top K9.

shelby lefay
15:51 07 Sep 19
We had a rescue dog. Half pit half lab. Tip top dog was great. He is totally a different dog now. Would like to extend them a than you

Danny Chronister
16:01 03 Sep 19
Very friendly and patient with our puppy Amazing results in 3 weeks!

Amazing!! Duke is a model citizen now!

HALEY WILSON
23:08 30 Aug 19
We have a Brittany Spaniel that has been really hard to manage. Got to say I think this is more a relief for us and will be happy to see the changes!! Both Adam and Jeremy were and are very helpful-Do it you won't be sorry

Patty Rich
22:50 27 Aug 19
Jeremy was awesome. He helped us with our German Shepherd, Everest and showed us a lot of amazing tips. He was very thorough and helpful. Jeremy has a lot of knowledge and worked with her beyond our expectations. I can thank him enough and reccomend Tip Tip K9 and Jeremy to the utmost of my ability. If you are in need of any training, don't hesitate and call, it's well worth it. Tha is a million.

Jeremy did an awesome job of training us and our 7 month old Husky! He was very patient and thorough throughout the entire program, and our high energy hyper Husky is now very well mannered, and great at taking commands I learned as much as the dog did! Thanks Jeremy for working with us and Pistol, over the past couple of months. We just finished our last class, and are looking forward to start coming to the group classes. I would recommend Tip Top K9 Owasso to anyone. - Ernie Slaton

Ernie Slaton
00:16 10 Aug 19
Adam really took his time to help us with our Great Dane. We decided to go with the boot camp option. We were given a weekly report card with a photo. What I was most impressed with was my pup development allergies about 1/2 way through the program. Adam called me and met me at the vet. She was given 3 medications and had to change food immediately. He took that on along with her training. They really care about the well being of your dog along with getting behavior under control. This is an investment you won't regret.

america haws
21:23 09 Aug 19
Extremely happy with Tip Top K9, we have a pitbull that is very strong and pulled alot. He is not pulling and stays with us on and off leash. We love working with them, they have helped is from start to finish!!!!

Meloni Slayden
19:02 07 Aug 19
Jeremy was extremely knowledgeable, patient and professional. Our dog has made amazing progress in not jumping on family and guests and in all areas of obedience in general. We did extensive research when choosing a school and couldn't be more pleased!

Christy Bennefield
23:20 06 Aug 19
My experience with Jeremy at Tip Top K9 was top notch! Jeremy really took his time explaining everything thoroughly and made sure we were comfortable before going on. My mini poodle was reserved at first and now she looks forward to going to class!

Ashley Miller
00:12 31 Jul 19
Adam is one of the best when it comes to working with dogs. He has the patience and skills that will win both dog and owner over. A definite 5 star experience!

jane Nazarman
16:57 25 Jul 19
Loved tip top K9 here in Owasso! Trained my 6 month old lab Trudy and she's now a gem. Can't wait to utilize the life time group classes that come with our purchase!

Andrea Lawson
22:57 20 Jul 19
I'm so happy with everything we accomplished. Our 7 month old German shepherd has come so far in only three sessions. He was always pulling on the leash and is strong enough to rip it from my hands but now we walk with confidence. I can't be more thrilled with the outcome.

Cally Frog
00:13 20 Jul 19
Jeremy is fantastic! He helped us figure out our 7 month old German Shepard. He trained us and our pup very well! Highly recommended!

Winnie, our 18 month old silver lab was a smart, beautiful, high energy puppy! Her behavior had gotten so out of control that I didn't enjoy her company and was overwhelmed as to what to do. Our vet suggested Tip Top K9. Winnie attended the four week boot camp and came back a new dog! Not only did they train her.....they trained me how to maintain the work that had been done!

michelle mckinster
19:28 11 Jul 19
We have 2 Golden Retrievers (puppies). We started @6mo. Jeremy was very patient while training Winston & Steve (but more us). The classes were easy to schedule and always started on time. We are very pleased with the results and look forward to continuing in group training to have well behaved dogs to enjoy!

William Reed
00:53 10 Jul 19
My year old Bernese Mountain Dog would grab the leash and walk me and after one TipTopK9 lesson I have the control and I walk her. It's been eye opening on the behavior issues that have now been corrected. My Merry has manners now. The walks are more enjoyable. When I have guests over she doesn't jump anymore, no barking at the neighbors. I highly recommend Jeremy TipTop K9 Trainer. He's awesome.

Carolyn Bermudo
19:17 09 Jul 19
We rescued a dog and they helped so much with helping us to know how to handle him! Awesome training!

Britney Anderson
23:05 08 Jul 19
Our labraheeler was showing signs of aggression and not listening to simple commands so I reached put to several different trainers. I decided on Tip Top K9 after meeting with Adam and seeing what he was able to do with her in just an hour. Jeremy has been her trainer and has done an amazing job with her. She still has some work to do, but is much better than where we started. Thank you Jeremy for your patience. You have been amazing with her and with us.

Jacquie Mathews
00:59 03 Jul 19
Jeremy was awesome! Very understanding, and very patient with us in our training of both us and our Great Pyrenees puppy Valkyrie! We would definitely recommend them to anyone!

Danny Eastman
00:21 02 Jul 19
We had a golden doodle who would not come or stay when sitting. She would jump and bark on strangers. She is a completely different dog. Jeremy is an awesome dog trainer and is very helpful and easy to learn from.

Chad Creason
23:28 26 Jun 19
Jeremy is an excellent trainer! His training and teaching has made a drastic change in my stubborn Anatolian Shepherd's behavior. Samson is a new beast!I would have never thought Samson would be able to go out in public and behave, but he can now thanks to Tip Top K9.

Dustin Allen
15:42 22 Jun 19
Best money I've ever spent. My moose is a Great Pyrenees German Shepherd 3 years old and after 3 lessons she is like an entirely different dog! I can finally take her for walks with the kids with no worries. Thank you tip top k9!!!

Arizona Watson
01:10 20 Jun 19
Jeremy was awesome, he was very knowledgeable and professional. The training techniques were very effective. With my Cane Corso. I highly recommend this company to anyone looking for dog training.

Joshua Hansford
17:56 12 Jun 19
The training for our aussidoodle through Tip Top K9 was a great help & highly recommend this to all.

Lori Robertson
16:12 11 Jun 19
Jeremy was absolutely amazing!!! Our stubborn beagle went through training with Jeremy and now she is wonderful!

Natalie Miller
20:55 01 Jun 19
Helped us with our beagle that was young and hard headed. Very professional and great with our dog and our training. I recommend them to anyone who wants training or is having issues

Koda Miller
20:50 01 Jun 19
My wife and I had Jeremy as our trainer. This guy not only helped us train our Giant Schnauzer at our house, but he also helped educate us on how to expand her training once our initial training classes were complete. He was a very personable trainer, calm, cool, and collective. I would recommend him to anyone who wants their furry family member to be well trained. Go follow our furry baby on Instagram at @miacroslin_thegiantschnauzer if you want evidence of how impactful Jeremy's lessons have been on Mía. ALL FACTS!

Dylan Croslin
16:53 19 May 19
Jeremy trained our Giant Schnauzer, Mía, and did such a great job. He was patient and worked so well with her and her stubborn personality! We were a little skeptical on how well this would work just because she seemed to be resilient in her ways already. But we are so impressed with our results even after just one session. We did a lot of research on trainers before picking Tip Top K9 because you don't get this kind of quality anywhere else. We definitely recommend them! If you want to follow Mía on Instagram, @miacroslin_thegiantschnauzer we posted videos of her during her training and how well she was doing with her direction so you can see for yourself how well this works! Thanks again, Jeremy, for all your help!

Natalie Bravo
21:08 18 May 19
Jeremy at Tip Top K9 has been so helpful with teaching our dog Aria along with mentoring and guiding us as owners to continue educating our dog even after he is finish with in-home training. I was amazed by how quickly our dog was picking up on things that I never thought she would actually understand In such a short amount of time. Strongly recommend!

Lindsey walker
09:48 17 May 19
We love Jeremy! I have a 5 year old Great Pyrenees mix dog, we did three 1 hour sessions. My daughter is 10 and can control my big dog!

Leslie Thompson
22:50 15 May 19
Our 4 month old German Shepherd Shadow was pretty unruly and a complete spaz to say the least. We tried group training through a different company with little to no results. We then contacted Tip Top K9 and are very happy with the results so far. Jeremy has been very patient with Shadow and has done wonders. We are able to take her for walks without her freaking out when seeing other people or animals. She is listening to her commands on and off leash. She is a completely different dog from when we started.Jeremy has been amazing at training Shadow and us. He has given us the tools and the knowledge to continue working with Shadow. I would recommend him to anyone needing help with their dog.

scott vines
05:24 15 May 19
Was very curtious, prompt and met all appointments.very knowledgeable. Would recommend to the very best or worst of dogs.

Troy Wilstead
19:23 14 May 19
If you are thinking about training your dog, these are the people to do it! Jeremy is such an awesome teacher. He genuinely cares about your puppy and making the experience a positive one. He goes over and above to work through you dogs needs for a good outcome. We have a 6 month old Giant Schnauzer who we now can take anywhere with us. I had no idea he could be such a super dog in such a short amount of time, but with a great trainer...here we are! I would highly recommend Jeremy and Tip Top K9 Owasso to anyone wanting an exceptionally well behaved puppy and a wonderful experience to go with it!!!

Tasha Lunsford
16:06 12 May 19
Jeremy is awesome! He worked with us and our fur baby with the best help. Our Giant Schnauzer has come a long way. We can take him anywhere now and he acts like a pro! So thankful and we recommend him to anyone!

Rollie Lunsford
23:53 11 May 19
I have a blue heeler almost two, I was having trouble with her being aggressive toward other dogs and not listening. After her lessons she's a completely different dog. I am very please and happy I used tip top K9 for training

Chloe Griffin
15:50 11 May 19
Just got my 5 month old Rottweiler Thor, back for Boot Camp today. I was so impressed with his care and how he looked when I got him back. The drop off training was very informative and took as much time as we needed to feel confident with our dog. I would recommend them to anyone. Thank you Tip Top K9 Owasso for everything. See you at group class.

karen thomas
23:52 06 May 19
Jeremy is amazing!! I have a 3 year old pit who use to jump and bark all the time. Ever since Jeremy has worked with her she has turned around her behavior and you wouldn't even know it's the same dog. Thank you so much!

Ashley Elkhill
16:50 02 May 19
I have a whole new dog thanks to Tip-Top K9! less than 3 months in and he listens to my every command! I highly reccomend tip top k9 for every dog owner!

Kalie Guest
13:45 20 Apr 19
Our 7 month old Golden Retriever was becoming unmanageable. He jumped all over us, was overly mouthy, and wouldn't obey as hard as we tried. He wasn't aggressive but had actually hurt each of us by knocking us over and we couldn't have him out in the yard with our 3 and 5 year old without concerns for their safety. We couldn't take him anywhere because we were not able to control him. We started training lessons with Tip Top K-9 and everything changed. Within 2 lessons, he was a different dog. And each lesson after, we were amazed at the progress. He never jumps on us, he plays wonderfully with the children, he walks without pulling on the lease, he comes when called, and he sits and stays. He is no longer wild when he is in the house. The changes are dramatic! We couldn't be happier with the training we received! Jeremy, the trainer is knowledgeable, friendly, patient and just excellent at his job!

Jacque McGregor
23:19 19 Apr 19
Adam was a fantastic trainer! We have medium aged dogs and the saying is not true. You CAN teach an old dog new tricks 😊💖💖💖. Tip Top K9 is sooooooo worth the money. We are very happy with the whole process. It's very user friendly!

jsblake199
00:39 17 Apr 19
Helped us get our wild and headstrong Weimaraner to behave and listen to us when walking, etc. A great place to take your dog if you need a better behaved dog.

Darwin Crawford
21:40 16 Apr 19
I would highly recommend this company! They did awesome with my dog and he was well taken care of :)

Janessa Raith
16:56 10 Apr 19
My German Shepard Brody, was an energetic puppy who had a problem with jumping on people, and chewing up furniture, clothing excetra. Tip Top K9 did an amazing job of giving Brody manners with there amazing and friendly staff. We now have the perfect German Shepard!

Seth Jensen
01:49 09 Apr 19
Trainers are awesome my dog did boot camp and came home a complete different dog!! Definitely would reccomend to everybody!

Macey Shook
01:49 09 Apr 19
They are great. Dog is acting great. Really kind genuine people. Would recommend!!

Great training! Loved the training they did for my German Shepard.

Colton Brown
17:45 06 Apr 19
Jeremy was great! Our 7 month old shepherd learned a lot and is doing awesome! Would recommend them to anyone.

Marissa Copeland
23:26 05 Apr 19
Jeremy saved our sanity!!! Our German Shepherd was 7 months old and we struggled being able to control her and her be able to understand what we wanted from her. Jeremy was with us for 4 weeks and worked miracles for our pup! I would recommend this to anyone, completely worth the money.

Mason Parkman
23:25 05 Apr 19
My dog was insane. We believe he is a Malamute/German Shepard mix and we had zero control over him. Tip top k nine has completely changed my dogs quality of life by helping us learn how to control him. Well worth it.

kaylee zwinger
19:31 04 Apr 19
Awesome training! Jeremy and Adam were great! I now know I can take my pit bull with me any where without hesitation. They went above and beyond to help me get my dog trained in a very short time. Extremely happy with their service I would highly recommend them!

Jeremiah Upchurch
13:17 29 Mar 19
This company is great! Office staff is friendly and helpful, the trainers are knowledgeable and experienced. We got great results from the Quick Fix program! Training never stops, but they give you the tool to succeed.

Marchel Crawford
21:44 25 Mar 19
We love these guys! Experts in their field. Excited to start group classes.

Erik DeShane
23:28 12 Mar 19
Jeremy walked us through every step and has been great. I have bad anxiety and Jeremy was so wonderful helping me. Our dogs have done so well with Tip Top, they are responding to commands and are eager to learn more. We recommend Tip Top highly for anyone who wants to train their dogs.

Lindsay Bearden
23:26 12 Mar 19
Really helped with training my Aussie! They're great! 10 out of 10 would recommend! I'm looking forward to group class!

Mary Gaston
20:56 09 Mar 19
Awesome help with crazy dog!

Josh Harrold
01:07 02 Mar 19
Our dog Luna has learned and grown so much. We loved how friendly everyone is and available to answer all of our many many questions. We're so grateful to have a well trained dog!

Katy Horton
16:52 23 Feb 19
Jeremy was absolutely FANTASTIC! Our Cinnamon is a mutt; pit, lab, boxer, and who knows what else. She played ruff with the little dog, would never come when called. We had to pick her up and put her in her kennel, she used to dig and chew on EVERYTHING. She would jump on people when they walked in. Jeremy helped us break all of that and more! She comes when we call her and goes into her kennel without a fight. The digging and chewing we are still working on but she has gotten significantly better. She doesnt jump on guests and gets off us when told. We are able to walk her without her pulling, get her in and out of the car, keeping her from running out the door when the bell rings. Highly recommend!!!!

Kara Donnini
02:46 14 Feb 19
Very impressed with how well our Irish Setter did in the boot camp! We are so excited to take him out and about with us daily! Thank you Tip Top K9!!!

aleigh nicholson
23:34 12 Feb 19
Adam and Jermey were awesome. They trained my American Mastiff. Now he is a well behaved member of our family. I highly recommend them.

Jason Jones
00:10 03 Feb 19
Very knowledgeable. I have Aussie pup, and he is responding great to the lessons. I feel the trainers go above and beyond.

Lynn Hounshell
00:53 02 Feb 19
Really helpful in correcting our dogs anxiety. Love it, absolutely worth it.

Jessica Waters
23:13 01 Feb 19
Great trainers everyone we met was super nice and helpful helped our pitbulls out alot stuff we never thought they could break our dogs from doing they did almost immediately. Jeremy was great and got to know our dogs personally and they love him they enjoyed every second with him.

David Rojas
19:56 31 Jan 19
Tiptopk9 is amazing! They have done wonders with our dogs. When we first started they pulled on their leashes 24/7 by the first lesson it was alot easier to control them. By their last lesson they were off leash around chickens! Amazing!! Thank you to Jeremy for answering all our concerns & questions.

Training was great for my shepard. He stopped buying and chasing the cat on the first lesson.

Pete Rebitzke
01:10 31 Jan 19
Excellent training! I had a dog that wouldn't listen and was super shy. In the end he was confident and listened to every command. He can go on walks and stays with me instead of pulling. He listens to my family that weren't present for training.

Kevin Reineking
20:53 25 Jan 19
Jeremy at Tip Top K9 has been the best choice for me and my rescue pup Bernadette. We've been able to change a lot of the negative behaviors that were getting in the way of us enjoying being pet and owner. We are looking forward to lifetime classes now that we've completed our personal sessions. Thanks Tip Top K9!

Mattie Kennon
23:04 22 Jan 19
My vet at VCA in Owasso recommended Tip Top K9 for my dog and I am so impressed. I adopted her from Tulsa Animal Welfare and she struggled so much with separation anxiety. She destroyed every set of blinds and various areas of carpet in my apartment. We had her on some heavy hitting anti-anxiety meds and I was starting to feel pretty hopeless and honestly, heartbroken for my sweet pup. So I decided to send her to doggie boot camp. She came home tonight and I can already tell the difference. Before, she was so anxious that I couldn't even walk near the front door or accidentally jingle my keys without her running towards or out the door. Tonight, I was able to pick up my keys, open the door, and walk outside and she didn't flinch. When she came home, we had about a 2 hour lesson where her trainers showed me how to continue working with her at home. I'll also take her to the classes as much as possible, especially these first few months. I got updates and pictures weekly and I could the moment we met Adam that he sincerely cared about my dog and I trusted she was in good hands. If you made it to the end of this review, I'm guessing it's because you have a pup with similar problems (or you're Adam, in which case Hi!). I know the cost might seem like it's not worth it, but trust me that it is! I still have my sweet Sally, but it's like she came back as the upgraded version. :) I can already tell in the few hours she's been home, that this was definitely the right move.

Annie Skorupa
03:05 22 Jan 19
I have a Yorkshire terrier miniature schnauzer mix who was extremely stubborn. We worked 3 private sessions and he is now sitting, staying, and following other commands. He is also no longer dragging me on the leash. I would highly reccomend Tip Top to help train your dog.

Lacey Watson
00:44 22 Jan 19
Tip Top K9 provided great guidance and tips! Highly recommend!

Logan Reese
23:21 16 Jan 19
We rescued a farm dog that had zero manners. Tip Top K9 was able to get Roxy, our red heeler/Australian cattle to stop chasing cats, recall off leash, eliminate crying/barking in the kennel, place, heel on command and stop eating rabbit poop from the backyard. They are very knowledgeable and work well with both people and dogs .They definitely saved Roxy from the shelter (people who had her previously wanted her put down).

Mohammed Maswadeh
00:02 28 Dec 18
I was very impressed with the training I received for my Australian Mini Labradoodle, Jazmine. I have taken my other dog to another trainer and there is no comparison. Jeremy was my trainer and he was awesome. Very caring, and informative. He helped me with every issue I was having with Jaz. She was jumping on people, on my grand babies basically anyone that came close to her. She loves people but needed to learn boundaries. They have exceeded all my expectations! I would high recommend them to anyone having issues or just wants their dog to be well behaved.

Debi Hamilton
21:26 26 Dec 18
Jeremy did such a great job helping me train my dog. I am really thankful for all the one on one help.

Julie Anne
23:15 21 Dec 18
Great service! Highly recommend.

Gail Young
22:20 21 Dec 18
My German Shepard was very anxious in public, and I was afraid to take him for a walk because he had become so protective. Jeremy worked with both of us so that we can now go for walks or go to the vet without being worried about growling or barking at strangers. Two thumbs up.

Jennifer Sanchez
22:02 19 Dec 18
Adam and Jeremy are amazing! Thank you for showing me how to manage our over energetic German Shepherd. It's nice to have a calm dog in the house. I appreciate your patience and the follow up group classes are very helpful.

Jackie Bailey
02:19 18 Nov 18
Thank you Jeremy for all of your time and attention to Irie. Being a Yorkie, I wasn't sure how this would go. But it went great! I couldn't be happier with our results.

Kelli Atwell
00:17 14 Nov 18
We used Tip-top K-9 for our 1 Yr. old German shepherd. He had anxiety so bad He was prescribed anxiety medicine from a vet.I felt horrible medicated Him, but didn't know what else to do. I'm so thankful to the owasso guys They are truly amazing at what they do!Hans is completely off the meds, And Is doing amazing !

Shana Wolfe
06:01 27 Oct 18
Our 8 month old Aussie came home from boot camp today. She came home today a new dog. She is obedient, follows commands, and is no longer terrorizing the house. She wants to please and has learned to behave. Now we begin the people training! I highly recommend Tip Top, it was worth the investment.

Brad Stephens
18:33 19 Oct 18
Excellent! Took my mastiff lab and made him mind so well. He's a changed dog.

Adam and his team are AWESOME! He is clearly passionate about dogs and he loves what he does...I would recommend Tip Top K9 to anyone and everyone who wants a better, more enjoyable life with their furry family member!

Best dog trainers by far!!! They made my pain in the but German Shepherd into an obedient smart calm dog. Thank you

Cole Fingerle
00:38 01 Aug 18
What a great experience and success! Adam and Jeremy were so professional and did such a great job training our German Shepherd and US! 5 stars!!!

Joan Fingerle
00:22 01 Aug 18
Adam and his staff of trainers are amazing! We sent our unruly German Shepard pup to puppy boot camp and she returned so well behaved. Adam really took the time to teach each family member the necessary tools to keep our puppy on the right track.

Carri Holland
20:57 30 Jul 18
Adam did an excellent job training our female Australian Shepherd, Marmie. She responded very well to his training technique. He was also patient in instructing us in how to work with her.... I did not pick it up as fast as Marmie. She goes to work with us everyday and has to be well mannered. He worked with our busy schedule. We will also take advantage of continued group training at the park. I would recommend Adam and Tip Top K9 to anyone who needs this service. Thank you Adam!

We purchased our first German Shepherd puppy about six months ago. As she got older we found out that she was a bit of a handful. With our busy schedule it was hard to train her and that led to a mischievous puppy. I talked to a friend at work that recommended Tip Top K9. I contacted Tip Top shortly after and scheduled my pup Keira for her initial consultation. Adam came out and met with my family and I, as well as Keira. I was impressed with his knowledge and professionalism. I was also impressed that in the shirt time he was at my home, he had already taken my naughty pup and made some quick progress. At that point I decided to get her scheduled for advanced boot camp. When the day came, Adam came out and picked up Keira. Four weeks later, Adam brought her home and the results were amazing. My pup was definitely still goofy and adorable, but was well mannered and well trained. Adam and his team at Tip Top did an excellent job with Keira. My family and I look forward to her continued training at group classes. I can't wait to see how much more she will progress. Thanks again to Adam and his team for all they have done.

Paul Holland
12:53 30 Jul 18
after rescuing 2 lab mix puppies and trying for almost a year of training by myself, i decided to give tip top k9 a try. adam and jeremy were so knowledgeable and helpful and have helped eliminate many bad habits my two fur babies had!... they are truly dog lovers and i am so glad i made the decision to do this!

teresa mims
04:03 28 Jul 18
We have been using Tip Top K9 Owasso for the past 6 months, hands down the BEST TRAINING. The classes are very informative and keeps our Airedale engaged, thank you Adam for all you have do!!!

LareRonita Teague
01:09 27 Jul 18
Adam has been great to work with in group class!! Zinc and Onyx and I are learning so much!!

Tabitha Valtr
00:42 27 Jul 18
The change in our dogs in 3 sessions with Adam is nothing less than a miracle.I have an 8.5 year old 100 lb Golden that I had never been able to take on a walk bec he was too crazy, jumping, pulling hard and just generally freaked out. I now walk him literally with one finger thru the leash. Absolute miracle! Our 5 month old German Shepard now walks with no issues on a leash, places for short periods (only 3rd lesson). And they both now come when called no matter what is going on, even over chasing bunnies...did I mention miracle.I tried to keep the review short but the changes are just to great. We Love Tip Top K9 and will continue to use them and refer friends and family. They are by far the best!

Rosetta Britton
12:34 26 Jul 18
Adam and his assistants did more than I expected from a dog trainer. He obviously cared for my dog and treated her as if she were his own. The private sessions were great and the twice weekly group sessions allow the training to go on indefinitely.Couldn't ask for a better experience.

James Breese
21:39 21 Jul 18
Amazing dog trainer! Exceeded my expectation and am more than pleased with the training!

jacob helmer
23:06 16 Jul 18
My American Bully is a whole new behaved dog. Very impressed!!

Awesome experience. Out German Shepard was about 10 months with no rules or boundaries when we got him. He was counter surfing, constantly jumping in doors to come in, jumping on everyone that came over and more. Adam helped us change all that. I dont hesitate to take him out or have people over and with him around. We just had my sons birthday party with 15 kids and one of the pics shows Meeko sitting and staying sat down despite all the activity in the pool. I actually got up walked away for a min came back and he was still there sitting. I Highly recommend tip top Owasso !

Stephanie Braggs
21:18 09 Jul 18
Highly recommend! I have had several dogs and always trained them the same way. When my usual method wasn't working on my Boston Terrier rescue, I called Tip Top K9. My Boston went from being wild and uncontrollable to listening and following commands after only three in-home lessons and some homework on our own in between. She no longer jumps on people and furniture; she walks on a leash without running and pulling; she listens and comes when called. The trainer, Adam, was very good at teaching both the dog and myself the techniques that would work with my stubborn Boston. I can't say enough good things about Adam and Tip Top K9!

Ashdash 316 & Soul sisters
00:29 04 Jul 18
We just moved to Claremore and our dog Pip was in desperate need of training. Everything from the basics to learning to ignore other dogs instead of lunging at them. Adam came out for Pip's assessment and within an hour he got Pip to ignore the dogs barking across the way. Three amazing lessons later we have an improved dog. Adam is patient, kind, straight forward and supportive every step of the way. Money well spent, we are thrilled with the results and will always think of Adam and the Tip Top team as part if our extended family. Highly recommend Adam and his team for dog training at any age or challenge. He can handle it

Amy Romine
17:57 30 Jun 18
Adam did an amazing job with my Golden retreiver, Sadie!!! She is a sassy, stubborn girl but he spent extra time working with her making sure she was ready to go! Will definitely be recommending him and Tip Top to others!!!

KAITLYN REMINGTON
22:18 26 Jun 18
Adam is great to work with! He has helped me so much with our dog. Definitely would recommend him to everyone. We had a big problem with jumping and this program has helped majorly! I have seen a complete turnaround with our dog!

Breanna Shields
21:37 24 Jun 18
We sent Gunner to Boot Camp with Adam. It was the best decision we made. He brought Gunner back home today and the things that Gunner was taught is so amazing!!!! I look forward to taking Gunner to the weekly classes to see what else he can learn!!! We have decided that Gunner will be staying with him when we go out of town. That is how great this place is!!! Highly Recommended!!!!!

Faith Mott
00:25 24 Jun 18
Fantastic job! My dog was wild and they were able to teach her (and me) how to manage her jumping and spazziness! Very pleased with the program and the trainer!

Erica Paramel
18:40 07 Jun 18
We've decided to use Tip Top K9 after adopting a very large rescue dog. We chose a package that allowed us to have 1 on 1 training followed up with classes for both of our dogs. Adam is our trainer and has done a great job. Not only with the dog training, but the people training as well. I highly recommend this company. I'm excited to start going to the classes and learn even more.

Dani Morgan
19:46 02 Jun 18
Great training methods. Been having fun practicing the training techniques we were taught.

John Jackson
19:37 02 Jun 18
Adam did a complete turnaround with our nervous dog!

Loved how much improvement I saw in my dog! They are amazing , 100% reccomend.

Donald Grant
01:52 31 May 18
Patient and professional trainer, Adam restored our faith in the selection of our rescue dogs. Thanks

sue madden
01:30 31 May 18
Working with Adam was a great experience. Taught both dogs and owners very professionally. Recommend him highly!

Keith Madden
19:04 30 May 18
My wife gave me the ultimatum "get the dog trained or we're giving him away". I looked online for a dog trainer and I am so thankful I found Adam and Tip Top K9. I had actually seen him working his dog in Owasso in a parking lot while I was driving by and didn't realize I booked training with the same guy until he showed up! I was so impressed with his dog from my observation driving by that I was instantly excited to get my dog (and myself) trained to that level. I was concerned originally that my wife wouldn't be able / wouldn't like the training method but I'm thrilled to say it has been a very painless training for everyone involved and the dog is 100% improved. Our family and friends are thankful too because our dog (German Shorthaired Pointer) transitioned from extremely hyper to totally in control. Many many thanks!

Chad Carroll
16:18 19 May 18
I am more than thankful and 100% satisfied with the level of training both my dog Pickle and I received from Adam at TipTop K9. I feel more confident in working with my dog and able to handle any situation that arises. Adam clearly knows his business and was professional and made the training fun for both my dog and I. I look forward to working with Tip Top K9 again.

Shelly Guthrie
22:11 18 May 18
We love Tip Top K9!! Adam is the best trainer!!! I wasn't sure they could fix our puppy problems like biting, jumping, pulling on the leash, and barking but we are on our third session and most of our problems are fixed!!! We will definitely be taking advantage of the group lessons and we are really appreciative of all the help from Adam and the Tip Top K9 team!! Thank you!!!!

Jessica Shaw
21:16 14 May 18
Adam is the best trainer! He has helped our border collie boxer mix get over much of his anxiety and also re-trained our other dog who had previously been trained by someone else. Tip Top K9 also provided the skills we need as dog owners to continue lifelong training.

Krystal Tipton
14:41 14 May 18
Adam and the staff at tip top Owasso are awesome !! They trained our dog in 3 weeks and kept in touch with us using updates and report cards with pictures. Would recommend them to anyone !!

Adam was great with my 5 month German Shorthaired!! He was super easy to get along with, super informative on how, why and what he was doing. She changed right in front of our eyes and became such an obedient dog. I would refer this training to anyone that has any kind of dog any size of dog!

We had a great experience!!! I know Adam truly cares about animals & wants the best for them & us (as pet owners). My dog learned so much & is so well trained after we worked with the trainer (Adam). He was so great, showing us everything we needed to do with our dog during the in- betwee sessions. He explained everything in detail & took time to repeatedly go over the things!! He's wonderful & highly recommended!!!

Stephanie Lee
01:11 12 May 18
Our dog is very energetic (easily distracted) and we could not trust her off of her leash. She would bolt at every bird or butterfly that was unlucky enough to cross her path. Every time we went outside, it necessitated following her around with a leash and constantly battling her so she wouldn't run into the road. We came to the realization that we were going to have to teach her how to behave and, due to our lack of experience with dogs, we were going to need some help. After only the second lesson with Rob, we were able to take her for a walk without a leash! The real benefit to the package we chose is that they turn us, as dog owners, how to be effective trainers. Furthermore, every Tip Top K9 trainer we have met has been amiable and professional. We look forward to the group classes!

Justin Fraser
23:24 08 May 18
Worth every penny! Our labradoodle Albus has made a complete 180. We have recommended him to all our neighbors and friends. Albie is a whole new dog!

Carly Gwartney
00:04 05 May 18
My dog is a COMPLETELY different dog after taking the course. All of my problems were solved and even more! (PS: Rob is the best trainer)

Spasd's Gaming Channel
22:57 01 May 18
Our 7 month old miniature Australian Shepherd Mollie has tons of formerly misguided energy and it's such a joy to see how calm and manageable she is with training. Adam has been very gentle and firm with her, and us. We are so glad we had Tip Top K9 training available in our area.

Terri Wilson
14:14 29 Apr 18
This has been a life changing adventure that has our Miniature Australian shepherd Mollie much more manageable and we are excited about the future implications of her calm behavior! With small grandchildren she got so excited, now she stays calm and they aren't afraid of her anymore. The trainer was very gentle and patient with her and us, and firm enough for Mollie to learn quickly.

Carlos Wilson
17:14 28 Apr 18
Apparently you can teach a couple of old dogs new tricks. Rob worked with me on training my two guys, one of whom I was at my wits end with. Both of my dogs are rescues that had a lot of fear and anxiety but they took to Rob right away. He was confident from the beginning that the their issues were fixable. Rob came to our house and taught my family how to train the dogs. I was amazed at how quickly they picked things up including "placing". Giving them a task, even if it is just sitting in one spot keeps their minds occupied so they are not constantly whining, barking, pacing and driving us nuts. They both are much happier and relaxed now and I feel like I can take them out in public without fear they will embarrass me. I highly recommend Tip Top K9 to anyone that needs help training a dog. I wish I had found them sooner!

Julie McGee
23:20 24 Apr 18
Amazing results. Highly recommend for professional and quality training. We were extremely pleased with the service.

Collins Electric
21:59 21 Apr 18
At our Owasso dog training location you will find professional dog trainers who truly live to give dogs a better quality of life.
The owner and head trainer of this location is a native Oklahoman.  Adam has been involved in pit bull rescue and rehabilitation for over 15 years and is used to dealing with aggressive dogs.
"Our team and location has been one of the top ranked dog trainers in the state of Oklahoma for the last few years and we are more than capable of dealing with all types of dogs!  From super aggressive to super cuddly I'm pretty sure we can help you out. If you are wondering if Tip Top K9 Owasso is for you then give us a call today.  Wether your dog is killing chickens or pottying in the house or jumping on your little ones we can help."
The Owasso, Oklahoma location serves all the surrounding area's dog training needs including Claremore, Bartlesville, Collinsville, and Verdigris.  We come out to your house and work your dog there so if your wondering stop wondering and give us a call on our local line 918-404-5985.
Owasso Dog Training Out And About:
Recent Owasso dog training success stories: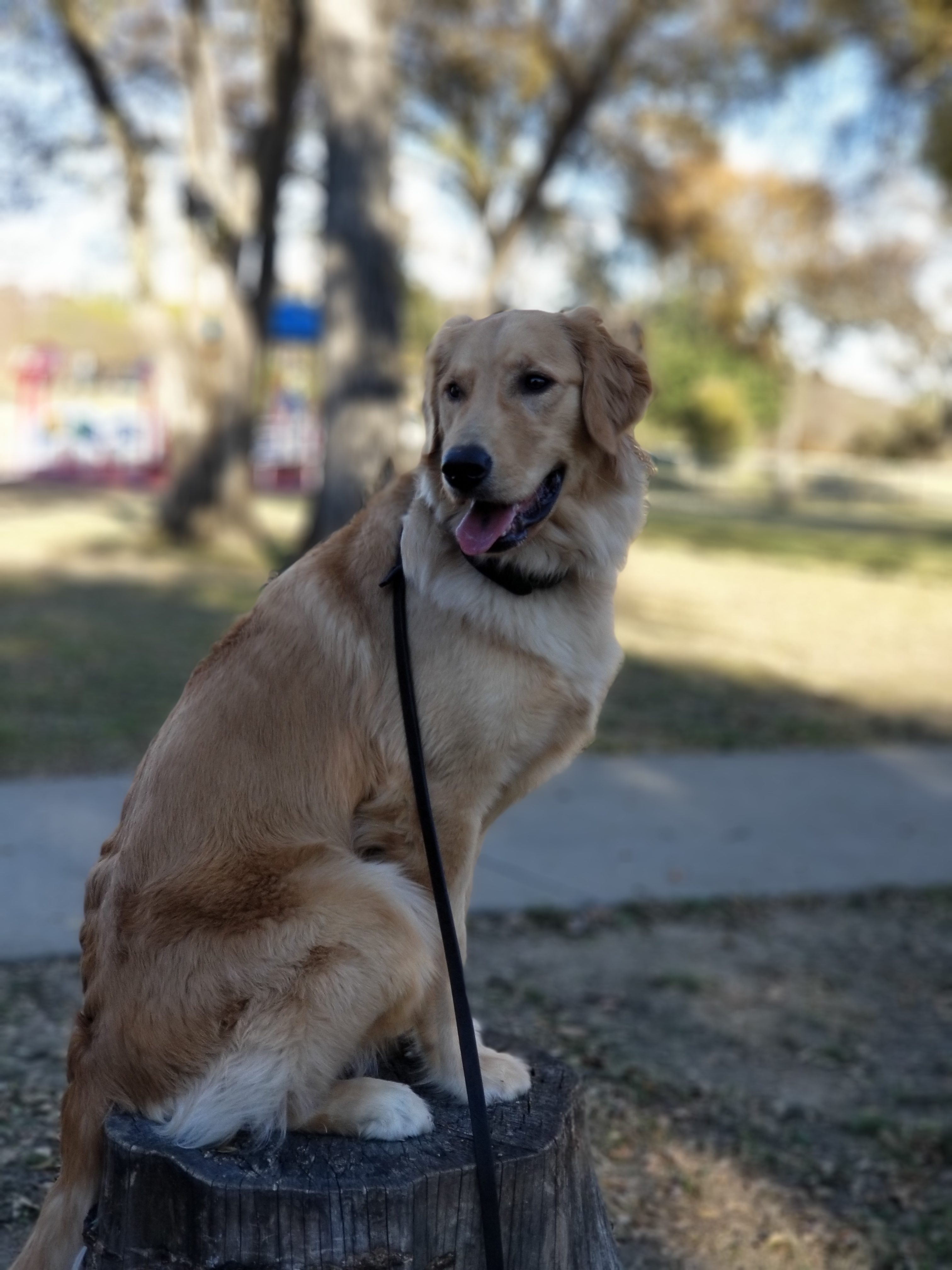 Bella the Golden Retriever
Bella was an out of control golden retriever puppy who couldn't wait to climb you then pull you down the street.  Her heart was in the right place, but she was definitely a handful.  Because of her bad habits her owners Mike and Nicole couldn't really take Bella for a walk or anywhere else for that matter!
After 4 weeks of Bootcamp, her life has drastically changed for the better.  Now instead of running to and jumping all over new people, she sits at your feet and waits for love to come to her.  No need to worry about pulling on the leash either, Bella is now 100% off leash!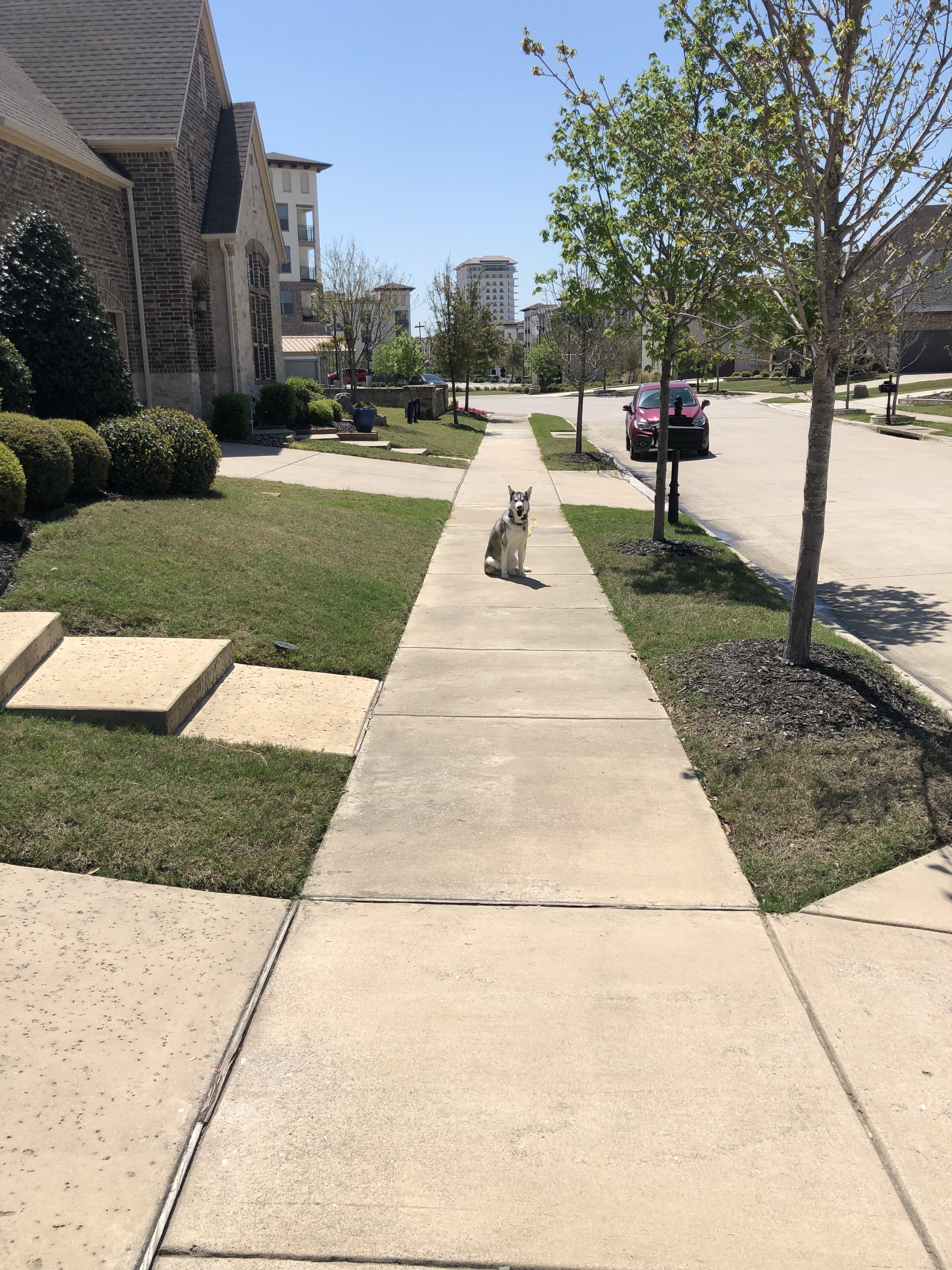 Lucy the Husky!
Lucy was just a small town pup trying to make it in the big city.  Her favorite hobbies were helping herself to the family dinner and long walks around the park pretending she was a sled dog. She hated car rides and listening to anyone who was talking to her. 
Now after 6 weeks of training, she has pulled herself together and is a model citizen.  She still loves walks around the park, but takes a relaxed stroll instead of sprinting to the end of the leash.  She no longer tries to sneak food from the counter when your back is turned, and can instead stay on her bed and watch dinner being made from the living room.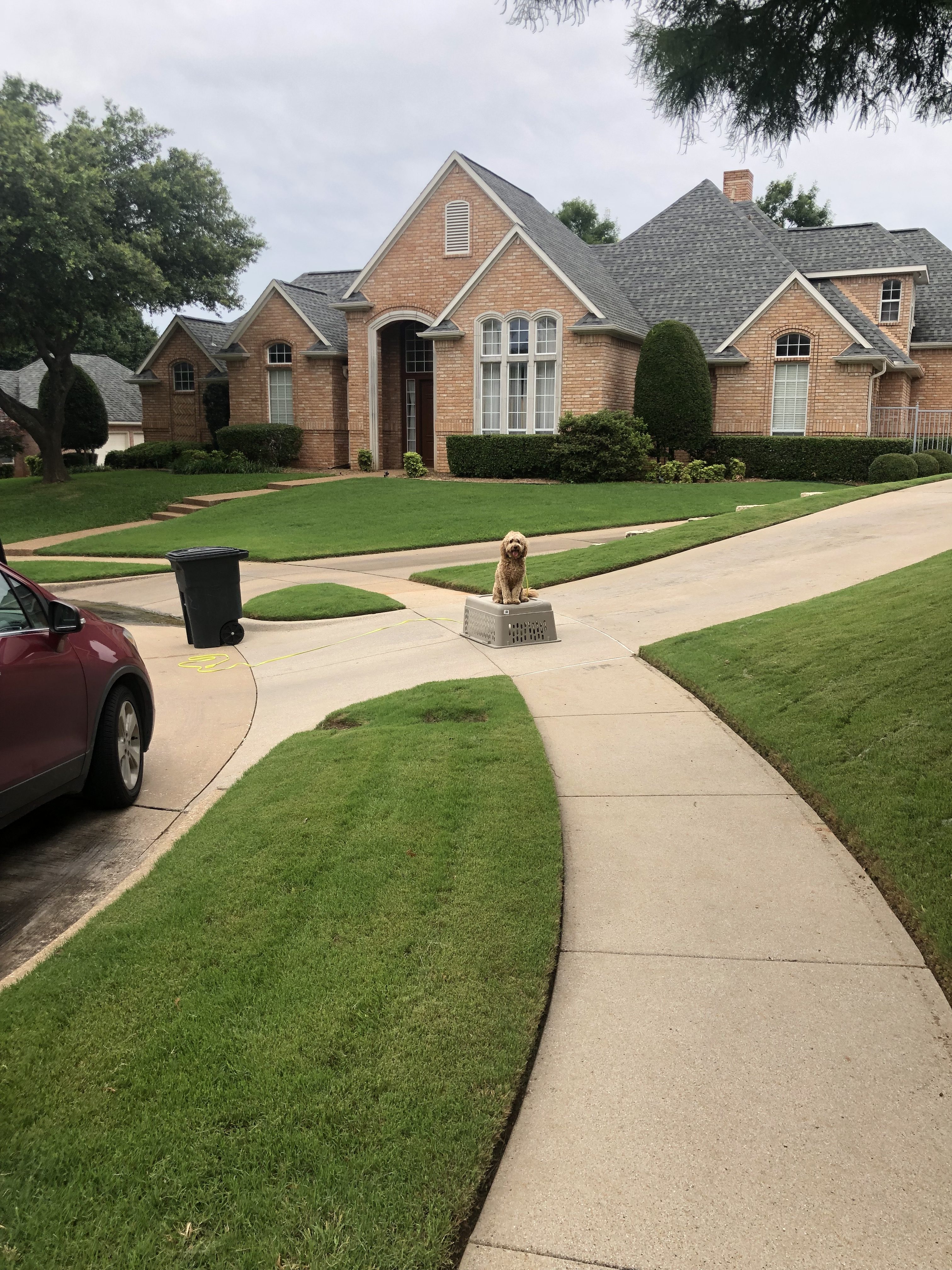 Lulu the Doodle!
Lulu was just your everyday Doodle puppy.  What she lacked in coordination, she more than made up for with crazy.  She was an escape artist and would love to be chased around the neighborhood and parkour through the house!
After just 4 weeks of private in-home training, she had a new lease on life.  Instead of taking off down the street every time the front door was opened, she now just stays on her cot.  Lulu still has her same loving and affectionate personality, but now channels her energy into running laps around the backyard pool instead of the neighborhood!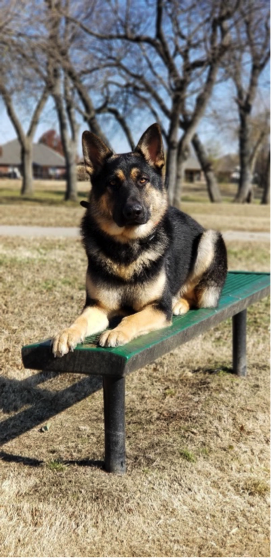 Adonis
Adonis, COMPLETELY UNRULY. The owner, Catrina, was at her wits end. There was never a moment when Adonis had all four feet on the ground. He was the provider of many a fat lip to anyone who dared enter his bubble. Completely unmanageable on and off leash. He played rough with both people and dogs alike.
After completing a rigorous 6-week bootcamp, Adonis, turned himself around. His attention fully at the task at hand, Adonis is becoming a model citizen. No longer the agent of chaos, he has been permitted a place on the couch to relax and cuddle.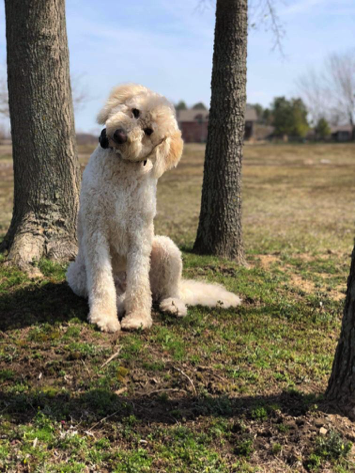 Salvy
Salvy the Goldendoodle, Destroyer of All Material Things. A sweet and lovable dog with a bit of a chewing problem. Salvy ruined thousands of dollars' worth of furniture and outdoor equipment. Salvy had a hard time sitting still and coming when called.
After 4 weeks in bootcamp, Salvy, has become a role model for doodles everywhere. Furniture has been saved from the jaws of doodledom. His owner, Michelle, enjoys his company now and no longer worries what she'll come home to.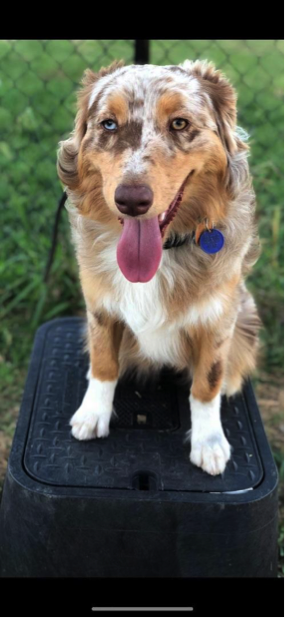 Scarlett
Scarlett was a lightning bolt with fur. A nonstop ball of energy that would do "zoomies" all day long. She loved to share her family's breakfast, helping herself to whatever they left on the counters. A favorite trick of hers was to take the owner's full hot cup of coffee off the table and run through out the house with it. If counter surfing was an Olympic sport, she would take the gold.
After 4 weeks of Bootcamp, Scarlett, was a brand-new pup. Her manners are impeccable. Countertops and coffee are understood to be off limits. Her lightning bolt energy is best served outside with plenty of play and exercise and the indoors are met with certain boundaries. She's become an overall , good girl.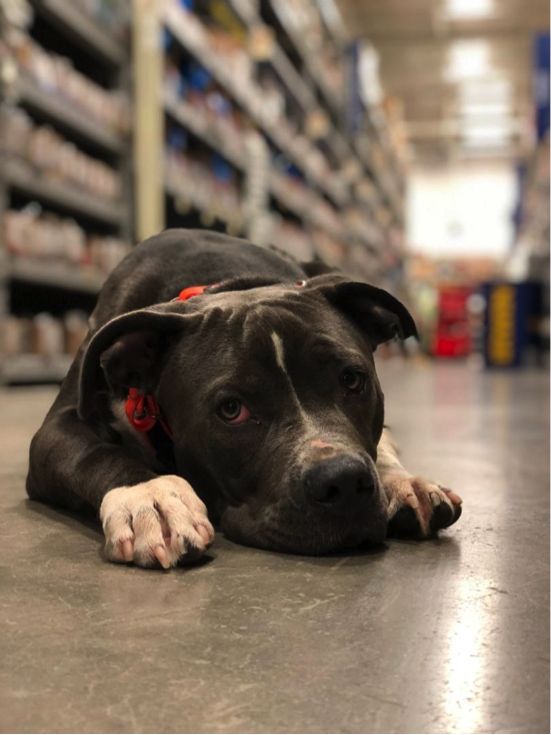 Snoop
A pit bull named, Snoop, was a freight train on a leash. Snoop was and is very good natured, very eager to please but had no idea what a leash meant or any understanding of boundaries. His size and strength made him nearly impossible to handle.
After 4 weeks at bootcamp Snoop heels like a champ even for the owner's young son! The owner, Meloni, was so confident in his behavior and what both they and snoop had learned that they were able to let him roam the office space at their family run business.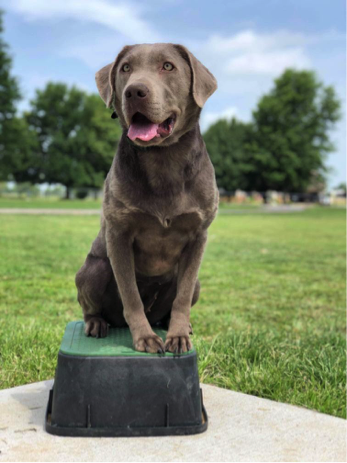 Winchester 
Winchester (Winnie) the lab was/ is a friendly and loveable dog, but the meaning of personal space was completely lost on her. The owner's, Kevin and Michelle, were hoping for a lovable, polite inside dog they could share with friends and family. What they got was a dog they had to tie to the coffee table to prevent her from assaulting guests with her overly affectionate ways. Pulling on a leash was a must for her and bolting out the front door was a fun adventure.
After 3 weeks of bootcamp training, Winnie, was a pro. No more jumping, no more bolting out the door and best of all she could off leash heel like a champ!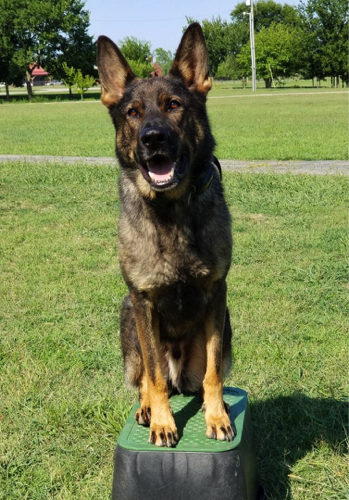 Coop
Coop, "The Terror of Tenkiller". A giant German Shepard that loved his family, but that's about all he loved. He was very protective of his family and his property. His favorite past times included:
Running visitors up trees.
Biting the daughter's boyfriend.
Flattening ATV tires, with his teeth, while it's moving.
After 4 vigorous weeks of Bootcamp training, Coop, turned over a new leaf. No longer a terror, Coop made amends with the daughter's boyfriend by letting him pet him for the first time. He no longer deflates ATV tires and he loves greeting visitors to their home.
Talk With a Trainer Today!