Tip Top has been wonderful! They have completely changed my dog! No more pulling, no jumping on people when they come to my house, and he is even getting used to being around other dogs. Thank you so much!

Excellent trainers, great results

Beverly Thibeault
20:29 06 Aug 20
Liz was so professional, encouraging and nice. I was nervous and she helped calm me down so Charlie would not see my nervousness. I've learned so much from Liz and Charlie is doing good for his age. I look forward to the weekly classes. I now need to practice every thing she has taught me.

Judy Miller
15:21 05 Aug 20
Very friendly and professional. Worked great with my dog and helped improve her greatly. Would definitely recommend.

Alissa Derrington
22:44 04 Aug 20
wonderful training , will not be let down. 100% worth it.

scott childress
19:49 04 Aug 20
Mia was a wild child. Tip Top brought back a well trained and behaved fur baby. They are A+. Sending my other fur baby soon. Thanks from Mia's Family

sandi darrough
21:56 03 Aug 20
Having my dogs go through training was the best for my family. Our Trainer Liz was so patient with myself and my furbaby. With her assistance we have learned basic commands again and are now ready to enjoy being out and about. Thank you so much. My Furbabies are greatful.

Alberto Izquierdo
20:40 31 Jul 20
The bond I have with my dog has only grown stronger since starting this training. Tip Top K9 teaches you an effective way to communicate with your dog.

Kaity Rumble
15:21 31 Jul 20
Liz was incredibly helpful and patient with my dog, great company! Would recommend

Stephanie F
23:27 28 Jul 20
They are great! I am 100% happy with the training my dog has received, and the guarantee with group classes is a deal that you can't beat. Everyone I've talked to has been extremely kind, professional, and knowledgeable. I definitely recommend them for any dog training needs.

Tiffany Fagan
21:15 27 Jul 20
My dog was resource guarding, nipping at her sisters and in a constant state of anxiety. After she came back from boot camp she was a different dog completely! Worth. Every. Penny.

Baily Wilson
02:23 26 Jul 20
Although i only went for an assessment with my german shepherd it was awesome.

We have had the best experience with Liz and the tip top K9 training. Not only has it calmed down our lovable fur friend but we are now prepared for great training ahead in group classes

Steven Fristoe
17:33 24 Jul 20
I would recommend Tip Top K9 to anyone looking for dog training. The one on one classes combined with group classes is the ideal way to train. Bethany is a wonderful trainer and was wonderful with my girl.

Michelle Rogers
00:19 24 Jul 20
Our pup Lily is so much more responsive and loved the training! We can't wait to go to the group classes. Thanks y'all!!

Caroline Schell
22:37 23 Jul 20
Highly recommend Tip Top K9 Fort Smith! Our sweet Murphy just came home from training and is a completely different dog! He is well behaved and so much more enjoyable. We are so thankful!!

Kristen Iovinelli
19:10 23 Jul 20
We recently adopted our pup but started noticing some traits that weren't so pleasent. Thanks to Tiptop k9 we learned, as a family, she just had bad manners. I've seen such a change in how Ms. Brandy's mind works and ow loving she is. We are just so grateful for everything you have taught us- including the kids. You showed how you are concerned with safety for both brandy and my two not so littles. I can not imagine what we would have done. thank you - i cant say it enough!

Chantel Franks
18:44 23 Jul 20
Was excellent, worth every penny! Very happy, satisfied. Would highly recommend and will continue to use.

Phillip Mannschreck
16:28 22 Jul 20
The trainers are professional and caring. The service is excellent. We are happy with the results to our 1-1/2 year old rescue dog who went through boot camp. We will definitely take advantage of the group training classes that are a part of the package we bought.

Ingrid Sadler
12:09 20 Jul 20
Christina is an awesome trainer. She has helped us achieve progress we didn't think would be possible with our pup. She is wonderful with our dog Loki.

jerami vittori
02:45 19 Jul 20
Tip Top K9 is fabulous!!! Our sheepadoodle Murphy is a sweet, loving dog with a real stubborn streak. She went to Tip Top K9 for puppy boot camp. She now will come, sit, place, heel, and lay down on command. This will make it so much easier to control her exuberance and I know we will enjoy every minute with this sweet girl! One more comment....the people at Tip Top K9 are always helpful, enthusiastic about what they do and , most importantly, they love the dogs as much as we do! Thank you, Tip Top K9!! Rosemary Kirkpatrick Tulsa

Rosemary Kirkpatrick
20:00 17 Jul 20
Excellent post Bootcamp family training! Everything well explained, great training and a huge success! Would recommend for all! Lots of support that's on going.

Raymond Sanders
20:31 15 Jul 20
We are so excited to continue our pup's great work with Tip Top K9.!

Janice Bamford
20:30 15 Jul 20
Training our German Shepard Charlie, was so enjoyable with our trainer Liz! Liz was always professional and has allowed us to have control back in our family. Liz trained our dog with patience and kindness. We highly recommend using Tip Top K9!Alana Garman

Reese Garman
20:03 15 Jul 20
Training with Liz went great ! She was patient and consistent with our beloved pup! Can't wait to start our group sessions!

Everything 123
22:51 14 Jul 20
We have loved working with Liz and Tip Top K9! We have seen an amazing turn around with our dog and are so happy with his progress. We would highly recommend them to anyone that needs great dog training!

Wriley Anderson
23:32 10 Jul 20
Our husky malamute mix is very hyperactive due to her breed after starting the traing she is 50% calmer and will place and be still. Recommend highly if you have hyperactive dogs. Trainers are very courteous and professional

milton taylor
16:37 09 Jul 20
I would recommend Tip Top K9 100%. They gave us all the tools I needed to get my dogs behaviour under control. The classes were very informative. It's worth the money.

Carol Felix
17:01 08 Jul 20
Raven learn so much from her time at training. Very professional trainers. Recommend 100%.

Anna Burton
23:24 06 Jul 20
Best decision we could have made!! We adopted a rescue and needed some help with getting some rules and boundaries set. They guarantee their work and work very hard to that end. Very professional and at the same time show their love for dogs. Completely worth the cost and helped our Leo settle into our family so much quicker!!!

Randy Coleman
17:55 06 Jul 20
All of our dogs are rescues, and our most recent fur baby although she was the sweetest and smartestdog we have had. After 6 months with us one day she randomly jumped the fence and ran and attacked another dog and we had animal control and police and half of the neighborhood staring and muttering awful things about our dog, and then later that she did it again. We were absolutely lost and terrified they were going to come take our dog and quarantine or euthanize her. My wife was walking in Petsmart with her and she was very actively interested in someone's dog in petsmart that was off the leash and didn't care what our dog was doing. My wife was so impressed so she asked where her dog was trained. She said Tip Top K9, so we looked it up online made the phone call and Michael came out and met Rhoda and brought his black lab along who was neatly sitting in place for over 15 minutes while he demonstrated how they train dogs. We were sold, we signed the paperwork and paid the deposit and she was off to class on Sunday morning. She spent 3 weeks there and then Matthew brought her back Monday evening and spent 3 hours going through all the commands and had us and our kids practice the training. We knew she was smart and would learn but she is also very ADD and easily distracted. She is a whole new dog!! My kids said they swappedUs with someone else that wasn't Rhoda because the change is so drastic. It is truly amazing to have a dog this well trained and behaved. We have no issues now with worrying about her running out the door or jumping on people or the couch. It was expensive, but because we love our fur babies and they are part of our family, we will do what it takes to ensure their safety and well being as well as our own. I would highly recommend Tip Top K9 to anyone that wants to have a better more balanced and well behaved dog. I can't speak for the Broken Arrow location but I can say I'm so impressed with the Tulsa location and training, that I would giveThem 6 stars if I could! Call them, let them show you how great your dog can be!! We couldn't be happier, money well spent.

Tim Potteiger
02:19 30 Jun 20
I can't believe how much Rhoda has learned. Her training was amazing. I was at wits end with her. We always knew she would be an amazing dog. Thank you so much.

Allison Potteiger
02:06 30 Jun 20
Our Ozzy Dexter had a great learning experience. The trainers and office staff were wonderful with our Aussiedoodle. Thank you for everything you have taught him!

Rachel Fields
22:26 27 Jun 20
We are thrilled with Sally's performance! The trainers were very professional and sally is so much happier and so so so much improved!

C & R Loper
17:32 27 Jun 20
Liz did an AMAZING job with my baby Aaliyah Grace. Just after the first session I noticed a huge change. Can't thank her enough!

Kimberly Gillens
23:11 26 Jun 20
We rescued a Rott/Shepherd mix at the beginning of the COVID19 shutdown. As sweet as he is, he was CRAZY! We've done a lot of dog training with our pups over the years, but this has been the best experience yet. Liz is a really great trainer. The behavior of our dog changed over night, literally. He's still sweet and now, well behaved. We will continue to work with him at the lifetime group classes and can't thank Liz and Tip Top K9 enough for their training!!

Jeff Turner
17:54 26 Jun 20
I'm am so happy with my decision to have Tip Top K9 help me with my Great Dane. Liz was wonderful to work with and made me get more more comfortable with Marley. I am now able to take her out on walks and be comfortable that she won't get away from me. Super happy with our results and how far Marley has come. Highly recommend Tip Top K9 and highly recommend Liz.

Macey Maxey
00:12 26 Jun 20
We took our puppy here and we were very impressed with the way they treated us and were very reliable!

Jennifer Fraley
22:50 25 Jun 20
Liz took my beagle from absolutely TERRIFIED of EVERYTHING to an -almost- fearless boy! I'm super grateful for tip-top K9 I'll forever recommend! ♥️

kenya sellers
00:31 25 Jun 20
Matthew and Michael were both amazing! I honestly can't say enough great things, they were both very informative and I felt 100% comfortable trusting them with my dog. She has already learned so much and I'm excited to keep going to classes to learn even more. Thanks Top Top K9!

Kimber Pittman
18:30 19 Jun 20
They did a fantastic job with our lab Remi!

Laci Jones
02:02 19 Jun 20
My dog Kinta is a older dog but very hyper. I did not think she would be trainable but has done very well. I would recommend Tip Top K9 to any one. Tip Top K9 has a wonderful staff.

Melissa Mahan
23:50 18 Jun 20
I have been VERY please with the results that I have seen with the training that My dog Shadow has had. The whole staff at Tip Top has been very professional and courteous through the whole training process. I have and will continue to recommend their training program to other Dog owners that I know.

We have a 6 month old Goldendoodle that we wanted to train earlier rather than later to ensure that she didn't continue her bad habit of biting and counter surfing. She is now the best behaved dog we have ever had and we are so grateful for using Tip top k9. Our trainer Adam was very flexible with our schedule and was very personable. He proved he is passionate about training and cares for our Shelby and all of his other clients.

Jessica Rajki
17:11 17 Jun 20
Michael and Jeanettt were great. My dog was extremely dog aggressive, i couldn't take her on walks or allow her to see other dogs as she would attempt to attack them,, i sent her to doggy boot camp and she came back a brand new dog. We feel comfortable we'll be able to take her on walks and trust she's not going to lunge at someone else's dog.

marissa sapulpa
23:38 15 Jun 20
We got the basic package for our pup and she took to it amazingly. The trainer was highly professional and able to handle all the puppy tantrums with ease. Would highly recommend!

Damon Gruen
22:35 15 Jun 20
Train With THE Top Rated Location In The Country!!
We have been in Tulsa for over 10 years helping 1,000s of clients enjoy their dogs more and fix behavior problems in their beloved dogs!  We would love an opportunity to work with your dog and get them off-leash and under control!
At our Tulsa dog training location we specialize in aggressive dogs and behavioral issues of all sorts.  No matter what you dog is exhibiting chances are we can help!
We serve Tulsa dog training needs all over the greater Tulsa area!  We love to give people the ability to take their dog everywhere with them and enjoy them more through obedience training!  With people surrendering dogs in record numbers our trainers work with many rescue and shelter dogs to help them overcome aggression as well as fear based issues from abuse and neglect.
Currently the most common dogs we train are Doodles!  Golden doodles, labradoodles, and doodles of all kinds!  Doodles are smart but can be high strung and high energy and can require a lot of work!  At our Tulsa dog training location we always have 1 or 2 doodles at doggie boot camp.  If you have a doodle then look no further call today and we will send a doodle whisperer right out to show you what we can do!
We do private lessons and boot camps but we do not sign up every dog for every package instead we start with a $1.00 first lesson.  This will let our trainers get to know your dog and allow your family see first hand what would be the best course of action for you fur child.  Call us today at 918-991-8634 to have us come out and work with your dog for only $1.00!
Hear what some of our Tulsa dog training clients have to say about us:
"My Newfie is now able to walk on a leash and does better in the house with guests."
"This has been quick, decisive helpful training with our dog! It was both helpful and enjoyable!  This was a good experience."
"My dog does exactly what I wanted him to do for us! He comes when called!  I love the fact that they came to our home and training was so personal!  I have a dog that behaves and takes commands really quickly.  Training has made our house a fun place to be."
"Tip Top is user friendly and dog friendly, the actual process that Tip Top K9 uses is superior… Very effective and efficient."
"I felt like I was trained to train my dog.  They just taught me everything I needed to know for him to be a great dog!"
"It feels like everyone at Tip Top K9 truly cares about your dog.  You are going to get every bit you paid for and a ton extra.  After dog training my dog turned out wonderful and I owe it all to Tip Top K9."
Out And About Dog Training In Tulsa:
Some of our recent Tulsa dog training success stories: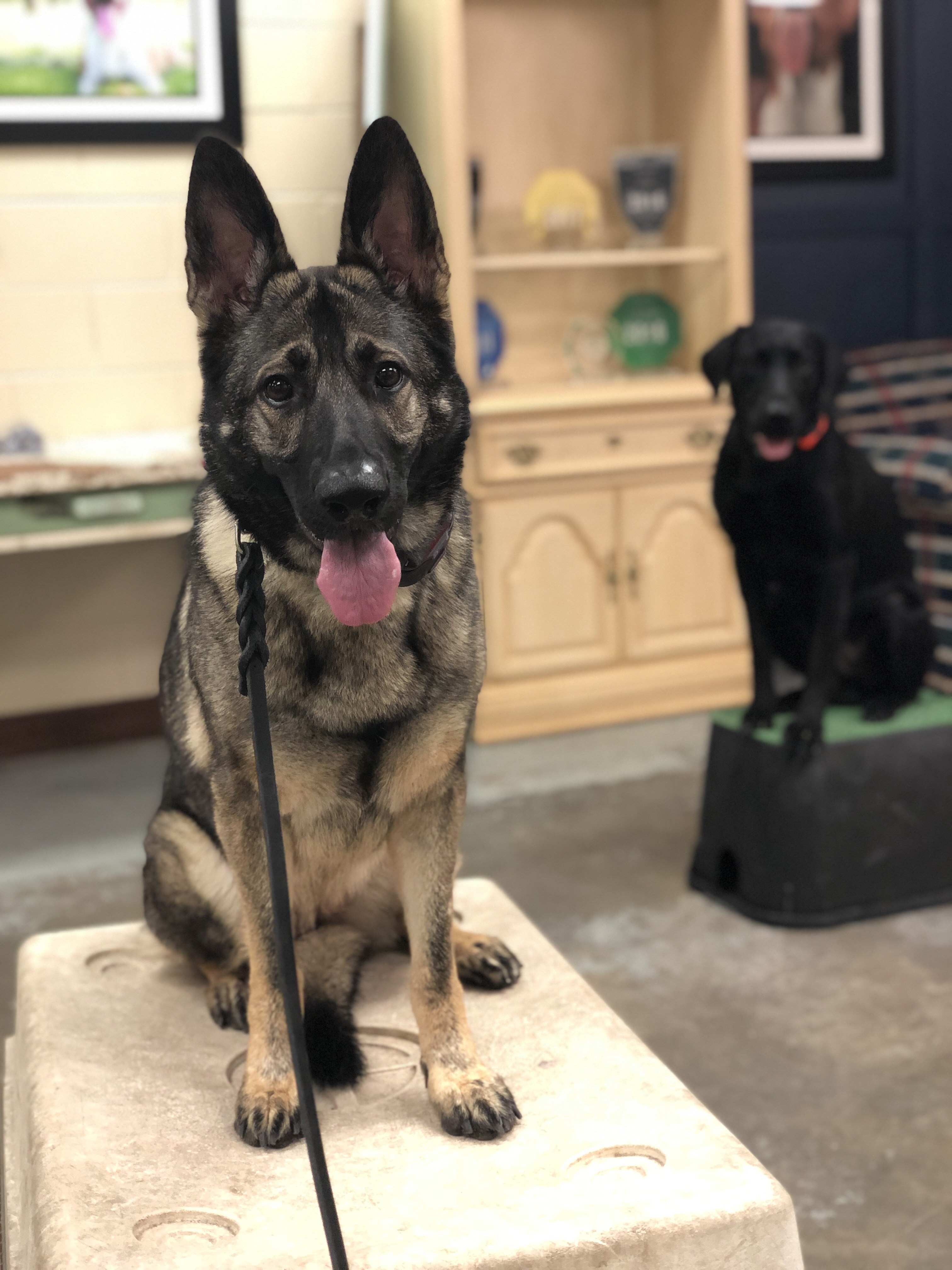 Athena - Aggressive German Shepherd
Athena was a 2 year old German Shepherd who did one of our dog board and train programs.  She was a very sweet dog to people but was very dog aggressive and would go crazy and drag her owner (who was a strong guy) over to other dogs out on walks to try to eat them! She would even climb her fence to go after other dogs and had just bitten another dog really bad before her owner called.
After working with our Tulsa dog training team for a month, Athena can now be next to other dogs and around other dogs without any issue.  This took four weeks of boot camp but now she loose leash walks with only two fingers on the leash and can ignore dogs and do her obedience off leash in the front yard with no issue!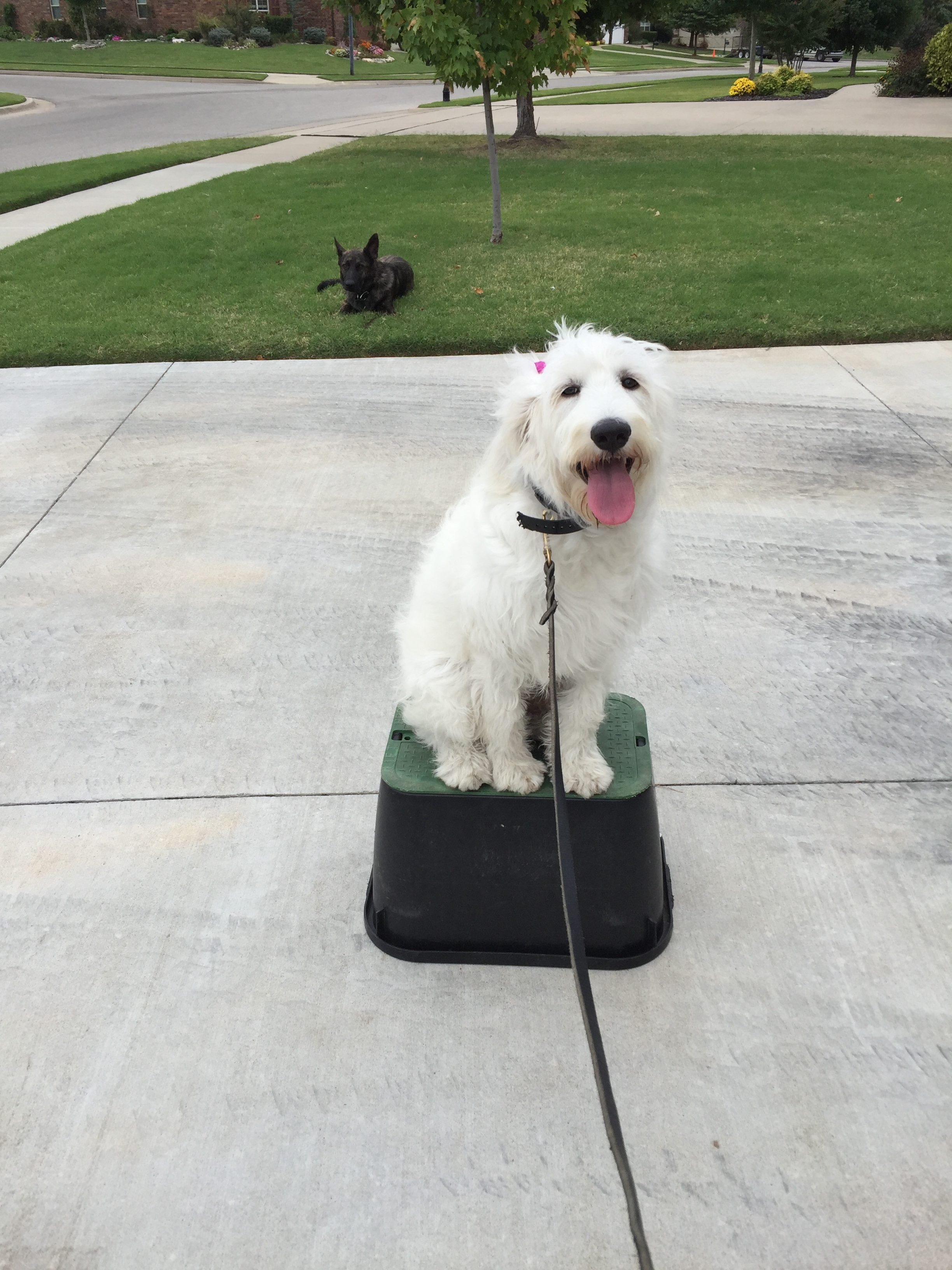 Sugar - 1 Year Old Labradoodle
Sugar was a very sweet but hyper and crazy labradoodle!  Her owner Ryder was a 11 year old boy who loved her but did not have her respect!  We did in-home lessons and trained the dog, parents, and the young man! 
After 6 lessons Ryder (Sugar's 11 year old owner) was able to walk her on a leash in the front yard and even have her off leash with other dogs around! We focused most of the lessons on training Ryder how to make her listen without raising his voice but showing her that she has to do what he is asking her to do!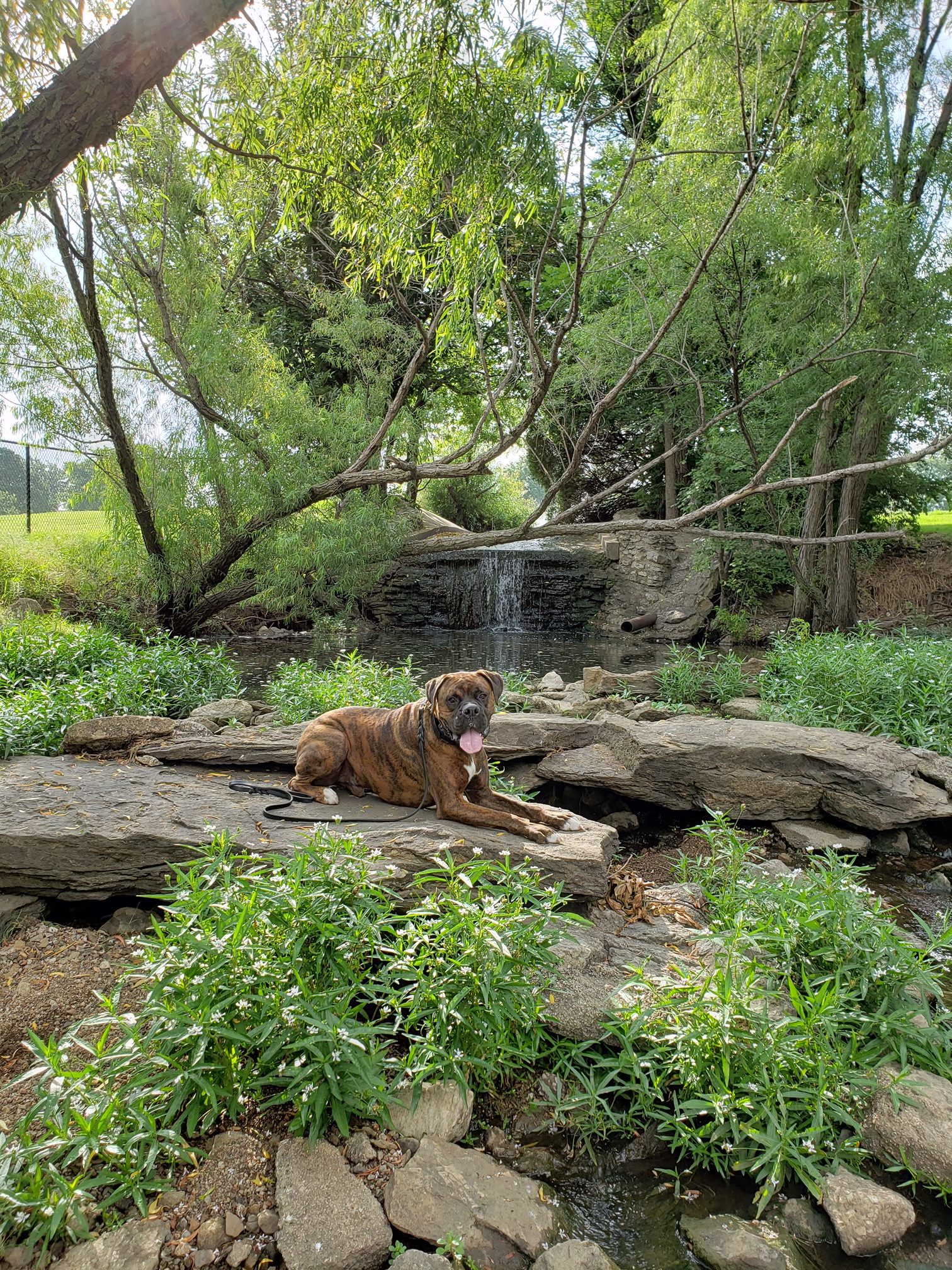 Bear - 5 Year Old Boxer
Bear was a 5 year old Boxer that came for Boot Camp.  He was a good dog but his parents did not have time to train him to be that 100% off leash, go anywhere dog they wanted!  So they sent him to our Tulsa dog training team and we trained him 3 hours a day for 3-1/2 weeks and then went back and trained them!
Bear can now go anywhere off leash! This photo is him at the park.  After boot camp we trained his family for 3 hours until he did everything for them.  
Why Choose Tip Top K9 Tulsa Dog Training?
For over a decade our founder, Ryan Wimpey has been obsessed with training dogs. Although the company has now grown with dog training franchise locations now based in Texas, Oklahoma, Idaho, Utah, etc. Ryan has never lost his love for training dogs to truly become the obedient and loyal companions that you want your dog to be. Because Ryan and the entire Tip Top K9 Tulsa dog training team is so confident that you will be wowed with your first dog training experience, your first lesson with us is always just $1.
Why Is the First Tulsa Dog Training Service Just a $1?
We recognize that in every industry there are really great service providers and really terrible service providers and the same is true in the dog training industry. And although Tulsa is blessed to be home of many wonderful dog training services we constantly hear horror stories from clients who visited a Tulsa-based dog training service ran by people that treat dog training as lost mystical art with no actual proven plan or systems in place to serve as a path for producing predictably great results in the dogs they train. However, at Tip Top K9 we force ourselves to earn your business each and every time. During the first meeting with us we are going to WOW you with great service, or we simply won't earn your hard-earned dollars.
What Puppy Classes Do We Offer?
Is your cute puppy making your brain explode as you watch it terrorize your house and home? Well hang in there because help is just one quick call away. At Tip Top K9 Tulsa dog training we love working with puppies and believe it to be a wonderful way to begin simple obedience training with the newest member of your family (your puppy). If you choose to become a student in our puppy training class you will be coached on the proven methods for crate training your dog, housebreaking your puppy and teaching your puppy how to not bite and chew the things and people you love.
What Obedience Classes Do We Offer?
At Tip Top K9 Tulsa dog training our entire team believes that obedience is an important way to build a great connection between you and your dog. Once you and your dog have established a great connection based upon discipline it really does lay the groundwork for a long-term win-win relationship between you and your dog. Whether you are looking to learn basic or more advanced obedience tips, tricks and skills we offer it at Tip Top K9 dog training.
What Services Does Tip Top K9's Tulsa Location Offer?
At our Tulsa Tip Top K9 dog training franchise we our proud to offer a wide variety of dog training services including (but not limited to):
Puppy Training Classes
Beginner Classes
Training for Aggressive Dogs
Therapy Dog Training Related Services
Advanced Dog Training Classes (We can teach your dog some pretty impressive tricks, but we are still unable to teach your dog to read at this point)
Private Dog Training Classes
In-Home Dog Training Classes
Doggy Boot Camp Training
Empowering You by Teaching You Proven Dog Training Methods
Tip Top K9 Tulsa dog training was founded to help great dog owners like you to build a strong bond with your dog. Our top-rated dog training program is currently the highest rated and most reviewed dog training company in Tulsa. In fact, the proven training methods that we teach are so effective that most customers tell us "it's like having a new dog" after their dog has been properly trained by our staff.
Our dog training services are energetic and result-focused and have proven to be effective in the training of canines of nearly any age and nearly any behavior type. But don't take our word for it. Schedule your $1 first dog training session today.
What Bootcamp and Private Dog Training Options Do We Provide
Tip Top K9 Tulsa is proud to provide many different packages for the canine training services that we provide. Our highly-skilled and rigorously trainers will invest the time to work one-on-one with your dog, however we can also provide the Tulsa dog training services that we offer while working at your residence, at a park or location that is best for you and your family's needs. During these training classes we will work with you to help you teach your dog home to move past behavior issues and patterns of behavior that can cause friction between your and your dog.
Where You Can Learn More About Tulsa Dog Training Services
Although we do not provide Tulsa dog grooming services we would be happy to recommend a high quality Tulsa-based dog grooming business today. Just give us a call at (918) 991-8634 and we will point you in the right direction.
What Is Our Aggression Policy?
At Tip Top K9 Tulsa dog training we do reserve the right to choose not to train any dog if we do in fact believe that the dog's level of aggression is something that we could classify as being "dangerous" or "vicious" in nature. However, your first lesson with us is always just $1 so we both can find out if we are the right dog trainer in Tulsa for you.
What Is Nearest Tip Top K9 Dog Training Location Near Me?
With Tip Top K9 dog training locations in Owasso, Oklahoma City, Tulsa, Jenks and Broken Arrow we are here to serve all of northeast Oklahoma. Dogs that finish and complete our puppy-focused classes are then set up in a great position to start more advanced obedience training when the time is right. During our puppy training classes we are confident that you will build a lasting relationship with your dog.
Tip Top K9 Tulsa Dog Training
8545 E 41st St,
Tulsa, OK 74145
Phone: (918) 991-8634
Talk With a Trainer Today!