Awesome guys with a high spirit of excellence and awesome to deal with.

cisco trotter
03:06 29 Jun 22
Incredibly satisfied with our 9 month old pup. They gave us all the tools we needed to understand how to help our dog be the best she can be!

Kevin Guenther
20:00 27 Jun 22
Jeanett did great with our dog! He's a husky/Shiba/wolf mix who was extremely stubborn at first, but she helped us train him and turn him into the perfect, sweetest dog! The results are night and day! Would recommend Jeanett to anyone wanting a good time while training your dog!

Allen Johnson
19:38 25 Jun 22
Everyone we had any contact with could not have been more helpful! And, really nice as well! From meeting Mike and Ben at our first meeting to private lessons with Sean to boot camp and follow up with Gregory and JT it was all top notch. I would highly recommend TipTopK9! They know what they're doing!

Betty Giffhorn
20:38 24 Jun 22
Greg did a great job showing us how well Ellie was trained and also did a great job training us!

James Parrish
00:12 22 Jun 22
Matthew and Tyler were amazing with our two dogs. Matthew spent time with us to make sure we understand the commands and was great with our son. Matthew was also patient with our kids. We look forward to doing group classes Matthew!

Lauren Lowe
23:57 20 Jun 22
So glad I chose tip top k9 for my boy Zuko, we got him at one year old and thought most of his bad behavior had been solidified in his mind but after tip tops regimen of private lessons he was more obedient and responsive to commands, completely exceeded our expectations, and with the lifetime group classes I am more than happy with my decision to go with tip top k9

Timothy long
13:25 18 Jun 22
It was a great experience for me and my dog it made a big difference in his behavior

Richard Wild
16:53 14 Jun 22
The trainers love the animals they work with and they help to make everything as easy as they can for the pet parent. They are willing to go over things as many times as you want and ask as many questions as you want. They will work on any training skills you want to learn.

Amy Roesslein
15:26 11 Jun 22
My dog came back well trained. The staff was really helpful and knowledgeable.

Daniel Smith
22:56 10 Jun 22
Its been One week of training using the Tip Top K9 method and in just one week we have seen a Big Difference with our 6 month old Golden Doodle. The barking at the door when someone shows up has stopped and he is Heeling much better than before. We are really looking forward to having a well trained dog.

Ruben Marrujo
16:26 10 Jun 22
Ben and the staff are amazing! Just finished training with us after boot camp, and they are so professional and very thorough!

Tracy Rubis
01:46 03 Jun 22
Just got our sweet 6 month old Labradoodle Tanner home from two weeks of training at Tip Top K9 and he is doing GREAT! Remington and Billy his trainers did such a good job with him. A huge thank you to everyone at Tip Top K9 for helping us get this pup on the right track.

krista mullenger
22:02 31 May 22
Sean was amazing with our 3 year old shepherd. More importantly, he trained us and set us up for success with all of the lessons. We will be using them for our puppy as well when he is ready! Highly recommend!

Molly Lewis
20:12 28 May 22
Easy to work with and flexible to work with your schedule. Trainer explains everything and works with your needs well! Definitely recommend!!

Our 7 month old Frenchie, Huncho just came back from Tip Top K9 and he had learned so much to help speed up his obedience. We had the hardest time taking him outside the home because of his barking. Their training along with the introduction of an e collar has truly made a difference. I'm grateful for all their help and now have more confidence taking him out on walks and to do the dog park. Definitely recommend them for any dog training you might be considering!!

Alicia Monroe
18:09 25 May 22
A very good experience. Well worth the money to get Rocky (and Cookie) to develop some great training habits. Makes the dog owning experience so much easier and manageable. Even grandma can walk our big dog now! Jeanett was terrific and a pleasure to work with in/at our home.

Sandra Moulton
22:03 20 May 22
Best place if you want good and genuine dog training with real improvements, amazing trainers that actually care!

Brianna Amaro
20:44 18 May 22
Life changing dog training. Seriously turned our hyperactive bull in a china shop into a laid back chill dog that we can actually take out in public and on vacations…off leash! Spend the money and do it! We did the in home training and it was worth every penny!

Amanda Christian
16:59 18 May 22
Super happy with the training for our dog and our family. Answered all our questions and our golden doodle seems happy.

Kenneth Elmore
00:10 14 May 22
We sent our Chorkie to tip top for the house training boot camp and love the results. The trainers are great, knowledgeable, and kind!

Danny Chrastil
20:41 10 May 22
Tip Top K9 worked with two of our dogs over the last two months. We can see a dramatic difference in both of them. Even our extremely hyper boston calmed down and is listening to commands. We will definitely use them again for our next dog.

I cannot give enough stars to express our gratitude and joy of the training Sophie received ! Night and day difference! She is a purebred Great Pyrenees at 10 months old and is very stubborn, loving and energetic. Now she can be off leash in our front yard and not run off to get hit by cars. She no longer jumps on anyone and her over all demeanor is calm! The window screens and fences are safe! Lol! Ben and Michael and Ben #2 are amazing! Worth every penny!! Looking forward to continue with group classes when we can but she is doing outstanding!!

angela fritz
14:54 08 May 22
Great experience! Thank you Matthew and Susan and the entire team.

Jay Williamson
22:28 04 May 22
They did awesome with our goldendoodle! I'm pretty sure he had ADHD before training. He couldn't sit still much less come when called. He came back today and we are in awe!

Rylan Martin
22:58 27 Apr 22
Fantastic to work with and offer a first-class experience. Couldn't be happier with Tip Top

Larry McKay
00:39 27 Apr 22
Our dog, Indy, came back a different dog! We were impressed with the bootcamp and the updates/communication we received. Matt did an amazing job! Highly recommend for anyone who need dog training!

Faith Cook
23:15 26 Apr 22
So awesome! They did such a great job! Quite please! Would recommend you guys to anyone!

Linda Vaughn
21:39 26 Apr 22
Kolton came home a better trained dog!! We appreciate Tip Top so much!!!

Has helped with both our Irish Wolfhound and our stubborn Boston Terrier. Looking forward to the group classes for both of them.

cortney dye
18:36 25 Apr 22
Highly recommend Tip Top K9 Tulsa Dog Training. Jeanette was amazing training my dog. Very clear with her command instructions and my dog loved her!

LeAnn Metcalf
00:05 22 Apr 22
Jeanett was an amazing coach helping us train our Rottie. Tip Top K9 has helped us a lot with her obedience.

Josiah Holland
21:56 21 Apr 22
I trained my dog Olive with the help of Tip Top K9. Jeanette gave me all of the tools to help me give my dog structure & obedience. She was very patient & thorough during the process. I would highly recommend TipTop to anyone who is considering training their dog.

Matthew Leland
19:55 21 Apr 22
Janette has made all the difference with our Jax (miniature labor doodle). We were at the point of looking for a new home. She even came out and worked with everyone in our home.

Daniel Avery
00:05 20 Apr 22
We couldn't be happier with not only our dogs but the staff as well! They are so personal and caring with our dogs (and us too)! They are patient as they train us (because that's a huge part of success 🤪) and they clearly love our dogs as well.

Mark Collier
23:30 19 Apr 22
Exceeded all my expectations! This is amazing training and great people to work with.

Ronnie Coy
23:14 19 Apr 22
Jeanette was a terrific trainer! My dog responded very well to her training. The facility is perfect for dogs of all sizes, with indoor and outdoor training areas. We had one on one training, and there are always well trained dogs there who role model the correct behavior.

Stewart Lingle
22:30 19 Apr 22
We used Tip Top K9 to train our Aussie doodle and are absolutely delighted with the results. We opted for boot camp and it has worked out great. The trainers are terrific, clearly explaining the methods as they transfer giving commands back to you. Our rambunctious pup is much better behaved now, he can still play and have fun but now listens when we need him to. We had tried other training methods with limited success before trying Tip Top K9. Their method is by far the most effective and we're so happy we used them. Really looking forward to taking him to the classes.

Paul Gilmartin
22:15 16 Apr 22
Ashleigh and Joe are amazing and so great to work with! Benji just came home after his training and it is so amazing how great he is doing. He is listening. He is obeying. No more loud non stop barking when someone walks past the house. No more jumping. Thank you so much!!

Kerry Postel
23:31 09 Apr 22
Great training learning to control our dog Sarah has been a life saver! I highly recommend these trainers…. Thank you guys so much for everything!

Monica Sczech
21:53 09 Apr 22
We sent our German Shorthaired pointer off to training and he came back a complete different dog.He is able to listen on command with the assistance of his e-collar. He did not budge when the neighbor dogs came out to say hello (he use ti fence fight)We are looking forward to being able to take him out and about and see how his training has paid off.

Ashaunta Degree
20:23 09 Apr 22
My dog Roxy has came along way under the training of Jeanett at Tip Top K9 Tulsa. Roxy has learned so much from here. Roxy has really done well. I'm very happy with their services they did a wonderful job with her. Ty!

Jeremy Calico
17:05 07 Apr 22
I'm replay thank full for getting my puppy to get trained she been a really good girl after the lessons and she leasing more. Thank you !!

Keila Hernandez
17:30 06 Apr 22
Great company, great customer service, Puppy went to camp for 2.5 weeks and came back with all the basics and the foundation to learn more with same system.Definitely recommend for new dog owners or wild puppy owners.Thank you!

Tucker had a great time and is now so well behaved! Thank you Tip Top!!!

Chauntay Johnson
19:35 30 Mar 22
Jeanette was awesome. She worked great with my dog and me! I learned so much from her and highly recommend this program.

Elizabeth Jewell Churchill
23:29 25 Mar 22
Train With THE Top Rated Location In The Country!!
We have been in Tulsa for over 10 years helping 1,000s of clients enjoy their dogs more and fix behavior problems in their beloved dogs!  We would love an opportunity to work with your dog and get them off-leash and under control!
At our Tulsa dog training location we specialize in aggressive dogs and behavioral issues of all sorts.  No matter what you dog is exhibiting chances are we can help!
We serve Tulsa dog training needs all over the greater Tulsa area!  We love to give people the ability to take their dog everywhere with them and enjoy them more through obedience training!  With people surrendering dogs in record numbers our trainers work with many rescue and shelter dogs to help them overcome aggression as well as fear based issues from abuse and neglect.
Currently the most common dogs we train are Doodles!  Golden doodles, labradoodles, and doodles of all kinds!  Doodles are smart but can be high strung and high energy and can require a lot of work!  At our Tulsa dog training location we always have 1 or 2 doodles at doggie boot camp.  If you have a doodle then look no further call today and we will send a doodle whisperer right out to show you what we can do!
We do private lessons and boot camps but we do not sign up every dog for every package instead we start with a $1.00 first lesson.  This will let our trainers get to know your dog and allow your family see first hand what would be the best course of action for you fur child.  Call us today at 918-991-8634 to have us come out and work with your dog for only $1.00!
Hear what some of our Tulsa dog training clients have to say about us:
"My Newfie is now able to walk on a leash and does better in the house with guests."
"This has been quick, decisive helpful training with our dog! It was both helpful and enjoyable!  This was a good experience."
"My dog does exactly what I wanted him to do for us! He comes when called!  I love the fact that they came to our home and training was so personal!  I have a dog that behaves and takes commands really quickly.  Training has made our house a fun place to be."
"Tip Top is user friendly and dog friendly, the actual process that Tip Top K9 uses is superior… Very effective and efficient."
"I felt like I was trained to train my dog.  They just taught me everything I needed to know for him to be a great dog!"
"It feels like everyone at Tip Top K9 truly cares about your dog.  You are going to get every bit you paid for and a ton extra.  After dog training my dog turned out wonderful and I owe it all to Tip Top K9."
Out And About Dog Training In Tulsa:
Some of our recent Tulsa dog training success stories: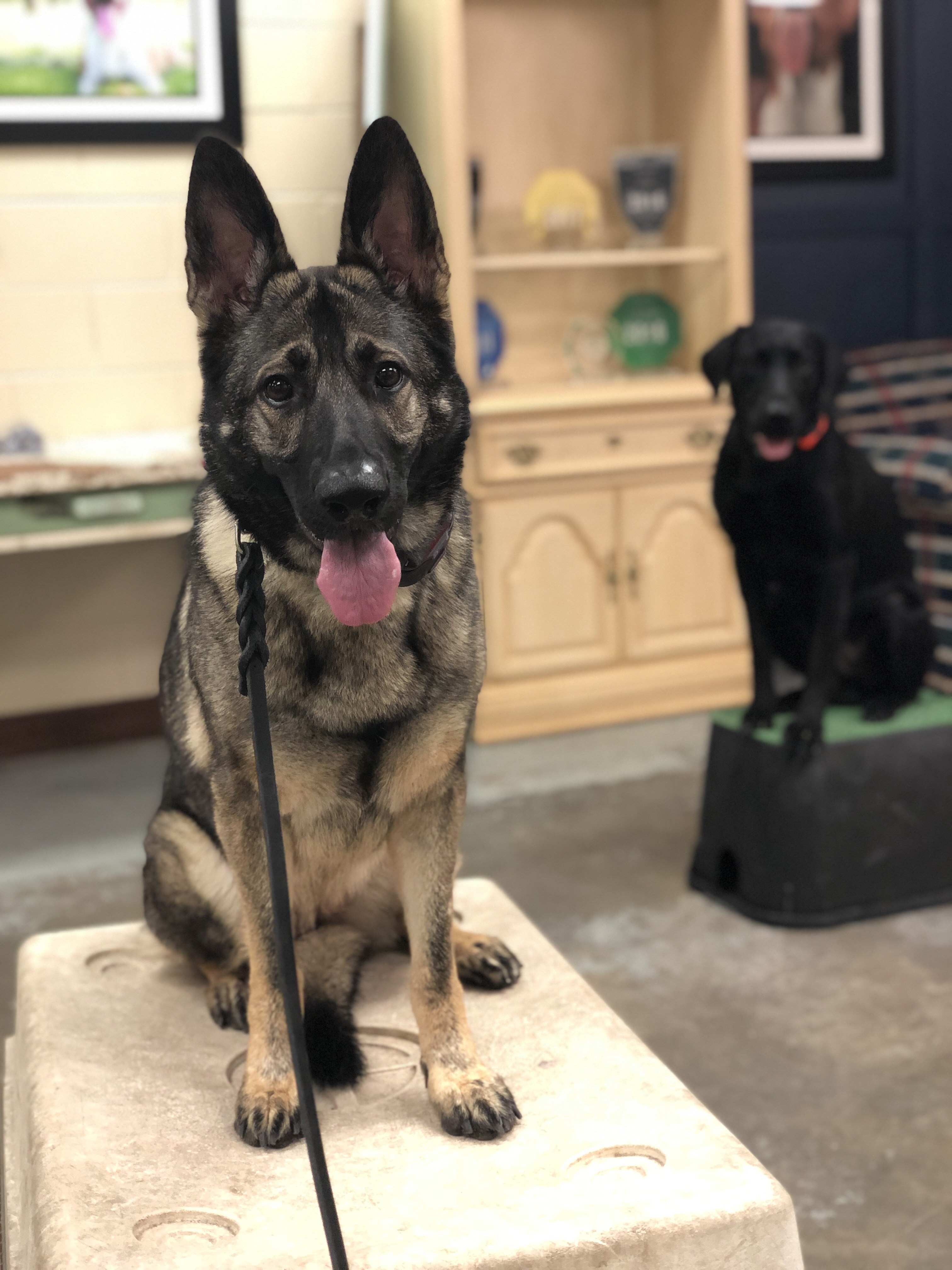 Athena - Aggressive German Shepherd
Athena was a 2 year old German Shepherd who did one of our dog board and train programs.  She was a very sweet dog to people but was very dog aggressive and would go crazy and drag her owner (who was a strong guy) over to other dogs out on walks to try to eat them! She would even climb her fence to go after other dogs and had just bitten another dog really bad before her owner called.
After working with our Tulsa dog training team for a month, Athena can now be next to other dogs and around other dogs without any issue.  This took four weeks of boot camp but now she loose leash walks with only two fingers on the leash and can ignore dogs and do her obedience off leash in the front yard with no issue!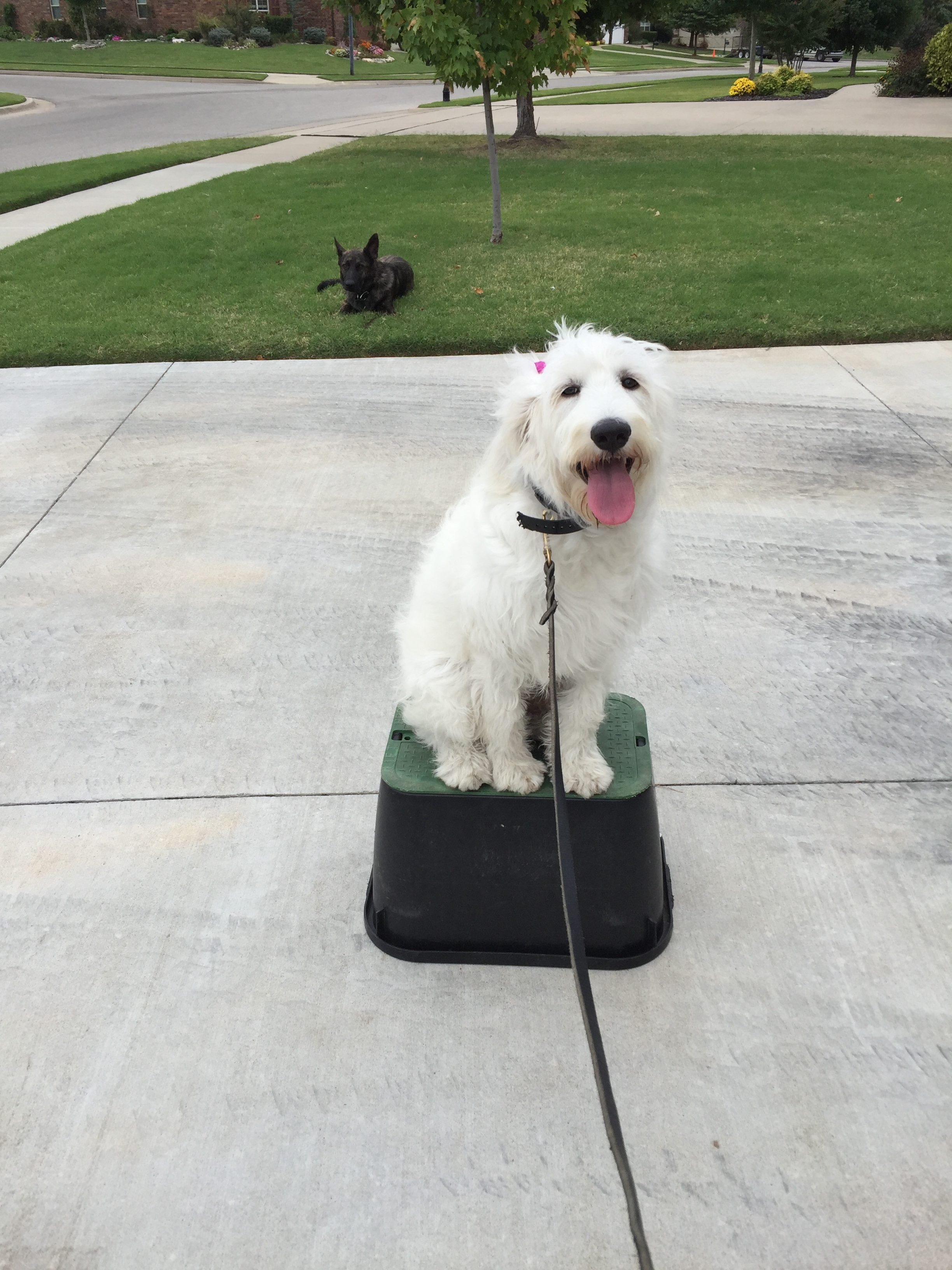 Sugar - 1 Year Old Labradoodle
Sugar was a very sweet but hyper and crazy labradoodle!  Her owner Ryder was a 11 year old boy who loved her but did not have her respect!  We did in-home lessons and trained the dog, parents, and the young man! 
After 6 lessons Ryder (Sugar's 11 year old owner) was able to walk her on a leash in the front yard and even have her off leash with other dogs around! We focused most of the lessons on training Ryder how to make her listen without raising his voice but showing her that she has to do what he is asking her to do!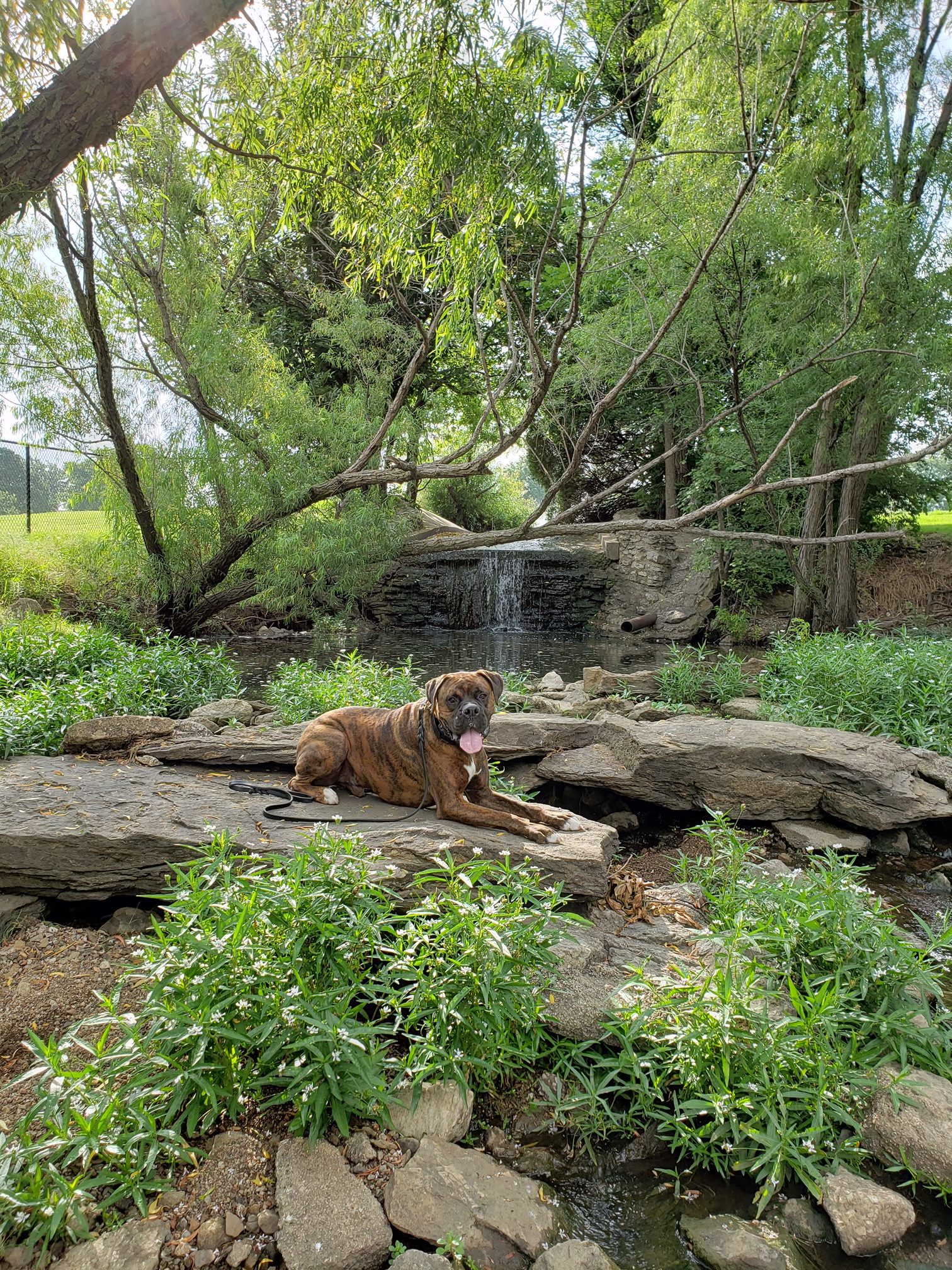 Bear - 5 Year Old Boxer
Bear was a 5 year old Boxer that came for Boot Camp.  He was a good dog but his parents did not have time to train him to be that 100% off leash, go anywhere dog they wanted!  So they sent him to our Tulsa dog training team and we trained him 3 hours a day for 3-1/2 weeks and then went back and trained them!
Bear can now go anywhere off leash! This photo is him at the park.  After boot camp we trained his family for 3 hours until he did everything for them.  
Why Choose Tip Top K9 Tulsa Dog Training?
For over a decade our founder, Ryan Wimpey has been obsessed with training dogs. Although the company has now grown with dog training franchise locations now based in Texas, Oklahoma, Idaho, Utah, etc. Ryan has never lost his love for training dogs to truly become the obedient and loyal companions that you want your dog to be. Because Ryan and the entire Tip Top K9 Tulsa dog training team is so confident that you will be wowed with your first dog training experience, your first lesson with us is always just $1.
Why Is the First Tulsa Dog Training Service Just a $1?
We recognize that in every industry there are really great service providers and really terrible service providers and the same is true in the dog training industry. And although Tulsa is blessed to be home of many wonderful dog training services we constantly hear horror stories from clients who visited a Tulsa-based dog training service ran by people that treat dog training as lost mystical art with no actual proven plan or systems in place to serve as a path for producing predictably great results in the dogs they train. However, at Tip Top K9 we force ourselves to earn your business each and every time. During the first meeting with us we are going to WOW you with great service, or we simply won't earn your hard-earned dollars.
What Puppy Classes Do We Offer?
Is your cute puppy making your brain explode as you watch it terrorize your house and home? Well hang in there because help is just one quick call away. At Tip Top K9 Tulsa dog training we love working with puppies and believe it to be a wonderful way to begin simple obedience training with the newest member of your family (your puppy). If you choose to become a student in our puppy training class you will be coached on the proven methods for crate training your dog, housebreaking your puppy and teaching your puppy how to not bite and chew the things and people you love.
What Obedience Classes Do We Offer?
At Tip Top K9 Tulsa dog training our entire team believes that obedience is an important way to build a great connection between you and your dog. Once you and your dog have established a great connection based upon discipline it really does lay the groundwork for a long-term win-win relationship between you and your dog. Whether you are looking to learn basic or more advanced obedience tips, tricks and skills we offer it at Tip Top K9 dog training.
What Services Does Tip Top K9's Tulsa Location Offer?
At our Tulsa Tip Top K9 dog training franchise we our proud to offer a wide variety of dog training services including (but not limited to):
Puppy Training Classes
Beginner Classes
Training for Aggressive Dogs
Therapy Dog Training Related Services
Advanced Dog Training Classes (We can teach your dog some pretty impressive tricks, but we are still unable to teach your dog to read at this point)
Private Dog Training Classes
In-Home Dog Training Classes
Doggy Boot Camp Training
Empowering You by Teaching You Proven Dog Training Methods
Tip Top K9 Tulsa dog training was founded to help great dog owners like you to build a strong bond with your dog. Our top-rated dog training program is currently the highest rated and most reviewed dog training company in Tulsa. In fact, the proven training methods that we teach are so effective that most customers tell us "it's like having a new dog" after their dog has been properly trained by our staff.
Our dog training services are energetic and result-focused and have proven to be effective in the training of canines of nearly any age and nearly any behavior type. But don't take our word for it. Schedule your $1 first dog training session today.
What Bootcamp and Private Dog Training Options Do We Provide
Tip Top K9 Tulsa is proud to provide many different packages for the canine training services that we provide. Our highly-skilled and rigorously trainers will invest the time to work one-on-one with your dog, however we can also provide the Tulsa dog training services that we offer while working at your residence, at a park or location that is best for you and your family's needs. During these training classes we will work with you to help you teach your dog home to move past behavior issues and patterns of behavior that can cause friction between your and your dog.
Where You Can Learn More About Tulsa Dog Training Services
Although we do not provide Tulsa dog grooming services we would be happy to recommend a high quality Tulsa-based dog grooming business today. Just give us a call at (918) 991-8634 and we will point you in the right direction.
What Is Our Aggression Policy?
At Tip Top K9 Tulsa dog training we do reserve the right to choose not to train any dog if we do in fact believe that the dog's level of aggression is something that we could classify as being "dangerous" or "vicious" in nature. However, your first lesson with us is always just $1 so we both can find out if we are the right dog trainer in Tulsa for you.
What Is Nearest Tip Top K9 Dog Training Location Near Me?
With Tip Top K9 dog training locations in Owasso, Oklahoma City, Tulsa, Jenks and Broken Arrow we are here to serve all of northeast Oklahoma. Dogs that finish and complete our puppy-focused classes are then set up in a great position to start more advanced obedience training when the time is right. During our puppy training classes we are confident that you will build a lasting relationship with your dog.
Tip Top K9 Tulsa Dog Training
8545 E 41st St,
Tulsa, OK 74145
Phone: (918) 991-8634
Talk With a Trainer Today!