Liz worked with Daisy and did a fantastic job. She was patient with not only Daisy but also myself because I had a lot to learn too. She was very thorough and made sure I knew how to do what I needed to do once we hit our last session. I have seen a progress in Daisy I never thought I'd see. Her aggression has calmed and she responds to commands. Daisy didn't lose her personality, she still loves being her hyperactive pupper self. Liz, you are a phenomenal representation of Tip Top K9, they're lucky to have you. Thank you for your time and patience, we will continue to work!

Saylor Yardley
02:01 28 May 20
This was the BEST training in 40 years that I have experienced. My two Australian Shepard's and I were not communicating well. They had a lot of energy and would trigger each other to where I did not have control. My fear was that an accident could happen and I might loose them. Liz, the trainer was AWESOME! She really took the time to analyze my concerns and interaction with the dogs. Then she showed the dogs and myself ways to work together. In three lessons my dogs are happy to show off what they learned and they are thrilled to make me happy. Liz was very kind and accurate to show me how to improve my communication with Lucas and Barrington. I will ALWAYS recommend TIP TOP K9! Thank you everyone, so very much!

We can't say enough good things about Tip Top canine! We started out with boot camp but ended up switching to private lessons. Ryan and Bethany were both awesomeHighly recommend for basic Obediance

Teri Miller
22:32 19 May 20
Loved having both of our dogs trained by TipTop! Night and day difference!

Parker Family
21:58 19 May 20
We had a wonderful experience with our trainers and would highly recommend this group!

Amanda Streitmatter
23:00 18 May 20
Worked wonders for my German Shephard!!!

Micah Morgan
22:51 18 May 20
Our 6 month old Pyrenees mix wouldn't even look at us when we called his name before we started this training. We just finished our 6 lessons and I'm so impressed at how well my puppy listens. The staff was amazing and we can't wait for group lessons for LIFE!

Karly Nesta
18:45 18 May 20
Great trainers. Good communication. Happy to have our dog back home.

Diana Carolina Aurrecoechea
22:47 15 May 20
Tip Top K9 did amazing with our pups and taught them how to be well behaved and showed us how to communicate with our dogs better so we can enjoy them!

hadyn wallace
18:48 13 May 20
I never thought my dogs could do what they did with the help of TipTop K9! They taught our dogs everything from heel to place with the boot camp package. I have nothing but positive things to say about them and would recommend them to anyone! 5 stars all day long!

Taylor Alday
18:48 13 May 20
We are so happy to have Zobek trained by you!!! We appreciate it!!

Adriana Koog
17:51 09 May 20
We love TipTop K9! Our golden doodle love them too! Very professional and so kind to our Ellie. We recommend them one hundred percent.

Jennifer Milliger
00:19 09 May 20
I have two rescues; they'll be 2 in a week who liked to run along the fence Barking and growling at people walking down the road - I live out in the country so a lot of people like to walk along the road and walk their dogs and these girls are running up and down the Fenceline barking and growling and one actually got out and followed an older lady down the road as she walked barking and growling at her. Well that was it for me pretty much because I'm an old lady and I don't want a dog following me down the road barking and growling at me. And these girls are over 70 lbs. I did a lot of research and found Tip Top K9 with their great reviews and their satisfaction guaranteed. We did our first session and decided to put the girls in Boot Camp and after they came home they are completely different dogs. There is still some barking when people walk down the roads especially if they have their dogs but I tell my girls to come and they come right back to me. We're definitely going to have to keep up with the weekly classes and my hope is that in the next six months I'll be able to control the girls without the collars. I can actually walk them now one at a time of course. I'm looking forward to a long-term relationship with Tip top K9 and my girls. I have a third rescue dog and I'm seriously considering sending her to Boot Camp as well. I've also had to call them several times with questions and they have contacted me immediately and helped me with any questions - I'm a little needy. They also kept me posted while the girls were in Boot Camp so I knew what my babies were doing every day. I want to give a shout out to Matthew and Ryan and Sarah and anybody else who helped with the dogged training of Lucy and Annie Milata. Looking forward to even better results in the months to comeThank you Tip Top.

Suzanne Milata
22:23 01 May 20
Great start to a well trained dog. And thorough instructions for everyone to know how to continue, even the kids.

Doug Bartlett
01:32 26 Apr 20
Got our Gypsy back from boot camp and she is like a different dog. We couldn't be happier. Matthew was wonderful. Very happy with our new ability to control our 138 lb. puppy! Still having heeling issues when she is outside of the yard. Pulling and distractions. Just our second day back though. Know we can get it. We need to continue working with her at the classes to especially work on heel, brace, and distractions. Thanks so much, you did a wonderful job with her. Jim and Jan Standfield

Jan Standfield
19:04 22 Apr 20
We sent our 11 month old labradoodle , Bentley for training. He came back with all the success we expected. We need to continue to re-enforce the training at home. You can tell he was very happy and taken care of while he was away, he loved his trainer. Would recommend Tip Top K9

Darlene Heavlin
00:04 22 Apr 20
WOW seriously life changing for me and my dog! I contacted TipTopK9 because my dog was having some aggression issues and he was stubborn and would not listen to my fiancé and me. With the tools and training expertise that the trainers at TipTopK9 provided us, our dog not only listens to us now, but looks to us for guidance, something I never thought could happen! Our dog is gaining confidence and becoming more well-rounded everyday. The training techniques are simple to implement with the direction of the trainers and they really take the time to explain everything to you in detail. I can even walk my dog on a leash now!!!! That is something that I had completely given up on because of the excessive pulling. They taught us how to effectively walk him and now we love going out everyday. Thank you so much TipTopK9! We can't wait for group class!

Catherine Carroll
22:07 03 Apr 20
My Aussie, Bear, has so much energy that it was hard to take him on a walk without him pulling me everywhere. It would take up to 10 minutes to get him calm and not jumping on any guests that came over. With the help from Tip Top K9, we have corrected all of these issues! I was a little apprehensive about the price, but I heard great things from a friend. Ben was wonderful at explaining every detail throughout the training process, and he taught Bear and I how to communicate better! I can't wait to go to group classes when they start up again, and I would definitely recommend Tip Top to anyone for any reason! Big or little problem, just do it! Your relationship with your dog will be much sweeter and easier after the fact!

cheyenne prescott
22:41 02 Apr 20
I have a Bernese Mountain dog named Winston, Winston spent 3 weeks at the Tip Top Academy , he is 1 year old, they did a magnificent job, commands are great and is very receptive to us since we brought him home, ,trainers were wonderful, Matthew was excellent in our instructions and his care for our Winston, would highly recommend this company and will be bringing another one of our Bernese to them in the following months,

william mowat
14:53 29 Mar 20
They helped our dog go from crazy and out of control. He now listens to us and die what we ask. I will use them again if I ever need them. Love the photos and videos.

Liz at Tip Top K9 is amazing!! Since she started working with our anxious and disobedient 6 month old puppy, he has completely changed for the better! He's less anxious and much more obedient - it's like night and day. This experience was definitely worth the investment!

Emma Tedescucci
23:57 11 Mar 20
Tip Top K9 has changed our lives!!! I am so happy we put our fur baby in boot camp. Do yourself and your canine a favor.... call TipTop!!!

Mary Robles
02:08 04 Mar 20
ruby did so well with the trainer/ training sessions! tip top k9 was so amazing!!!

katlyn thompson
22:06 02 Mar 20
I went there for a jobinterview the people are extremely nice and even though I didn't get the job I think it would be a great place to work

Elena Perron
22:47 21 Feb 20
Tip Top K9 has been a great resource for our doodle. We appreciate their support and patience training our pup and his humans. We have learned skills that will transition to all situations and look forward to all the new experiences we get to enjoy with our pup. The staff and trainers have been so kind and professional and know we can call on them if we need anything.

Haley Biram
01:44 16 Feb 20
We sent our 5 month old mini golden doodle to Bootcamp. Lulu was jumping on my kids and biting and not listening to commands. After class she listens and has learned more than I ever expected. All the staff was kind and friendly. So impressed with the entire process and everything she has learned. I feel comfortable having friends over and that she will behave. We can now take Lulu more places and my little girls have more fun playing with her. Thank you Tip Top!!!

Angela Corley
21:51 14 Feb 20
I have a 6 month golden and these classes have been really great in being him to learn the basics and have good obedience 👍🏾

Carlon Bethell
01:06 22 Jan 20
Ben and the rest of the tip top crew are GREAT to work with!!! The training for our puppy worked great. Highly recommend using them to anyone!!

C & J Jordan
15:30 20 Jan 20
Pleasantly surprised by his progress also liked the training my wife and I received. I'm very pleased.

Michael Hill
01:26 19 Jan 20
We have used Tip Top K9 in the past, years ago with an aggressive dog (wonderful experience then too), and this time did not disappoint either! The people there are wonderful and SO helpful! The boot camp is definitely worth it because our dog Cooper came back completely trained without us having to lift a finger (which is great for a busy family of 4)! And now all we have to do is keep it up, which they make easy by having a weekly group class we can attend! Love this company and the people!

Alice Metallaoui
20:21 18 Jan 20
Great investment for our pup! We missed him so much but it was very worth it! So excited to be able to take him everywhere!

aaron galloway
01:27 17 Jan 20
Tip Top K9 did a fabulous job training our Belgian Malinois. They are very professional and friendly and we would definitely recommend to others. Thank you Tip Top for everything!

Jeff Bedel
01:39 14 Jan 20
Tip top k-9 was amazing. My crazy dog leaves for two weeks and comes back patient and ready to listen!!! SEAN WAS AWESOME!!! In picking up and dropping off Jaxx with all the training Sean did an amazing job and was very patient!!!

Austin Garrett
20:30 11 Jan 20
To say I was a skeptic would be falling short of my initial belief that I could train two puppies at the same time. I don't generally give 5 stars, but I am a high maintenance costumer with very high expectations. The team at Tip Top eased my concerns with one of my stubborn puppies. When I was struggling moving the pups out of a learned bad behavior, they came out same day to correct the challenge I was having. Additionally, I have a life long team I can rely on. I will definitely recommend Tip Top K9 to my friends. Matthew & Hunter were really good at training me to train my dogs and I am so grateful to there commitment to us.

Nicole Pardini
01:56 09 Jan 20
Our trainer Ben was extremely helpful in training our German Shepherd / border collie / lab puppy. We were very worried about hiring a trainer due to work schedules and convenience but having a trainer come to our house during during our available hours was super easy and a no brainer. In just 3 lessons our pup Taco turned into a more obedient and improved dog!

Jacoby Gonzales
20:58 04 Jan 20
Our trainer was Ben. I had some angst about training because my girls are sweet but spoiled, not unlike most other peoples dogs no doubt. As soon as I met Ben and saw how he talked with the girls, I knew it was going to be ok. AND it was!! Our last class we met Benelli, his baby girl, to help with our training and other dogs. To see Benelli and how well trained she was gave me such hope to know my girls were capable of doing any and everything Benelli could, it was all up to me. It was an awesome experience. I would recommend Tip Top K9 100% just to meet Benelli and Ben, but the staff at Tip Top K9 were also top notch. They were so helpful and so accommodating. Thank you Ben.

Ree Kaplan
18:35 02 Jan 20
Scout was very apprehensive around people & dogs outside of our immediate family. Her anxiety made her bark aggressively & untrusting of her behavior. We couldn't even take her on walks because of this & she was so strong. She was a dog that seriously needed manners! Tip Top K9 was the best decision we made for our girl! She is obedient & just the coolest dog! We are able to take her places & not worry about how she will act. She not only behaves, but she lets others pet her now. We are thrilled with the training Scout received & highly recommend their services.

Melena Waits
01:29 01 Jan 20
Leo and Harry are little gentlemen! The Tip Top K9 team is awesome. They love these little guys and it shows. The trainers were super patient with my training too! Thanks Tip Top team. We will see you at group class!!

Paula Shannon
01:05 01 Jan 20
Sean did an excellent job! We are excited to have a well trained dog!!

John Young
01:53 31 Dec 19
Very impressed with the service provided, the patience and care they take to make sure all of us are trained properly :)

Slavita Hut
01:45 31 Dec 19
We are soooo happy with our Bear! He is our 84 year old Mothers constant companion at 85#. His love and rambunctiousness was causing concerns for her safety!! Sam and Denver did wonders with Bear. Even helping him adjust to eating in a strange place with warmed broth!! Thank you so much for everything!!

Carrie Linn
18:17 24 Dec 19
Amazing training! Loved our report cards and weekly updates!

Nicholas Guerra
00:14 24 Dec 19
Truly amazing!! I have to admit I had no idea this was going to be this great!! 5 Stars easy!!

dana davis
20:32 23 Dec 19
Just got done with homecoming for our dog Lukas. Highly impressed with Lukas' training. I honestly did not think he would be trainable in two weeks. Sean and the trainers got it done. Will definitely be bringing my future dogs here!

Adam and Kat are absolutely phenomenal and have changed us forever. We are so grateful

Joshua Blobaum
00:54 20 Dec 19
Morgan has improved so much with the help of Bethany. Morgan loves Bethany. He is learning manners, Both Morgan and myself are both happier since we started training with Tip Top K_9. I would and have recommend them to anyone with a pet. My life is happier since we started training.

Marcel Davis
22:09 19 Dec 19
Cooper is our 18 month old golden retriever puppy. However he is not the typical golden that loves everyone. In fact, he is timid, shy and uptight around strangers. Ben has worked wonders with Cooper in just three short lessons. Ben laid the ground work down for us on how to properly train him so now we just need to follow up to reinforce what he has been taught. Yes, it is a little pricey but worth every penny especially to help your pup gain confidence and not be so fearful of every little thing. If you are on the fence if you want to do it or not, just DO IT! You and your dog will both be happier in the long run.

Susan Burk
20:55 18 Dec 19
We are so impressed with the results. Our dog was with them for 4 weeks and he is a completely different dog. We are excited to take advantage of the results.

Trainer Ben was a pleasure to work with, so upbeat and attentive. Our role in Noble's training is still a little daunting, but Tip Top truly makes us feel like we'll continue to have their resources and counsel available.

traddlecat
16:16 10 Dec 19
Love them! They are very flexible with our schedule & understanding. We've came so far. I thought our girl Jazmin would never learn because she's a puppy but she has done amazing! Recommend to anyone!!

Nicole Stobaugh
23:24 09 Dec 19
Ben worked with Prim and was awesome!! My fence jumping leash pulling girl has come a long way!! Plan to join the group classes in the spring. Highly recommend Tip Top K-9!! Thank you!!

Linda Sailsbury
02:18 09 Dec 19
Tip Top K9 was such a great training experience for my German Shepherd puppy. We worked with Bethany and absolutely loved her. Having trainers come to you instead of vice versa was extremely helpful, especially for a busy owner with a tight schedule! Everyone is so surprised by how well trained my puppy is, despite only being 6 months old! I wouldn't recommend any other way to go about training your dog, no one will know as much or care as much as Tip Top K9!

Rachel Wolff
18:41 07 Dec 19
I loved the results we had with our dog. It was an amazing change!

Janine Garcia
00:05 07 Dec 19
8 year pit mix, total boss of himself, can now walk next to me, with his shoulder at my knee, with no problems at all. Total transformation from the dog he used to be to how he is now. He can and does everything hes supposed to! I am amazed and thrilled with what he has learned. I really didnt think it could be this awesome. To just have the control has been nothing short of a miracle. I look forward to being with this dog now! It's not something I dread anymore! Hes always been loveable but it was hard sometimes for sure. We are changed!!

debbi waid
00:00 07 Dec 19
Thanks to tip top k9 training my wittle hazelnut is now very well behaved and listens to what we say and doesnt go absolutely crazy 😂 very impressed !

Zachary Cook
01:35 05 Dec 19
Finnley my puppy German Shepherd just got home and Tip Top K9 did a phenomenal job! The doggy boot camp is something I would highly recommend!

BEN RACHAL
20:33 30 Nov 19
Our trainer, Liz was amazing. She helped us build an amazing foundation of learning with our new puppy Shelbie. 110%would recommend this company and their trainers!

Alicia Rowe
15:45 30 Nov 19
Tip Top K9 has been an amazing experience for me and my dog Valkyrie. She's a German Shepherd puppy who was becoming people aggressive and the amazing turn around within a couple of lessons was astonishing. I look forward to continuing training in the group sessions. I highly recommend this service! Everyone at Tip Top K9 has been excellent to work with in training Valkyrie. I couldn't be more pleased with our experience here!

Joan Murphy
18:37 29 Nov 19
We have had a wonderful experience with Ben teaching us and our mini Australian Shepherd, Emme. Life is so much more fun with a well-behaved dog!

Kelly Knopp
18:31 27 Nov 19
Awesome service and very friendly.. couldn't believe how much they trained our dog in such a short time .. highly recommended them. !

sequoyah girty
20:41 24 Nov 19
We loved tip top k9! Our dog was well cared for and came back to us in great condition. The training was great and we were excited to see the success she had with it. She maintained her personality but will now listen and obey us better. We loved the weekly updates as well! Thank you!

Steven Miles
23:31 23 Nov 19
Zeus is doing so much better with the commands sit and come! We are still working on place, Zeus is very stubborn!

Liberty Williams
18:45 23 Nov 19
Great experience. Our dog ended up being rather stubborn but they continued working with her until she had all the commands under control. Sean delivered our dog after boot camp was over and spent several hours training the family to know how all the commands work. Would recommend Tip Top K9 to anyone that needs to have their dog trained.

Very thorough and nice. The training is amazing and our pup is even more well behaved!

Harper Todd
00:50 17 Nov 19
We just picked up our malinois and she has learned so much in 3 weeks! She is not the same dog....she is awesome!

Lori Arney
22:38 16 Nov 19
Absolutely amazing trainers, super friendly

Isaac Arney
22:32 16 Nov 19
Molly loved her trainers at Bootcamp. She still has her fun loving personality, but she has much better manners and obedience. I can take her to soccer games and accommodating stores like a part of the family.

April Trenary
20:49 16 Nov 19
Ryan is fantastic! My dog can now do all sorts of amazing things! If you have a dog that needs training, I highly recommend Tip Top K9!!

Teresa Eichenberger
00:44 14 Nov 19
Tip Top K9 is amazing! We had returned an adopted dog to the shelter due to aggressiveness toward our other dog. After speaking with Tip Top, we decided to give the dog (Penny) another chance, hoping that good training would help. Ben, our trainer, was friendly, patient and effective at helping us resolve the aggression and transform our Lab/Chessie mix into a calm, well mannered member of the family. I dont think I am exaggerating to say that Ben may have saved Penny's life. Aggressive dogs are very hard for shelters to place in good homes. Penny was not a bad dog but a really good dog that needed to learn how to behave around other dogs and people. Tip Top K9 is not inexpensive but it is totally worth the investment if you care about having a well mannered furry friend. We have completed our private lessons and look forward to the group lessons which will help Penny be an even more confident and happy dog. Thanks Ben & Tip Top K9!

David Lowry
19:42 13 Nov 19
I am totally totally impressed!! It was a awesome 100% change!

Rick Napier
22:18 09 Nov 19
Soon after adopting our puppy, we knew we wanted the best training for her. After talking to friends and family, we decided on tip top and couldn't be happier! The progress has been amazing! We highly recommend Tip Top and Bethany!

Hannah Hall
21:46 09 Nov 19
We rescued our German Shepard ronin and immediately had him enrolled in tip top. He has improved very quickly and training has even helped with his anxiety. Definitely recommend

My bichon puppy is much more well-mannered! I never thought she would stay in place when the doorbell rang but she did. Amazing!! Our trainer Bethany was great with her (and us)! Like this way of training much better than always rewarding.

Jeanne Holmes
22:05 08 Nov 19
This has been one of the greatest programs i've ever worked with. My trainer Liz fantastic, couldn't have asked for a better experience.

Nathan Sheeren
16:00 02 Nov 19
Ryan and his staff have been awesome!! His level of teaching is exceptional. We have a pit bull puppy and it was very important that he is a go anywhere dog. Tip-top K9 definitely delivered and we now have an amazing dog for our family. I would recommend them to anyone wanting a dog that is better behaved than your friends children.

Quinn Will
19:47 01 Nov 19
Wonderful experience for me and Maggie. Sean is an excellent instructor.

Archie is a new dog after his training! The staff made sure to always send me lots of pics while he was at bootcamp and made sure to give him love while he was away from home. I'm exceptionally happy with the results!

Abi Sutherland
01:41 30 Oct 19
Great trainers and amazing experience. My dog is doing a lot better with people and around our house. You cant beat what you get for the price, completely worth it.

Clayton Faidley
13:45 27 Oct 19
Matthew helped exponentially and ensured I knew everything that was covered during my dogs boot camp experience

Kaiser Wilhelm
20:46 26 Oct 19
TipTopK9 worked with our 2 aggressive dogs & have given us the peace of mind & confidence we needed to keep them & us safe. We don't know what we would have done without them!!

Karen Boland
16:37 26 Oct 19
Sent my puppy Graham for training. He came back amazing!

Gretchen Stroud
21:59 24 Oct 19
Excellent training! We will continue working with our dog with the post stay home training. We are very impressed. Worth every penny and I recommend highly Tip Top Dog Training👍👏

John Clegg
20:53 18 Oct 19
My fur baby, Molly, is super sweet with quite an independent side. She is back from boot camp with her same sweet spunk, but also able to be calm and follow commands. I have confidence to take her out-and-about as a full member of the family. You can tell she loved the trainers- especially Mikal, and they loved her back. I am excited to continue our training with group classes.

April Trenary
22:37 17 Oct 19
Shawn and Ryan were amazing. They took are german Shepard Delta and turned her into a well listening girl that I honestly didn't think she would listen to me.. I can't thank you enough for all your hard work

Michael Stearns
01:13 16 Oct 19
This place is awesome. They really work well with the dogs and owners.

Joel Pence
23:47 30 Sep 19
It was a really helpful experience

Karina Rubio
23:34 26 Sep 19
I highly recommend these lessons, my dog is very well behaved and listens to commands everytime. They are all there to help you to help train your dog, it was a very good experience.

madison metcalfe
22:52 21 Sep 19
I loved my experience with Tip Top K9. Matthew and Christina were so great with Sunny and Cash. We now have a great foundation to continue working with our dogs. With just 6 training sessions I already see a huge difference. I'm excited to start the group classes!

Rachel Osborn
23:28 20 Sep 19
Had a great time. Matt and Christina were very helpful and made it an easy and fun experience. I'm excited to keep learning in the group classes. Thank you guys.

Ryan Weber
23:27 20 Sep 19
Awesome job with both my dogs, would do it again

Shirley Mcclendon
21:40 14 Sep 19
Deety, our 4 year old 30 lb terrier, needed some serious help. She wasn't listening, picking fights with other dogs, and refusing to come when called. Our trainer was compassionate, helpful, and incredibly knowledgeable. On the first session, Deety was acting like a true diva - throwing fits, being extremely vocal, and refusing to listen. Bethany was so patient and guided Deety and us so well. We just had our last session and no diva episodes! We love the change in ourselves - we are much more capable of communicating with our pups and they listen. She now listens, comes when called, and doing so much better with other dogs. Day and night difference!I highly recommend K9 for any dog training. We will see everyone at the twice weekly lifetime classes we can now attend for free!

What a difference this has made for Wyoh. We were having dog aggression issues and the training has really helped with control. The trainer has been super professional and helped us make sure we are working with the proper techniques.

Steve Ellison
18:12 14 Sep 19
Definitely a Tip Top Training experience! They were excellent with Sapphira, very knowledgeable, and patient. I initially came to Tip top with the hope that they could help out my high energy, distracted, mannerless dog. She started out very rambunctious, and hard to handle or controll. Wouldn't listen to commands and was overall very stressful to be around. Now she is a totally different dog just after a few private lessons. She loves to learn, and listen to commands. She is now the most patient, happy, joyful and pleasant dog to be around. We've come so far in such a short time. I highly reccomend Tip Top K9!

Matthew White
23:00 11 Sep 19
We loved working with TTK9!!!!! Ben was our trainer for our dog Rocky, and we couldn't have had a better experience. Our dog had problems with barking at people during walks, and pulling so hard on the leash that he actually pulled my wife over and ran away. We were getting anxious about taking him on basic walks and bringing him in public. After the first lesson we knew that Ben would be able to help us train Rocky to be a dog we loved playing with again. Now Rocky can go on walks with us all the time, and he loves being around other people on walks, and people can come up and pet him now! Rocky can sit and stay on almost anything like chairs and rocks, and he even learned to heel off leash. We are all so much happier that we can now let Rocky off his leash to run and get his energy out! We are excited for the group classes and to build our bond with our dog even stronger.

Timothy Eddy
15:04 11 Sep 19
Extremely pleased with our experience with Tip Top K9. Ben has been so wonderful with both of our dogs and has taught us all so much! We have seen incredible improvement in both dogs and look forward to learning even more in the group classes!

We have been VERY IMPRESSED with all of the trainers at Tip Top Training - especially Ben! Ciera is a rescue and to see her go from shy and scared of everything and everyone to confident and trainable has been an AMAZING transformation! We highly recommend Tip Top for ALL dogs and owners!Steve and Sherrie Adams

Sherrie Adams
01:28 06 Sep 19
Highly recommended! Tip Top K-9 is the best place to take your dog to guarantee 100% obedience! Will definitely be using them again on future pups!!

Sharon Hubler
01:20 05 Sep 19
We love this place! So friendly and helpful! Very pleased with how our aussie turned out after bootcamp!!

Gavin Haddox
01:19 05 Sep 19
I had a great experience with Tip Top! Always prompt, flexible to work with my schedule, and our trainer was so friendly! He taught us the basics of how to work within their system, building with each lesson. Cant wait to start group classes and see how things progress.

Starling Sarles
15:53 03 Sep 19
Zara is the cutest most well behaved dog I have ever seen! So cute.

Zara is so well mannered! Denver does an awesome job!

Alexa McLain
03:26 31 Aug 19
Bethany was extremely helpful. When we started, our puppy was pretty much hyper 24/7. He now can sit and come, and heel as well.

Sarah Randolph
23:11 30 Aug 19
I just got my dog back and I am so impressed. She still has the same personality, but now she is always paying attention waiting for a command. She used to bolt out the door and run like crazy, but now she stays close. I signed her up for the superstar and she didn't quite meet all the objectives after 7 weeks so they didn't charge me for the superstar level even though she knows how to heel off leash and place on a fire hydrant which I thought was really honest of them. I would definitely use tip top k9 again! Also I thought the remote might be kind of difficult to use but it is super easy!

My two yorkies which are older have learned so much from Bethany. They are much better little ladies and Bethany was a wonderful trainer. She was patient and understanding! A great investment in my fur babies to where they are much more enjoyable being trained to have manners.

Lisa Kirkley
02:36 27 Aug 19
Awesome training! We just got our 2.5 year old Doberman back and they trained us how to work with him, and he has improved 100%! He'd had some prior training, but we needed to tweak it and better adjust it to our lifestyle. He finished the advanced boot camp in just 2 weeks, and came back happy, healthy, and groomed!

Autumn Smith
20:06 24 Aug 19
Great experience! The trainers kept us updated on our doberman's progress at Boot Camp and spent plenty of time training US so we could stay consistent with his training. Highly recommend.

Martin Smith
19:46 24 Aug 19
Tip Top K9 is by the far the best and most convenient dog training course in Tulsa! Our GSP was with them for three weeks and was transformed when she came home. Everyone at Tip Top was extremely nice and made us feel great about leaving our baby for a few weeks. We received weekly report cards on her progress which made us feel really good. They spent time with us at the end training us (humans) and making sure we were comfortable with the training. Highly recommend!!

Mackenzie Kavanaugh
00:37 21 Aug 19
Great experience with Tip Top K9. Dagny, our GSP, is well behaved now!

Cliff Frates
00:35 21 Aug 19
Fantastic staff and amazing selection at prices that were MUCH better than we expected.My wife and I were traveling through Arkansas with our pug and pit mix; we had a bit of an emergency with our travel pack and had to make a stop. Thankfully we found everything we needed and MORE, well within our budget. 10/10 would recommend!

Greg Lance
21:57 18 Aug 19
We have had a great experience with Tip Top K9 from start to finish! Our stubborn dog Marnie had a lot of crazy energy and needed some more intensive training to be better integrated into our home, so we sent her to boot camp where she spent three weeks and came back already with a serious attitude change! Everyone we've worked with has been awesome, from Michael during our initial meeting to Matthew who worked with us during our in-home training, and the fantastic reps we to spoke to over the phone throughout the process. We loved the weekly report cards we got on her progress each week! We're looking forward to having her at group class in the future to take her great behavior even further.

Jason Ritchie
00:06 16 Aug 19
Everyone we dealt with at Tip Top was very professional. We are very pleased with the training our German Shepherd Casper received. Casper has learned to place on various objects, walks are more enjoyable as well. I highly recommend Tip Top K9.

Clint Case
14:41 12 Aug 19
They did a fantastic job with our Great Dane who had socialization and attention issues! We look forward to the group classes to keep learning

Daniel Grudek
16:05 11 Aug 19
We worked with Bethany at our house and she was amazing!!We have two puppies. One is VERY hyper and we were immensely discouraged and felt out of control with her. She is now following commands the first time! Bethany was also wonderful at answering all our questions. We would recommend Tip Top K9 to anyone.

Linda Page
16:09 10 Aug 19
Very detailed and great tips, achieved tremendous progress with a 6 month Aussie in just 3 weeks.

Cameron Lundberg
23:35 08 Aug 19
Best money spent! Ben was my trainer & he was phenomenal. Even though my dog is still a puppy, she was showing some excessive aggression - biting on my hands & barking at me non-stop, and having a difficult time calming down (climbing all over me, running around chaotically, getting into my things). She has always been a great dog, but it got to a point where i felt myself getting really angry with her & trying more physical approaches to stop her behavior (hitting the snout/backside, yelling, etc.). Everything i tried just made it worse...I had the guys at Tip Top K9 come over to meet my dog & assess her behavior, and after talking with them more about their approaches & training packages, I decided to invest in the private lessons. Not only has my dog stopped biting my hands & barking at me, but she's tremendously calmed down and keeps herself occupied at home. She's also been able to learn to come when called, "off" from any distractions or bad behaviors, "place" (sit) in a defined area until i can tell her she can move again, proper leash-walking/heeling, & so much more!!! I would recommend this to EVERYBODY!

Victoria Benedek
15:13 04 Aug 19
Our rat terrier Luna did so well in the doggie bootcamp. Thank you so much for teaching Luna and teaching us how to take good care of her.

Brian Webster
20:29 03 Aug 19
AMAZING WORK!!! Everyone we met or talked to at Tip Top K9 was so nice & helpful. We got to know Mike the most as he was the employee that enrolled Gypsy. He & Shawn "Trained" us on how to manage her. When we picked her up at her "Going Home Party" I could see that she was loved by everyone & they had taken such good care of her while she was in boarding school! I absolutely recommend them, they really did a wonderful job training my Gypsy Girl & we are looking forward to our 1st group class!

erikablanchet1980
23:35 02 Aug 19
We had a great experience with Tip Top K9. Our trainer, Bethany, was incredibly patient and thorough. Never once did she seem to lose an ounce of confidence in our dog, Beau. The things we learned from Bethany helped us to better understand Beau and how to exercise patience with him above all else, even when he was pooped and dragging his feet by the end of every lesson. Bethany was great company, maintained a consistently positive presence, and was very understanding of all of our concerns. We give Tip Top K9 a 5/5 and Bethany a 10/5. She was great and we are so glad to have had such a wonderful experience!

cat vvhiskers
04:17 01 Aug 19
Matt has taken Kona from an unruly puppy to one who follows commands, wants to please, and a happier dog. We will continue group classes so I can become more comfortable with commands. I can't say enough good things about Tip Top K9–worth every penny. Thank you Matt!

Rose Potts
22:25 29 Jul 19
Absolutely Amazing! We have a Mini Aussie hyper and chewing puppy and now we get stopped at the store and neighborhood and they say how sweet and obedient she is! We couldn't be more happy with Matthew, his compassion for her was wonderful to see because he was wanting her to succeed as much as we did! We even have family that aren't "dog" people that said because of her we will get a dog in the future and have her trained up with Tip Top. 100% would do it again in a heartbeat.

Maile Morgan
22:56 26 Jul 19
I have had such a great experience with Tip Top K9. Results within the matter of our first class. Ben is a very patient and knowledgeable trainer who answered all of my questions and made sure I understood and was confident with each lesson.

Libby Fernandez
22:15 21 Jul 19
Loved the results with our puppy. It was almost impossible to take him on a walk and now he can walk without a leash and it took only 10 days. We are very happy with our results.

Kimberly Montoya
17:49 20 Jul 19
Great one on one training sessions! Very patient and willing to help you know the basics on training your dog! I am now gaining control over my pitbull. She was not a fan of smaller dogs but I am now gaining knowledge to control her.

Heather Babbit
13:43 18 Jul 19
Awesome dog trainers to use. Ben was fantastic and very professional. The staff was always great to work with for scheduling and re-scheduling. My nervous 7 month "puppy" is now calm, able to sit, stay, and walk around the neighborhood without being scared or jumpy. If you love your dog and want a great trainer, Tip Top K9 is an excellent choice!

Excellent experience. So glad we did this! We just had our dog return home after the boot camp, and he's a new dog. A+Edit a week later : We've been able to take our dog on vacation to the river. He ignored squirrels and rabbits where he normally would have been gone. He is now a pleasure to be with and have with us... He even follows commands from our kids, and they can walk him on the leash without him pulling. This is nothing short of amazing.

David Nicholas
04:19 17 Jul 19
Awesome! Very knowledgeable and super friendly! I can't believe what they were able to teach my dog in such a short period of time! Very professional and courteous. Office staff is amazing and very accommodating. Your pup will be well cared for and treated like one of their own! I can't say enough good things about Tip Top K9. Well worth the time and money!

Jake Haworth
23:46 16 Jul 19
This place is great! So far, my family and I have sent a Great Dane to do their training. We got him back after 3 weeks and he is so well behaved. He doesn't jump on people anymore which is a blessing. He listens to commands such as off when he gets a little too rowdy with his little brother. Tip Top K9 transformed our rambunctious pup into a well behaved good boy. Will be sending his little brother here!

Barret Rumley
15:01 16 Jul 19
Absolutely loved our trainer! Always on time with our in home training. They work on your schedule. She was very patient with my Rottweiler and not scared at all. She gave me the tools to continue training on my own. My biggest concern was my dogs "dog aggression" and on our very last session we actually went to the dog park to train - as 3 pit bulls walked by us my dog passed the test! I could not be happier! Amazed actually! Money well spent!!!!! I'm looking forward to a lifetime of group! Thanks guys!

Wendy Moore
12:25 14 Jul 19
My one year old dachshund is a high energy little man and keeping him safe is a big concern. Tip Top teaches the pet and the pet parent. I now feel I can take the instruction and keep my pet safe.

Tracy Blankenbaker
20:13 13 Jul 19
We took our german shepherd Zeus , we had the best experience with the training with our trainer Ben and he did a great Job with our dog and always had great conversation.

Joseph Nelson.
18:22 13 Jul 19
Fairfax, VA - We called Tip Top K9 to sort out a few issues with our two pit bulls - one couldn't resist jumping all over anyone who entered the house and the other was being aggressive towards other dogs (after she was attacked by a dog that got off their leash on a walk.)Jake was our trainer and we could not be happier with the service that he provided. We opted for the 6 at home lessons and Jake was super flexible with scheduling and had great communication throughout the whole process. In terms of the training, it's night and day for our pups - we learned the whole slew of basic commands including place, heel, sit, and a few tricks like play dead and roll over. The behavior of our girls has tremendously improved - they are amazing walkers now and stay right by our side, and amazingly pay no attention to other dogs or even squirrels on our walks. The jumping on people has stopped almost entirely and we noticed results after the first lesson and it has gotten better with each passing week, even after the lessons ended. We would wholeheartedly recommend Tip Top K9 and if you are in the Northern VA area, Jake is second to none. He is patient, knowledgeable and really easy going, and it goes without say that he is amazing with dogs.

Ajmal Rangbar
17:33 13 Jul 19
Great experience! We did the lessons at home with our 2 dogs! They have a great foundation now! Definitely recommend!!!!

Erin Grimes
23:24 11 Jul 19
What a wonderful program! Blu came back so obedient and you could tell the trainer had a great relationship with him and he was so easy to work with. We are so excited to have him home and continue working with him to enjoy our puppy with manners!

Chloe Pigott
21:09 10 Jul 19
Ben at Tip Top K9 was phenomenal! He was so patient with our dramatic puppy and we are so grateful for Ben's perseverance!

Amanda Griffin
19:13 07 Jul 19
Our trainer, Liz, was very attentive and professional to our needs. My husband and I have an aggressive dog - and we've been given the right tools to correct his negative behavior! I would 100% recommend Liz and Tip Top K9!

Jordan Taylor
16:58 06 Jul 19
Great website. It was very informative in regards to my puppy.

Lesheay Evans
08:23 05 Jul 19
I'm so happyZiva learned so much! Thank you guys

Judy Lanier
00:04 02 Jul 19
Tip top did an amazing job with Bella. They really helped me understand how to correct some of her behavior using their techniques. I have seen a significant improvement already.

Renee Engelkes
16:06 01 Jul 19
We were so excited to see how our girl, Myla did!! When she came to her homecoming party, we were scared she would not remember us and not be the same. We were so wrong! Seeing and learning her behave is so rewarding!!!

Reece Lillard
19:34 25 Jun 19
Well worth the money! We had our doubts with how energetic Liberty was, and then we were told she was on dual collars. Tip Top was always easy to reach and answered any questions we had. We did the boot camp and when Liberty came home it was a night and day difference! Well worth every penny!

Jeremy Edens
00:20 25 Jun 19
I had such a great experience with them and our stubborn Bassets learned a ton. Our lessons were even spaced out a ton from weather conditions, and they maintained their knowledge well! We appreciate both trainers we worked with!

Best dog trainers around!!!

Madeline Nightengale
17:14 21 Jun 19
We rescued a dog that was a runner and had never been trained...we called to get some training fast to get him to the point of our other dog and to hopefully help us with other bad habits our dogs have! This program is awesome and worth every penny!

Sandy Wilcox
17:29 18 Jun 19
Very effective training for our 5 & 7 year old shepherd mix dogs. One of them was starting to show aggressive behavior toward our baby but this training helped tremendously.

Kristin Tidwell
22:43 16 Jun 19
Ben did a great job training my two huskies! The neutral reinforcement collars have been a lifesaver with loose leash walking, sit, come, and place. They have so much more respect to commands now, and this experience has made being a husky momma so much more enjoyable for this too smart for their own good, breed!

Paige Wilson
14:31 14 Jun 19
We had Ryan for my 1 1/2 year old German Shepard who bolted out the door and pulled on the leash and we had 3 lessons plus homework. My dog was trained very well but so was I and now I can continue to work with her as she gets older. Every person I dealt with was very friendly and helpful and I'm very happy I did this!!

Chaney Hupp
19:11 11 Jun 19
The experience with Tip Top was awesome. Never had private dog training before, they are on the ball with questions, instructions and training. They make sure you understand everything step by step. The homecoming was very informative and mathew made sure we understood everything. Our dog is really a different girl than when she left 4 weeks ago. With consistent reinforcement Im sure we will be able to reach our goal of off leash walking.

Very professional, Our golden doodle is now the best behaved member of the family

Brian Davidson
00:17 08 Jun 19
I recently adopted a new dog from the shelter who was about a year old and hadn't had any real training that I could see. He would constantly jump all over me and even had some destructive behavior. The guys at Tip Top worked wonders with him and he's like a brand new dog now. He's very obedient now, and has learned boundaries. He's still the same sweet dog, just much more calm and obedient. 10 out of 10 would recommend Tip Top.

Jacob Chuculate
23:16 06 Jun 19
Tip Top K9 exceeded our expectations. Thanks to all the trainers who worked with our dog, Biscuit. She's doing great.

Donald J Wilson
21:21 06 Jun 19
We have a golden retriever puppy that just came back from boot camp tonight and we're really impressed with the progress Tip Top made with her over just a few weeks!

Carrie Wilson
00:26 06 Jun 19
Very awesome! 100% would recommend for your dog.

Luke Balke
00:25 05 Jun 19
We really enjoyed meeting with tip top k9 trainers at Riverwalk and three lessons in our home. Each one was patient and very informative. All of my questions and concerns were heard and responded too. Lessons were explained and demonstrated for us, and we were able to practice with the trainer. I am looking forward to the group lessons.

Candy Cameron
21:36 04 Jun 19
Ben is awesome! He did such an amazing job with our dog 'Harley'! Definitely recommend Tip Top K9 for all your dog training needs!!!

Lorri Wagoner
15:42 01 Jun 19
We just had our second dog come home from training! Unbelievable results with our beagle that jumped up and pulled on the leash!We highly recommend Tip Top for excellent training

Carolyn Fredholm
17:34 27 May 19
Ben is a wonderful trainer, I highly recommend him to anyone and everyone

Cari Jordan
18:54 23 May 19
Tip Top K9 Tulsa Dog Training is by far the best investment we have ever made. I bought a 9 month old Rottie who was the sweetest puppy ever, but she lacked respect for boundaries and she only knew one speed & that was ramped up! They rescued us both and the transformation is so incredible! Now I not only have The sweetest Rottie ever,but also the best trained Rottie. They came out and trained me to continue the work and I know they will be there if we ever need help! Thank you to all the trainers & staff @ TTK9DT....especially Ryan & Mikal!!!! If I could....I would give you ay least a 10 star rating!!! would like to share a few pics they sent. We got a weekly update and a report card sharing her progress. She was at a C- on week one and an A+ at the end of the program! Great work everyone!

Hope Buchanan
02:12 23 May 19
We had Ryan train 2 of our dogs several years ago. He was kind yet firm, and our dogs responded quickly and l was so happy with the outcome. I would highly recommend Ryan & Rachel and in fact we now have a 110 lb. Lab that needs to some work on his mannors. 😉😉

Deb Savage
18:03 21 May 19
Bella came back a new dog! Sincerely, Adam and Kat were amazing; very knowledgeable, kind and caring. Highly recommend Tip Top!

We had our 8 year old rottsky in the boot camp. He was there mainly for pulling, digging and barking. He is great on a leash now. We took him for a walk and he doesn't pull at all anymore. It's only been a few days but i haven't noticed anymore human sized holes in my back yard. We have a baby and my dogs barking would wake him up or scare him whenever someone would knock on the door. Now he is so much better. The people who trained him genuinely care about him and his well-being. My dog stopped eating so they started mixing in canned food to make sure that he was getting enough to eat. Tim was awesome and patient with us while teaching us how to continue with the training to ensure the best results. They say you can't teach an old dog new tricks but that's not true even for my stubborn older dog. Thanks TipTopK9

Matthew Tinsley
16:51 09 May 19
Our trainer Ben is a very personable individual, since training with Tip Top K9 Bella has made good progress. We also would like to thank him for his military service.

candace greer
23:01 24 Apr 19
We could not be happier with the training and service we received. We had planned to send our dog to "bootcamp" but after they worked with her for about 15 minutes, they told us that was not necessary and saved us a TON of money by recommending a different package. We opted for in-house training and what they did with our puppy is unreal. She is incredibly well behaved and we can take her anywhere. We also are able to walk her 3+ miles off leash with a LOT of distractions and she doesn't waiver. I would recommend them to ANYONE who has a dog! Thanks for making our puppy experience much more enjoyable!!

Alyn Williams
14:55 24 Apr 19
Champ looks great!! Thanks for working with him.

Ian Corwin
21:08 21 Apr 19
My wife and I are incredibly happy with the results of this training. We got our boxer puppy in early September 2018. He's a sweet dog, but he had some behavioral issues that we were unable to work through on our own. After work each day, all of our time was spent trying to wear him out and "manage" him. Granted, he's a puppy, but there were several destructive behaviors (including hard biting) that we couldn't stop no matter what we tried. Month after month, we were completely exhausted. We started training with Tip Top K9 in February 2019. Within a week of receiving our collar, his behavior improved substantially. Increasingly hard biting became non-existent; he no longer was digging into the couch cushions or tearing at the rugs in our house; and he was no longer throwing "tantrums" that lead to whatever else.Since we've been training him for several months now, his behavior is something completely different than what it used to be. We're happier, and just as importantly, he's happier, too. Even better, he's learned incredibly valuable commands that has allowed him to have more freedom, and we enjoy our time with him just that much more.

Graham Chapman
16:14 20 Apr 19
We got our baby back today from advanced boot camp and we are so pleased!! She is so smart and willing to learn. We look forward to group classes and continue her training and our ability to train her. You can tell she loved her trainer and they formed an awesome bond. She was well loved while she was gone and this makes Momma's heart happy😍

Brittney Crumb
21:08 15 Apr 19
Amazing!!! Old dogs CAN learn new tricks! Best dog/people trainers ever!! Got Our boys Jack and Bourbon on the right track!!

VICTORIA LASHLEY
00:45 11 Apr 19
My husband and I have a Rhodesian Ridgeback and they have quite the reputation. With it being our first dog, we wanted to learn how to have a well mannered, obedient companion we can take anywhere. I am happy to say we are well on our way to having that kind of dog with the help of Tip Top K9. The E-Collar they had us use completely changed our lives. It's so nice to step outside and yell "come" and not have to chase him just to get him in the house. He no longer counter surfs, places on his bed until we tell him to break, and much more. He isn't perfect yet, but we now have the tools in our tool belt to use for the rest of our lives! Thank you, Tip Top K9!

Lindsey Grace
23:38 08 Apr 19
Train With THE Top Rated Location In The Country!!
We have been in Tulsa for over 10 years helping 1,000s of clients enjoy their dogs more and fix behavior problems in their beloved dogs!  We would love an opportunity to work with your dog and get them off-leash and under control!
At our Tulsa dog training location we specialize in aggressive dogs and behavioral issues of all sorts.  No matter what you dog is exhibiting chances are we can help!
We serve Tulsa dog training needs all over the greater Tulsa area!  We love to give people the ability to take their dog everywhere with them and enjoy them more through obedience training!  With people surrendering dogs in record numbers our trainers work with many rescue and shelter dogs to help them overcome aggression as well as fear based issues from abuse and neglect.
Currently the most common dogs we train are Doodles!  Golden doodles, labradoodles, and doodles of all kinds!  Doodles are smart but can be high strung and high energy and can require a lot of work!  At our Tulsa dog training location we always have 1 or 2 doodles at doggie boot camp.  If you have a doodle then look no further call today and we will send a doodle whisperer right out to show you what we can do!
We do private lessons and boot camps but we do not sign up every dog for every package instead we start with a $1.00 first lesson.  This will let our trainers get to know your dog and allow your family see first hand what would be the best course of action for you fur child.  Call us today at 918-991-8634 to have us come out and work with your dog for only $1.00!
Hear what some of our Tulsa dog training clients have to say about us:
"My Newfie is now able to walk on a leash and does better in the house with guests."
"This has been quick, decisive helpful training with our dog! It was both helpful and enjoyable!  This was a good experience."
"My dog does exactly what I wanted him to do for us! He comes when called!  I love the fact that they came to our home and training was so personal!  I have a dog that behaves and takes commands really quickly.  Training has made our house a fun place to be."
"Tip Top is user friendly and dog friendly, the actual process that Tip Top K9 uses is superior… Very effective and efficient."
"I felt like I was trained to train my dog.  They just taught me everything I needed to know for him to be a great dog!"
"It feels like everyone at Tip Top K9 truly cares about your dog.  You are going to get every bit you paid for and a ton extra.  After dog training my dog turned out wonderful and I owe it all to Tip Top K9."
Out And About Dog Training In Tulsa:
Some of our recent Tulsa dog training success stories: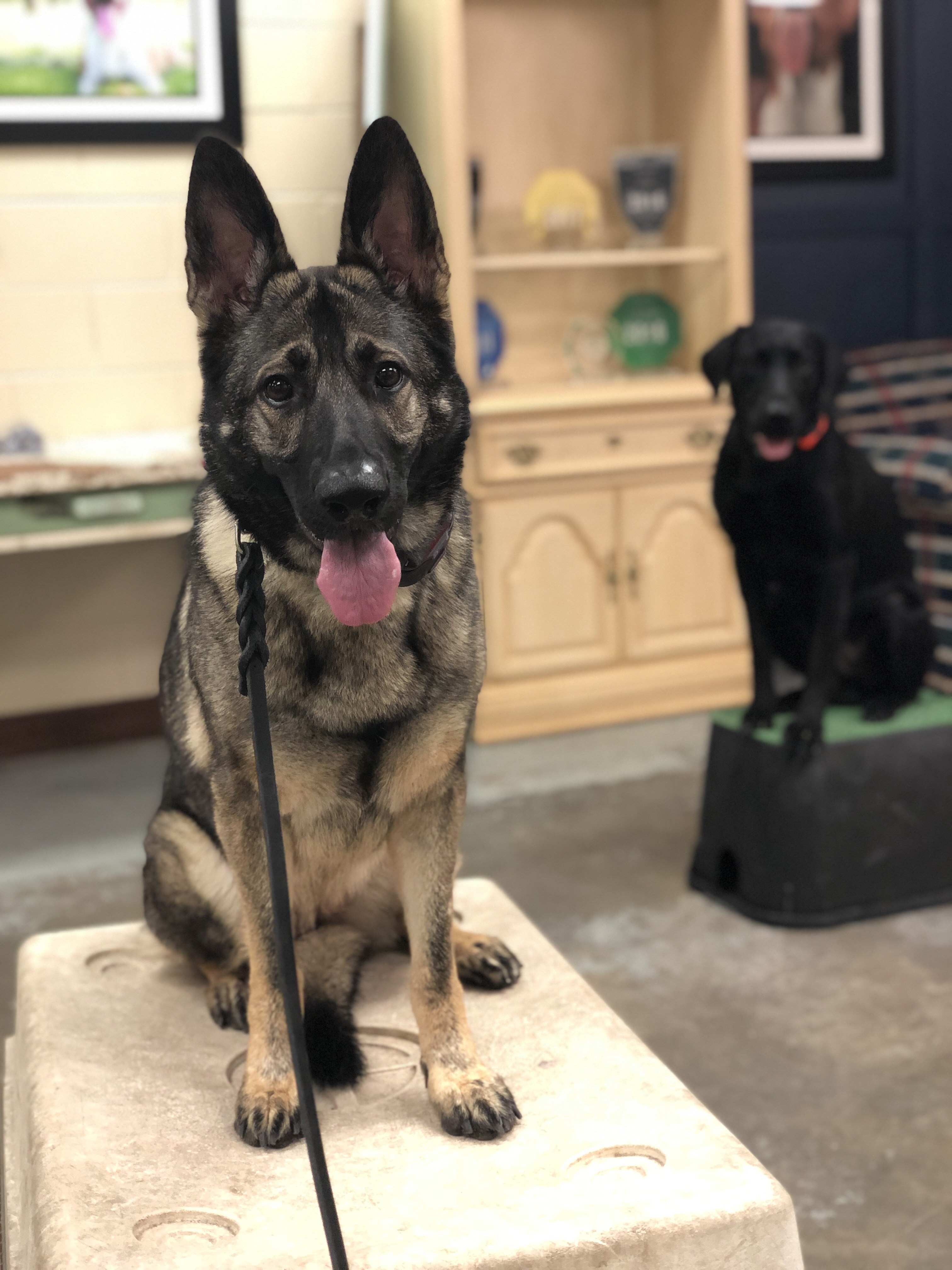 Athena - Aggressive German Shepherd
Athena was a 2 year old German Shepherd who did one of our dog board and train programs.  She was a very sweet dog to people but was very dog aggressive and would go crazy and drag her owner (who was a strong guy) over to other dogs out on walks to try to eat them! She would even climb her fence to go after other dogs and had just bitten another dog really bad before her owner called.
After working with our Tulsa dog training team for a month, Athena can now be next to other dogs and around other dogs without any issue.  This took four weeks of boot camp but now she loose leash walks with only two fingers on the leash and can ignore dogs and do her obedience off leash in the front yard with no issue!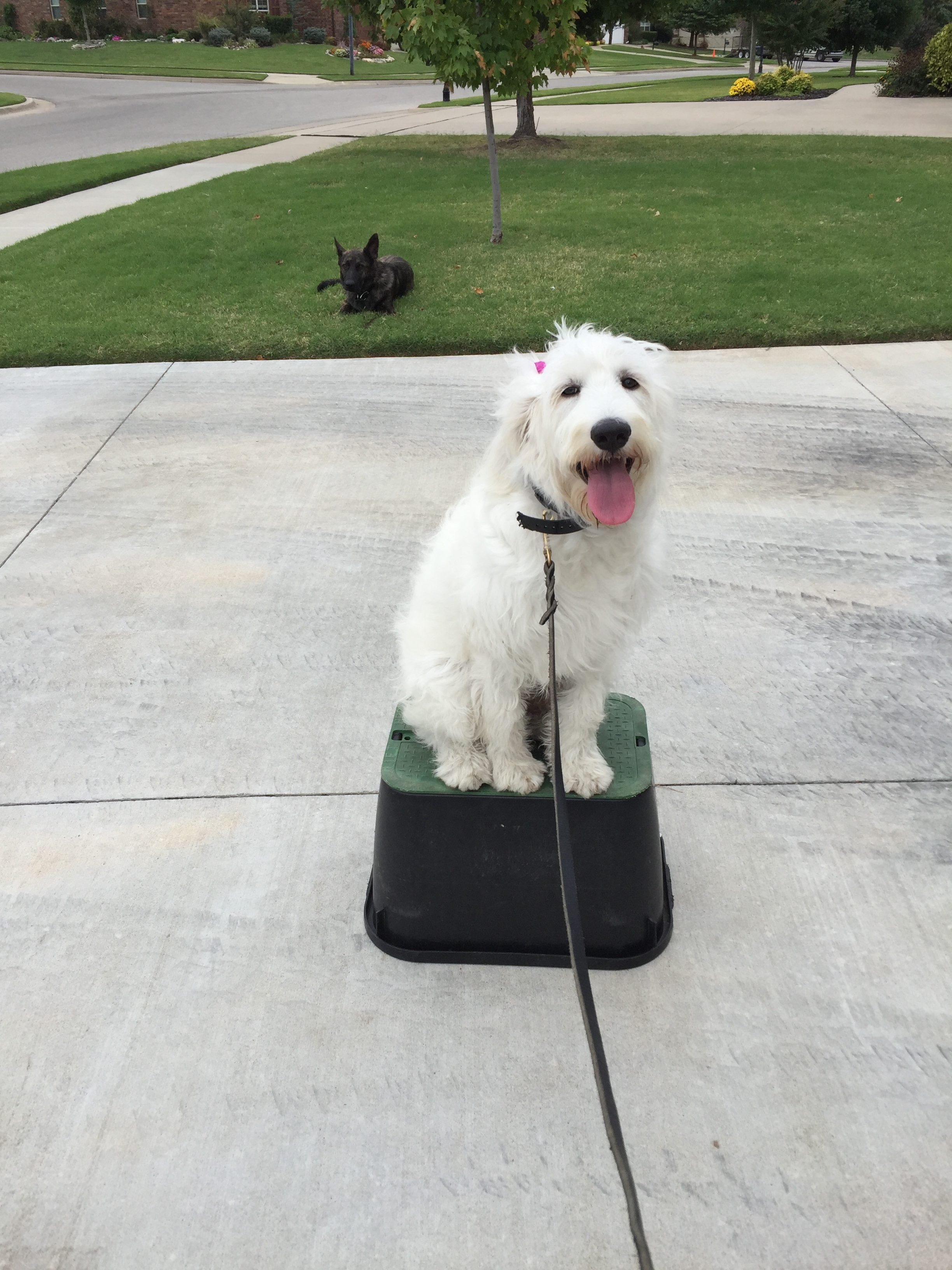 Sugar - 1 Year Old Labradoodle
Sugar was a very sweet but hyper and crazy labradoodle!  Her owner Ryder was a 11 year old boy who loved her but did not have her respect!  We did in-home lessons and trained the dog, parents, and the young man! 
After 6 lessons Ryder (Sugar's 11 year old owner) was able to walk her on a leash in the front yard and even have her off leash with other dogs around! We focused most of the lessons on training Ryder how to make her listen without raising his voice but showing her that she has to do what he is asking her to do!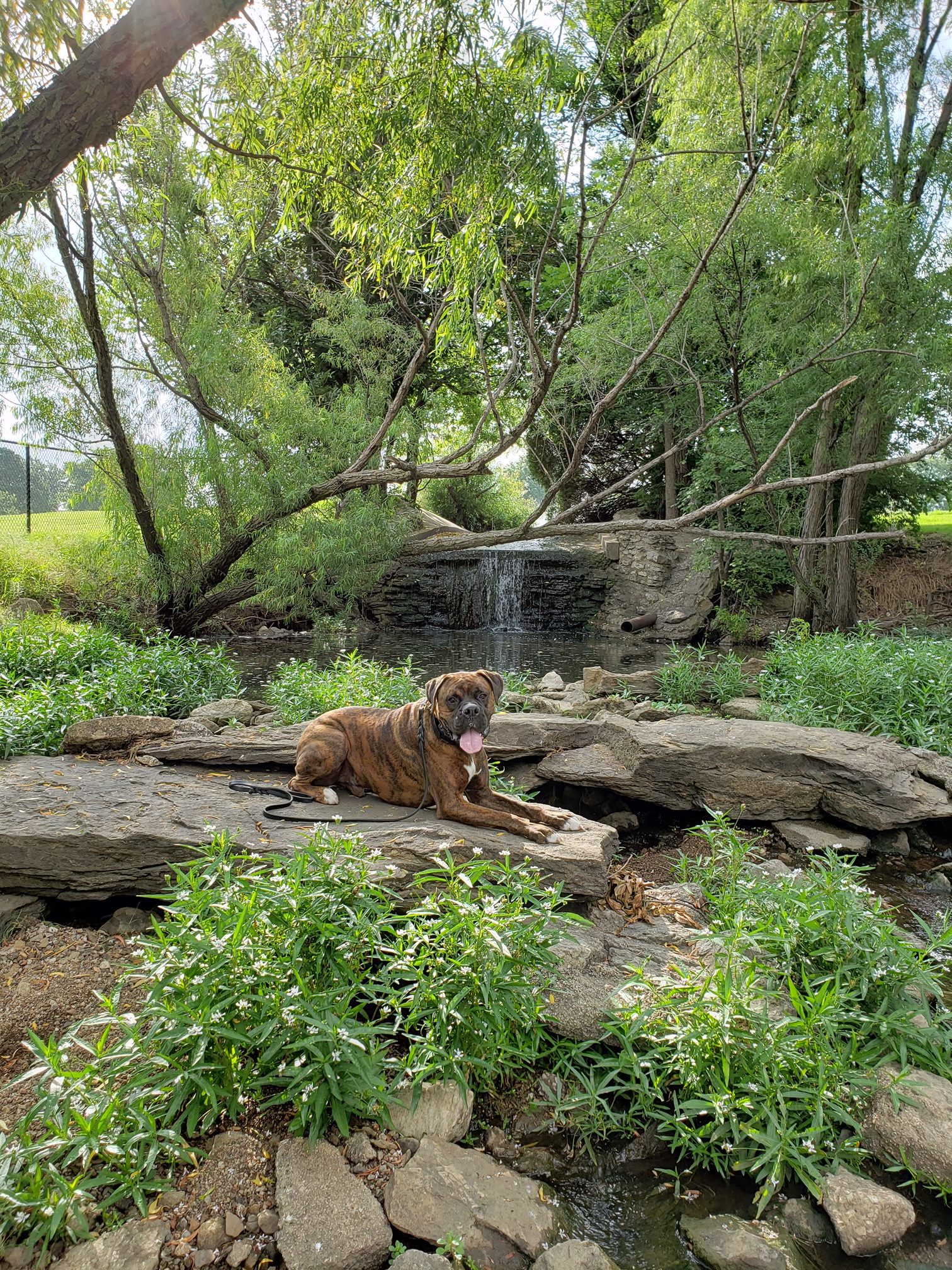 Bear - 5 Year Old Boxer
Bear was a 5 year old Boxer that came for Boot Camp.  He was a good dog but his parents did not have time to train him to be that 100% off leash, go anywhere dog they wanted!  So they sent him to our Tulsa dog training team and we trained him 3 hours a day for 3-1/2 weeks and then went back and trained them!
Bear can now go anywhere off leash! This photo is him at the park.  After boot camp we trained his family for 3 hours until he did everything for them.  
Why Choose Tip Top K9 Tulsa Dog Training?
For over a decade our founder, Ryan Wimpey has been obsessed with training dogs. Although the company has now grown with dog training franchise locations now based in Texas, Oklahoma, Idaho, Utah, etc. Ryan has never lost his love for training dogs to truly become the obedient and loyal companions that you want your dog to be. Because Ryan and the entire Tip Top K9 Tulsa dog training team is so confident that you will be wowed with your first dog training experience, your first lesson with us is always just $1.
Why Is the First Tulsa Dog Training Service Just a $1?
We recognize that in every industry there are really great service providers and really terrible service providers and the same is true in the dog training industry. And although Tulsa is blessed to be home of many wonderful dog training services we constantly hear horror stories from clients who visited a Tulsa-based dog training service ran by people that treat dog training as lost mystical art with no actual proven plan or systems in place to serve as a path for producing predictably great results in the dogs they train. However, at Tip Top K9 we force ourselves to earn your business each and every time. During the first meeting with us we are going to WOW you with great service, or we simply won't earn your hard-earned dollars.
What Puppy Classes Do We Offer?
Is your cute puppy making your brain explode as you watch it terrorize your house and home? Well hang in there because help is just one quick call away. At Tip Top K9 Tulsa dog training we love working with puppies and believe it to be a wonderful way to begin simple obedience training with the newest member of your family (your puppy). If you choose to become a student in our puppy training class you will be coached on the proven methods for crate training your dog, housebreaking your puppy and teaching your puppy how to not bite and chew the things and people you love.
What Obedience Classes Do We Offer?
At Tip Top K9 Tulsa dog training our entire team believes that obedience is an important way to build a great connection between you and your dog. Once you and your dog have established a great connection based upon discipline it really does lay the groundwork for a long-term win-win relationship between you and your dog. Whether you are looking to learn basic or more advanced obedience tips, tricks and skills we offer it at Tip Top K9 dog training.
What Services Does Tip Top K9's Tulsa Location Offer?
At our Tulsa Tip Top K9 dog training franchise we our proud to offer a wide variety of dog training services including (but not limited to):
Puppy Training Classes
Beginner Classes
Training for Aggressive Dogs
Therapy Dog Training Related Services
Advanced Dog Training Classes (We can teach your dog some pretty impressive tricks, but we are still unable to teach your dog to read at this point)
Private Dog Training Classes
In-Home Dog Training Classes
Doggy Boot Camp Training
Empowering You by Teaching You Proven Dog Training Methods
Tip Top K9 Tulsa dog training was founded to help great dog owners like you to build a strong bond with your dog. Our top-rated dog training program is currently the highest rated and most reviewed dog training company in Tulsa. In fact, the proven training methods that we teach are so effective that most customers tell us "it's like having a new dog" after their dog has been properly trained by our staff.
Our dog training services are energetic and result-focused and have proven to be effective in the training of canines of nearly any age and nearly any behavior type. But don't take our word for it. Schedule your $1 first dog training session today.
What Bootcamp and Private Dog Training Options Do We Provide
Tip Top K9 Tulsa is proud to provide many different packages for the canine training services that we provide. Our highly-skilled and rigorously trainers will invest the time to work one-on-one with your dog, however we can also provide the Tulsa dog training services that we offer while working at your residence, at a park or location that is best for you and your family's needs. During these training classes we will work with you to help you teach your dog home to move past behavior issues and patterns of behavior that can cause friction between your and your dog.
Where You Can Learn More About Tulsa Dog Training Services
Although we do not provide Tulsa dog grooming services we would be happy to recommend a high quality Tulsa-based dog grooming business today. Just give us a call at (918) 991-8634 and we will point you in the right direction.
What Is Our Aggression Policy?
At Tip Top K9 Tulsa dog training we do reserve the right to choose not to train any dog if we do in fact believe that the dog's level of aggression is something that we could classify as being "dangerous" or "vicious" in nature. However, your first lesson with us is always just $1 so we both can find out if we are the right dog trainer in Tulsa for you.
What Is Nearest Tip Top K9 Dog Training Location Near Me?
With Tip Top K9 dog training locations in Owasso, Oklahoma City, Tulsa, Jenks and Broken Arrow we are here to serve all of northeast Oklahoma. Dogs that finish and complete our puppy-focused classes are then set up in a great position to start more advanced obedience training when the time is right. During our puppy training classes we are confident that you will build a lasting relationship with your dog.
Tip Top K9 Tulsa Dog Training
8545 E 41st St,
Tulsa, OK 74145
Phone: (918) 991-8634
Talk With a Trainer Today!