We did bootcamp for our pup and he trained for a couple weeks. He came home today and is doing great! His trainer, Jeanett, walked us through all the commands and helped us learn and practice. He has learned SO much and we're very impressed and happy! We're looking forward to continuing working on his skills and going to group classes. He learned all the commands that we mentioned we wanted him to learn.

Pavan Brar
00:22 10 Apr 21
We just love Tip Top! Everyone is so nice and I loved getting my weekly updates and pictures! Molly is the smartest dog in the world but when Jeanett brought her home and we saw everything she learned we were blown away!! Jeanett walked us through the whole training process, answered all our questions and didn't leave until we were 100% confident in continuing all the great things Molly had learned. Shout out to the whole Tip Top family for taking great care of our girl.

Kerri Henderson
19:23 09 Apr 21
We just had our last lesson today and are very pleased with the outcome of the training. Bethany, our trainer, was great with our dog, Pablo. He really learned a lot from all of his lessons. I would highly Tip Tip K9 to anyone.

Marisa Spalding
23:40 08 Apr 21
Jeanett Bryant at Tip Top K9 is fantastic!! I recommend this service!!!

Stephanie Marretta
22:27 08 Apr 21
My husband and I couldn't recommend Top Top K9 enough!! A few months ago, my husband and I reached our limits with our precious pups! They struggled with stubbornness, listening, excessive barking, anxiety, ect. A coworker of mine recommended Tip Top K9 to us, after she sent her dog to bootcamp. We have them a call, and started our lessons within a week. After 8 sessions only, we have completely different dogs! They are incredibly obedient and well behaved. They can walk on a leash without pulling, they come and sit at our feet the first time we ask, they no longer jump on us or on our furniture, and overall are just REALLY well behaved pups. Our trainer, Juliette, was the kindest, most patient, and knowledgeable trainer and we just can't thank her enough for all of her training and help! We love this company and highly recommend it to anyone who needs to their dogs trained!

Cristina DuMond
23:03 07 Apr 21
Absolutely the best experience and my pup is well on his way to being a gentleman and a scholar! Highly recommend this service for anyone searching for great obedience training for their doggos!

Caleb Connell
18:53 05 Apr 21
We adopted Walter in November of 2020 and quickly realized he needed training. Thanks to lessons with Ben and the folks at Tip Top, Walter is feeling so much more confident in himself and we feel confident that he will always listen to us. I was skeptical that Walter would respond to training, but we've gotten many compliments about how his behavior has totally changed. He's well on his way to living his best life!

Tom McHugh
20:41 03 Apr 21
I would 110% recommend Tip Top K9! Our dog Champ just got back from training with them yesterday and I could not be any more satisfied. Our dog came back almost a completely different dog, it's unbelievable! You can tell the trainers put a lot of hard work and time into training your dog. I also felt reassured that they let me know I am able to contact them in the future with any questions or issues that arise. Also, with the package we did we get lifetime group classes with them. It was worth every penny & we will definitely be sending any dog we have in the future to Tip Top K9!

Kaycee Davidson
22:47 01 Apr 21
Excellent service and attention to detail. Any questions I had were answered promptly and honestly!

Jory Cammon
16:03 31 Mar 21
Joey treated our Meaux like his own !!!! Meaux came back a different dog. Well worth the money!!!

John Schutte
20:07 29 Mar 21
Amazing to have her come, sit, and a wonderful dog we can have in public without going crazy! Thanks Tip Top K9!

John Beaver
00:15 27 Mar 21
Best place ever to get your dog trained. Worth every penny.

Audrey Ulrich
02:15 24 Mar 21
Had wonderful here. Good prices and great staff

Micah Douglas
23:07 23 Mar 21
Sam and I have had a great time learning an training with Tip Top K9.

Murray Johnson
20:53 23 Mar 21
Our dog Rocky came home today and we were more than impressed. He has always been a happy and loving dog but he tended to get overly excited and difficult to control. Once he was excited, he was almost unstoppable. He came home still the very happy, loving dog that we sent for training but now he is able to pay attention, listen and follow commands quickly. We were very interested in the PLACE command as he tended to get into everything when we were doing something else. Ben helped with showing us the ropes so we were almost immediately able to give the commands that Rocky would follow. Our stress levels are going to go way down and we are looking forward to enjoying our well trained puppy.

Larry Lieberman
00:44 21 Mar 21
I wouldn't trust my dog to anyone else!

Dolores Davis
20:18 20 Mar 21
We are so happy with the results we've gotten from training! Our dog used to be nearly impossible to walk and would react very strongly around other dogs... now we enjoy taking Lola on long walks and even runs!! She is like a brand new dog! 10/10 would recommend!!!

Blythe Adesokan
22:33 18 Mar 21
Our Sandy is doing great. Very satisfied with how she has responded. Joey did an excellent job of training us. Sandy is ready to go, Mom and Dad need the work 😂

Roger Flud
17:06 18 Mar 21
We had some initial concerns after our first couple of training sessions and Tip Top was very quick to address our concerns (we needed extra TLC not the dogs!)with an extra visit from Matthew. Our boys are adapting well and we are looking forward to attending class!

Trisha Hallman
16:26 17 Mar 21
We cannot say enough about how much we appreciate the training we received for our dog Rex and especially for our very personable trainer, Jeanett, for her knowledge, expertise and ability.

Irene Fitzgerald
19:02 16 Mar 21
We got a puppy German Shepard and took the 6 week course where the trainer comes to the home and had a wonderful experience I would highly recommend this course to anyway!

Pamela Van De Wiele
20:51 15 Mar 21
Very happy with the training of our dog. He is number 3 in our family successfully trained in this facility !!!Staff is professional, top notch and accommodating.Appreciate Sean's detailed demonstration of all the steps Max went through and learned and his patience with us - at the home coming !.Took Max for his first run in the pasture and had a chance to redirect him from eating , or what ever he would do with the stuff he should not have.Should mention that I picked Max up from a rescue facility , his age was1 1/5.

Milena Nikel
18:18 14 Mar 21
We have had a great experience with Tip Top! We are more than pleased with the amazing progress our Goldendoodle has made! Thank you!!

Mom Bothwell
23:05 13 Mar 21
We have two high energy puppies that were in need of training. Found tip top k9 online and were intrigued, turned out to be a great! We saw an instant increase in good behavior. Awesome and professional trainers!!!

Jaci Ridings
00:52 09 Mar 21
We could not be happier with Tip Top! Our 3 year old German Shepherd, Rex, learned some amazing skills while at boot camp. We are honestly shocked at how much he learned! He's such a controlled, well-behaved boy now, but still the same happy, goofy guy. We call him our superstar!!! Not only did he learn a lot, but he thoroughly enjoyed it! His trainers Ben & Mikal have come to our house for follow up visits and Rex is always happy to see them. Number one sign your dog is treated very well and loved while at Tip Top!They kept us updated weekly on his progress. Everyone was patient with questions and our qualms about missing our boy. They always stay in constant communication. This was important to us and greatly appreciated. They will go out of their way to ensure the best for your dog. They certainly did for our Rex! Don't hesitate to use their services. They are 100% worth it, plus more! Thank you, Tip Top!

Alexandra Jalili
22:40 07 Mar 21
We love Tip Top K9! They demonstrated results for our friends and exceeded our expectations when we used them.

Jared Pawelka
22:22 07 Mar 21
We loved Tip Top! They were so patient and explained everything really well. Our boys are so much easier to work with and more behaved! Highly recommend.

Cassie Czarnetzke
20:00 07 Mar 21
Complete night and day difference with our two rescue dogs, a Rottie and GSD mix. They were out of control when we adopted them. Now they are well behaved, sit, place, come, heel, and are a joy to have! TipTop K9 made the difference. Highly recommend!

Jonathan Riddle
20:00 07 Mar 21
My dog has had past experiences of aggressiveness towards other dogs and animals. She's usually very obedient but when she sees a squirrel or a dog she doesn't like she ignores my commands. After Tip Top K9's help this past month, I have had no issues with my dog ignoring me in any type of situation. My trainer was Sean and he was very knowledgeable, personable and patient. You can tell he likes what he does. Extremely thankful for all their help.

Jessica Diaz
19:13 06 Mar 21
Their training is like magic! They have helped us and our dogs more than I could have imagined!

Brianna Autry
20:51 03 Mar 21
These guys are great. I had six private lessons with my 2 dogs. My confidence and my relationship with my dogs have greatly benefited from these lessons. I would recommend Tip Top K9 to anyone!

Shelia Sweet
20:44 02 Mar 21
Working with Matthew has been amazing. He has given us so many tools to use and has made everything so much better! I would recommend them to everyone.

Brooke Gelein
23:30 01 Mar 21
Exceptional service and outcomes. Thank you so much to all the tip top team.

Matt Bristow Tulsa
21:15 27 Feb 21
Awesome training experience. Learned how to properly control our dog and she really enjoyed it as well. Well worth the money! We can take her anywhere

Mike Warren
16:58 26 Feb 21
We love love love TiptopK9!!! Our standard poodle puppy did a 3 week boot camp at the Tulsa location and upon picking him up, he is like a completely new dog - the very best version of himself. No more jumping on us (or worse - others) and nipping. Counter surfing is a thing of the past, as well as him walking us rather than the other way around. The investment in training at TiptopK9 is worth every penny and I would recommend anybody to do what we did.

Cecilia Hewitt
22:03 20 Feb 21
Ryan was awesome and we will be having him back soon

John Schwendemann
17:16 17 Feb 21
I am extremely pleased with the results of the dog training at this facility. I not only was given weekly report cards and updates on my dog, but they also included pictures. My favorite part about this facility was on my dogs day to be picked up, Joey was able to show me everything that my dog had learned here and also made sure that I would be able to get her to do the same things once she was at home with me. I would highly recommend taking your dog here to get trained, they did such a phenomenal job.

Catherine Shields
22:24 08 Feb 21
Great training for our family pet who had a few not so great tendencies. Zelia can now stop herself from barking which is great for our neighbors who enjoy their walks. She is also much better on a leash and will be safe should she ever get out of the fence because she is quick to come when called.

Eric Woolley
23:40 06 Feb 21
Tip Top K9 was wonderful, Our dog came back very well behaved and it was an excellent investment. 10/10 would recommend.

Excellent training for our 6 month old Goldendoodle. The kids are excited to play with her now that she won't be jumping on them any longer!

Stacey Simpson
01:18 01 Feb 21
Sean did a very good job explaining the training that Rusty got at boot camp. Rusty is a better dog for going to boot camp training. When we had a question about any of the programs Tip Top K9 are very kind to answer the questions. When we talk to the dog trainer they were happy to talk to us. We like the people that work at Tip Top K9. I say that if you need your dog to be trained this is the place.

Tina Propst
22:05 31 Jan 21
Just finished 3rd private lesson. Friendly trainers. Good response from dog. Pretty independent Pomeranian but responded well to training.

john blandamer
22:17 27 Jan 21
Our biggest concerns with our dogs were coming when called if they got out and pulling on leashes during walks. Tip Tol K9 has helped us with that and more. Also our older dog is 10 and they have worked wonderfully with her and she is doing so well. You can totally teach an old dog new tricks. She is coming when called consistently and walks well on a leash now. She's also doing great with place. We're so happy with our training and will use them again in the future.

Joy Tillman
21:35 26 Jan 21
Train With THE Top Rated Location In The Country!!
We have been in Tulsa for over 10 years helping 1,000s of clients enjoy their dogs more and fix behavior problems in their beloved dogs!  We would love an opportunity to work with your dog and get them off-leash and under control!
At our Tulsa dog training location we specialize in aggressive dogs and behavioral issues of all sorts.  No matter what you dog is exhibiting chances are we can help!
We serve Tulsa dog training needs all over the greater Tulsa area!  We love to give people the ability to take their dog everywhere with them and enjoy them more through obedience training!  With people surrendering dogs in record numbers our trainers work with many rescue and shelter dogs to help them overcome aggression as well as fear based issues from abuse and neglect.
Currently the most common dogs we train are Doodles!  Golden doodles, labradoodles, and doodles of all kinds!  Doodles are smart but can be high strung and high energy and can require a lot of work!  At our Tulsa dog training location we always have 1 or 2 doodles at doggie boot camp.  If you have a doodle then look no further call today and we will send a doodle whisperer right out to show you what we can do!
We do private lessons and boot camps but we do not sign up every dog for every package instead we start with a $1.00 first lesson.  This will let our trainers get to know your dog and allow your family see first hand what would be the best course of action for you fur child.  Call us today at 918-991-8634 to have us come out and work with your dog for only $1.00!
Hear what some of our Tulsa dog training clients have to say about us:
"My Newfie is now able to walk on a leash and does better in the house with guests."
"This has been quick, decisive helpful training with our dog! It was both helpful and enjoyable!  This was a good experience."
"My dog does exactly what I wanted him to do for us! He comes when called!  I love the fact that they came to our home and training was so personal!  I have a dog that behaves and takes commands really quickly.  Training has made our house a fun place to be."
"Tip Top is user friendly and dog friendly, the actual process that Tip Top K9 uses is superior… Very effective and efficient."
"I felt like I was trained to train my dog.  They just taught me everything I needed to know for him to be a great dog!"
"It feels like everyone at Tip Top K9 truly cares about your dog.  You are going to get every bit you paid for and a ton extra.  After dog training my dog turned out wonderful and I owe it all to Tip Top K9."
Out And About Dog Training In Tulsa:
Some of our recent Tulsa dog training success stories: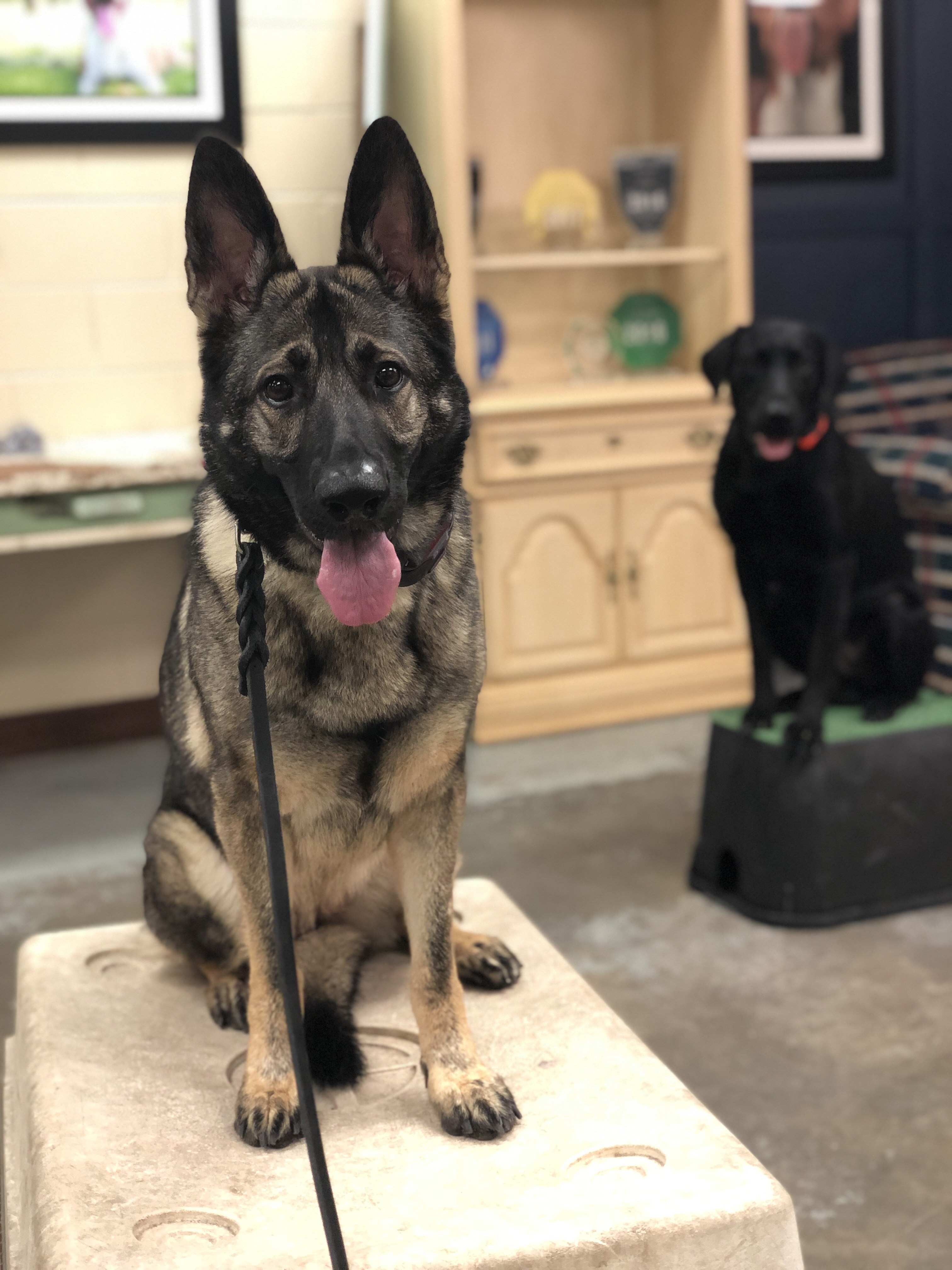 Athena - Aggressive German Shepherd
Athena was a 2 year old German Shepherd who did one of our dog board and train programs.  She was a very sweet dog to people but was very dog aggressive and would go crazy and drag her owner (who was a strong guy) over to other dogs out on walks to try to eat them! She would even climb her fence to go after other dogs and had just bitten another dog really bad before her owner called.
After working with our Tulsa dog training team for a month, Athena can now be next to other dogs and around other dogs without any issue.  This took four weeks of boot camp but now she loose leash walks with only two fingers on the leash and can ignore dogs and do her obedience off leash in the front yard with no issue!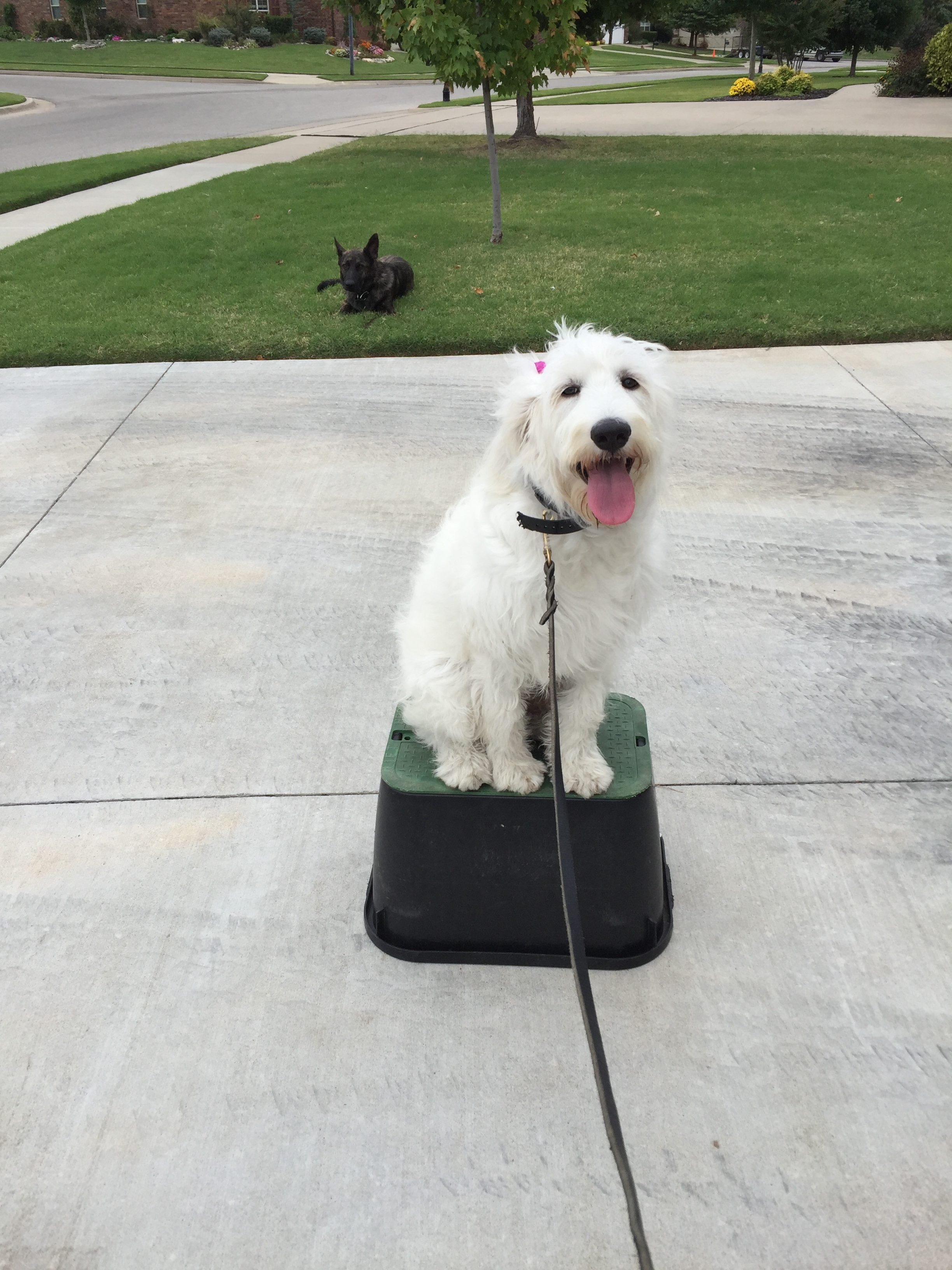 Sugar - 1 Year Old Labradoodle
Sugar was a very sweet but hyper and crazy labradoodle!  Her owner Ryder was a 11 year old boy who loved her but did not have her respect!  We did in-home lessons and trained the dog, parents, and the young man! 
After 6 lessons Ryder (Sugar's 11 year old owner) was able to walk her on a leash in the front yard and even have her off leash with other dogs around! We focused most of the lessons on training Ryder how to make her listen without raising his voice but showing her that she has to do what he is asking her to do!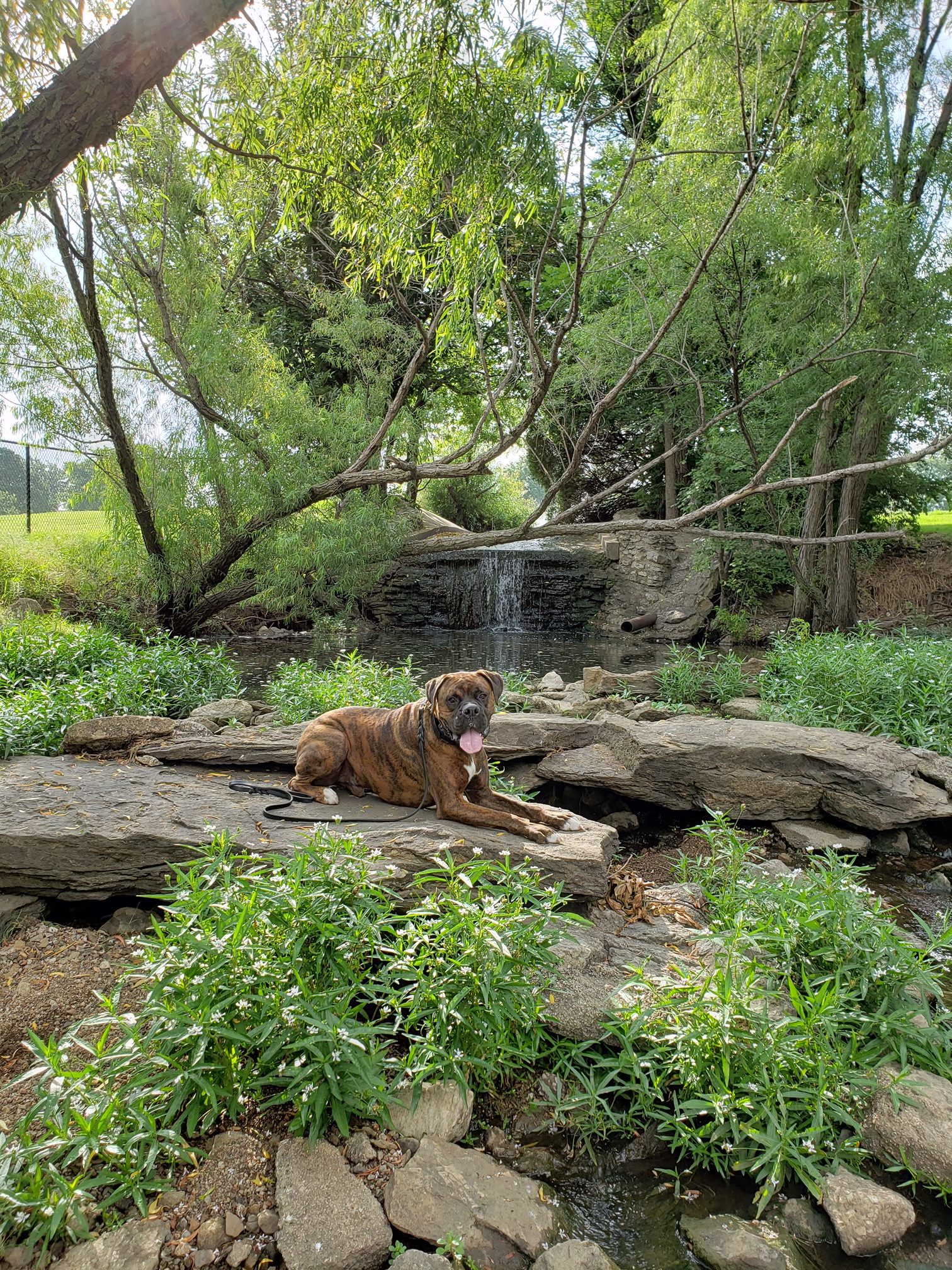 Bear - 5 Year Old Boxer
Bear was a 5 year old Boxer that came for Boot Camp.  He was a good dog but his parents did not have time to train him to be that 100% off leash, go anywhere dog they wanted!  So they sent him to our Tulsa dog training team and we trained him 3 hours a day for 3-1/2 weeks and then went back and trained them!
Bear can now go anywhere off leash! This photo is him at the park.  After boot camp we trained his family for 3 hours until he did everything for them.  
Why Choose Tip Top K9 Tulsa Dog Training?
For over a decade our founder, Ryan Wimpey has been obsessed with training dogs. Although the company has now grown with dog training franchise locations now based in Texas, Oklahoma, Idaho, Utah, etc. Ryan has never lost his love for training dogs to truly become the obedient and loyal companions that you want your dog to be. Because Ryan and the entire Tip Top K9 Tulsa dog training team is so confident that you will be wowed with your first dog training experience, your first lesson with us is always just $1.
Why Is the First Tulsa Dog Training Service Just a $1?
We recognize that in every industry there are really great service providers and really terrible service providers and the same is true in the dog training industry. And although Tulsa is blessed to be home of many wonderful dog training services we constantly hear horror stories from clients who visited a Tulsa-based dog training service ran by people that treat dog training as lost mystical art with no actual proven plan or systems in place to serve as a path for producing predictably great results in the dogs they train. However, at Tip Top K9 we force ourselves to earn your business each and every time. During the first meeting with us we are going to WOW you with great service, or we simply won't earn your hard-earned dollars.
What Puppy Classes Do We Offer?
Is your cute puppy making your brain explode as you watch it terrorize your house and home? Well hang in there because help is just one quick call away. At Tip Top K9 Tulsa dog training we love working with puppies and believe it to be a wonderful way to begin simple obedience training with the newest member of your family (your puppy). If you choose to become a student in our puppy training class you will be coached on the proven methods for crate training your dog, housebreaking your puppy and teaching your puppy how to not bite and chew the things and people you love.
What Obedience Classes Do We Offer?
At Tip Top K9 Tulsa dog training our entire team believes that obedience is an important way to build a great connection between you and your dog. Once you and your dog have established a great connection based upon discipline it really does lay the groundwork for a long-term win-win relationship between you and your dog. Whether you are looking to learn basic or more advanced obedience tips, tricks and skills we offer it at Tip Top K9 dog training.
What Services Does Tip Top K9's Tulsa Location Offer?
At our Tulsa Tip Top K9 dog training franchise we our proud to offer a wide variety of dog training services including (but not limited to):
Puppy Training Classes
Beginner Classes
Training for Aggressive Dogs
Therapy Dog Training Related Services
Advanced Dog Training Classes (We can teach your dog some pretty impressive tricks, but we are still unable to teach your dog to read at this point)
Private Dog Training Classes
In-Home Dog Training Classes
Doggy Boot Camp Training
Empowering You by Teaching You Proven Dog Training Methods
Tip Top K9 Tulsa dog training was founded to help great dog owners like you to build a strong bond with your dog. Our top-rated dog training program is currently the highest rated and most reviewed dog training company in Tulsa. In fact, the proven training methods that we teach are so effective that most customers tell us "it's like having a new dog" after their dog has been properly trained by our staff.
Our dog training services are energetic and result-focused and have proven to be effective in the training of canines of nearly any age and nearly any behavior type. But don't take our word for it. Schedule your $1 first dog training session today.
What Bootcamp and Private Dog Training Options Do We Provide
Tip Top K9 Tulsa is proud to provide many different packages for the canine training services that we provide. Our highly-skilled and rigorously trainers will invest the time to work one-on-one with your dog, however we can also provide the Tulsa dog training services that we offer while working at your residence, at a park or location that is best for you and your family's needs. During these training classes we will work with you to help you teach your dog home to move past behavior issues and patterns of behavior that can cause friction between your and your dog.
Where You Can Learn More About Tulsa Dog Training Services
Although we do not provide Tulsa dog grooming services we would be happy to recommend a high quality Tulsa-based dog grooming business today. Just give us a call at (918) 991-8634 and we will point you in the right direction.
What Is Our Aggression Policy?
At Tip Top K9 Tulsa dog training we do reserve the right to choose not to train any dog if we do in fact believe that the dog's level of aggression is something that we could classify as being "dangerous" or "vicious" in nature. However, your first lesson with us is always just $1 so we both can find out if we are the right dog trainer in Tulsa for you.
What Is Nearest Tip Top K9 Dog Training Location Near Me?
With Tip Top K9 dog training locations in Owasso, Oklahoma City, Tulsa, Jenks and Broken Arrow we are here to serve all of northeast Oklahoma. Dogs that finish and complete our puppy-focused classes are then set up in a great position to start more advanced obedience training when the time is right. During our puppy training classes we are confident that you will build a lasting relationship with your dog.
Tip Top K9 Tulsa Dog Training
8545 E 41st St,
Tulsa, OK 74145
Phone: (918) 991-8634
Talk With a Trainer Today!