We had a great experience with Tip Top K9! They did an awesome job training Freya. Ben and Joe dropped her off and gave US some training for a couple hours. Ben showed us how to use the commands properly and how to handle different situations that may come up. I definitely will recommend them to everyone.

Johnathon Winkler
02:20 21 Jan 22
Sending my pup to Tip Top K9 was the best decision ever!! Now that my dog listens to me we have more freedom to go to public places, on hikes, and in parks off leash or on a loose leash! My dog now has a sense of purpose and is less rowdy and destructive because he's hard at work learning to listen and carry out commands. Before, wrangling my dog was tough because he is a big guy, but now we work together and have fun everywhere we go! I recommend Tip Top to all dog owners who want a better relationship with their fur baby. We are so grateful!!

kirstie wolf
23:23 18 Jan 22
So happy I chose tip top k9! My 6 month old puppy can walk, come, and place! And stays in the backseat now when I drive ! Amazing service

Kaitlin Allen
20:53 17 Jan 22
Sean was terrific, very patient, gentle and knowledgeable. Big Head Fred is well on his way to being a Tip Top K9! Would highly recommend.

shinystuf1114
23:03 13 Jan 22
Molly (the dog collecting reviews) was truly amazing the people at tip top k9 dog training are extraordinary.

Donavin Carmichael
21:28 12 Jan 22
Tip Top K9 is great and really helped our 5 month old puppy learn good manners at boot camp. Our golden doodle learned place, come, sit, off, and quiet. We loved all the trainers at Tip Top k9. They were wonderful to work with and very professional. We highly recommend Tip Top k9 for any and all dog training needs.

Krissy Dennis
02:11 12 Jan 22
The three trainers that I worked with were all excellent. Gregory explained everything so clearly. I would recommend this training group to ever. My so used them and told me they were excellent and he was right.

Susan Davis
22:41 10 Jan 22
Jeanett was such a fantastic trainer for us. We had previously tried other training methods that never seemed to sink in for our two pandemic pups. Everything I learned through the Tip Top K9 methods have made a huge difference in our dogs. They listen and know what's expected of them, which makes for a much happier household for all of us. I never would have believed that they would sit quietly in one place while we eat or walk calmly on a loose leash- which they have mastered now. Truly a blessing for us. Thank you!

Mary Spears
20:22 08 Jan 22
Tip top K -9 is fantastic! They completely changed our dog Nikita and she is now able to be a part of my family! Seriously a night and day difference and we couldn't be happier

Sabrina Lewis
00:39 08 Jan 22
So happy with how our training has gone. Both dogs have improved SO much - looking forward to group class.

Hannah Fowler
22:18 06 Jan 22
This is an operation that we would recommend and if we get another pup definitely patronize again. We have two mixed-breed rescue pups, and started with Tip Top K9 Tulsa at ages 2 and 1/2 (male) and near 2 (female). The pups were raised by us from about eight weeks old each in a relatively large fenced yard when we were living on the west coast. We recently moved to Oklahoma where we are on a far larger property, without a fence. Neighbors have pups off leash most of the time (which is great where we are and we aspire to do same), and wildlife is abundant so our pups have a lot of distractions and temptations to run, and keep running. We chose Tip Top K9 after reading reviews then meeting with some of their team for the $1 initial meeting. No sales pressure which impressed us, rather they demonstrated how they trained with our pups and gave us options for training that were the best for our needs and our pups personalities. We were quickly and conveniently scheduled and dropped pups off for initial session with our trainer Sean. Sean did first four sessions, and we joined with him for the last four. Sean identified after session 1 that he lived near us and we were able to have multiple (almost all) of the subsequent sessions at our home. Sean was extremely professional, obviously knew what he was doing, and delivered results quickly. He has a great demeanor, not only training the pups, but also very much training the us, the owners. Always polite, clear in instructions, and patient. The training program requires the owners to do "homework" between sessions to reinforce behaviors and response to commands and we did so diligently. Sean checked progress at the beginning of each session before moving to next lessons. Our pups were soon off leash around our house, listening to us and generally of excellent behavior. Our good pups became great pups. We still have work to do and other than around house will keep them on leash but not having a fence is less of an issue now, and having the pups follow us consistently as we go about the property is a pleasure. The training gave them some necessary discipline and resulting safety, but allows them to still run and have fun as pups should do - they do still chase the squirrels and deer but stop and return in reasonable time and distance. So yes, very pleased with the training program, and we would do it again.

They helped us with our 5 month old silver lab. Amazing what they can do! Five stars!!!

Diesel Clay
02:55 21 Dec 21
My dogs was stubborn until I tried the service from tiptop k9. Shawn was doing great and able to do seat, stay, heel really good.

Man Nguyen
21:04 20 Dec 21
Tip Top K9 is amazing! I highly recommend. We have been in training for 3 weeks and have seen so much progress!!!

Tayton Parks
18:02 20 Dec 21
Awesome place! my dog was so much better at listening to commands after the three week session.

kennedy coppage
17:55 20 Dec 21
Our grand dog went to boot camp for 4 weeks and we are amazed at what he learned! We are committed to helping our daughter by reinforcing all that her amazing springer spaniel pup is capable of doing (and not doing!). So excited to be able to walk him without him pulling! Also excited about him not jumping up on everyone he encounters. Thank you Tip Top for your expertise and incredible training!! The homecoming party and the training we received that day were beyond our expectations.

Carrie Kittinger
14:37 18 Dec 21
My dog Kit had amazing results at Tip Top K9. We saw an amazing transformation and are very happy with the results.

Kellie Kittinger
21:38 17 Dec 21
We've had four dogs go through training with Tip Top, and we could not be happier. People that come to our house are always surprised to see our pack being calm and friendly. Walking the dogs is a breeze since they stay at our sides with no pulling or other shenanigans. Our dogs are happy, playful pups and we are very happy dog owners.

Cody Littrell
16:27 17 Dec 21
Had a great experience with Tip Top K9. I have learn so many useful skills to make sure that my Gracie has the best manners. Could not recommend them more!

Katie Culver
00:47 16 Dec 21
Thank you so much. We appreciate your love and care. All the trainers and staff were so helpful and knowledgeable. It was a great experience and through the boot camp she had amazing results. Thank you very much.Thank you Gregory, Michael, Joey and Sean!

Blake Gastelum
00:02 14 Dec 21
We had a great experience with Tip Top K9. We are first time pet owners with a 7 month old German Shepherd. We wanted to get her trained on basic commands, breaking a few bad habits around the house, and also needed to be trained a bit ourselves on how to work with her. Highly recommend them.

Tyler Estes
00:56 04 Dec 21
I desperately needed my Shadow to know that I am the boss. I was frustrated and ready to give him back. Tip Top K9 gave my dog back to me. He now listens and his behavior has done a 180. I am so thankful for Tip Top K9.

Robin Tobin
12:45 03 Dec 21
My schnauzer has learned so much. He isdoing very well. His trainer Jeanette hasBeen great! I would recommend herhighly.

Susan Gullatt
23:05 01 Dec 21
Our German Shorthaired Pointer is behaving much better after six sessions with our trainer, Jeanette, plus consistent sessions with us over the past 6 weeks. The Tip Top training philosophy works, and their trainers are extremely patient and competent. I would recommend Tip Top to anyone, it is well worth the investment.

Bill Harmon
23:54 30 Nov 21
Tip Top has been such a blessing in helping our dogs become more obedient. My rescue dog was so afraid of meeting new people, and now we have a systematic way of introducing him to new people. The trainers all train full-time. Everyone we interacted with was so professional and knowledgeable. I have nothing bad to say about this business! The value you get is unbelievable.

Christin Beer
21:44 29 Nov 21
Sean was an amazing trainer he helped our family out tremendously with our pup he has came a ver long way in a short amount of time we thank y'all soo much

X Segroves
17:06 26 Nov 21
Jeanett is an amazing trainer! My dog, Brinkley, is a high-spirited dog, and she has been able to help me desensitize him in public settings.

brittany kelly
22:09 20 Nov 21
The trainers at Tip Top K9 are amazing! We have went through training with 4 of our dogs and have never been disappointed with the service provided. Jeanett was great with our dogs and very patient in teaching us how to work with them. We will definitely return in the future if we ever get a new pup!

Gregorye Epperson
20:53 19 Nov 21
I can't say enough good things about Tip Top K9! My dog has come so far in her reactivity in such a short time. They also were great in how supportive they were of her and I in her training.

Emily Hyde
00:36 19 Nov 21
Tip Top really helped us with our German Shepard. Thor is so calm and has achieved so much in so little

Dylan Cook
20:52 18 Nov 21
Amazing! Can't believe my French bulldog can do this!!

Megan Wilson
01:47 18 Nov 21
Great training for our stubborn dog! She shows so much improvement every time she has a lesson! The change lasts too! Highly recommend, great people!

Mark Keilbarth
19:23 13 Nov 21
Our Berne doodle was becoming more uncontrollable the bigger he got. Three weeks with Tip Top K9 trainers and he is happy, calm and knows exactly what to do. It is wonderful to be able to have him around all of the time without worrying what he is going to do. I highly recommend this group!

Darcy Jordan
17:29 06 Nov 21
Tip Top did a wonderful job training our puppy

Cheryl Redman
23:56 05 Nov 21
We are completely satisfied and in fact this company and their great staff exceeded our expectations in every way! Highly recommend!

Daniel Hunt
20:49 05 Nov 21
I have a Siberian Husky with a stubborn streak. Sean assisted me in training, showing the right amount of patience and direction for my pup. He has truly made what possibly could have been a nightmare a sweet dream. Thanks Sean and Tip Top

Michael Williams
19:09 04 Nov 21
Sean from tip top definitely knows what he is doing. Gives us confidence in our recall which allow us to have a boy off leash and knowing he will come back when called. Definitely check out tip top for great obedience training

Sean was truly an awesome trainer. He was so professional and made impressive improvements with my two dogs that I never thought would be able to heel. My dogs are controllable and well mannered at this point. Would highly recommended this training to any families with dogs that need any type of behavioral help!

Morgan Nall
16:11 26 Oct 21
They did a great job doing the training and teaching us as well. Patient and encouraging and problem solving. We would do it again. Jeanett was great to work with.

Nancy Burris
21:29 19 Oct 21
Train With THE Top Rated Location In The Country!!
We have been in Tulsa for over 10 years helping 1,000s of clients enjoy their dogs more and fix behavior problems in their beloved dogs!  We would love an opportunity to work with your dog and get them off-leash and under control!
At our Tulsa dog training location we specialize in aggressive dogs and behavioral issues of all sorts.  No matter what you dog is exhibiting chances are we can help!
We serve Tulsa dog training needs all over the greater Tulsa area!  We love to give people the ability to take their dog everywhere with them and enjoy them more through obedience training!  With people surrendering dogs in record numbers our trainers work with many rescue and shelter dogs to help them overcome aggression as well as fear based issues from abuse and neglect.
Currently the most common dogs we train are Doodles!  Golden doodles, labradoodles, and doodles of all kinds!  Doodles are smart but can be high strung and high energy and can require a lot of work!  At our Tulsa dog training location we always have 1 or 2 doodles at doggie boot camp.  If you have a doodle then look no further call today and we will send a doodle whisperer right out to show you what we can do!
We do private lessons and boot camps but we do not sign up every dog for every package instead we start with a $1.00 first lesson.  This will let our trainers get to know your dog and allow your family see first hand what would be the best course of action for you fur child.  Call us today at 918-991-8634 to have us come out and work with your dog for only $1.00!
Hear what some of our Tulsa dog training clients have to say about us:
"My Newfie is now able to walk on a leash and does better in the house with guests."
"This has been quick, decisive helpful training with our dog! It was both helpful and enjoyable!  This was a good experience."
"My dog does exactly what I wanted him to do for us! He comes when called!  I love the fact that they came to our home and training was so personal!  I have a dog that behaves and takes commands really quickly.  Training has made our house a fun place to be."
"Tip Top is user friendly and dog friendly, the actual process that Tip Top K9 uses is superior… Very effective and efficient."
"I felt like I was trained to train my dog.  They just taught me everything I needed to know for him to be a great dog!"
"It feels like everyone at Tip Top K9 truly cares about your dog.  You are going to get every bit you paid for and a ton extra.  After dog training my dog turned out wonderful and I owe it all to Tip Top K9."
Out And About Dog Training In Tulsa:
Some of our recent Tulsa dog training success stories: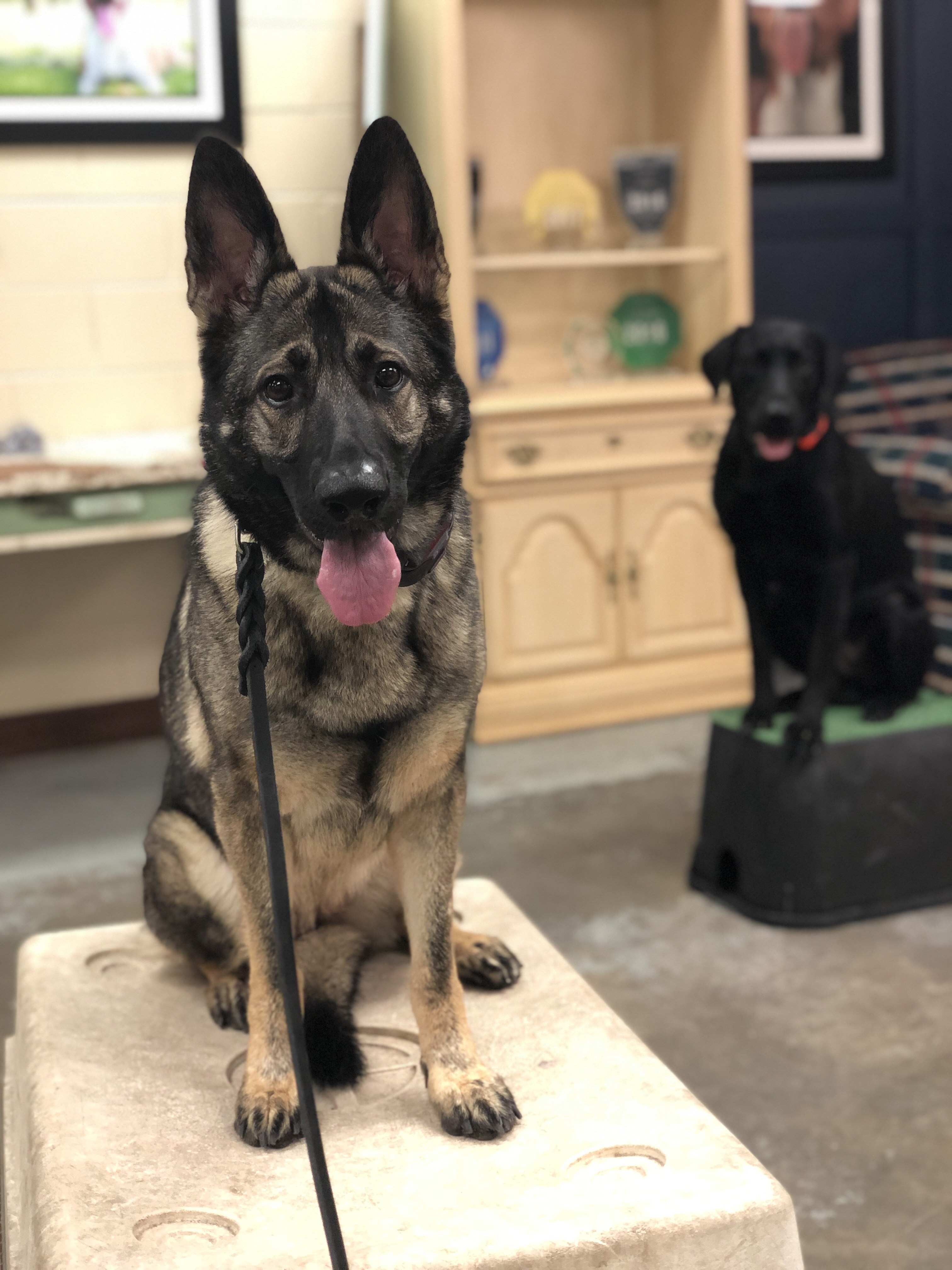 Athena - Aggressive German Shepherd
Athena was a 2 year old German Shepherd who did one of our dog board and train programs.  She was a very sweet dog to people but was very dog aggressive and would go crazy and drag her owner (who was a strong guy) over to other dogs out on walks to try to eat them! She would even climb her fence to go after other dogs and had just bitten another dog really bad before her owner called.
After working with our Tulsa dog training team for a month, Athena can now be next to other dogs and around other dogs without any issue.  This took four weeks of boot camp but now she loose leash walks with only two fingers on the leash and can ignore dogs and do her obedience off leash in the front yard with no issue!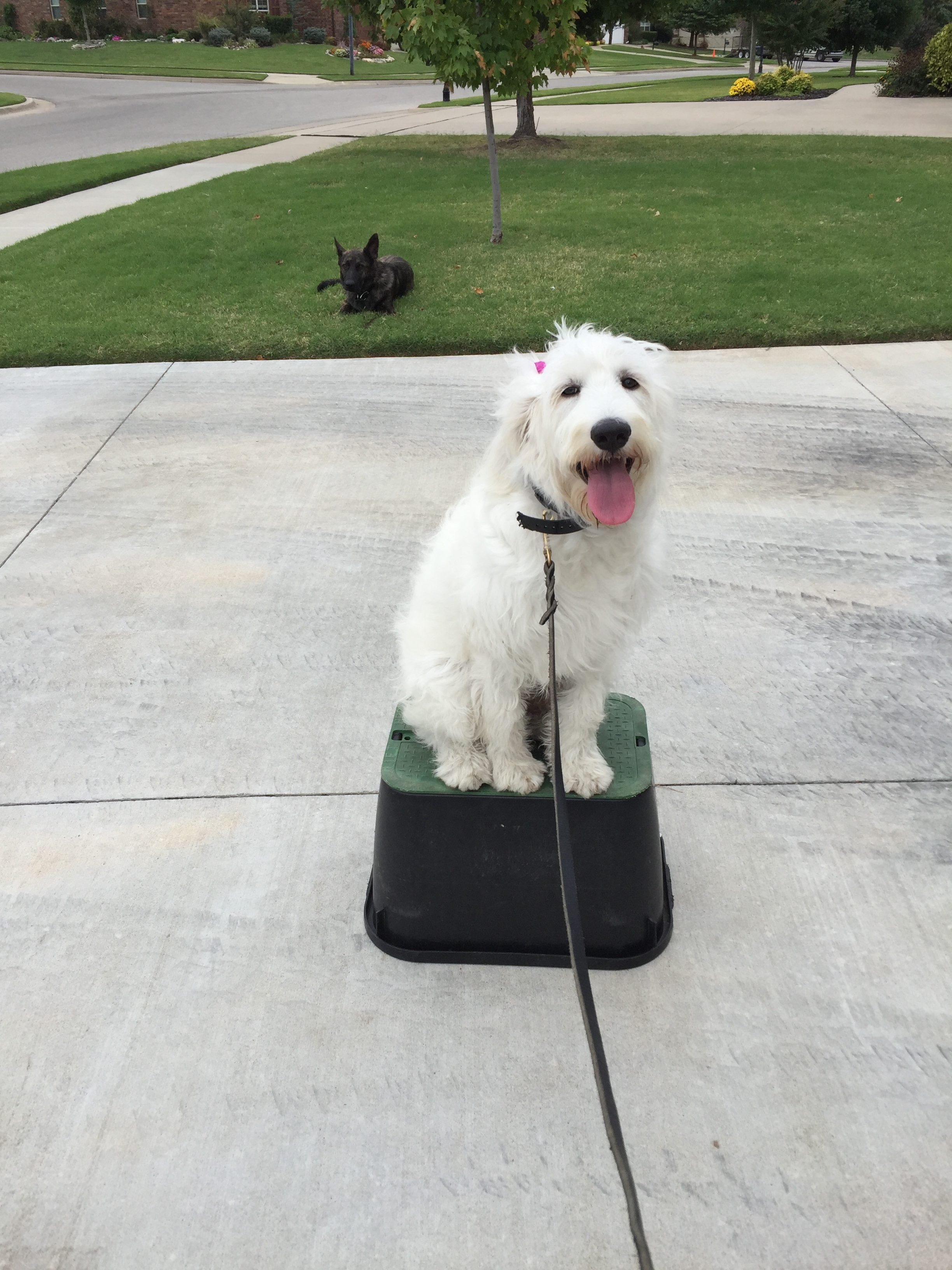 Sugar - 1 Year Old Labradoodle
Sugar was a very sweet but hyper and crazy labradoodle!  Her owner Ryder was a 11 year old boy who loved her but did not have her respect!  We did in-home lessons and trained the dog, parents, and the young man! 
After 6 lessons Ryder (Sugar's 11 year old owner) was able to walk her on a leash in the front yard and even have her off leash with other dogs around! We focused most of the lessons on training Ryder how to make her listen without raising his voice but showing her that she has to do what he is asking her to do!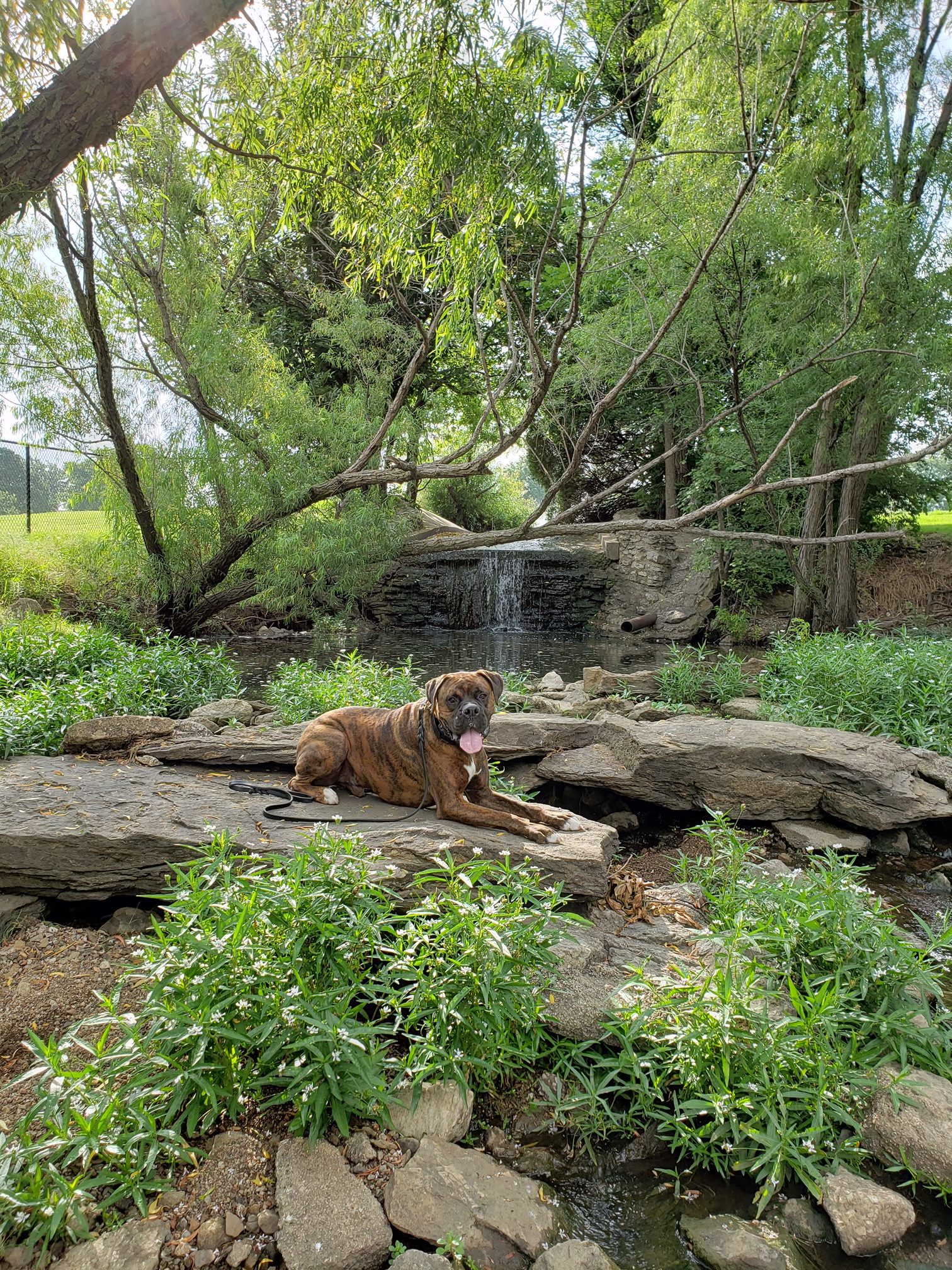 Bear - 5 Year Old Boxer
Bear was a 5 year old Boxer that came for Boot Camp.  He was a good dog but his parents did not have time to train him to be that 100% off leash, go anywhere dog they wanted!  So they sent him to our Tulsa dog training team and we trained him 3 hours a day for 3-1/2 weeks and then went back and trained them!
Bear can now go anywhere off leash! This photo is him at the park.  After boot camp we trained his family for 3 hours until he did everything for them.  
Why Choose Tip Top K9 Tulsa Dog Training?
For over a decade our founder, Ryan Wimpey has been obsessed with training dogs. Although the company has now grown with dog training franchise locations now based in Texas, Oklahoma, Idaho, Utah, etc. Ryan has never lost his love for training dogs to truly become the obedient and loyal companions that you want your dog to be. Because Ryan and the entire Tip Top K9 Tulsa dog training team is so confident that you will be wowed with your first dog training experience, your first lesson with us is always just $1.
Why Is the First Tulsa Dog Training Service Just a $1?
We recognize that in every industry there are really great service providers and really terrible service providers and the same is true in the dog training industry. And although Tulsa is blessed to be home of many wonderful dog training services we constantly hear horror stories from clients who visited a Tulsa-based dog training service ran by people that treat dog training as lost mystical art with no actual proven plan or systems in place to serve as a path for producing predictably great results in the dogs they train. However, at Tip Top K9 we force ourselves to earn your business each and every time. During the first meeting with us we are going to WOW you with great service, or we simply won't earn your hard-earned dollars.
What Puppy Classes Do We Offer?
Is your cute puppy making your brain explode as you watch it terrorize your house and home? Well hang in there because help is just one quick call away. At Tip Top K9 Tulsa dog training we love working with puppies and believe it to be a wonderful way to begin simple obedience training with the newest member of your family (your puppy). If you choose to become a student in our puppy training class you will be coached on the proven methods for crate training your dog, housebreaking your puppy and teaching your puppy how to not bite and chew the things and people you love.
What Obedience Classes Do We Offer?
At Tip Top K9 Tulsa dog training our entire team believes that obedience is an important way to build a great connection between you and your dog. Once you and your dog have established a great connection based upon discipline it really does lay the groundwork for a long-term win-win relationship between you and your dog. Whether you are looking to learn basic or more advanced obedience tips, tricks and skills we offer it at Tip Top K9 dog training.
What Services Does Tip Top K9's Tulsa Location Offer?
At our Tulsa Tip Top K9 dog training franchise we our proud to offer a wide variety of dog training services including (but not limited to):
Puppy Training Classes
Beginner Classes
Training for Aggressive Dogs
Therapy Dog Training Related Services
Advanced Dog Training Classes (We can teach your dog some pretty impressive tricks, but we are still unable to teach your dog to read at this point)
Private Dog Training Classes
In-Home Dog Training Classes
Doggy Boot Camp Training
Empowering You by Teaching You Proven Dog Training Methods
Tip Top K9 Tulsa dog training was founded to help great dog owners like you to build a strong bond with your dog. Our top-rated dog training program is currently the highest rated and most reviewed dog training company in Tulsa. In fact, the proven training methods that we teach are so effective that most customers tell us "it's like having a new dog" after their dog has been properly trained by our staff.
Our dog training services are energetic and result-focused and have proven to be effective in the training of canines of nearly any age and nearly any behavior type. But don't take our word for it. Schedule your $1 first dog training session today.
What Bootcamp and Private Dog Training Options Do We Provide
Tip Top K9 Tulsa is proud to provide many different packages for the canine training services that we provide. Our highly-skilled and rigorously trainers will invest the time to work one-on-one with your dog, however we can also provide the Tulsa dog training services that we offer while working at your residence, at a park or location that is best for you and your family's needs. During these training classes we will work with you to help you teach your dog home to move past behavior issues and patterns of behavior that can cause friction between your and your dog.
Where You Can Learn More About Tulsa Dog Training Services
Although we do not provide Tulsa dog grooming services we would be happy to recommend a high quality Tulsa-based dog grooming business today. Just give us a call at (918) 991-8634 and we will point you in the right direction.
What Is Our Aggression Policy?
At Tip Top K9 Tulsa dog training we do reserve the right to choose not to train any dog if we do in fact believe that the dog's level of aggression is something that we could classify as being "dangerous" or "vicious" in nature. However, your first lesson with us is always just $1 so we both can find out if we are the right dog trainer in Tulsa for you.
What Is Nearest Tip Top K9 Dog Training Location Near Me?
With Tip Top K9 dog training locations in Owasso, Oklahoma City, Tulsa, Jenks and Broken Arrow we are here to serve all of northeast Oklahoma. Dogs that finish and complete our puppy-focused classes are then set up in a great position to start more advanced obedience training when the time is right. During our puppy training classes we are confident that you will build a lasting relationship with your dog.
Tip Top K9 Tulsa Dog Training
8545 E 41st St,
Tulsa, OK 74145
Phone: (918) 991-8634
Talk With a Trainer Today!