Jeanett was really good with our 6 month old puppy. She was friendly and personal and very helpful. Looking forward to continuing the training at the group sessions.

Kasia Khan
18:12 19 Jun 21
Scooter was a very challenging golden labradoodle puppy! Beside his general bad puppy behavior, he wanted to nibble on us constantly - not maliciously but we were covered in band-aids! We sent him to Tip Top K9 boot camp hoping to get some improvement, but his training far exceeded our wish list. He came home calmer and educated, freshly bathed with a new attitude! We could tell Mikel and the other trainers had given him gentle but no nonsense direction which we have been able to continue at home. Texted questions and concerns were answered quickly and we loved getting photos! We fully recommend TipTop K9 and would tell anyone considering this program to call today.

Diana Millspaugh
21:22 12 Jun 21
We had such a positive experience with Tip Top K9! We did at home lessons with our 5 month puppy Maya and we are so happy that we did! Shawn(I think that is how you spell it) was the trainer and he did an amazing job! He was very professional and answered all of our questions. After every lesson we felt confident to continue to train Maya when he was not there. Maya has made so much progress and we are so grateful! It has made our life and Maya's a lot easier. I would highly Recommend doing dog training through this company!

Rachel Ranada
17:30 08 Jun 21
We couldn't be more pleased with the training our Willow received, as well as the coaching we received after we brought her home. Her trainer Ben spent hours with us addressing our questions and we feel as confident now about our ability to be responsible pet owners as we do in Willow's continued good path forward. Thank you!

Chris Malone
15:41 07 Jun 21
tip top k9 took in two of our dogs for a one week dog boot camp. Both of the dogs are small and fast. They would run when they saw the door open and very disobedient. Tip top changed all of that. Just the first day our dogs came back we saw huge improvements. They listen way better and they obey tremendously. We are so happy with our decision to go to tip top and it is way worth the money trust us.

Tayson Cornwell
20:25 06 Jun 21
We called Tip Top K9 after a series of pretty serious fights between two of our dogs. Fights in which blood was shed, stitches were needed, and, because we were concerned about their safety, we began discussing the possibility of rehoming one of them. But before doing something so extreme, we wanted to exhaust every possible option. We met with one company and after a few weeks we knew they weren't the right fit.. We then called Tip Top K9 and after our first visit we knew these guys could definitely help us. They were straight forward with us yet so kind and understanding. We worked with Sean for 8 sessions and not only did he teach our dogs many new commands, he also gave us the tools and confidence needed to implement these commands into our daily life. Just one short month after starting our training, we finally have our dogs aggression under control and are able to have them in the same room together again! Rehoming one of them is completely off the table. Because obedience training is something that needs to be practiced often and maintained throughout the dogs life, Tip Top K9 also offers a free membership to weekly classes to do so. We look forward to continuing our training and furthering not only their abilities but also their relationship with each other!

Paige Umfleet
23:50 31 May 21
Great training. My dog is much more behaved and listens to commands.

alex stockard
22:24 28 May 21
Jeanett did an exceptional job with our dog Cash. I would recommend to anyone looking for dog training.

Angelica Ruiz
23:48 26 May 21
Excellent. Knowledgeable. And most importantly, EFFECTIVE. We had 3 dogs trained with Tip Top with one being dog aggressive. Not only have they helped train our dogs to sit, heel, stay in place, but they have taught us how to be better dog parents. We mainly worked with Sean who was consistently on time, professional and extremely patient with us. I would highly recommend these guys. We are now looking forward to doing group training. This should be fun!

LaTina Martin
14:26 26 May 21
I have a 8 months old puppy named Luna that was out of control. I scheduled 3 in person with the trainers at Tip Top K9...I was shocked at how well Luna responded to the training. She has literally done a 180 on her Behavior at home.and around people. The trainers did an excellent job with giving clear instructions on her training and also spent alot of time demonstrating and helping perfect the technique. I would absolutely rank them the best in Tulsa.

Stacy Hammond
19:41 25 May 21
Our dog Tater was showing signs of aggression towards other dogs. We did the personalized training for him with Sean and saw nearly immediate improvement. We are going to weekly group meetings and know he will just get better and better! We also did training with his brother and sister dogs and they are more well behaved than ever! Thanks Sean!!

christopher finkenbinder
16:46 24 May 21
Tip Top K-9 training was a positive experience for our two adolescent poodles. They gave us a better understanding of how to command our dogs and train them for interactions with other people.

Bobby Libey
21:14 22 May 21
Our trainer Jeanett and her team were very helpful and knowledgeable in training our Kali. Jeanett was incredibly friendly and professional during our private sessions. We will be recommending TipTop to everyone we know with dogs. Thank you so much again!!

Abby Gibbs
18:52 22 May 21
We sent our pup to Tip Top K9 and are thrilled with the results. Excited to explore all our favorite places with Moose now that he behaves so well!

Tyler Parette
17:00 22 May 21
Our GSD went to Tip Top K9 for four weeks. He is a totally different puppy. We are so proud of Tyco's behavior while walking on a leash. I enjoy pointing and saying 'place' and he jumps up and sits pretty and fancy free. Thank you so much to all the trainers that stuck with it and put in the hard work. We are excited to bring him for family training classes on Thursdays and Saturday's. When I heard Tip Top K9 also offers boarding when families vacation I was even more impressed. I was worried about leaving on vacation and who would watch our GSD. NO WORRIES NOW! He is in the best care with Tip Top K9 and all the trainers I will not worry boarding our boy. Thank you again Tip Top K9, Gregory and Mikal.

Penny Lane
14:36 15 May 21
Very happy! They always showed up on time worked great with my almost 4 year old dog! Every week we learned something new that really benefited my dog.

kenzie carpenter
21:53 13 May 21
Sending my pup to Tip Top K9 was the decision ever!! Now that my dog listens to me we have more freedom to go to public places, on hikes, and in parks off leash or on a loose leash! My dog now has a sense of purpose and is less rowdy and destructive because he's hard at work learning to listen and carry out commands. Before, wrangling my dog was tough because he is a big guy, but now we work together and have fun everywhere we go! I recommend Tip Top to all dog owners who want a better relationship with their fur baby. We are so grateful!!

kirstie wolf
20:38 13 May 21
We rescued Atlas at 14 months. We were his 4th family, including his foster fam! He had been to training supposedly, but there was no follow up. He came to us with a bit of dog reactivity. He also had some anxiety constantly, which kept him unsettled. We wanted nothing but the best for him. I researched a lot of places locally and out of state. One of the main things that drew me to them was the free group classes available two days a week! We settled on TipTopK9! He was at boot camp 3 weeks. They brought him home to our new house (with goats in our backyard) and spent 3+ hours training us! Ben went above and beyond for Atlas! Matt was so great making us feel comfortable about leaving him. We would recommend 100%! We have a happy, healthy & well trained dog! His anxiety his almost unnoticeable and his response when ask for a task is perfect. We are doing our part to continue to work daily for the next 6 months with his ecollar! So worth it!!

Kim Kimrey
17:17 13 May 21
We have used Bethany with Tip top k9. She trained 2 of our dogs and the technique of training is excellent. My dogs learned so fast and were happy doing it. I highly recommend Tip Top K9 and sweet Bethany!!

Cynthia Manley
17:30 12 May 21
Night and day difference after training. For a stubborn breed the training was easy. Definitely worth the investment.

Travis Kamolz
18:10 08 May 21
My dog was so uncontrollable and tip top k-9 was a life changer. I can walk my dog without her pulling me down. She is reactive and I now have the tools to manage her. I highly recommend.

Denise Sharkey
00:30 08 May 21
Brought my Doberman for obedience and aggression training can not thank these guys enough!

Joshua Pineda
23:17 07 May 21
Training went very well! Pleased with the results from Blanton abs Woodford. Looking forward to group classes!

Lacey Woodring
21:41 07 May 21
Definitely would recommend! Our puppy is so much more happier and listens to us. Very happy with the results and how fast our puppy is able to learn new things.

Courtney Valencia
20:43 06 May 21
Max is doing a great job listening and doing g the things we want. He's only 5 months old. Our instructor Bethany is an awesome tr. Tip top is highly recommend .

Kevin McKim
22:16 26 Apr 21
Sean was a great help to us with Kodiak!

kayla mullenix
23:45 21 Apr 21
We called Tip Top K9 when our dog Owen began showing aggressive behaviors and was not responding to basic commands. Sean at TTK9 was so patient and did an amazing job working with Owen and explaining our weekly homework so that we were able to work with him in between trainings. Happy to say Owen is so much more responsive and relaxed! We now have the tools to work with him and gained so much knowledge for moving forward!

Rebecca Nerio
04:35 18 Apr 21
Jeanett is a fabulous trainer! She trained us to train Annie!! We have a new dog!! Jeanett has so much sweet energy that really energized Annie & she loved learning. We highly recommend Jeanett.

Janie Hazlewood
21:56 15 Apr 21
Wow. Just wow. Amazing. Great customer service. Great communication. Dogs are happy. We are so happy!

Angela Beeson
21:30 10 Apr 21
We did bootcamp for our pup and he trained for a couple weeks. He came home today and is doing great! His trainer, Jeanett, walked us through all the commands and helped us learn and practice. He has learned SO much and we're very impressed and happy! We're looking forward to continuing working on his skills and going to group classes. He learned all the commands that we mentioned we wanted him to learn.

Pavan Brar
00:22 10 Apr 21
We just love Tip Top! Everyone is so nice and I loved getting my weekly updates and pictures! Molly is the smartest dog in the world but when Jeanett brought her home and we saw everything she learned we were blown away!! Jeanett walked us through the whole training process, answered all our questions and didn't leave until we were 100% confident in continuing all the great things Molly had learned. Shout out to the whole Tip Top family for taking great care of our girl.

Kerri Henderson
19:23 09 Apr 21
We just had our last lesson today and are very pleased with the outcome of the training. Bethany, our trainer, was great with our dog, Pablo. He really learned a lot from all of his lessons. I would highly Tip Tip K9 to anyone.

Marisa Spalding
23:40 08 Apr 21
Jeanett Bryant at Tip Top K9 is fantastic!! I recommend this service!!!

Stephanie Marretta
22:27 08 Apr 21
My husband and I couldn't recommend Top Top K9 enough!! A few months ago, my husband and I reached our limits with our precious pups! They struggled with stubbornness, listening, excessive barking, anxiety, ect. A coworker of mine recommended Tip Top K9 to us, after she sent her dog to bootcamp. We have them a call, and started our lessons within a week. After 8 sessions only, we have completely different dogs! They are incredibly obedient and well behaved. They can walk on a leash without pulling, they come and sit at our feet the first time we ask, they no longer jump on us or on our furniture, and overall are just REALLY well behaved pups. Our trainer, Juliette, was the kindest, most patient, and knowledgeable trainer and we just can't thank her enough for all of her training and help! We love this company and highly recommend it to anyone who needs to their dogs trained!

Cristina DuMond
23:03 07 Apr 21
Absolutely the best experience and my pup is well on his way to being a gentleman and a scholar! Highly recommend this service for anyone searching for great obedience training for their doggos!

Caleb Connell
18:53 05 Apr 21
We adopted Walter in November of 2020 and quickly realized he needed training. Thanks to lessons with Ben and the folks at Tip Top, Walter is feeling so much more confident in himself and we feel confident that he will always listen to us. I was skeptical that Walter would respond to training, but we've gotten many compliments about how his behavior has totally changed. He's well on his way to living his best life!

Tom McHugh
20:41 03 Apr 21
I would 110% recommend Tip Top K9! Our dog Champ just got back from training with them yesterday and I could not be any more satisfied. Our dog came back almost a completely different dog, it's unbelievable! You can tell the trainers put a lot of hard work and time into training your dog. I also felt reassured that they let me know I am able to contact them in the future with any questions or issues that arise. Also, with the package we did we get lifetime group classes with them. It was worth every penny & we will definitely be sending any dog we have in the future to Tip Top K9!

Kaycee Davidson
22:47 01 Apr 21
Excellent service and attention to detail. Any questions I had were answered promptly and honestly!

Jory Cammon
16:03 31 Mar 21
Joey treated our Meaux like his own !!!! Meaux came back a different dog. Well worth the money!!!

John Schutte
20:07 29 Mar 21
Amazing to have her come, sit, and a wonderful dog we can have in public without going crazy! Thanks Tip Top K9!

John Beaver
00:15 27 Mar 21
Best place ever to get your dog trained. Worth every penny.

Audrey Ulrich
02:15 24 Mar 21
Train With THE Top Rated Location In The Country!!
We have been in Tulsa for over 10 years helping 1,000s of clients enjoy their dogs more and fix behavior problems in their beloved dogs!  We would love an opportunity to work with your dog and get them off-leash and under control!
At our Tulsa dog training location we specialize in aggressive dogs and behavioral issues of all sorts.  No matter what you dog is exhibiting chances are we can help!
We serve Tulsa dog training needs all over the greater Tulsa area!  We love to give people the ability to take their dog everywhere with them and enjoy them more through obedience training!  With people surrendering dogs in record numbers our trainers work with many rescue and shelter dogs to help them overcome aggression as well as fear based issues from abuse and neglect.
Currently the most common dogs we train are Doodles!  Golden doodles, labradoodles, and doodles of all kinds!  Doodles are smart but can be high strung and high energy and can require a lot of work!  At our Tulsa dog training location we always have 1 or 2 doodles at doggie boot camp.  If you have a doodle then look no further call today and we will send a doodle whisperer right out to show you what we can do!
We do private lessons and boot camps but we do not sign up every dog for every package instead we start with a $1.00 first lesson.  This will let our trainers get to know your dog and allow your family see first hand what would be the best course of action for you fur child.  Call us today at 918-991-8634 to have us come out and work with your dog for only $1.00!
Hear what some of our Tulsa dog training clients have to say about us:
"My Newfie is now able to walk on a leash and does better in the house with guests."
"This has been quick, decisive helpful training with our dog! It was both helpful and enjoyable!  This was a good experience."
"My dog does exactly what I wanted him to do for us! He comes when called!  I love the fact that they came to our home and training was so personal!  I have a dog that behaves and takes commands really quickly.  Training has made our house a fun place to be."
"Tip Top is user friendly and dog friendly, the actual process that Tip Top K9 uses is superior… Very effective and efficient."
"I felt like I was trained to train my dog.  They just taught me everything I needed to know for him to be a great dog!"
"It feels like everyone at Tip Top K9 truly cares about your dog.  You are going to get every bit you paid for and a ton extra.  After dog training my dog turned out wonderful and I owe it all to Tip Top K9."
Out And About Dog Training In Tulsa:
Some of our recent Tulsa dog training success stories: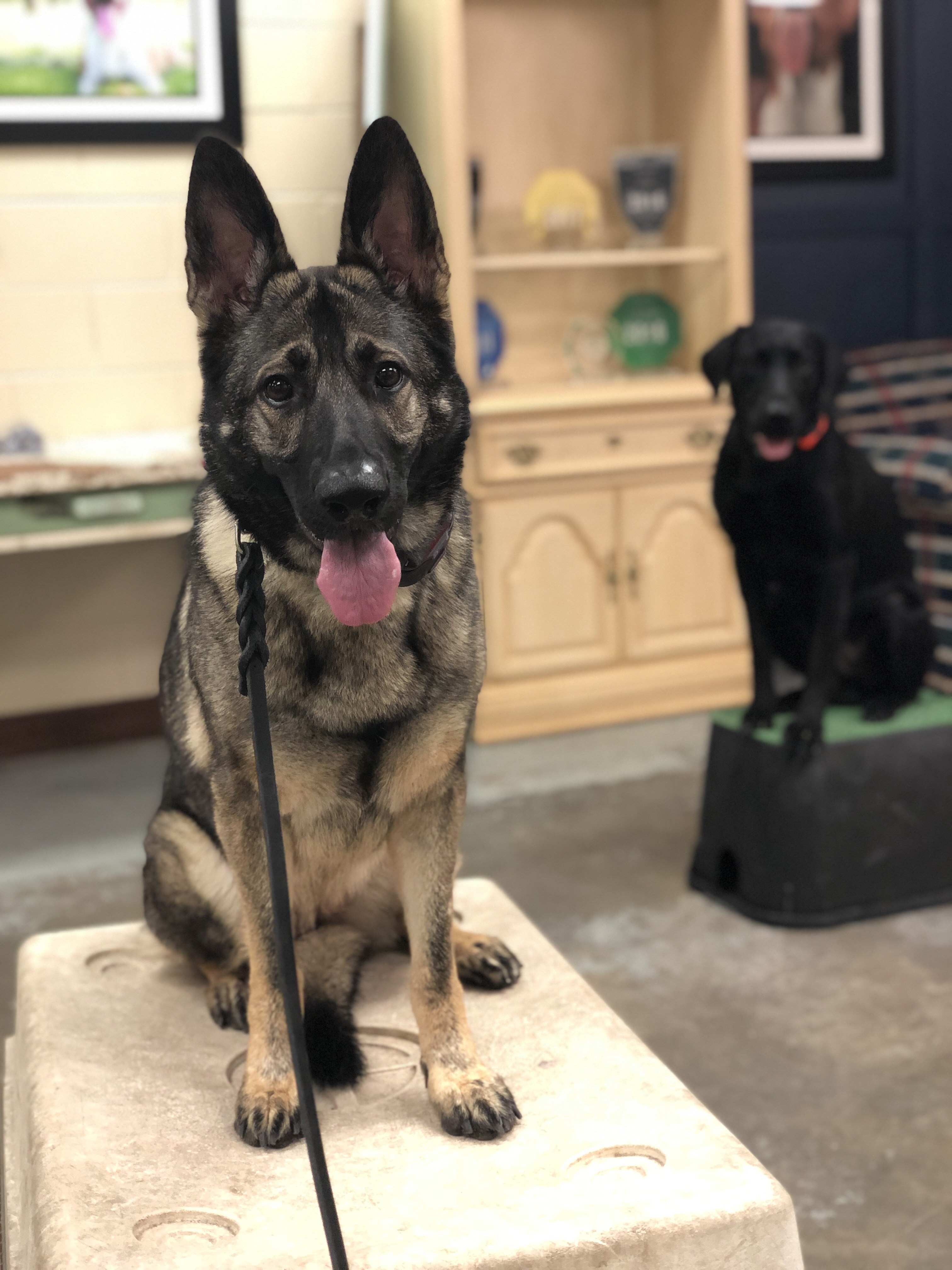 Athena - Aggressive German Shepherd
Athena was a 2 year old German Shepherd who did one of our dog board and train programs.  She was a very sweet dog to people but was very dog aggressive and would go crazy and drag her owner (who was a strong guy) over to other dogs out on walks to try to eat them! She would even climb her fence to go after other dogs and had just bitten another dog really bad before her owner called.
After working with our Tulsa dog training team for a month, Athena can now be next to other dogs and around other dogs without any issue.  This took four weeks of boot camp but now she loose leash walks with only two fingers on the leash and can ignore dogs and do her obedience off leash in the front yard with no issue!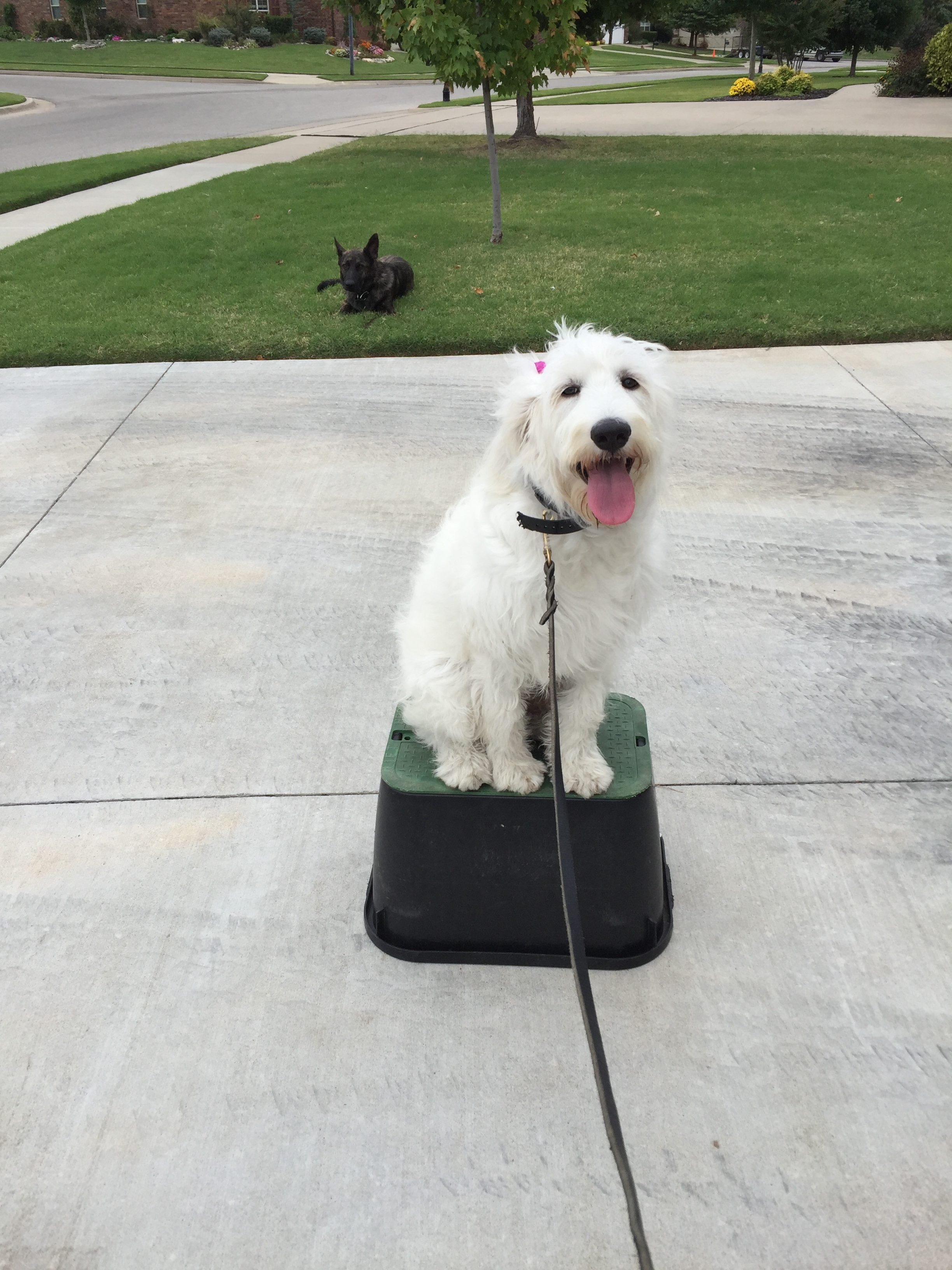 Sugar - 1 Year Old Labradoodle
Sugar was a very sweet but hyper and crazy labradoodle!  Her owner Ryder was a 11 year old boy who loved her but did not have her respect!  We did in-home lessons and trained the dog, parents, and the young man! 
After 6 lessons Ryder (Sugar's 11 year old owner) was able to walk her on a leash in the front yard and even have her off leash with other dogs around! We focused most of the lessons on training Ryder how to make her listen without raising his voice but showing her that she has to do what he is asking her to do!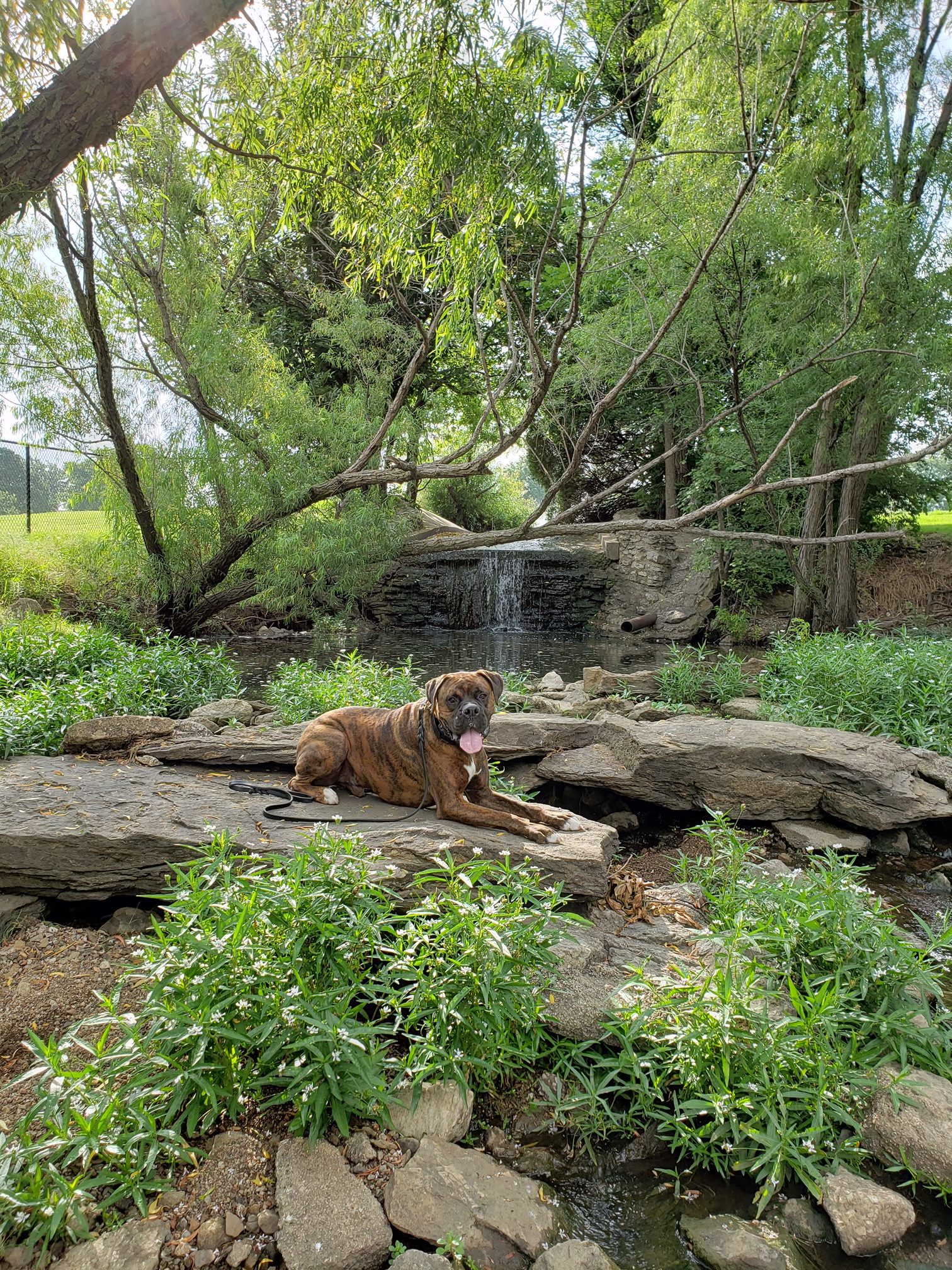 Bear - 5 Year Old Boxer
Bear was a 5 year old Boxer that came for Boot Camp.  He was a good dog but his parents did not have time to train him to be that 100% off leash, go anywhere dog they wanted!  So they sent him to our Tulsa dog training team and we trained him 3 hours a day for 3-1/2 weeks and then went back and trained them!
Bear can now go anywhere off leash! This photo is him at the park.  After boot camp we trained his family for 3 hours until he did everything for them.  
Why Choose Tip Top K9 Tulsa Dog Training?
For over a decade our founder, Ryan Wimpey has been obsessed with training dogs. Although the company has now grown with dog training franchise locations now based in Texas, Oklahoma, Idaho, Utah, etc. Ryan has never lost his love for training dogs to truly become the obedient and loyal companions that you want your dog to be. Because Ryan and the entire Tip Top K9 Tulsa dog training team is so confident that you will be wowed with your first dog training experience, your first lesson with us is always just $1.
Why Is the First Tulsa Dog Training Service Just a $1?
We recognize that in every industry there are really great service providers and really terrible service providers and the same is true in the dog training industry. And although Tulsa is blessed to be home of many wonderful dog training services we constantly hear horror stories from clients who visited a Tulsa-based dog training service ran by people that treat dog training as lost mystical art with no actual proven plan or systems in place to serve as a path for producing predictably great results in the dogs they train. However, at Tip Top K9 we force ourselves to earn your business each and every time. During the first meeting with us we are going to WOW you with great service, or we simply won't earn your hard-earned dollars.
What Puppy Classes Do We Offer?
Is your cute puppy making your brain explode as you watch it terrorize your house and home? Well hang in there because help is just one quick call away. At Tip Top K9 Tulsa dog training we love working with puppies and believe it to be a wonderful way to begin simple obedience training with the newest member of your family (your puppy). If you choose to become a student in our puppy training class you will be coached on the proven methods for crate training your dog, housebreaking your puppy and teaching your puppy how to not bite and chew the things and people you love.
What Obedience Classes Do We Offer?
At Tip Top K9 Tulsa dog training our entire team believes that obedience is an important way to build a great connection between you and your dog. Once you and your dog have established a great connection based upon discipline it really does lay the groundwork for a long-term win-win relationship between you and your dog. Whether you are looking to learn basic or more advanced obedience tips, tricks and skills we offer it at Tip Top K9 dog training.
What Services Does Tip Top K9's Tulsa Location Offer?
At our Tulsa Tip Top K9 dog training franchise we our proud to offer a wide variety of dog training services including (but not limited to):
Puppy Training Classes
Beginner Classes
Training for Aggressive Dogs
Therapy Dog Training Related Services
Advanced Dog Training Classes (We can teach your dog some pretty impressive tricks, but we are still unable to teach your dog to read at this point)
Private Dog Training Classes
In-Home Dog Training Classes
Doggy Boot Camp Training
Empowering You by Teaching You Proven Dog Training Methods
Tip Top K9 Tulsa dog training was founded to help great dog owners like you to build a strong bond with your dog. Our top-rated dog training program is currently the highest rated and most reviewed dog training company in Tulsa. In fact, the proven training methods that we teach are so effective that most customers tell us "it's like having a new dog" after their dog has been properly trained by our staff.
Our dog training services are energetic and result-focused and have proven to be effective in the training of canines of nearly any age and nearly any behavior type. But don't take our word for it. Schedule your $1 first dog training session today.
What Bootcamp and Private Dog Training Options Do We Provide
Tip Top K9 Tulsa is proud to provide many different packages for the canine training services that we provide. Our highly-skilled and rigorously trainers will invest the time to work one-on-one with your dog, however we can also provide the Tulsa dog training services that we offer while working at your residence, at a park or location that is best for you and your family's needs. During these training classes we will work with you to help you teach your dog home to move past behavior issues and patterns of behavior that can cause friction between your and your dog.
Where You Can Learn More About Tulsa Dog Training Services
Although we do not provide Tulsa dog grooming services we would be happy to recommend a high quality Tulsa-based dog grooming business today. Just give us a call at (918) 991-8634 and we will point you in the right direction.
What Is Our Aggression Policy?
At Tip Top K9 Tulsa dog training we do reserve the right to choose not to train any dog if we do in fact believe that the dog's level of aggression is something that we could classify as being "dangerous" or "vicious" in nature. However, your first lesson with us is always just $1 so we both can find out if we are the right dog trainer in Tulsa for you.
What Is Nearest Tip Top K9 Dog Training Location Near Me?
With Tip Top K9 dog training locations in Owasso, Oklahoma City, Tulsa, Jenks and Broken Arrow we are here to serve all of northeast Oklahoma. Dogs that finish and complete our puppy-focused classes are then set up in a great position to start more advanced obedience training when the time is right. During our puppy training classes we are confident that you will build a lasting relationship with your dog.
Tip Top K9 Tulsa Dog Training
8545 E 41st St,
Tulsa, OK 74145
Phone: (918) 991-8634
Talk With a Trainer Today!