Tip Top K9 – Southlake / Keller
This training exceeded my expectations! The methodology is fantastic and my dog retained everything. In 1 session, we had immediate results. Highly recommend!

Tynea Valentine
17:43 21 May 20
Really wonderful experience!! Would 100% recommend. We came in with our 7 month Pitbull Husky mix who just DESTROYED our house, and we could not have her alone in the house anymore, and our year and a half German Shepherd Great Dane mix who was SO stubborn. The pitbull got the boot camp, and the German shepherd did private lessons. From the phone call, to each lesson, they were so professional and great. Our pitbull was trained for 18 days, and she came back a COMPLETELY different dog, so obedient but still the same personality. And Archie each private lesson Adam would reinforce more and more. Adam and Kat were a great team, and so incredibly lovely. Thank you so much!!! So worth the time, money, and effort!!!

The trainers are amazing! We sent one of our dogs to the bootcamp training and had one do private at-home lessons. The results were highly unexpected and well worth the money. Not only are they trained, but they have life time lessons that came with our training package. I would recommend Tip Top K9 to every dog owner.

Leighton Anderson
21:39 19 May 20
We just got our puppy back from Tip Top K9 and she is PERFECT. She was a wild 10 month old German Shepherd and came back so calm and well behaved. We are so excited to be able to have her walk calmly at the park and be well behaved when we have people over. So happy to have our baby back and better than ever!

Kelsey Harper
23:02 15 May 20
Tip Top K9 was so awesome to my Goldendoodle Kobe!!!! When they brought him home I was so shocked at how much he as learned. I am so excited for his future, and to go to the classes! Thank you so much Tip Top K9!!!

I absolutely love this place! Piper and Allie were more then I could handle. Now I feel like I am back in control. They seem a lot less anxious then before. Would recommend going here.

Joelle Hainstock
15:37 25 Apr 20
Absolutely wonderful experience with Tip Top. The staff was extremely friendly and knowledgeable. Our dog Rosie loved it as well and helped with each behavioral concern we had. With two little ones running around this service was perfect for our family and pup Rosie.

Jonathon Linn
19:36 24 Apr 20
Love! Love! Love! I cannot say enough good things about Tip Top K9. They were excellent and our dog KeKe needed a little extra love. They didn't hesitate to make the best recommendation for our dog and their flexibility to meet her needs was excellent!

Jason Askew
20:24 14 Apr 20
The team, Adam & Cat, did a great job with our white lab. She came back after two weeks a real superstar! Thanks so much!

Bruce Carlson
18:45 13 Apr 20
Charlie, our malamute, was an incredibly sweet dog. He also, however, was uncontrollable and at 70+ pounds more than a handful. After staying at the Tip top K9 facility for a few weeks he is almost like a new dog! He is an obediant, responsive, good boy and every bit as sweet as he was before. Charlie is now an A++ dog trained by an A++ facility! Thank you Tip Top K9!

Jasmine Pina
21:55 07 Apr 20
The best training! We saw an immediate difference in our 1 year old dog we got from a shelter. The trainers were very knowledgeable on how to overcome obstacles we came across with a dog whose history was unknown. We highly recommend this company and will continue to use the benefit of lifetime classes! Thank you, Tip Top K9!!

abbie thomas
21:39 06 Apr 20
We used Tip Top K9 to train our Husky, he was pulling a lot on the leash, wouldn't hardly sit on command or do much of anything (typical stubborn Husky).. talk about night and day! He now walks perfectly, heels, comes when his name is called and knows his "Place" command! After the first trial lesson there was already a difference, each lesson after just honed his skills and behavior. We went with the middle package for the lifetime group training, which is a perfect chance for them to continue learning. We recommend to all of our friends, absolutely wonderful!

Randy Kaster
21:39 06 Apr 20
I loved the flexibility of the trainings offered and we ALL learned SO much and are so grateful for the lifetime of enjoyable walks ahead of us! Millie and her family are grateful for you!

Ashley White
18:50 01 Apr 20
Jax Zen did the quick fix package at 5 months old and I am super pleased with his training. I highly recommend Tip Top K9. The trainers knowledge and professionalism is above and beyond.

Mia Yvonne Bamonto Stone
17:04 27 Mar 20
Just got our 2 dogs back from the board and train program and it the difference is night and day! We have two stubborn dogs that we just couldn't handle nor did we have the time to train them on our own. They gave us the time and the ability to handle our dogs again! 10000% worth the money! They have been fantastic start to finish.

Audrey Cray
22:12 24 Mar 20
Absolutely loved working with all the trainers and friendly staff here. Got my puppy back today, from spending a little over 2 weeks in board training. and am thrilled with the results! Thank you tip top k9.

Elizabeth Rijfkogel
22:04 24 Mar 20
This has been the most amazing thing for our dog! I can't believe how much he listens and obeys now!!!! Everyone who had a dog needs to send them here!!!

Alison Hughes
21:43 17 Mar 20
I didn't think it was possible for our out of control dogs to become manageable...but they did. The heel command for walking is particularly impressive. Wonderful people who loved our dogs!

Roger Pricer
00:25 17 Mar 20
Loved the experience talking to and working with the staff from start to finish. Boarded and trained my 5-year old Schnauzer and the results were great. Excited to continue working on the skills he's learned - esp heel and more enjoyable walks. Thank you staff at K9!

Chris Miller
19:59 14 Mar 20
By far one of the best places to get your dog trained. I Definitely recommend Tip Topk9. !! Can't believe how much my dog Mac has learned, completely different boy . So happy with his progress.

Filimon Perez
21:41 13 Mar 20
We sent our Great Dane, Mac, to Tip Top K9 in Southlake. He attended advanced boot camp and was there for 3 weeks! Adam and Tyler gave us adequate information and training at pick up and drop off. He has come back home such a good and smart boy! He is now easy to walk in the neighborhood and lets dogs walk past us without barking or pulling! We are so thankful for the help we received with Mac and are very excited to take him on walks and enjoy the walks.

Lori Czarnecki
21:39 13 Mar 20
We just finished the in home teacher's pet. It was a great experience. Our 5 month old mini doodles has her foundation after going through the program. Darian R. was very professional and patient. We highly recommend tip top k9!!

Ricky Nguyen
22:58 07 Mar 20
I have two American Staffordshire terriers, Baxter and Blossom, that I adopted about 2 years ago. They started to be aggressive with each other, and it resulted in a trip to the ER vet a few weeks ago. I never saw how it started, but after my consultation with Adam, we thought Blossom might be the aggressor, so I decided to start lessons with her. Darian has been awesome with her! After the first lesson, I saw a huge difference. We still have some work to do, but after all 3 lessons, Blossom is listening so much better. Things are much calmer, and I am hopeful that there will be no more aggression. I do want to add that I did work with another dog trainer previously because Blossom goes crazy when she sees another dog. His methods just didn't work for Blossom. She would listen to him but not to me. Tip Top K9's method has been much more effective after only 2 weeks than months with the previous trainer. Thank you Darian and Tip Top K9!

Renee Grose
02:48 07 Mar 20
Our borderdoodke Sophie was too smart for us. Tip Top got her trained in 12 days. Sophie is so happy and well mannered. Thanks tip top

Tracy Smith
23:12 06 Mar 20
Wonderful experience with this trainer! (We have worked with other trainers, and this was by far a better experience.) Our dogs came home happy and obedient, and they weren't away for too long. We are thrilled with how simple the commands are to use, and we feel confident in working with our dogs on our own. Highly recommend!

Ashley Steormann
19:21 29 Feb 20
We did the board and train program for our hyper, stubborn dachshund puppy Dolly. Before her training, she loved biting our feet, running off with our shoes, and went crazy when someone rang the door bell. After her training, the trainer spent 2 hours showing off all her new skills. I was so impressed to see how good she did with "place"! She stayed in her place spot while we walked around the house, opened both doors, and rang the doorbell!!!! She's still the same sweet puppy but she isn't displaying any of her bad habits like biting, jumping and running off with our shoes! Thank you for taking such good care of Dolly!

Nicole Fate
19:37 26 Feb 20
Tip Top K9 is a life saver. They completely transformed my 7 month old German Shepard. After just 2 weeks of training Jax came back fully trained. My fiancé and I couldn't be happier with our results. They exceeded our expectations!

Hailey Lolato
23:55 21 Feb 20
Would highly recommend Tip Top K9! We have a baby on the way so it was very important to us that our dog was trained well. They were great with our dog and he came home very well trained. Looking forward to enjoying our good boy!

Chase Williams
21:32 07 Feb 20
Such a great experience with Tip Top K9 Southlake. Our dog was very stubborn and he is now such a good boy! Highly recommend.

Ali Williams
21:24 07 Feb 20
Very happy with the board and train program. We sent our Doberman and German Shepherd at the same time and I was amazed with the amount of training they received in just three weeks. Highly recommended!

Very grateful for Tip Top K9 working with our dog Finn. Amazed at what he knows and impressed with the training! Thanks so much.

Wendy Preissler
00:38 19 Jan 20
We had a wonderful experience with Tip Top K9. They were very knowledgeable and professional. They did a wonderful job and we would definitely recommend to others. Thank you Tip Top for everything!

Jeff Bedel
01:42 14 Jan 20
Adam came to my house in the first night and worked with her for 10-15 mins. She responded to him immediately. He showed me the options they have with training. I know I wouldn't be able to spend the time training her like she needed to correct her issues so she went off too boot camp for two week. Every Friday I got a report card on how she was doing and sent picture of her through out the week. Darian dropped her off this morning. She took her time going over every single command that I would use going forward with my dog. This place and these people are amazing. They treat The dog like family. I am very happy with how my dog came back with her attitude and demeanor.

Amanda Cox
18:46 14 Dec 19
Super great company to hire for your pups training. They kept us updated with the progress he was making from week to week. We are so excited to see how he progresses even more over the next few months. Thank you Cat, Tyler and Adam for the professional experience y'all gave us and our dog. Highly recommended these folks.

Shaun White
23:37 06 Dec 19
I was first going to have my dog trained by a lady, I can't remember her name, but she trains in Keller, TX. The lady was so judgmental about me and my dog because I had an accent, I am glad Tip Top K9 returned my call. They are worth every pennies. I wanted my Meagan to learn to walk by me and stop attacking strangers. I only took the 400 dollars deal, before the end of the 3 lessons, I had signed up for the group lesson. Meagan has been walking by me and following my commands by the end of the 3 lessons. I can't wait to see how much more she will grow in the group class. Like I said, this training is the best ever. Darian, was the young lady who trained Meagan. When she met Meagan the first time, Meagan attacked her, I was shocked by how much control she was able to turn Meagan to her friend, it helped me build confidence and realized that Meagan was really not a scary dog, but a big baby that needed to be educated properly. Thank you guys.

Marguerite Ondoa
15:09 06 Dec 19
Tip Top K9 did a great job with our two dogs! They have two completely different personalities and it took different approaches to get them to listen. Both of them came back with a great knowledge of the basics and a high desire to either please or to continue working (depending on the dog!). I'm excited to continue working with them and see just how far they can go!

Caleta Mendoza
23:13 03 Dec 19
Tip Top K9 has done an excellent job of creating the baseline necessary for my incredibly high energy German Shepherd to be successful with commands and obedience. She's more focused and receptive than ever before and I'm even more excited that TipTopK9 is there for us for refreshers and additional boot camps. Customer service is great and they're always willing to give us tips and suggestions for continued success.

M. Mendoza
23:12 03 Dec 19
Thrilled with our experience with Tip Top K9! Our two cockapoos came home from their training so well behaved and eager to please. Highly recommend for those wanting to have happy and well obedient puppies.

We loved the bootcamp training for our 6-month old Shih Tzu! When he came home, he was consistently responsive to all the commands they had trained--not just from my wife and me but from our kids as well. We were especially happy that Tip Top's approach taught him to obey but preserved his happy, curious personality. He now fits extremely well into our family. We highly recommend them!

Tom Pennington
21:12 23 Nov 19
Jack and Stella are trained and rocking it! So excited to continue with K9 on their training.

mitzie hammons
18:07 23 Nov 19
My husband and I boarded our two small dogs because they needed a lot of training and we didn't have time to train them. I can't believe the results! They don't bark at the doorbell anymore, they're fantastic walkers now, and they stay in place! It's amazing because those were our issues prior. I recommend tip top k9 to fix any behavioral issues or for training basic obedience.

Mark Nguyen
22:47 22 Nov 19
Great boot camp! Excited to take mochi on a walk.

mark nguyen
22:45 22 Nov 19
I am extremely pleased with the training results. I was skeptical at first, but I can attest Tip Top K-9 delivered as advertised. Highly recommend Tip Top if you are seeking top notch training for your canine.

Kevin Coffman
23:33 21 Nov 19
When we called Tip Top K-9, we were desperately seeking a trainer willing to help us with our dogs' leash reactive behavior. Even during the consultation, we received great advice on ways to work with the leash and training. We had 3 private lessons for each dog as part of our package, each lesson building on the fundamentals of the last. Our trainer helped us learn how to work and communicate effectively with our dogs. They have great basic commands skills, and we no longer dread going on walks! We still have a lot of work to do here at home, but what a difference already. It's amazing what we've been able to accomplish in such a short time. We also rest easy in knowing we'll have the support of the wonderful trainers at Tip Top K-9 for the life of our dogs.

Jenna Howard
00:34 17 Nov 19
Awesome training ! Very impressed with her training ! I would definitely recommend Tip Top K9 for anyone that needs a bit more of an obedient dog . They are available anytime I need help. 👍🏼🐕🐕

Michellemark P
23:09 14 Nov 19
Kona had a great time at Tip Top K9. They sent pictures and progress reports each week of all of her progress and adventures and came back a smarter girl! We enjoyed the results and the experience.

Erica Funk
19:27 13 Nov 19
This service was wonderful! They came and gave an amazing assessment and even brought our dog 2+ hours back home for us when training was complete. The training program was exactly what he needed and the customer service was above and beyond!! HIGHLY RECOMMEND!!

Mike Francis
19:13 02 Nov 19
Best training for your dog, all the trainers and staff treat your dogs as a royalty. The training provided is one of a kind and the way they are able to help the dog retain the information is unbelievable.

Adam Hearn
18:42 01 Nov 19
Best doggie boot camp!!!!! Demon came home and is the perfect gentleman!!! I would recommend them to anyone who wants their dog trained!

Cassandra Hearn
18:39 01 Nov 19
Tip Top is fantastic! We had two dogs trained in our home. Our trainer Darian was patient but firm and our dogs (and cat) loved her. We recommend to give this a try, we are so happy we did!

This was WELL worth the money! Darien was SO patient and wonderful with our pug puppy - we cannot believe how much better she is just a few months later. Highly recommended and excited to be part of their lifelong training program.

Millie loved Darian and Adam! The results are excellent. Our good dog is even better!

David Bowman
22:38 19 Oct 19
Great experience. We are so happy with the results. Highly recommend!

Katie Bowman
22:37 19 Oct 19
Adam was wonderful training our golden retreiver/great Pyrenees mix and also training us humans. He was very knowledgeable and patient with all of us. We will recommend him to our other dog loving friendS! Thank you!

Michael Dumlao
18:02 15 Oct 19
I am thoroughly pleased with the results these folks have provided with my 7mo old boxer pup. They are great to work with and very loving with my "Spencer". Adam took his time explaining things to me in the beginning and in the end upon returning Spencer from doggy bootcamp. It was very important to Kat, co-owner, to make sure that I was fully comfortable with the continuation of the training at home even with my super amped up toddler. Spencer seems really happy too! He loves showing off what he learned. Give these guys a call for your in home consultation. You will not be disappointed. Absolutely zero high pressure sales tactics and fully customizable depending on your needs. I couldn't be more happy unless they provide training for my gregarious toddler, lol!

Christina Pitchford Tindel
19:29 14 Oct 19
Awesome service!! We adopted a pup and had no clue how to go about training him. Heard from a friend about tip Top K9 and got immediate service. We just got our little guy back and he's practically a new dog! They walked us through every part of the training and showed us how to keep up with his training. So glad we made the choice to send him to Tip TopK9!

Jen Nikolaus
17:22 13 Oct 19
We adopted Maverick, a lab hound mix, who has a lit of energy. Couldn't take him on walks or around other dogs. Three weeks with Tip Tip K9 Southlake and he sits, lays, places (on a box) and heels like a professional guide dog. Trainers are awesome and provide lifetime support! Highly recommended.

Cory Nikolaus
17:21 13 Oct 19
My dog Hazelnut spent 3 weeks with Tip Top k9! They took such excellent care of her and she came back with such great skills!! So proud of her and will be using Tip Top k9 for all puppies in future!!

Katie Lambert
19:25 08 Oct 19
Tip Top K9 worked wonders with our 8 month old Bernedoodle, She now has such wonderful manners and is doing fantastic! Thank you so much!!!

Nyal Henry
22:50 07 Oct 19
Our 8month old goldendoodle came home an angel. Super impressed with her training after 3 weeks of bootcamp. Thank you!!

Megan Henry
22:49 07 Oct 19
Adam and Kat did an excellent job training my boys!

Kimia Tinati
01:16 05 Oct 19
Great service with in home meetings! Made my dogs better human beings!

Patrick Gulick
01:15 05 Oct 19
I wish there were more stars! I'd give 20 stars! I can't get over how well my furbaby is acting. Tip Top K9 has been the answer to prayers!

Amy Jackson
18:34 01 Oct 19
We sent our hyper excited St. Bernadoodle pup Leo for bootcamp with them and when they got him back he was just so well trained. It was hard to believe it was the same dog. Amazing results! Highly recommended

I would recommend Tip Top K9 to anyone looking to train a dog of any age. Wonderful resource and we are SO happy that we are welcome to bring our dog to them at any point to get some additional help!

Sarah Woolhouse
15:28 21 Sep 19
Incredible results eith Banjo. They claimed Banjo was the superstar but I'm convinced their dedication to provide a superior result yielded the results we are seeing. Worth every penny. Highly recommend!

Trey Smart
22:28 19 Sep 19
What an amazing transformation. We recommend tiptopk9 for all dog teaming needs.

Stan Kawai
20:43 14 Sep 19
Fantastic training, thoughtful and thorough follow through. Amazing results!!!

Dori Ann Kawai
20:42 14 Sep 19
Cupid has just come home and she is doing SO well!! She has learned so much and is very responsive. Adam and Kat have been great to work with as were my contacts during her stay.

Allison Morris
01:49 15 Aug 19
Tip top has given us our Mari back as a way improved dog with so many skills she has learned thru them. Thank you Tip Top K9 Southlake !!! We will be telling all our friends and neighbors

Sara Houliston
18:54 12 Aug 19
I really enjoyed working with Adam with our Golden Retriever. Only three lessons and our pup has transformed into an obedient and well behaved dog. I highly recommend Top K9 Southlake!

Ashley Ord
14:35 02 Aug 19
Thanks to Tip Top K9 in Southlake for helping us instill some good manners in our new husky puppy, Asher. We were overwhelmed and frustrated before we found the training. They have had her in their board and train program for the last 4 1/2 weeks. Every week we received report cards and photos with an update from the trainers. It's been so fun and exciting to see how these trainers are transformed our once crazy puppy into a good member of the family. We are thrilled with the results.

Nathan Hulme
19:30 27 Jul 19
Tip Top K9 did an amazing job!!! They trained two dogs for me that I believed couldn't be trained. They now are wonderful family obedient pets that everyone enjoys being around. I highly recommend this facility and their staff. Thank you Darian for coming to my house and training Mo at home.

Teresa Salyer
15:46 26 Jul 19
Their training has helped my dog learn and listen way more than she did before she left. Highly recommend!!

Casey Fitzwater
23:53 24 Jul 19
Our dog was a mess so we sent him to tiptop k9 while we were on vacation. The results were amazing! They Cat and Adam brought out the best in our dog. We'd definitely recommend them to all of our friends.

Ginny Lane
22:37 22 Jul 19
My name is Victoria Roberts, and my family and I live in Arlington, TX. Our chocolate lab puppy (10 months old) spent three weeks with Tip Top K9 in Southlake, TX. Before her time there she was a good pup but didn't listen as well as we wanted and was constantly 'counter surfing'. She would pull on her leash when we walked, choking herself. Now that she's returned, she is more calm, listens more easily and walks by my side without pulling. The at home training experience was great, informative, and assured. We felt like we knew what to do at home to continue Beretta success!We are grateful to have worked with Tip Top K9!!!

Victoria Roberts
16:31 21 Jul 19
We loved our experience with Tip Top K9, Reagan our GSD loved them too! We really looked forward to our weekly updates and report cards. They spent so much time with us at the first visit, pick-up for bootcamp, and drop-off from bootcamp to make sure we were completely comfortable. They will be our first call when we add another dog to our family!

Courtney Chaney
22:12 20 Jul 19
We are so happy! We started with two naughty and stubborn (but adorable) pugs who were constantly running away and swiping toys/Legos/markers from my kids! After boarding at tip top k9 they can sit in place, walk beside me, stop barking or whatever they are doing on command! Would definitely recommend.

Lanni Romney
17:38 20 Jul 19
Thank you! You guys did an amazing job with Harley! All of the staff are so kind! I highly recommend Tip Top K9

Dillon Gaasbeck
22:21 19 Jul 19
Had an amazing experience with tip top k9. The trainers are super nice and easy to work with

saahi kavva
23:00 18 Jul 19
VERY, VERY, GOOD AT TRAINING YOUR DOG. My dog was terrible at obeying commands. Tip top K9 brought my dog back doing exactly what I wanted him to do!!! Love you Tip top K9!

jeanette johnson
20:05 17 Jul 19
I was very pleased with the service that they gave my little pup. He is totally a different dog and I would definitely recommend them.

christain johnson
19:58 17 Jul 19
Awesome trainers, very thorough and sincere. Tip Top K9 is amazing! We are very impressed with the skills our dogs learned with them!

Haley McLeod
18:55 13 Jul 19
They took their time to make sure our dog had a great foundation to make keeping up her training easy. Hire them!

Harley is a rambunctious Bull Terrier. Tip Top K9 has her listening better than ever! Highly recommend!

Cassie Kizer
17:28 13 Jul 19
Tip Top was AMAZING with our dog. The training was wonderful, they were flexible with our hectic schedule. We would definitely recommend and will send all of our dogs to them in the future!!!

Beth White
22:21 08 Jul 19
They are amazing! My dog came back fully trained in every area she needed help in. Also, her personality is still the same.

saman alibhai
23:01 01 Jul 19
Adam from Tip Top K9 did a fantastic job during our training sessions with my 9 month old Samoyed. She's vastly better about listening to commands and going on walks without pulling or getting over excited when she sees other dogs. If you're having doubts - don't! I'm so happy with her response to the training so far and I know it she'll only get better from here.

Cameryn Taylor
18:52 28 Jun 19
So excited to have my princess back! Tip Top K9 goes above and beyond for your pups. Please check them out if you are looking into a training facility.

Rocio Flores
21:35 26 Jun 19
Loved working with Tip Top K9! Everyone was professional and friendly! Our cane corso is a totally trained, new dog!! Thanks Tip Top K9!!!

Morgan Horton
18:06 26 Jun 19
The day Ash was picked up he actually chewed up one of my pillows. When I got him back today he did perfect sit, down, heel and place, and for a full lesson myself on everything he learned. Also you get lessons for life from the staff if you run into any problems after you get your pet back.

Joseph Richards
16:40 23 Jun 19
We are very happy with the service we have received from Tip Top! Our Wylie came home happy and very well trained! The trainers have been very supportive and caring. Highly recommend these guys!

Carol McPherson
00:23 22 Jun 19
Great people amazing training 10/10 would do it again

Breanna Guerrero
17:06 20 Jun 19
100% happy with them! I had problems with my dog and now she a good girl!

Beanie Gonzales
23:36 19 Jun 19
Great people! Fully trust their work and my pup in their hands.

Stephanie Svoboda
00:54 19 Jun 19
I have a Great Dane and he was at tip top K9 for three whole weeks and when he came home he was a whole new puppy with a brand new attitude ready to listen and follow commands, Darian brought Chief home on a Saturday morning and showed me everything chief learned and showed me how to practice commands and get a feel for what I should expect, I highly reckoned tip top k9 for everyone and every dog type they have made my life 100 times better I'm super satisfied and I know who to call if I ever get another puppy!!

Sadeta Hidic
16:26 15 Jun 19
Darian was very helpful and patient, and the training definitely worked. Well worth the money

Dr. Kekyll
17:23 14 Jun 19
My friend's dog was at the boot camp for 2 weeks and came back a new dog. They always sent updates, progress reports, report card, and pics. The trainer (Darian) brought her home and spent 2 hours for transition back in to the home and taught the commands. The whole process was seamless and greatly effective. I highly recommend them if you need any level.of training for you or your dog. (sometimes owners need training more than the pup).

David Hamer
01:26 13 Jun 19
Tip Top K9 is awesome. They took my 14 month old Chocolate Lab who was totally out of control and transformed her into a very well behaved little lady. . Darian delivered her home to me and did a great job training me on the human side of being a dog parent and to be consistent. I am very pleased and highly recommend them.

Perry Tatum
01:05 13 Jun 19
Tip Top k9 of Southlake did a good job training our dogs. They helped with our dog Boo who pulled heavily on the leash and now is a model dog walker. They also helped with our other dog Binx, a german Shepard, who learned very quickly and is a much better behaved dog.

Kaydee Long
17:09 11 Jun 19
They did a great job helping our dogs build confidence and structure after our other dog passed and helped her out. They also helped us out with our German shepherd puppy. They also can hold your dog if you go on vacation which is nice.

Our dog is smart now!!! We were so happy with the results of the boot camp and look forward to the follow up training classes. Thank you to all the trainers!!

Cat Pendergrass
23:16 10 Jun 19
One of the Most amazing experiences in dog training! I recommend this amazing dog company!!

Larry Brown
20:06 08 Jun 19
Tip Top K9 gave us the tools to train our dogs through experienced trainers and knowledge about our animals behaviors, that has left us with a more enjoyable life with them. The life-time classes alone are well worth the reasonable prices. If you're having any doubts, trust me, you will see results FAST!

Garrett Mcwhirter
21:31 01 Jun 19
Tip Top K9 has helped my tiny family tremendously. We can now walk past dogs/people with barking and being aggressive. My dogs are happier and more confident then ever before. The trainers were super friendly, informative, and supportive throughout the whole process. Will definitely go back for future pets!

Andrea Seijo
21:29 01 Jun 19
Kat did a great job training us on how to work with our Doodle. Thank you!!!!

susan beatty
18:51 01 Jun 19
Kay is awesome! Great teacher. Will defo recommend to our friends.

Jim Beatty
18:50 01 Jun 19
BJ came home 100% improved! Darian provided our in home handoff instructions and worked with us to ensure we could continue commands with consistency. Would highly recommend Tip Top K9!

Marie Hilliard
18:07 31 May 19
Simply amazing! Before Tip Top I was so worried that we had made a mistake in getting a puppy... we were so stressed. The transformation is incredible. Like night and day.... I'm beyond thrilled and HIGHLY recommend!

Nikole Rose
01:54 21 May 19
We are so excited to have Titan and he's such a good boy after training. Thank you so much.

Lynette Kovalik
16:37 18 May 19
Wonderful company. Very professional and took great care of our dog. They made the homecoming stress free and everything was explained in detail on how to continue to work with our dog.

Britney DeJesus
22:45 16 May 19
They did a great job!!! We are super happy with the training and look forward to coming to group class!!!! Thank you so much!!!!

Amanda Upton
01:06 28 Apr 19
Great experience for my dogs. Thanks Adam and Kat for such a great experience.

Jarrod Upton
01:01 28 Apr 19
This place is amazing!!! We just got our puppy back from being at boot camp for 3 weeks and she is amazing now! She was so wild before and now she listens and can walk on a leash so much better! All of the trainers here are awesome and take the time to make sure you have everything you need to help your dog be a better companion.

Tom Giallanza
17:19 27 Apr 19
Tip Top K9 is awesome! Our Sammy was a mess before her training. She chased dogs and cars jumped on people and us, Ran out the door when we opened the front door and many other things. All of these behaviors have been addressed plus she now has basic obedience. We are so pleased since she is home. This is well worth the money and time that you put into the training of your dog.

Vicki Giallanza
17:07 27 Apr 19
Tip Top K9 is amazing!! We just got our mini Aussie back from boot camp and she is a rockstar now! She was such a wild child before and now she can walk so much better on a leash and listens to everything we say and so much more! This place is worth every penny!!! You won't regret it

Kali Giallanza
17:04 27 Apr 19
Tip Top K9 is amazing! Scout came home a well behaved and amazingly trained. Adam, Kat and Darian and the rest of the team are the best!

Carolyn Fredholm
17:54 26 Apr 19
Great results much quicker than I thought possible! The trainer we worked with and the staff are so professional and friendly. I'm so happy that I can now look forward to walks with my 65 lb Diesel without anxiety!

Kristie Goodman
15:26 23 Apr 19
Great Trainers! Would recommend them to anyone who needs help with there 4 legged baby!

OscarRita. Chafoya
18:27 20 Apr 19
Godsend! No more pulling on the leash! Was quick and easy and he's more comfortable because I'm not choking him. Would highly recommend. JUST DO IT!

Susan Murray
01:25 20 Apr 19
My dog came back a whole new dog! I can walk him and he not pull me. The place command is the best. Can't wait to continue this journey and see amazing results

Melanie Murray
01:24 20 Apr 19
I had Adam come to my home to work with my Dutch Shepherd on a few behaviors I was having trouble getting her to do on my own. In just a few sessions she is like a whole new dog. I would recommend them to anyone.

Tip top K9 Southlake is the best thing that ever happened to us and Ava!!! She is naturally smart of course, grin, but Tip Top helped her be even smarter! Would recommend it to every dog owner!

Tamara Hoover
01:29 14 Apr 19
Definitely would recommend this place for any one who has a dog! My dog was only gone 3 weeks and came back a whole new dog who listened perfectly to simple sit, stay, heel and down commands.

Abby Hoover
01:24 14 Apr 19
Tip Top K9 works wonders! My dog had dog aggression issues but after boot camp, he was more focused, less anxious, and less aggressive towards other dogs! He is now confident and much happier. I highly recommend them to anyone who is in need of some general obedience or even wants their dog to have more confidence!

Darian Reese
00:36 13 Apr 19
Adam was polite and professional and worked around my busy work schedule. Would recommend him and TipTopK9 to anyone.

Adam Ragar
01:17 12 Apr 19
I've really enjoyed working with Adam with our two Australian Shepards. He has done great wonders with helping with the pulling while walking the dogs. I highly recommend Top K9 Southlake..

Carlos Aguayo
20:55 06 Apr 19
Tip Top Canine has done wonders for our 2 Australian Shepherds. We have tried several other training methods but none were as effective as Tip Top. Adam is fantastic with our girls and treats them like his own. He is extremely tolerant when training the dogs and when training us. I highly recommend Tip Top.

Lynda Aguayo
20:49 06 Apr 19
Took our Puppy there about 3 weeks ago to get the new addition trained. They did a fantastic job with her, kept us well informed, and she came back a new dog! Highly recommend them, also love that we get continued group classes as she gets older. Would use again!

Jason Ewing
20:04 04 Apr 19
Adam has been helping us with our goldendoodle Jeremy and he is the best! Jeremy walks so much better and Adam has always been very available .Highyly recommend!! 😊😊

SHILPI PRIYADARSHINI
21:57 03 Apr 19
They were wonderful in all respects -- scheduling, staying in touch, and most of all training! Could not ask for better.

We sent 2 of our dogs there together that had very bad walking manners. We were shocked at how well they were able to heel especially with other dog distraction walking by. Definitely worth the time and money!

Christina Thompson
23:40 29 Mar 19
We are thrilled by our pups new and improved attitudes! The Tip Top K9 team was an absolute joy to work with. The training, experience, and results are as promised - Tip Top!

Lars Huizenga
23:39 29 Mar 19
My 9mo old Jack Russell Terrier just came back from boot camp at Tip Top K9 Southlake with Kat and I am amazed at the change in his behavior!!! These guys really know what they're doing. You don't have to look anywhere else for dog training. They are the best. I researched like crazy to find them and they did not disappoint. You HAVE to give these guys a call for you AND your pup!!!

Phaedra Laney
17:48 28 Mar 19
We just got our German Shepherd back from his boot camp training with Tip Top & could not be happier! Our 1 yr old energetic baby came home so we'll behaved & yet still loving & playful! It will be so nice when company comes over for him to not be jumping on everyone & minds our commands. He heels so well & now it is a pleasure to walk him instead of pulling me down. We just loved Adam & Kat both! I did a lot of research before choosing this place & I'm glad I did! Highly recommended this place!

Mary Davis
23:06 25 Mar 19
Awesome training program and very knowledgeable trainers. Kat Adam our trainer were just wonderful with Major, our GSD HIGHLY recommend!

David Mullins
23:06 25 Mar 19
These six lessons for our Ziva have been transformational! By the second lesson, she was already responding very well. The best part of training was training me and my wife to be good owner. I would highly recommend this to anybody.

Tip top K9 did an excellent job with our dog! He came back from boot camp happy and we were too!

Sheryl Miears
21:25 23 Mar 19
What a fabulous experience! Our puppy did not listen & was a mess! The training he received was fabulous & the weekly updates were informative. We loved to see his progress each week. The in home review was very educational & made us extremely comfortable with the reinforcement needed to continue his training!

Kristen Johnston
01:30 23 Mar 19
Adam was great with Diesel and Diesel's negative reactions to other dogs growling, snapping has now stopped so forever grateful to Tip Top K9

Susan Hornby
16:52 20 Mar 19
Tip top k-9 did an amazing job with our German short haired pointer. She pulled constantly on the leash prior to training, and she had the shortest attention span imaginable. Now we can go places and actually walk on a leash without our arms being pulled off, and she does a great job at the different commands. This has literally changed our lives.

Trinity Luttrell
20:01 19 Mar 19
Tip Top K9 was awesome! Very pleased with the work they did with our sweet GSD. Zelda came home a new girl!

Orlando Garcia
00:48 16 Mar 19
My 2 year old Aussie is a sweet girl who had some anxiety and fear issues with new people/dogs. The team at tip top k9 spent a lot of time with her before coming back and giving me the tools to move forward. Long road ahead but can see the light at the end now!

Great experience! Our dog is able sit and stay with distractions which he was unable to do before! He is no longer jumping up. Kat and Adam are awesome! Sarah is super nice in the office and the customer service is great. If you want a perfect dog then I highly recommend!

Michael Flores
23:27 13 Mar 19
So happy with the way my dog came home a new dog thank you so much now her and my son can be best friends for life. He is so happy she is home.

Sarah Parker
21:19 02 Mar 19
We had the best experience sassy was such a bouncy hyper puppy to being so well behaved. I cant say enough about how pleased we are with the training and sassy truly loved her trainers you could see it the way she interacted

Char Parker
21:17 02 Mar 19
Great job with my Lab! Thanks Tip Top!!

Dave Harlan
01:22 02 Mar 19
Highly recommend boot camp!

Breen Harlan
01:20 02 Mar 19
The trainers here worked wonders with my in-laws young adult lab. He was a wild child before training but now is a well behaved. You don't have to suffer for the first two years of owning a lab puppy. Let the pros here help you.

Justin Coon
01:19 02 Mar 19
My Eddie is home after 3.5 weeks at Puppy Boot camp and he is awesome. Kat did an amazing job. Thank you Tip Top K9 you're amazing. 🐾🐾🐾

Kellie Houghton
19:52 27 Feb 19
Wonderful experience! Our dog has gone from barking at all hours and driving us to distraction to being the most well behaved we know. The training was a painless process and there were no issues transferring it to us, I've already recommended tip top to all our friends!

Jarrod Jones
00:17 27 Feb 19
Kat with Tip Top K9 was very professional and made sure that me and wife both understood all the commands I recommend Tip Top K 9

Maria LLontop
18:58 26 Feb 19
When we started training with our rescue maniac Frank, we weren't convinced his aggression towards others was going to stop. Within the first lesson, Frank was already sitting in our trainer Adam's arms & had a completely different demeanor. While he isn't completely cured, Adam gave us the tools to continue to succeed. Not only was he great with both of our dogs, but his professionalism & courtesy are an asset to his business & their customers as well. It has gone so well, we will be including our other rescue Olli in his own training. We look forward to continue working with Tip Top K9 in the future. They have great boarding incentives for their customers too!

crossfyre22
23:44 20 Feb 19
Our rescue dog Frank started fear biting a few short weeks after we adopted him. We were super stressed that his aggression was going to prevent us (and him) from having a normal social life. However after the first 1-2 lessons with Adam, Frank was night and day. We still have work to do but we can actually have guests over now and Frank calms down much more quickly. Tip Top Training and Adam was a lifesaver!

Tiffany Kimble
23:40 20 Feb 19
I cannot say thank you enough to Kat and Adam for how they transformed Titan. I was completely at a loss of what to do with Titan and his difficult to manage to behavior but after he came back from boot camp he is an obedient dog and a pleasure to be around. I am so relieved to welcome Titan back into our family as a well mannered dog that everyone can feel comfortable to be around. Highly recommend Tip Tip K9!

Adrienne Kebodeaux
22:40 12 Feb 19
Great trainers ! Took such good care of our dog and delivered on the training 100 percent !

Misty Babbitt
02:37 12 Feb 19
Great experience with Tip Top K9!My dog had been having issues with aggression and leash pulling, over 6 weeks both behaviors were corrected. Wonderful trainer. Enjoyed the in home visit flexibility.

Annastacia Marchand
17:46 09 Feb 19
Abbie came back to us a happy healthy and well behaved dog! She is so responsive to her commands and we couldn't be happier with the results! I highly recommend Tip Top K9, Kat and Adam are the best!

Adrienne Jones
02:08 02 Feb 19
smiles was in boarding for couple of weeks and the way he came back was amazing. Tip top took good care of him and he feels happy and well mannered. Thank you Tip top K9 Southlake

Harminder Singh
20:23 01 Feb 19
We loved working with Tip Top K9! The difference in our dog, Charlie, is night and day. The team at Tip Top K9 was very organized, efficient and very dedicated. They communicated all training techniques clearly and completely. We are looking forward to a long happy life with our well-behaved dog!!

From the time we were briefed on the training regimen to the training of his command at drop off, we could not be more impressed!! The staff at Tip Top K9 delivered us the dog of our dreams. We're excited to have a pet that has so much more discipline. Amazing results here!

Mike Cabrero
17:08 25 Jan 19
Absolutely awesome service. They came late evening to accommodate our schedule and we were floored w/the results!!! Don't think...they ARE the go to folks for training your dog.

Richard Fischer
02:59 25 Jan 19
Absolutely fabulous! Great communication & helped us with our stubborn dog. Highly recommend!

Becky Fischer
02:57 25 Jan 19
Tip Top K9 was amazing. They truly care for your animal. Gunner was in such great hands with them. He is a more settled dog and learned so much! I recommend anyone to Tip Top K9. You will be 100% satisfied. Brittany and Julius

Brittany Johnson
19:57 19 Jan 19
What a great experience! From the beginning we felt very comfortable; it was clear that our trainer loved dogs, and that enjoyment transmitted itself to our dog. That made training more fun than work. The method Tip-Top uses means very quick, visible results while still keeping our dog the same happy, confident, personality-filled boy we love. He went from being almost uncontrollable on walks (he once pulled me over!) to walking calmly and happily at my side--it was like night and day! He no longer jumps all over us, either, and we don't have to repeatedly call him or ask him to be quiet. We definitely recommend Tip-Top; we now have the knowledge and tools we need to have many happy years with our wonderful GSD!

Stacey Fackler
18:06 17 Jan 19
Love training with Tip Top K9! Helped with our German Shepard who loved to pull, definitely recommend and look forward to group classes.

Rachael Menzies
00:36 16 Jan 19
Kat was great with our extremely stubborn Ridgeback, Finn. She took the time she needed to break through his fear and get him on the right path. Thank you so much - we will see you at group classes!

Tamara Bennett
01:43 11 Jan 19
I am so glad that I found Tip Top K9 training camp.. I cannot happier. Both Kat and Adam were so informative as to how the training would go.. My little Morky was so aggressive. She would bit me and all others that she came to pass. My vet told me that she would be reluctant to put any training into her.. My only choice was to put her down as I could not rehome her.. I am sooo glad that I did not go that way... thank you so much Kat and Adam for turning her around..

Phyllis Benz
22:13 10 Jan 19
I have a very hyper 5year old dog who just loves people and attention and had trouble getting her to calm down to get the attention and play with other dogs. After the first couple lessons with Adam it was like I had a different dog, only better. Thank you Adam!

Penelope Cantu-Sanchez
00:57 09 Jan 19
The word I am looking for is "grateful." They not only helped me with my very stubborn dog, but the went the extra mile to help me as a customer. I got my dog back today from boot camp, and he leared so much! Can't wait to go to the group lessons!

Lucy Gutierrez-Olvera
16:35 08 Jan 19
THE DOG GETS TO STAY! We were having such difficulty (8 month old beagle) fully training our dog that we almost adopted him out to friends. Fortunately we called Tip Top K9 and Adam worked with us for six sessions; wow what a difference! We are now able to walk our dog and have an enjoyable walk! The dog responds to off, come and place like a champ. So glad we called!

dave flores
18:58 29 Dec 18
Great experience. Thought my crazy dog couldn't behave, and now he listens and well behaved!

Rebecca Martin
18:41 29 Dec 18
Adam is excellent. Listened to our needs and tailored the training to meet them. We love our Tucker (high energy German Shorthaired Pointer) and now we like him again!

Kat and Adam were awesome and made us feel like family right away! Both my pups seem to really feel comfortable around them. Pleased with the quick results and excited for the continuing education and advanced training! Thanks again Tip Top K9!

Elizabeth Ann
19:49 24 Dec 18
Unbelievable experience with Tip Top K9 Southlake, TX.The owners, Adam and Kat, are first class people that treated Jax as if he was one of their pups. He came back home a different dog (see pic :) ).They truly run a first class operation and we couldn't recommend them higher.Thank you for everything.Brad Haga

The staff at Tip Top K9 have taken our 3 year old out of control boxer and turned him into an attentive dog that is now a joy to be around. They took such good care of him while he was at boot camp and he had a great time! They are easy to contact and they stayed in constant communication with us while he was with them for 2 weeks. Thank you!!! You guys are the best!!

My dog was a known neighborhood menace before this training program. He is now a completely changed animal— I am thrilled (and so are my neighbors!)!!! Highly, highly recommend this program!

Ashley Bostrom
21:06 17 Dec 18
I loved working with Adam he is a great trainer. Not only did he train my dog but me as well. Thank you so much for all your help!!!

Holli Witt
00:29 06 Dec 18
Tip Top K9 is amazing! In 2 weeks my crazy puppy was transformed into a well behaved member of the family. I would recommend this for EVERY dog.

I was so glad that I found TipTop K9 dog training in Southlake on the Internet for my Australian Shepherd, Border Collie mix, who feels like it's his job to be my bodyguard. Adam was very knowledgable and confident in their training, assuring me that they could help me with his overly protective tendencies. He did so with gentleness and non negative training. I would definitely recommend Tip Top K9 to anyone looking for reliable dog training. Their customer service was also top notch. Thank you Adam and all the staff of Tip Top K9 dog training for your help and professionalism.

Mary Wright
02:14 02 Dec 18
Had my family Rottweiler sent to Tip Top and can say I am extremely pleased with the results. From a puppy that bit everything in her sight to a puppy that we can actually enjoy! Wholeheartedly recommend Tip Top to anyone who desires an obedient dog as a family member. :) Thank you, Adam, Cat & all the trainers at Tip Top!!!

Catherine Rubright
19:31 01 Dec 18
My Rotti Sable just came back from a board and train and to say I am amazed is an understatement. When Sable left she was biting everything and everyone. Now she is a great family dog that I will have years of fun with. I recommend Tip Top K9 Southlake for anyone with a dog. Will use again 100% with group classes and more.

Steve Rubright
19:23 01 Dec 18
We love the new and improved Shotgun thanks to tip top

Ariya Tice
00:20 01 Dec 18
Kat was fantastic! Shotgun is a completely different dog, in a good way thanks to Tip Top K9.

William Tice
00:16 01 Dec 18
After multiple aggression epiaodes with other dogs we were looking to rehome our dog and decided to give training a shot. Tip top came in and said we arent sure he is a difficult case. But then on day two Wylee was a different dog and actually followed commands. ON DAY TWO HE SHOWED PROGRESS. so we did boarded training for two weeks. They got my dog who fought all dogs but one to sit and play with others. He calmed down and his anxiety disappeared. He looks different because he is confident. I'm impressed beyond belief. Kat and Adam clearly know what they are doing and it is clear they love their jobs and the dogs.

John Howard
00:51 29 Nov 18
Kat and Adam were amazing trainers. My dog aggressive 4 yr old shepherd husky mix was pulling at the leash, charging, and refusing to obey commands. After 2 weeks of boarded training wylee came home a different dog. He is calm, obedient, and walks on leash with a heel command. We presented all kinds of distraction to test his training but he continued to follow every command we gave. I feel confident in my dog and feel like we can move forward on a positive note. They even got him sitting next to and playing with other dogs!!!! Like what!! Seriously, can't say enough positive things about these trainers. Money back guarantee, life time free classes, a boarding center i trust. Did I mention my dog clearly loves Kat? Trust your dog for tip top!

Erika Kleinschmidt
00:45 29 Nov 18
At our Southlake dog training location you will find professional dog trainers with years of experience that know how to handle behavior issues as well as common obedience needs.
We love to help people with their dogs!  We serve dog training needs all over Southlake and Grapevine, Texas!  We specialize in spoiled rotten dogs that need more manners!  The most common problems we help our clients with are obedience issues such as coming when called, loose leash walking, and learning not to jump.
We do a mix of private in-home lessons as well as doggie boot camps where your baby lives with us for a few weeks (pampered of course) and gets 3-4 hours of training a day!  Then we come back and train mom and dad.  Not all dog trainers are the same!  Give us a call on our local line today 817-761-5037.
Hear what some of our Southlake dog training clients have to say about us:
"Tip Top K9 has helped me soooo much get better control over my husky."
"This has been the best training I have ever had and I have worked with 5 other trainers before with different dogs."
"We have seen great improvement in Cupid, she wasn't always responsive to come and other commands and we have seen a vast improvement.  The training makes owning Cupid a lot easier!
"Tip Top K9 took Banjo for 3 weeks and trained him up to be an absolutely amazing dog!  Now he is a brand new dog!
"Adam and his group did an outstanding job training Gypsy and it has been a very successful experience!"
" I have a dog that was very playful but highly disobedient and wouldn't obey commands.  After a few weeks at boot camp Charlie "Comes" "Stays" "Places" and "Heels" like a champ!  We appreciate Tip Top K9!"
Southlake Dog Training Out And About:
Some of our recent Southlake dog training success stories: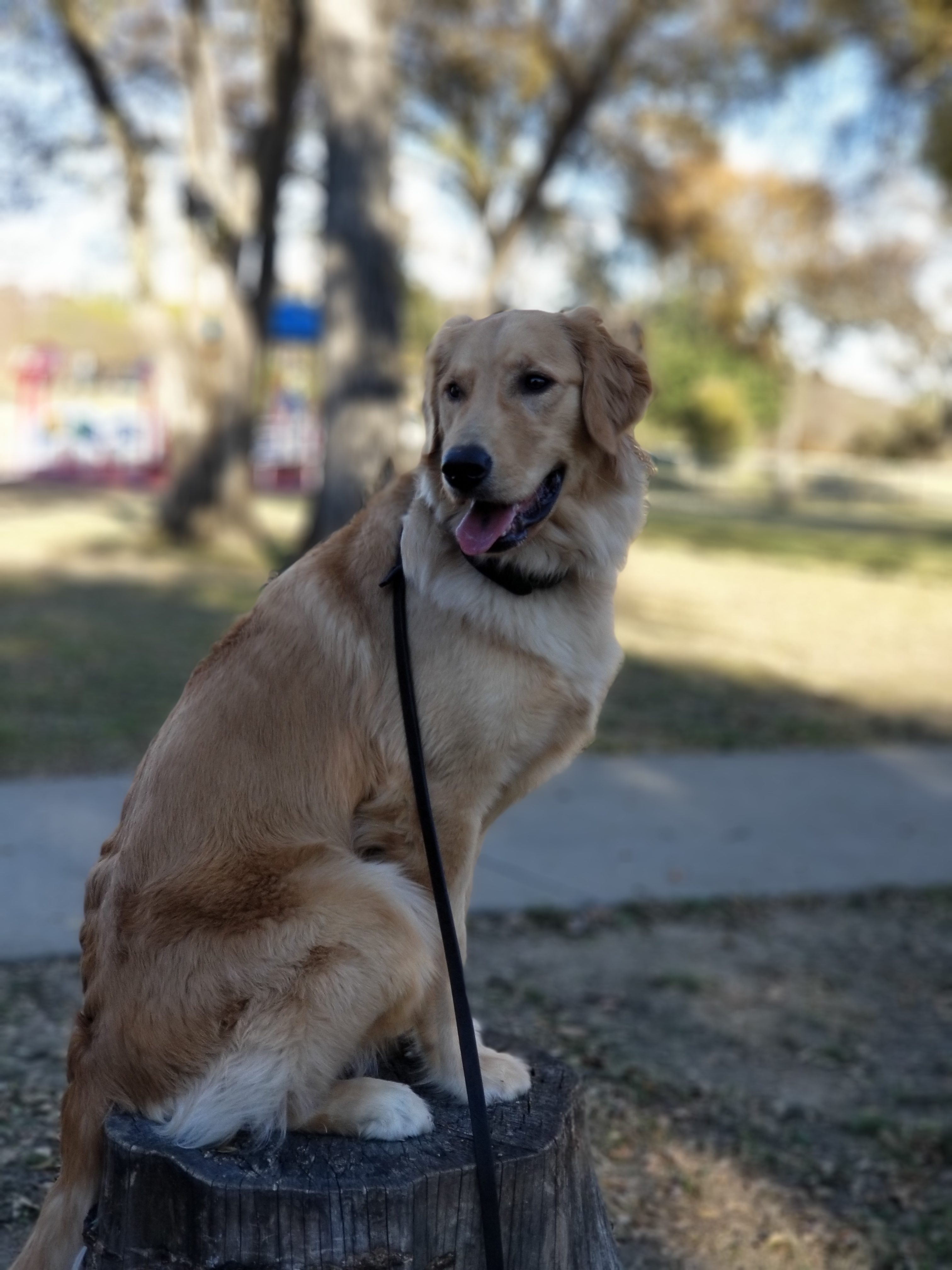 Bella the Golden Retriever
Bella was an out of control golden retriever puppy who couldn't wait to climb you then pull you down the street.  Her heart was in the right place, but she was definitely a handful.  Because of her bad habits her owners Mike and Nicole couldn't really take Bella for a walk or anywhere else for that matter!
After 4 weeks of Bootcamp, her life has drastically changed for the better.  Now instead of running to and jumping all over new people, she sits at your feet and waits for love to come to her.  No need to worry about pulling on the leash either, Bella is now 100% off leash!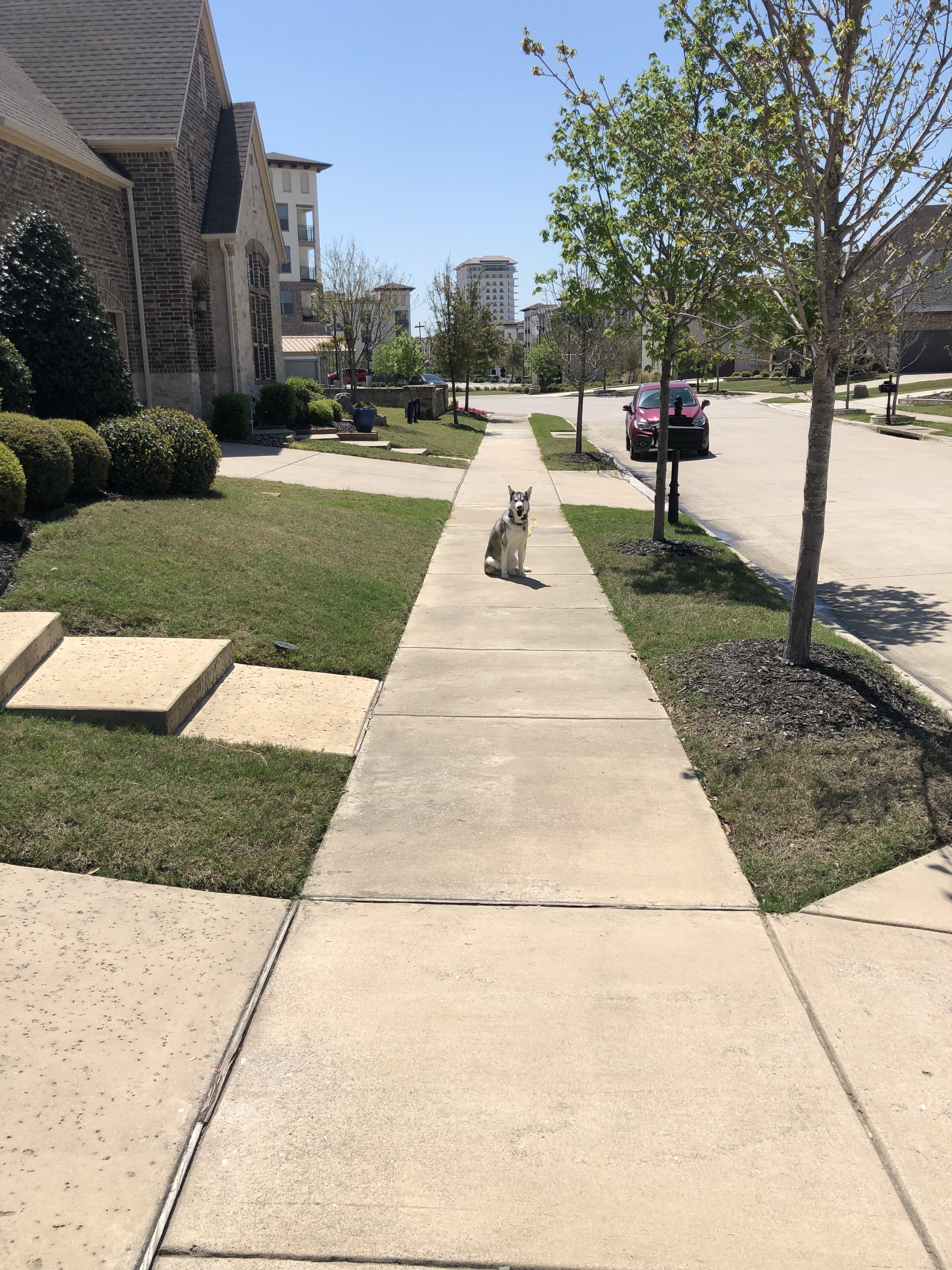 Lucy the Husky!
Lucy was just a small town pup trying to make it in the big city.  Her favorite hobbies were helping herself to the family dinner and long walks around the park pretending she was a sled dog. She hated car rides and listening to anyone who was talking to her. 
Now after 6 weeks of training, she has pulled herself together and is a model citizen.  She still loves walks around the park, but takes a relaxed stroll instead of sprinting to the end of the leash.  She no longer tries to sneak food from the counter when your back is turned, and can instead stay on her bed and watch dinner being made from the living room.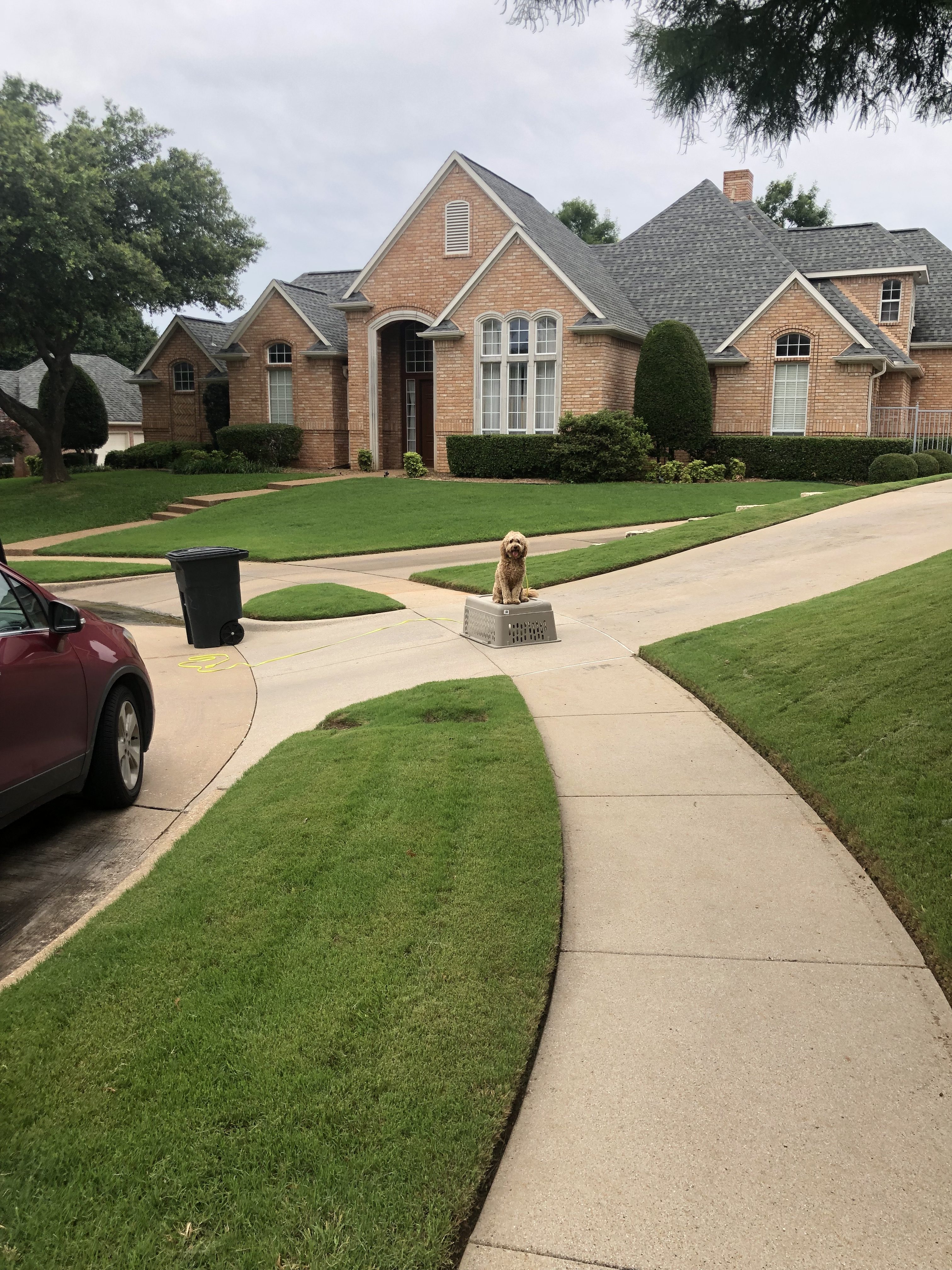 Lulu the Doodle!
Lulu was just your everyday Doodle puppy.  What she lacked in coordination, she more than made up for with crazy.  She was an escape artist and would love to be chased around the neighborhood and parkour through the house!
After just 4 weeks of private in-home training, she had a new lease on life.  Instead of taking off down the street every time the front door was opened, she now just stays on her cot.  Lulu still has her same loving and affectionate personality, but now channels her energy into running laps around the backyard pool instead of the neighborhood!
Talk With a Trainer Today!