Tip Top K9 – Southlake / Keller
TipTop has helped us so much. Walks have gone from a nightmare to a dream. Tyler was so kind and patient with both me and Roxy.

Tammy Mandel
22:01 24 Oct 20
Completely change my crazy dog to a well behaved dogWill be back when we get our next dog

Eric Rodriguez
16:07 24 Oct 20
Our dogs were out of control. My husband was done with them. Now we have polite and responsive fur babies. Highly recommend this training program.We did lessons at the facility.

Erica Zwernemann
00:45 23 Oct 20
We are very happy with the results from tip top k9.The staff was great and well trained. Our dog Yogi came home a new dog!

Patrick Newton
20:28 22 Oct 20
They helped teach us a lot of techniques to socialize our dog and make her more comfortable around other dogs. Our border collie puppy has improved so much in just 4 weeks of personal classes! We are very impressed

Amanda Hermes
01:21 17 Oct 20
We are so pleased with how well behaved Tenney came back to us. Tip Top K9s methods are very effective and translated directly from trainer to owner with ease. Before her short time at Tip Top she was very aggressive with our 15 year old miniature dachshund, now she is very respectful of her space. I would highly recommend using them for obedience training.

Jonathan Fippinger
00:32 15 Oct 20
We are so impressed with this program! Our sweet Tenney came home a very well behaved girl and the methods were simple for us to learn and implement. Seriously, if you want your dog child to learn skills that will make life together so much more fun and enjoyable, send them to Tip Top K9.

Adreane Fippinger
00:24 15 Oct 20
great job! We both learned skills to help her be the best dog she can be! Thank you for all of your help!

Ashlee stites
17:22 09 Oct 20
I thought I could do without training of my 8 month old golden doodle but after the constant chasing of our cats, constant barking, running away and general non-adherence to just about everything, I knew I wasn't able to handle it myself. I reached out to Tip Top K9 for a consult. The owner Adam came out in a very reasonable amount of time to walk through their services as well as demonstrate their training practices. We signed up right away and began lessons the following week. We were assigned Tyler who worked Harley for each of the 4 weeks. She was fabulous and genuinely loves the dogs she trains. We are leaving here with a very well mannered pup (and ME) and will continue to reinforce what we learned through group lessons! Thanks TipTop and Tyler.

Jennifer Sharp
18:46 08 Oct 20
Our Sheepadoodle just got back from K9 training and I can not say enough with how well behaved. The team is very professional and spent 2 hours going over everything at our house. After using another dog school, I would defiantly recommend to anyone.

Hillary Strasner
19:04 05 Oct 20
Outstanding training. Tip Top K9 changed our dog. Trainers are very professional and friendly.

Great dog training here! We got a nice dog from a rescue but she did not mind. We did the private lessons and got her fixed up quick! We are excited to start the life classes now that the training is finished. 😁

Josh kreinbihl
17:53 03 Oct 20
Tip Top K9 is fantastic. I love that I learned how I can train him for the rest of his life, and he loves his time in doggie class. Thorough training, made simple and repeatable. Terrific experience.

Tyler is a great trainer!

Jasmine Garcia
19:02 01 Oct 20
I'm so glad I picked this place to train my dog. They have multiple options available designed to fit your needs. Affordable too. I was amazed at how fast my dog picked up and training and it did not take a lot of time. I definitely recommend training with Tip Top!!

I can't say I am not forever grateful for Tip Top. I have two dogs and was getting both of them trained. I had most trouble with my older dog, Summer. I adopted her from a shelter a year ago and she had behavioral issues. I was at wits end until I came across Tip top online. They are so patient and so helpful. My dog heels, listens and I will forever be grateful! They go ABOVE and BEYOND to help their clients. Thanks Tip Top and our trainer Tyler! We love you ❤️❤️🐶🐶

Jasmine Blocker
16:51 25 Sep 20
Wonderful experience! We finally feel on the right track with our chocolate lab! He went to boot camp for two weeks and now has the tools to be a great dog!

Mason Doyle
21:59 24 Sep 20
Absolutely love Tip Top K9! Completely transformed our dogs!!

Lindsey Hamilton
00:28 24 Sep 20
Very professional and had great intelligence on dogs. I felt very confident in the trainer and my 6 month husky mix puppy has already improved from just the few sessions that we had. Trainer was very consistent and made sure to give me tips and to help me in the process. Over all great experience!

Katlyn Quezada
14:54 23 Sep 20
Sukey was a lot before. Now she listens and is such a great girl! They were so attentive to our requests and helped us so much. Sam spent over two hours with us to train mommy and daddy after she trained our little fur-baby! Would recommend!

Nathan Bennett
23:30 14 Sep 20
Great experience with tip top for training our boxer puppy. She learnt a lot of the basic commands which helped her integrate better to our family!

Sujil Joseph
19:06 13 Sep 20
My dog did the doggie boot camp. Amazing results! He can now come, sit, heel. He is a 90lb dog who was sweet but crazy and now we can enjoy the sweet even more! Wonderful investment and we are both happy! Highly recommend!

Vanessa Gorzynski
23:36 11 Sep 20
We took our dog, Ranger, for their board and train program! He was horrible at jumping and walking on a leash. When he came back to us, those two things had improved significantly as well as so many other things such as sit, come, and place! Would definitely recommend them to anyone!

I would highly recommend Tip Top K9 for any type of dog!

Alex Mueller
21:21 08 Sep 20
The crew at Tip Top was fantastic. Friendly, professional, and informative. We're looking forward to calmer days and nights with our well behaved Corgi. Thank you!

Anne Woolsey
23:19 03 Sep 20
They were very accommodating to my schedule. My rottie is so well behaved now, they explained everything well and demonstrated all commands I practiced everthing before we left the class each time and felt very confident about my training when I left the class. Thank you so muchLisa Jobst

Lisa Jobst
17:35 31 Aug 20
Our puppy came home with the best manners ever! Thank you Adam, Sarah and Tyler! You are the best!

Kathryn Caulfield
23:45 26 Aug 20
Tip Top K9 has taught us how to properly train and walk our dogs. This has made our walks with our dogs peaceful again.

Carrie Bostick
19:13 15 Aug 20
Tip Top K9 did such an amazing job training my pup 1:1!! My dog can now, sit, quiet, stay off, place, and heel. He has become super obedient not only around me but visitors. I highly recommend this facility and their staff!! :-) I would come here again if I got another dog.

Megan Mulrennan
22:01 13 Aug 20
Brought our pit bull in for boot camp and am thrilled with the results! Life will be much easier now with her training and peace of mind knowing she has skills to keep any bad habits controlled. I highly recommend Tip Top K9 for their professionalism, knowledge, and obvious love for animals. Receiving weekly report cards was a bonus as well!

Mary Westbrook
22:00 13 Aug 20
Literally THE BEST thing I've ever done for my dog! He loves the trainers (so do I) and he's always so happy to listen and learn from them. Not only does my dog love training with Tip Top K9, but the fact that he's well trained and listens to me now let's me enjoy him even more!!

Eryn Braddock
19:23 11 Aug 20
We're very happy with our board and train experience and looking forward to group classes also. Adam did a great intro and Kat was fabulous at our family training at the end of the program. We learned a lot and can't wait for more field trips with our goldendoodle. Thanks, TipTop!

Xochi Hulse
20:44 10 Aug 20
Tyler was incredible, she helped me so much with getting my 80LB marmite to calm down. He cane home so relaxed and was VERY responsive. I would recommend to everyone!

Sahil Hussain
19:48 10 Aug 20
I have never been so happy in my life while walking her through the park now!!!!!!!!!!! Tyler, Kat and Sam are the BEST trainers ever!!!!!!!!!!

Paul Wilson
20:10 08 Aug 20
Miracles and a dedicated staff of trainers do happen! We are so fortunate to find the help we needed for our "Angel." She received excellent care and training at Boot Camp. We will remain connected for life just because the staff treats us like family!

Robin Standley
20:08 08 Aug 20
We have a large dog and needed help in control on walks and controlling excitement. They made these problems a breeze to correct.

Kat was great. So patient with Taz who can be a little crazy. Taz is now walking so nicely on leash and well behaved at home. So worth the time and money.

Pam Newkirk
15:38 08 Aug 20
Our 2 year old dog was extremely reactive when she saw other dogs. She would bark, jump, twist, etc. It got to the point that we didn't want to take her for walks anymore. After working with Tip Top we have a totally different dog. We now enjoy our daily walks around the neighborhood.

Shawn Boedecker
19:37 07 Aug 20
Our puppy came home from tip top k9 as sweet an calm as could be. She's a giant breed and with her training she is easy to walk and we feel confident taking her in public.

Mallory Green
22:11 06 Aug 20
At our Southlake dog training location you will find professional dog trainers with years of experience that know how to handle behavior issues as well as common obedience needs.
We love to help people with their dogs!  We serve dog training needs all over Southlake and Grapevine, Texas!  We specialize in spoiled rotten dogs that need more manners!  The most common problems we help our clients with are obedience issues such as coming when called, loose leash walking, and learning not to jump.
We do a mix of private in-home lessons as well as doggie boot camps where your baby lives with us for a few weeks (pampered of course) and gets 3-4 hours of training a day!  Then we come back and train mom and dad.  Not all dog trainers are the same!  Give us a call on our local line today 817-761-5037.
Hear what some of our Southlake dog training clients have to say about us:
"Tip Top K9 has helped me soooo much get better control over my husky."
"This has been the best training I have ever had and I have worked with 5 other trainers before with different dogs."
"We have seen great improvement in Cupid, she wasn't always responsive to come and other commands and we have seen a vast improvement.  The training makes owning Cupid a lot easier!
"Tip Top K9 took Banjo for 3 weeks and trained him up to be an absolutely amazing dog!  Now he is a brand new dog!
"Adam and his group did an outstanding job training Gypsy and it has been a very successful experience!"
" I have a dog that was very playful but highly disobedient and wouldn't obey commands.  After a few weeks at boot camp Charlie "Comes" "Stays" "Places" and "Heels" like a champ!  We appreciate Tip Top K9!"
Southlake Dog Training Out And About:
Some of our recent Southlake dog training success stories: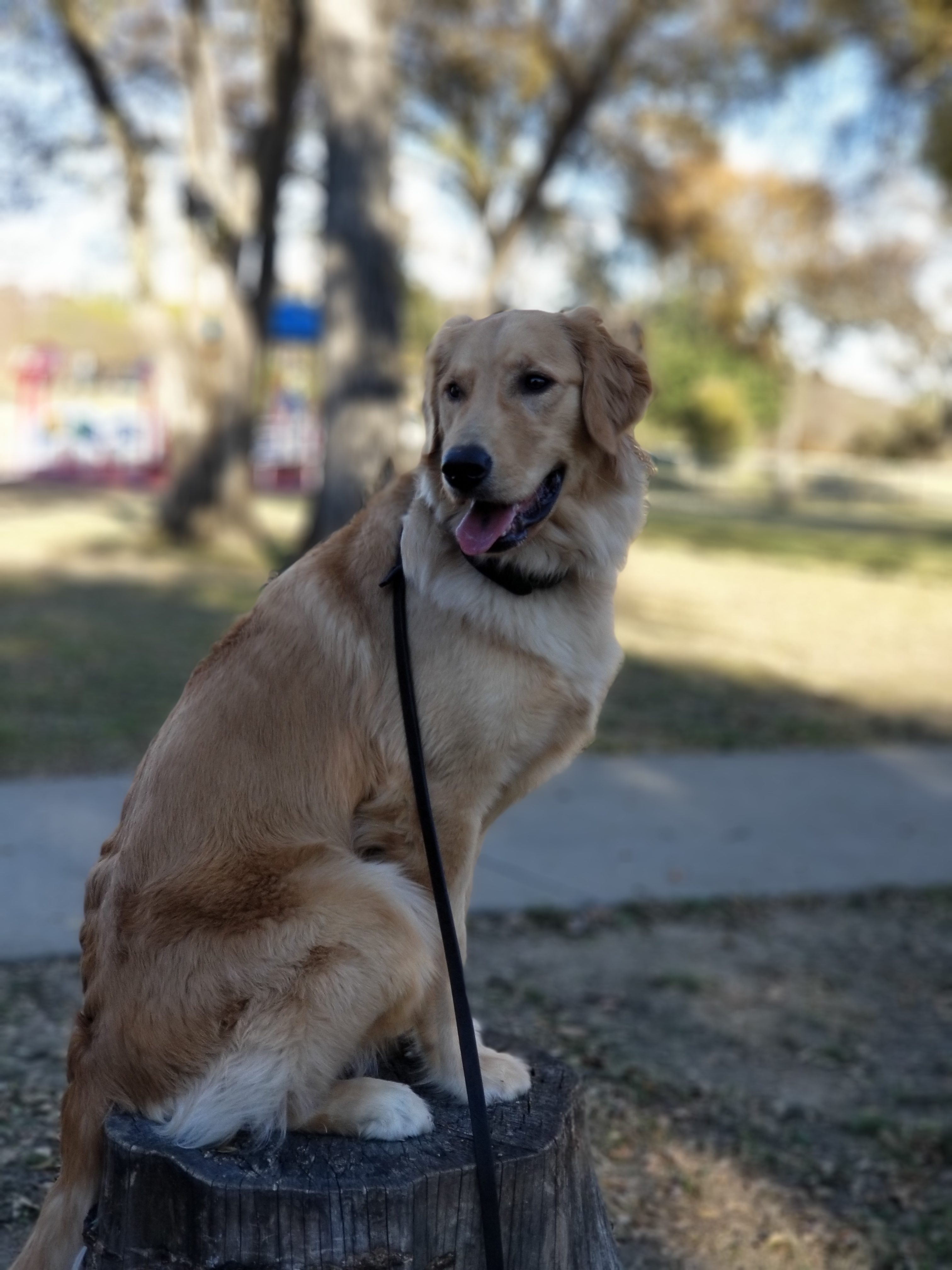 Bella the Golden Retriever
Bella was an out of control golden retriever puppy who couldn't wait to climb you then pull you down the street.  Her heart was in the right place, but she was definitely a handful.  Because of her bad habits her owners Mike and Nicole couldn't really take Bella for a walk or anywhere else for that matter!
After 4 weeks of Bootcamp, her life has drastically changed for the better.  Now instead of running to and jumping all over new people, she sits at your feet and waits for love to come to her.  No need to worry about pulling on the leash either, Bella is now 100% off leash!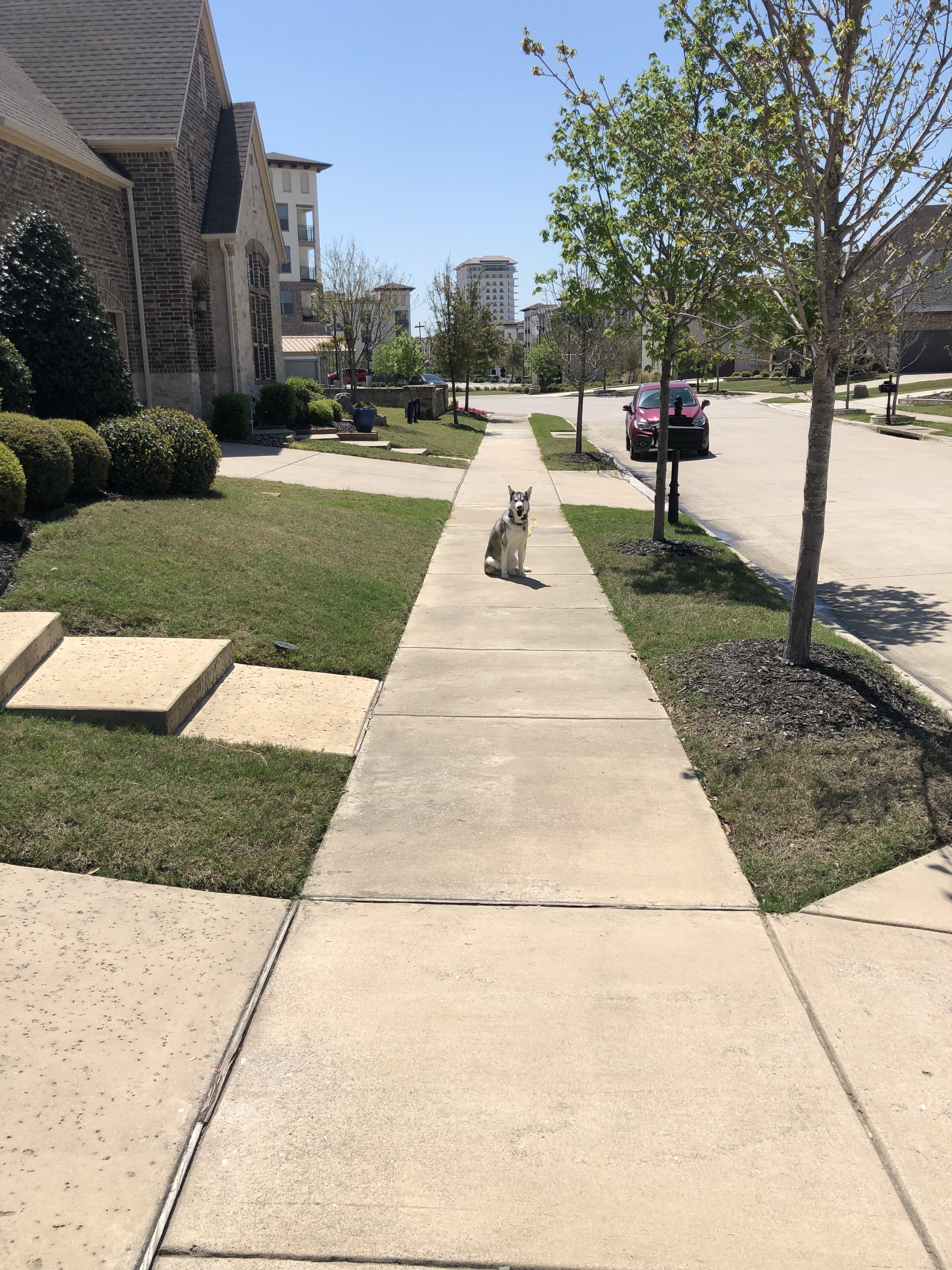 Lucy the Husky!
Lucy was just a small town pup trying to make it in the big city.  Her favorite hobbies were helping herself to the family dinner and long walks around the park pretending she was a sled dog. She hated car rides and listening to anyone who was talking to her. 
Now after 6 weeks of training, she has pulled herself together and is a model citizen.  She still loves walks around the park, but takes a relaxed stroll instead of sprinting to the end of the leash.  She no longer tries to sneak food from the counter when your back is turned, and can instead stay on her bed and watch dinner being made from the living room.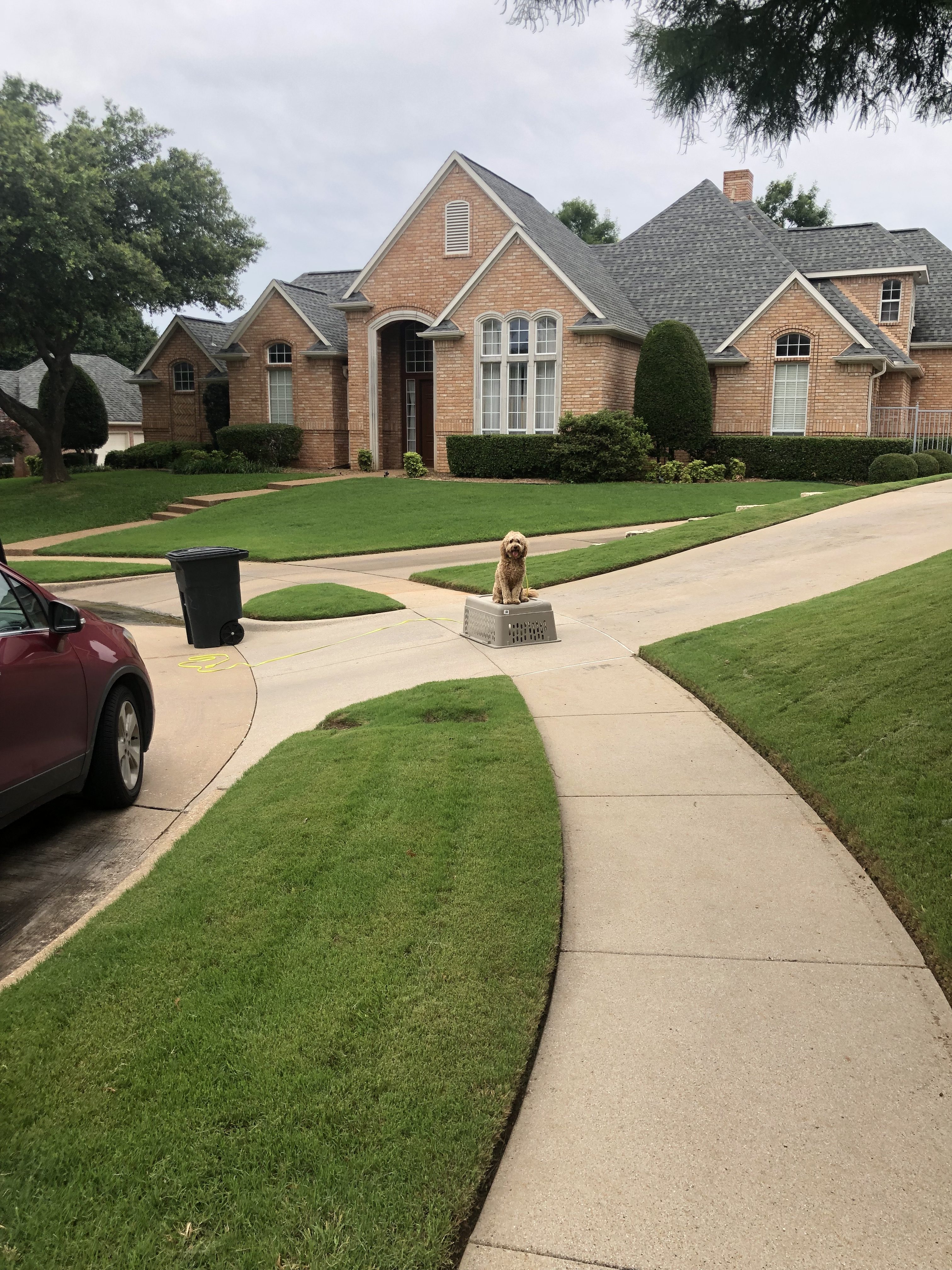 Lulu the Doodle!
Lulu was just your everyday Doodle puppy.  What she lacked in coordination, she more than made up for with crazy.  She was an escape artist and would love to be chased around the neighborhood and parkour through the house!
After just 4 weeks of private in-home training, she had a new lease on life.  Instead of taking off down the street every time the front door was opened, she now just stays on her cot.  Lulu still has her same loving and affectionate personality, but now channels her energy into running laps around the backyard pool instead of the neighborhood!
Talk With a Trainer Today!