Tip Top K9 – Southlake / Keller
Highly recommend Adam and his team! Our girlMaple had transformed!

Graham Kennedy
00:52 17 Jun 22
We signed Ichi up for training with Tip Top because we felt absolutely hopeless after every other training method we had tried. Our trainer Kody was so patient and thorough in our lessons and now a mere few weeks later, it feels like we have a whole new dog. He is such a good listener now, we feel completely safe having him off leash even with abundant distractions. And now he has all the confidence in the world and gets to enjoy so much more freedom. The training was worth every penny and I would HIGHLY recommend.

Tip Top Canine has been the best to work with for our dog Cooper. He left us a hyper puppy and came home a calm, trained dog. We are pleasantly surprised by his progress! We're excited to continue his training at home! Thank you Tip Top Canine for all that you invested in our furry friend!

Jennifer Gray
20:43 12 Jun 22
My leash training was with Sofia for my 6 month lab. She did an amazing job explaining thoroughly the process of training and helping me learn my job with my dog. I'm so thankful for this company and the amazing people they employ!

The staff was extremely friendly and knowledgeable!

Trevor Grossklaus
23:00 03 Jun 22
Sofia was so amazing! She helped us with our STUBBORN border collie/German shepherd mix. I was at my wits end when I called them and I'm I'm so glad I did!

Jedi SherBear
19:00 02 Jun 22
Sofia was amazing and patient with both us and our dog! We saw immediate improvements and are looking forward to the group classes.

Ethan Stalbaum
19:00 02 Jun 22
We had an amazing experience with Tip Top K9. Very experienced trainers who will provide you with the tools you need to be a perfect dog owner. Sofia is awesome, worked really well with our Belgian Shepherd!

Jared Wahlen
23:29 31 May 22
We have a 6 year old German Shepherd named Kevin and we were at our wits end. He was 80lbs of chaos and we had tried multiple different training methods with absolutely no luck. Our quality of life was suffering and we were on the verge of having to rehome him since we have a 9 month old daughter. After using Tip Top K9, he is not only better behaved but he was able to come off his anxiety medication after just TWO WEEKS. We would highly recommend Tip Top K9 and plan on using them for our other unruly dogs in the future.

James Deering
14:56 30 May 22
Sophia trained my 2 year old pup, Pumba and she saved him from being re-homed. I'm so impressed with the training she provided and now my dog is now confident and secure in himself. He thinks before he acts and responds so well to commands. He is a completely different dog. I am so happy that Pumba can live a happier and safer life. Thank you, Sophia!! You are a dog whisperer! ☺️

Sylvia Navarro
22:11 27 May 22
Muffin is 10 months old. She has been a smart learner. Her trainer has been very good at teaching me how to duplicate how she teaches Muffin new behaviors. Muffin still needs practice to maintain what she has learned. I have been taught how to do it with Muffin to help her progress, so she can do it independently in a few months without the collar.

Ruth Roden
19:46 25 May 22
Thank goodness for Tip Top K9!!! Our dog Rocket was fearful, lacked confidence, and struggled on walks. Being 110 pounds, many folks struggled with intimidation towards our fearful sweetheart. After our private sessions, Rocket has grown in confidence and walking him is becoming a breeze. Our dog Indy also struggled with walks and often fence fought. The results are literal night and day. She self corrects and has formed great manners.Our trainers, Cody and Kat were phenomenal! They approached us and our dogs with patience and cared for them through our private lessons. We learned about dog behaviors, signs to look out for, and tools necessary for a happy and safe dog. We are so thankful for the support they provided every step of the way. We feel ready, confident, and motivated to continue our dog training thanks to them.We cannot recommend Tip Top K9 enough!

Barbara Martinez
19:07 24 May 22
Our dog Link spent 4 weeks in the doggie boot camp and we got reports every Friday on his specific progress with a small narrative on how he is doing. When he came home, the trainer Baleska did an amazing job teaching us how to work with him. She was really patient it was great to see how much he learned. They told us that the at home training is typically two hours but we had a lot of questions and she was happy to answer all our questions and take time for us. We will be attending the group classes soon so that we can maintain the progress he has made and practice what we learned. I also liked that we paid all our costs up front and there wasn't any other hidden fees or costs later on.

Karen Banzon
23:40 22 May 22
This was the BEST decision I've ever made for my pup! I have a 10 month old German Shepherd with a lot of anxiety and very skittish around everyone and everything. I was afraid that would slowly turn into aggression and become very protective. Tip Top K9 training regimen really helped her gain confidence and me included when out in public. I 120% would recommend to anyone who feels their dog needs some guidance and control. We had an AMAZING trainer, Sade, who really understood what type of dog she was dealing with and took the time to really help and train my pup and myself. I can truly say I've gained more piece of mind knowing she is listening to my commands. Thanks Sade and Tip Top K9!!!

Lissette Robles
15:58 22 May 22
Great training for our Labradoodle! Sophia is very professional and helpful. We've enjoyed the training and look forward to continued success with group lessons. Great job Sophia!

Leslie Baxter
00:02 19 May 22
Extremely professional and helpful. Trainers are understanding and very knowledgeable. Extremely grateful we used Tip Top K9 for our lab! :)

Sofia Valverde
00:02 19 May 22
Great dog training , very professional! Highly recommend. Our dog has improved so much! The whole family is enjoying this experience.

Norma Valverde
00:00 19 May 22
Increíble. Luna era una bestia, ahora es un bombón. Gracias gracias gracias! Cat es muy paciente y buena, Camila me explicó a detalle en español también.Incredible! Luna was a beast, now she is the sweetest. Cat and Camila the best!!!

Viviana Jasso
00:54 12 May 22
My dogs are now safe! I can walk with them, open doors with them, have conference calls for work!

Michele Sirotnak
16:21 22 Apr 22
Kat did a great job with my puppy! I highly recommend them for dog training.

Tracey Estis
22:07 31 Mar 22
We loved our training experience with Kat! We did 6 lessons and saw such great results. Would definitely recommend to anyone looking for a reliable trainer!

Averi Hull
15:14 31 Mar 22
Adam & Kat have been nothing shy of phenomenal! Ellie girl left a huge ball of energy and came back following all of her commands and is such a good girl! We are so so thankful and 10/10 recommend using them for your dog training needs! We are thrilled!

Averie Ross
20:26 25 Mar 22
They were great! I enrolled him in the Advanced Obedience course and the results were great!! Definitely recommend.

The best thing I could have done for my Aussie puppy! I reached out to tip top k9 when my Aussie puppy was 5 months old. After trying a couple different training courses that didn't work, I decided to try tip top k9. He is so good with his training. Scheduling and support was also so easy. I could not recommend them enough!

Trainers are excellent, and I will definitely recommend them to anyone I know!! I found TIpTop K9 through a neighbor who used them and his dog was amazing! Do not think twice call Tip Top K9!

Kyle White
21:12 07 Feb 22
Extremely pleased with the results for our sweet Gryffin!!! He was a handful and heading in the wrong direction but found Tip Top K9 who helped save the day. So thankful for the ongoing group classes as well. German Shepherds are a rewarding breed but need to work.

Jackie Ward
01:02 28 Jan 22
Extremely pleased with the progress of Gryffin! Within 3 weeks, he has progressed beyond our expectations!!!! Thank You Thank You Thank You

Great experience! Sade was awesome with our 7 month old lab.

Roberto Hernandez
20:49 27 Jan 22
Tyler was fantastic. My dogs are transformed in their behaviors. Thank you…Tyler and Tip Top K9

Paul Hallen
21:38 16 Jan 22
TipTop trained our 1.5 year old lab/heeler over the holidays. She learned so much. Very impressed by her sit and down stays, and she heels well enough walking might be a pleasure again. Highly recommend TipTop. Seems like a big investment but have a feeling it will be well worth it

Sanjay Mehta
02:29 08 Jan 22
Amazing experience with our doodle, before the Problem Solver Boot Camp we had problems with biting, dropping objects, and recall. Now he listens to all the training commands after only two weeks! I also loved our "Homecoming party" where they show how to continue training on your own! Money well spent!

Alec Candelaria
19:28 01 Jan 22
Tyler was amazing and we saw so much improvement in our Aussie husky mix dog. I highly recommend Tip Top k9

Brianna Conte
22:29 10 Dec 21
Our dog has gotten so much better on a leash and responsive to commands.

Brian Donley
22:28 10 Dec 21
Exceeded our expectations as our Morkiepoo was already very stubborn at 18 months old. He came back after two weeks of training with every issue we had corrected. I would highly recommend!

daryl walker
19:29 30 Nov 21
Kat and Sade and Tip Top did a great job traning my 7 month old dog! During my at home training at drop off, it was obvious that my dog really liked these trainers and that he was loved and well treated during training. He arrived home happy and very well trained. I feel like I have friends for life to help me with any dog issues I might have. I highly recommend Tip Top K9!

Sue Walker
16:43 26 Nov 21
Kat is an absolutely amazing trainer!! Indie was very reactive and problematic before training and caused me so much anxiety when I took him outside, but now he's such a good boy! He's iffy with new people, but warmed up to Kat so quickly. So so happy with my training:)

Hanna Sigman
19:34 11 Nov 21
We have a 1 year old Siberian Husky and we were at our wits end trying to train her. We contacted Tip Top K9 and they helped us trian her. It was an amazing experience and I highly recommend them. Thank you for everything!

Georgia Ludwig
00:33 10 Nov 21
Wonderful training experience! Very thorough and supportive trainers who are aimed to help you and your dog succeed at every stage of training. Could not recommend them more!

Stephanie Sullivan
22:21 03 Nov 21
My puppy who had the hardest time sitting still, not jumping, not barking at everything now sits quietly beside me while I work. Happy as anything!! Walks are easier! Super grateful

Rachel Miller
14:09 28 Oct 21
Honestly best money I've spent in a long time. I was very hesitant about the e-collar training but my 5 month old labrador retriever responded awesome. Thanks Kat!!! Definitely recommend to anyone having problems with there pup. He was a mess before but now is a well behaved young man.

Extremely satisfied with the results we attained for our 1 year-old husky (and the training we received afterwards!). This was a different training methodology than we'd used in the past but results have come much quicker...Our pup now walks by our side in a controlled fashion and his sled-dog style pulling is a thing of the past! The training team did a great job with our boy!

At our Southlake dog training location you will find professional dog trainers with years of experience that know how to handle behavior issues as well as common obedience needs.
We love to help people with their dogs!  We serve dog training needs all over Southlake and Grapevine, Texas!  We specialize in spoiled rotten dogs that need more manners!  The most common problems we help our clients with are obedience issues such as coming when called, loose leash walking, and learning not to jump.
We do a mix of private in-home lessons as well as doggie boot camps where your baby lives with us for a few weeks (pampered of course) and gets 3-4 hours of training a day!  Then we come back and train mom and dad.  Not all dog trainers are the same!  Give us a call on our local line today 817-761-5037.
Hear what some of our Southlake dog training clients have to say about us:
"Tip Top K9 has helped me soooo much get better control over my husky."
"This has been the best training I have ever had and I have worked with 5 other trainers before with different dogs."
"We have seen great improvement in Cupid, she wasn't always responsive to come and other commands and we have seen a vast improvement.  The training makes owning Cupid a lot easier!
"Tip Top K9 took Banjo for 3 weeks and trained him up to be an absolutely amazing dog!  Now he is a brand new dog!
"Adam and his group did an outstanding job training Gypsy and it has been a very successful experience!"
" I have a dog that was very playful but highly disobedient and wouldn't obey commands.  After a few weeks at boot camp Charlie "Comes" "Stays" "Places" and "Heels" like a champ!  We appreciate Tip Top K9!"
Southlake Dog Training Out And About:
Some of our recent Southlake dog training success stories: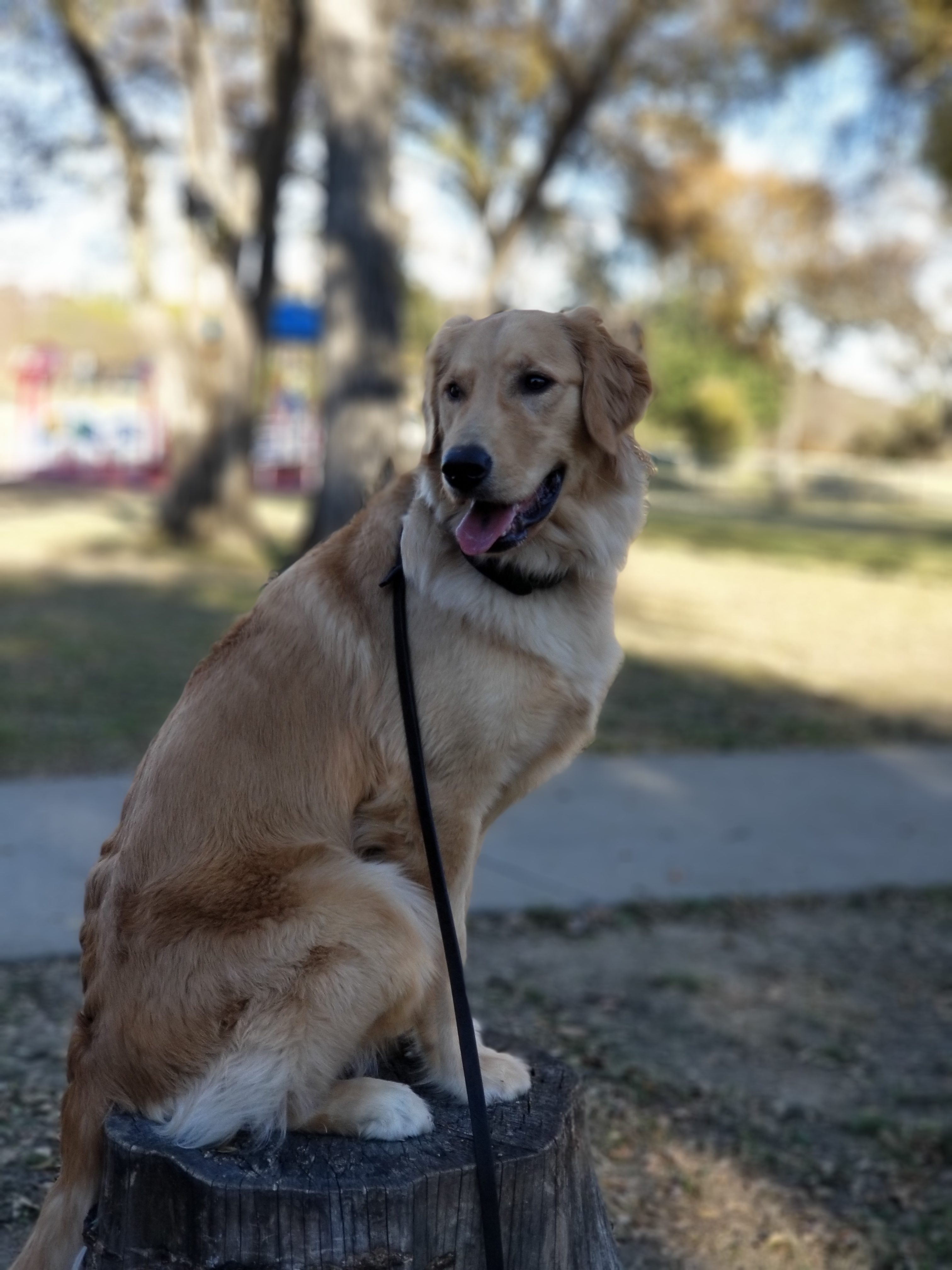 Bella the Golden Retriever
Bella was an out of control golden retriever puppy who couldn't wait to climb you then pull you down the street.  Her heart was in the right place, but she was definitely a handful.  Because of her bad habits her owners Mike and Nicole couldn't really take Bella for a walk or anywhere else for that matter!
After 4 weeks of Bootcamp, her life has drastically changed for the better.  Now instead of running to and jumping all over new people, she sits at your feet and waits for love to come to her.  No need to worry about pulling on the leash either, Bella is now 100% off leash!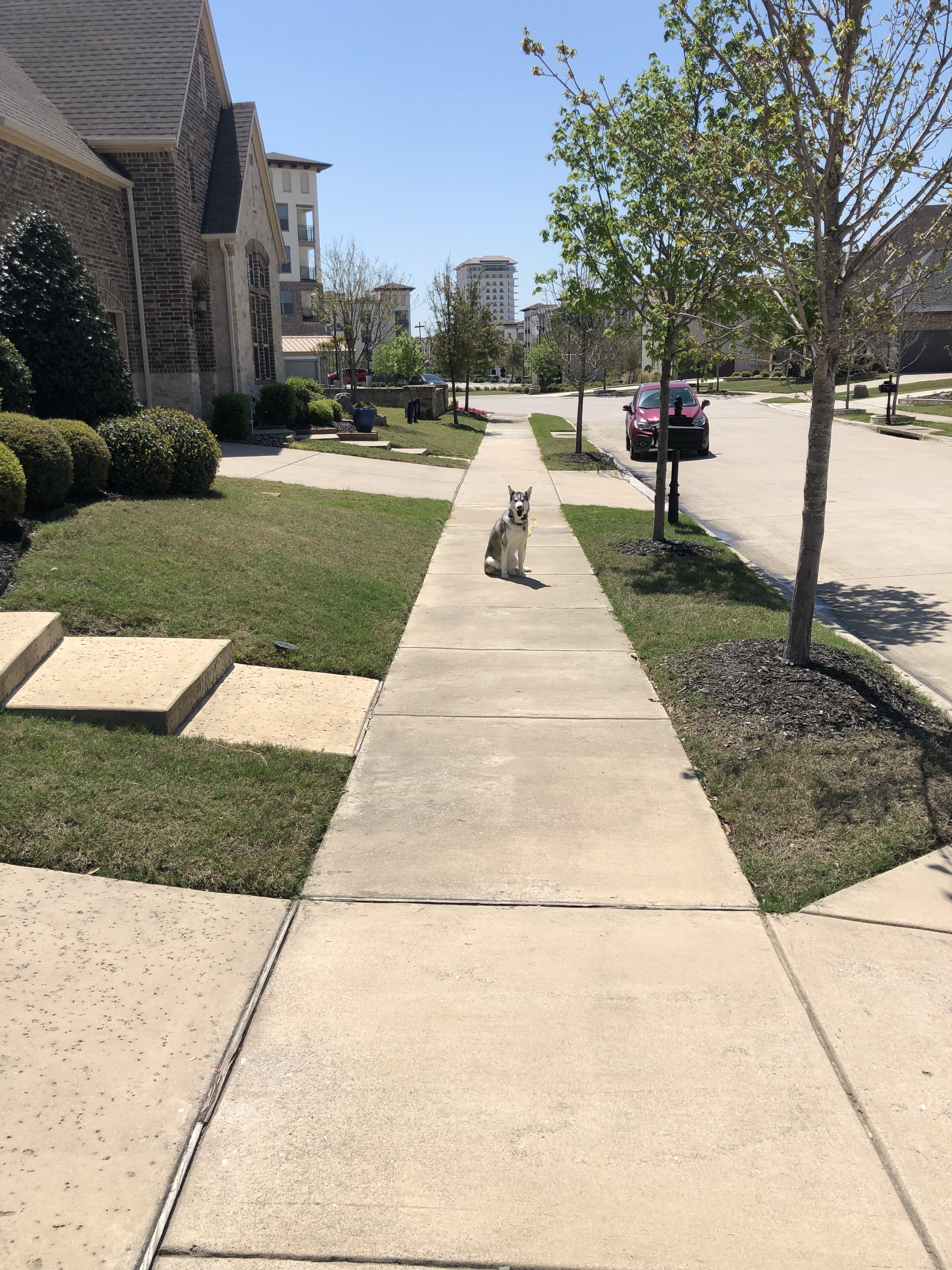 Lucy the Husky!
Lucy was just a small town pup trying to make it in the big city.  Her favorite hobbies were helping herself to the family dinner and long walks around the park pretending she was a sled dog. She hated car rides and listening to anyone who was talking to her. 
Now after 6 weeks of training, she has pulled herself together and is a model citizen.  She still loves walks around the park, but takes a relaxed stroll instead of sprinting to the end of the leash.  She no longer tries to sneak food from the counter when your back is turned, and can instead stay on her bed and watch dinner being made from the living room.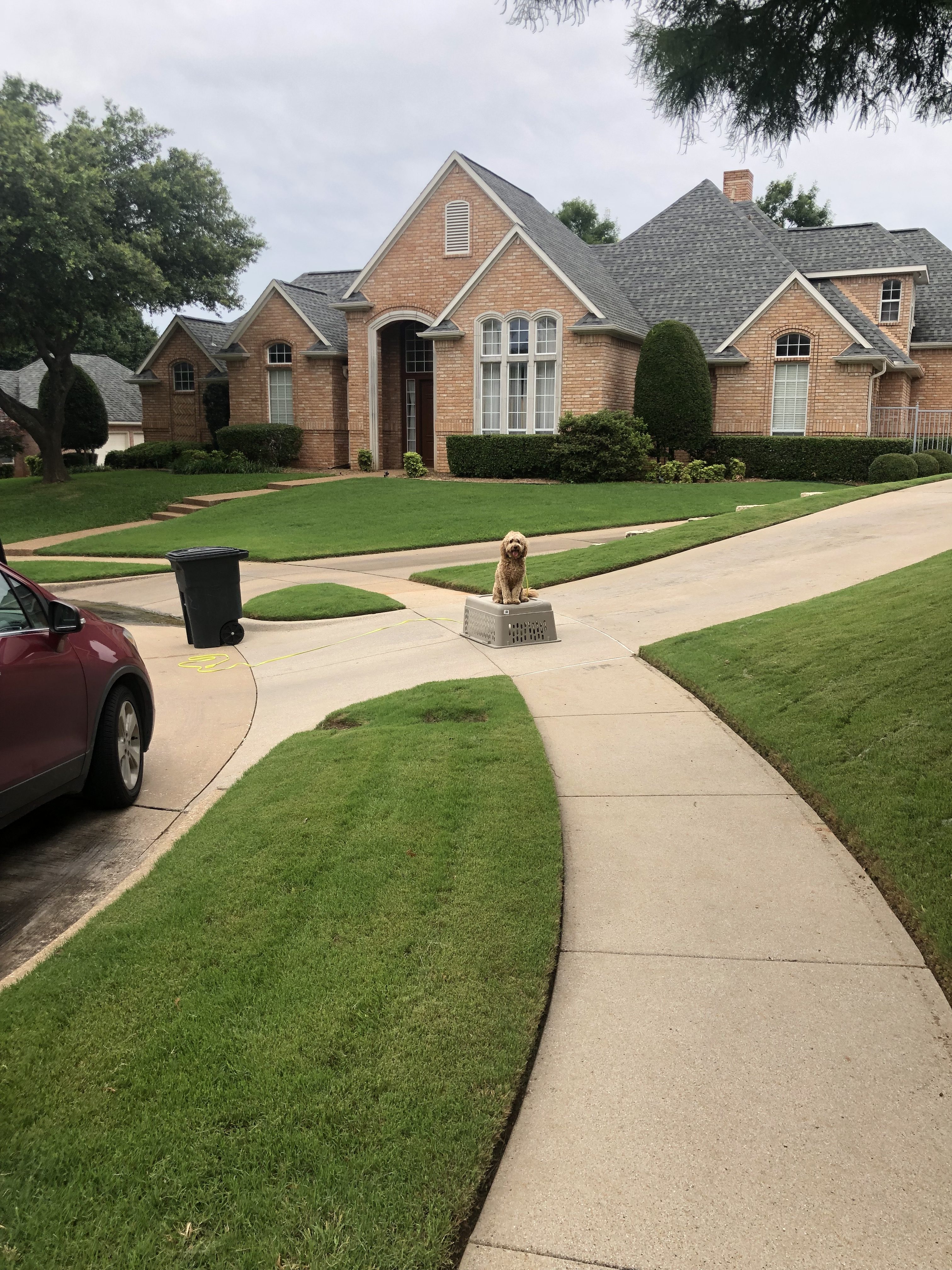 Lulu the Doodle!
Lulu was just your everyday Doodle puppy.  What she lacked in coordination, she more than made up for with crazy.  She was an escape artist and would love to be chased around the neighborhood and parkour through the house!
After just 4 weeks of private in-home training, she had a new lease on life.  Instead of taking off down the street every time the front door was opened, she now just stays on her cot.  Lulu still has her same loving and affectionate personality, but now channels her energy into running laps around the backyard pool instead of the neighborhood!
Talk With a Trainer Today!