Tip Top K9 – Southlake / Keller
We're very happy with our board and train experience and looking forward to group classes also. Adam did a great intro and Kat was fabulous at our family training at the end of the program. We learned a lot and can't wait for more field trips with our goldendoodle. Thanks, TipTop!

Xochi Hulse
20:44 10 Aug 20
Tyler was incredible, she helped me so much with getting my 80LB marmite to calm down. He cane home so relaxed and was VERY responsive. I would recommend to everyone!

Sahil Hussain
19:48 10 Aug 20
I have never been so happy in my life while walking her through the park now!!!!!!!!!!! Tyler, Kat and Sam are the BEST trainers ever!!!!!!!!!!

Paul Wilson
20:10 08 Aug 20
Miracles and a dedicated staff of trainers do happen! We are so fortunate to find the help we needed for our "Angel." She received excellent care and training at Boot Camp. We will remain connected for life just because the staff treats us like family!

Robin Standley
20:08 08 Aug 20
We have a large dog and needed help in control on walks and controlling excitement. They made these problems a breeze to correct.

Kat was great. So patient with Taz who can be a little crazy. Taz is now walking so nicely on leash and well behaved at home. So worth the time and money.

Pam Newkirk
15:38 08 Aug 20
Our 2 year old dog was extremely reactive when she saw other dogs. She would bark, jump, twist, etc. It got to the point that we didn't want to take her for walks anymore. After working with Tip Top we have a totally different dog. We now enjoy our daily walks around the neighborhood.

Shawn Boedecker
19:37 07 Aug 20
Our puppy came home from tip top k9 as sweet an calm as could be. She's a giant breed and with her training she is easy to walk and we feel confident taking her in public.

Mallory Green
22:11 06 Aug 20
Amazing trainers! Very pleased!

We had an amazing experience with Tip Top K9! They were excellent, helpful, professional and a ton of fun to work with! We're excited to continue with lifetime lessons to keep improving! Our dog Lucy had improved significantly after just our 3 lessons and we would highly recommend using Tip Top!

Bradley Roberson
21:01 05 Aug 20
We had a great experience with Tip Top K9. One of our Dachshunds was showing a bit of aggression and we are able to get more control and peace in our household. Great job!

Tera LeGrand
17:51 01 Aug 20
Great place and great staff got my lil monster more calm and more responsive. 3 classes well worth it. Will be signing up for the group classes

Boon Philip
21:40 31 Jul 20
Outstanding results!! Sammy came home a different dog - we are EXTREMELY happy!! Highly recommend!!

Adam Zeitsiff
18:34 31 Jul 20
Hired them for the three class "good dog" plan and it was amazing. Our 80lb 7 year old white German shepherd always pulled us on walks. Now come, sit, place (which is great to have her behave while we eat at the dinner table), and awesome walking skills with heel. Fantastic results and we have access to the group classes for life now. Thank you!

Brian Sutton
23:01 30 Jul 20
Being the parents of an extremely smart, but stubborn, two year old mini Aussie had all but become the bane of our existence as it had become near impossible to control him. As expectant parents of our first child, we realized the importance of making sure he was a model dog prior to bringing home a small person. After our $1 consult, we opted for the two week bootcamp and he is already a different dog. We were worried he'd lose his personality at the cost of good behavior, but that couldn't be further from the outcome! He is still just as goofy and loving as before, but he actually listens and has manners which is more than we could ask for. I couldn't recommend TipTop K9 more if I tried! Absolutely worth the investment as we're much happier and Atlas is much happier!

Dolores Dolan
20:10 29 Jul 20
Our 2yr old Aussie is a changed man! Definitely recommend TipTopK9 Southlake. 🙂

Adam Dolan
20:07 29 Jul 20
Choosing Tip Top K9 was the best decision I could have made for my puppy Cali and myself. I took in an abused dog and within weeks, I was able to manage her anxiety, teach her some important skills, and created a happier living environment. I highly recommend choosing Tip Top K9 dog training for all your doggie needs!

R3lentles5
23:08 27 Jul 20
Didn't think my dog was trainable, but he is completely different and very well behaved

Dennis Ortiz
22:57 26 Jul 20
We have a Sharpei. He was wonderful at home with our family, but aggressive with other dogs & people. We sent him to Tip Top K9 for 3 weeks and he came back a much better & well trained dog. He'll never win a dog show, but he'll be much better around others.Thank you Sam & Kat!

Eric Bartel
16:03 22 Jul 20
Great service, great to work worth, excellent experience and our dog is so much better behaved!

Scott Coleman
23:53 21 Jul 20
Me and my fiancé have a lab and pitbull mix who were both unruly and didn't listen to anything we tried. With only just a few private lessons from the tip-top K9 trainer we already notice amazing results. Highly recommend giving them a try for your dog!

Alexis Pokorny
16:00 21 Jul 20
Tip Top Training is AWESOME! Our dog has become such a sweet puppy to be around!!!! In just two weeks hes become such a well trained dog! Thank you Tip Top!!!!! Cant wait for group lessons 😊

Tip Top Training Is absolutely amazing!!! Our German shepherd went from a super wild and crazy pup into a lovable and friendly dog to be around. Thank you so so so much!!! You guys are wonderful!!

Tinu Pulickal
21:51 20 Jul 20
We are super thankful for the team @ Tip Top. They took in our 5 mo old cane corso who we knew would be a GIANT girl, much harder to train down the line... She came back calmer, sweeter, and very obedient. We are super excited about the future with Echo and our young children! Thank You Tyler and the whole crew at Tip Top.

I'm shocked at how well behaved THEO is after just 3 weeks of training. Before he was jumping on guests, not listening and basically terrorizing our home. But now he's super dog and doing everything we ask him to. Highly recommend the advanced training!!!! Thanks Kadam!

Michael McFatridge
22:50 18 Jul 20
Kat is the absolute best! We absolutely loved every lesson. She treats the pups like they're her own and the training has made life so much easier. Would 100% recommend!

Jaylin Koenig
00:29 17 Jul 20
What an awesome experience for Grace and for our family. Tyler was very informative, thorough and fun while people training. Thanks Adam, Kat and Tyler. Cheryl and John

Cheryl Corpany
17:37 12 Jul 20
TipTopK9 is amazing! Our dog's name is Ozzy, and he is a 9 month old black lab. Before TipTopK9, Ozzy was constantly jumping up on us and was overall really unresponsive to our "commands." Honestly, though, it was just because we had no idea what we are doing and so Ozzy had no idea how to please us! TipTopK9 helped us know what to do, which helped Ozzy know how to please us! He is so much happier now now and so are we. With a new baby on the way, this was exactly what we needed to make sure ALL members of our family are being safe and happy. We 100% recommend TipTopK9 to any and all dog owners!!

Briana Dehler
18:02 11 Jul 20
Our dog came back from training super smart and calm and we are very happy. Our trainer Tyler went over everything with us on how to continue training and helped a lot. I would recommend this to anyone.

Rohait Kanji
00:05 04 Jul 20
I am amazed at how well my grand dog did after her training at Tip Top K9. She can now sit, down and place on command. Thank you Tip Top K9 for everything!!

Jasper, the best camper
19:13 01 Jul 20
Before Tip Top K9 Oakley had little manners and didn't listen when called. After her 2 weeks at Boot Camp, Oakley not only had manners, she listened to all commands. I cannot wait to attend the Thursday or Saturday sessions to continue her training. Thank Tip Top K9 🐶

Mallory Miner
19:12 01 Jul 20
Trixie Belle is trained perfectly . She's a happy girl here and obviously enjoyed her time with Tip Top. Would highly recommend this training company.

dayna fitch
18:36 28 Jun 20
Excellent experience from start to finish! Our golden retriever was very rambunctious and difficult to control and Kat did an incredible job each week helping us train her. I would highly recommend Tip Top to anyone wanting a well-behaved pooch!

Ryan Williams
16:21 27 Jun 20
Adam did a great job with our boxer, Cooper! He is an energetic doggo and had a few quirks we wanted to work out - specifically, jumping on people who walk in the door, barking at people walking by, and walking on a leash. Adam addressed our concerns on the first visit and went through steps throughout the lessons to help correct the things we wanted to work on. By the end of the last lesson, there was considerable visible improvement with the things we wanted to work on and we were also equipped with things we can do to help reinforce what he learned.We would definitely recommend them!

Josh Harding
21:34 18 Jun 20
We had a great experience with tip top k9 and learned so much! We have a very hyper stubborn boxer who is now on the right track! 🙌🏻

Ashley Harding
21:30 18 Jun 20
Dropped our 4 month wild German Shepard off with tip top k9. We chose the advanced training we couldn't be happier with the results amazing total different dog :) extremely happy with the outcome worth every penny!!

Dalton Faison
19:25 18 Jun 20
Absolutely amazing. We have a bluetick hound, when the nose is down the ears are off and constant barking, he would pull horribly on a leash the point he would knock me down. After the first initial visit- game changing. We completed our sessions and he is a completely different dog. They not only train the dog,but help you gain control. Highly, highly recommend!! Can't wait for group class!

Kristen Doan
23:38 15 Jun 20
Tip Top helped transform our unmanageable dog Kosmo into a delightful, well trained dog. We are excited about the continuing, free, lessons on the park each week. Kosmo has made tremendous progress when we thought it was hopeless.

Lee Spilker
19:55 15 Jun 20
I would recommend all services provided by Tip Top K9 Southlake. My goodness my Dog has been taught some valuable stuff as well as myself. I am definitely one happy customer!

Cheryl Albert
19:49 13 Jun 20
We have a young doberman that we rescued who showed signs of being a jerk to strangers, and in general. Tip Top K9 worked with him (and us!) Through proven techniques, he has quickly become a more enjoyable member of the family and no longer a concern to take in public. We made the right decision going with them. Thank you!!!

Tony Ferina
01:39 05 Jun 20
I am so proud of my good boy "Mello" not only is his behavior better we understand each other. Our respect for each is like night and day. Thank you for keeping me informed while he was away because I was going through momme withdrawals. Look at my big man.

Benora Thomas-Kennedy
20:18 03 Jun 20
Adam and Kat are great trainers! In just a couple of sessions, our pup's manners have greatly improved. They are both so kind and patient. The 1:1 sessions are great, and I especially like that we can go to as many group sessions as we need. Last week, it was just four dogs at the group class- we got tons of personalized attention, while also getting to (social distancing) socialize with other families.

Genevieve Davis
15:05 02 Jun 20
Adam has been amazing at helping us train our lab puppy. She's been much more confident and it has been a life changer for us (as well as her poor throat) because she isn't dragging us on the leash anymore. Thank you so much for changing our lives and Twinkie's!

Our yellow lab was fearful and didn't listen to us at all, especially when distractions were around. She pulled so hard on the leash that it was miserable walking her. After three lessons, she walks with us on a loose leash, she listens to us no matter what distractions are present, and she's so much more confident! Highly recommended, can't believe how effective it was!

Joe Sienkiewicz
17:52 29 May 20
This training exceeded my expectations! The methodology is fantastic and my dog retained everything. In 1 session, we had immediate results. Highly recommend!

Tynea Valentine
17:43 21 May 20
At our Southlake dog training location you will find professional dog trainers with years of experience that know how to handle behavior issues as well as common obedience needs.
We love to help people with their dogs!  We serve dog training needs all over Southlake and Grapevine, Texas!  We specialize in spoiled rotten dogs that need more manners!  The most common problems we help our clients with are obedience issues such as coming when called, loose leash walking, and learning not to jump.
We do a mix of private in-home lessons as well as doggie boot camps where your baby lives with us for a few weeks (pampered of course) and gets 3-4 hours of training a day!  Then we come back and train mom and dad.  Not all dog trainers are the same!  Give us a call on our local line today 817-761-5037.
Hear what some of our Southlake dog training clients have to say about us:
"Tip Top K9 has helped me soooo much get better control over my husky."
"This has been the best training I have ever had and I have worked with 5 other trainers before with different dogs."
"We have seen great improvement in Cupid, she wasn't always responsive to come and other commands and we have seen a vast improvement.  The training makes owning Cupid a lot easier!
"Tip Top K9 took Banjo for 3 weeks and trained him up to be an absolutely amazing dog!  Now he is a brand new dog!
"Adam and his group did an outstanding job training Gypsy and it has been a very successful experience!"
" I have a dog that was very playful but highly disobedient and wouldn't obey commands.  After a few weeks at boot camp Charlie "Comes" "Stays" "Places" and "Heels" like a champ!  We appreciate Tip Top K9!"
Southlake Dog Training Out And About:
Some of our recent Southlake dog training success stories: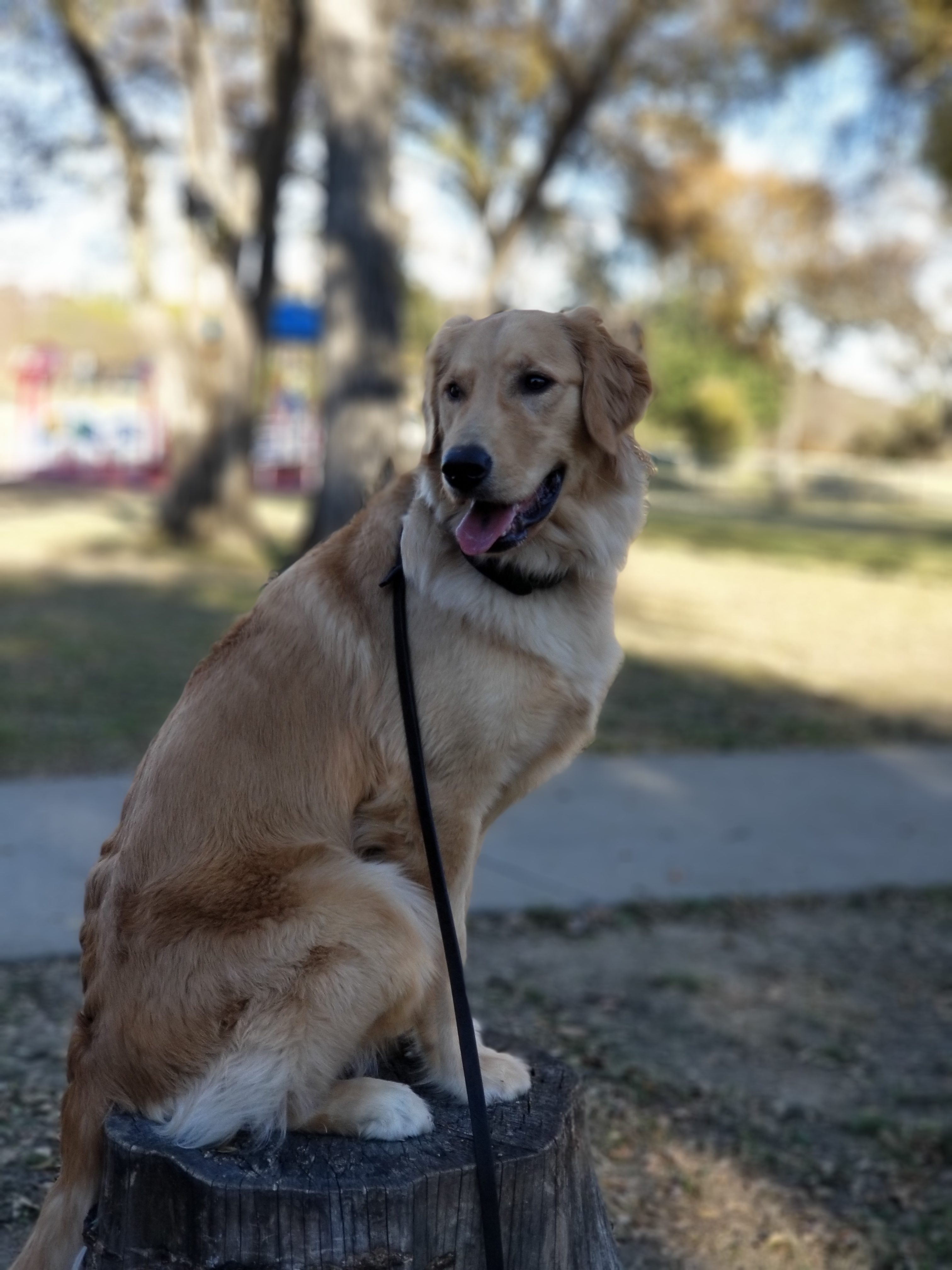 Bella the Golden Retriever
Bella was an out of control golden retriever puppy who couldn't wait to climb you then pull you down the street.  Her heart was in the right place, but she was definitely a handful.  Because of her bad habits her owners Mike and Nicole couldn't really take Bella for a walk or anywhere else for that matter!
After 4 weeks of Bootcamp, her life has drastically changed for the better.  Now instead of running to and jumping all over new people, she sits at your feet and waits for love to come to her.  No need to worry about pulling on the leash either, Bella is now 100% off leash!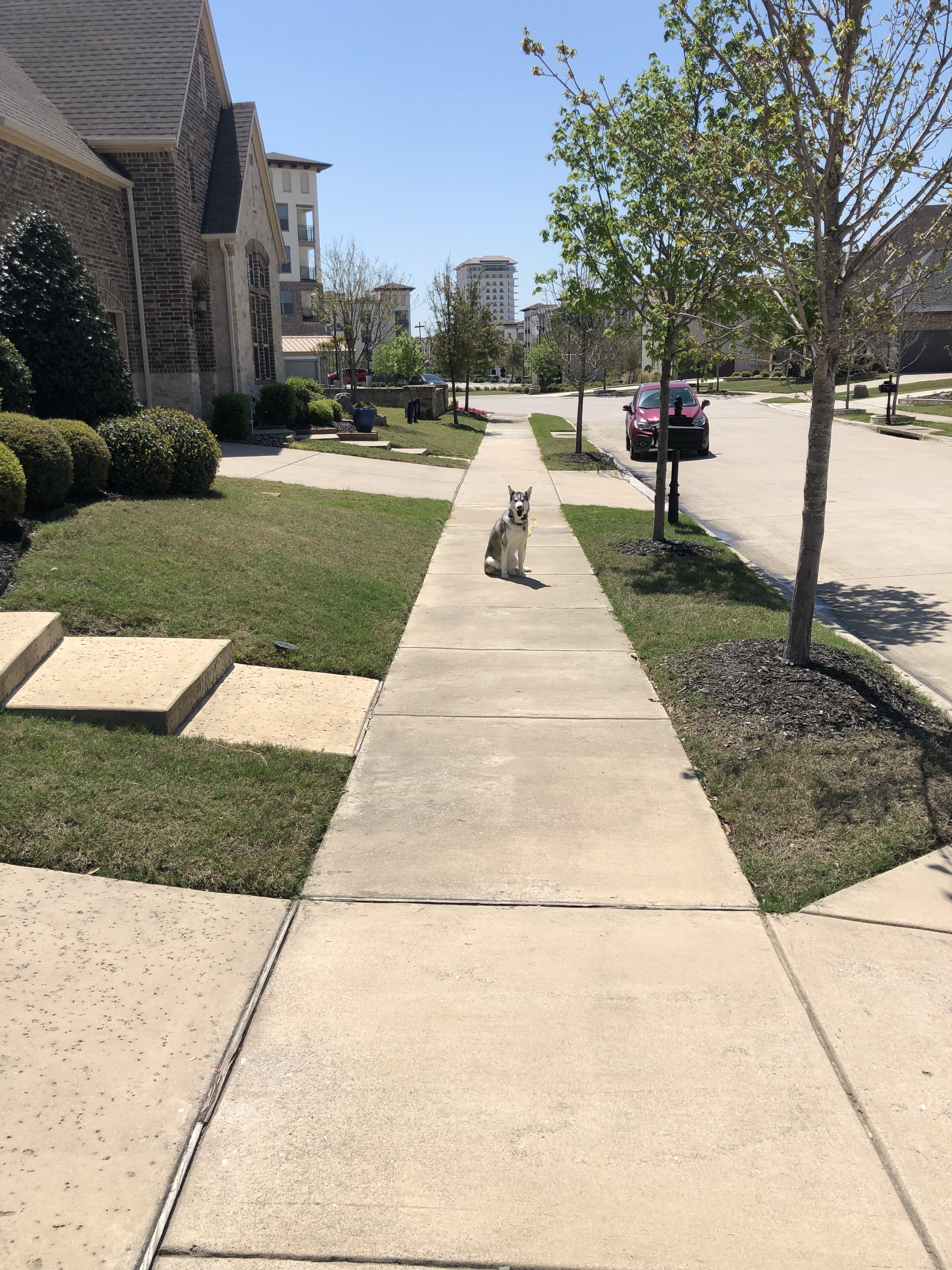 Lucy the Husky!
Lucy was just a small town pup trying to make it in the big city.  Her favorite hobbies were helping herself to the family dinner and long walks around the park pretending she was a sled dog. She hated car rides and listening to anyone who was talking to her. 
Now after 6 weeks of training, she has pulled herself together and is a model citizen.  She still loves walks around the park, but takes a relaxed stroll instead of sprinting to the end of the leash.  She no longer tries to sneak food from the counter when your back is turned, and can instead stay on her bed and watch dinner being made from the living room.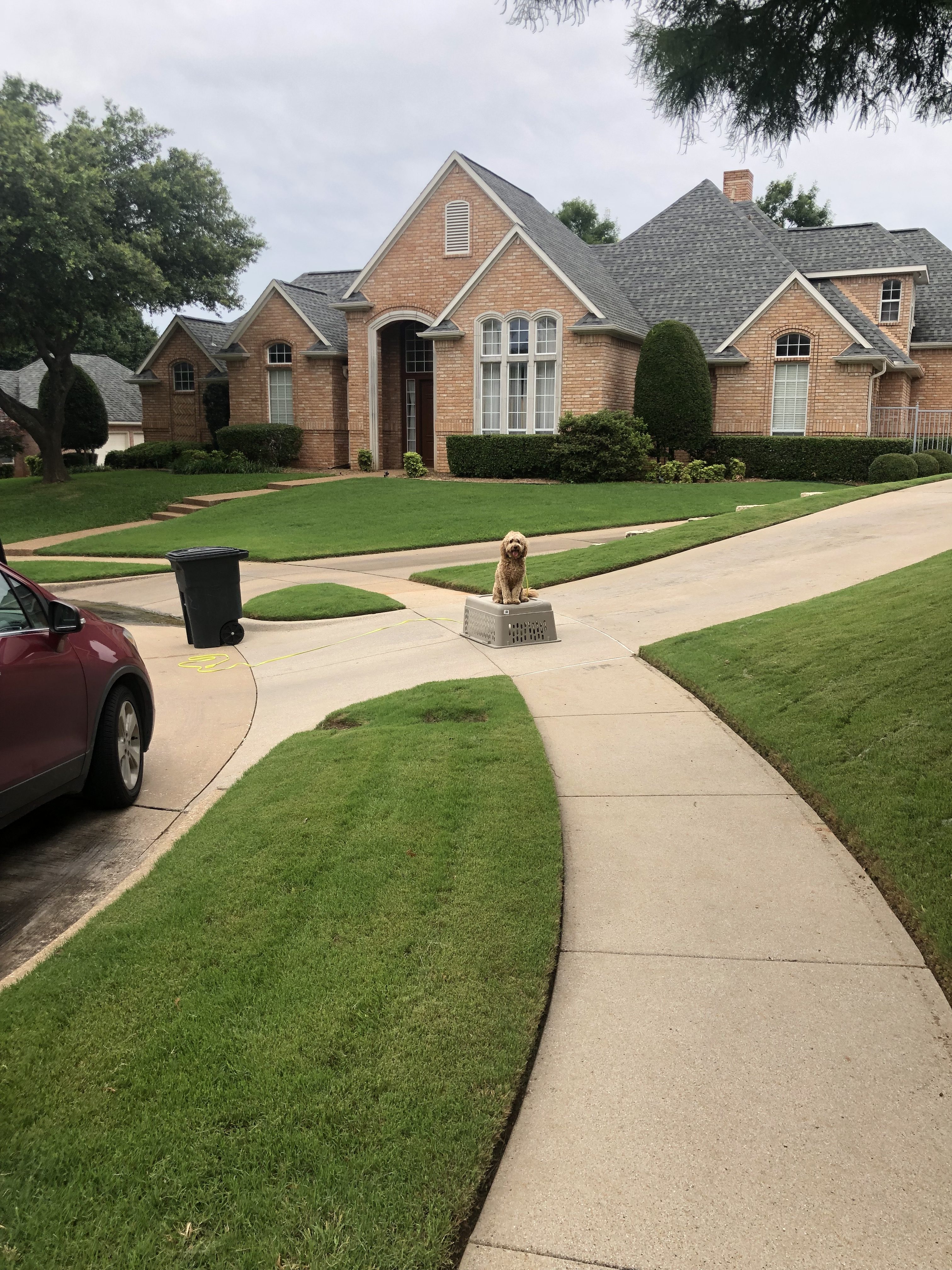 Lulu the Doodle!
Lulu was just your everyday Doodle puppy.  What she lacked in coordination, she more than made up for with crazy.  She was an escape artist and would love to be chased around the neighborhood and parkour through the house!
After just 4 weeks of private in-home training, she had a new lease on life.  Instead of taking off down the street every time the front door was opened, she now just stays on her cot.  Lulu still has her same loving and affectionate personality, but now channels her energy into running laps around the backyard pool instead of the neighborhood!
Talk With a Trainer Today!