Love TipTop K9. Our dogs are so much better-behaved. We did the individual classes and the trainers are awesome.

Robin Ambrose Kirkham
00:01 24 Jun 22
Such a great experience. Excellent demeanor with the dogs. We did the private lessons and the were well worth the expense. Thank you!

Worth every penny! My chihuahua mix dog is so stubborn and hard to teach to listen to us and behave on a leash. After this training, we've seen huge improvements on his behavior. It's a life changer for sure! Josh was great to work with and Ellie did a wonderful job training Coffee!

Marcela did an amazing job with our two wild doodles. We were blown away by the progress they made by the end of the lessons. We're so excited to be able to take our dogs out and trust they will be safe and well behaved!

Danielle Faulkner
00:00 14 Jun 22
We worked with Marcela for our 2 doodles and she was great. After 4 sessions they're already miles ahead of where they started. Would definitely recommended

Jeff Cartwright
23:58 13 Jun 22
We had such a great experience! Josh is awesome. Highly recommend.

Mando is a totally new dog. He came back so well behaved and listens to all of his commands for us. After a dog fight I have had anxiety for weeks but Ellie was so nice at reassuring me how sweet Mando was and training me to be able to control him in all situations, I was so anxious about getting him back but I feel significantly better now seeing his progress . Ellie and Marcella are my heroes truly. Also wanted to give a shout out to josh- from the beginning he helped ease my nerves about the whole situation, gave me real advice and helped me work though my dogs difficult behavior. Thank you Tip Top so much from the bottom of my heart.

Zach Smith
22:47 10 Jun 22
They did amazing with my dog! He struggled listening to commands. He now can come when I asked and off when I don't want him on people. What a dream. Ellie came and did the home training with us and was amazing. Answered all my questions and made sure we felt comfortable with everything! Thank you Ellie, Josh, and Marcella for all the work you put in with our boy!

Marcela was AMAZING!! She came over and did private lessons with my little Shih Tzu Yorkie mix and we were amazed by the results. I would definitely recommend Tip Top K9 to anyone!

Corby Saddler
23:47 02 Jun 22
We have been very happy with our experience working with Tip Top! Josh was very thorough and communicative throughout the whole process. We just recently picked up our girl from training but are very pleased with her progress!

Laura Guevara
21:24 23 May 22
Ellie, Marcella, and the team at Tip Top did an amazing job training our dog Hollie. They were very knowledgeable, and skilled. They listened to our concerns and were very reassuring through out the whole process. You can tell how much they love dogs. We highly recommend Tip Top k9 Training

Pibs Exhange Sugarhouse
02:35 22 May 22
Josh is amazing. Just had a great group class. Love the brush up classes that you give as part of her training she had.

Debbie Pickett
19:29 21 May 22
Tip top was super professional and our dog trained super well with them! Very happy with our dogs results!!

Tanner Minnick
19:27 21 May 22
Money well spent! We put our two 7 month old golden doodle puppies through the training and have been pleased the progress during the training. We can't wait to keep watching their progress. Thanks Josh and Pete!

Symbree Minniear
17:03 21 May 22
Definitely recommend training with them, the difference in the dogs was absolutely insane. Josh was excellent. Spent plenty of time helping us and answering questions to make sure we were ready to use what they learned.

Very happy with our experience with Josh. He was very thorough and never rushed and allowed us to feel comfortable before moving on to the next task. He clearly loved our dogs just as much as us! He took great care of them and did an amazing job.

Excellent experience, I was amazed at how well our dog responded to the training!

Kevin Pace
01:37 17 May 22
Awesome experience! We are so pleased with the results!

Samantha Yee
01:34 17 May 22
Very Impressed with the entire process.

Jason Pace
01:34 17 May 22
Tip Top K9 was the perfect solution to all of our concerns for our puppy! The 6 week course has completely turned our Jade around, we wouldn't be where we are with her if it weren't for you guys! Thank you so much!

Tip top k9 did a great job training our puppy! He struggled with anxiety and some agression as well as chewing everything. They helped him so much! He listens so well and is doing great around strangers where he used to be so nervous! He was well taken care of during his stay here and we would recommend this training to everyone!

Caitlin Mangum
18:34 07 May 22
Josh did an amazing job with both of my dogs. I noticed a change in their behavior from the first class and consistently improved throughout the training sessions!

Mark Wagner
00:47 03 May 22
Josh was amazing with our dogs! My pup is a changed man, we can actually take them for walks without having any issues. No more pulling when people or other dogs walk by. Truly life changing for the pups and us!

Anita Wagner
00:47 03 May 22
Absolutely the best dog training in the country!! Their method is sustainable, easy to understand and effective! My dog is so much happier since training with Tip Top K9. The trainers are ELITE, professional and personable. Everything about this training program is incredible!

Ashley Dayley
13:26 28 Apr 22
Josh was an amazing trainer! Highly recommend tip top k9. My dog dolly hase had a major change and listens really well now

Brayden Rasmussen
23:32 14 Apr 22
We had the best experience with Tip Top K9! We had a completely unruly golden retriever who was mouthy, jumped on everyone, chewed on everything, pulled on the leash, just was a crazy pup! She is now night and day different. We are so grateful the training!!

John Harrison
00:29 12 Apr 22
Great experience! Thank you for all your help with Cowboy! She's doing so well in such a short period of time! I'm excited she's becoming our well behaved dog.

D. Diamond
16:59 08 Apr 22
Josh trained Zulu for the boot camp offered by Tip Top K9. Zulu had already received training in the past, but nothing to this caliber. Zulu is an entirely different dog, but more importantly I feel prepared to take him anywhere with me. Absolutely awesome experience!

Erik Mullins
01:16 08 Apr 22
We had the pleasure of working with Tanner and he was so great!!!! He really helped us with our two dogs. (One is older and stubborn and one is a puppy and stubborn.) And yet Tanner had only patience and kindness when working with both us and our dogs. (We've done other trainings with different companies before… but it always felt like we were killing our dogs spirit and joy). But with Tip Top K9 we've seen immediate improvements and it felt like our dogs were enjoying the training and learning process, while gaining great skills to use in the real world. I would recommend Tip Top K9 to anyone looking for effective and kind training for their dogs.

Jacqueline Williams
19:52 02 Apr 22
Tip Top K9 has been amazing! Tanner was our trainer and he was great! Our dogs have learned so much and are much better behaved than before training. We've tried 2 other trainers in the past and nothing has worked as well as this. We definitely recommend them!

Spencer Bierman
19:24 02 Apr 22
Great experience overall, Maxwell had helped us work with our dogs to become more obedient and listen much better. Would recommend to anyone with a dog.

Gage Emond
16:31 02 Apr 22
Ellie and Marcela did an awesome job with our pup! They helped her not want to bite my ankles on walks! They do a great job at training. Thanks, Tip Top K9!

Amber Thomsen
00:43 02 Apr 22
Tip top is awesome. We had them have our dog for boot camp and she so much better behaved.

Chris Thomsen
00:42 02 Apr 22
Josh is amazing. My dog came back a new and improved dog. Definitely worth it!

Sheri Plagge
23:18 26 Mar 22
Highly recommend Josh at Tip Top K9. He helped train our puppies and we couldn't be happier. The private lessons fit into our schedule perfectly and the weekly homework was easy to complete. Thanks Josh!

Jazz White
20:53 26 Mar 22
Josh has been awesome to work with! We are so happy with the results from the training. 10/10 would recommend.

Gabby Skoczylas
20:47 26 Mar 22
Josh was awesome with our puppy! 🐕 Excellent trainer!!

Bonnie Marsden
01:00 05 Mar 22
Josh and his team are amazing.My dog was a little wild so I was nervous they could not do what they stated but I was 100% wrong he came back an entire different dog way more mature and following every order it was amazing. Do yourself a favor and go for the mid range Boot Camp it is worth the dough!!! ✌️😎⚔️🇺🇸💯

Brett Pace
18:32 04 Mar 22
These guys were amazing. We are so impressed with the progress that we were able to make with our puppy in improving his behavior and obedience. We read a ton of these reviews prior to choosing Tip Top and we are happy to add our positive review to the others. One thing we were surprised by, but became comfortable with, was the use of the e-collar, we were surprised no one else mentioned it but it really helps getting the dogs attention. Overall, Josh was amazing!!!

David Stromberg
18:49 26 Feb 22
It was such an awesome experience getting our dog trained by Josh. It was incredible to see how well Pete (Josh's dog) was trained and to be able to see his example. Maxwell also offered great training tips and it is fun to show off how well trained our little Chewie is now.

Anne Stromberg
18:36 26 Feb 22
We have had the best experience with Josh at TipTop K9! Our St Berdoodle loves him and learned so much and I did too. Our pup is so much more well behaved. We highly recommend this training. Totally worth it!

Ashley Garcia
23:47 25 Feb 22
Very very satisfied with my dog she is part of the family and now I feel a valuable asset to keep my family safe as( LADIE ) is now very strong me and wife and kids are now able to keep control so much better I am very pleased with how loving and gentle JOSH ,ELlie, were with her I feel I can now enjoy my dog much more 😀

caleb stevens
22:14 22 Feb 22
We really enjoyed working with Josh at tip top K9.

Sarah Strong
22:09 22 Feb 22
Josh and the entire team at Tip-Top K9 are truly dog whisperers! Our five month Aussie came back from boot camp fully trained and extremely well mannered. She was already sweet and now she is calm, attentive and obedient 100% of the time!

Christine Wzorek
01:06 19 Feb 22
Our rowdy dog came back to us, with better behavior and listening skills.

Beth Price
21:00 14 Feb 22
Josh was fantastic to work with, and I can see such a huge difference after one quick week of training! I would highly recommend them to anyone looking to have a well trained dog!

Adam Price
20:59 14 Feb 22
Wonderful service. Always kept us in the loop and was really great with our dog!

kajsa ahrendsen
22:29 12 Feb 22
Our West Jordan dog training location is one of the top rated locations in the state of Utah!
There are many dog training options in Utah but at Tip Top K9 West Jordan your first lesson is only $1.00!  We specialize in a 2 – 4 week board and train program where your precious fur baby comes and lives with us and then we bring you back a well behaved citizen!  We also do private lessons at your house if that is an avenue you would like to investigate. 
We always start with a $1.00 first lesson so call us today at (801) 889-2710.
Real West Jordan dog training clients:

"She's completely different in her behaviors."
"I totally would recommend Tip Top to anyone who has a stubborn dog."
West Jordan Dog Training Out And About:
West Jordan dog training success stories: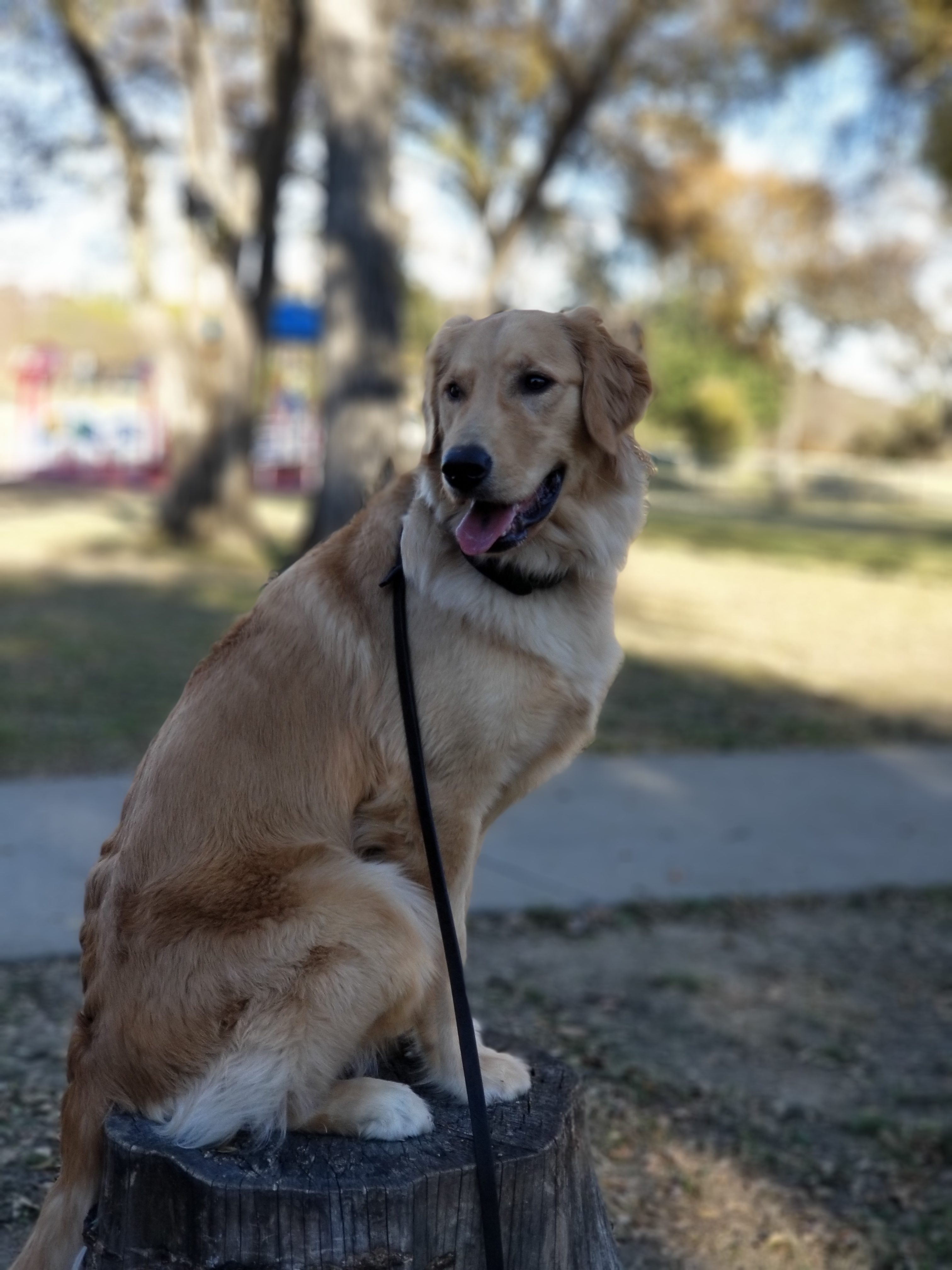 Bella the Golden Retriever
Bella was an out of control golden retriever puppy who couldn't wait to climb you then pull you down the street.  Her heart was in the right place, but she was definitely a handful.  Because of her bad habits her owners Mike and Nicole couldn't really take Bella for a walk or anywhere else for that matter!
After 4 weeks of Bootcamp, her life has drastically changed for the better.  Now instead of running to and jumping all over new people, she sits at your feet and waits for love to come to her.  No need to worry about pulling on the leash either, Bella is now 100% off leash!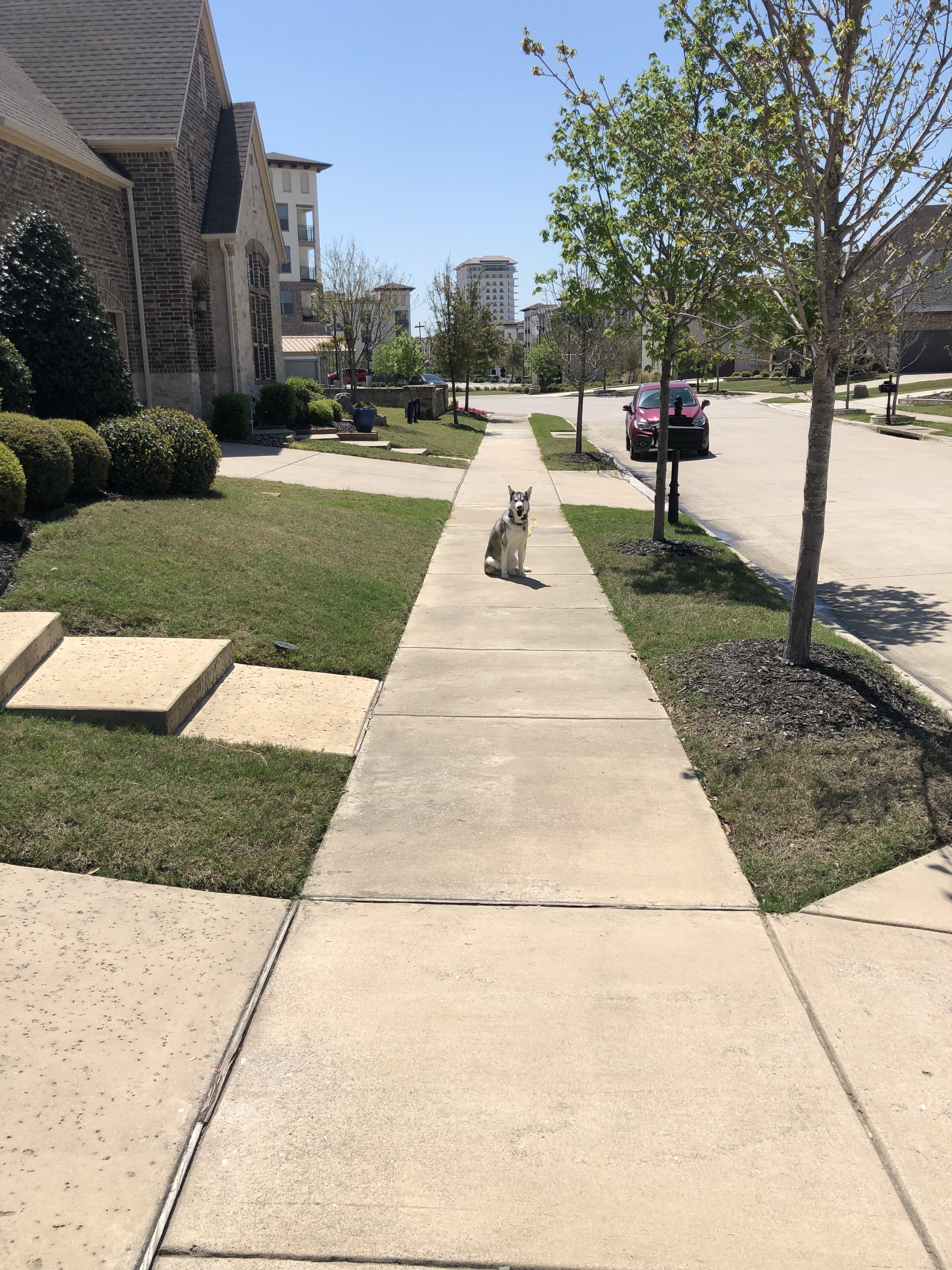 Lucy the Husky!
Lucy was just a small town pup trying to make it in the big city.  Her favorite hobbies were helping herself to the family dinner and long walks around the park pretending she was a sled dog. She hated car rides and listening to anyone who was talking to her. 
Now after 6 weeks of training, she has pulled herself together and is a model citizen.  She still loves walks around the park, but takes a relaxed stroll instead of sprinting to the end of the leash.  She no longer tries to sneak food from the counter when your back is turned, and can instead stay on her bed and watch dinner being made from the living room.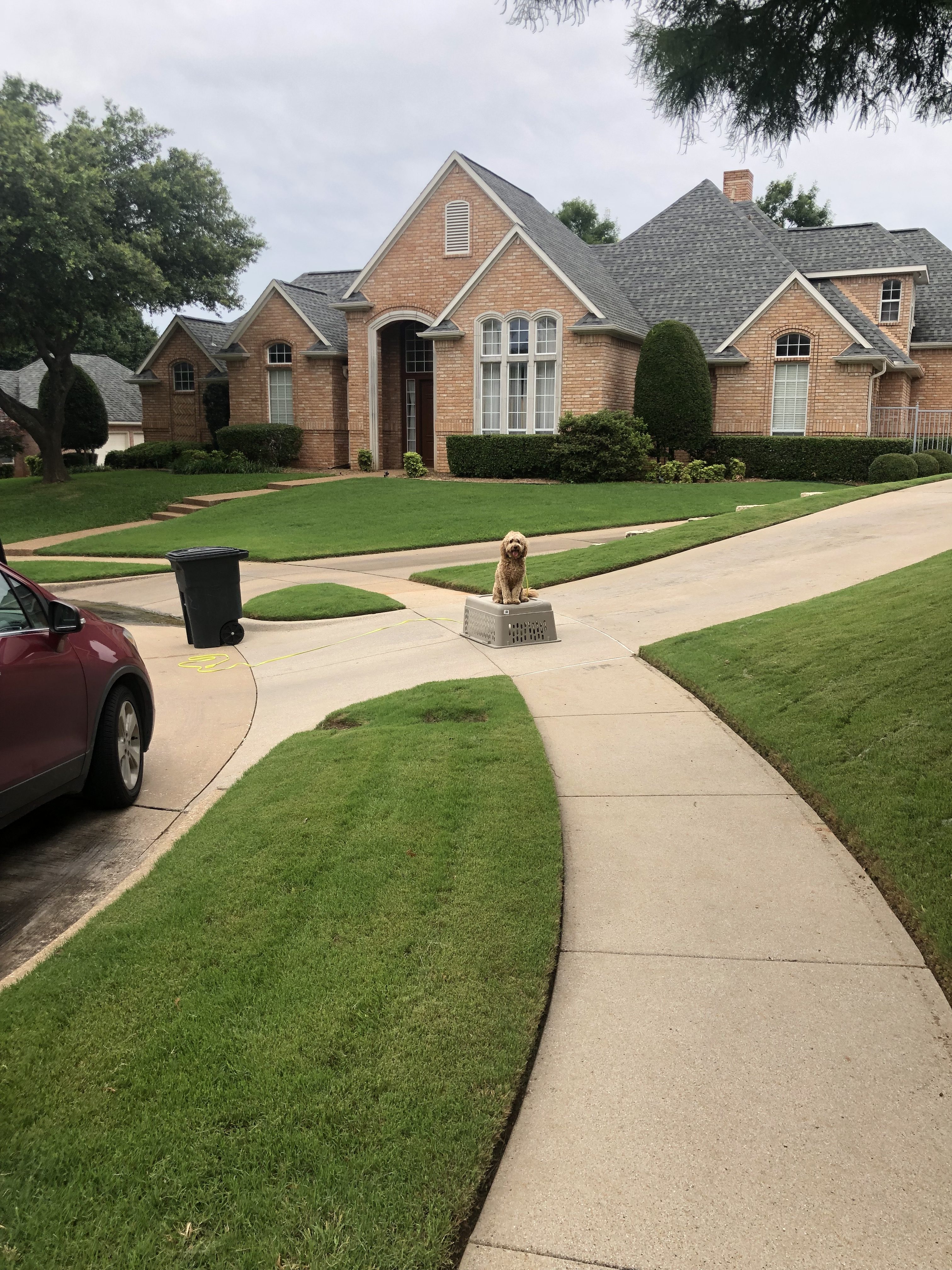 Lulu the Doodle!
Lulu was just your everyday Doodle puppy.  What she lacked in coordination, she more than made up for with crazy.  She was an escape artist and would love to be chased around the neighborhood and parkour through the house!
After just 4 weeks of private in-home training, she had a new lease on life.  Instead of taking off down the street every time the front door was opened, she now just stays on her cot.  Lulu still has her same loving and affectionate personality, but now channels her energy into running laps around the backyard pool instead of the neighborhood!