Tip Top K9 – Oklahoma City
These people are amazing with animal's

Rhonda Jeck
14:05 28 Jun 20
I had my English Bulldog trained by tip top K9 in personal training lessons and let me tell you it was awesome!! Before tip top she listened to nothing and went crazy when people or other animals came around. Now, I walk her without a leash and she's calm. She still has the same loving lazy bulldog personality but now she has obedience and listens too commands!! I would recommend these guys to anyone, they were great to work with. I even learned a lot it was fun!!!

Kenneth Cooley
01:50 24 Jun 20
They worked so hard with our stubborn girl. She was such a problem child before we sent her to Tip Top and after 6 weeks she is a totally different dog. I look forward to seeing her to continue to grow. I HIGHLY recommend.

Joseph Tonnsen
16:21 21 Jun 20
Our experience here was excellent! Love the people and Murray received wonderful training. Love the pics and updates also ❤️

Katelyn Kahrs
17:03 19 Jun 20
Our dog came back an angel and he was a maniac!! Best employees, taking our other pup now too 🙂

Kassie Kahrs
17:03 19 Jun 20
So impressed with Reagan and his ability to work not only with our dog Mollie, but also his ability to teach her humans how to best interact and train her for our family. It absolutely was worth the investment in every single way!!

Tamra Crabtree
17:13 18 Jun 20
Absolutely loved having Luna go to tip top K9! Super sweet trainers and Luna has learned a lot of new things🤗

Sabrina Springer
19:11 17 Jun 20
Tip Top K9 did a wonderful job training our stubborn dog, King. They put a lot of work I to making sure he was worked until he was up to par with their excellent standards. We couldn't be happier with the results!!

Tip Top K9 did awesome work with our dog King. Home drop off was awesome. They made sure we understood every We needed to and made sure we were 100% happy before turning King back over to us. Would recommend for everyone.

Chad Reineke
19:50 15 Jun 20
We enjoyed our experience with Tip Top k9 very much our dog learned so much. The trainers are very knowledgeable and Worked with our work schedules with him I very much appreciate it . Now looking forward to group class.

Stefany Ramirez
00:13 11 Jun 20
We just got done training our Dobermann Drago and Seth and Kylee were AMAZING! He is now a much better behaved dog. We are looking forward to group class! Worth every penny.

edgar ramirez
00:09 11 Jun 20
I really don't know what I would have done without Tip Top K9! When we adopted Bella, a 3 year old pit/boxer mix who was on death row, she was the sweetest thing ever. However, a couple months in, she'd gotten comfortable with us, and began to get very aggressive towards outsiders being in/around our house, as well as pretty much any other dog. After getting in fights with at least 2 dogs who entered our unfenced yard with no handlers, and biting a maintenance man's shoe, something had to give. I searched around Google trying to find someone who could help. Called a few places, and Tip Top K9 was the first to respond and answer questions that I had. While they did say they couldn't guarantee completely training out the aggression, I was down to try anything or we'd have to get rid of her, and I knew, if the pound got her again, she wouldn't survive. When Seth first showed up, I was honestly pretty nervous. Who wants to help a dog who's going to injure them? And she definitely tried. He approached her, she snapped and barked at him, attempting to bite him. But after putting the E-Collar on, she backed off pretty quick, and he assured us that meant she'd be able to be trained. So off we went, and had Reagan working with us. We started our first 3-4 lessons muzzled and cautious. She wasn't a fan and definitely wasn't pleased with what was happening. By the end of the 4th lesson, I removed the muzzle and she only approached Reagan for kisses. The last 2 sessions, she saw him pull up and would go into a defensive posture, hackles raised and growling, but as soon as she saw who it was, she went to wagging and pulling to give him more kisses. We absolutely loved working with Reagan, and Bella truly is a changed dog. She had shredded many blinds trying to get to people and dogs outside, now she barely grunts if she hears them. We can walk her now without worrying about her taking off after everything. She still bears some aggresion towards other dogs and unknown people entering our home, but we will continue to work with her and go to group classes. Hopefully in the future, she'll be able to be around other dogs and just be. Worth every penny. Thank you so much for all y'all do!

LeAnna Glenn
17:57 09 Jun 20
Met all my expectations with my 6 month old Bernedoodle. They previously worked with my Golden Doodle, and did so well with him, that I had to come back to them with my new puppy Rumble. I would recommend them to anyone!

Mazie Curry
20:01 08 Jun 20
They did a really great job getting Stella to listen and be responsive to commands. I was worried about her personality changing but she came back just as happy as ever.

Clayton Day
19:51 07 Jun 20
Tip Top K9 exceeded our expectations! We are blown away with the results. The training took 6 weeks and we are very impressed with everything he has learned. Henry is well trained and still has his fun-loving personality. Thanks Tip Top K-9 OKC!

A.J. Abblitt
23:21 05 Jun 20
They trained our dog perfectly for almost six weeks! They were so nice and attentive. Highly recommend.

Grace Abblitt
23:18 05 Jun 20
I was looking for a dog trainer for my Rhodesian Ridgeback. He was already a good listener for me, but would test my wife. From the first meeting with Seth I knew this was going to be a great fit. My boy was away from us for the whole 6 weeks, but the level of training he came back with was superb. I can't recommend this company more. This is the last place you need to look for a great K9 training experience.

Will Devine
17:46 05 Jun 20
The trainers did a great job with our German Shepard. The improvements are amazing- from pretty out of control to very obedient.

Stephanie Hunsaker
00:26 03 Jun 20
They did an amazing job with my 2year old husky, an absolute 360 turn around in his behavior.

Julia Finch
19:39 31 May 20
Preston was great in training my daughter's Siberian Husky. The results were well beyond pur expectations.

Mardesia Finch
19:36 31 May 20
There aren't enough words but I will try to keep it short- TIPTOPK9 Has been a life savor for BOTH our fur babies and us. It was hard to see our fur babies so stressed without training. It was stressful for us as well. But Preston, Raegan, EVERYONE, just so amazing. I couldn't thank them enough. I still can't. My fiancé and I couldn't be happier. It's worth every penny. Invest in your fur baby(s) if you love them and they will love you even more for it. They are always informative and if they don't know, they'll figure out a way. Thanks again guys!!!

Joanna Lee
16:43 31 May 20
My Mati is a different 🐕 she loves to be walked and socialize with humans the training made that possible. thank you

Elena Troya
22:33 27 May 20
The staff did a wonderful job with my rescue shepherd! He is now more confident, does a wonderful heel, and is showing social skills with other dogs! Appreciate all the extra effort they put in!!

Bear Gammell
20:18 27 May 20
We just picked up Nellie, our German Shepard, from Tip Top K9 Dog Training Boot Camp. They are awesome people that really care about your dog and the training they give them. If you are considering getting your dog some training I would recommend checking them out. They are based in OKC. We are very happy with the results from the training and after they finish the Boot Camp or other training of your Choice they have follow ups classes twice a week at no charge. Thank you Tip Top K9!

Gary Payne
22:16 22 May 20
Nellie was so all over the place & would not listen at all. Now she listens to all the commands & we have the control. We will be getting a male pup in June & we will be bringing him for boot camp. Super fantastic people & they love your dog. They kept in touch every week with us & sent us pictures. Thank you Preston & Kylee we love you guys & will definitely recommend Tip Top K9. See you soon.

Donna Payne
20:16 22 May 20
I'm thrilled with the work they did with my do. I would recommend their training for every dog.

Denise Keller
16:55 22 May 20
Amazing service and definitely worth it! Reagan was the trainer who worked with us and it's like night and day with how well our dog listens to commands. 100% will recommend Tip Top K9 to anyone having behavioral issue with their dogs!

Fantastic trainers: really understand the dogs, super intuitive instructions on training; they train you as much as they train the dog. Before training my collie mix puppy got into everything and was a general nuisance(that I still love) and my german shepherd was a very stubborn dog. After going through their most advanced course, I can definitely say IT IS WORTH IT. Reagan specifically is a great trainer; not only does he know his stuff, but he's also super friendly and helpful.

Gideon Kill
18:57 14 May 20
We have only completed 2 of our 6 private lessons with a both my 5 year old German shepherd and 9 month old mixed breed puppy. So far, both have made big strides in their leash etiquette and in general seem to be making a lot of progress quickly. I cant wait to see how much further these two will progress with time and help from these guys. Edit: finished our private lessons and Reagan was awesome with both of my boys and the younger dog definitely made a huge change in his obedience and general behavior. I would recommend them to anyone.

Amber Kendall
18:56 14 May 20
We took our dog Pharaoh through their class and it was fantastic. We were sold from the very first consultation where Seth was able to get him to listen and do what he wanted in about 5 minutes. From there we had our lessons with Reagan and even though Pharaoh was being an absolute butt to him still got him under control and showed us how to work with him so that we could help him improve even when the classes were over. It was worth every penny and will do it again when we get another dog.

Reagan is fantastic! He is friendly, professional, and efficient. Our dog, Pharaoh, is so much better behaved and easier to handle now. The difference is night and day. The group classes were a huge plus for us as well so that we can continue working with him. Cannot recommend this company enough!

Rachel Kyle
15:34 09 May 20
We got a 2.5 yr old rescue Belgian Malinois and she was a little terrorist. So school was our best option . After extensive research our best options for Brandy was a boot camp at Tip Top K9. She came home today and I was extremely pleased with her training and have great confidence training will continue with me at command. They were great to her and very professional she was well trained and well cared for I could not have done this without their help.

Kathleen Morton
19:55 03 May 20
Cooper made lots of progress. Reagan was our trainer and was so patient. He was attentive and made sure our questions were answered. The training is well worth it. Cooper is very stubborn. The training has helped him be so much more obedient.

Regina Chace
15:43 02 May 20
Tip Top K9 did an awesome job training our German Shepherd. We are very happy we decided to go with the bootcamp and highly recommend going through them. Preston did a great job with her!

We rescued a half Pitbull-Pyrenese monster from the pound. Otto, has a big heart and was great with our family, but as he became comfortable in our home, he became territorial. While Otto was great with us he did not always think fondly of visitors or contractors. He nipped a couple of handymen, chewed holes through our fence, and would not come at all when he broke free. We were concerned that we had adopted an aggressive Pitbull that wouldnot respond; getting rid of him was the knee-jerk reaction we were starting to consider strongly. We had a strong connection with Otto and dreaded the fact we would have to get rid of him. My wife and I owned dogs growing up, but have NEVER pursued professional training. With Otto, we took a leap of faith and put training in the hands of Tip Top K9, hoping they could train out aggression and his disregard to our commands. That proved to be the best random internet search dog training we could have found. Their system is excellent! It breaks the mold of "reward" and "positive reinforcement" training while NOT leveraging punishment techniques. Otto now comes on command, stays, heels, does not pursue other dogs, all while being off leash! Amazing turn around! Thank you to the staff of Tip Top K9 OKC for bringing our family member around! We get to keep our dog and will have a fantastic dog until the end! We will bring our second dog to Tip Top K9!

Tad Rowinski
17:35 21 Apr 20
We enlisted our two dogs into the intermediate boot camp. Although they were gone for 6 weeks, it was definitely worth it! We feel much more confident taking our dogs anywhere and everywhere! Seth and his trainers were beyond helpful since we live up in Enid and had to make a 1.5 hr drive every time. The updates every Friday were great and Seth replied back quickly if I had any questions. They really give you confidence that your dog is loved and well taken care of while they are away from home! I would recommend TipTopK9 OKC to anyone! We are so appreciative for how they helped us and our crazy pups!

Alyssa Jessen
02:09 21 Apr 20
The Tip Tok K9 group has been amazing! Our Aussie is a sweetie, but she had listening and aggression issues. We signed her up for their 3-6 week Boot Camp. We received weekly reports on our baby while she was gone on how her progress was coming along. After six weeks we got her back and she is a new dog. She is still our sweetheart, but all the problems she was having are now gone. We knew she's smart ,but had no idea that she was capable of what she had learned. Now we can go camping and walking without worrying about her barking or jumping on people. We couldn't be happier with the results with how our sweet Hazel has been trained and I would highly recommend Tip Tok K9 to train your dog.

Brant Norwood
21:23 20 Apr 20
Great experience with Tip Top K9 OKC. They are great at explaining the program and super quick to respond to all questions. Super amazed at how well our dog listens and follows our commands. Highly recommend this place.

Jenny Norwood
20:53 20 Apr 20
Excellent! Absolutely shocked by the amount my dogs have learned. 100% recommend for anyone looking to improve the behavior/obedience of their dog.

Collin Van Sant
00:12 19 Apr 20
Seth is an amazing trainer. We have a Rottweiler, Parker, that was very hyper and getting harder to control as she grew. Seth came in and showed us the techniques and tricks to get her under control. The way that Tip Top K9 operates by having a flexible and coming to your house to train was extremely convenient. We can start enjoying Parker and having her join in on our adventures..

Steven Adams
00:35 07 Apr 20
Seth has been truly amazing. He helped us with our stubborn dog. He gave us the tools we needed to needed to have a better pet.

Rebecca Adams
22:32 06 Apr 20
My Pit, Tank was the ruler. He really didn't listen or do what was asked. Now, he is learning that he isn't the boss and can follow directions! If he is running the fence barking, I can actually say come and he runs into the house. Where it used to be me calling and having to get him to come in. My Rott/lab Texas was just crazy. Jumping on and over furniture and chewing on anything and everything . He has calmed down so much, hasn't dug under the fence again nor has he chewed up anything that wasn't his. We can actually sit and walk together. Tip-top saved me from having to try and find a home for my crazy, Texas. I would recommend them 100% for any need of your dogs. A big shout out to Reagan who had the patience to work with both my dogs and meRoxanne

Roxanne Baker
18:55 02 Apr 20
Reagan was amazing to work with. He helped both the pups go from hoolagins to obedient boys. Both dogs really liked Reagan. He is extremely flexible with training days and times. I would recommend Tip Top K9 to anyone with a dog and suggest asking for Reagan if possible.

kelly spiker
02:05 29 Mar 20
Our trainer Seth, IS THE COOLEST GUY! We sent our dog because he had some bad reactions on top of anxiety, not to train it out of him, but to give the family control in those situations. He came out acting like he usually does but with a couple new tricks up his sleeve! Truly an amazing investment!

Tanner Powell
01:22 26 Mar 20
I can't even begin to explain how incredible this training is. We decided to do the boot camp for our boy. Not only did he get spoiled with love but the training blew my mind. We have a dog with an ACL injury. The tenderness and the extra attention that they gave him with his injury is unmatchable. I would do this a thousand more times! Worth every dollar! Thanks Tip Top K9- customer for life!

Brandy Powell
01:21 26 Mar 20
The ability to enjoy and love our dog more than we ever thought possible by changing behavior is something that we can't rate ENOUGH stars for!!! I am beyond thankful, impressed, and appreciative for the amazing training and love that was given to my dog. Thank you so so much.

Courtney Breckenridge
01:19 26 Mar 20
Seth is fantastic! Our dog Gus spent 6 weeks at Tip Top with Seth and came home an obedient dog. We were shown how to continue working with Gus and Seth was very thorough. Would highly recommend to anyone wanting and obedient dog!

2023.Kaeley Russell
19:25 20 Mar 20
We had a labrador puppy who got trained at Tip Top K9 and we were very pleased with the results. He came home a completely different dog, who obeyed on command and did things we never thought he would be able to do.

Kayden Russell
19:20 20 Mar 20
This is a wonderful company the trainers are very professional and experienced with training even the most playful puppy like our 5 1/2 month old MollieWe sent her off as puppy wild and unable to follow commands and completely distracted. We were unable to know who was walking who. Mollie mostly won that one. But she came home stronger, smarter, obedient and well trained. She could do everything they promised. Thank you for everything. Suzette and John Ash.

Suzette Ash
19:10 20 Mar 20
Tiptopk9 was awesome. Was having a bit of a struggle attempting to instill a more calm temperament for my Husky, so I brought her in and a trainer named Preston Ochoa along with his boss Seth really got her into the calm obedient nature that I was looking for. Highly recommend these two to anyone who has high wired dogs and is looking to make them more obedient!

Blake Williams
22:25 18 Mar 20
Thank you Tip Top for making my dog so well behaved and trained! These guys are so well staffed and worth every penny I spent! I strongly advise you send your furry friend here, you won't regret it! I couldn't be happier with the outcome. This training is just what your dog needs and is so worth it!

Brooke Borden
22:15 18 Mar 20
If you're debating on where to send your dog, send them to Tip Top! My dog is well behaved and the training was well executed. I'm very impressed with how professional and quick Tip Top is. They truly have the best interest for your dog and will take care of them like their own.

Gavin Stewart
22:10 18 Mar 20
If you need your dog trained Tip Top is the place to go! Everyone there is so nice and helpful, my dog is so well behaved! They are fast with their training and keep you in the loop! I wouldn't trust my dog with anyone else! Thank you Tip Top!!!!

ASHLYN STEWART
22:05 18 Mar 20
Great experience for my dog! I would highly recommend.The workers top priority is the dogs and do everything right. Wouldn't go anywhere else!

brooke gannaway
21:59 18 Mar 20
Tip Top K9 is so awesome! Their staff is so friendly, Preston was great with my dog! They were quick and efficient and I will 100% recommend Tip Top to everyone! If you're on the fence about getting your dog trained, I highly suggest you do it and use Tip Top!

Susan Westmoreland
21:52 18 Mar 20
Reagan was great with my Luthor and trained him so well! Luthor went from being wild and rambunctious to actually having decent training and listening to commands.

Jordan Webb
20:48 18 Mar 20
Seth and Preston did a great job with my dogs. They were good, quick and patient with training Lilly and Izzi (they aren't the easiest dogs to handle sometimes). I highly recommend getting your dogs trained by them! They will for sure be my go to for dog training from now on and years to come.

Anthony Ross
01:03 17 Mar 20
Tip Top K9 of OKC has an outstanding staff that is very easy to work with. If it were not for Preston and the rest of the staff my dog and I would still be having problems. My dog had a lot of problems that seem to be all gone after attending training at Tip Top. I really appreciate how hard they worked to fix my dog. I will definitely be bringing dogs here in the future and recommending them to everyone I know.

Cole Daniel
00:31 17 Mar 20
Tip Top staff is so awesome!! Preston is great!!!! They helped my dog so much, and taught me everything I need to know!! Definitely will recommend them to everyone!!! :)

madison stewart
23:58 16 Mar 20
Having not been dog owners for a number of years we wanted to ensure we have a well trained dog but weren't sure how to go about it. We contacted Tip Top K9 and asked lots of questions. The answers they gave to our questions and the further information provided encouraged us to move forward with the $1 consultation. At the consultation we were shown how their training process works. The trainer had his own dog there; upon seeing how well behaved his dog was, as well as the information provided about the boot camp, we decided this would be the best program for our puppy. Thor is a stubborn Rottweiler who was sent to boot camp at five and one half months old. Tip Top K9 spent eight weeks training Thor. We were told most dogs are typically in boot camp for three to four weeks. Before boot camp, Thor was an undisciplined puppy that we were having difficulties training; he would listen but not very well and we wanted to have a well trained, obedient dog. When we met to pick up Thor we were taught all the commands that he learned in boot camp and how to handle Thor on our own. We appreciate the work that Tip Top K9 put in to ensure Thor was fully trained. We would highly recommend Tip Top K9 to anyone! Thank you, Tip Top K9, for all the time that was put into working with Thor!! I'm sure he will miss all of you 🐾

Keziah Ford
00:51 16 Mar 20
Tip Top was a great, they worked with my dog and did everything I asked. I'm more than satisfied with the company, I am also a college student and work full time so they worked with my busy busy schedule and payment plans. I don't know what I would have done without them!

Landry Cooper
20:32 15 Mar 20
Tip Top K9 was great! Staff was friendly and great! They answered any questions and worked well with me and my dog. Highly recommend!

Chloe Chave
20:32 15 Mar 20
We have absolutely loved working with Seth! We were blown away with how great our dogs have done! I would 100% recommend them!

Ashley Walker
22:31 14 Mar 20
Great experience - we have trained 2 dogs with Reagan and have decided to do our third as well due to the massive progress made with the others. I couldn't believe the improvement after just a couple of lessons. Our primary issues were leash pulling, excessive barking, jumping/lunging, and some aggressive tendencies. Would highly recommend - patient, kind, and thorough training. Both the dog and human contingents of the family are happier as a result of Tip Top's training program.

Jeffrey Burton
01:57 12 Mar 20
Tip Top K9 is a great company, the trainers are very knowledgeable and helpful. Definitely recommend to any dog owner!

Dawn Wetzel
20:50 09 Mar 20
I highly recommend Tip Top K9, my pit/lab mix Lily has made so much progress after such a short amount of time. Looking forward to both her and I learning more from her awesome trainer Kylee!

Obiageli Okeke
20:28 09 Mar 20
Amazing company! My cane corso was a changed dog after 8 sessions! So happy!!!

Taylor Carter
17:25 05 Mar 20
I definitely recommend Tip Top K9! Seth is our trainer and he is the best! Very Very knowledgeable! My sweet boy is a new rescue and was a little stubborn but with this training hes perfect now and it has also helped him come out of his shell and build more confidence. Also we have a lot stronger bond now. I can't say enough good things!!!

Kelsey Knott
01:48 04 Mar 20
My dog was already almoat 3 years old and had never been trained. They taught me how to train her and it has made a world of difference!

Deborah Perkins
19:12 29 Feb 20
Seth and everyone at Tip Top were great. Initial consultation was quick and easy. Ultimately went with a boot camp and could not be more happy with the results. Highly recommend Seth and Tip Top K9.

Mike Kumbalek
02:57 27 Feb 20
Highly recommend Tip Top K9! A few weeks after we welcomed our 6 week old pup Porter to our family we decided to send him to boot camp. We got back the same sweet, energetic pup but so we'll behaved, the difference was incredible. When Porter came home, Seth made sure to train our family how to continue the commands and set him up for success. Such a great experience!

Tabitha Narvaiz
03:22 26 Feb 20
Seth and his team have been great to work with. Our pup, Porter, is a total knucklehead and they helped us get him up to speed. He knows his commands now even though he's just eight months old.

Daniel Narvaiz
03:20 26 Feb 20
I sent my one and a half year old Standard Poodle to Tip Top K9, and it was probably the best thing we could ever do for him. He was gone for six weeks, mainly due to him being very stubborn, but he came back a completely new dog! He still has his personality my family and I adore, but he is so much more trained and well behaved. We could not have asked for a better experience with Tip Top K9.

Kennedi Watts
21:23 15 Feb 20
Very pleased with our experience. They were very thorough, and gave us a great tutorial on how to continue our dogs training at home. We couldn't even take our dog for a walk before due to her strong pulling and behavior, and now it's night and day.

Troy Caldwell
02:04 10 Feb 20
We were very happy with the training our little Maggie received. She went in to boot camp at 5 months old . She is a mini Australian Shepard . She left home with a few behavioral problems , such as refusing to come when called. She also jumped up on everyone and loved to nip at your heals. She also loved to grab your pant legs and play tug of war. She came home a perfectly trained little lady. She now comes when called, no nipping. She also sits, stays and places as well as heals and is now a joy to walk. I would highly recommend this company to anyone with a problem child (doggie) or someone who just wants an excellently trained K9.

Deborah Gold
18:34 09 Feb 20
Training a scent hound to listen to anything is a difficult task. About four months after our beloved Walker Coonhound Duke passed, we decided to get another laid back hound. Garth Vader is not laid back and has unlimited amounts of energy and prey drive. After researching and interviewing local trainers, we decided to use Tip Top K9. Every member of their team has been great to work with and it's easy to tell how excited Garth gets when Regan comes to visit for training (see video). In eight lessons at our home, he's been trained to recall, sit, not kill our cat (they sleep in our bed together now), place and heel. Heel is a work in progress because of his nose, but we're looking forward to continuing his training with their weekly classes, which are a big part of the long term value of the company's training. The training program worked very well and we don't have to use treats to make him listen or comply. Tip Top K9's training has made Garth's addition to our family much easier and enjoyable. We highly recommend them for any K9 training!

Daniel Mercer
17:40 24 Jan 20
I met with Seth to do our initial training and I love how attentive he was with my dogs, he made sure I was comfortable with everything that was explained to me and guaranteed me if I ever felt unhappy or uncomfortable the service would stop. With that I have both my dogs a 4 year old Rescue Jack Russell Terrier mix and a 3 year old Rescue Super Sensitive Lab/Retreiver mix getting training with Reagan and he has been so helpful and accommodating. The training is slow, steady and very thorough. He always demonstrates and talks through our commands before involving myself and my husband and takes great care with our dogs. After the first lesson I could already see a huge improvement! I look forward to completing all the dogs lessons and going to group classes!

Berenice Ramirez
18:05 19 Jan 20
I absolutely recommend Tip Top K9 OKC to everyone. I enrolled my 6 month old St. Bernard puppy and my 5 year old Bernese Mt. Dog and Tip Top provided personalized one on one training based on our dog's needs and what we, as dog owners, wanted from our dogs training-wise. We also loved that the training was neutral reinforcement. We did not have to use treats, or negative reinforcement whatsoever, only methods to get the dog's attention. Our trainer, Reagan, was patient and incredibly knowledgeable AND great with our dogs. He not only guided them, but us too. We now have the wisdom and confidence to take our dogs out in public and rely on the fact we know they will listen & behave. They now are truly "everywhere dogs", and we are so pleased that we can continue to enrich their lives in as many places as we can.

Jennifer Snyder
02:50 15 Jan 20
I simply cannot say enough positive things about my experiences with Tip Top K9 OKC. Reagan was our trainer and worked wonderfully with our 6 month old St. Bernard, Kira, and our five year old Bernese Mountain Dog, Riley. Both of them were fairly stubborn and Kira especially needed to work on her manners. We chose to do private lessons with Tip Top K9 after learning about their neutral reinforcement methods, which truly allow the dog to learn to listen to you, rather than doing what they need to to get a treat. The difference in our dogs has been night and day. We can now count on the coming whenever they're called, to walk well on leash, and a host of other commands. What really sets this training apart, though, is the fact that not only were our dogs learning, but we were learning at the same time. I can confidently say that we can take the knowledge we got from Tip Top K9 and use it to continue to give our dogs enriching lives learning new tricks and being able to do more and go more places because of what Tip Top has taught us. I would absolutely recommend Tip Top K9 of OKC to anyone and everyone.

David Conn
02:49 15 Jan 20
We had our initial meeting with Seth who was amazing, he gave us the run down on how the training would work and the different packages to choose from with no pressure. He did a quick training on our 4yo lab/pit mix Dobby, who tends to show slight signs of aggression. After only about two mins Dobby was able to warm up to "uncle Seth" as he called himself, and we could already see that this company was going to be a great fit for us. From the first lesson with Reagan, he showed enthusiasm and patience with both of our dogs. He was always attentive to questions that we had, and always made sure we had a complete understanding of our homework. Both dogs have improved tremendously over the course of our lessons, and I would highly recommend Tip Top K9 for dog training.

Jesheon Cooper
03:22 09 Jan 20
Tip top has helped our family get our giant dog under control. They were responsive throughout our experience with them and knowledgeable about appropriate training techniques. We worked with the trainer Raegan and he was phenomenal with our dog. He always made sure to explain thoroughly what he was doing and had us practice the exercises while he watched to make sure it was correct. I would recommend this company for anyone who has had their dog "pass" a regular training course but still struggles with intense leash pulling.

Racheal Singley
02:28 08 Jan 20
Great company, totally recommend for all dogs. This has been the best decision for my family and dogs.

Melinda Shaw
20:56 06 Jan 20
Great results on our dog. Weekly updates on progress during training. We will be a repeat customer with our other dog.

Justin Kuhns
18:10 05 Jan 20
We loved working with Tip Top K9! Their dog trainers were knowledgeable, professional, hard working, and fun! Regan and Seth both did a great job, and we had immediate results with both our dogs. I highly recommend this great company!

Clifton Star
23:52 04 Jan 20
Amazing program! Seth was absolutely professional, took really great care of my care my dog. Life changing work. Highly recommend.

Marisa Schnitz
16:22 03 Jan 20
My 9 month old German Shepherd was already good but our in home private lessons showed us how to become even better. I think that sometimes it can be harder to train dogs and people who have already done things in a slightly different way. Reagan was very good about answering all my questions and explaining the reasons for doing things within a particular method. Very knowledgeable, great people to work with and they accommodated my crazy schedule. I would recommend Tip Top K9 to anyone looking to improve their life and relationship with their dog!

Lucie Herendeen
23:00 30 Dec 19
TipTop K9 trainers are wonderful. We have had amazing results with their training. Our pup has continued to develop and learn what is expected without always getting treats or being told no. They work to show you and your dog how to accomplish each command. They carefully demonstrate each step for the best results. We are excited to keep going to group classes and watch our sweet boy become a well trained dog.

Jesus Castro
18:48 21 Dec 19
My lessons were easy to understand and I felt like all of my questions and concerns were addressed well. Excited for group classes!

Betsey York
00:05 18 Dec 19
Me and my husband gave our dog Bella to the doggie boot camp. Her trainer was Seth. We got Bella back and the turn around was amazing! She was a such a different dog. We had Problems with her coming and walking on a leash and all those problems were fixed! We definitely recommend tip top k9 to anyone having behavioral issues with their fur baby.

Michaela Zaio
00:14 10 Dec 19
We did boot camp for our German Shepherd who was so wild before. We got her back and she is still her super happy self BUT she obeys so much better. She listens and does exactly what she's told! They worked so well with her and communicated everything so well with us! We are very happy we made this decision to send her!

dalton Medlock
16:56 07 Dec 19
Great investment. We did the private in-home lessons and it was worth every penny. They are very flexible and schedule each lesson whenever works best for you. Regan was our trainer and he did a fantastic job with our 1 year old golden retriever. He was very clear with his communication and why things are done a certain way. He really took the time to train me as well, not just the dog, which is very important. I would recommend Tip Top K9 to anyone who is looking for a real quality training program. 10 out of 5 stars. Thanks for all the help! Brandon

Brandon Melchert
19:54 01 Dec 19
I've done a few dog training courses in the past and this company is, by far, the most comprehensive company out there. There may be a slight sticker shock when booking their services, but you definitely won't be disappointed in the quality of results that you get in return! Our dog has had some significant behavioral issues since we got him as a rescue, and, due to these issues and his destructive nature, I have wanted to rehome him more times than I could count. But Tip Top significantly assisted us through the process of adjusting some of those behaviors! This is definitely high quality training that is proven by the high caliber of demonstration by their K9 cadet graduates!

Shawn McGraw
04:55 26 Nov 19
Reagan was great to work with for us and for Moose. He was always punctual and is able to fix any problems your dog may have. Highly recommended.

Kole Melton
02:30 26 Nov 19
My dog Bella attended tip top k9 and she is so much better. Can't wait to attend group classes

Brenda Wright-Alexander
23:26 23 Nov 19
I had a very good dog but she had some problems with not wanting to be walked on a leash and very protective of me just would like to think Seth and his team for making my dog listen and behave.

Tiffanie Smith
01:10 20 Nov 19
Sent Windy, our 5 month Lab to boot camp. Amazing results and great people!

Carey Sutterfield
02:38 17 Nov 19
Tip Top K9 has done wonders with our dog Luna. We got Luna last November and in the year that we have had her she had attacked 3 dogs. We were at a loss of what to do with her and on the verge of giving her back to the rescue we got her from. We decided to try one last trainer and called Tip Top K9 to see what they could offer. Within minutes of working with the trainer for the very first meeting and him putting the stim collar on her she showed that this could work and that there is hope. Reagan was our trainer for the at home trainings and he was so patient with Luna and us. We have a much happier family and can't wait to see future progression with group trainings and continued practice at home.

Jennifer Maddox
01:33 12 Nov 19
Finally my dog listens thank God for Tip Top K9 highly recommend for all

King Kagney
21:26 11 Nov 19
Pricing is right. People through out are great. My personal trainer was perfect. I'm actually pretty good with dogs but ran into a snag with a foster. Was completely over my head. Now, while we still need work, I feel equipped to handle the issue. In addition to that, never having had formal instruction, Regan filled in alot of gaps in my knowledge and tool box.

steven green
17:21 06 Nov 19
I'm not sure where to even begin! I have two pups who are litter mates and had always heard nothing but horror stories about them being impossible to train. We had tried several other training places and programs - spending LOTS of money, time and frustration. We knew our dogs were smart and could be where we wanted them to be but we did not think we could find the right help. After being very apprehensive, frustrated and broke we were very hesitant to try another training. After seeing a friend's dog go through bootcamp at Tip-Top K9 and having an unbelievable transformation we decided to reach out. Seth came to the house to meet with us and at that moment I knew this was finally what we have been looking for! We did 8 lessons with Reagan and each lesson was fantastic! He was punctual, patient and knowledgable! Our dogs achieved the skills I never thought would be attainable. Not only am I happy, the dogs are too! My only regret is not finding Tip-Top K9 sooner!

Megan Russo
02:10 05 Nov 19
Tip Top K9 OKC was the best dog training experience not only for us, but our fur children as well. Of the three different training companies we have tried, Tip Top K9's methods work the absolute best. We had spent a couple thousand dollars on another company that shall not be named. Our dogs showed little to no retention of any of the training after a couple months. At Tip Top K9 we opted for 8 lessons for each dog (2). Our trainer Reagan was very professional, punctual, and focused. He did an outstanding job training our dogs! After the first 4 solo sessions and assigned homework we started seeing real change. By the end of the 8th session going back through all the commands, our dogs had gone through a night and day behavioral transformation. Reactivity was at an all time low and listening to our commands was at an all time high! We can not thank Reagan and Tip Top K9 enough for their expert experience. They are the real deal!

David Russo
01:57 05 Nov 19
Awesome company. Trained our stubborn dog with no issues. Very friendly staff and just an all around great experience.

Aaron Brown
00:27 05 Nov 19
Tip Top K9 os the best training company in OKC. Ken has transformed my dog in a short amount of time and made our life so much easier. They not only train my dog, they train the owners as well so you know why and how to correct any situation that comes up. The staff is so friendly and helpful and some of the best I've worked with. If you have a dog that need training, you will not be disappointed by Top Top K9. They will make you and your dogs life a much happier place.

Love tip top! They answer all of my questions! They are very sweet. I sent Layla to them and the whole time she was at boot camp they communicated with me. Every Friday they contact you! They will answer any questions! I recommend them! Layla was at first rambunctious and very distracted, but now. She is very focused, calm, and mature. I really love the result! She turned out way better than I expected to be honest! I'm very strict on dog training places, I have been to several and didn't have a good result just wasted my money. But I didn't. Waste any money here! Thank you Tip Top k9!

Reagan has been great with our dog Georgia. We have two other dogs and we will use Tip Top K9 for their training too!

Caitlin Hitt
21:35 26 Oct 19
Before training my dog was the town terror. It was embarrassing to take him outside on walks because of his behaviors towards other people and dogs. After completing our one on one classes its almost like we have a new dog. He listens when we are outside. He walks on the leash without pulling. He does not bark at people as we walk by and he is learning to ignore other distractions. My husband and I are happy to walk him and overall he is a happier dog. We cannot thank Tip Top K9 of OKC enough for helping us communicate with our dog in a better way. 🖤

Alicia Layne
00:52 24 Oct 19
My dog Rico wouldn't listen very well with distractions. They were very good at keeping me updated about how he was doing and when they met me to return him, they gave me a very detailed lesson on how to work with him. I'm very impressed with how well he came back trained.

Paige Jones
00:21 23 Oct 19
Our dog Luna had a difficult time with basic obedience and listening to us. After working with Tip Top we definitely noticed a difference in her behavior and she seems happier. And she actually listens to us now!

Cody Huckabaa
00:06 22 Oct 19
I can not brag highly enough about Tip Top K9. I have two boys, one bully-pit mix and a husky-malamute mix, two notoriously stubborn dog breeds. They began showing aggression towards one another, and we needed to fix this problem immediately. Seth was scheduled to visit us ASAP, and within 30 minutes of our initial lesson we decided to proceed with the 8 personal training sessions per dog. Ken and Raegan were phenomenal with our boys. Not only are these trainers working with your animals, they're working with you. Your animals are learning to be obedient, and in the meantime you learn to be more observant and mindful of your animal's behaviors and body language. We started attending group classes after our private lessons, and I can't stress enough how important these classes are for continued learning and positive practice for both owners and animals. 10/10, worth every penny.

Mackenzie Goodson
19:29 21 Oct 19
I loved my experience at Tip Top K9!! My dog, Bash, had bad problems with aggression towards people and dogs, but our training has made him much more confident and calm! Our trainer Reagan was very kind and patient with Bash, and we're so happy with his progress!! Definitely would recommend Tip Top to anyone looking for training! ☺️

Kristen Speer
21:38 20 Oct 19
I had planned on re-homing my 1 year old Malshi, Roxie, because she would constantly bite while playing with us and she would chew up my kids toys and basically anything that she could get ahold of. I went so far as to put her up for sale on social media and even had someone ready to meet her and take her home with them. I just didn't want to let her go though because my kids and I loved her so much, so I decided to look online for a training company and came across Tip Top K9. I loved that they did a $1 consultation at my house. Seth came and met Roxie and gave me hope that she could learn to behave and obey my commands. Ken was our trainer and did a great job working with her and making everything easy for me to learn and remember so I can continue training her at home. She's already improved so much and is an enjoyable part of our family instead of a nuisance! My kids and I have said multiple times how happy we are that we didn't end up giving her away. I can't recommend Tip Top K9 enough!

Kelly Reed
00:28 18 Oct 19
I used TipTop K9 after adopting a 3 year old husky/lab mix. He was EXTREMELY anxious when I adopted him, so much so that it took him over four hours to let me pet him when I first adopted him. After researching local OKC dog trainers online I decided to give the $1 lesson a try. After a month and a half of lessons (I went with 8 private lessons) I can honestly say my dog is not the same dog. Although he'll always be timid in nature, he now warms up to strangers in about 5 minutes, doesn't pull on the leash in the opposite direction when approaching someone on the sidewalk, and comes on command, every time. I cannot suggest this service enough, don't waste your time and money elsewhere.

Chelsea Doyle
21:07 15 Oct 19
Very impressed! Everyone is so kind & helpful! Our puppy responded very well to training. Can't wait to continue group training!

Amanda Tietsort
11:58 15 Oct 19
It was a great experience! I did the private lessons and it was well worth it!

Jordan Bush
23:16 13 Oct 19
My dog is a whole new dog, these guys are literal miracle workers

Kristine Dutton
14:56 08 Oct 19
My dog is literally a whole new dog. These guys are literally miracle workers

Tinker Housing Association
14:54 08 Oct 19
We are obsessed. This is our first experience using an outside company for training and we won't ever use anyone else. I found Tip Top Canine on a simple google search. We adopted a dog from the animal shelter and she was having extreme anxiety issues. She was eating our wall and doors! The first consultation/lesson with Seth was relaxed and not pushy at all. And it only cost $1! There was no pressure or obligation to purchase any of the packages. We ended up getting a package with 8 home lessons. Regan came to our house, and he was always on time. Very professional. I also really enjoyed the text message reminders the day before about our lessons! Regan worked well with our Luna and he was great at showing us the best way to work with her on our own. She now listens well to Come and Quiet, as well as Off! She can also stay on her place while we eat dinner without trying to take all the food off the floor! We are looking forward to starting the group classes next week as well! (Included in the package for free!) I can not recommend Tip Top Canine enough.

Kate Deaton
19:15 07 Oct 19
Extremely happy with Reagan and tiptop K9. We have two rescue dogs who were well meaning, but not well mannered. They pulled constantly on the leash and jumped on everyone they saw. After training with tiptop we saw great results, even after just the first lesson. Highly recommend TipTopK9!

Kristen DesPrez
23:22 06 Oct 19
Trained both of my dogs through tip top. Immediately it went from the dogs walking all over me to two well behaved and calm boys. We had Reagan as our trainer and he was knowledgeable and professional.

Philip Badrov
23:17 06 Oct 19
So thankful for Tip Top K9 and all they have taught us. An assigned trainer will come out to your home for individual lessons. Along with the private lessons they offer lifetime group classes twice a week! We have already started noticing better behavior with our 60lb lab puppy!

Staci Diaz
21:15 06 Oct 19
The methods of training work great! Our dog is learning fast and becoming a wonderful family pet. Love the in home training and lifetime group classes

David Diaz
21:12 06 Oct 19
Tip Top''s trainer Ken did an excellent job with training my 10 month old puppy! He helped me to get her attention, listen and obey me in three easy lessons! I would highly recommend Tip Top to anyone!

Kathie McCarroll
20:02 04 Oct 19
Ken did a really good job training our stubborn German shephard! Very patient and knowledgable. I enjoyed the training and am very happy with the results we got from our dog. I definitely recommend Tip Top Training!

Nayely Jimenez
18:26 04 Oct 19
Great experience! They helped train our husky and helped us get past his stubborness. Would definitely recommend!

Chris Hampton
00:50 02 Oct 19
We searched around and chose Tip Top K9 because they guaranteed work with the dog for however long it takes to master skills before being sent home. We paid for an average of 2-4 weeks and got her back in 7 weeks without having to pay a dime more- this is what sets them apart from the rest! Our dog was CRAZY/stubborn and came back a whole new dog that we finally have control over. The trainers are dedicated- thank you Seth!!

Haley Davis
01:03 30 Sep 19
Amazing. Our dog was a crazy wild puppy without any manners. Now she will sit and stay for as long as we need. AMAZING

Cory Davis
00:19 30 Sep 19
My dog Kye struggled a lot with fear aggression, pulling on the leash, and not coming to me on command. Kye has overcome all of these problems on a few short weeks and I am able to take him wherever I want now without worrying about his past behaviors! I'm very impressed with the training I received

Hannah Boline
19:45 23 Sep 19
Great trainers. Worked with my German short haired pointer for several weeks and the results were amazing. He is responsive to all the new commands and will stay in his place despite being a high energy breed. TipTop communicated regularly and and quickly. I look forward to continuing the training with their group classes.

Brooke Halleran
20:16 21 Sep 19
Excellent training and very knowledgeable trainers. Reagan and Ken were very professional and patient with our dogs. Overall I would say the training my dogs received was better than outstanding

Ryan Mobley
00:19 20 Sep 19
Thanks to Ken and the tip top k9 staff for all their awesome help with Murphy. Awesome results!

Alex Angelo
22:09 19 Sep 19
My husband and I have two very hyper dogs- one American Bully and one Husky/Malamute mix, that were once aggressive towards one another. We opted for the package with 8 private at home lessons for two dogs, which includes lifetime access to the group classes. The results were amazing! We've learned different methods to manage their behaviors- these dogs have BIG personalities, I didn't think these kind of results would be possible. When we started we were hesitant, but Ken and Regan were professional and patient with our boys and us. 10/10, amazing experience. Yes

MacKenzie Goodson
00:19 19 Sep 19
Tip Top K9 did an awsome job with our great dane Marty! Ken did a great job training us and our dog!

jason pendleton
21:59 09 Sep 19
TipTop K9 OKC is amazing. My stubborn Scout has adjusted so well with the program. The team is very reaponsive to all my questions. Looking forward to the group classes to come. Thanks guys!!!

Casey Robertson
19:27 09 Sep 19
You are Awesome 😄😄😄😄😄😄😄😄😄😄😄😄😄

Agnieszka Grocholska
20:02 07 Sep 19
This program has completely changed my dog in the best way possible. Hes night and day from when we got him. I cant wait to start group classes and would recommend this program to anyone. Seth is the best!

Shanna Losch
23:36 06 Sep 19
Boomer just got home and I can't believe the transformation. Looking forward to continuing the work with tip top K9

Amazing experience! Our dog jax struggled with anxiety and being stubborn and now he is so condident and calm! Reagan is so great and now we are having him train our husky. Love this place!

Rebekah Hampton
20:27 31 Aug 19
We can't thank Raegan enough for all of his hard work in helping us train our Heidi! She's still got a long way to go in her training, but Raegan did a great job at teaching me how I can continue to work her on my own. I highly recommend this program and we look forward to going to group classes in the near future!

Michelle Mason
19:19 28 Aug 19
Tip Top K9 is awesome. I'd highly recommend them if you're looking. Reagan was our trainer and we couldn't have asked for better results. Not only did he train our dog, Bandit, he helped us understand how to maintain the training on our own.

I love Tip Top K9! I have a pitbull mix named Bandit. Before contacting them I was very anxious every time I took him on a walk. I would have to mentally map out where to walk him to avoid all people because he was aggressive when people were anywhere in sight. Our trainer was Reagan and he was amazing! He worked with us and Bandit. He explained things very well and made it easy to understand and work with Bandit outside of him being there. Tip Top also texts you before your appointment to make sure you are ready for that date and time. VERY helpful and great! Highly recommend them! We have seen tremendous results and I no longer need to map out how to avoid people. He does very well and better behaved.

Kris Dodez
21:04 27 Aug 19
I really appreciate everything that have done for my puppy! They are super friendly and have worked wonders. I highly recommend them for any breed and any type of training you are interested in your doggy receiving. I will be coming back for the future doggies to be!

Blake James
22:39 25 Aug 19
Wonderful results! Went from crazy hyper to well behaved and still as sweet as ever!

2020.Laura Alasad
20:35 25 Aug 19
We loved the training, and the trainer! Our dogs are learning so quickly and are so much more enjoyable to live with. Looking forward to continuing on this path of obedience. Thank you!!

Summer Saad
15:28 23 Aug 19
Mac and I thank you Raegan. We had a wonderful and very successful training experience. We are looking forward to attending group classes!

Lisa Buller
01:10 20 Aug 19
TipTopK9 has been a pleasure to work with! They did awesome training our previously anxious reactive dog! They worked with her as long as it took before letting her come home. Highly recommended!

Great trainers!! Highly recommend them!

tamara cromwell
23:02 15 Aug 19
My dog was hopeless with aggression issues. After 5 weeks with them, he was a completely different dog and we couldn't be more thankful!

thiago burgani
19:48 15 Aug 19
This training company is full of great people eager to help me & my crazy dogs. Our trainer Ken gave clear instructions & made sure we knew how to do our homework. I'm very pleased & so excited to live my new life with my behaved pups!

AshleighLaur
22:00 12 Aug 19
Trainer did a great job teaching my wife and I to handle our Australian Shepherds . More importantly, gave us the techniques to effectively and quickly correct unwanted behaviors and encourage good behavior. The "Boys" seem to be calmer and more relaxed knowing what is expected of them. Looking forward to group classes to reinforce skills. Thanks Ken and Rich

Micheal Jones
20:22 06 Aug 19
We called tip top k9 and weren't sure if anyone could help him. We were assigned ken as our trainer and he did an awesome job. Our dog has come a long way In a short period of time. We would recommend tip top k9 to anyone!

fabian lopez
19:57 30 Jul 19
Best experience, my dog is doing so good now I recommend tip top k9 a lot they really the best and they can help you with any problems with your dogs. I give them 5 stars they are the best!!

Alondra Hernandez
15:27 30 Jul 19
Awesome company that offers real results!

Justin Wilkerson
19:29 29 Jul 19
Seth and team are great! What they did with our dog Hank was a game changer, he's so much more calm!!

Jessica Algood
23:32 28 Jul 19
Great training done by Seth. Completely turned Hank around.

Clint Algood
23:32 28 Jul 19
Really helped me work with my dog toward better off leash training and well-behaved dog.

Gretchen Stroud
22:26 28 Jul 19
Tip Top helped train my new 7 month German Sheppard look like a professional.

Jason Nguyen
20:57 28 Jul 19
Our little one started at 5 months old and she still has a lot of puppy left but she listens. She still has her sweet temperament but responds when we ask her to. Would absolutely recommend Tip Top K9!!!!

HECTOR REYES
20:05 27 Jul 19
Great experience! My dog was very skittish before starting this program and I was very apprehensive to start. But he's made a 180 turn around from his previous behavior! I'm so happy with everything he's learned and how great he's following the new commands! I definitely recommend Tip Top for any dog that needs help changing their behavior and learning how to listen!

Mindy Steele
21:35 26 Jul 19
Awesome job helping us with our one year old rescue dog Ozzy with fear aggression. Really helped him to learn to focus on what we are telling him to do and to calm down when people approach him. Really loved our trainer (Raegan) that was assigned to us and the way he treated Ozzy as well as our other two dogs. You can tell he loves the job and genuinely cares about the dogs. Looking forward to making further progress in group classes.

Kim Drewke
00:28 17 Jul 19
Such a wonderful experience. Great service, caring employees, personal service. Highly recommend every part of service.

Charles Torbeck
20:49 06 Jul 19
Seth and his team are absolutely INCREDIBLE!!! My sweet yellow lab Penny was a rescue and has had aggression issues with other dogs and people. I sent her to them and she came back an entirely different and confident dog. So excited to take her everywhere with me!!! Thank you!!! We love you!!!

Danielle Curiel
20:48 06 Jul 19
George trained with them and made huge improvements! He attended bootcamp and came back improved and well trained in all the areas we wanted to focus on! I highly recommend sending your dogs here to train and work on behaviors!

Great place to tune your dogs. We are happy with the result.

Great group of dedicated professional trainers did wonderful with my little pup, and me. Highly recommend!!

Our husky started the at home training as soon as she was old enough, her names angel but she acted the opposite. Shes so much better now than she was and couldnt be happier we did it!

Stephen Harris
00:07 02 Jul 19
The guys were amazing. It really really helped our husky behave better. I would definitely recommend them with your dogs!!!!

Kody Grubbs
00:07 02 Jul 19
They are the best! My dog came back so perfect!

YUNJIE WEN
15:46 30 Jun 19
Seth and Ken were awesome! We tried training Kyra ourselves with treats and just ended up turning her into a sausage. With their methodology and teaching Kyra caught on fast and we learned how to teach her ourselves. Highly recommended.

Amanda Hogue
23:13 27 Jun 19
These trainers were amazing with our little girl! They were able to teach her quickly, tell us what to expect and encourage the right habits! Would recommend to anyone working with their dog!

My dog is a changed girl! Tip Top K9 helped me with my aggressive rescue. She is calm and I can trust her behavior around new people and other dogs. Thank you so much TipTop K9!

Great trainers who treated our puppy like family. She came home after boot camp a totally different dog but still full of life. Instruction when she came home for the parents was excellent. I would highly recommend Tip Top and ask for Seth.

Betty Wood
17:12 22 Jun 19
Amazing experience!!!!!! I would recommend Ken as a trainer for anyone looking to have a well behaved dog. I chose the "Canine Scholar" training package and I am very pleased with the outcome of my Doberman!! Looking forward to starting my group classes now!!!!!

Brittany Faulkner
22:46 20 Jun 19
After my ornery dog, Rosie, got kicked out of her first day of boot camp at another training facility, I was worried I would always have a troublemaker on my hands. Tip Top K9 came highly recommended and I'm so glad I gave them a call. Seth was great at working through Rosie's severe anxiety and bad habits. We finished our last lesson today and I'm very happy with the results!

Abbie Wilkerson
04:12 18 Jun 19
Nothing but good things to say about Tip Top K9. All of the trainers are great (Kent, Reagan, Chase, and Seth). The training Tip Top K9 provides is the training our dog needed. After just a few training sessions we could already see a complete difference in our dog. Also, the lifetime group training sessions are an added bonus.

Bryan White
00:14 18 Jun 19
The whole Tip Top K9 team has changed our dogs life and ours. We are able to control our dog in situations we could not before. Having a large pit bull mix, I wanted our dog trained to improve his quality of life & change the way people may view a pit bull. We could tell a huge difference after the first session. He is now well behaved, calmer, and listens when there are other distractions. The whole team worked around our busy work schedule. Thank you to Seth, Kent, Chase, and Reagan for helping us with our big boy, Bubba!

Kayla Hightower
00:10 18 Jun 19
They did great with our Labradoddle!! Very pleased.

Jonathan Leininger
20:54 17 Jun 19
Seth worked with our German Shepherd and did a fantastic job! Highly recommend Tip Top K9!

About Our OKC Dog Training Location: 
At our OKC dog training location you will find a team of professional dog trainers who love training dogs and love training people too!  No matter the issues or goals you have we love a challenge and hate to see dogs get surrendered to shelters or re-homed!
We serve dog training needs all over Oklahoma City, Oklahoma.  We train clients and dogs in both in-home private lesson setting and the doggie boot camp setting.  Boot camp is where your dog comes to our Oklahoma City location and we train them a few hours a day until they are fully trained!
Currently, we are the top ranked dog trainer in OKC!  If you are interested in dog training with us please give us a call at 405-247-0781 and let us come out and work with your dog and show you what we can do!
Oklahoma City Dog Training Out And About:
Some of our recent Oklahoma City dog training success stories: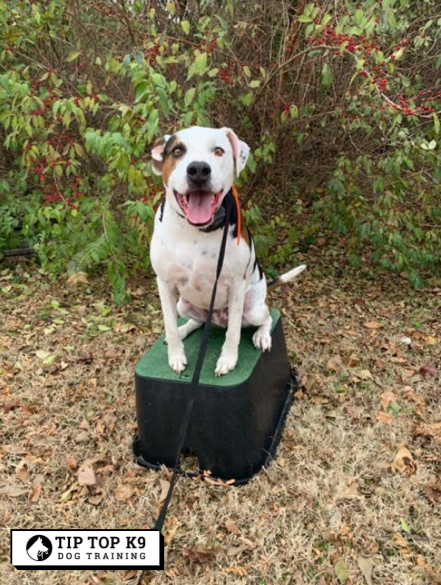 Noah the Pit Mix
Noah is a playful four year old pit mix that had some dog aggressive behavior. His parents called our Oklahoma City locations after having serious safety concerns after seeing him directing his aggression toward some of their family members!  In addition to behavioral issues Noah also also needed general obedience training as he was not listening to mom or dad when told to do different commands!
Noah was very stubborn during his time training with our team but is now able to obey his commands while around other dogs, and is very obedient now in situations that he used to show aggression in! His mom and dad now feel confident that their baby will listen and obey and he can now enjoy more freedom around family and friends!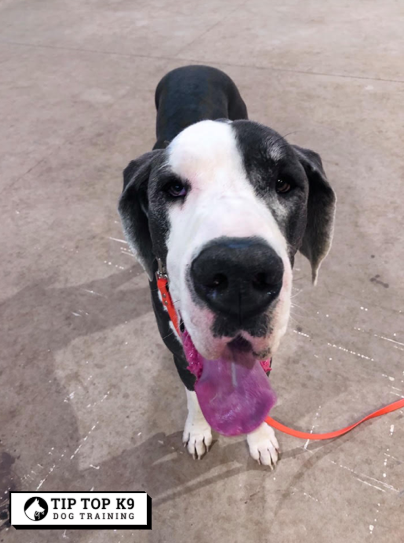 Gary the Great Dane!
Gary is a beautiful and fun-loving Great Dane BUT was extremely aggressive and had a history of biting people. This was obviously very concerning for his parents and a big problem for any of their guests! Gary would also nuisance bark and not listen around distractions AT ALL.
Around just the family Gary was great but being 140 lbs they decided to send Gary to our boarding and training program.  After several weeks of intensive boot camp training with Gary our Oklahoma City team got his aggression is under control and got him listening around new people and new dogs.  Gary's personality is now able to really shine through and his parents are able to maintain control with their beautiful and well behaved giant!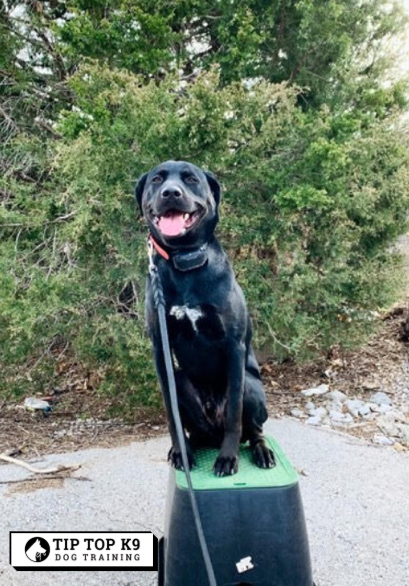 Otis the Lab Mix!
Otis is a two year old lab mix that portrayed aggression towards people, was anxious toward everything, and had a barking problem. We helped Otis with his anxiety and aggression both and he has now mastered his place and heel commands, understands "quiet" and his aggression is under control! 
After training with us his confidence has continued to increase along with his playfulness and sweet side! Most importantly, he obeys commands and his parents are able to enjoy him to the fullest.  Dogs that have anxiety tend to have a lot of "noise" going on in their head and obedience training can really help cut through that noise and help them make better decisions.  Seeing dogs like Otis overcome anxiety and become good citizens is what our team really lives for!
Talk With a Trainer Today!
What is the PAW-Some OKC Dog Training Company That Works? Tip Top K9!
At Tip Top K9, our goal is to provide you with the absolute best OKC Dog Training services, to enhance the harmony between you and your furry friend. The one thing that can destroy a bond between man and his best friend, is lack of communication. Here at Tip Top K9, we understand this, and we have a passion to help both dogs and owners alike. Tip Top K9 has now been offering the most effective dog training methods to pet owners all around the United States for over 10 years. During this time, we can assure you, we have learned a thing or two. At Tip Top K9, you are greeted with the friendliest, and most passionate OKC Dog Training company in the industry. Not only are we the "dog whisperers", but the structure and the training is proven to work better than any other training methods. We trust the method so much, that we actually guarantee that we will fix 95% of problems or your money back. To take it a step even further, we are so confident in the results, we'll give you your first lesson for only $1! Although we are crazy about dogs, we are even crazier about this offer. If we are the dog training company willing to put our money where our mouth is, maybe we really do generate results. YOU – and your furry friend have absolutely nothing to lose. Try us out for a quick OKC Dog Training class for only $1!
OKC Dog Training for $1 at Tip Top K9 – PAWS What You're Doing and Schedule NOW!
We really have a passion for pursuing harmony between families, and that's what our OKC dog training program at Tip Top K9 is all about. We want to earn your business. We believe in a mission, much larger than ourselves. We are working hard so that no dog, no matter what, is left feeling unloved or abandoned. We know that when it comes to behavioral problems, most of the time, those can be corrected with proper methods and training. So we want to earn your business and prove our methods do work at teaching both owners and canines better communication skills. We also know you'll see the results so quickly during that first, initial $1 training, that you'll be sure to continue using Tip Top K9 for puppy training, dog training and even potty training. We offer training in all areas of life for a canine. From youth to adulthood, we are great at training dogs and we look forward to embarking on this next journey with you. 
What is the Guaranteed Dog Training OKC Services Offered by Tip Top K9?
Maybe, just maybe you are looking for some peace of mind, even outside of the $1 dog training special brought to you by Tip Top K9. We have you covered, folks! The Tip Top K9 Guarantee for Oklahoma City Dogs and anyone searching for answers and a resolution using OKC dog training know this: if we are confident in our methods enough to offer a guarantee where we'll train your dog for as long as it takes, and with enthusiasm every step of the way, you probably should be too. You truly won't find a dog training company in Oklahoma City anymore committed than Tip Top K9. Dog is a man's best friend and the Tip Top K9 team is trained to offer the best services that both you and your dog appreciate. Your furry friend will look forward to training with his new friends so much, he'll want to visit, even after completion!
Tip Top K9 Dog Training Services Include:
Potty Training 
That's right. We took one of the biggest pains and complaints we hear from pet and canine owners about owning a pet, and took the chore right out of it for you. The dreaded chore of potty training no longer has to fall on you.  
Puppy Training
If you break bad habits before they form, you can truly put your puppy on the right path to give the youngster the best start in life possible. This saves you in the long run, by avoiding bad habits that cause tension in your family, ultimately giving your home better and happier days together. 
OKC Dog Training
You know the saying, an old dog can't learn new tricks? Not true. We live it. We watch it. We root for this kind of miracle we get to see in dogs every day. Dog training doesn't have to be difficult if you know the proven methods that work to stop unnecessary barking, jumping or in some cases, aggression. 
Doggy Bootcamp
Let's be honest, we all could use a crash course in behavior improvements. Dogs are no different. At doggy boot camp, your pet will actually live with a trainer, forming healthy habits and easing him into a life of structure, rules and organizations. 
Group Class
Group classes for dogs are incredibly helpful and conducive to dogs and their learning! Join a group class for your dog as he experiences social interaction and structure, enhancing his learning all at the same time. 
and More!
What's Your Next Move with Tip Top K9?
Simple – CONTACT US! You can simply pick up the phone and give us a call to speak with one of our expert trainers to schedule your first OKC Dog Training for only $1. Dial
1.833.484.7867 to book your training session for your dog by phone. You can also fill out the form to schedule a $1 consultation. We're happy to help and we look forward to meeting you and your favorite canine friend. 
Schedule. 
Learn.
Grow.
Connect.
In that order. When you schedule the consultation, you will learn about the Tip Top K9 training program. Both you and your dog will grow in the ability to communicate together, and you will have a better, more harmonious connection the way pet and pet owners should be.