Tip Top K9 – Oklahoma City
Willow and I loved working with Kylee in private lessons! Tip Top K9 has been a game changer in helping me be able to connect and communicate with my dog and accomplish our training goals. Excited to continue to work with them in group lessons moving forward.

Baylee Lakey
23:07 23 Oct 20
We sent a very sweet little Cardigan Welsh Corgi that was very spunky and had some stubbornness in her to Tip Top K9 to learn some manners. The trainers were very responsive to all our questions and they treated our 4 legged child with lots of gentleness, just as they would treat their own. I would totally recommend and have recommended Tip Top K9 to my friends and family. My Roxi loves her trainers!

We sent our dog here after a dog fight with our other dog. I felt at ease sending him to Tip Top K 9. I got weekly updates and could text anytime I felt nervous about something. Gordon spent 6 weeks here and is 11 years old. They were able to break some bad habits and work on his aggression. Will send my future dog here!

Elizabeth Roberts
22:59 19 Oct 20
Our dog spent 6 weeks in bootcamp training. She came back very obedient, no longer pulling when walking on the leash, listening and being a good girl all around. This perfect since we didn't want to risk her jumping on our toddler or his friends and she being to stay in place will be so very useful. No more arm yanking, mouthing, jumping. We are delighted. So worth the investment when you look at the lifespan of a dog.

Virginie Sjoelund
19:39 15 Oct 20
Tip Top K9 is a wonderfully operated company that excels at training the clients in addition to training their dogs. Our trainer was extremely nice and worked so well with our two dogs (ages 2 and 9) throughout the process. Previously, our dogs were difficult to control on walks and did not respond well to "treat training". The trainers do a great job of educating their clients about how to properly use the e-collars. I am thoroughly satisfied with dogs' improvement and believe it is well worth the money. I cannot wait to continue their training with the unlimited group classes following the at-home private lessons.

Preston Harraman
00:04 15 Oct 20
In 6 lessons we were able to get our dog not only to stop her bad habits, but she also learned many new commands. Kylee arrived on time or early for each lesson and she was a great teacher. We look forward to group classes and continuing to work with our dog.

Jacob Lyles
18:15 13 Oct 20
Amazing dog training!!! We have two German Shepard puppies that were crazy and tip top worked great!! They are still puppies but they are trained puppies!! Great experience. Highly recommend

Kate Hollingsworth
16:46 11 Oct 20
The best dog training company I've ever had the pleasure of working with, ever.If you are looking for results, go with Tip Top K9; not only are they exceptionally professional, the consult is $1, and they will tell you up front if their services will work for you and your dog. My wife and I were new dog owners and tried going to Petsmart classes, with minimal results. After nearly a month at Petsmart, our dog could somewhat come, when she felt like it, and sit, if the treat was enticing enough. After no more than two to three lessons with Tip Top K9, this was not an issue. She can now play with children, our two cats, and any human she meets without issue, after just six lessons. I cannot recommend Tip Top K9 enough. If you are considering getting a dog, or have a new COVID dog, use Tip Top K9, and don't waste your time and energy elsewhere.Our trainer, Kylie, was incredible, and made all the difference. Thank you, Kylie.

Christopher Wood
21:42 05 Oct 20
10/10 our 1yr old German Shepherd had a lot of energy and didn't really want to listen to us. After 6 weeks with Jacob she came home listening perfect and we are excited to continue working with her both in our house and at their twice weekly (free for life) group classes! Thank you Tip Top K9

justin berte
21:35 03 Oct 20
Tip Top K9 has been great for Skout! She is so much more well trained and is listening so well. Definitely worth it!

Sarah Kliewer
18:36 03 Oct 20
We enjoyed having Kylee train our German Shepherd puppy. She did great with him and he made such good progress with this program. Very happy!

Melissa McVea
16:55 03 Oct 20
Amazing service. My Dog (Oscar) is a better version of himself. We are so happy with Tip Top K9 in Tulsa. Shaun was exceptional, the in home training he provided was catered to our needs. He was very patient with our kids and answered all of our questions.

Elliott Wilson
00:18 02 Oct 20
She is way more well behaved! The training was worth the price.

Thomas Vanhooser
17:28 30 Sep 20
Every member of the staff has been wonderful! Our dog Charlie had a few minor corrections we were looking to make. Charlie has made those corrections and then some! We as owners have learned so much! Highly recommend!

Arielle Thompson
21:01 29 Sep 20
We are very happy with Tip Top. Kylee was absolutely wonderful and helped our stubborn, defiant pup become a very responsive and well-trained dog. I highly recommend!

Trisha Dempsey
23:29 28 Sep 20
Seth is the best highly recomend.

Sharon Dreger
22:22 26 Sep 20
I had Bruce take a boot camp and the work that Tip Top K9 did was absolutely amazing!

William Goodpasture
21:34 24 Sep 20
Had a great experience with Tip Top K9. I had private lessons at home. The trainer was professional and explained things very well. My dog has shown much improvement, especially with heel. Would definitely recommend them.

Keenan Smart
21:18 24 Sep 20
Our mini-aussiedoodle puppy - named Ozzie - spent seven weeks at boot camp with TipTopK9 in OKC. Before the camp, we had difficulties managing her high energy and biting. She's a stubborn doggo! We struggled to communicate with her, and our busy schedules made it hard to properly train her, leaving all of us frustrated. It was hard to send her to boot camp - we didn't want to send her away - but it's difficult to argue with the results. TipTopK9 was able to properly train Ozzie and exceeded our expectations with her new behavior. We speak and now she listens. It was an investment, and required a little patience, but the boot camp paid off big time. And the cherry on top... the lifetime group classes! Awesome!!!

Michael Shellabarger
19:45 24 Sep 20
Kylee did a fantastic job with our dog, best trainers ever at an exceptional value!!

Bradley Davis
19:57 23 Sep 20
They have definitely done amazing with training. Not only for my dog Rylie but helping correct some of my own training bad habits as well. She was already pretty well behaved just had to work on keeping her focused when there are lots of distractions. The training has made trips to the dog park a lot less chaotic and more fun!

kayla compton
16:28 23 Sep 20
Seth and Jacob were absolutely INCREDIBLE to work with. We could not imagine trusting our lab-mix with any other team - Tip Top K9 is phenomenal.Our lab-mix, Lady May, was found at 8-weeks, abandoned and presenting with resource guarding behavior. We entrusted Tip Top K9 with creating a positive learning environment for Lady May - one that encouraged Lady May to learn and excel with 6 short weeks. The Tip Top K9 team exceeded expectations.We are over-joyed with Lady May's behavior and confidence! Thank you Tip Top K9 for believing in Lady May's potential and welcoming her (and us) into the Tip Top Family! My heart is so full. Thank you for helping and teaching us how to give Lady May the life our little girl deserves.Secondary to the education of Lady May, we want to thank the Tip Top team for teaching US! We are grateful for the continued learning opportunities Tip Top K9 gives to us such that we can further reinforce and strengthen Lady May's - as well as our own - confidence!To the team members I have not named - as I am sure there are many - know that you are seen, appreciated and that we are thankful. Your PASSION for what you do is unmet. I believe that is what makes the Tip Top K9 method unique. It is more than your job, it is your passion.Thank you!Mike, Nicole, and Lady May

Nicole Jamieson
00:56 19 Sep 20
Seth and Jacob did a fantastic job training our new puppy at 6 months old. We'll be coming back for group training weekly.

Michael Robinson
00:41 19 Sep 20
We have a 7y/o great Pyrenees/Collie/Ausie mix who has and is a wonderful dog & member of our family. We honestly would not have considered dog training if it wasn't mandated by our attorney due to a very difficult neighbor situation. I called several companies and TTK9 was the 1st to be able to come & meet with me and our dog, Hashtag.First off, I really appreciate that they offer a $1 meet & greet & quick training session for the first time they met you and your furry family member(s). This allows you, the owner, to assess the company and trainer before hiring them. It also allows you and your pup and trainer to see if everyone is a good fit for what you are looking for.They offer several different package options for any budget, and in my case, I felt that the package that they suggested was appropriate. Although extremely expensive, I felt confident that Hashtag and I would both have the results we were looking for.We had 8 private training sessions in which the trainer, Reagan, came to our house. We worked for about an hour each time. We worked outside and I was able to recruit several of my (friends and neighbors with dogs to participate in order to create distractions of all kinds. We were provided with homework to practice at the end of each session & Reagan always followed up on our compliance with the homework and our progress thus far. Hashtag did so well with sit & come, that he always wanted to sit facing me. So when we worked on heel walking and sit in place, he had a difficult time sitting next to me. However, Reagan was able to think outside the box and problem solve for new ways of breaking this new habit.Our trainer, Reagan, was absolutely fabulous! He did a great job educating us, the owners, of WHY certain commands are used over others, hand hold placement of remote &/or leash, sequence of training and progression of training, etc. Inam a firm believer that if you educate someone on why you are teaching them something, then they are more likely to do it! (Or at least are able to make an informed decision for themselves not to)There are only a couple of things that i am disappointed with: 1) the purpose of us participating in this training is due to a lawsuit brought against me by my neighbor. I feel that we should have done some training in front of this neighbor's house, as per my request during training sessions. However, I was told that we would not do this in order to avoid any confrontation with this neighbor. This is frustrating due to my circumstances and since it was the sole purpose of my participation in training of any kind. 2) I have some friends with two very loveable but ill-behaved dogs who would like to discuss training with TTK9, but suggested that I request a discount for referring two additional paying customers. When I called to inquire about this, I was told that is not something they do & there is nothing she coulddoaboutit. When I requested to speak with the owner, Seth, I never received a response.I understand that providing a discount for referrals may not be company policy. However, I would have liked the respect of a discussion with someone willing to have a conversation about it.Overall, I am pleased with the results of our private sessions and am excited about continuing training with the group sessions available for free with my package! They provide a reliable system for your furry loved ones and great education and training for you, the owners, as to what to do, how to do it, & how to practice. I would recommend TTK9 for anyone with a pup with bad habits of any kind, large or small!

Lensey Fauks
16:43 16 Sep 20
I honestly have nothing bad to say about Landry and everyone at TipTop K9. They were awesome and helped me and my boyfriend learn how to train our dog Loki. Within a month we have already seen a complete difference in our dog with the attention based training. We had tried positive reinforcement for so long, but Loki was just too stubborn and wasn't responding. Since attending our private lessons with TipTop he has learned so much, as have my boyfriend and I. Honestly contact them. You won't regret it!

Brittany Jay
00:36 12 Sep 20
We had Kylie at Tip Top K9 over for training of our golden doodle, Hank. She was excellent and the training and equipment from Tip Top exceeded by expectations. Recommend to any one with a dog...seriously was money Well spent.

Dave Thompson
00:06 10 Sep 20
Previously there was a communication error but Seth and his team did more than make up for it. Top notch quality for dog training and really great people too.

Jeremy bonsall
13:29 08 Sep 20
Kylie has changed me and my dogs lives for the better. Kylie did a great job training my two dogs Charlie and Finley, so much so I'll be bringing my other dogs as well. Kylie made the training easy for both me and my dogs, I had no problems continuing the lessons at home and can't wait to start group lessons!!

mary sarah spanier
14:47 03 Sep 20
We got our bulldog puppy at 9 months old and he was a handful! Biting, jumping on furniture, pulling on walks. We trusted him to Seth and team at TIpTop K9 OKC and we couldn't be happier! After their Doggie Boot Camp, what a difference! He listens, is calmer and we are so grateful. Would recommend them to ANYONE for ANY dog

Kimberly Harris
16:24 30 Aug 20
Seth and his staff were amazing. They took our Vader a ole English BullyThat had some stubborn traits as they all do. When he returned from Camp. He was a different dog with all the same loving qualities with the discipline we needed to function as a family. At a great valueThanks Tip Top K9

Mike Harris
16:23 30 Aug 20
Landry is professional and helped our dog so quickly. He is very responsive and kind. We are so grateful for him and his work with us!

Abbie Hoehner
19:14 29 Aug 20
I am very happy with Tip top. They knocked it out of the park with my Cane Corso!

Our dog was a lunatic I can't believe how much Tip Top has helped her and made our lives so much easier. Thank you so much.

Leslie Wilcoxson
20:56 23 Aug 20
Tip Top K-9 has been an absolute blessing to our family, and most of all, our little fur baby, Kolt. Kolt suffered from anxiety and would refuse to come to us if he was scared of a loud noise or if had an accident in the house and didn't want to get in trouble. After Landry worked with Kolt and continuously showed us how to maintain balance so that Kolt knew what to expect at all times, we have seen the anxiety deplete drastically and he now answers to us whenever we call. He sits on command and will remain in place until he is told he may move. We are most impressed with the fact that they do not use shock collars, they use a stimulant collars to get their attention, which we tried ourselves to know he was not being hurt by any means. They also do not give a treat for good behavior because they do not want to enforce that Kolt do something only to get something in return. Landy stuck to the basics of influencing Kolt through consistent behavior training without negative or positive response in order to build trust between the him and Kolt. He also worked with us so that we could maintain trust with Kolt in being consistent as well. Now, Kolt knows what certain commands are and what he is to do, and he does it without fail because his training was not convoluted with multiple trainers, extensive verbiage and commands, or confusion of different types of reinforcement.Landry quickly formed a bond with Kolt and they got along great. He would come out to our house in order to help keep Kolt in his own environment. The professionalism that Landry displayed and the extensive knowledge he shared with us was very impressive. Despite anything that was going on, Landry made sure we understood the process all the way through and backed-up his answers with proof and education.A very big "thank you" to Landry and Tip Top K-9. You far exceeded our expectations and we couldn't be more pleased with our decision to invest in our puppy's happiness by working with you to achieve that for him. You all went above and beyond and we will sing your praises to anyone who will listen!-The Thomas Family

Kristin Thomas
22:27 22 Aug 20
Landry did awesome with Sophie. We were skeptical at first with the E collars but after feeling it for myself and working with them I am going to train my other two dogs with it. The stimulation we work with is so small I can't even feel it on the back of my hand but it's just enough to stay focused. I'm very happy with our training and I can't wait to continue training with group classes twice a week.

John Gjendem
18:32 22 Aug 20
We are so thrilled with the results from our experience with Tip Top K9! Our Sunshine is a stubborn redbone coonhound who came home fully trained, but still her silly self! I cannot say enough how wonderful this experience has been. The weekly updates were our favorite part and the pictures looked professionally done. Absolutely recommend this company to anyone looking for help with their dogs!

Amanda Patterson
20:12 21 Aug 20
Great training program! Preston (The trainer) made us feel comfortable and confident that we made the right decision

Chase Lindsey
23:48 17 Aug 20
We sent our puppy Romulus to Tip-top K9 and got back a better boy than ever before! 🙂

Keaton Gibson
21:40 14 Aug 20
It's a great company, highly recommend!!

Quantium Phunsics
02:34 14 Aug 20
This a great a place, excellent trainers and staff

Doug Clinton
22:02 12 Aug 20
About Our OKC Dog Training Location: 
At our OKC dog training location you will find a team of professional dog trainers who love training dogs and love training people too!  No matter the issues or goals you have we love a challenge and hate to see dogs get surrendered to shelters or re-homed!
We serve dog training needs all over Oklahoma City, Oklahoma.  We train clients and dogs in both in-home private lesson setting and the doggie boot camp setting.  Boot camp is where your dog comes to our Oklahoma City location and we train them a few hours a day until they are fully trained!
Currently, we are the top ranked dog trainer in OKC!  If you are interested in dog training with us please give us a call at 405-247-0781 and let us come out and work with your dog and show you what we can do!
Oklahoma City Dog Training Out And About:
Some of our recent Oklahoma City dog training success stories: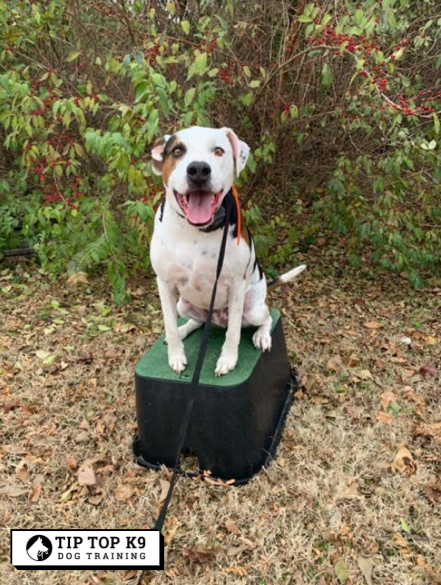 Noah the Pit Mix
Noah is a playful four year old pit mix that had some dog aggressive behavior. His parents called our Oklahoma City locations after having serious safety concerns after seeing him directing his aggression toward some of their family members!  In addition to behavioral issues Noah also also needed general obedience training as he was not listening to mom or dad when told to do different commands!
Noah was very stubborn during his time training with our team but is now able to obey his commands while around other dogs, and is very obedient now in situations that he used to show aggression in! His mom and dad now feel confident that their baby will listen and obey and he can now enjoy more freedom around family and friends!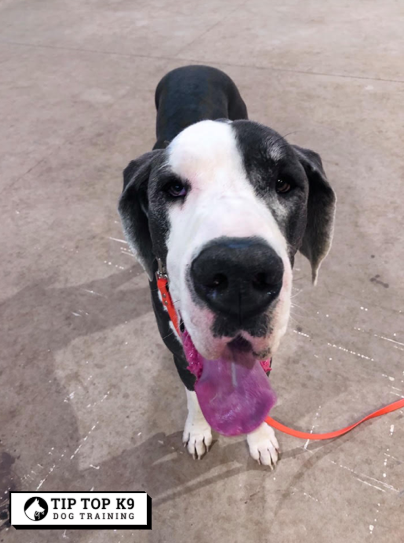 Gary the Great Dane!
Gary is a beautiful and fun-loving Great Dane BUT was extremely aggressive and had a history of biting people. This was obviously very concerning for his parents and a big problem for any of their guests! Gary would also nuisance bark and not listen around distractions AT ALL.
Around just the family Gary was great but being 140 lbs they decided to send Gary to our boarding and training program.  After several weeks of intensive boot camp training with Gary our Oklahoma City team got his aggression is under control and got him listening around new people and new dogs.  Gary's personality is now able to really shine through and his parents are able to maintain control with their beautiful and well behaved giant!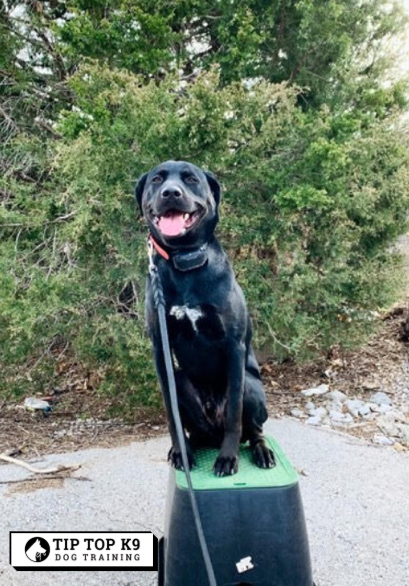 Otis the Lab Mix!
Otis is a two year old lab mix that portrayed aggression towards people, was anxious toward everything, and had a barking problem. We helped Otis with his anxiety and aggression both and he has now mastered his place and heel commands, understands "quiet" and his aggression is under control! 
After training with us his confidence has continued to increase along with his playfulness and sweet side! Most importantly, he obeys commands and his parents are able to enjoy him to the fullest.  Dogs that have anxiety tend to have a lot of "noise" going on in their head and obedience training can really help cut through that noise and help them make better decisions.  Seeing dogs like Otis overcome anxiety and become good citizens is what our team really lives for!
Talk With a Trainer Today!
What is the PAW-Some OKC Dog Training Company That Works? Tip Top K9!
At Tip Top K9, our goal is to provide you with the absolute best OKC Dog Training services, to enhance the harmony between you and your furry friend. The one thing that can destroy a bond between man and his best friend, is lack of communication. Here at Tip Top K9, we understand this, and we have a passion to help both dogs and owners alike. Tip Top K9 has now been offering the most effective dog training methods to pet owners all around the United States for over 10 years. During this time, we can assure you, we have learned a thing or two. At Tip Top K9, you are greeted with the friendliest, and most passionate OKC Dog Training company in the industry. Not only are we the "dog whisperers", but the structure and the training is proven to work better than any other training methods. We trust the method so much, that we actually guarantee that we will fix 95% of problems or your money back. To take it a step even further, we are so confident in the results, we'll give you your first lesson for only $1! Although we are crazy about dogs, we are even crazier about this offer. If we are the dog training company willing to put our money where our mouth is, maybe we really do generate results. YOU – and your furry friend have absolutely nothing to lose. Try us out for a quick OKC Dog Training class for only $1!
OKC Dog Training for $1 at Tip Top K9 – PAWS What You're Doing and Schedule NOW!
We really have a passion for pursuing harmony between families, and that's what our OKC dog training program at Tip Top K9 is all about. We want to earn your business. We believe in a mission, much larger than ourselves. We are working hard so that no dog, no matter what, is left feeling unloved or abandoned. We know that when it comes to behavioral problems, most of the time, those can be corrected with proper methods and training. So we want to earn your business and prove our methods do work at teaching both owners and canines better communication skills. We also know you'll see the results so quickly during that first, initial $1 training, that you'll be sure to continue using Tip Top K9 for puppy training, dog training and even potty training. We offer training in all areas of life for a canine. From youth to adulthood, we are great at training dogs and we look forward to embarking on this next journey with you. 
What is the Guaranteed Dog Training OKC Services Offered by Tip Top K9?
Maybe, just maybe you are looking for some peace of mind, even outside of the $1 dog training special brought to you by Tip Top K9. We have you covered, folks! The Tip Top K9 Guarantee for Oklahoma City Dogs and anyone searching for answers and a resolution using OKC dog training know this: if we are confident in our methods enough to offer a guarantee where we'll train your dog for as long as it takes, and with enthusiasm every step of the way, you probably should be too. You truly won't find a dog training company in Oklahoma City anymore committed than Tip Top K9. Dog is a man's best friend and the Tip Top K9 team is trained to offer the best services that both you and your dog appreciate. Your furry friend will look forward to training with his new friends so much, he'll want to visit, even after completion!
Tip Top K9 Dog Training Services Include:
Potty Training 
That's right. We took one of the biggest pains and complaints we hear from pet and canine owners about owning a pet, and took the chore right out of it for you. The dreaded chore of potty training no longer has to fall on you.  
Puppy Training
If you break bad habits before they form, you can truly put your puppy on the right path to give the youngster the best start in life possible. This saves you in the long run, by avoiding bad habits that cause tension in your family, ultimately giving your home better and happier days together. 
OKC Dog Training
You know the saying, an old dog can't learn new tricks? Not true. We live it. We watch it. We root for this kind of miracle we get to see in dogs every day. Dog training doesn't have to be difficult if you know the proven methods that work to stop unnecessary barking, jumping or in some cases, aggression. 
Doggy Bootcamp
Let's be honest, we all could use a crash course in behavior improvements. Dogs are no different. At doggy boot camp, your pet will actually live with a trainer, forming healthy habits and easing him into a life of structure, rules and organizations. 
Group Class
Group classes for dogs are incredibly helpful and conducive to dogs and their learning! Join a group class for your dog as he experiences social interaction and structure, enhancing his learning all at the same time. 
and More!
What's Your Next Move with Tip Top K9?
Simple – CONTACT US! You can simply pick up the phone and give us a call to speak with one of our expert trainers to schedule your first OKC Dog Training for only $1. Dial
1.833.484.7867 to book your training session for your dog by phone. You can also fill out the form to schedule a $1 consultation. We're happy to help and we look forward to meeting you and your favorite canine friend. 
Schedule. 
Learn.
Grow.
Connect.
In that order. When you schedule the consultation, you will learn about the Tip Top K9 training program. Both you and your dog will grow in the ability to communicate together, and you will have a better, more harmonious connection the way pet and pet owners should be.