Tip Top K9 – Oklahoma City
This is a great place to take your dog for training! The attention to detail for your dog and the understanding that is made clear is amazing!

Skyler Nichols
23:24 28 Nov 23
Tristan was wonderful he helped my dog a ton with his confidence and my confidence as well

Robert Mandrell
00:09 28 Nov 23
Kyser and Kota were great!

Erica Gardner
09:46 26 Nov 23
Tristan was great to work with!

Taln Glidewell
23:15 25 Nov 23
I put my 20 week old Mini Poodle, "Petal", through the advanced bootcamp. She was there for 5 weeks and 3 days. All I can say is.. IT WORKS. I am very impressed her discipline and obedience.

Rayne Gonzalez
23:37 17 Nov 23
Vincent was very helpful and explained everything so well. Thank you!!!

Jasmin Escobedo
15:02 17 Nov 23
I cannot express how thankful I am to TipTop K9 and our trainer Vincent. Not only are my dogs now incredibly well behaved but they're happier and more confident. I'm no longer anxious to take my dogs out and about with me. I would recommend Vincent at TipTop to anyone looking for a dog trainer who will love your dog as much as you do every step of the way

Hallee Lavender
16:32 13 Nov 23
Tip Top is an amazing company,We chose private lessons and They sent out their enthusiastic and helpful trainer Peyton! She ensured that I had a clear understanding of each step of training and would stay until we felt confident and comfortable with what we were working on! THANK YOU TIP TOP!

Tip Top K9 trained our Izzie and Cooper in their boot camp and did an amazing job. We were very impressed with the progress that they made in the time they had them. Cooper's nickname is Hank the Tank and we had tried other training with him without any success. They were able to work with his stubbornness. Izzie was a jumper and they were able to get her to stop. They provided us with all the tools we need to continue working with our dogs Highly recommend.

Stephanie B
23:23 07 Nov 23
Great training for Stella and us! Wonderful one on one training for our girl.

Such a cool experience seeing these well trained dogs today at the golf tourney!! Didn't even flinch when three adult size gophers walked by. Plus the fire hydrant trick was cool!!!

Caleb Riemer
21:07 30 Oct 23
Great people, Landry and max were awesome

Joshua Ball
16:33 30 Oct 23
PAYTON DID AN AMAZING JOB WITH TOODLES AND WITH US. VERY PATIENT.

Jeannine White
19:24 27 Oct 23
This place really does live up to the hype. We chose to have our 1 year old bernedoodle trained by them at their facility for boot camp and it was the best decision! Landry and Tristan were amazing and made sure we were confident in applying the skills they taught him! He is the same sweet dog but has manners now - we couldn't be more happy with the results!

Erica Katseres
19:44 18 Oct 23
I have a PitBull puppy and she was having a lot of trouble listening and after training she is doing so much better and can place and stay with many distractions. Thank you!!

Ella Pierce
21:22 14 Oct 23
Peyton has been an amazing trainer for both of our dogs. Our Great Pyrenees did boot camp and came home with excellent manners and follows commands flawlessly! Our Australian shepherd completed home lessons with Peyton weekly and has come, sit, place and heal down well! So thankful for the kind patient training of our dogs and humans! Five stars!!! Recommend to everyone in the Okc area!

Ashley Bland
16:44 04 Oct 23
Had an amazing time with the trainers constantly reassuring me and helping 10/10

Dylan Daniels
22:47 30 Sep 23
I just got my dog back, and he seems so trained and obedient. I highly recommend this place, and I will continue to take him to the training classes.

RACHELLE NOLL
22:20 29 Sep 23
Peyton is a wonderful dog trainer! She clearly explains the process of the trainings. Thanks Peyton!

Tip Top K9 and Peyton did great teaching my pup!

Cooper Driskill
22:48 28 Sep 23
Very well trainers that helped not only with the dog, but with me

Tip Top K9 dog training is super. I am so glad the day a gentleman at my veterinary clinic mention tip top K9 to me. My dog and I will succeed with the classes too!

Nancy L. Smith
22:37 25 Sep 23
Best experience ever!! Tristen gave us a sweet dog who is incredible to be around. Life is so much more calm and enjoyable! Thank you!

Janice Foreman
19:11 25 Sep 23
This started training with Peyton for my 1 year old Siberian husky and by the 4th lesson with her and consistent home lessons his attitude has dramatically changed he now sits and stays in a place and no more rushing the door when people enters

Professor 313
19:35 16 Sep 23
We called Tip Top because of some sudden aggressive behavior with our dog. We had the pleasure of working with Evan for 6 weeks. It was a very effective program and we are beyond pleased with our experience.

Kaylee Gorbet
19:01 16 Sep 23
I had a great experience with Evan the trainer. He showed us how to train our dog and worked with us throughout the whole process in getting through any struggles and always ending the session on a positive note.

Jarris Hamilton
19:00 16 Sep 23
5 stars but wish I could Give more!!! Peyton was great!!!!!!

Chelsea Parker
16:03 16 Sep 23
Learned so much about my dog & how to communicate with her! Highly recommend Tip Top K9

Andrea Soto
19:01 13 Sep 23
Thank you so much to Tristian and Landry! They've helped us train our dogs, Koda Bear (4 yrs old female black lab mix) and Sissie, 9 yr old wire-hair terrier mix) so we can avoid fights between them that were resulting in injuries and ER visits for Sissie. Thank you sooooo much!

Paula Farley
18:35 12 Sep 23
Absolutely fantastic service and training. Was having reactivity issues with my younger dog. Tip Top K9 came in, explained the issues, put together a plan, and helped us all along the way. Highly recommend this company for any and all dog training needs!

Colton Davidson
23:03 07 Sep 23
TipTop K9 sent us their best trainer when they sent Peyton to work with Gracie and me! Within the first lesson she stopped Gracie from pulling and by the last lesson we were pretty much heeling off leash! It is easy to see Peyton's love for dogs and desire to help every pet reach their full potential in becoming a well trained companion! Thank you Payton and Tip Top K9! You are the best!!!

Teresa Alcorn
02:06 31 Aug 23
Great experience with this training! Our puppy came back well trained. I would recommend this program to anyone that is looking for a well behaved dog.

Kailee Hudson
22:28 24 Aug 23
I just now picking up Rock, from camp, so far so good, I. An edit to take him home and see everything he has learn,

Veronica Zanabria
21:02 23 Aug 23
Landry and especially Tristan were amazing! My wife and I weren't really sure what to expect going into this experience but we cannot thank them enough! Our dachshund is a changed dog and we feel confident he will continue to get better. Highly recommend Tip Top K9 and especially my boy Tristian!

Moises Martinez
23:35 21 Aug 23
Tip Top K9 was great for training my almost 2 year old dog Winnie! Tristan came to our house for private lessons and she is so well behaved now!

Brooke Jensen
17:09 21 Aug 23
Our dog bonded very quickly with the trainer and learned fast!

Geromy Briscoe
16:25 19 Aug 23
About Our OKC Dog Training Location: 
At our OKC dog training location you will find a team of professional dog trainers who love training dogs and love training people too!  No matter the issues or goals you have we love a challenge and hate to see dogs get surrendered to shelters or re-homed!
We serve dog training needs all over Oklahoma City, Oklahoma.  We train clients and dogs in both in-home private lesson setting and the doggie boot camp setting.  Boot camp is where your dog comes to our Oklahoma City location and we train them a few hours a day until they are fully trained!
Currently, we are the top ranked dog trainer in OKC!  If you are interested in dog training with us please give us a call at 405-247-0781 and let us come out and work with your dog and show you what we can do!
Oklahoma City dog training client testimonials:
Oklahoma City Dog Training Out And About:
Some of our recent Oklahoma City dog training success stories: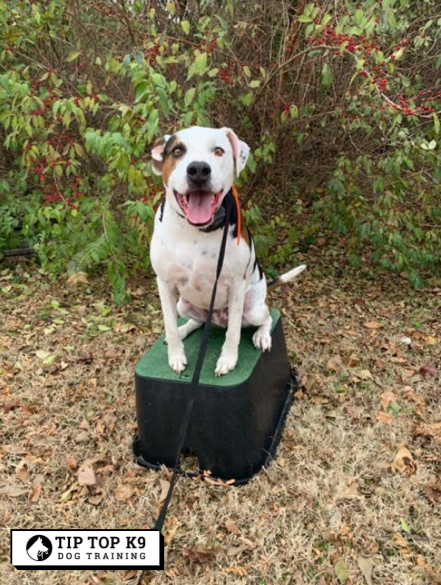 Noah the Pit Mix
Noah is a playful four year old pit mix that had some dog aggressive behavior. His parents called our Oklahoma City locations after having serious safety concerns after seeing him directing his aggression toward some of their family members!  In addition to behavioral issues Noah also also needed general obedience training as he was not listening to mom or dad when told to do different commands!
Noah was very stubborn during his time training with our team but is now able to obey his commands while around other dogs, and is very obedient now in situations that he used to show aggression in! His mom and dad now feel confident that their baby will listen and obey and he can now enjoy more freedom around family and friends!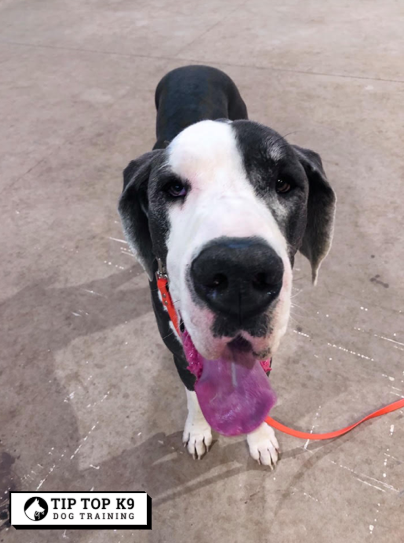 Gary the Great Dane!
Gary is a beautiful and fun-loving Great Dane BUT was extremely aggressive and had a history of biting people. This was obviously very concerning for his parents and a big problem for any of their guests! Gary would also nuisance bark and not listen around distractions AT ALL.
Around just the family Gary was great but being 140 lbs they decided to send Gary to our boarding and training program.  After several weeks of intensive boot camp training with Gary our Oklahoma City team got his aggression is under control and got him listening around new people and new dogs.  Gary's personality is now able to really shine through and his parents are able to maintain control with their beautiful and well behaved giant!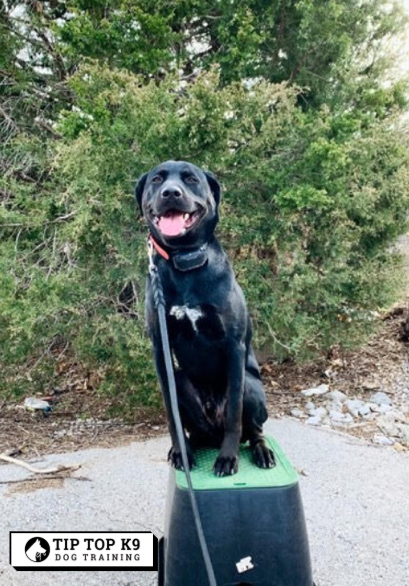 Otis the Lab Mix!
Otis is a two year old lab mix that portrayed aggression towards people, was anxious toward everything, and had a barking problem. We helped Otis with his anxiety and aggression both and he has now mastered his place and heel commands, understands "quiet" and his aggression is under control! 
After training with us his confidence has continued to increase along with his playfulness and sweet side! Most importantly, he obeys commands and his parents are able to enjoy him to the fullest.  Dogs that have anxiety tend to have a lot of "noise" going on in their head and obedience training can really help cut through that noise and help them make better decisions.  Seeing dogs like Otis overcome anxiety and become good citizens is what our team really lives for!
Talk With a Trainer Today!
What is the PAW-Some OKC Dog Training Company That Works? Tip Top K9!
At Tip Top K9, our goal is to provide you with the absolute best OKC Dog Training services, to enhance the harmony between you and your furry friend. The one thing that can destroy a bond between man and his best friend, is lack of communication. Here at Tip Top K9, we understand this, and we have a passion to help both dogs and owners alike. Tip Top K9 has now been offering the most effective dog training methods to pet owners all around the United States for over 10 years. During this time, we can assure you, we have learned a thing or two. At Tip Top K9, you are greeted with the friendliest, and most passionate OKC Dog Training company in the industry. Not only are we the "dog whisperers", but the structure and the training is proven to work better than any other training methods. We trust the method so much, that we actually guarantee that we will fix 95% of problems or your money back. To take it a step even further, we are so confident in the results, we'll give you your first lesson for only $1! Although we are crazy about dogs, we are even crazier about this offer. If we are the dog training company willing to put our money where our mouth is, maybe we really do generate results. YOU – and your furry friend have absolutely nothing to lose. Try us out for a quick OKC Dog Training class for only $1!
OKC Dog Training for $1 at Tip Top K9 – PAWS What You're Doing and Schedule NOW!
We really have a passion for pursuing harmony between families, and that's what our OKC dog training program at Tip Top K9 is all about. We want to earn your business. We believe in a mission, much larger than ourselves. We are working hard so that no dog, no matter what, is left feeling unloved or abandoned. We know that when it comes to behavioral problems, most of the time, those can be corrected with proper methods and training. So we want to earn your business and prove our methods do work at teaching both owners and canines better communication skills. We also know you'll see the results so quickly during that first, initial $1 training, that you'll be sure to continue using Tip Top K9 for puppy training, dog training and even potty training. We offer training in all areas of life for a canine. From youth to adulthood, we are great at training dogs and we look forward to embarking on this next journey with you. 
What is the Guaranteed Dog Training OKC Services Offered by Tip Top K9?
Maybe, just maybe you are looking for some peace of mind, even outside of the $1 dog training special brought to you by Tip Top K9. We have you covered, folks! The Tip Top K9 Guarantee for Oklahoma City Dogs and anyone searching for answers and a resolution using OKC dog training know this: if we are confident in our methods enough to offer a guarantee where we'll train your dog for as long as it takes, and with enthusiasm every step of the way, you probably should be too. You truly won't find a dog training company in Oklahoma City anymore committed than Tip Top K9. Dog is a man's best friend and the Tip Top K9 team is trained to offer the best services that both you and your dog appreciate. Your furry friend will look forward to training with his new friends so much, he'll want to visit, even after completion!
Tip Top K9 Dog Training Services Include:
Potty Training 
That's right. We took one of the biggest pains and complaints we hear from pet and canine owners about owning a pet, and took the chore right out of it for you. The dreaded chore of potty training no longer has to fall on you.  
Puppy Training
If you break bad habits before they form, you can truly put your puppy on the right path to give the youngster the best start in life possible. This saves you in the long run, by avoiding bad habits that cause tension in your family, ultimately giving your home better and happier days together. 
OKC Dog Training
You know the saying, an old dog can't learn new tricks? Not true. We live it. We watch it. We root for this kind of miracle we get to see in dogs every day. Dog training doesn't have to be difficult if you know the proven methods that work to stop unnecessary barking, jumping or in some cases, aggression. 
Doggy Bootcamp
Let's be honest, we all could use a crash course in behavior improvements. Dogs are no different. At doggy boot camp, your pet will actually live with a trainer, forming healthy habits and easing him into a life of structure, rules and organizations. 
Group Class
Group classes for dogs are incredibly helpful and conducive to dogs and their learning! Join a group class for your dog as he experiences social interaction and structure, enhancing his learning all at the same time. 
and More!
What's Your Next Move with Tip Top K9?
Simple – CONTACT US! You can simply pick up the phone and give us a call to speak with one of our expert trainers to schedule your first OKC Dog Training for only $1. Dial
1.833.484.7867 to book your training session for your dog by phone. You can also fill out the form to schedule a $1 consultation. We're happy to help and we look forward to meeting you and your favorite canine friend. 
Schedule. 
Learn.
Grow.
Connect.
In that order. When you schedule the consultation, you will learn about the Tip Top K9 training program. Both you and your dog will grow in the ability to communicate together, and you will have a better, more harmonious connection the way pet and pet owners should be.