Tip Top K9 – Carrollton, TX
We have a Brittany Spaniel who was having some very breed specific issues. I could see a difference after 1 class! Now 6 classes later, we can walk without being pulled to the ground & take him in public without a single issue! Thank you Tip Top K9 & thank you Sam!!

We are so happy with the training Tip Top K9 provided our dog Dennis! Highly recommend.

We absolutely loved working with Sarah for the past 6 weeks during one on one training!

I'm very happy with Sarah and Sam who are the two I have met so far. They are excellent at what they do & Sadie & I are learning so much!

Great people great costumer service

Great trainers! Highly recommend

TiptopK9 has been amazing to work with from the very first lesson! We knew Cash was capable and wanted to learn but we had no idea how to train him to reach his potential. Our biggest issues were recall and pulling on the leash. For 2 years, we tried so many ways to improve his skills and our confidence. We went into this hoping we could just get those 2 things down.The TipTopk9 training method is exactly what he needed. Our amazing trainer guided me through the whole process with incredible patience and skill! Cash and I have gained so much from our experience. After the first lesson, we never had to use the pinch collar again. We just finished our last lesson and I can't even believe how fast and easy it was to learn come and heel with the right tools. We're so excited to start group classes and keep seeing the way he improves!

Awesome job with our Boston Terrier. Sarah was great and pleasure. We would recommend to anyone looking into getting there dog trained!

Ashli did an amazing job training my very stubborn dog who started out either private lessons and eventually went to boot camp to become more polished with her commands and manners! Needless to say, I'm thrilled with her accomplishments!! Thank you Ashli and the whole TipTop K9 team for all your hard work and devotion to my dog. I would highly recommend to anyone needing a dog trainer!

I'm extremely pleased with the training Tip Top K9 did with goldendoodle, Marley. Ashley and Sara were awesome to work with. I would definitely recommend them!!

Dervish was a dumped doggie and needed a lot of training and love. At Tip Top K-9 Ft. Smith Training he received both love and great training. It was so awesome to work with Sam and staff at his pick up. He is in great shape and ready to go home. He has learned his manners and we have learned how to help him maintain them. Thank you Tip Top. We recommend them for all your training needs.

My dog did well training here. Very pleased with how well mannered he is now

Excellent Updates! Nina came back a very obedient and happy puppy!

Wonderful service and guidance with training my pup! I would recommend anyone and any pup to go through tiptop K9's training!

Our experience at Tip Top was amazing. Our dog, Violet, came back well trained. She bonded with the trainers akd started whining at the door when they left. That made our family feel good. We knew our girl was well taken care of during the two weeks she was gone. I would highly recommend Tip Top.

Brad did such a wonderful job training our 8 mo mini bernedoodle! We are so pleased with the results of the advanced boot camp training package. It was definitely worth the investment! Would do it again in a heartbeat! Life changer!

Excellent communication. Very clear with directions. Homework sheets were very helpful.

Had an amazing experience with TipTop K9! So excited about my dog's progress. They were so great with keeping me updated and ensuring my dog learned everything he needed to. Would highly recommend the team!!!

We love Tip Top and they have done great with both dogs. We are soooo in love with Sarah and we think Sam is great too. Our dogs will be awesome ambassadors for your training. What really impressed us was the way they trained. They work with the dogs to get the proper result then teach the human. I love that I am not reliant on a clicker or treats. The training collar is weaned off but utilized for refreshers. The poods learned quickly and it was a great experience for both humans & dogs. Highly recommend their training.

Great service! Delivered on everything they promised!

It was a joy to work with the Tip Top trainers! They made it easy for me to get along with my pup!

Sara did great with my monster, thank you.

Couldn't be happier. Top to bottom a great experience.

Great experience! I saw so much improvement in my dog right away.

From the meet and greet we could tell the trainers were dedicated to and loved dogs. During training at Boot Camp we received updates about our dog Newton and the pictures it was clear he was beyond happy and cared for. We had multiple request changes for Newton's take home ceremony and Tip Top K9 was accommodating every single time without issue. Once Newton got home he is a completely different dog. He seems happier than ever. One of our issues we had sent him to Boot Camp for was bolting out the front door, and he was able to go off leash instantly when coming home with no issues. We couldn't be happier and we only wish we didn't take so long to finally go through with this training. We will have endless more fun and enjoyment with our dog because of this training and would recommend it to anyone.

Awesome customer service and very professional with great results!

My mother had her dog trained and this group has been unbelievable with our Sally Sunshine. Thank you

We loved our experience with TipTop K9 Arkansas!they were quick to respond upon inquiring about services, the $1 first lesson and evaluation was very informative, and they were able to fit our dogs in, in a very short timeframe. We had two Rottweilers in for training (7 & 3), not with different packages and length of stays. Both girls listen well and have new found skills that will put our family at ease.

Sara brought our Izzy home and instructed us on all of the commands, she was great I want to thank all the staff, Brandon, Sam and Kai for all their hard work, thank youRoss

Our dog, Izzy, just returned from training at Tip Top and we could not be more excited with the results. We now have a very well behaved ausssie doodle. Thank you Brandon, Sam and Kai for the training and Sara for training us.

The trainers at Tip Top K9 really go above and beyond! We are so impressed with the amazing outcome that our precious Rosee exhibited! She can sit, down, place, heel, and even dance!!! We are so proud!!

Our Yorkie mix was just trained by the experts at tiptopk9 Arkansas! She did amazing and she did well with the training. She came home looking well taken care of and happy. We couldn't be more pleased with our trainer Sara and her team!!!

Very great team that trained our dog. You definitely get what you pay for!

Our Mini Aussie is doing awesome! We had a great time

We just got our one year old Chocolate Lab, Millie, back from 4 weeks with Tip Top K9, and she's made SO much progress! She has so much more confidence in herself and listens better than I ever could have imagined. We're so happy with our experience and highly recommend Tip Top K9!

Just picked up our dog Korben and couldn't be happier!

Very dependable and helpful. Milo does as he is told.

We just finished our Quick Fix training sessions - Jax did great, mainly because he got along with our great trainer, Sara!

Our mini Aussie just finished her boot camp and we are very pleased! We loved the updates that they sent us and looked forward to them every week. They did a fantastic job with her and she is amazing! She came home happy and well taken care of, and I would recommend tiptopk9 Arkansas to everyone!!!!

Got our dog as a stray that walked up to our door. He was very skittish, and took a long time to get a collar on him. After trying different local trainers, I got a hold of Tip Top. Major has since done a complete 180 after going through doggy boot camp. I couldn't be happier with his transformation. I highly recommend the trainers And this company.

Tip top has been great! You can tell that they love what they do. They put you at ease and really work with you and your dog. My dog is still a pup, and they have helped on his behavior even at this stage.

So supportive, excellent follow up, great results!

Training here was the best decision I've ever made! Before, I couldn't take my dog out in public because of how anxious she was around people, and I couldn't trust her around other dogs at all because of aggression. Now that her training is complete she's so much better! Her aggression is now manageable and I don't have to worry. Not only is she well behaved, but she is so much happier and healthier. I take her with me everywhere now!

We really enjoyed the training

They did an amazing job training my Australian Shepherd! I got thorough updates on her progress. She came back home a different dog. I was very surprised when she came home after bootcamp.

Our dog Journey loves Tip Top K9 Arkansas. We can't wait to continue her training with them!

Carrollton Dog Training Out And About:
Some of our recent Happy Carrollton dog training cients: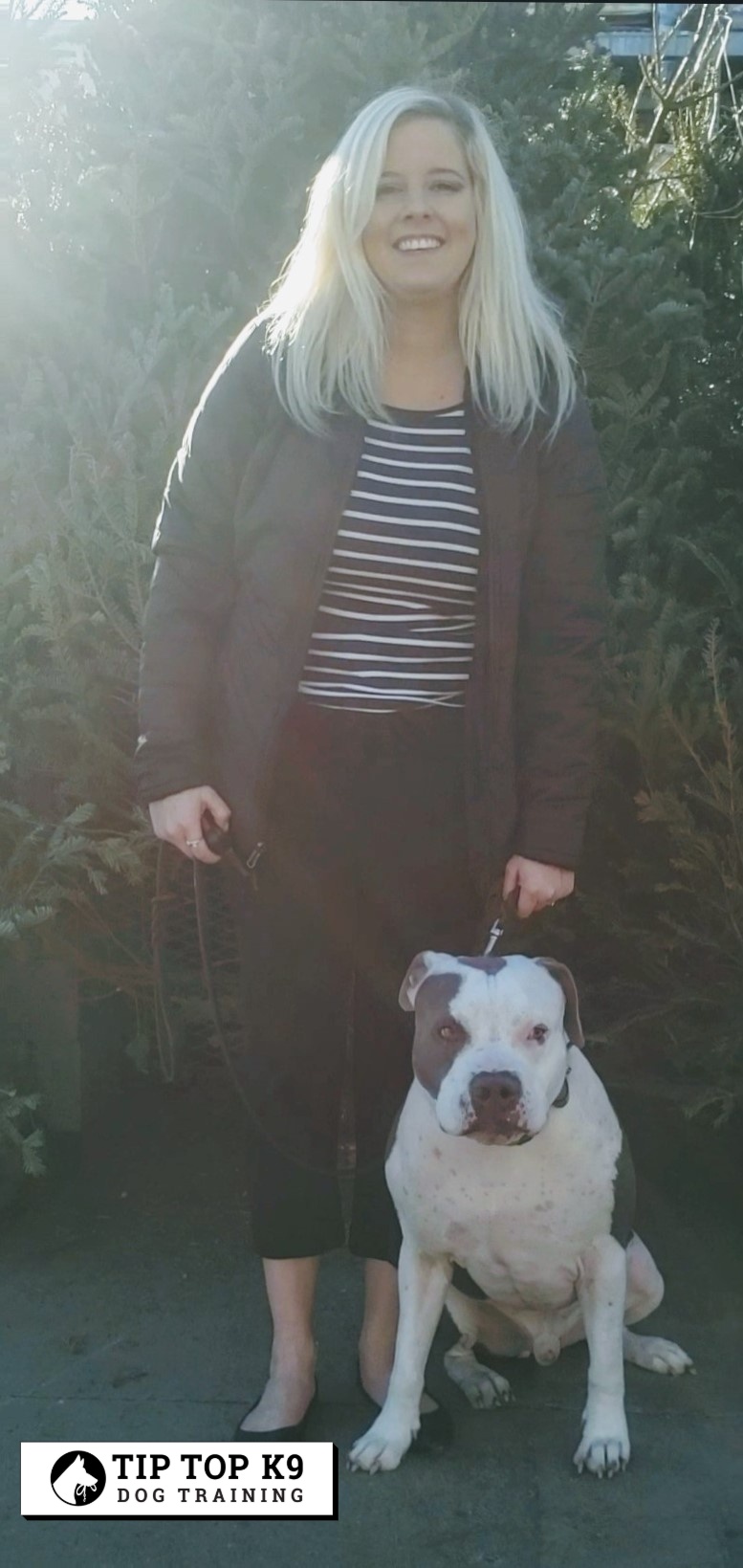 Bella the Golden Retriever
Bella was an out of control golden retriever puppy who couldn't wait to climb you then pull you down the street.  Her heart was in the right place, but she was definitely a handful.  Because of her bad habits her owners Mike and Nicole couldn't really take Bella for a walk or anywhere else for that matter!
After 4 weeks of Bootcamp, her life has drastically changed for the better.  Now instead of running to and jumping all over new people, she sits at your feet and waits for love to come to her.  No need to worry about pulling on the leash either, Bella is now 100% off leash!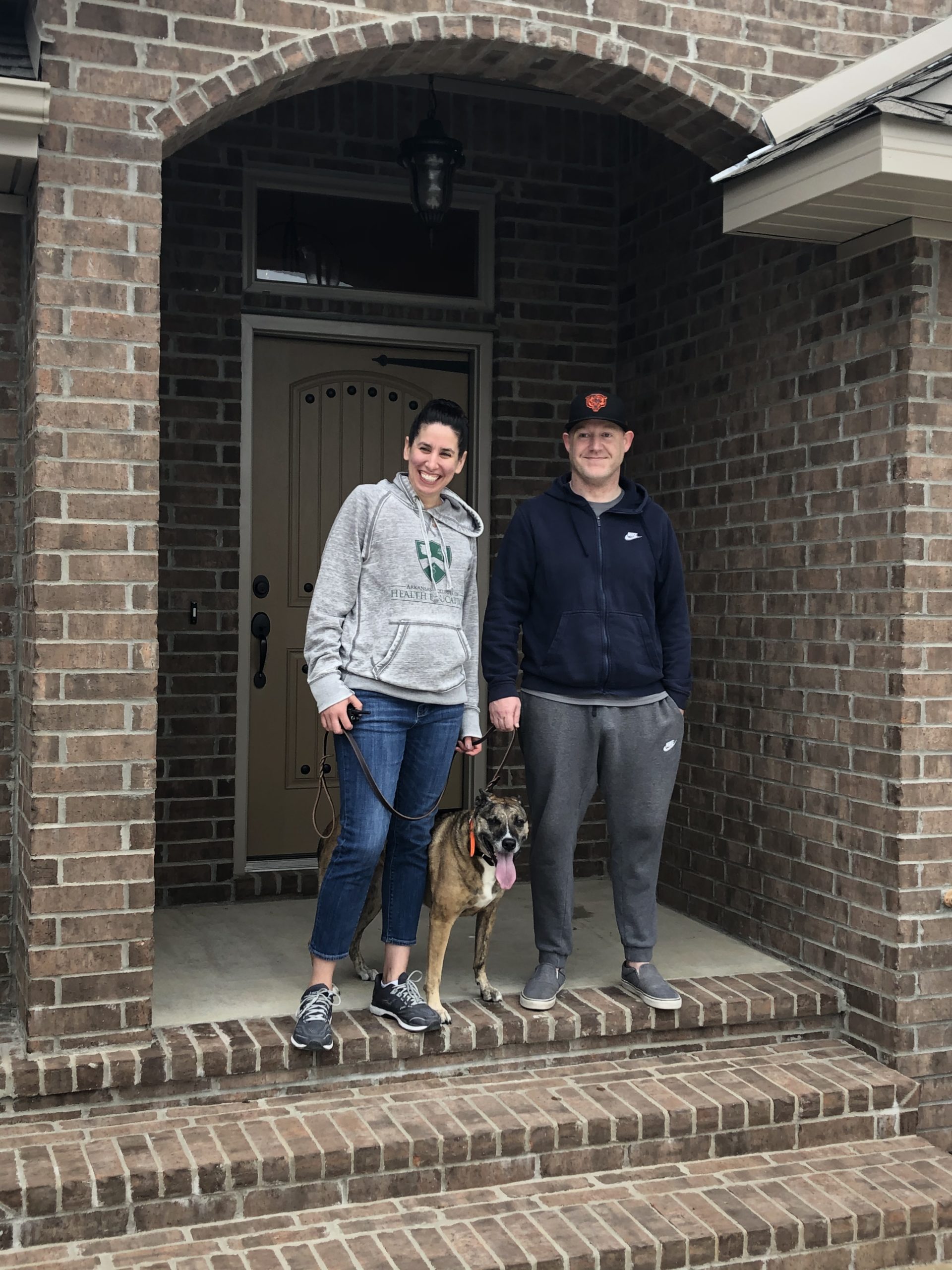 Lucy the Husky!
Lucy was just a small town pup trying to make it in the big city.  Her favorite hobbies were helping herself to the family dinner and long walks around the park pretending she was a sled dog. She hated car rides and listening to anyone who was talking to her. 
Now after 6 weeks of training, she has pulled herself together and is a model citizen.  She still loves walks around the park, but takes a relaxed stroll instead of sprinting to the end of the leash.  She no longer tries to sneak food from the counter when your back is turned, and can instead stay on her bed and watch dinner being made from the living room.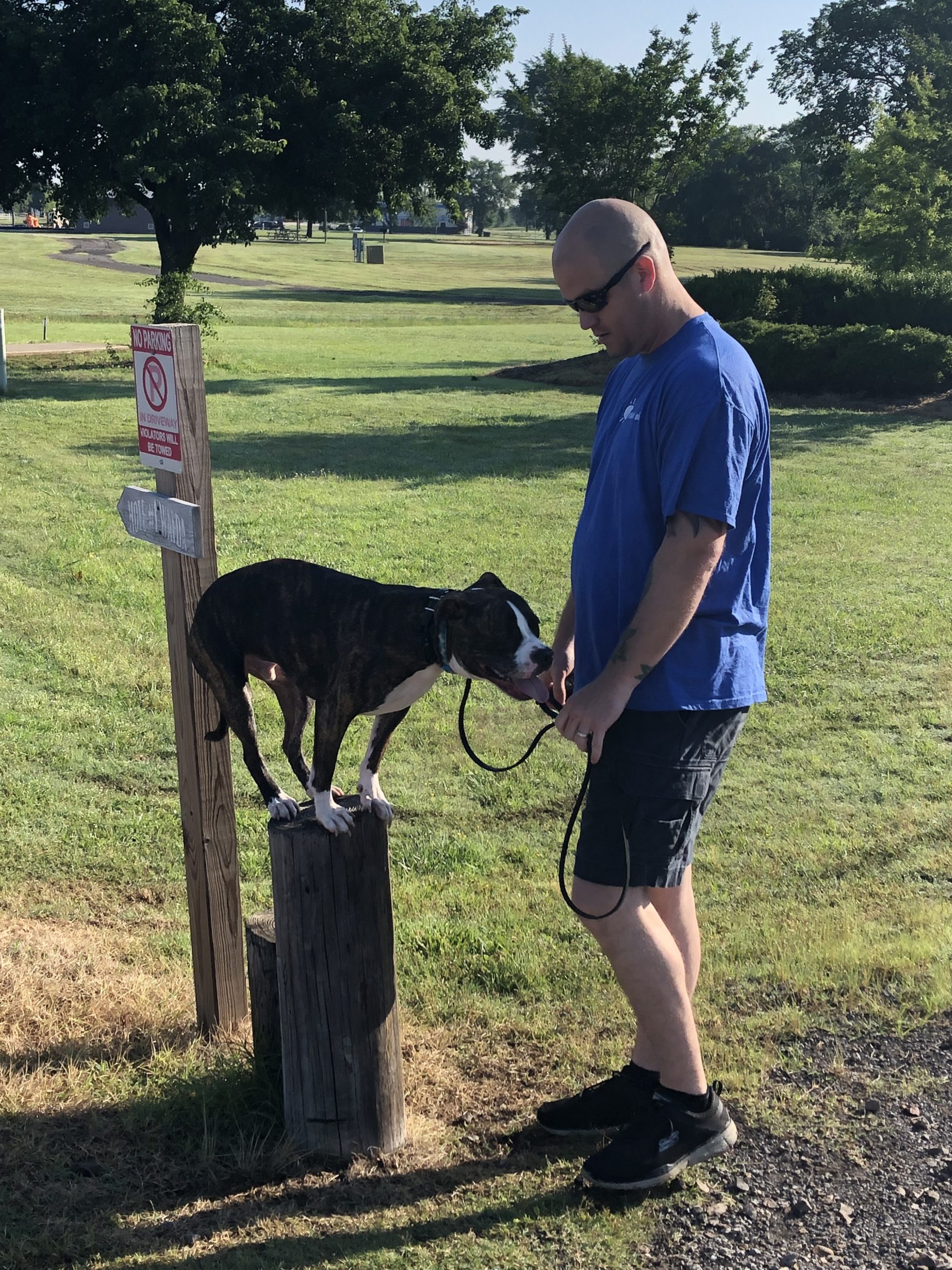 Lulu the Doodle!
Lulu was just your everyday Doodle puppy.  What she lacked in coordination, she more than made up for with crazy.  She was an escape artist and would love to be chased around the neighborhood and parkour through the house!
After just 4 weeks of private in-home training, she had a new lease on life.  Instead of taking off down the street every time the front door was opened, she now just stays on her cot.  Lulu still has her same loving and affectionate personality, but now channels her energy into running laps around the backyard pool instead of the neighborhood!
Talk With a Trainer Today!
DOG TRAINING BY PROFESSIONALS, NOT HOBBYIST!
Our Carrollton dog training team loves to see people get the very best out of their pack! We help people in the Carrollton / Lewisville area with all sorts of dog training issues from aggression and small dog syndrome, to stopping your puppy from constantly pulling on the leash. Whatever your dog training needs are our Carrollton location is here to help you out!
ABOUT OUR LOCATION:
At our Carrollton dog training location is full of dog trainers who are dog lovers that truly care about their clients results!
We love training dogs! We service clients all over the Carrollton / Lewisville area and even go all over Texas. We specialize in anxious dogs that need that soft touch. After rehabilitating anxious and aggressive dogs a major priority in our Carrollton location, we are truly obsessed with helping other people train their dogs. The most common dog training issues we see are running away, pulling, jumping and just a general lack of manners.
Your first lesson is just $1.00 and we will show you results on the spot with your dog or we will give you your $1.00 back!! Our location does a mixture of both in-home private lessons and doggie boot camps where your precious pup stays with us for 2-3 weeks and is fully trained by our trainers. Call us today at (469) 892-7111 and schedule your first lesson for only $1.00 and we will get you on the right path to enjoying your dog more!! Training your dog will literally make your pup so much more enjoyable to don't wait!
Cities we serve – Carrollton, Lewisville, Farmers Branch, Hebron, The Colony